New Age Islam News Bureau
12 Jan 2020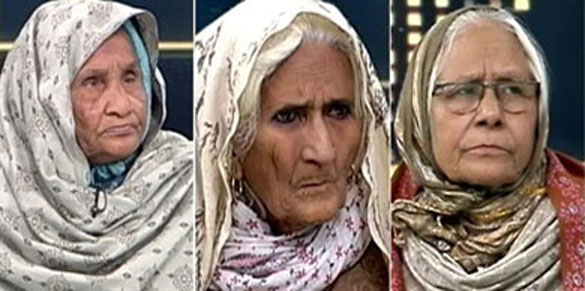 • CAA-NRC-NPR: Women Lead Sit-in Protest in Kanpur's Mohammad Ali Park
• Saudi female drivers to have lasting positive impact on auto aftermarket
• Iran's sole female Olympic medalist says she's defected
• Turkish women on road to get Tokyo ticket
• Over 470 women killed in Turkey in 2019: Platform
• Amnesty International calls on Riyadh regime to release Saudi woman's rights activist
• A Saudi-Japanese couple embody Kingdom's new spirit of openness
• Sudanese Women Chase Soccer Dream
• Women in mosques: On the margins of faith
• This former Yazidi ISIS sex slave hopes for her husband's return
• Justice Ministry allows men and women to register as conciliators
Compiled By New Age Islam News Bureau
URL: https://www.newageislam.com/islam-women-feminism/shaheen-bagh-dabang-dadis-brave/d/120771
--------
Shaheen Bagh: 'Dabang Dadis' Brave Winter Cold As Protests Against CAA Show No Signs Of Slowing Down
Jan 12, 2020
In what is emerging as the strongest show of resistance against the Citizenship Amendment Act, peaceful demonstrations continued in full swing at Delhi's iconic Shaheen Bagh on Saturday night even as cold waves swept across north India. Braving the harsh winter chill, anti-CAA protesters continued their agitation, demanding the withdrawal of the contentious legislation that has brought India at a standstill and sparked outrage across the country.
A trio of elderly women, now famously known as the "Dabang Dadis" of Shaheen Bagh, stayed put at the protest venue which has come up on the Sarita Vihar-Kalindi Kunj road in South East Delhi since December 15.
Every night, 75-year-old Noornissa braves the freezing cold to help block one of the main roads into the capital of India, in a protest that is at the forefront of a rising challenge to Prime Minister Narendra Modi.
For nearly four weeks, Noornissa and more than 200 other women have sat and slept across the four-lane road. Men stand guard as the women, from the mainly Muslim area of Shaheen Bagh, sing the US civil rights anthem "We Shall Overcome" and chant against the Citizenship Amendment Act, passed last month.
The government insists that the law is "humanitarian" and that Muslims have nothing to worry about, but opponents are not convinced and have held rallies across the South Asian nation -- often met with force and brutality by the police. Authorities have warned the Shaheen Bagh protesters that the police will clear the road if they do not leave, but the women are determined to stay.
"I was born in India and I want to die here," Noornissa was quoted as saying by news agency AFP, her frail frame shaking with emotion. "I will fight this law until my last breath."
Gul Bano, 51, her face covered with a veil, described the protest as "a fight for our identity". Suffering some of the lowest temperatures in Delhi for decades, Noornissa sleeps on the street, wrapped in blankets with only her silver hair visible. The women with her include grandmothers and younger women, many with toddlers in tow.
A tent has been put up to block the wind. Stray goats walk around the road alongside the protesters. The Shaheen Bagh protest is a sign that "the pushback has begun across India", according to Syeda Hameed, head of the Muslim Women's Forum. People bring blankets, hot tea, snacks and meals for the women. The doors of nearby homes are always open for the women if they want to use the bathroom.
Tens of thousands of people have taken part in protests against the citizenship law and more than 25 people have been killed. The road where the protests take place is a key link between satellite city Noida and national capital New Delhi, and has been closed by the Noida Traffic Police in view of the ongoing protests.
A major part of the crowd at the protest is formed between 8 pm and 12 pm, when the regular protesters are joined by working professionals and businessmen who return from work in the evening.
Thousands of people, including women and children, are protesting at Shaheen Bagh and nearby Jamia Millia Islamia to oppose the CAA and the NRC. Besides Delhi, protests have unfolded in several parts of the country over the contentious law and have led to clashes at several places, including Uttar Pradesh, where more than 20 people have died.
According to the amended law, members of Hindu, Sikh, Buddhist, Jain, Parsi and Christian communities who have come from Pakistan, Bangladesh and Afghanistan till December 31, 2014 and facing religious persecution there will not be treated as illegal immigrants but given Indian citizenship. The law excludes Muslims.
The Shaheen Bagh women took over the road after clashes between police and students at nearby Jamia Millia Islamia university. Like the grandmothers, the young mums insist they will not be moved from the rugs spread on the road where they feed babies and try to get them to sleep in the cold and the din from microphones and speakers.
"I used to avoid stepping out of the house because my baby is still small but not any more," said Samreen Sami, who is also taking part in the protests with her mother and sister-in-law.
"I want to tell Modi-ji that we are not going anywhere," she declared. "One day you will have to listen to us and take this law back."
The Delhi High Court had earlier refused to entertain a plea seeking directions for removal of demonstrators at Shaheen Bagh in order to clear road blockages that are causing traffic congestions at the DND route.
https://www.indiatimes.com/news/india/shaheen-bagh-dabang-dadis-brave-winter-cold-as-protests-against-caa-show-no-signs-of-slowing-down-504065.html
--------
CAA-NRC-NPR: Women Lead Sit-in Protest in Kanpur's Mohammad Ali Park
Abdul Alim Jafri
11 Jan 2020
New Delhi: Since the past three days, thousands of people, mainly women, from all communities are participating in a sit-in protest from dusk to dawn in Kanpur's Mohammad Ali Park in the freezing cold. They are demanding the revoking of the Citizenship Amendment Act, 2019 (CAA) and the proposed National Register of Citizens (NRC).
The protest demonstrations, reminiscent of the ones going on in Delhi's Shaheen Bagh, as also in Shanti Bagh in Bihar's Gaya, are unique for the city. During the day, the protesters sing revolutionary songs, such as Faiz Ahmad Faiz's, such as 'Hum Dekhenge'.
Despite Kanpur recently witnessing alleged police brutality leading to three deaths, the protesters in Mohammad Ali Park sing revolutionary songs, recite poems and listen to speeches for a common cause – saving the Constitution -- but has hardly drawn any media attention so far.
"I have been born and brought up in Kanpur, got married here, lived up with my husband for more than 30 years and have many beautiful memories, but now the government is asking me to prove my citizenship, which is not only unconstitutional but is also against the basic fundamental rights of citizens. The way Shaheen Bagh has become the face of the Delhi protest because of the nature of the groups that have come together, we are also united and will fight till the draconian law is rolled back," said Yasmeen, a mother of three, who lost her husband a few years ago.
Yasmeen told Newsclick that is was the idea of a plural India that she and her late husband grew up with that she is fighting for "despite all odds". "They (Modi government) passed the triple talaq law without taking Muslim women into confidence, Babri Masjid was given away despite showing 500-year-old documents, but preferred to kept our mouths shut, but we will not stand for this division," she said.
Yasmeen is not alone among the regular protesters at this sit-in. = There are several others like Naba Zameer, Ariba, Sanjeeda, Mehwish, Farheen, Shanti, Salma, Divya and Aarti, who have been spending hours and raising their voices against CAA-NRC.
Another protester, Shanti, who travels 3 km to reach the protest site every day, told Newsclick: "This protest is not about Muslims versus Hindus, as the mainstream media is trying to portray with the help of government. It is a question of our existence. The government is using all its weapons to scare us, but we are resilient. We won't go back. The fight will go on till CAA is rolled back."
When questioned on the perception that only Muslims are taking part in this protest, Shanti said, "It is absolutely unfair to say that. Like me, hundreds of Hindus, Sikhs and Christians also joining and witnessing the protest."
Chanting slogans of "Hum leke Rahenge Azaadi (We will take our freedom)", "Awaaz Do Hum Ek Hain (We are one)", Ladenge Jeetenge (We Shall Fight, We Shall Win), Hindustan Zindabad (Long live India), etc, crowds throng to the venue, some holding the tricolour in their hands.
Iftikhar Ahmed, one of the organisers of the sit-in protest, worried that this protest was not drawing media attention despite entering the third day, said: "Unlike Delhi, we do not have prominent faces who can come here and address the people, yet people are concerned about saving the Constitution."
Ahmed said the participation of women in the sit-in protest was more than expected.
"Protests in Shaheen Bagh manage to get the international coverage while Mohammad Ali Park has hardly made news, except in social media platforms," an organiser told this reportere.
It may be noted that during the ongoing protest against CAA-NRC, Uttar Pradesh witnessed violent protests in which 19 people were killed, most of them due to alleged police firing. Of these, three deaths were in Kanpur.
"Those killed in Kanpur were not part of any protest unlike in Western Uttar Pradesh. The families of the deceased -- Mohammad Saif (25), Mohammad Raees (30) and Mohammad Aftab (22)-- are very poor. After that, some innocent persons have been named in the FIRs and those arrested are also poor people, earning their livelihood by selling vegetables and doing odd jobs" said Amit, who was in Mohammad Ali Park.
https://www.newsclick.in/CAA-NRC-NPR-Women-Lead-Sit-Protest-Kanpur-Mohammad-Ali-Park
--------
Saudi female drivers to have lasting positive impact on auto aftermarket
January 6, 2020
RIYADH — Saudi Arabia's landmark decision to allow women to drive has continued to have a dramatic impact on the Kingdom's automotive industry and with the increase of cars on the road, the aftersales market is witnessing a boom, garnering interest from local and international suppliers looking to capitalize on a new stream of consumers.
Over 100 exhibitors from 12 countries, showcasing the latest in automotive aftercare products and solutions across six product sections, will vie for a share of the market created by the influx of female drivers at Automechanika Riyadh, which will take place on Feb. 24-26, 2020 at the Al Faisaliah Hotel – Prince Sultan Grand Hall.
Recent figures from global research and analytics firm, Aranca – the show's knowledge partner – revealed that 30,000 new licenses had been issued between February and March this year, a positive and encouraging increase which has nearly doubled the number of female drivers on Saudi roads after a slow uptake which saw only 40,000 licenses issued in the first six months of 2018.
"With the significant growth of female drivers, automotive Original Equipment Manufacturers (OEMs) and car dealers are seeking to capitalise on the opportunity and capture a significant chunk of the new customer segment", said Vishal Sanghavi, Head of Automotive Practice at Aranca. "For example, Hyundai has positioned its Kona SUV as a women-centric model.
"By June 2019, 25% of vehicle insurance sales agents at Abdul Latif Jameel's (ALJ) insurance arm were women and during Q1 2019, over 6% of motor insurance policies were sold to women. Initiatives such as these are expected to complement the sales of cars to women and thereby aid the KSA automotive industry in the long run."
As a result of increasing car sales, Saudi Arabia's automotive spare parts and service market, which stood at roughly $7.6 billion in 2018, is expected to grow at approximately 6% CAGR over the next five years to reach a value of $10.15 billion by 2023, said the report.
According to Aranca, this is likely to have a knock-on effect for the tyres, lubricants and batteries markets, as they represent spare parts with the highest replacement demand due to the country's harsh weather conditions. Tyres accounted for $2.28 billion in 2018, followed by lubricants ($1.44 billion) and batteries ($380 million).
Mahmut Gazi Bilikozen, Show Director for Messe Frankfurt Middle East, which licences the Automechanika brand to event organisers ACE Group, said: "There's an enormous prospect presented to automotive and aftersales companies as female drives are an entirely new customer segment for the KSA market. Despite a relatively slow start for the landmark law, it's clear that the pace of issuing licenses has quickened, and it will not only offer lucrative business opportunities for suppliers but present unique challenges in managing their supply chains to meet the growing demand."
The biennial trade fair serves as the dedicated automotive aftermarket and services industry trade fair for the country's central and eastern regions and alternates between the Kingdom's capital and the Red Sea port city of Jeddah – with the next event hosted in 2021.
The three-day event's global presence will also be strengthened by four international pavilions which include contingencies from China, Hong Kong, Korea, and Taiwan.
Automechanika Riyadh is one of 17 instalments of Automechanika – the most successful automotive aftermarket trade fair brand in the world. The next regional event will be Automechanika Dubai, on June 7-9, 2020 at Dubai World Trade Centre. — SG
http://saudigazette.com.sa/article/586396
--------
Iran's sole female Olympic medalist says she's defected
January 12, 2020
(CNN)Iran's sole female Olympic medalist Kimia Alizadeh announced that she has permanently left her country for Europe.
"Let me start with a greeting, a farewell or condolences," the 21-year--old wrote in an Instagram post explaining why she was defecting. "I am one of the millions of oppressed women in Iran who they have been playing with for years."
Alizadeh became the first Iranian woman to win an Olympic medal after claiming taekwondo bronze in the -57kg category during the 2016 Rio Olympics.
Affectionately known in Iran as "The Tsunami," Alizadeh announced she was leaving her birth country with searing criticism the regime in Tehran.
"They took me wherever they wanted. I wore whatever they said. Every sentence they ordered me to say, I repeated. Whenever they saw fit, they exploited me," she wrote, adding that credit always went to those in charge.
"I wasn't important to them. None of us mattered to them, we were tools," Alizadeh goes on to say, explaining that while the regime celebrated her medals, it criticized the sport she had chosen: "The virtue of a woman is not to stretch her legs!"
Reports of her defection first surfaced Thursday, with some Iranians suggesting she had left for the Netherlands. It's unclear from her post what specific country she's gone to.
On Friday, the head of Iran's Taekwondo Federation, Seyed Mohammad Pouladgar, claimed that Alizadeh had assured both her father and her coach that she was traveling as part of her vacation, a trip he claimed was paid for by the Iranian government. He dismissed the reports of Alizadeh's defection as politically motivated rumors amplified by the foreign media.
Alizadeh confirmed the rumors Saturday, saying she "didn't want to sit at the table of hypocrisy, lies, injustice and flattery" and that she did not want to be complicit with the regime's "corruption and lies."
"My troubled spirit does not fit with your dirty economic ties and tight political lobbies. I wish for nothing else than for Taekwondo, safety and for a happy and healthy life, she said adding that she was not invited to go to Europe.
She said the decision was harder than winning Olympic gold. "I remain a daughter of Iran wherever I am," she said.
Her defection comes amid anti-government protests in cities across Iran on Saturday and international pressure after Iran admitted it had accidentally shot down a Ukrainian flight, killing all 176 people aboard.
Canada, Sweden and other countries whose citizens were killed have increased demands on Tehran to deliver a complete and transparent investigation against the backdrop of fresh US sanctions on Iran and a dangerous escalation with Washington.
US State Department spokeswoman Morgan Ortagus commented on Alizadeh's defection.
"Iran will continue to lose more strong women unless it learns to empower and support them," she said.
https://edition.cnn.com/2020/01/12/middleeast/iran-kimia-alizadeh-defects/index.html
--------
Turkish women on road to get Tokyo ticket
January 11 2020
The Turkish women's volleyball team on Jan. 10 won against Belgium 3-2 in a tie-breaker to qualify for the CEV European qualification semifinals for the 2020 Olympic Games.
Turkey led the first two sets 25-20 and 25-15, a great advantage to win the match in Apeldoorn, the Netherlands, but the Belgians managed to equalize, winning the third and fourth sets, 25-20 and 25-22.
The Turkish team were victorious in the tie-breaking set 15-10 to bag the final four ticket in the Tokyo 2020 qualifiers.
The best player of the match was Turkey's opposite Meryem Boz, who scored 26 points at Omnisport.
Belgian middle blocker Marlies Janssens had 4 aces.
Turkish middle blocker Eda Erdem Dündar had 5 winning blocks to be the best blocker in the match.
So Pool B ended with Turkey completing the group stage in second place.
Turkey, with two wins but one loss in this phase, qualified for the final four.
Pool B winners Germany have already gone to the semifinals, having won all three games.
Belgium and Croatia have been eliminated from the qualifiers.
Turkey will take on Poland in the semifinals for the 2020 Olympic Games on Jan. 11.
Pool A winners Poland beat Azerbaijan 3-0 in Apeldoorn, Netherlands to meet Pool B runners-up Turkey in the next phase.
The European qualifiers for the Tokyo Games is currently held by Netherlands.
Turkey target Poland in the final four in a match that will start at 1945GMT (8.45 p.m.) local time.
Pool B winners Germany will take on the Netherlands at Omnisport.
The winning team will secure a place in the women's volleyball competition in Tokyo scheduled July 24 to Aug. 9.
The winner-takes-it-all final is set for Jan. 12.
Italy, Russia and Serbia have already secured their participation in the 2020 Olympics.
http://www.hurriyetdailynews.com/turkish-women-on-road-to-get-tokyo-ticket-150824
--------
Over 470 women killed in Turkey in 2019: Platform
January 09 2020
At least 474 women were murdered in Turkey in 2019, according to an annual report by Kadın Cinayetlerini Durduracağız Platformu (We Will Stop Femicides Platform), a women's rights organization that monitors violence against women.
The number of women killed increased in 2019 compared to the previous year, the platform, which keeps a tally of murders of women, said in the report.
Some 218 women were killed by their husbands, ex-husbands, partners or ex-partners, while 101 women were killed by their relatives.
The suspects of 152 incidents could not be identified, and three women were murdered by people they didn't know.
A total of 185 women were shot with a gun, 101 women were stabbed to death, 29 women were beaten up to death, 27 women were assaulted to death, and six women were killed with chemical drugs in 2019.
A hundred and fourteen women were murdered because they asked for divorce, refused to return to their partners or rejected proposals for relationship.
Twenty-seven women were murdered due to "economic excuses," according to the report.
In 2018, a total of 440 women were killed in Turkey, according to data compiled by the same group.
The platform urges Turkish authorities to implement the Istanbul Convention, a Council of Europe agreement to combat violence against women, to prevent men from getting away with committing violence against women.
Meanwhile, Necati Tığlı, a Turkish lawmaker from the main opposition Republican People's Party (CHP) and member of the Equal Opportunities Commission for Women and Men in Parliament, prepared a report on women murders, sexual abuses and child abuse between 2016 and 2019.
Some 652 women were killed, at least 166 women were sexually assaulted and at least 96 children were abused in the last four years, according to the report.
Noting that there was a 471 percent increase in femicides in the last 16 years, Tığlı recalled that 83 women were killed in 2003.
http://www.hurriyetdailynews.com/over-470-women-killed-in-turkey-in-2019-platform-150770
--------
Amnesty International calls on Riyadh regime to release Saudi woman's rights activist
11 January 2020
Amnesty International has urged Saudi authorities to immediately and unconditionally release jailed prominent Saudi women's rights activist Loujain al-Hathloul, whose arrest more than four years ago marked the start of a crackdown led by Crown Prince Mohammed bin Salman against women activists in the ultra-conservative kingdom.
"Reports reaching Amnesty International indicate that authorities have allowed a doctor, who does not speak Arabic to visit Lujain. They have prevented him from communicating with her in any other language, forcing Lujain to use sign language. This has thus adversely affected the quality of health care she has received," the Britain-based human rights group said in a statement on Friday.
Amnesty International added that Lujain was taken back to solitary confinement after the doctor's visit ended.
"This mistreatment must stop. Lujain is a prisoner of conscience and has the full right to receive appropriate medical care. Saudi Arabia should end this inhumane treatment immediately," the group noted.
Amnesty International then asked King Salman bin Abdulaziz Al Saud and Saudi officials to provide the distinguished women's rights activist with appropriate medical care, and to immediately and unconditionally release her.
Back on August 13 last year, Hathloul's family said she had dismissed a proposal to secure her release from prison in exchange for a video testimony denying that she had been tortured and sexually harassed in custody.
"The Saudi state security has visited my sister in prison recently. They have asked her to... appear on video to deny the torture and harassment. That was part of a deal to release her," her brother, Walid al-Hathloul, who is based in Canada, wrote on Twitter at the time.
Walid went on to say that Loujain, who recently marked her 30th birthday in jail, had initially agreed to sign a document denying that she had been tortured, as a precondition for her release.
Loujain al-Hathloul is among around a dozen renowned Saudi women's rights activists, who are currently facing trial after being detained in a sweeping crackdown on political dissidents and pro-democracy campaigners last year.
She was among a number of detainees, who have accused interrogators of subjecting them to torture, including electric shocks, flogging and sexual assault in detention.
Saudi authorities have denied torture allegations, and said the arrests were made on suspicion of harming the interests of the ruling Riyadh regime and offering support to hostile elements abroad.
Hathloul's family maintains that Saud al-Qahtani, a senior adviser to the crown prince who has also been implicated in the murder of well-known journalist Jamal Khashoggi inside the kingdom's consulate in Turkey last October, was present during some of the activist's torture sessions and even threatened to rape and kill her.
Saudi Arabia has lately stepped up politically-motivated arrests, prosecution and conviction of peaceful dissident writers and human rights campaigners.
Over the past years, Riyadh has also redefined its anti-terrorism laws to target activism.
https://www.presstv.com/Detail/2020/01/11/615909/Amnesty-International-calls-on-Riyadh-regime-to-release-Saudi-woman%E2%80%99s-rights-activist
--------
A Saudi-Japanese couple embody Kingdom's new spirit of openness
NOOR NUGALI
January 11, 2020
RIYADH: As Saudi Arabia opens its doors and hearts to the world, shifts in tradition are underway. What once might have been taboo is now accepted by society.
Cases of Saudi women who have married foreigners are not as rare as they once were in the Kingdom.
One such case is Dr. Wafa Eid, a university lecturer who, for the past two years, has been married to Dr. Shota Mizutani, also an academic.
"Some Saudis find it hard to believe that a Saudi woman got married to a Japanese," Eid told Arab News.
"Some of them are happy to see us and started accepting the fact that this is becoming the norm, and that Saudi Arabia is open to cultures more than before. In Japan I have never faced any problems as many Japanese are married to foreigners."
Mizutani said: "We get stared at a lot when we go out in public together.
"We even once were asked by a mall security guard about our relationship. We understand that our case is rare here, so we try to take it as a positive thing.
"In Japan, people are surprised to know that I am married to a Saudi woman, but international marriages are common in Japan, so we have never faced any problems there."
Love of different cultures is what brought Eid and Mizutani together.
Eid and her family were drawn to events hosted by the Japanese embassy where they could make new friends. "It was a nice chance to become friends with Japanese people," she said, referring to the gatherings.
"I met (my husband) for the first time in 2009 at one such an event in the Japanese embassy."
Eid had always wanted to study abroad and experience being independent, and she was "interested in foreign languages and cultures." Her parents, too, were open to the idea of having foreign friends as a chance to experience different cultures.
"So, at that time my family and I often invited our Japanese friends to our house and introduced them to Saudi food and explain some of the cultural aspects of our society," she said.
"We even took them around Riyadh. That is how my husband became a family friend."
In 2010 she applied for the Japanese government scholarship and was accepted to study a master's degree starting in April 2011.
"I decided to go even though everyone around me was worried because of the Tohoku earthquake and tsunami," she told Arab News.
However, her large network of friends, including her would-be husband, helped her to start a life in Japan and find an apartment.
Because her husband had lived in Saudi Arabia before, he was accustomed to the cultures and traditions. "My husband has lived abroad for more than 10 years (including Saudi Arabia) and has been a Muslim since 2011," she said. "He is open to new cultures and understands Islamic culture.
"The fact that my husband used to live in Saudi Arabia helped him to understand Saudi customs and culture. Therefore, when it came to marriage, he knew that he had to ask for my parents' permission before proposing, so he scheduled a Skype call with them and asked them for my hand in marriage.
"They also agreed on keeping it a secret from me. He surprised me by proposing to me in Japan. He gave me a manga (caricature) drawing of both of us and my lovely cat by my favorite manga artist in which he is asking for me to say yes."
Eid was surprised when he proposed. Her initial reaction was: "Well, you need to ask for my parents' permission first!" Which was something he had already done.
"I was really shocked when he told me that he had already got their permission and their approval, and they all had kept it as a secret from me," she said.
"I was really happy. My family and I had known him for a long time. He had always been this really kind, sweet person."
There were two weddings, one in Japan and one in Saudi Arabia, she said. "We were happy to see both families and friends getting together for us."
Having lived in each other's countries, they realized that there were cultural differences. "However, we don't find them a problem because both of us understand each other's culture as I have lived in Japan for six years and my husband has lived here (Saudi Arabia) for six years," Eid said.
Eid knows two other Saudi women who are happily married and living in Japan with their spouses. This in addition to the Saudi men she knows who are married to Japanese women.
Eid has some advice for Saudi women who are going to marry a non-Saudi man. "Get to know both families; it helps in understanding each other's background and vice versa," she said.
"Don't worry too much about what other people think. There are always people who are against international marriage everywhere in the world."
https://www.arabnews.com/node/1611581/saudi-arabia
--------
Sudanese Women Chase Soccer Dream
January 11, 2020
All her life, Elham Balatone wanted to play soccer like her brothers.
However, in Sudan, where she lives, women could be arrested and beaten for putting on soccer clothing in the strict Muslim country.
She played anyway.
"There's nothing in this world that I love more than soccer. Please let me play," she said she told her family.
For years, she and other women played secretly.
Until now.
Recently, Sudan's sports minister watched the women play in a sports center in the capital Khartoum where the country celebrated a new, official women's soccer league.
Even Balatone's family was happy about it.
The new league is about more than a game. Sudan is trying to move away from 30 years of leadership that followed Shariah, a strict understanding of Islamic law that limits what women can do.
Officials are making changes after the ouster of former President Omar al-Bashir in April 2019. In November, officials canceled a "public order" law that, activists say, had been used to discriminate against women.
But not everyone is happy. Some extreme religious conservatives are pushing back.
Preacher AbdulHay Yousif and others have said permitting women to play soccer will "destroy religion and morals."
"What manhood would allow a Muslim woman to appear before men...with her arms, legs…exposed and then run before them?" Yousif asked religious followers in October just as the league began.
He also said Sudan's minister for sport and youth, a woman, "doesn't believe in what we believe in. He called her "an apostate." This has resulted in legal action between them.
Another pro-Shariah group called on preachers to "expose the government's secularization plots."
Critics argue that some conservatives are using the methods of the former president al-Bashir. They say he criticized political enemies using religious language to control women and stop change.
Yousif's words have not affected the league. But Taghreed Awoda, an official for one of the teams, said the argument was a part of the greater fight for change.
Awoda said "to have a women's soccer league play in Sudan," destroys the world al-Bashir created.
Under al-Bashir, laws that controlled women and their clothing targeted the poor, uneducated and political activists, Awoda said. Women players were usually left alone if they played quietly although one group of women was arrested for a short time.
"Now the moment has come when they can show people that women could play just like men," said Amany Anas, a player for the al-Tahadi team.
The players said there is no conflict between their religion and soccer.
"I pray and I perform my Islamic duties. I see no problem," Anas said.
https://learningenglish.voanews.com/a/sudanese-women-chase-soccer-dream/5231381.html
--------
Women in mosques: On the margins of faith
Ziya Us Salam
January 10, 2020
Women have traditionally been excluded from offering prayers in most mosques in India. A new book explains how this practice goes against the tenets of Islam
On Eid in 2011, I drove my 76-year-old mother to Old Delhi Jama Masjid. It was the first time she had stepped out for Eid prayers; a little surprising considering she was otherwise particular about her daily prayers. It took some patience and not a little persuasion on my part for her to head to the masjid. I had seen in countries such as France, the UK, Saudi Arabia, Malaysia and Turkey that women regularly went to mosques. Not so in India. "If the Prophet's mosque accommodates women, what's preventing you from going to a mosque in India?" I would ask her.
For years she just laughed it off, adding, "Women pray at home. Men go to mosques." Then she went for Hajj, the pilgrimage every Muslim is to make at least once in their lives, and her world changed. She saw how women prayed in Al-Masjid Al-Haram in Mecca and Al Masjid Al-Nabavi in Medina. When she returned home, she related, "Women go to Allah's house in huge numbers. Here, the maulanas do not allow women." This was the moment I had been waiting for. "It was the local maulanas, and not the Prophet who discouraged women from going to mosques," I said.
Finally, she agreed, and went out with me, my wife and daughter to offer Eid salah in a congregation. Though she offered her first community Eid prayer at an advanced age, my mother was still lucky. There are millions of women in the Indian subcontinent who go through a lifetime without ever going to a mosque, not even on Fridays and the two Eids. In fact, every Friday, it is common to see Muslim men, in their crisp white clothes, heading to the local mosque. Women stay home.
Except in a few hundred mosques in Kerala and some mosques maintained by Ahl-e-Hadith sect and Jamaat-e-Islami, women do not figure in the scheme of things. There are no women on management committees of mosques, no provisions made for women to perform ablution before prayers, no halls or prayer spaces marked for them. It is almost like mosques have been reduced to a male monopoly. It is contrary to what Prophet Mohammed preached, and what the Quran says. Around 60 times, the Quran asks the believers, men and women, to establish prayer. While one can offer prayer in solitude, a prayer can only be established in a group, a congregation. The Prophet asked men not to forbid women from going to mosques. During his lifetime, when women came with small babies to attend prayers, children who might cry in the middle of a prayer, he did not ask women to leave them behind or stay home. Instead, he made the prayer shorter, enabling women to attend to their babies soon.
My book Women in Masjid: A Quest for Justice stems from an innate faith in the teachings of the Quran and the Prophet. It aims to correct a historical wrong in the Indian subcontinent where women suffer due to insistent patriarchal interpretations of religious texts. As I write in the book, "Women have been exempted, not prohibited from going to the mosques. The Prophet encouraged them to say the Friday and Eid prayers in a large congregation."
The Quran tells us, through verse 31 of Surah Al'Imran, "Say, (O Muhammad), If you should love Allah, then follow me, (so) Allah will love you and forgive you your sins. And Allah is Forgiving and Merciful." It quells all possibility of a debate on the subject; as the Prophet had clearly welcomed women into mosques.
A beginning, as I point out in the book, can be made in the subcontinent by encouraging women to attend Friday and Eid prayers in mosques. Men will have to make space for women. Not in a cursory room, as some mosques tend to do, but a place right behind them. Just as the Prophet did during his time. Until that is done, the patriarchal forces will continue to prevail over the word of Allah and His Prophet. Society will remain paramount and faith subservient. It is time for every mosque to declare that it is un-Islamic to close their doors to women. Next, women should be incorporated into mosque committees.
So far, men have decided the matters for both men and women. In cases where mosques have logistic problems in making a separate entry and exit for women, women should be encouraged to have their jamaat (congregation). After all, Umm Waraqa, a contemporary of the Prophet, was once asked by him to lead prayers at her house. Ultimately, women's prayer space has to be restored, just as the Prophet had visualised it: Behind the men in the last row, in a location from which they can see the Imam, and not some obscure corner from which they can neither see the Imam, nor hear the recitation clearly. It is time for women to reclaim their sacred space. Women in Masjid hopes to aid the quest for justice.
As for my mother, her Eid prayer in Jama Masjid was to be her only salah in a mosque; she breathed her last months later.
https://www.thehindubusinessline.com/blink/read/women-in-mosques-on-the-margins-of-faith/article30532581.ece
--------
This former Yazidi ISIS sex slave hopes for her husband's return
By Lakshmi Subramanian
January 10, 2020
Forty seven kilometres from the beautiful city of Duhok, it is a picturesque drive to the foothills of Sinjar district. It is the northern region of Kurdistan guarded by Peshmerga, the military forces of the autonomous region of Kurdistan Iraq. In Kurdish, Peshmerga means 'those who face death,' and the word is heavy with historical importance. At dusk, an eerie silence mixed with a sense of foreboding prevails as the temperature plummets to four degrees. A few men are out on the road, near a municipality office, conversing with each other. Every day, the local municipality office in the foothills of Sinjar gets crowded as people wait for information on their loved ones.
A year after the fall of the Islamic State, the Yazidis in Kurdistan are still in the grip of fear. An uneasy stillness hangs in the air, as the road turns to the house of 27-year old Leyla Telo Khidher. Clad in blue jeans and a black t-shirt, Leyla is thin and pale. She doesn't smile. Lines of sorrow run through her face. But her eyes are bright and fierce as those of the falcon. Determination to fight and win back life flow out, as Leyla begins narrating her miserable story of kidnap, rape and torture.
For two years and eight months, Leyla was enslaved by the ISIS fighters, sold eight times, raped, beaten and tortured. A year after getting back to her family, she is still waiting to hear if her husband Marwan is alive. Though she knows that chances are bleak, Leyla still expects him to return one day. Her seven-year-old son, who once used to draw only guns and say that those who don't follow Islam should be killed, now goes to school, normalcy returning slowly to his life.
Born in a family of farmers and shepherds, Leyla, a mother of two fell prey in the hands of ISIS fighters, when the deadly Islamic State men, captured Mount Sinjar. As a child, Leyla who was living with her brothers and her sisters in Mount Sinjar and working on her family farm. After a spate of sheep theft, the family decided to move to Kojo, a village in the foothills of Mount Sinjar. In 2003, her brothers joined the Peshmerga forces after the US-led invasion of Iraq. Leyla and her brothers were happy and lived a peaceful life. Leyla was always happy as a child and even after her marriage, her life was peaceful.
But it all changed in 2014 when the ISIS came to attack Siba Shiekheder, the Yazidi town on the Syrian border. On August 2, 2014, some of Leyla's family friends from Siba Sheikheder called on her brothers for. This was also the time when Peshmerga fled from Kojo. The family did not know was clueless and so with some of the other villagers, Leyla and her family decided to flee the place, as they thought ISIS might come to Kojo also. The other shocker came in when Leyla's sister who was living in Siba Sheikheder called, on August 3, 2014, to say that ISIS was coming." Leyla and her family decided to go towards the North of Sinjar, leaving back one of their old uncles at home.
When they wanted to come back to Kojo the next day, ISIS had already reached there. So, Leyla, her husband and two children had no option but to be where they were. "We ended up in scrubland on the outskirts of Sinjar. There was no way out for us." Leyla was very nervous. Her children— son Salar and daughter Sara, were crying non-stop. By then ISIS had already taken over. They asked the people for their money, jewellery and whatever valuables they had. A man with a red face and red beard, called Emir, which means Prince in Arabic, instructed his men in black to take away everything the Yazidis had with them.
Soon Leyla and her family were made to board a van and taken to an office where ID cards are usually made. When Leyla reached there, her husband was taken away. Before her, there were more than 1000s of Yazidi women and girl children all shivering in fear. Women and girls were picked up by numbers and names by the ISIS fighters at gunpoint. At dusk, the remaining women and children were crammed into a small space in the building. At around 9 pm, the ISIS fighters came in again. This time with a lantern to look at the faces of the Yazidi women. When a fighter came near her, she fainted and so she escaped that night. The next day again, when the ISIS men came, she cuddled to protect herself. But all in vain. She was taken away by a fighter and was transported to a school, a makeshift prison in Tel Afar, 50 km from Sinjar.
She was again kept in a cramped room with other women, where there was just a ray of light. Every time, the men in black with guns would come, pick beautiful girls and go. Each time, the names and ages of the girls in the room was made into a list. One day, an ISIS fighter picked her and her children. They were taken 200kms away from Tel Afar, into Iraq. She was then made to sit in a market place in Iraq only to be sold to a man called Muhammed in Mosul. Leyla seeing Muhammed had a sigh of relief thinking that he would save her because he was known to her family. "He was our family friend. But he did not show any courtesy," recalls Leyla.
Three days later he took her to the market place in Raqqa, the then de-facto ISIS capital. In the market, as the merchants walk down, the women were made to sit with dirty clothes with a price fixed for each of them. Leyla was sold by Muhammed to another man in Raqqa. "It was the month of Ramadan. I was forced to go on fast. I would do all the household work, fast, only to be tortured and harassed by my captor," recalls Leyla. She recounts the days when she was forced to convert to Islam. A month later, this man again sold Leyla to a doctor. When Leyla asked him to sell him back to her family and that she would get him money as much as he wanted, he refused. This time she was sold to a cosmetic surgeon. "I was with this doctor separated from my kids, in the same apartment, for six months. Everyday she would wash the clothes of her children, change their clothes and leave them in a room. His name was Abdallah Al-Hashemi," recounts Leyla. She was constantly beaten and raped by the doctor captor.
This was also the time when her son was sent to an IS school and to the nearby police stations and made to watch videos of beheading and guns. After his return, he would say, "I will slaughter you," looking at his uncle and other men who did not follow Islam.
"My son is eight now. But I have undergone the most difficult times even after we were rescued. My son would only draw pictures of guns, he will call all of us, including my brothers and Yazidis as infidels. He would say Islam is right. He is changing slowly now," tells Leyla, as rays of sorrow run through her face.
After eight months with the doctor, Leyla was sold again and again, to men from Iraq, Lebanon and Saudi Arabia. Leyla who was at the first instance given as a gift to a fighter was later sold to each man and the price varied. And when Abu Hani, a Lebanese came, he said, he would marry her as he did not want to do anything Haram. It was a religious marriage at an Islamic State Court. It was then she tried to find a way to reach her family. In Raqqa, she came in touch with another woman, who helped her by giving her access to a phone. She reached her brother over the phone, who got in touch with a smuggler, who smuggled her out for a ransom, in April 2017.
Leyla gets nightmares even now. She has not slept peacefully and she waits for information about Marwan. "I don't know if he is alive or dead. But I want him to come home alive," she says. Leyla, like other Yazidi women, doesn't want to cover her face as she narrates her horror story. "I want to help other Yazidis who have been affected like me. I want to be an inspiration to them, to fight all odds in life," tells Leyla.
Like Leyla, when ISIS attacked Sinjar, more than one lakh Yazidis fled the place to save themselves. And those could not flee the place were rounded up. Many Yazidi men were massacred, while the women and children were captured. Many men were thrown into pits, many died of dehydration, torture and harassment. According to the Sheikh, at the Mala Ezidiyan Li Herema Centre in Hasakh, that works to rescue Yazidi women and children captured by ISIS, at least 6,383 Yazidi women and children were enslaved by ISIS, transported to their prisons, military training camps and forced to convert to Islam.
The Yazidis are a majority Kurdish speaking people who live in Mount Sinjar bordering Syria and Kurdistan Iraq in Northern Iraq. With a population of just one million people across the globe. Considered to be infidels by the Muslims, they have always been forced to convert. The Yazidis worship fire and their temple Lalish, 47 kilometres from Duhok, is almost similar to the Hindu temples. They participate in baptism and feasts. They sing hymns and narrate stories of historical and mythical battles like the Hindus. Visiting sacred places is considered as a religious practice.
Muslim rulers have always forced them to convert to Islam. When Saddam Hussein was ruling Iraq, the Yazidis faced displacement. It was then in 2003 when the US-led invasion took place, that Peshmerga was founded and many Yazidi men joined Peshmerga. But since then, there have been displacements and most Yazidis fled to Europe, Germany and many other neighbouring countries. Only 50,000 Yazidis live in Sinjar.
"The Yazidis are the most targeted in the whole of the Middle East. This is because we do not follow the Quran or Islam. We are the oldest religion in this part of the world with a 1400-year history. This is why we are targeted," Sheikh told THE WEEK.
The attack on Yazidis began in 2014, according to him, as the geography of Sinjar is like a square and also because the Yazidis are not people who would fight back. "Between 2014 and 2019, our women and children were moved from Raqqa and Mosul like slaughter animals. Women above the age of 35 were made to work as servants. Girls between the age group of 15 to 20 were enslaved for sex. Many girls killed themselves. I remember how we heard the news of Jailan Bharjaz, who killed herself, fearing ISIS men."
In the last one year, Sheikh has fought all odds to rescue at least 270 Yazidi women and children. "There are many more Yazidi women in refugee camps. We are still looking for them. Many have converted to Islam and don't want to return to our religion," points out Sheikh. Though at least 2,590 women and children escaped with the help of human smugglers out of the caliphate, according to him, 2,900 Yazidi women and children are missing.
But Sheikh is determined to bring all the Yazidi women back home and reunite them with their family so that they can lead a peaceful life like Leyla Telo.
https://www.theweek.in/news/world/2020/01/10/exclusive-this-former-yazidi-sex-slave-hopes-for-her-husbands-return.html
--------
Justice Ministry allows men and women to register as conciliators
January 8, 2020
RIYADH — The Ministry of Justice, represented by the Conciliation Center, has allowed men and women to register as conciliators at the Center, Saudi Press Agency (SPA) said.
It said that individuals of both genders or from the profit and nonprofit sectors can register as conciliators.
They can practice conciliation out of courts or within the courtrooms. The conciliation minutes they issue will become executive documents after electronic approval by the Conciliation Center at the ministry.
The Ministry of Justice said that a registered peacemaker can work in reconciling people in several existing disputes between the two parties to one conflict, even if the conciliator's area of specialization differs. The resolution procedures will be fully digitized.
They begin with submitting an application for beginning a conciliation process, then to submit a report whether it has been a success or failure, so that the minutes for the peacemaking sessions can be adopted in the court's minutes via a remote digital system.
The ministry added that conciliators can register via the link: https://t.co/4S8zcmdRuT
The Ministry of Justice has given the registered conciliator the option to work as an independent conciliator or in an office or both.
He has the choice to charge a fee for providing his mediation services or provide free services. He can specify the number of free conciliation sessions per year, in return for registration at the center.
The registration form mentions the various disputes giving the conciliator, who wishes to register, the option to choose the kind of conciliation that suits him and wants to specialize in.
The specialization fields include family, financial, criminal, traffic, real estate, commercial and intellectual property rights. The applicant can add other types.
The Ministry of Justice said applicants must fill their personal data in the e-registration form, like full name, identity card number, date of birth, gender and mobile number. The email must be filled, city, type of work and occupation, years of experience in the field of conciliation (if available), qualifications and specialization.
The ministry drew attention to the fact that among the most important conditions for registering as a "conciliator" is that the applicant should be of good conduct, should be fully competent, and should hold at least a university degree.
They must attend training courses specified by the Conciliation Center, and must pass the examination, personal interview and practical training. — SPA
http://saudigazette.com.sa/article/586544
--------
URL: https://www.newageislam.com/islam-women-feminism/shaheen-bagh-dabang-dadis-brave/d/120771
New Age Islam, Islam Online, Islamic Website, African Muslim News, Arab World News, South Asia News, Indian Muslim News, World Muslim News, Women in Islam, Islamic Feminism, Arab Women, Women In Arab, Islamophobia in America, Muslim Women in West, Islam Women and Feminism