New Age Islam News Bureau
12 Oct 2013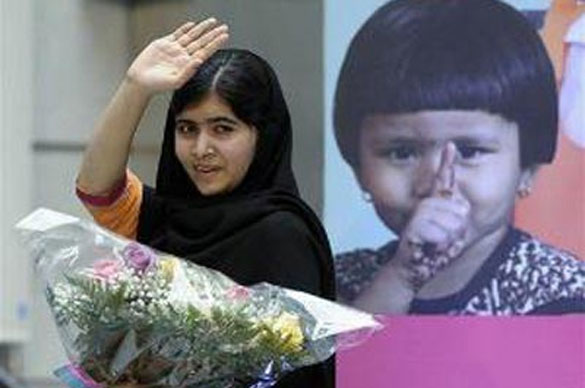 Malala Yousafzai
-----------
• NC, Congress Defeat Motion to Empower Women
• Malala Yousafzai Wows Washington after Being Nixed For Nobel Peace Prize
• Hillary Clinton Backs Saudi Women Defying Driving Ban
• Malala Meets Fear and Jealousy in Pakistan Hometown Mingora
• Somali Women Make History with the First Ever Radio Station For and Run By Women
• Aramco Launches Awareness Program for Elderly Women
• Jazan Women Create Perfumes At Home
• Pakistani Men Getting More Violent Towards Women
• Teachings of Islam Underscored For Protection of Girl Child
• Malala Calls On World to Make Education Top Priority
• Adolescent Girls in Africa Neglected During Humanitarian Emergencies - Report
• Women Resort to Karate for Self-Defense in 'Rape Capital', Johannesburg
• On International Girl's Day, Violence against Women Trends Worrying
• Morocco: The Second Benkirane Cabinet, Strong on Women
Compiled by New Age Islam News Bureau
URL: https://www.newageislam.com/islam,-women-and-feminism/new-age-islam-news-bureau/sfax-women-protest--jihad-an-nikah-/d/13969
-----------
Sfax Women Protest 'Jihad An-Nikah'
October 12, 2013
Tunisian women's rights activists on Thursday (October 10th) staged a protest in front of the city hall in Sfax to denounce "sex jihad", Shems FM reported.
The head of the local office of the Association of Democratic Women, Najoua Baccar, said that the women involved in "jihad an-Nikah" were victims of extremists. The women's rights advocate called on the Tunisian government to assume full responsibility for the tragedy.
For months, media reports have circulated about young women from Tunisia and other Maghreb countries that were recruited to provide companionship to jihadist fighters in Syria.
http://magharebia.com/en_GB/articles/awi/newsbriefs/general/2013/10/11/newsbrief-02
-----------
NC, Congress Defeat Motion to Empower Women
AHMED ALI FAYYAZ
NC legislator Shehnaz Ganai sought reservation for women in professional courses, public services
The National Conference and the Congress — both purported proponents of women's empowerment — on Friday joined hands to defeat a resolution that NC legislator Shehnaz Ganai moved in the Jammu and Kashmir Legislative Council seeking reservation for women in all professional courses and public services.
Ms. Ganai's own party colleague and Minister for Planning Ajay Sadhotra opposed the resolution and asked her to withdraw it after an assurance was given to her by the government. She, however, pressed for the resolution, which was put to vote. Deputy Chairman Javed Rana declared the resolution as failed, though many of the members said 'yes' in the voice vote.
"Government's intentions were exposed today in the Legislative Council," said Ms. Ganai, the NC's only MLC in the 34-member Upper House. She claimed that a majority of the members favoured her resolution.
Ms. Ganai had sought 50 per cent reservation for women in all professional and technical courses, and subsequently in government services, on the pattern of reservation adopted for MBBS and BDS courses during Farooq Abdullah's government in 1996-2002.
She gave the credit for the historic initiative to Dr. Abdullah and pointed out that that the women's ratio in the Health Department now stood at 69 per cent.
Ms. Ganai claimed there were only 12 per cent women in senior scale in the Kashmir Administrative Service and a paltry 3 per cent in the Kashmir Police Service.
"Reservation is a must in all professional and technical courses as well as jobs if the women are to be empowered," she said. Ms. Ganai asserted that women were "equally unrepresented" in the legislature, the judiciary and the executive.
"Among 800 MLAs since 1947, only 12 have been women. Only six have been Ministers compared to 300 men in the last 63 years," she pointed out.
http://www.thehindu.com/news/national/nc-congress-defeat-motion-to-empower-women/article5226132.ece
----------
Malala Yousafzai Wows Washington after Being Nixed For Nobel Peace Prize
Chidanand Rajghatta, TNN | Oct 12, 2013
WASHINGTON: Taliban could not intimate her, but evidently she is not inhibited in the presence of the President of the United States either. Teenage Pakistani activist Malala Yousufzai says she told US President Barack Obama during a visit to the White House on Friday that refocusing efforts on education in Pakistan would make a better impact than drone strikes that kill innocent victims and fuel terrorism.
The White House, which released a photograph of Malala's meeting with the President that also showed First Lady Michelle Obama and their daughter Malia sitting in, did not confirm the account, only noting that the First Couple welcomed her to the Oval Office "to thank her for her inspiring and passionate work on behalf of girls education in Pakistan."
"The United States joins with the Pakistani people and so many around the world to celebrate Malala's courage and her determination to promote the right of all girls to attend school and realize their dreams. As the First Lady has said, investing in girls' education is the very best thing we can do, not just for our daughters and granddaughters, but for their families, their communities, and their countries," the White House said.
But in a statement issued through Associated Press, Malala claimed to have also "expressed my concerns that drone attacks are fueling terrorism. Innocent victims are killed in these acts, and they lead to resentment among the Pakistani people. If we refocus efforts on education it will make a big impact." The White House did not confirm the exchange.
The White House meeting, part of Malala's US tour that has included speaking at Harvard University, the World Bank, and numerous TV appearances, came on what is now celebrated as the International Day of the Girl. "As the President said in his proclamation to mark the International Day of the Girl, across the globe there are girls who will one day lead nations, if only we afford them the chance to choose their own destinies. And on every continent, there are girls who will go on to change the world in ways we can only imagine, if only we allow them the freedom to dream," the White House statement reminded, saluting Malala's efforts "to help make these dreams come true."
Indeed, in several public appearances in Boston, New York, and Washington, the young Pakistani activist has wowed audiences with her passionate promotion of education for girls. Asked on Jon Stewart's Daily Show what she wanted to tell the Taliban, which shot her in the head for espousing education for girls, Malala said, "You can shoot me, but listen to me first. I want education for your sons and daughters. Now I have spoken, so do whatever you want."
The response caused Daily Show's Jon Stewart to go mock slack-jawed. "I know your father is backstage and he's really proud of you. But would he be mad if I adopted you?" Stewart joked. To Christian Amapour on CNN, she said of Taliban: "They only shot a body but they cannot shoot my dreams."
Similar responses to an audience packed into the World Bank atrium on the sidelines of the Bank-Fund annual meeting brought her several rounds of applause. "If a terrorist can change someone's mind and convince them to become a suicide bomber, we can also change their minds and tell them education is the only way to bring humanity and peace," she said, after insisting, "I am proud to be a girl, and I know that girls can change the world."
She said people did not have to do anything extra for their daughters, "but don't clip their wings...let them fly... and give them the same rights as your sons....give them a chance to be a human being." When World Bank president Jim Yong Kim, a physician by profession, asked her why she wanted to enter public life, Malala replied, "Because a doctor can only help someone who has been shot. If I become a politician, I can help make a tomorrow where there are no more cases of people being shot."
Later in the evening, Malala spoke at Sidwell Friends School - where Obama's daughters Malia and Sasha study; also alma mater to Chelsea Clinton and daughters of President Nixon - at a sold-out event hosted by Politics and Prose bookstore. Many of her engagements are aimed at promoting her book "I Am Malala: The Girl Who Stood Up for Education and Was Shot by the Taliban.
The Washington event came hours after she had been nixed for the Nobel peace prize after her PR machinery had built unrealistic expectations that she was favored to get it. Malala herself provided the most sober perspective of the hype, saying it would a "great honor and more than I deserve" to win the accolade, but insisting she still had more to do before she felt she'd truly earned it.
"I need to work a lot," she said.
http://timesofindia.indiatimes.com/world/us/Malala-Yousafzai-wows-Washington-after-being-nixed-for-Nobel-peace-prize/articleshow/24044820.cms
----------
Hillary Clinton backs Saudi women defying driving ban
October 12, 2013
London: Hillary Rodham Clinton has supported Saudi women who last week defied their kingdom's ban on female driving.
The former US secretary of state told an event in London: "I'm all for it. It is an issue that is symbolic." She added that the ban is "hard to even rationalise" in today's world.
Clinton was speaking at London's Chatham House international affairs think tank on Friday. The organisation awarded her its annual Chatham House Prize to recognise her contribution to international diplomacy and her work in furthering gender equality.
Previous winners of the prize include Myanmar's Aung San Suu Kyi and former Brazilian President Luiz Inacio Lula da Silva.
http://gulfnews.com/news/gulf/saudi-arabia/hillary-clinton-backs-saudi-women-defying-driving-ban-1.1242231
-----------
Malala meets fear and jealousy in Pakistan hometown Mingora
October 12, 2013
Mingora: For many of her compatriots, Malala Yousafzai is a stooge of the United States and a CIA agent, a symbol of the West's evils and a global conspiracy to bring down her native Pakistan.
She has won the European Union's prestigious human rights award and was one of the favourites to win the Nobel Peace Prize on Friday, but in her native Swat valley, friends and neighbours reacted with a mixture of resentment, fear and jealousy.
"Malala is spoiling Pakistan's name around the world," said Mohammad Rizwan, a shop owner in her hometown of Mingora. "We didn't need Malala to come and tell us how important education is."
Around the corner from his shop is the quiet street where Malala, 16, was shot a year ago after trying to defy the Taliban with her outspoken views on women's right to education.
She survived after being airlifted to Britain for treatment and has since become a symbol of defiance against militants holed up in nearby tribal areas on the Afghan border.
But in this deeply conservative part of Pakistan, where women are expected to stay at home and keep their views to themselves, many people view Malala's campaign with suspicion.
In a nation thriving on conspiracy theories, some have even doubted the sincerity of her campaign, claiming it is part of her family's ploy to move to Britain or that she is just an attention seeker.
Social media sites are brimming with insulting messages. "We hate Malala Yousafzai, a CIA agent," says one Facebook page.
"Here, people have been unkind to her. They want to forget her. They think she is a drama queen. But what can you do?" said Ahmad Shah, a childhood friend of Malala's father who helped write her speech at the United Nations this year.
"Here in Swat, we have seen the hell that is Taliban rule.
And yet, some people still say they would much rather side with the Taliban than Malala. Sometimes people never learn." In an impoverished region where violence is part of daily life, some of Malala's neighbours were simply afraid. Some appeared keen to forget about her and move on.
The picturesque valley was overran by the Taliban, who imposed strict Islamic laws and kept its people in fear, in 2007. It is now controlled by the Pakistani army. Mingora, a dusty town of windy roads surrounded by jagged hills, is festooned with billboards reading "Long live the Pakistan Army!" There were no posters of Malala.
"Malala is a talented girl, no doubt," said Zahid Khan, head of the Swat Peace Jirga, an anti-Taliban body who has survived three attempts on his life for his work.
"I have been attacked. Shot. Almost killed. But no one is honouring me. The state hasn't given me a cent in compensation." The Taliban have issued repeated threats to kill her.
"She says she does not want to live like an illiterate person in a walled compound and deliver children," said Shahidullah Shahid, a Pakistani Taliban spokesman.
"Her mother and grandmother used to live in walled compounds and deliver children, so by saying that she didn't even spare her mother." At Khushal Public School, a three-storey building where she studied, many avoided mentioning her name altogether.
A red and yellow school bus parked outside its metal gate was the same as the one in which Malala was shot on Oct. 9, 2012. In her classroom, her old seat was still empty. Someone had placed a schoolbag there to mark her presence.
But there were no events held to mark the first anniversary of her shooting.
"We want the girls to forget the trauma of that day," said Nargis Bibi, a school administrator. "We want them to forget it.
We don't want them to relive it again. We all want to move on." Quratulain Ali, Malala's friend, said quietly: "We are all very happy in our hearts (that she was nominated to win the Nobel Peace Prize) but we don't often speak about it openly.
There could be danger for us also." The award went to the Hague-based Organisation for the Prohibition of Chemical Weapons, which is overseeing the destruction's of Syria's arsenal.
http://gulfnews.com/news/world/pakistan/malala-meets-fear-and-jealousy-in-pakistan-hometown-mingora-1.1241927
-----------
Somali Women Make History with the First Ever Radio Station For and Run By Women
October 12, 2013
MOGADISHU - Somalia is giving a voice to women in the country with the first ever radio station for and run by women.
The independent station called Kasmo FM, has for several months now broadcast from Mogadishu and is gaining in popularity.
The new station was launched in March 2012 to mark International Women's Day.
Sports journalist Fadumo Hashi Farah said: "It's director is a woman, its program producers are women, and its technicians, newscasters and reporters are also women. In fact, I believe it is the first radio station to take this positive step and broadcast women's voices in Mogadishu."
The independent community station already has around half a million listeners.
"I am one of the listeners of Kasmo radio, which calls itself the 'women's voice'. It talks about the internally displaced people, rape against women, and many other issues. I like this radio station because it broadcasts programs about cooking, women's affairs and other programs," said a listener.
Kasmo FM director Zahra Abdullahi Yusuf said: "the radio has awareness programs that tell parents that if a woman is educated, it's like the whole family is educated, and an educated family is like an educated nation."
Media broadcasts were mostly banned when militant group al-Shabaab controlled the city.
Kasmo FM highlights how much has improved in Mogadishu since the militants were driven out of the city.
Somalia is one of the most dangerous placed in the world to be a journalist with several reporters being kidnapped and killed in recent years.
http://www.enca.com/africa/somalia-women-make-history
-----------
Aramco launches awareness program for elderly women
October 12, 2013
The Aramco Health Affairs Department in the Western Province (SAA-WP) organized a special day for elderly women at their premises recently.
Sameer Nasruddin, manager of the SAA-WP, said the event was organized in the framework of the United Nations International Day of Older Persons, which is celebrated every year on Oct. 1. "This event forms part of Saudi Aramco's commitment to social responsibility. The company has previously raised awareness on diabetes and high blood pressure. Aramco checked the eyesight of elderly people at the event," he said. He said the event attracted hundreds of elderly women.
"The aim of the event was to activate our partnership with society and bring joy to older people who have contributed to society and who were responsible for raising the future generation of leaders," he said.
Muneerah Al-Akkas, a social activist and family worker, gave a presentation on the keys to successful human relations and the golden rules for building lasting friendships.
http://www.arabnews.com/news/467537
-----------
Jazan women create perfumes at home
October 12, 2013
Many women here are creating and launching their own range of perfumes from their homes with small grants from the government.
The grants for small start-ups run by unemployed women range from SR8,000 to SR30,000, according to a report in a local newspaper.
Um Ali said she heard about the program from a neighbor. She decided to take a short training course and then successfully applied for a SR15,000 grant.
She now has many customers buying perfumes at her house. She said women prefer buying traditional perfumes and incense because they are produced from concentrated aromatic plants.
Aesha Owadah, another beneficiary, said the grant is helping her make an honest living. "I started mixing perfumes and made incense at home. I also produce traditional clothes and small tents," she said.
Deputy Director for Social Security in Jazan, Sami Hamli, said the program has 300 beneficiaries. These include women running dressmaking and hairdressing businesses.
Hamli said beneficiaries must have special medical certificates, a license to open a store and a lease.
http://www.arabnews.com/news/467524
-----------
Pakistani Men Getting More Violent Towards Women
October 12, 2013
KARACHI: Four studies conducted by different researchers as part of 'Green Ribbon Campaign', an initiative of Rutgers WPF, disclose that violence against women (VAW) in Pakistani is on the rise. The campaign promotes responsibilities of men in the society as fathers, brothers and husbands.
SONAM Associate Professor Dr Rozina Karmaliani, who also works at the AKU Medical College Department of Community Health Sciences (CHS), conducted a detailed study under the title 'Meeting the 2015 Millennium Development Goals with New Interventions for VAW', which states VAW in Karachi is on the rise.
The study aimed to find depression and domestic violence among poor urban women in Karachi, for which three-group clusters were formed. After one-year the intervention showed that literacy alone was as effective as intervening for better mental health and less domestic violence. The presentation discussed key contributing factors to VAW, explored and tested new interventions, and highlighted the opportunities that exist in implementing them to improve the health outcomes of abused women and, therefore, improve maternal mental health and child health in Pakistan.
Pakistan Centre for Philanthropy (PCP) Senior Programme Manager Kanwal Qayyum conducted a study 'Domestic Violence against Women: Prevalence and men's perception in PGRN Districts of Pakistan' - Pakistan Gender Based Violence- Reproductive Health Network (PGRN), that aimed at measuring prevalence of intimate partner violence (IPV) among ever-married women.
Prevalence of any form of IPV was found among 85 percent women. Almost 47 percent women were physically abused during their pregnancy. One-fifth of the ever-pregnant women had history of at least one induced abortion. Nearly 40 percent had induced abortion because the foetus was female. 53 percent women were physically abused and 25 percent sexually abused after the age of 15 by persons other than their husbands, whereas 23 percent women reported CSA by known perpetrator before the age of 15. The study also highlights social context of child marriage and honour killing.
FGD findings revealed that men identified multiple causes of violence, which are deeply-rooted in cultural notions of manhood and also reinforced by misleading interpretation of religious (Islamic) norms and values. However, men do realise that violence affects women's mental and physical health. The high prevalence of IPV and its strong association with honour killing, sex-selective abortion and multiple other factors, shows that gender inequality and discrimination is the root cause of domestic violence. Aga Khan University School of Nursing Assistant Professor Dr Tazeen Ali conducted the study 'Prevalence, and associated factors of intimate partners violence and its health effects among married women living in urban Karachi', in which she investigated prevalence, frequency, associated factors, and mental health effects of intimate partner's violence on married women through a World Health Organisation (WHO) questionnaire. The study was carried out with 759 married women living in lower and middle-income areas of Karachi. The results indicate past-year and lifetime prevalence of physical violence was 56.3 and 57.6 percent, respectively; the corresponding figures for sexual violence were 53.4 percent and 54.5 percent, and for psychological abuse were 81.8 percent and 83.6 percent. Risk factors were mainly the husband, his low educational attainment, unskilled worker status, and five or more family members living in one household. The interviews revealed that only 27 percent of women subjected to violence had disclosed this to anyone, in most cases to their parents. Repeated violence perpetrated by a husband towards his wife is an extremely common phenomenon in Karachi. Women exposed to violence are showing mental health effect. However, attainment of higher education, especially for women and also men, was viewed as an agent towards change. Reliable health surveillance system and healthcare services are needed to serve abused women. Policy initiatives focused on IPV and gender inequality in Pakistan should be initiated.
Advocate High Court Maliha Zia, with an LLM in International Human Rights from the School of Oriental and African Studies, University of London, in her study worked on the issue of domestic violence as one of the most prevalent forms of violence against women, but also one of the most under-reported. The lack of social and institutional support to any victim who chooses to leave a violent domestic relationship also breeds reluctance of reporting due to fear of isolation, being ostracised and inability to support oneself. Aurat Foundation has employed a number of different methodologies including collecting data on domestic violence to promote cultural, social and legal change. The foundation has also drafted and promoted a law on domestic violence. This paper ties together the different threads of Aurat Foundation's work on domestic violence to provide a holistic overview and update on the issue in present day Pakistan.
http://www.dailytimes.com.pk/default.asp?page=2013%5C10%5C12%5Cstory_12-10-2013_pg7_10
-----------
Teachings of Islam underscored for protection of girl child
October 12, 2013
LAHORE: Two civil society organizations – the Jaag and Bargad – in collaboration with the 'Initiative for Change' and Lahore Press Club marked the International Day for Girl Child, holding a seminar to create awareness among the masses about the issue on Friday.
October 11 is marked as International Day for Girl Child by the United Nations' adolescent task force. Six UN institutions including Unicef, and UNFPA are sole custodian of this campaign.
Former Judge Federal Shariat Court and former minister for law Syed Afzal Haider presided over the seminar while former member provincial assembly of Punjab and PPP leader Shukat Basrra, executive director JAAG Aamir Riaz, Executive director Bargad Sabiha Shaheen, human rights activist Iqbal Haider Butt participated in the discussion.
Afzal Haider narrated the difference between outdated traditions, progressive traditions and religious message on the issue of girl child.
He told that even our women usually follow outdated traditions based on anti-women mindset. It is Islam who protected women in so many ways, added Haider and gave numerous examples from the life of Holy Prophet (PBUH).
He explained his point of view by giving examples from the Islamic history saying protectors of outdated traditions tries to hide behind Islam but in fact, their all acts including torture on their wives or sisters or daughters, refusing education rights to girls and marrying their daughter in teen age, are product of
outdated traditions has nothing to do with religion.
Shukat Basrra told the audience that it was the last government of PPP which passed bill for protection of women. He said civil society should raise such issues on the relevant platforms and his party would raise the issue in the assemblies as well, he added.
http://www.dailytimes.com.pk/default.asp?page=2013\10\12\story_12-10-2013_pg7_9
-----------
Malala calls on world to make education top priority
October 12, 2013
WASHINGTON: Malala Yousafzai, the Pakistani schoolgirl activist who has become a world champion of girls' rights, called Friday for the World Bank to make education its top priority.
Seated on a stage with World Bank President Jim Yong Kim in a one-on-one presentation in Washington, the 16-year-old Malala delivered a poised, articulate and impassioned plea for children's education.
Asked by Kim for her advice to the World Bank, Malala noted that organizations spend much of their money on health, AIDS and other programs. "But I think all those organizations must make education their top priority," she said.
Such a focus would fight child labor, child trafficking, poverty and AIDS, all at once, she argued.
Kim, who has called her "a powerful symbol of hope", announced the World Bank was donating $200 million to the Malala Fund, a foundation she launched to help girls around the world go to school and promote universal access to education.
Malala said that she decided to create the fund because she needed to do "work on the ground" to promote education, in addition to speaking out about the issues.
She also is promoting her book, out this month -- "I Am Malala: The Girl Who Stood Up for Education and Was Shot by the Taliban", a tale of her family and life in the Swat Valley, her attack by the Taliban, her recovery and her mission to champion children's right to an education.
Malala was shot in the head by the Pakistani Taliban on October 9, 2012, for speaking out against their ideology.
She recalled to a packed audience at the World Bank that her father campaigned for women's rights, in a society that favors sons. She realized when she was about 13 and 14 that the Taliban might attack her father for his support of women, and she started to prepare for an attack against herself.
"If a Talib comes, he has a gun and he's going to shoot me, I will tell him, then shoot me, but listen to me first. Listen to my voice... And I will tell him that I want even education for their sons and daughters. I'm not speaking against them. I'm not against any person. I am against their ideology... why are they against education?"
The remarkable journey of the young girl from Pakistan, now feted worldwide and walking in the halls of power, has drawn the ire of the Taliban.
Speculation mounted recently that she would be awarded the Nobel Peace Prize. Instead, early Friday it was awarded to the Organization for the Prohibition of Chemical Weapons.
The Tehreek-e-Taliban Pakistan proclaimed they were "delighted" that she missed out on the prize. On Thursday the TTP threatened to kill her "even in America or the UK" after she won the European Union's prestigious Sakharov human rights prize.
"She has done nothing," TTP spokesman Shahidullah Shahid told AFP. "She is getting awards because she is working against Islam."
Asked by a girl in the World Bank audience how she lives a normal teenage life, Malala replied: "I have accepted this busy life for a reason... the education of every child."
Malala, who used to want to become a doctor, now says her goal is to be a politician to effect change.
"I believe that today's dreams become tomorrow's realities. And let us make our dreams these realities."
http://www.thenews.com.pk/article-122134-Malala-calls-on-world-to-make-education-top-priority--
-----------
Adolescent Girls in Africa Neglected During Humanitarian Emergencies - Report
October 12, 2013
Adolescent girls across Africa bear the brunt of suffering when natural disasters strike, as well as when their communities are plagued by armed conflict, a child's rights organisation said on Friday, highlighting how the hardships girls endure in male-dominated societies can spiral during crises.
UK-based Plan International blamed governments, aid workers and families in Africa for failing to protect adolescent girls from risks including child marriage and gender-based violence, as well as being pulled out of school - all of which are exacerbated in times of emergency.
In its report released on International Day of the Girl Child, Plan said that globally, women and children are 14 times more likely than men and boys to die in a disaster and that boys generally received preferential treatment over girls in rescue efforts.
The lack of support stems from the perception of adolescents as strong, resilient resources during crises, when in fact they are still vulnerable and do need help, the report said.
"Adolescent girls particularly have specific needs and face unique challenges due to their gender and age, which often make them most vulnerable in disaster situations," Fadimata Alainchar, Plan country director in Mali, told the Thomson Reuters Foundation by telephone from Bamako.
Climate change, rapid urbanisation and environmental degradation are likely to result in a deterioration of the situation: worldwide, disasters have increased from 90 a year in the 1970s to almost 450 a year in the last decade, and 95 percent of deaths from these recent disasters were in the developing world, the report said.
GIRLS MAKE SACRIFICES
In West Africa, the biggest challenge facing young girls today is the ongoing Sahel food crisis - a result of a devastating cycle of droughts and floods, persistent insecurity and soaring food prices in the region.
In Niger and Burkina Faso, two of the countries where Plan conducted research, girls have fared the worst as families struggle to survive.
"In difficult situations, girls are the first to be taken out of schools so they can work to support the whole family. They are handed over to someone else for domestic work in return for bringing a plate of food home," Alainchar said. "In worst case scenarios, the young girls are married off early to relieve pressure on the family or even prostituted for food."
In Burkina Faso, 16-year-old Mimi was one of those girls forced to make sacrifices for the family.
"My parents decided to take me out of school four years ago to save money and send my brothers to school," she was quoted as saying in the report. "I have to stay home because everyone's hungry and there's no money to send me to school."
Despite knowing the challenges adolescent girls face during emergencies, aid agencies have failed to protect them.
According to the report, worldwide, only around half of aid workers interviewed by Plan say they are collating sex- and age-disaggregated data; only 41 percent have strategies to counter child marriage; and more than a third are not addressing key risks that lead to gender-based violence and sexual violence in camps and shelters.
ENSLAVED AND THEN SHAMED
In conflict-ridden countries, the trauma is often psychological as well as physical, said Alainchar, who comes from Timbuktu in northern Mali, a country plunged into conflict after Tuareg and Islamist separatists took over the north in March 2012.
"In the last 18 months in Mali, especially in the north, we have seen girls that have been sexually abused or forced to marry people. Those who became pregnant have been stigmatised by their own communities and have had to hide or run away. The trauma can have massive psychological impacts on young girls," she said.
After being forcibly taken from her house and held captive for six months by armed insurgents who had taken control of Timbuktu in April 2012, 18-year-old Bouga found it difficult to ignore the stares and gossip amongst her peers.
"My only occupation, all the time I was held captive, was to prepare their meals, do their laundry and meet their demands for sex," she said in the report. "[Once the kidnappers fled] I was free. However, I continued to live [with] the shame and stigma of what I endured - particularly in the form of hostile reactions I received from youths in the neighbourhood."
Alainchar described the girl's dilemma as the cycle of poverty, passed on for generations from mother to child: "Our adolescent girls are victims of conditions they have no been part of creating or managing."
Education, she noted, is the solution.
"A girl who has completed her education is less likely to experience violence or early marriage, more likely to be literate, more likely to contribute to the family income and more likely to understand her rights and become a force for change."
http://allafrica.com/stories/201310111447.html?viewall=1
-----------
Women Resort to Karate for Self-Defense In 'Rape Capital', Johannesburg
World Bulletin / News Desk
October 12, 2013
In a country that has the highest rape crimes in the world; women in South Africa are learning martial arts in an effort to defend themselves.
"There has been an influx in the number of young girls and women learning karate for purposes of self-defense at our schools throughout the country," Farid Ansari, a senior instructor at the Yuishinkai Kobujutsu martial arts school in Johannesburg, told the Anadolu Agency.
Ansari, who teaches martial arts in several centers in Johannesburg, said that the male-dominated sport has become popular among girls and women in South Africa.
"In our school in Benoni, we have 180 students and 80 of them are girls. While in Marlboro we have about 45 kids training and half of them are girls," he said.
South Africa has one of the highest incidences of rape in the world with 144 reports of rape every day.
Interpol has named South Africa as the "rape capital of the world", where less than 1 percent of rape cases were reported to police.
According to Interpol, a woman born in South Africa is more likely to be raped than educated.
Self-defense
For Fatima Ganji, karate gives her a chance to defend herself against any possible attack.
"karate has not only given me the physical fitness and skills for self-protection, but has also built my self-confidence," Ganji, a black belt holder from the Yuishinkai Kobujutsu martial arts school, told the AA.
Mohamed Bhai has decided to send his daughter to learn the martial art to protect herself.
"I thought it would be wise if my daughter could learn a few tricks to protect herself, because you know how rife crime and violence is in this country," he told the AA.
Ansari, the karate instructor, says his school sent 10 students, including four girls, to Japan last year for training.
"Most of the girls who come to our school are introverts and lack confidence, but after a few months they develop self-confidence and skills to protect themselves," he said.
He opined that karate also teaches students self-discipline, which is an important life skill for success.
"Whenever new learners enroll in our schools, we tell them they are committing to a life of discipline and hard work."
http://www.worldbulletin.net/?aType=haber&ArticleID=120577
-----------
On International Girl's Day, Violence Against Women Trends Worrying
By Saleha Sadat
October 12, 2013
Statistics from AIHRC show that in the first four months of this year, 114 forced marriages were registered of which 41 were reported as including underage girls
In an interview with TOLOnews on the International Day of the Girl Child, Assistant General Secretary of the United Nations (UN) John Hendra expressed major concerns with recent trends of violence against women, which he said were threatening the gains made since the fall of the Taliban in improving the lives of female Afghans.
"I have only been in this country for four days but we are certainly concerned with a number of issues over the last three or four years," said Hendra. "One is clearly still the high levels of violence against women and girls, as I said earlier. Second is the series of targeted killings against senior female journalists and senior female government officials, and that is of great concern. And thirdly is to ensure on a broader note, that there will be much more focus on economic empowerment. I think, really the deal of these issues is about empowerment. So I think Afghanistan needs to also focus more on empowerment."
The Afghan Independent Human Rights Commission (AIHRC) reported rising rates of domestic abuse in 2013, saying that a higher number of cases have been submitted in comparison to last year.
In addition, there have been a number of high-profile attacks against female Parliamentarians and female police officers in recent months. In August, MP Fariba Ahmadi Kakar from Kandahar was abducted by insurgents and later exchanged for imprisoned militants. That same month the top ranking female police officer in the country, Islam Bibi, was assassinated by insurgents in Helmand. Less than a month later, the same thing happened to her successor, Negar.
Hendra encouraged the government to implement the Anti-Violence Against Women Law, which has been stalled in Parliament for months. He also called for more efforts to raise participation of Afghan women in political and economical fields.
"It is very important in the upcoming elections that women really are able to participate as much as possible," Hendra said. It is positive that Afghanistan has 28 percent women in the National Assembly, it ranks number 30th in the world in terms of percentage of women in parliament, but it's a critical election for the future of the country so it's really important that women and young people really participate as much as possible."
October 11 is celebrated as International Girl's Day all over the world to increase awareness of girl's rights. In a declaration, the UN has said that giving importance to girl's education and preventing child marriages are essential to society's development.
Statistics from AIHRC show that in the first four months of this year, 114 forced marriages were registered of which 41 were reported as including underage girls.
http://www.rawa.org/temp/runews/2013/10/11/on-international-girl-s-day-violence-against-women-trends-worrying.html#ixzz2hV2ComUS
-----------
Morocco: the second Benkirane cabinet, strong on women
October 12, 2013
RABAT, OCTOBER 11 - After lengthy negotiations, Moroccan King Mohammed VI last night appointed a new government and put an end to a crisis that began with the July defection of the conservative Istiqlal (Independence) Party due to irreconcilable differences over the way the executive was doing its job. As had been a given in political analysis circles, the government will still be led by Abdellilah Benkirane, who is the chief of the moderate Islamic Justice and Development Party (PJD). But the king's fledgling cabinet has some significant new entries, which have surprised pundits and analysts alike.
Among these is former national chamber of commerce chief and Saham Holding Group founder Moulay Hafid El Alamy, who has been appointed to the key ministry of industry, trade, investment and the digital economy. The National Rally of Independents (RNI), a center-right liberal party, was the big winner in the government shake-up with eight ministerial posts.
RNI Chairman Salaheddine Mezouar heads the prestigious foreign affairs and cooperation ministry, while the current Casablanca prefect, Mohamed Boussaid, is the new minister of economy and finance.
The novelty is an unprecedented five new women ministers, in addition to the sole female minister from the previous cabinet: Solidarity, Women, Family and Social Development Minister Bassima Hakkaoui, who was reconfirmed in her post.
The five appointees include an icon of the new political generation, Mbarka Bouaida, 38, as foreign affairs delegate minister, and Fatima Marouane as the new minister of crafts, and social and solidarity economy.
A computer engineer from the PJD, Soumiya Benkhaldoun, is the new higher education, research and training delegate minister.
With environmental issues now at the forefront of the national debate, the ministry for energy, mining, water and the environment has two new women delegate ministers: Charafat Afilal, 41, an engineer with an extensive curriculum, is in charge of water and Hakima El Hiti, a doctor in environmental science, is in charge of the environment. A committed feminist, El Hiti is also vice president of the Liberal Women's International. (ANSAmed).
http://www.ansamed.info/ansamed/en/news/sections/analysis/2013/10/11/Morocco-second-Benkirane-cabinet-strong-women_9445955.html
-----------
URL: https://www.newageislam.com/islam,-women-and-feminism/new-age-islam-news-bureau/sfax-women-protest--jihad-an-nikah-/d/13969