New Age Islam News Bureau
28 Jul 2013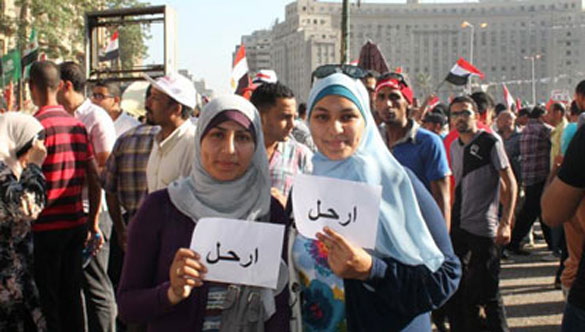 Photo: Women pose during a protest in Tahrir Square. Their placards read "Leave" -- a reference to Morsi. Daria Solovieva
---------
• Level of Education Is Key to Uprooting Violence against Women and Children
• Maghreb Women Fear Regression of Rights
• Kuwait's First Female Candidate on Women's Participation in Elections
• Female Genital Mutilation: Millions of Girls at Risk, UNICEF Says
• Surrogacy Law Will Wait For Experts to Address Critical Issues
• Emirati Girl with Baby from Previous Affair Ran Off With another Man
• Young Female Activist Sexually Assaulted Inside a Police Station In Tunis
• Afghanistan Can't Thrive If Its Women Can't Learn
Compiled by New Age Islam News Bureau
URL: https://www.newageislam.com/islam,-women-and-feminism/new-age-islam-news-bureau/sexual-violence-against-women-accompanies-political-upheaval-in-cairo/d/12790
-------------
Sexual Violence against Women Accompanies Political Upheaval in Cairo
By Daria Solovieva
Jul 28, 2013
On June 30, a young woman, a British reporter, was violently assaulted near Mohamed Mahmoud Street in downtown Cairo by a gang of more than 15 men armed with knives. Two volunteers from Tahrir Bodyguard, a grassroots initiative, managed to get her to a safe house in the area, but the assailants kept trying to break down the door. Eventually, an ambulance took her to a public hospital nearby, where she required immediate surgery. She barely survived.
"I've never witnessed something like this in my life," says Tarek Najara, a volunteer with Tahrir Bodyguard, which has been patrolling mass protests since November 2012. "All my clothes were full of blood and I thought it was my blood, but then I realized it was her blood. She was bleeding heavily, it was too much."
Egypt's latest wave of protests that ousted the Islamist president Mohamed Morsi brought increased violence against women. And it doesn't matter if the women are young or old, foreigners or Egyptian, veiled or not. A female protester, a veiled young Egyptian woman, was surrounded by a circle of attackers on the same day as the British reporter and stripped naked before volunteers intervened and took her to a safe house near Tahrir Square. Since June 28, 186 attacks on women have been reported, according to grassroots groups patrolling Tahrir Square. The attacks include sexual harassment, violent assaults and gang rapes.
"What I am sure about is that the number [of attacks] is increasing," Najara says with a sigh. "And I don't know how we're going to stop it."
Human Rights Watch has called the latest outbreak of sexual violence "an epidemic."
"The rampant sexual attacks during the Tahrir Square protests highlight the failure of the government and all political parties to face up to the violence that women in Egypt experience on a daily basis in public spaces," said Joe Stork, the deputy director for Middle East at Human Rights Watch, in a statement. "These are serious crimes that are holding women back from participating fully in public life."
Women and minorities, who have been increasingly vulnerable since the January 2011 uprising, face new risks and threats of violence, including sexual assaults by extremely large groups of men.
"There are now organized sexual attacks in the square, they use weapons, raping old women over 60 years old," says Yasmine el-Baramawy, an activist and survivor of sexual assault. "This never happened before."
Other grassroots groups fighting sexual harassment in Tahrir and outside the presidential palace also struggle to keep up.
"This is organized violence," says Azza Kamel, the founder of the "I Saw Harassment" initiative, which relies upon hundreds of volunteers. "We don't know exactly who's organizing it, but there is a political aspect."
In fact, even the political aspect is up for debate. Though all such attacks have a political cast -- and each is seized upon as a means of discrediting the party that organized the protest during which the crime occurred, the perpetrators span religious and social lines.
Also up for debate is the question of why the attacks on women are happening with increasing frequency, with the bulk of them in Tahrir Square. The best answer is essentially a composite: Tahrir Square is in the international spotlight and is an iconic space where protesters (including many women) congregate on a large scale for extended periods, and the once-clear identity of the Egyptian revolution, meanwhile, has fractured.
This much is clear: As the political standoff continues and the security void widens, women's groups are reporting a higher incidence of organized attacks against women, perpetuated by groups of men armed with knives around the perimeter of mass protests. The situation is worsened by the fact that there are few legal protections available to women, and most opposition groups have shown greater interest in political infighting and placing blame than in determining how to end the attacks and harassment.
"It's a powerful weapon to discredit any political opponent, to get them out of the political sphere," says Shereen El Feki, author of "Sex and the Citadel: Intimate Life in a Changing Arab World," who spent five years researching sexuality in the Middle East. "There is a lot of unease about sex."
Yet the increase in violence has not deterred women or men from going out in the streets. In fact, it has helped galvanize them. "We are fighting for our existence. It's not detached from what's happening in daily life, decades of impunity," says Hania Moheeb, an Egyptian journalist who is a survivor of sexual assault. "It's so easy to insult, sexually attack a woman. Now it's normalized. We'll go and keep on fighting."
The blame games
Since the January 2011 uprising, women's groups have held the government responsible for failing to protect female protesters from violence.
A study on sexual violence published in February 2013 by the women's group Nazra for Feminist Studies said the rape and abuse of women was an "inevitable consequence of the deterioration of the security situation" with women paying a greater price than men. Nazra, which also provides psychological counseling and support to survivors of assault, called for taking security measures to ensure women's safety during demonstrations as well as making sure women's equality is part of the political agenda.
Over the past year the Islamist government, increasingly on the defensive, has not always been receptive to the issues of sexual violence against women. The snubbing of the female delegates in drafting the new constitution in late 2012 further mobilized many women to take to the streets for the first time.
At the end of 2012, Egypt's government said it was drafting an anti-sexual harassment law with the National Council for Women, a beacon of the so-called "state-sponsored feminism" formerly managed by the wife of ousted president Hosni Mubarak, Suzanne Mubarak.
In February 2013, members of the Shura Council blamed women for the violence in Tahrir; one member, General Adel Afifi, suggested that women "put themselves in such circumstances."
In March, the Muslim Brotherhood issued a strongly worded response to a U.N. declaration calling for an end to violence against women, arguing that it was un-Islamic and would lead to a "disintegration of society."
According to Hania Sholkamy, an anthropologist at the American University in Cairo, the Muslim Brotherhood's backlash against the U.N. declaration demonstrated an "amazing disdain for the rest of the world."
"The Islamists forgot they are in charge," says el-Baramawy. "Even if they are not involved [in organizing attacks], they are responsible for their silence, for ignoring it."
Some grassroots groups are critical of what they see as the opposition's lack of emphasis on ensuring women's safety.
"Opposition tends to call for protests without making sure that it is actually secure for both men and women," says Mariam Kirollos, a founding member of Operation Anti-Sexual Harassment http://www.indiegogo.com/projects/harassmap-donate-help-end-sexual-harassment-in-egypt--3. "They don't want to admit there are sexual crimes; there is a denial of a much bigger problem as a whole."
Tamarod, a popular opposition movement that united splintered opposition groups, mobilized millions of Egyptians to the streets on June 30.
Eman El Mahdy, a spokeswoman for Tamarod, says the movement tries to ensure safety through a Committee for Security, a joint effort by the opposition groups to provide security for the protesters. The committee mainly works through male volunteers who escort women throughout the square and create human circles or "rows" with women safe in their midst. "Nobody can guarantee security, but we're calling for peace," she says. "Tamarod is trying to make sure to protect the square, to give instructions before demonstrations so no woman moves alone."
Young women who work for Tamarod have to take special precautions as they report attacks and intimidation from the members of Muslim Brotherhood.
"Most of the girls left their homes and live in a secret location because we had so many attacks on from them," says El Mahdy, who is herself one of the Tamarod women. Traditionally, young Egyptian women live with their families before marriage.
But El Mahdy has a hard time staying on the subject of sexual violence, resorting to a wider list of complaints against the Muslim Brotherhood.
"It's the task for the army and the police to investigate who is responsible and to punish them," she says. "Muslim Brotherhood has a responsibility too. They think they defend their rights, but it's not their right to kill hundreds of people every day."
The Muslim Brotherhood officials have routinely disavowed any responsibility for violence in Tahrir Square or attempts to discredit the opposition as thugs. "We've nothing to do with Tahrir clashes, our protests are peaceful, and we don't go anywhere near Tahrir," according to the Muslim Brotherhood's official Twitter account, posted on July 22.
The Freedom and Justice Party, the political arm of the Muslim Brotherhood, has also condemned all violence. "We strongly denounce all acts and all forms of violence," said Essam El-Erian, the vice chairman for the Freedom and Justice Party in a statement on Wednesday. "Our revolution is peaceful, and all its activities are peaceful."
El-Baramawy, Moheeb and five other women filed a joint sexual assault complain in March 2013, yet the case is still pending, and no government-level investigations into cases of sexual violence have been launched so far.
In the absence of a legal investigation, each party continues to blame the other for violence in general and sexual crimes in particular.
Part of a bigger problem
For the grassroots volunteers, the latest attacks are a part of broader, much longer fight.
"Violence against women is a result of women's inequality," says Kirollos. "Step one is ending exclusion and marginalization of women."
The trouble is, for many political groups and actors in Egypt since the January revolution, tackling sexual violence is far from being "step one" on the political agenda.
As the economy has slowed and the government has shed jobs in the public sector (which has traditionally employed women), competition for jobs in the private sector has intensified. The unemployment rate for women is much higher, at 25 percent, compared with 9.7 percent for men. That leaves Egypt's women severely underemployed. According to a study by Booz Allen, the consulting firm, raising the level of female employment to male levels could boost Egypt's GDP by 34 percent or more.
"This is not just about sexual violence," says El Feki. "It's about how you see women, when a woman is discriminated every day in the streets." In her research, she noted a correlation between economic hardship and violence against women. "Economically, if we can get the economy in recovery, then it might improve men's behavior," she says. "This is the critical period."
The main challenge is for the political parties to see the issue as a priority. "They are fighting for political rights, Egypt's identity, their children's future," Moheeb says. "They can't see [how] controlling women's safety affects Egypt's economy, tourism, image of the entire country."
In a speech in Alexandria on Wednesday, general Abdel-Fattah el-Sissi spoke out against "violence and terrorism", although he did not specifically address sexual crimes. El-Sissi called for more protests on Friday, vowing the army and police will safeguard the rallies.
With Morsi's ouster, many women are hopeful about the new transitional government, even as the standoff between the military-backed opposition and pro-Morsi supporters shows no signs of abating.
"I have confidence in [Mohamed] ElBaradei and many members of this cabinet; I think women's rights and issues will be a priority," Moheeb says. "Women's rights are not an isolated island -- women's empowerment is an integral part of any modern society."
http://www.ibtimes.com/egyptian-womens-revolution-interrupted-sexual-violence-against-women-accompanies-political-upheaval
-------------
Level of Education Is Key to Uprooting Violence against Women and Children
Jul 28, 2013
Khartoum -- Education and awareness in the society are key to fighting violence against women and children, Dr. Atiyat Mustafa, Director of Department fighting violence against women and children, has stressed in an interview to Sudan News Agency (SUNA)
Dr. Atiyat Mustafa, Director of Department fighting violence against women and children underscored the importance of the media in changing concepts, perceptions and malpractices.
Ms Mustafa said that the Vice President had earlier proposed formation of a special ministerial committee to design a simplified textbook on violence against women and children to teach the curriculum at basic and high level schools. She noted that Islamic Sharia law is built on mercy and love and is opposed to all forms of violence against women and children.
Dr Mustafa defined violence against women and children as: any act causing physical, or psychological, or verbal harm; economic violence is: acts meant for depriving the victim of their rights.
She noted that the department has reached memos of understanding with journalists in order to create a professional journalist by supplying information and training to the journalist to ensure that the term "violence" is objectively because any subjective use of it may produce unfavorable results.
Ms Mustafa called for the need to disseminate information clearly to avoid confusion, because "women's ignorance of their legitimate constitutional rights makes them feel inferior," she said.
Proof-Read by Hind Elkhatim
http://news.sudanvisiondaily.com/details.html?rsnpid=225247
-------------
Maghreb Women Fear Regression of Rights
Jul 28, 2013
The Arab Spring brought a promise of sweeping change, but Maghreb societies are still short-changing women's demands for equal rights.
And according to participants at a recent Casablanca conference on women's rights, a lot more work needs to be done to end gender discrimination in the region.
"Contrary to what we hoped would come from the Arab Spring, we've even lost the few rights we previously had," Nafissa Lahrache, the president of the Algerian Association of Women in Communication, said at the June 14th-16th forum.
It was the second event spearheaded in recent weeks by Morocco's Democratic League for Women's Rights (FLDDF) and the Rabat office of the United Nations Entity for Gender Equality and the Empowerment of Women ("UN Women").
First and foremost, the Arab Spring was an effort to bring about more democracy and social justice throughout the region, FLDDF head Fouzia Assouli told Magharebia.
"Women, just like young people and all those making up our society, have campaigned for their rights, equality, equity, justice and democracy," she said.
Women have the right to ask such questions and press for raising their status as equals to men, Assouli added.
Organisers billed the conference as an opportunity for activists and feminist organisations to take stock of achievements and failures in the regional fight for human rights.
Following the Arab Spring, Maghreb women have still not managed to secure promised rights, Libyan lawyer and political activist Nivine Abdelfettah said.
Forum participants also agreed that there still was a long way to go before the process of democratisation could improve the lives of women and young people, whom they described as the main drivers of change in North Africa.
Toward that end, it is important to strengthen the hand of women's movements within non-governmental organisations and charities, political parties and unions, said "UN Women" regional representative Leila Rhiwi.
At the first forum organised by the FLDDF, a Tunisian researcher in comparative religion was careful to refer to the "Arab Movement" instead of the "Arab Spring". This was deliberate, Amal Karami said, because she had not yet seen an Arab Spring.
"There is a huge clash in the Tunisian street between the modern and salafist currents," she said at the April event in Casablanca.
"There are numerous discourses moving in the direction of the Islamisation of the state. There are attempts to destroy the achievements women have made over decades," the Tunisian researcher noted.
And it is women who pay the price for the Wahhabist plan, Karami added.
A member of Libyan NGO "Nisaa Quadimoon" (Women are Coming) painted an even bleaker picture.
"Unfortunately, the situation for women in Libya has become disastrous," Madiha al-Naas said. "In spite of the failure of religious movements in elections, it has spread throughout society and dominated daily life."
"There are plans to oust Libyan women, marginalise them and dwarf their role. This is unfortunate because women's aspirations to improve their tragic situation were great under the former regime," al-Naas added.
Women were "looking forward to greater opportunities" the Libyan activist said, "but instead they are losing the ones they had before."
http://magharebia.com/en_GB/articles/awi/features/2013/06/27/feature-03
-------------
Kuwait's First Female Candidate on Women's Participation in Elections
Jul 28, 2013
Kuwait City, Asharq Al-Awsat—Kuwaitis went to the polls this week to elect their third parliament in 17 months. Despite having the oldest and most powerful parliament in the Arab Gulf, Kuwait has a turbulent political scene: no parliament has served its full term since 2003.
With the most recent electoral cycle plagued by controversy over a reduction in the number of candidates each voter can choose from 4 to 1, Asharq Al-Awsat took a step back to examine a similar but more momentous change in Kuwait's electoral history: the 2005 decision to allow women to stand for election.
A few days ago, Kuwait's first woman to stand in state elections, Jenan Bushehri, gave an exclusive interview to Asharq Al-Awsat. Bushehri first ran in municipal by-elections in 2006, and also came 12th during parliamentary elections in 2012. Although Kuwait has had female parliamentarians since Bushehri first broke through the glass ceiling, Saturday's elections are notable in that they have the lowest number of female candidates—only eight of more than 300—in any parliamentary election since 2005.
Asharq Al-Awsat: Can you tell us about your experience as the first woman in Kuwait to stand for elections?
Jenan Bushehri: I felt a desire to stand for elections from the time women were given political rights in May 2005. Indeed, I stood in municipal by-elections held after an MP from the fifth constituency was appointed as a minister. The municipal by-elections were held prior to the parliamentary elections after the dissolution of the parliament in June 2006.
Q: That must have been quite a challenge.
The real challenge was from the Kuwaiti public and whether or not it was ready to accept women as voters, candidates, and mangers of electoral campaigns. This is something that placed a great responsibility on me and my campaign team. At the time, people wondered how women could compete with men who excel in this field, particularly since this was women's first experience [in politics] since the constitution was ratified in 1962.
I did compete with men in the elections, coming second out of six other male candidates. I recall that media outlets viewed it as a very good result given that it was the first time a woman had run, and they focused more on my coming second than the candidate who ultimately won the elections. As if it was I who won—not him!
For the record, the reason why I lost the elections is because the successful candidate had won a tribal vote, which determined the result on his behalf in advance. Following the elections, results proved that the street accepted women's participation in elections and that men will choose women to represent them. It also proved wrong the common belief that women are the enemies of men. The fact that half of the votes I got came from men proves this.
Q: How do you assess that experience?
It was a successful one by all standards, especially since the illegal tribal vote was the reason why I lost. Therefore, despite the fact that I did not win the election, my view is that this loss had the taste of victory.
The total number of eligible voters, both males and females, was 28,188, 38 percent of whom voted in the by-election. The successful candidate received 50,436 votes while I took 30,629.
Q: What is your view of the contrasting levels of representation of women in the last three parliamentary elections?
The reason for disparity in the representation of women in the last three parliamentary elections is due to impediments and challenges that are present in the political scene. In the 2009 elections, the public atmosphere was supportive of women, leading to four women being elected as members of the parliament. However, the following elections, held in February 2012, lacked this atmosphere, leading to the failure of all female candidates.
Q: In your opinion, why has female participation in elections retreated even further in the current parliamentary elections?
This is primarily due to the major escalations in politics and the rise in radical and extremist discourse, elements of which are at odds with women's efforts to stand for elections. Women tend to avoid extremist discourse. The Kuwaiti public's tendency towards and preference for such discourse is something remarkable, and this is at odds with the Kuwaiti woman's tendencies regarding participation in political and public affairs.
http://www.aawsat.net/2013/07/article55311284
-------------
Female Genital Mutilation: Millions of Girls at Risk, UNICEF Says
Jul 28, 2013
A report by the United Nations Children's Fund (UNICEF) says that 30 million girls face the risk of female genital mutilation in countries where it is practiced. The report also states that more than 125 million females alive today have undergone this harmful practice, this despite the fact that a preponderance of people in the countries where it is prevalent oppose the harmful procedure.
UNICEF based its findings on surveys conducted in 29 countries in Africa and the Middle East. It published its report this month entitled, 'Female Genital Mutilation/Cutting: A statistical overview and exploration of the dynamics of change.'
UNICEF found that although a majority of people in some countries were against genital mutilation and the practice was illegal, customs still remained strong in those countries. UNICEF said this is probably due to the fact there is a disconnect between people's personal views and the entrenched societal norms and mores which allows the custom to flourish.
Another factor that may contribute to its continued existence, according to UNICEF, is the fact that people do not have open and honest discussions about this tradition because of the sensitive and private nature of the issue.
"FGM/C (Female Genital mutilation/Cutting) is a violation of a girl's rights to health, well-being and self-determination," Geeta Rao Gupta, UNICEF Deputy Executive Director, said recently. "What is clear from this report is that legislation alone is not enough. The challenge now is to let girls and women, boys and men, speak out loudly and clearly and announce they want this harmful practice abandoned."
The UNICEF report stated that its surveys found both men and women expressed opposition to the practice and, in fact, in some countries men led the women in expressing opposition. In Chad, Guinea, and Sierra Leone, it was more males than females who wanted to see an end to this harmful practice.
UNICEF, in its report stated that when you look at general trends, girls are less likely to be subjected to female genital mutilation today than in the past, especially in Africa.
The survey found that in Kenya and Tanzania, girls between the ages of 15 and 19 are three times less likely to have been cut than women between ages 45 and 49. Prevalence of the custom has also fallen by as much as almost half among adolescent girls in Benin, the Central African Republic, Iraq, Liberia, and Nigeria.
In contrast, in other countries, according to this report, the practice remains deeply entrenched in spite of legislation and government efforts to stop it and despite the health dangers female genital mutilation poses to girls.
Countries that practice it unabated are Somalia, Guinea, Djibouti, and Egypt. The reports says approximately 9 out of 10 females between the ages of 15 and 49 have been cut. The report also states that in Chad, Gambia, Mali, Senegal, Sudan and Yemen the practice remains strong.
UNICEF report also found that while the practice is often seen as a patriarchal effort to control women's sexuality, it is often women themselves who are at the forefront to keep it alive. In some countries, including Guinea, Sierra Leone and Chad, more women than men oppose its abandonment.
The most common reason women give for continuing genital cutting is to gain social acceptance. Researchers at the UN found that many mothers who voiced opposition to genital mutilation have had their own daughters go through the custom.
"This shows the gap between attitudes and behavior," Claudia Cappa, lead author of the UNICEF report said. "What you think as an individual is not enough to put an end to the practice because of social pressures and obligations," she added.
The United Nations World Health Organization states that female genital mutilation involves partial or total removal "of external female genitalia for non-medical reasons." It further states that the custom of female genital mutilation "interferes with the natural function of girls' and women's bodies. The practice causes severe pain and has several immediate and long-term health consequences, including difficulties in childbirth also causing dangers to the child."
Despite these dangers, according to UNICEF, female genital mutilation puts millions of girls at risk in the countries where it is practiced.
Perviz Walji
http://guardianlv.com/2013/07/female-genital-mutilation-millions-of-girls-at-risk-unicef-says/
-------------
Surrogacy Law Will Wait For Experts to Address Critical Issues
AARTI DHAR
Jul 28, 2013
Stakeholders voice concern over unregulated multimillion-dollar industry
The Centre will set up an expert committee for wider consultations on the draft Assisted Reproductive Technologies (ART) Bill, 2010. The panel will deliberate on and address "grave and critical" concerns raised by stakeholders.
The decision was taken after the Planning Commission recommended substantive changes in the law and advised the Indian Council of Medical Research against pushing the draft Bill until after consultations were satisfactorily concluded.
The Commission will coordinate the process of forming and facilitating the committee towards developing an efficient regulatory framework and law.
At a meeting convened by the Commission here earlier this week, stakeholders made a pitched demand for setting up the expert committee, according to Sama, a non-governmental organisation working on women's health.
The NGO was invited by the Commission as part of its Civil Society Window initiative to present its views on commercial surrogacy. The meeting, chaired by Commission member Syeda Hameed, was attended by representatives from the Commission, the Ministries of Health and Family Welfare and Law and Justice, the ICMR, the National Commission for Protection of Child Rights and the Office of the Registrar General of India.
The discussion flagged concerns over the unregulated multimillion-dollar industry, unethical practices, especially lack of protection of surrogate women's health and rights, sex selection, lack of employment opportunities, health and rights of children born through surrogacy and issues of their citizenship.
In to the presence of R.S. Sharma (member-secretary Drafting Committee of the Draft ART Bills 2008 and 2010), members raised "short-sightedness" of some of the provisions, lack of transparency, consultative processes involving domain experts including organisations in the drafting of the Bill, and lack of clarity on nodal authority.
The ART Bill has been hanging fire since 2008 when the first draft was prepared. It was revised in 2010 but is yet to get Law Ministry approval, after which it will go to the Cabinet for clearance.
http://www.thehindu.com/news/national/surrogacy-law-will-wait-for-experts-to-address-critical-issues/article4960608.ece
-------------
Emirati Girl with Baby from Previous Affair Ran Off With another Man
Salam Al Amir
Jul 28, 2013
DUBAI // A 15-year-old girl who already had a 6-month old baby from an illicit relationship ran away with another man she met on BlackBerry Messenger, a court heard.
The girl, an Emirati, called her compatriot EH, 20, on March 1 and arranged for him to pick her up from her family house in Oud Al Mutainah. The man then took her to his family's home in Nad Al Hamar while his parents were away.
Later the pair moved on to an abandoned villa where the they had sex repeatedly over a four-day period, and then on to a tent in Al Khawaneej for a further five days.
Police found the girl at one of her friend's houses after her mother filed a missing person's report.
Both admitted having consensual sex, saying they were in love and intended to marry.
The Misdemeanour Court charged the man with sex outside of marriage. A verdict has not yet been issued. The girl was charged at the Juvenile Court and will be sent to a juvenile centre.
salamir@thenational.ae
http://www.thenational.ae/news/uae-news/courts/girl-with-baby-from-previous-affair-ran-off-with-another-man-dubai-court-hears#ixzz2aKkY1Mue
-------------
Young Female Activist Sexually Assaulted Inside A Police Station In Tunis
Jul 28, 2013
Tunisia (Nawaat.org) – After being arrested in Mohamed Brahmi's assassination protest (Mohamed Brahmi is a Tunisian politician and MP who got murdered on 25th of July), Amel Attia, a young member of the Cultural Revolutionary Movement claimed that she was sexually attacked inside the police station of Yogoslavia avenue.
Furious demonstrations swept the Habib Bourguiba avenue to protest Brahmi's murder. Security forces who tried to disperse the demonstrations using tear gas. It has been said that police made several arrests. Amel Attia was among those who were arrested and carried out to the police station of Yogoslavia Avenue.
Inside the police station, Amel claims she was kept in a hall with individuals, who had the appearance of normal civilians.
In a nawaat.org article, Amel tells her story in a trembling voice : "Once inside the hall of the police station, some individuals, who weren't wearing police uniforms, took hold of me. I had the impression that I was being violated in the street. My attackers were rather bastards; their looks gave me that impression"*.
"This band of bastards surrounded me and began assaulting me sexually. The policemen were going back and forth without making any reaction"**, added Amel.
According to the same article, Amel succeeded in escaping from the alleged attackers, and left the police station. She only knows that the police did not stop them. Throughout her journey back home, the girl did not stop vomiting. Far from giving up, she intends to pursue the criminals.
http://www.thetunistimes.com/2013/07/young-female-activist-sexually-assaulted-inside-a-police-station-in-tunis-23458/#
-------------
Afghanistan Can't Thrive If Its Women Can't Learn
By Ahmad Zia Massoud
Jul 28, 2013
(CNN) -- Afghanistan cannot be expected to be a stable and contributing member of the international community when Afghan women are generally denied early and lifelong educational opportunities, are largely unable to work, and in some parts of the country suffer far worse.
While this is a very easy claim to make, fundamentally improving the rights women have and creating the institutions to support those rights is much more difficult to implement given the current on-the-ground realities.
Allowing an 8-year-old to marry, as often happens in Afghanistan, isn't driven by some bizarre desire to give away one's children. In the absence of viable choices, families tend to stay with the comfortable and the accepted -- no matter how horrific and foreign those decisions may seem to outsiders.
Practices such as forced child marriage and limited women's rights are symptoms of a country clinging to old ideas in a vacuum of realistic alternatives.
To believe a secure and prosperous Afghanistan can be left to the next generation while denying basic human rights to half the population is an exercise in mass delusion. It is equally delusional to believe this will change overnight, or even in this generation. But this change is possible. The question is how do we get there?
If history is any guide, shifts in attitudes are unlikely to occur by decree from the Afghan National Assembly, and even less likely under pressure from the West. The driver of change will be food security for the majority of the country and innovative ideas that expand economic development within the realities of a largely cashless and agrarian society.
According to the World Food Programme, Afghanistan consistently ranks in the bottom of the world in terms of food security and a 2012 study by the Afghan Research and Evaluation Unit highlighted the connection between food insecurity and lack of educational opportunities. Progress in this regard ultimately would allow more women to enter the workforce.
An Afghan family dealing with uncertainty and poverty simply cannot make optimal choices about the future. Sometimes the choice is between finding illicit means of income or holding onto antiquated ideas and practices, which is what we see in Afghanistan now. This cycle has to be broken.
Would the current opposition to women's rights be so fierce if Afghanistan were substantially richer or self-sustainable?
Likely not, because it would be far less threatening to the established order. Taking crucial steps to expand the economy in creative ways is fundamentally a decision about human rights and regional security, not purely an economic decision in isolation.
I have written previously about new ways to develop Afghanistan's rich natural resources in ways that are both transparent and benefit the majority of the country, not just those working in and around the mines.
Returning Afghanistan to its status as Central Asia's "bread basket" through improved water management is another crucial step toward our own self-sufficiency. However, we must also understand that economic development in isolation without the direction of core beliefs will be squandered and the next generation will be struggling with the very same problems we have today.
This change can only be accomplished with strong, values-based leadership in the Presidential Palace that is focused on the economic growth of the country as a whole and not just for a few friends and family members. We can then use that growth as the driver of positive change that can be sustained for decades.
Afghanistan desperately needs economic innovations to reduce dependence on foreign partners and significant agricultural advances to reduce uncertainty for our families.
A simple statement about rights without the economic capacity and social institutions to support them is doomed to failure but economic growth combined with core values on rights and education is how real change can happen. Then and only then can we have any hope of fighting the insurgency and securing a brighter future for all citizens, women and men alike.
http://edition.cnn.com/2013/07/26/opinion/massoud-afghanistan-women/?hpt=ias_t3
-------------
URL: https://www.newageislam.com/islam,-women-and-feminism/new-age-islam-news-bureau/sexual-violence-against-women-accompanies-political-upheaval-in-cairo/d/12790