Age Islam News Bureau
28 Aug 2013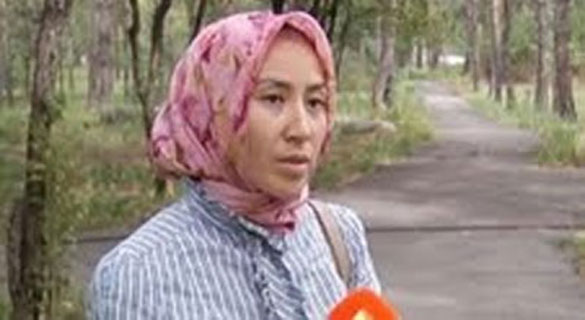 Zhanar Boranbayeva. Snapshot of the video of Channel 31
-----------
• Veiled Muslim Uyghur Woman Evicted from Rented Home by the Authorities
• Arab Wedding: Women Outfits in Kerala Voice Anguish over Teen's Plight
• Female Journalists Sitting On Floor in Iran an Illustration of Gender Inequality
• Ramon Magsaysay Awards First Female Afghan Governor Defies the Odds
• Malala Awarded 2013 Children's Peace Prize
• 'Denim Purdah' For College Students, Professionals, Kerala Fashion Brand Introduces
• Cousin Throws Acid on Girl for Declining Marriage Proposal
• An Honour for Pakistani Woman Scientist
• 695,000 Children to Be Administered Anti-Polio Drops In Rawalpindi
• Sana Saeed, the Actress Faces Opposition At Home
Compiled by New Age Islam News Bureau
URL: https://www.newageislam.com/islam,-women-and-feminism/new-age-islam-news-bureau/sexual-row-unfolds-over-almaty-central-mosque;-students-forced-to-marry-the-imams/d/13241
------------
Sexual Row Unfolds Over Almaty Central Mosque; Students Forced To Marry the Imams
August 28, 2013
One of the students of the Madrasa for Women -- an Islamic school -- located in the basement of Almaty city's Central Mosque has complained that the school's students are forced to become wives of the imams (heads of the Muslim community) who later divorce them, Channel 31 reports.
Zhanar Boranbayeva from Almaty was shocked with what she had to face in 3 years of studies in the school.
"Imams tell us that women are slaves and have to obey men in everything. They follow their own laws. Imams may have several wives, they say. If they get tired of one of their wives they just find a cause to divorce her, tell her she committed some sin and then just leave. Then another imam comes to allegedly to help the girl through the hard time of her life and the story happens again. 17 or 18-y.o. girls are like free prostitutes. Imams invite those they like to saunas and hotels," the young woman said.
"Once I was told that I had Djinn inside me and it had to be exorcised. One of the imams started choking me on the neck. I got scared and ran away. Later I told him: "What you are doing is wrong". After that he started threatening me," she said.
The Central Mosque denies all the accusations. "We register everyone who comes to take our Islamic course. They bring a copy of their ID to get enrolled for the free course. I talked to the teachers and they told me that we never had a student named Zhanar Boranbayeva. She just came to the mosque to do her prayers," Naib-imam of the Central Mosque Oralkhan Rakhmetbek-uly said.
Zhanar showed photos of teachers and students of the Mosque's spiritual school with herself among them to prove that she indeed studied in the school.
According to Channel 31, a similar story was told 2 years ago by a young woman named Aisha. However, she was talking about private Islamic schools not about the Central Mosque of Almaty.
http://en.tengrinews.kz/strange_news/Sexual-row-unfolds-over-Almaty-Central-Mosque-22044/
------------
Veiled Muslim Uyghur Woman Evicted from Rented Home by the Authorities
August 28, 2013
Authorities in China's Xinjiang region have evicted a Muslim Uyghur woman from her rental property for wearing a veil covering her face, despite having no legal basis to do so, claiming that the action was taken for "security reasons."
Arzugul Memet was informed on Aug. 4 in writing by her neighborhood residence committee that her apartment in the Xinjiang capital Urumqi would be sealed because she "did not cooperate with our … rule against covering up and wearing a face veil," according to a notice hung on her door.
The notice, issued by the Tengritagh district's Ceramic Factory Neighborhood Committee, was based on general rules for renting of homes in the Xinjiang Uyghur Autonomous Region, according to a copy of the document provided to RFA's Uyghur Service by an area resident.
Officials said the action was taken based on security grounds, indicating that they were unable to identify Arzugul Memet as her face was covered. But there are no specific laws in Xinjiang, home of the mostly Muslim ethnic minority Uyghurs, barring veiled women from renting homes.
A copy of a second notice from the neighborhood committee, also posted on the door, confirmed that the order to seal the residence had been carried out on Aug. 16.
According to a report on Uyghur Online, a website managed by Uyghur scholar Ilham Tohti which discusses social issues and news from Xinjiang, Arzugul Memet was given 72 hours from the date the notice was served to vacate the premises.
Attempts to contact her were unsuccessful, as she had already left the neighborhood and her whereabouts were unknown.
'Public security'
RFA contacted an official with the local residential management office who confirmed that Arzugul Memet had been evicted from her apartment, despite a lack of a legal basis to do so.
"Yes. We dealt with her issue, so what," said the official, speaking on condition of anonymity.
"We do not have any law that says we are not allowed to rent houses out to Uyghurs who cover themselves, but it has been administered like that in our district across the board."
The official said that the internal regulation for the residential management office was a matter of "public security."
"If they cover themselves up completely, how can we match their IDs if we cannot see their faces when we go to check on them? How do we know who is coming into the building and who is going out," he asked.
"This is a matter of public security."
Daily checks
The official said that ID checks of residents are carried out daily and that if women who cover their faces do not comply with orders to remove their veils, they are told to "move to other places where they do not have such regulations."
"Especially when they leave, they must show their faces. The rule here is: show your face or return to your hometown where you belong."
He said that the regulation had been in effect since July 5, 2009, when clashes in Urumqi between the minority Uyghurs and majority Han Chinese left some 200 people dead and 1,700 injured, according to official media reports.
"We have to make sure that there will be no covered-up ladies here in our district. That is the order," he said.
"We cannot be humane here, because [our superiors] are not going to be humane to us. I do not want to lose my job."
'Orders from the top'
A neighborhood committee worker, who also spoke to RFA on condition that her name be withheld, said that she knew about Arzugul Memet's case, adding that while she disagrees with the policy, she felt compelled to enforce it at the risk of losing her livelihood.
"That is correct, she was a covered-up woman," the worker said of Arzugul Memet.
"We cannot do anything about it but carry out the orders from the top … We have nothing to do with this policy."
The worker reiterated that orders were to force covered women to show their faces or they would not be allowed to rent a home.
"[Unrest] is happening in other parts of our region so [officials] are afraid for their safety and ordered us to do this, I think. We have no choice," she said.
"But people do not like this policy which forces them to uncover their faces."
The worker said that officials from the neighborhood committee usually speak with the apartment owners first and ask them to tell their tenants not to cover their faces, but would also pressure them not to rent their properties to women who wear veils.
"We have orders that if covered women come to our offices we will not serve them. Period."
Recent violence
Muslim Uyghurs in Xinjiang regularly complain of strict religious controls, including curbs on traditional and Islamic dress and appearance such as men's beards and women's veils.
Xinjiang has seen a spate of violence across the region in recent months that has led to a crackdown, with hundreds of Uyghurs detained for questioning by the authorities.
Chinese authorities usually blame the outbreaks on "terrorists" among the region's ethnic minority Muslim Uyghurs, but rights groups and experts say Beijing exaggerates the terrorism threat to take the heat off domestic policies that cause unrest or to justify the authorities' use of force against Uyghurs.
Uyghurs in Xinjiang say they have long suffered ethnic discrimination, oppressive religious controls, and continued poverty and joblessness, blaming their hardships partly on a massive influx of Han Chinese into the region.
Reported by Guliqiekela Keyoumu for RFA's Uyghur Service. Translated by Mamatjan Juma. Written in English by Joshua Lipes.
http://www.rfa.org/english/news/uyghur/eviction-08272013174741.html
------------
Arab Wedding: Women Outfits in Kerala Voice Anguish over Teen's Plight
Aug 27 201
Thiruvananthapuram: Pro-women activists, political leaders and NGOs in Kerala have voiced outrage over the plight of a 17-year-old girl, divorced by a UAE national within about two weeks of their marriage in Kerala.
Setting aside their difference, they demanded a strong legislation to check the social menace known in local parlance as 'Arabi Kalyanam' (Arab wedding), in which minor Muslim girls are forced into marriage with Arab nationals without their consent.
Though the Malabar Coast of north Kerala had a long history of 'Arabi Kalyanam", it is for the first time that such a case is being reported in two decades. The latest case is from Kozhikode where a young girl, brought up in a charity home, was married to a UAE national on June 13. He abandoned her after honeymooning for 17 days and returned to his country.
In her complaint to the Child Welfare Committee, the girl alleged that it was the orphanage authorities who forced her into the marriage, which the charity outfit rejected outright.
Reacting to the issue, CPI(M) Central Committee member and former minister P K Sreemathi said the incident was so shocking as it is unbelievable that such a thing has happened in Kerala, which has been known for its progressive outlook and women empowerment.
"It was nothing but an attempt to sell the modesty of an under-aged girl for monetary benefits. Not only could the orphanage authorities but the UDF-led state government also not absolve itself of the responsibility of the shameless incident," Sreemathi said.
An attempt to suppress the issue by offering money to the girl's family was on and the authorities concerned should take immediate steps to ensure that such incidents were not happening any more in the state, she said.
Bindu Kirshna, All-India Vice President of Mahila Congress said that this case should not be seen nothing but brutal rape and the society and parents should remain more alert against falling prey to such traps.
"Orphanages are places of charity and goodness once. But, now many of them are after money than fulfilling the responsibilities with which they were founded. Profit motive of orphanage managements is the main reason behind the current incident," she said.
Malayali's passion for vanity also would lead to such tragedies, she said, adding, social consciousness should be awakened against such menace. Rajitha G, an activist of pro-women outfit "Sakhi", said poor families mainly fall victims in such cases and community and local authorities should remain vigilant to check them.
"Poverty of families is being exploited by some vested groups. In many cases, parents are forced to give silent consent to such crimes because of their financial difficulties. Strict legislation should be initiated to curb them. Community leaders and local authorities could intervene in such cases more effectively," she said.
http://www.indianexpress.com/story-print/1160779/
------------
Female Journalists Sitting On Floor In Iran An Illustration Of Gender Inequality
By Sara Gates
08/27/2013
Iran's new president, Hassan Rouhani, may have pledged to promote women's rights and recently nominated a female vice president. But, if a striking image captured during Iranian Foreign Minister Javad Zarif's introduction is any indication, Iran still has a long way to go when it comes to gender equality.
In the photo taken earlier this month, female journalists sit on the floor and take notes during the inauguration. They are surrounded by men, many of whom are seated in chairs.
"Shameful," Iranian journalist Reza Asadi commented on Twitter, while another Iran-based user wrote: "No. No. No. Women's place is NOT on the floor."
As blog Iran Watching notes, maybe the female reporters voluntarily sat there to get a better view of Zarif and Rouhani during their speeches. But as Al-Monitor's Iran Pulse editor Arash Karami wondered on Twitter, why didn't any of the seated men offer their chair?
The country has made some strides this week. On Tuesday, Iranian media reported that Zarif will appoint women to the positions of ambassador and foreign ministry spokesperson -- a first for the Islamic republic, NDTV notes.
However, based on the photos from the foreign minister's inauguration, it seems Rouhani still has his work cut out for him.
http://www.huffingtonpost.com/2013/08/27/female-journalists-seated-floor-iran-hassan-rouhani_n_3823353.html?utm_hp_ref=world
------------
Ramon Magsaysay awards First female Afghan governor defies the odds
By Patricia Esteves (The Philippine Star)
August 28, 2013
MANILA, Philippines - In a country where women are maimed, beaten or poisoned to keep them from receiving education, one woman defied the odds to become Afghanistan's first and only female governor.
Meet Habiba Sarabi, a 57-year-old doctor who gave new meaning to female empowerment in a largely oppressive and highly patriarchal society such as Afghanistan.
Sarabi is one of this year's recipients of the Ramon Magsaysay award for helping build a functioning local government and pushing for education and women's rights in Afghanistan's Bamyan province despite discrimination and poverty.
In an interview, Sarabi admitted that she continues to receive threats from armed groups who oppose the idea of girls being educated and women taking higher office in government.
"I receive letters threatening me, even the security department warned me to be careful, but I'm not afraid of them. The threats will never stop me. It is better to die for the right way, for the right cause," Sarabi told The STAR.
It saddens her how terrorists treat women who try to get some education. They poison their water, throw acid at their faces and beat them to death.
An example is the plight of Malala Yousafzai, a Pakistani pupil and education activist who was shot by the Taliban while returning home on a school bus.
"Hopefully, with me as an example, people will acknowledge in my country that women can contribute for the betterment of the society. No one can ignore the power of women to change the society. I've proved that as a woman, I did well," she said.
War-torn Afghanistan has long been mired in deep poverty and once dominated by the ruthless Taliban who strongly oppose educating women.
But with the support of western nations, particularly the US, Afghanistan's political landscape is changing.
Sarabi acknowledged major hurdles like poverty and illiteracy, not to mention threats of violence from armed groups.
She said the tasks are daunting but they can be overcome.
Sarabi came a long way to become Afghanistan's first and only female governor.
To the manor born, she attended a prestigious university in Kabul. She took her medical studies in India and specialized in hematology. After medical school, she taught at Kabul Medical Science where she focused on population, particularly women.
In 1996, when the Taliban ruled and forbade all women to have education, she and her family fled to Pakistan.
"I wanted my three children to have access to education. I know that education is empowering, so we moved to Pakistan," she said.
In Pakistan, she became a teacher and activist. Together with other Afghan women, she organized the Humanitarian Assistance for the Women and Children of Afghanistan (HAWCA), where she conducted women's rights classes in refugee camps and mobilized doctors to work and assist in these camps.
To reach more women in Pakistan, Sarabi visited the mountainous Pakistan-Afghanistan border to oversee 80 underground literacy courses for women, despite the danger of being caught and killed by the Taliban. Unmindful of the risks, Sarabi did this for years in secrecy.
In 2001, when the Taliban was toppled, to Sarabi and other women's great joy and relief, she established the HAWCA office in Kabul. She also resumed teaching at the Medical Science College, and continued her volunteer work in literacy and women's rights.
Her efforts were not lost on the government. In 2003, she was appointed to head the Ministry of Women's Affairs. Two years later, she was appointed governor of Bamyan, an impoverished agricultural province in the country's central highlands, with a population of 500,000.
In Bamyan, everyone was treated equally and given equal opportunities. Women were encouraged to study and given options on their career paths.
Jobs usually reserved for men were taken by women. Policewomen were increased from one to 20 in 2005.
Public education has not only expanded; 45 percent of the 135,000 school pupils are female.
Sarabi also worked with various stakeholders in road construction and other infrastructure projects, agricultural development and improvement of health facilities.
She also utilized and developed the 570-kilometer Band-e-Amir National Park, Afghanistan's first national park to lure tourists to her town, in a bid to generate more funds for the city.
Her integrity was noticed by international donors who rated her as among the top performers among her peers in local government.
Despite the continuing violence, political uncertainty, weak institutions and hostility toward women assuming public roles, Sarabi soldiers on, undaunted by fears of a Taliban attack.
"I'm not a warlord, I'm just a modern woman," said Sarabi when asked what motivates her to continue what she's doing.
At the end of her tenure, Sarabi said she wants people to remember her as "someone who brought change into their lives."
"I want them to know that I could help them," she said.
Asked what she plans to do with her prize money from the Ramon Magsaysay award, Sarabi said she will fund the scholarship of two young people from her village.
"Likewise, I will fund the medical studies of a poor but deserving student in our village," she said.
Her dream is to see more Afghan women in school without being threatened or attacked.
She did not regret that she moved to Pakistan during the Taliban rule so that her three children could study.
"I am very proud of my daughter, she finished a degree in Germany and now she's in the US for her doctorate. It's a dream that I want for other Afghan women," Sarabi said.
In electing Habiba Sarabi to receive the 2013 Ramon Magsaysay Award, the board of trustees recognizes her bold exercise of leadership to build up a functioning local government against great odds – intractable political adversities, a harsh and
impoverished environment, and pervasive cultural discrimination – serving her people with a hopeful persistence grounded in her abiding commitment to peace and development in Afghanistan.
http://www.philstar.com/headlines/2013/08/28/1142061/ramon-magsaysay-awards-first-female-afghan-governor-defies-odds
------------
Malala Awarded 2013 Children's Peace Prize
August 28, 2013
THE HAGUE: Teenage activist Malala Yousafzai, shot in the head by a militant last October after campaigning for girls' right to education, has won the prestigious International Children's Peace Prize, KidsRights announced Tuesday. The 16-year-old will receive the award from 2011 Nobel Peace Prize winner and women's rights campaigner Tawakkol Karman at a glittering ceremony in The Hague on September 6, the Amsterdam-based organisation said.
Malala "risked her life in the fight for access to education for girls all over the world", KidsRights said in a statement.
"By awarding the 2013 International Children's Peace Prize... KidsRights shines the spotlight on a brave and talented child who has demonstrated special dedication to children's rights," it added. The passionate advocate for girls' education was shot in the head by a gunman while on a school bus near her home in Swat Valley last year. She was given life-saving treatment in Britain where she now lives, but the attack galvanised her campaign for greater educational opportunities for girls. Malala's brave fight back from her injuries and her speech at the United Nations in July has made her a leading contender for this year's Nobel Peace Prize.
But the response to her in Pakistan has been mixed, with many hailing her as a national heroine, while others have criticised her for promoting a "Western" agenda. The International Children's Peace Prize, an initiative of the Dutch-based KidsRights Foundation, was launched in 2005 by former Soviet leader Mikhail Gorbachev, when he chaired the Summit of Nobel Peace Laureates in Rome. It carries a cash value of 100,000 Euros ($133,000) that is invested in projects relating to the winner's cause.
http://www.dailytimes.com.pk/default.asp?page=2013\08\28\story_28-8-2013_pg7_3
------------
'Denim Purdah' For College Students, Professionals, Kerala Fashion Brand Introduces
Aug 28 2013
Shaju Philip
Aug 28 2013
Thiruvananthapuram: A fashion brand in Kerala has given a twist to traditional clothing to cater to young, fashionable Muslim women.
Kozhikode-based Hoorulyn has introduced what it calls the 'denim Purdah', claiming that this is the first time the fabric has been used for such a purpose.
"We launched the product in the market during Ramzaan. The response, especially in Kochi, is encouraging. We are looking at college-goers and young professionals. Even the Gulf does not have a denim purdah," the company's managing director Razool Gafoor said.
While the fabric weight of regular jeans is 11 ounces — denim weight is measured in ounce per square yard — this particular item is made from denim weighing 8 ounces.
"The denim Purdah would boost the confidence of Muslim women. It would be a suitable dress for students and professionals. It would make them look cute,'' said Girls Islamic Organisation of India state president P Ruksana.
But some, like professor M N Karassery, aren't fans of the new invention. "The Purdah has a mix of business, religious politics and religious fundamentalism behind it. Gulf influence and growing fundamentalism have contributed to the boom in Purdah."
Writer and doctor Khadija Mumtaz said: "The Purdah is meant to cover the body from the eyes of others. When you make it fashionable, you attract more attention. There is a clear compartmentalisation of Muslim women by making them dress in Purdah and making it more fashionable aims to win acceptance for this."
http://www.indianexpress.com/news/kerala-fashion-brand-introduces-denim-purdah-for-college-students-professionals/1160969/
------------
Cousin Throws Acid on Girl for Declining Marriage Proposal
August 28, 2013
A teenage girl was severely injured as a relative of hers threw acid on her yesterday morning in Shaldai village of Kapasia Upazila in Gazipur after her family turned down his marriage proposal.
The girl, who sat for HSC examinations this year, was admitted to the burn unit of Dhaka Medical College Hospital.
A doctor of the unit said about 10 to 12 percent of her body, particularly the face, was burnt in the attack.
The victim's mother said Mohammad Mohasin, 19, also the victim's cousin, threw acid on her daughter during the time for Fajr prayers.
The mother said she woke up to pray when she saw Mohasin throw acid on her sleeping daughter through the window and then flee. She said she and her daughter used to sleep in the same room.
She said Mohasin has been stalking her daughter for the last two years. He recently asked the victim's family for her hand in marriage but her family turned him down.
Delwar Hossain, officer-in-charge of Kapasia Police Station, said the victim was rushed to Burn and Plastic Surgery unit of Dhaka Medical College Hospital after primary treatment.
The OC said they have not received any complaint from the victim's family.
"We will take steps after a case is filed in this connection," he said. He said Mohasin is in hiding.
http://www.thedailystar.net/beta2/news/relative-throws-acid-on-girl-for-declining-marriage-proposal/
------------
An honour for Pakistani woman scientist
August 27, 2013
KARACHI - Pakistani top scientists congratulated a young researcher Uzma Mahmood of Dr Panjwani Center for Molecular Medicine and Drug Research (PCMD), University of Karachi, for her achievement to be selected to participate in 63rd Nobel Laureate Meeting of Chemistry, held in Germany (Lindau).
She was one of 600 selected young researchers from 80 countries to meet and spend time with 30 Nobel laureates. This was an excellent opportunity to communicate with fellow scientists across the globe and to share scientific thoughts with them.
KU Vice Chancellor Prof Dr Muhammad Qaiser, former Chairman Higher Education Commission Prof Dr Atta-ur-Rahman, Director International Centre for Chemical and Biological Sciences (ICCBS) Prof Dr Muhammad Iqbal Choudhary have congratulated the young scholar for her great achievement, and said that Uzma Mahmood has illuminated the country's name at the international level.
ICCBS Spokesman said that as many as 18 lucky young researchers of different countries were selected from 63rd Nobel laureate meeting, and she was one of them.
She was also selected for Discovery Research in Baden-Wurttemberg: "A paradise for Scientific Endeavors" from 5th to 12th July, 2013. She visited different universities of Baden-Wurttemberg (University of Konstanz, University of Stuttgart, University of Tubingen, University of ULM, and University of Heidelberg), Germany to explore new scientific research. As well as in the same period of scientific journey, she also visited Pharmaceutical Company (Boehringer Ingelheim) and different institutes like Fraunhofer Institute for Interfacial Engineering & Biotechnology, Karlsruhe Institute of Technology , European Molecular Biology laboratory (EMBL), and Institute of Textile Chemistry and Chemical Fibers," he said.
http://www.nation.com.pk/pakistan-news-newspaper-daily-english-online/karachi/27-Aug-2013/an-honour-for-pakistani-woman-scientist
------------
695,000 Children to Be Administered Anti-Polio Drops In Rawalpindi
August 28, 2013
RAWALPINDI: A five-day district wide campaign has kicked off to administer anti-polio drops to more than 695,000 children.
Around 1,365 polio teams are actively engaged in the campaign, launched on August 26, with the target to go door-to-door in all the Tehsils and union councils of the district so that not a single child under the age of five remains unattended.
The authorities have set up 76 polio centres in urban areas in order to facilitate the citizens and serve them at their doorsteps.
District Programme Coordinator (DPC) Javeed Iqbal said special instructions to be vigilant had been issued to the staff deployed at the polio centres, adding that no negligence in this regard would be tolerated.
The Health Department officials had been directed to remain vigilant, particularly in those areas where poliovirus was found during the last year's campaign, he said and added that all possible steps had been taken to make the campaign successful. Replying to a question, he said that sufficient quantity of vaccine was available and the polio teams would reach every nook and corner of the district to complete the task.
The DPC urged the citizens, particularly parents, to come forward and play their role for the elimination of the crippling disease from society. The parents should cooperate with the special teams so that the set target could be achieved, he maintained.
http://www.dailytimes.com.pk/default.asp?page=2013\08\28\story_28-8-2013_pg11_5
------------
Sana Saeed, the Actress Faces Opposition At Home
Mumbai Mirror | Aug 28, 2013
She has since made an adult comeback with the Karan Johar flick Student of the Year and participated in a popular dance reality TV show but there is a twist in the story.
Whispers in the industry suggest a rift between the young actress and her parents and when TOI contacted the actress she opened up to us about her dilemma at her Mahim apartment on Monday.
Cooing over her six-month old niece Niz, Sanaa is a bundle of energy. With her petite figure clad in body-con trousers and a mass of wavy highlighted hair, she looks cut for the industry which prizes youthful good looks over everything.
The city of Mumbai teems with aspirants like her, many of them having travelled from places afar to carve out their place in the sun. And like a lot of them, even a former child star can't stop her parents from raining on her parade.
In this case, while one parent fanned Sana's ambition, her father a poet, was deadset against his daughter taking up acting as a profession.
So is she being pressurised to quit showbiz? "My mother was the one who introduced me to this world and she has always been there for me. But she was not OK with me wearing a bikini in SOTY. My father has never been supportive of my decision to be an actress. But I don't expect them to understand, my parents are from a generation where none of their peers ever wore a skirt, let alone a bikini," says the 24-year-old.
Sana made her film debut with a small part in Student of the Year, playing Tania, a sexed up teenage vixen out to poach a rich boyfriend. It was a calculated risk on her part, after all a bit part in a KJo film is still a big deal. But the move had some rather unexpected effects: a family feud.
So what is her parents grouse with her decision to make a living in tinsel town? "They are worried about 'exposure' of the wrong kind. But the decision is up to me, no one can force you to do anything in this industry. And which profession does not have those pitfalls, but my parents believe in the extremely negative public perception of Bollywood," says Sana.
The actress grew up in a middle class Muslim household, a house on JJ Road and two sisters who have both chosen the conventional life path, steady job, marriage, and babies. But Sanaa struck out from a young age.
From the age of four, her chubby visage was a constant presence on TV screens selling everything from shampoos to chocolates.
Her mother was always by her side, playing manager, minder and parent. But then Sana grew up and decided to wear a bikini for her first film role and all hell broke loose.That was the beginning of a conflict which continues till date.
But Sanaa is perky as ever even as she speaks about the lows of her life. One was shared by millions in the city, the recent Mahalakshmi gang rape case.
"When the news of the rape broke, my father called me. He was so depressed, I had to rush home to comfort him. I keep odd hours, I am on the road all the time, and the entertainment industry does not have a good reputation. So part of the resistance comes from worry and the incident was a major blow," said the actress.
And much like the city, Sana refuses to stop dreaming.
http://timesofindia.indiatimes.com/entertainment/bollywood/news-interviews/Sana-Saeed-faces-opposition-at-home/articleshow/22111637.cms
------------
URL: https://www.newageislam.com/islam,-women-and-feminism/new-age-islam-news-bureau/sexual-row-unfolds-over-almaty-central-mosque;-students-forced-to-marry-the-imams/d/13241