New Age Islam News Bureau
30 Dec 2015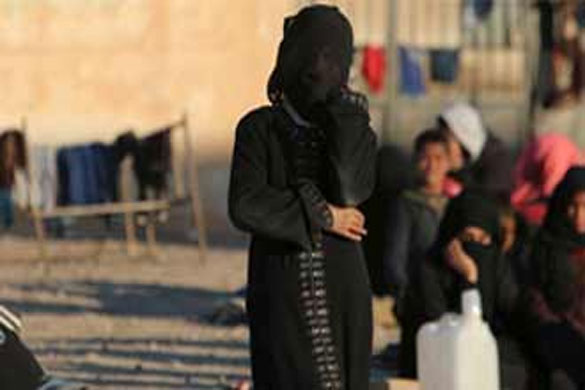 Displaced people, fleeing violence in Aleppo city and from Islamic State-controlled areas in Raqqa and Deir al-Zor, wait at a school in al-Mabroukeh village in the western countryside of Ras al-Ain, Syria. (Reuters Photo)
---------
• Cultural Taboos Still a Hurdle for Women in KP to Join Police
• Indonesia's Muslim Women Hail Female-Only Motorbike Taxis
• 23 Saudi Women on Trial over Terrorism Charges
• Children of Non-Saudi Fathers To Be Counted As Citizens: Mol
• Washington Muslim Women Fight Fear with Self-Defense Lesson
Compiled by New Age Islam News Bureau
URL: https://www.newageislam.com/islam-women-feminism/new-age-islam-news-bureau/sex-with-female-slaves--15-rules-islamic-states-fatwa/d/105800
15 'Rules' From Islamic State's Fatwa On 'Sex with Female Slaves'
Dec 29, 2015
Islamic State theologians have issued an extremely detailed ruling on when "owners" of women enslaved by the extremist group can have sex with them, in an apparent bid to curb what they called violations in the treatment of captured females.
The ruling or fatwa has the force of law and appears to go beyond the Islamic State's previous known utterances on the subject, a leading Islamic State scholar said. It sheds new light on how the group is trying to reinterpret centuries-old teachings to justify the sexual slavery of women in the swaths of Syria and Iraq it controls.
The fatwa was among a huge trove of documents captured by US Special Operations Forces during a raid targeting a top Islamic State official in Syria in May. Reuters has reviewed some of the documents, which have not been previously published.
Read: IS issues fatwa on when female slave 'owners' can have sex with them
Among the religious rulings are bans on a father and son having sex with the same female slave; and the owner of a mother and daughter having sex with both. Joint owners of a female captive are similarly enjoined from intercourse because she is viewed as "part of a joint ownership."
Here are 15 points from the fatwa:
1) It is not permissible for the owner of a female captive to have intercourse with her until after she has had menstrual cycle and becomes clean.
2) If she does not menstruate and is pregnant, he is not allowed to have intercourse with her until after she has given birth.
3) It is not permissible to cause her to abort if she is pregnant.
4) If the owner of a female captive releases her, only he can have intercourse with her and he cannot allow someone else to have intercourse with her.
5) If the owner of a female captive, who has a daughter suitable for intercourse, has sexual relations with the latter, he is not permitted to have intercourse with her mother and she is permanently off limits to him. Should he have intercourse with her mother then he is not permitted to have intercourse with her daughter and she is to be off-limits to him.
6) The owner of two sisters is not allowed to have intercourse with both of them; rather he may only have intercourse with just one. The other sister is to be had by him, if he were to relinquish ownership of the first sister by selling her, giving her away or releasing her.
7) If the female captive is owned by a father, his son cannot have intercourse with her and vice-versa. Moreover, intercourse with his wife's female captive is also not permissible.
8) If a father had intercourse with his female captive then gave her away or sold her to his son, he is no longer permitted to have intercourse with her.
9) If the female captive becomes pregnant by her owner, he cannot sell her and she is released after his death.
10) If the owner releases his female captive then he is not permitted to have intercourse with her afterwards because she has become free and is no longer his property.
11) If two or more individuals are involved in purchasing a female captive, none of them are permitted to have sex with her because she is part of a joint ownership.
12) It is not permissible to have intercourse with a female captive during her menstrual cycle.
13) It is not permissible top have anal sex with a female captive.
14) The owner of a female captive should show compassion towards her, be kind to her, not humiliate her and not assign her work she is unable to perform.
15) The owner of a female captive should not sell her to an individual whom he knows will treat her badly or do unto her what Allah has forbidden.
http://www.hindustantimes.com/world/15-rules-from-islamic-state-s-fatwa-on-sex-with-female-slaves/story-miotCtFVchOvCH9VAg7G1J.html
----------
Cultural taboos still a hurdle for women in KP to join police
SADIA QASIM SHAH
Dec 29, 2015
PESHAWAR: The Khyber Pakhtunkhwa police have yet to attract women to join the force as officials say that due to cultural taboos the number of policewomen is still less than one per cent in the province.
"There are 641 policewomen in Khyber Pakhtunkhwa and a big bulk of it is low-ranking constables," said DIG Dr Masood Salim while speaking at launch of a two-day training workshop on role of policewomen. The workshop organised with the support of UNDP at police lines here on Tuesday.
The DIG said that out of 641 policewomen seven were DSPs, two inspectors, two sub-inspectors, six assistant sub-inspectors and 24 head constables. Around 600 women were constables in the police department in the province, he added.
Additional IGP Mian Mohammad Asif said that role of women police was very important in eliminating crimes against women but unfortunately women hesitated to joining police force. He said that the department was trying to encourage women to join the force. DIG says there are only 641 women in police department in the province
Cultural taboos are still a hurdle for women to join the police department, which is not only offering training but also good financial incentives. Recently 35 women were trained and inducted in Elite Force while 17 others were inspired to join the second batch.
"We had been so much suppressed that it would take time to gain confidence," said a policewoman, who participated in the group discussion held later to come out with solutions to encourage women to join police.
All the policewomen, however, agreed that instead of segregation women should be mainstreamed in the department and assigned duties like their male colleagues so that they could gain experience and get promoted like others.
Women in police department should not be just tasked with responsibilities during raids, VIP duties or at women desks but they should be treated as any other policeman so that they could be visible and earn respect and trust within the department and in the community as well, said the police women during the discussion session.
Mainstreaming of women in the police department would help them to gain confidence, said DSP Asmat.
Her colleagues also suggested that more women should be recruited in police force by publicising good role models. Long duty hours, desk jobs, discrimination in assigning duties had so far set women police aside from the mainstream. Communities also did not show any respect for policewomen that's why they lacked confidence, they said.
Dr Mohammad Ibrar, a teacher at social work department of University of Peshawar, while lecturing on 'Women police in KP -- issues and challenges' said that since 1994 there were 17 women police stations but the strength of policewomen was only 37,000 out of 400,000 police force of the country.
It showed that only 0.86 per cent of police were women, he said. He added that more women should be hired under the 10 per cent quota as well as through open merit.
Dr Ibrar said that more women in police could ensure implementation of women protection laws too. Women complainants could be also facilitated better by the women police, he added.
Umme Kulsoom, representing UNDP, was also of the view that more women should be encouraged to join police force by mainstreaming women in the department. Families still objected to girls joining police but sessions with the community could remove the communication gap, she said. Women face gender-violence and policewomen could really help such women in addressing the issue, she added. She appreciated 66 women desks at police stations across the province.
The policewomen and men as well representatives of civil society later took part in group discussions to suggest ways to improve work environment, confidence building through training and suggested measures to enhance performance of policewomen.
http://www.dawn.com/news/1229571/cultural-taboos-still-a-hurdle-for-women-in-kp-to-join-police
----------
Indonesia's Muslim women hail female-only motorbike taxis
30 Dec 2015
JAKARTA: Female motorbike taxi drivers in headscarves zig-zag through heavy traffic in the Indonesian capital Jakarta, the latest two-wheeled transport service for women making a dent in the male-dominated world of ride-hailing apps in the Muslim nation.
A flurry of new motorbike taxi options have in the past year appeared in the metropolis of 10 million, led by popular service Go-Jek, giving Indonesia's growing middle class a greater choice of transport to get through some of the world's worst traffic jams.
The services - many inspired by ride-sharing app Uber and accessible on smartphones - are a challenge to traditional motorbike taxis in Indonesia, known as "ojeks", which are ubiquitous but have drawn criticism with their dishevelled, dangerous drivers and unpredictable pricing.
Several services with women drivers entered the market in 2015 after years of growing piety in Indonesia, which has the world's biggest Muslim population, and amid heightened safety concerns following reports of attacks on women by male motorbike taxi drivers.
They are in part designed with religious sensitivities in mind, as an increasing number of Muslim women wear headscarves and follow strict interpretations of Islam that forbid close contact with the opposite sex, except between married couples.
"The need for transportation for women is huge, especially in big cities where rates of crime and sexual harassment are very high," Evilita Adriani, co-founder of motorbike taxi company Ojek Syari, told AFP.
ONLY MUSLIM DRIVERS
Popularly known by its nickname "Ojesy", it is the service that aims most clearly at devout female passengers, requiring its drivers to be Muslim women wearing headscarves and loose-fitting clothes.
Ojesy drivers can currently only be hailed by a phone call or through mobile messaging service WhatsApp, but the service is also developing an app that was being tested out this month.
The service, which began in Indonesia's second-biggest city Surabaya in March before expanding across the main island of Java, only accepts female passengers or children.
"I feel more comfortable sharing a ride with a fellow Muslim woman," said Nurlaila, a Surabaya housewife who goes by one name.
She uses the service to take her children to school - a common practice in the country where whole families often travel squashed together on a motorbike.
The company says business is booming - after starting in March with Adriani as its only driver, it now has 350 drivers.
Other motorbike taxi companies vying for a stake in the female market include app-based service LadyJek, whose drivers dress in pink jackets and helmets, and Sister-Ojek, a start-up that began operations earlier this year with capital of just US$100.
Indonesia stands out for the number of motorbike taxi services aimed at women that it boasts, with female drivers relatively rare in many developing nations where the mode of transport is popular.
But they do exist in some other countries, including in Liberia where a group of female drivers, sick of being robbed, took to the wheel, reportedly donning pink helmets and jackets and calling themselves "The Pink Panthers".
The trend for motorbike taxi-hailing services started in earnest last year with Go-Jek in Jakarta, a general service for anyone wishing to order a motorbike ride, which was quickly followed by others such as GrabBike and Blu-jek.
TOUGH SECURITY MEASURES
The women-only services are slightly more expensive than others, but insist they have better security measures.
Calls have been growing for heightened security after reports of women being stalked and harassed by male motorbike taxi drivers, while the rape of a young woman in India by an Uber driver last year also added to safety concerns about ride-hailing services.
LadyJek drivers can activate a loud alarm if they are attacked or feel threatened, while Ojesy and Sister-Ojek only operate between sunrise and sunset.
However the services are unlikely to overtake major competitors like Go-Jek as many women in Indonesia, where the majority practise a moderate form of Islam, have few qualms about taking a motorbike taxi driven by a man.
The services also try to make themselves attractive to drivers, with Ojesy allowing Muslim housewives and university students to work part-time.
Housewife Endang Kartini, 38, said working for Ojesy part-time allowed her to buy cosmetics and give her children pocket money, without interfering with other activities.
"I can still attend Muslim prayer groups," she said.
http://www.channelnewsasia.com/news/asiapacific/indonesia-s-muslim-women/2386508.html
----------
23 Saudi women on trial over terrorism charges
29 December 2015
Sources told Al Arabiya News that twenty-three Saudi women accused of association with Al-Qaeda and ISIS are currently being tried in the Kingdom. Some of them have been convicted and jailed.
According to official sources, the Special Criminal Court began hearing the cases of these female extremists two years ago. They added that the most noteworthy case was that of Haila Al-Qaseer, who is known as "Lady Al-Qaeda," and who was convicted of terrorism and sentenced to 15 years in jail.
The court tried in October another woman, 27-year-old Um Oweis, who joined ISIS after pledging allegiance to Abu Bakr Al-Baghdadi and helping provide logistical services to terrorosm via media and found communicating with ISIS members and leaders of Al-Nusra Front through Twitter.
Umm Oweis has a master's degree from a Saudi university.
In December, the criminal court opened the case of "Al-MohajIra," 25-year-old female member of Al-Qaeda and ISIS who also served as a media member. She was charged with supporting and pledging allegiance to Al-Baghdadi, as well as encouraging killing in conflict zones and inside the Kingdom.
http://english.alarabiya.net/en/News/middle-east/2015/12/29/23-Saudi-women-on-trial-over-terrorism-charges-.html
----------
Children of non-Saudi fathers to be counted as citizens: MoL
Dec 30, 2015
RIYADH – The Ministry of Labor has clarified that the children of Saudi women from non-Saudi husbands will be considered as citizens under the Nitaqat Saudization program whether their mothers are dead or alive.
"According to a decision taken by the Council of Ministers in 2012 (1433H), the children of Saudi women married to foreign men are entitled to have certain rights. These rights include allowing them to work in private sector firms without transferring their sponsorship, considering them as Saudi citizens in education and medical care, and counting them Saudi citizens with regard to Nitaqat program in the private sector," the ministry said in a statement carried by the Saudi Press Agency.
The ministry denied press reports that these children will not be considered as citizens in the Nitaqat program after the death of their Saudi mothers. "As long the son of a Saudi woman from a non-Saudi husband lives in the Kingdom, he will be counted as a Saudi citizen in Nitaqat program whether his mother is dead or alive. The ministry follows this directive strictly ever since it has been adopted by the Council of Ministers," the ministry said.
The ministry's clarification comes in the wake of a recent statement from Deputy Minister Ahmed Al-Humaidan, saying that children of Saudi women from non-Saudi husbands will not be considered as citizens in the Nitaqat program after the death of their mothers.
When the mother dies, her offspring from a non-Saudi father will automatically lose the privilege of being Saudi citizens in the Nitaqat program, he said.
There are 700,000 Saudi women who are married to non-Saudis, representing around 10 percent of the overall population, according to a Ministry of Justice report issued in 2012.
http://saudigazette.com.sa/saudi-arabia/children-of-non-saudi-fathers-to-be-counted-as-citizens-mol/
----------
Washington Muslim women fight fear with self-defense lesson
December 29, 2015
WASHINGTON — Rana Abdelhamid was 16-years-old when a man attacked her and attempted to remove her headscarf as she was walking on a New York City street six years ago. The incident left her feeling vulnerable and alone, she told a group of local Muslim women at a self-defense workshop Dec. 18.
A group of 20 local women gathered, some with babies in tow, in the basement of the St. Stephen and Incarnation Episcopal Church, in Northwest D.C., to learn self-defense and discuss what it's like to be a Muslim woman in America today.
Amid the political climate following the Paris attacks, the San Bernardino shooting and GOP presidential candidate Donald Trump's proposal to ban Muslims from entering the United States, Muslims — and particularly Muslim women — have felt susceptible to hate crimes.
"It feels that there's a unique way that Muslim women are being targeted. I think it has to do with the intersection of patriarchy and anti-Muslim hatred and bigotry," said Darakshan Raja, a D.C. resident and founder of the Muslim American Women's Policy Forum, an organization aimed at working against state- and gender-based violence.
Raja, program manager at the Washington Peace Center, teamed up with Abdelhamid, a black belt in shotokan karate and founder of the Women's Initiative for Self-Empowerment — an organization which provides young Muslim and Jewish women with training in self-defense, social entrepreneurship and leadership — for WISE's fourth self-defense workshop in D.C. in the past month.
"I thought it was a good opportunity to bring together Muslim women in an offline space, in person, engaging these issues and trying to figure out how to heal from these horrible experiences," says Abdelhamid, 22, a master's student of public policy at Harvard University's John F. Kennedy School of Government.
Abdelhamid kept reading on her social media newsfeed about how other Muslim women felt afraid. She says Muslim women are vulnerable, especially those who don the hijab — headscarf, burqa or niqab.
According to FBI records, 16.3 percent of hate crimes reported in the U.S. in 2014 were anti-Islamic in nature. But since the Paris attacks, the rate of suspected hate crimes against Muslims has tripled, The New York Times reports.
"People affiliate you with the religion of Islam, affiliate you with the stereotypes that they see of Muslims on TV, and you become a walking target, unfortunately," Abdelhamid said.
For Abdelhamid, self-defense is one way to empower women because, she says, it gives them agency over their bodies.
She starts every self-defense class with an overview of the different pressure points to attack — the eyes, nose, chin, solar plexus, neck, biceps, ears, kneecaps, behind the knees, the groin area and toes.
She says attacking a pressure point is the best thing to do in a dangerous situation because it will cause a lot of pain and, therefore, allow for more time to get away, which is the ultimate goal.
Abdelhamid also teaches techniques including a punch, a triangle maneuver to get out of an arm grab, a front kick and a knee jab — the latter two useful for attacking the groin area.
Rofaida Elzubair, a 31-year-old American Red Cross fellow living in D.C., attended the workshop and discussion.
"With everything I hear on the news and the Islamophobic issues, it really made me concerned, and I wanted to be aware of how to defend myself in case of any emergency," said Elzubair, who moved to the U.S. from Dubai about a year ago.
She says she enjoyed the discussion portion of the event.
"It was so touching," she said. "It opened my eyes that I'm not alone in this."
Hind Essayegh, 33, a mother from Silver Spring, Maryland, says the discussion was equally important and empowering because, like Elzubair, it made her feel like she wasn't alone.
"I want to strengthen myself by any means possible to be able to defend myself and my family," Essayegh said.
Abdelhamid says she could sense a lot of the anxiety the women felt through the discussion they had.
"It's disheartening to hear how almost every single woman in that space felt insecure, felt she had to be way more careful walking out of her home, doing mundane day-to-day tasks like going shopping for groceries, or taking a bus," Abdelhamid said.
Safety of the hijab
The fear Abdelhamid points to has some Muslim women questioning whether it's safe to wear their headscarves. Some have suggested wearing a hoodie or beanie on top of the hijab to attract less attention.
Imam Suhaib Webb, a D.C.-based religious leader, says there are temporary occurrences, called nawazil, which can cause Muslims to not be able to do something for a moment, such as wearing the hijab.
"It's up to the woman to make her call in her own life. No one knows her life like she does," says Webb, the founder of City Sundays, a D.C. faith-based monthly gathering aimed at creating cross-cultural relationships between people from different backgrounds across the D.C. area.
However, Webb says, Muslims shouldn't succumb to fearmongering.
"When we start to give up our constitutional rights, we are inviting the Islamophobes to silence Islam and Muslims," he said. — (AP)
Abdelhamid has worn her hijab for seven years, since she was 15.
"I don't feel the need to take it off. In fact, what's happening makes me want to embrace my faith and embrace my practice even more strongly," she says.
Even so, Abdelhamid encourages other Muslim women to do what they feel is best. "Everyone deals with this type of violence in different ways. Not everyone is going to deal with it in the way that I am," she said.
Like Abdelhamid, Webb says self-defense is important and should be a community obligation. He says his own daughter is trained in taekwondo.
"I think it's highly commendable for women to protect themselves as well as the Muslim community," he said.
WISE's next three self-defense workshops will be held in Massachusetts, Texas and New York throughout January, Abdelhamid said.
http://www.phillytrib.com/washington-muslim-women-fight-fear-with-self-defense-lesson/article_1f1851d6-ded8-532b-b06f-b2281d2720ce.html
URL: https://www.newageislam.com/islam-women-feminism/new-age-islam-news-bureau/sex-with-female-slaves--15-rules-islamic-states-fatwa/d/105800
New Age Islam, Islam Online, Islamic Website, African Muslim News, Arab World News, South Asia News, Indian Muslim News, World Muslim News, Womens in Islam, Islamic Feminism, Arab Women, Womens In Arab, Islamphobia in America, Muslim Women in West, Islam Women and Feminism