New Age Islam News Bureau
28 December 2021
• Rugby Player, Amreen Kadwa Named Most Valuable Player at Victoria Park Collegiate Institute and the Yeomen Lions Rugby Football Club
• Let the Virgin Mary Bring Christians and Muslims Together At Christmas
• 'Benazir Bhutto Was Dominant Figure of Pakistani Politics'
• UK Muslim Women's Council Food Initiative for the Homeless Celebrates 8 Years
Compiled by New Age Islam News Bureau
URL: https://www.newageislam.com/islam-women-feminism/women-execution-mullah-iran/d/126047
--------
Seven Women Executed in Just One Month by Iran's Mullah Regime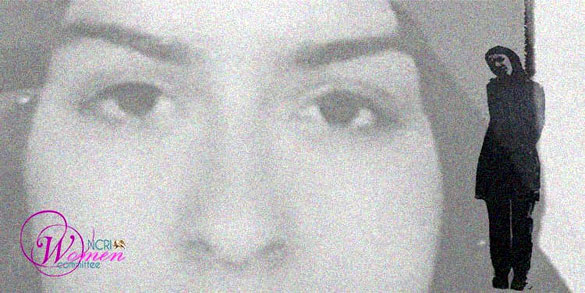 (Representational Photo)
-----
December 21, 2021
The seven executions of women in Iran in just one month is half the average annual rate
The clerical regime has stepped up executions in the past month with a shocking rise in the executions of women in Iran.
Since November 22, 2021, at least 39 persons, including seven women, have been hanged in various prisons across the country.
They include the execution on December 19, 2021, of a Kurdish political prisoner, Haidar Ghorbani, 40, and the father of two, after five years of captivity.
The Iranian Judiciary handed down his death penalty based on forced confessions extracted from him under torture. They carried out the death penalty without informing his family and/or lawyer. The intelligence services did not hand Haidar's body to his family and buried him secretly.
The entire "legal" procedure, from the beginning to the end, violated all international standards and humanitarian law.
On the same day, two Baluch citizens were hanged in the Prison of Shiraz. One of them was Na'eim Shahbakhsh, 38, the father of four, including two children under ten years.
Again, the authorities did not inform his family before the execution. Therefore, he died without having a final visit with his family.
Seven women were hanged in one month
Four of the seven women hanged over the past month have not been identified.
The authorities of the Central Prison of Yasuj carried out the death penalties for a couple on November 23, 2021, on murder charges.
On drug-related charges, Maryam Khakpour, 41, was hanged on November 25 in Dastgerd Prison of Isfahan. She had repeatedly claimed innocence saying the drugs belonged to her husband, sentenced to 18 years.
A 2017 amendment to the Iranian regime's law strictly limits the use of the death penalty for drug-related offenses. The executions on drug-related charges have nevertheless continued.
On December 9, 2021, six inmates, including three unidentified women, were hanged in the Central Prison of Kerman.
Massoumeh Zare'i, 40, was hanged in the Prison of Amol at dawn on December 14, 2021. She had a 21-year-old daughter and was in prison for seven years for the murder of her husband, a drug addict who often battered her and did not consent to divorce.
Fatemeh Aslani was hanged on December 19, 2021, in Dastgerd Prison of Isfahan for murdering her husband. She had been on death row for nine years despite pleading not guilty.
Ebrahim Ra'isi oversees surge in executions
The seven hanging executions of women in Iran during just one month are noteworthy, particularly because, since 2013, the average number of women executed in Iran has been 15 per year.
The Iranian regime has executed some 350 persons since January 2021, compared to the 255 executed in 2020. Of course, the actual number of those executed by the regime must be considered higher because the regime executes many in secret and away from the public's eyes.
The significant rise in the number of death penalties carried out in Iran in 2021 is an outcome of the presidency of Ebrahim Ra'isi, who is notorious for his direct role in the massacre of 30,000 political prisoners in just a few months in 1988.
In the face of growing societal discontent, The inhuman clerical regime has found the only way to preserve its rule in intensifying executions, torture, and repression.
The Iranian Resistance has repeatedly urged the UN Security Council, the UN Secretary-General, the UN Human Rights Council, and the UN High Commissioner for Human Rights, as well as the European Union and its member states, to strongly condemn the growing number of executions in Iran and to take immediate action to rescue prisoners on death row.
With this month's surge in executions, this imperative becomes ever more urgent.
No talks, no ties with the world's chief executioner of women
Iran is the world's chief executioner of women.
The Women's Committee of the National Council of Resistance of Iran (NCRI) genuinely believes that women are the force for change. It urges all women's rights advocates and activists worldwide to play an active role concerning the fate of their sisters in Iran and help stop the executions of women in Iran.
Women should urge their governments to make all economic and political relations with Tehran contingent on a halt to executions, especially the executions of women in Iran and torture of political prisoners.
They should urge their governments to refer the dossier of the clerical regime's human rights abuses to the UN Security Council.
The UN and its member states should form an international tribunal to hold the leaders of the Iranian regime, especially its supreme leader Ali Khamenei, its president Ebrahim Ra'isi, its Judiciary Chief Gholam-Hossein Mohseni Ejei, and its parliamentary speaker Mohammad Baqer Ghalibaf, accountable for four decades of crimes against humanity and genocide.
The freedom-loving women worldwide must not withstand their governments negotiating and shaking hands with a murderous regime, let alone appeasing it.
The women of Iran look to their sisters around the world to lend them support in their tortuous struggle for freedom and equality.
Help stop executions of women in Iran!
Source: Women NCR
https://women.ncr-iran.org/2021/12/21/rise-in-executions-of-women-in-iran/
--------
Rugby Player, Amreen Kadwa Named Most Valuable Player at Victoria Park Collegiate Institute and the Yeomen Lions Rugby Football Club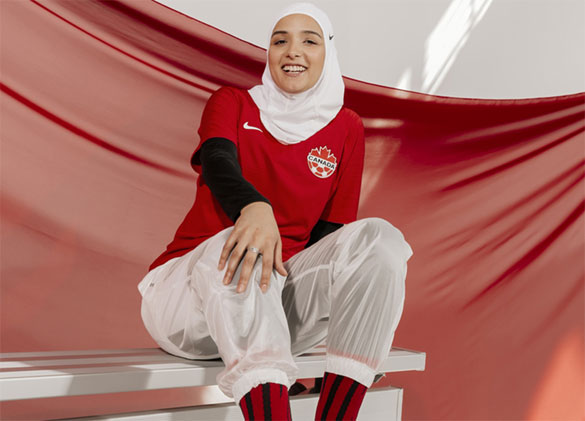 (Photo: @Thesupermaniak for @Niketoronto)
-----
Dec. 27, 2021
By Tracey Tong
A talented and passionate rugby player, Amreen Kadwa was named most valuable player of her team at Victoria Park Collegiate Institute and the Yeomen Lions Rugby Football Club.
"You don't get that kind of adrenalin and boost of energy through anything else," Kadwa said of the sport.
As much as she loved rugby, she admits to having felt unwelcome in sports in the past, due to her religion, culture and appearance — "especially in my youth when I was navigating who I was as an individual," said Kadwa, who emigrated from India to Scarborough with her family at age 10, identifies as South Asian Muslim and wears a hijab.
Although her rugby teammates were open-minded and understanding, she said she would still sometimes remove her hijab to fit in more during practices. Also, she said, "Alcohol is a big part of rugby culture, so we would go to bars after almost every game. It just wasn't my scene, so I would feel very unwelcome there."
Four years ago, Kadwa founded and became the executive director of the Hijabi Ballers, an organization catering to the needs of Muslim girls and women — regardless of whether they wear a hijab — in sports, through increasing their participation levels while recognizing and celebrating their athleticism.
Now 26, Kadwa wasn't alone in her feelings of exclusion. An Ontario Sport Network survey of Ontarians aged 13 to 64 showed nearly a quarter of those polled didn't feel welcome in sports; three-quarters believed accessibility to be one of the biggest barriers to participation in sports and just over a quarter said body image issues were barriers. To encourage all Ontarians to see themselves in sports, enrol in leagues and programs, and raise awareness of the benefits of sports and recreation, the network has launched a provincewide awareness campaign; the Hijabi Ballers is one of the groups spotlighted.
"This is Your Sport" also brings attention to the barriers Ontarians say are preventing their participation, including pandemic-related league closures, accessibility issues (proximity, cost, bullying and not being welcomed) and safety concerns around COVID-19 that caused a pandemic-related league closures and a decline in enrolment rates across the province.
The Hijabi Ballers addresses two of these barriers. The first is financial: most of its programming — which includes drop-in basketball clinics, among other sports — takes place in under-resourced neighbourhoods within Toronto, said Kadwa, although some happen in the GTA or online.
For some Muslim women, access to sports is met with financial challenges, said Kadwa. And some, "come from immigrant families with conservative cultural mindsets, where sports are not a priority. Access to free or low-cost sport is key to engaging Muslim girls and women in sport and reigniting their passion for sport."
The non-profit organization also addresses inclusion.
Scarborough-born Mehnaaz Bholat, who identifies as South Asian, avoided participating in sports for many years because there were no programs for women who wear hijabs. She joined the Hijabi Ballers to stay active after having children.
"It was amazing to find the sisterhood," Bholat, 31, said.
"We need to have sport recognized as a place where everyone is welcome," said Ontario Sport Network board chair Michele O'Keefe. "Sport needs to be seen as a safe place where everyone gets to play and stay active."
This is important, she added, because "we've witnessed the toll of inactivity on not only ourselves, but our children, our friends and our community." That toll includes health problems, both physical and mental, less opportunity to build confidence, and develop leadership and teamwork skills.
The network is working to provide the resources and the safe and inclusive spaces Ontarians need today, O'Keefe said. Plans include building strategic partnerships and organizing a regular speaker series, holding workshops for sports administrators and developing an online hub with a curated collection of sports policy resources.
Another study, the Canadian Women & Sport's "Rally Report: Encouraging Action to Improve Sport for Women and Girls" found participation levels for Canadian girls to be much lower than boys, with one in three girls dropping out of sports by their late teens, compared to a one in 10 dropout rate for teenage boys. Sport participation rates for Canadian girls decline steadily from childhood to adolescence, with as many as 62 per cent of girls left out of sports altogether.
In many societies and cultures, girls and women are placed at a disadvantage in almost every single aspect of their lives, said Hijabi Ballers member Humaira Sedu. "For them to even think about playing (sports) — where they aren't given the same access to resources as their male counterparts — is a huge step. Women in sport is not just about playing. It's also about fighting for a chance to play every single day. It's fighting with the world to prove that what you are doing matters, that you deserve to be respected and that you deserve the resources to achieve your goals."
Women in sports build connections, develop confidence and are encouraged to push boundaries, O'Keefe said.
Sports changed the life of Kelsey Mitchell, who began competing in track cycling at age 24 — "quite late in life to be starting a new sport," she said. The now 28-year-old overcame the steep learning curve to win gold at the 2019 Pan American Games in women's individual sprint and gold in women's track cycling at the 2020 Summer Olympics.
Keeping sports in your life "doesn't mean you have to try and go to the Olympics," said Mitchell. "It can mean signing up for that recreation league, trying out for the new school team, (or) going to a gym or workout class you never tried."
Four years later, Kadwa has dabbled in many sports, including basketball, tennis, golf and skateboarding. "Without playing sports, I would not have the leadership and communication skills I have today," said the Flemingdon Park resident. "I feel very confident, not just as a leader but also as a woman."
Source: The Star
https://www.thestar.com/life/2021/12/27/it-was-amazing-to-find-the-sisterhood-awareness-campaign-focuses-on-barriers-to-sports-participation.html
--------
Let the Virgin Mary bring Christians and Muslims together at Christmas
December 24, 2021
By Zahra N. Jamal
(RNS) — Muslim-Christian relations are strained around the world, across the United States and even in Congress. But at Christmas, the two faith communities whose combined size represents more than half of humanity can look to their shared love for a single figure to inspire them to love one another: Mary, the mother of Jesus.
Mary is more than the only woman named in the Quran; she has an entire chapter bearing her name. She is mentioned more times in Muslim scripture, in fact, than in the New Testament. She is lauded by God in the Quran as "chosen among all women of the world," "a sign for humanity," and as "a model" of piety, purity and patience.
Through the centuries, from ancient artwork of the Middle East, South Asia and Far East to the contemporary Iranian film "Saint Mary," Muslims have lovingly captured the mother of Jesus. We reflect on how we may be inspired by her — as a devotee of the Lord, as a woman, as a single mother and as a role model for all Muslims, men and women alike.
Christians and Muslims have and continue to revere Mother Mary, standing shoulder to shoulder as pilgrims and worshippers, at sites around the world from Syria and Lebanon to Israel and the Philippines.
Over the past few months, I've heard how the Blessed Mother has inspired spiritual awakening among Catholic professionals, delivered peace to struggling single Muslim mothers, inspired dialogue among Jewish and Christian empty-nesters, offered solace to agnostics looking for meaning and helped a Muslim convert to Christianity explain to her worried priest that loving both Islam and Christianity is what Jesus would do.
Hearing about Muslims' love for Mary, Islamophobes and Islamophiles find that they are bound by reverence for the mother of Jesus and grateful to her for bringing them closer together.
Mother Mary's healing power is the beacon of hope and light we need right now.
Anti-Muslim sentiments are held at an alarming rate by Christians. Two decades after 9/11, 75% of white evangelical Protestants and 58% of white U.S. Catholics believe that Islamic values are at odds with American values, according to the Public Religion Research Institute.
Half of Americans believe, furthermore, that violence, rather than peace, is encouraged by Islam, a faith practiced by 1 in 4 people in the world. (In the months after 9/11, only a quarter of Americans believed this myth.)
Yet for two decades Muslims in America have been the victims of hate and violence, not its perpetrators. Since 2010, FBI hate crimes data shows, Muslims have been the second most common target of religious hate in America (after Jews).
In recent weeks and months, Islamophobic rhetoric has translated into bias or violence against Muslims across the nation, as well as the emergence of allies and calls for redress (for example, in Florida, New Jersey, Illinois, California, New Mexico, Washington). Children are not spared. The 2020 American Muslim Poll reveals that 55% of students in K-12 public schools face religious bullying — 30% of the time by teachers or school officials.
Muslims on campus don't fare much better. A recent report examining Islamophobia at California universities and colleges found that nearly 40% of Muslim students report racial discrimination or harassment, including by professors (34%), peers (54%) and student services (23%). More than 1 in 5 Muslim university students have been denied accommodations.
Refuge can't be found at work, either. The Equal Employment Opportunity Commission reports that Muslims have constituted 20%-28% of workplace religious discrimination claims every year between 2002-2017 though they are only 1% of the American population.
Research shows a promising path out of this situation. A national longitudinal study of Gen Z college students across the U.S. found that young people developed mutual understanding by breaking bread together, touring one another's houses of worship, attending vigils and other informal encounters together and volunteering side by side for common causes such as eradicating homelessness and poverty.
Mary, mother of Jesus the Messiah, who is upheld in the Bible and the Quran as a righteous, humble servant of God to be emulated, can be our guide in finding shared values such as compassion, generosity and care for the poor and the weak.
Two millennia after she gave birth to Jesus, Mother Mary has the power to unite Muslims and Christians wary of one another. Lady Maryam (as she is called in the Quran) is a symbol that can help us replace hardened hearts and burdened souls with peace, love and understanding.
Nothing about interfaith harmony detracts from our commitment to our respective beliefs. In reaching out across lines of difference, we take a page from the World Evangelical Alliance, the Vatican, the Ismaili Imamat, the Muslim World League and the World Jewish Congress, each of which has supported interfaith dialogue to foster peace and respect around the world.
At Christmas, and all year long, let each of us find fellowship in listening deeply and connecting spiritually. Let every one of us replace fear with hope and recognize that "the Other" is not a bogeyman to fear, but a blessing to learn from and to cherish. Let Mother Mary lead us in that process.
(Zahra N. Jamal is associate director of the Boniuk Institute for Religious Tolerance at Rice University and CEO and founder of The Inclusion Expert, a culture and diversity consultancy. The views expressed in this commentary do not necessarily reflect those of Religion News Service.)
Source: Religion News
https://religionnews.com/2021/12/24/let-the-virgin-mary-bring-christians-and-muslims-together-at-christmas/
--------
'Benazir Bhutto was dominant figure of Pakistani politics'
BY ARSHAD YOUSAFZAI
DECEMBER 27, 2021
Shaheed Mohtarma Benazir Bhutto had a unique personality. She was truly a public leader and the most unique thing about Benazir Bhutto was that she became a symbol of struggle and movement. Despite all the conspiracies she faced during her life she never give up and did not back down from her goal.
She did politics not for the sake of power but for the welfare of the people. She spent her whole life on the restoration of democracy in Pakistan. Benazir Bhutto wants to empower women and had taken many revolutionary steps in this regard.
There is no doubt that she wanted democracy to be flourished in the country so that people could have power and Pakistan could have a rule of law and strong democracy. The provincial minister for Universities and Boards Muhammad Ismail Rahoo expressed these views while addressing a seminar on 'the visionary leadership dynamic governance and services for the people of Pakistan: A tribute to the first lady prime minister of Islamic World, Shaheed Mohtarma Benazir Bhutto' on Friday.
The SMBB Chair of the University of Karachi organized the seminar at the Auditorium of the Karachi University Business School. It was organized in connection to the 14th death anniversary of Benazir Bhutto.
The speakers observed that Benazir Bhutto was the dominant figure of Pakistani politics and had a vision about the progress and development of the country and its people.
The KU Vice Chancellor Professor Dr Khalid Mahmood Iraqi said that the visionary leader is one who empowers people. There are three visionary leaders in Pakistan to date, Quaid-e-Azam Muhammad Ali Jinnah, Shaheed Zulfikar Ali Bhutto, and Benazir Bhutto.
He mentioned that all these leaders believed that the future lies in adherence to the constitution, protection of minorities, and women empowerment. He said that the personalities are mortal, but their ideology and work for the betterment of society always leave behind a mark.
The KU VC Professor Dr Khalid Iraqi shared that there is a lot of talk about minorities in Pakistan but hardly any of you know that the ministry of minorities was started during the time of Benazir Bhutto.
He informed the audience that earlier there was no ministry for minorities in Pakistan. He added that similarly, there was no ministry for women's rights and it was established during the time of Bibi Shaheed Benazir Bhutto. "Pakistan cannot develop unless true democracy is established because only through democracy the provision of rights to all sections of society can be ensured."
Meanwhile, the Dean Faculty of Arts and Social Sciences and the Director Shaheed Mohtarma Benazir Bhutto Chair Professor Dr Nusrat Idrees said that Shaheed Mohtarma Benazir Bhutto was a democratic-minded leader, the reason being that she saw the politics of her father Zulfikar Ali Bhutto.
She said that Benazir Bhutto wanted to take Pakistan forward. She is a role model for Pakistani women as well as for the whole world. Benazir Bhutto fought for the survival of democracy till her martyrdom. She wanted to give equal rights to everyone in society and talked about it on every platform.
Member Advisory Committee Shaheed Mohtarma Benazir Bhutto Chair Karachi University Professor ND Khan while recalling the memories shared that all the political training of Benazir Bhutto was done by her father Zulfikar Ali Bhutto and he trained his beloved daughter for this country.
He said that he was among those few people who asked Benazir Bhutto to delay her return in 2007 as he among few others feared that her life would be in danger if she returns to the country before the general elections.
On this occasion, the member Syndicate Karachi University Sahibzada Moazzam Qureshi said that the services of Shaheed Mohtarma Benazir Bhutto for Pakistan are not hidden from anyone, her services are visible in different walks of life. Benazir Bhutto is a well-known personality not only in Pakistan but also around the world. Her services for the restoration of true democracy in Pakistan are unforgettable.
The member Sindh Assembly and member Syndicate Karachi University Sadia Javed said that Shaheed Benazir Bhutto was the first Muslim woman prime minister who proved that women all over the world are no less than anyone.
The Director Shah Abdul Latif Bhattai Chair University of Karachi Professor Saleem Memon said that martyrdom is inherited by the Bhutto family, the martyrdom of Zulfikar Ali Bhutto, Shahnawaz Bhutto, Mir Murtaza Bhutto, and then Benazir Bhutto is a part of this link and this is Bhuttoism. Benazir Bhutto was a seasoned politician and a brave and courageous woman.
Source: Academia Mag
https://academiamag.com/benazir-bhutto-was-dominant-figure-of-pakistani-politics/
--------
UK Muslim Women's Council Food Initiative for the Homeless Celebrates 8 Years
By Haleema Saheed
28 December, 2021
The scheme, which started in December 2013, offers a hot two-course meal for people who are homeless or struggling to feed themselves.
During a special session held on Thursday, December 23, the Bishop of Bradford Toby Howarth helped to distribute the take-out meals, winter accessories and Christmas treats to over 120 service users.
Donations had been made by SaveCo Bradford, Islamic Relief, B & M Stores and Teal Compliance Limited.
Together with its catering partner MyLahore Bradford, Muslim Women's Council has proudly provided over 56,000 meals since the project was established.
Since March 2020, the sessions have been changed to a hot meal take-out service from the Manningham Library, from 4pm to 6pm on Thursdays.
The Revd Dr Toby Howarth said "Week in, week out, come rain or shine, the Curry Circle is meeting with people to offer food and a friendly chat.
"We are so proud of all that the Curry Circle team do."
Bana Gora, Chief Executive Officer of the MWC, said: "We thank all our volunteers and supporters, especially our catering partner MyLahore and our donors, for helping us distribute food, much-needed winter accessories & gifts at such a special time of year."
Source: The Telegraph And Argus
https://www.thetelegraphandargus.co.uk/news/19808436.muslim-womens-council-food-initiative-homeless-celebrates-8-years/
--------
URL: https://www.newageislam.com/islam-women-feminism/women-execution-mullah-iran/d/126047
New Age Islam, Islam Online, Islamic Website, African Muslim News, Arab World News, South Asia News, Indian Muslim News, World Muslim News, Women in Islam, Islamic Feminism, Arab Women, Women In Arab, Islamophobia in America, Muslim Women in West, Islam Women and Feminism