New Age Islam News Bureau
28 Sept 2017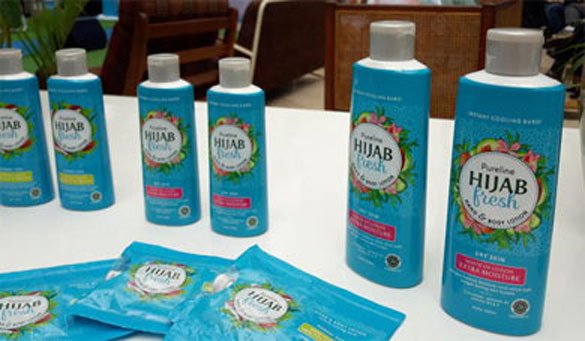 Unilever Indonesia launches body moisturizer specifically intended for Muslim women. (Photo by Erwida Maulia)
-----
• Khyber-Pakhtunkhwa Finalises Women Empowerment Policy Draft
• Unilever Indonesia Expands Beauty Products For Muslim Women
• Russian Women Desperately Seek Daughters Who Became Daesh Wives In Syria, Iraq
• Afghanistan's Only Female Governor Replaced By Man
• King Salman's decision a real milestone improving women's rights: NSHR chief
• Austria Becomes Latest European Country to Ban Burqas — but Adds Clown Face Paint, Too
Compiled by New Age Islam News Bureau
URL: https://www.newageislam.com/islam-women-feminism/senior-cleric-says-women-driving/d/112693
--------
Senior cleric says women driving does not contradict Quran, Sunnah
28 September 2017
Member of the Senior Scholars' Council, Abdullah bin Abdlemohsen al-Turki, has said that decision taken to allow women to drive in Saudi Arabia does not contradict with the country's constitution which is the Qur'an and the Sunnah. He added that the decision is based on Sharia's jurisdictions.
Turki also said that ever since its establishment by Founder King Abdulaziz, the kingdom has never allowed corruption and immorality, adding that it is keen to develop the society while protecting the Muslim faith.
He also noted that numerous research have proved that there is no harm in allowing women to drive and in fact demonstrated that it will resolve several negative repercussions.
On Tuesday evening, following a landmark decision by King Salman, Saudi Arabia officially announced that it will grant driving license to women, which will be effective in June next year.
The royal decree stated that Saudi Arabia will implement the provisions of traffic regulations, including the issuance of driving licenses for men and women alike.
The decision was widely welcomed as the United Nations and Washington and by others around the world.
https://english.alarabiya.net/en/News/gulf/2017/09/28/Senior-cleric-says-women-driving-does-not-contradict-Quran-Sunnah.html
--------
Khyber-Pakhtunkhwa Finalises Women Empowerment Policy Draft
September 28, 2017
PESHAWAR - The Khyber-Pakhtunkhwa government on Wednesday finalised Women Empowerment Policy draft aiming to ensure social, economic, legal and political empowerment of women in the province.
The draft was prepared at a high-level meeting held under the chair of Planning and Development Additional Chief Secretary Shahab Ali Shah. The purpose of the meeting was to review the revised women empowerment policy by Women Parliamentary Caucus (WPC).
The meeting was attended by the WPC Chairperson and Member KP Assembly Meraj Hamyun along with other MPAs of Khyber-Pakhtunkhwa Assembly.
The meeting focused on the commitment of WPC and Planning and Development Department of KP towards women empowerment at levels in KP. The draft of Women Empowerment Policy by the government was discussed with attention to health, education and socio-economic empowerment of women in the province.
Shahab Ali Shah acknowledged the efforts of the WPC for the socio-economic empowerment of women in Khyber-Pakhtunkhwa. He emphasized on the importance of the said policy as it is an effort to scrutinise and fill gender gaps in the overall development process in terms of policies for the provision of human and financial resources for women development.
He further said that the women empowerment policy will allow us to provide a conducive environment for women which will enable them in decision-making at different levels. The participants agreed on presenting the draft policy to the provincial cabinet for its approval and implementation.
http://nation.com.pk/national/28-Sep-2017/kp-finalises-women-empowerment-policy-draft
--------
Unilever Indonesia expands beauty products for Muslim women
September 27, 2017
JAKARTA -- Anglo-Dutch consumer goods giant Unilever has launched its second product specifically aimed at Muslim women wearing hijabs in Indonesia, seeking to address "unmet needs" in a continually growing market.
Local unit Unilever Indonesia on Wednesday introduced body moisturizer Pureline Hijab Fresh, following the "positive response" to its shampoo line Sunsilk Hijab Recharge, which was launched last year.
Ira Noviarti, the company's vice president for personal care, said the number of hijab-wearing Muslim women in the world's most populous Muslim nation has swelled over the past decade to at least 20 million, and will likely continue to expand.
Citing a study, she added that Muslim women donning hijabs contribute 68% of the total sales of fast-moving consumer goods in Indonesia.
"But existing products cannot meet their needs," Noviarti said. "Consumer goods companies like Unilever Indonesia must see to these women's needs."
Karamita Darusman, brand manager for Pureline Hijab Fresh, explained that unlike other body moisturizers available at stores, the product has an "instant cooling agent" and can absorb quickly into the skin -- a boon for women who cover themselves with hijabs in public in hot and humid tropical nations like Indonesia.
In addition, Pureline Hijab contains fragrance, whitening agent and UV screen -- which are common features in Indonesian skin care products -- and offers a few variants for different types of skin.
Noviarti said Unilever Indonesia is "exploring" opportunities to export the hijab-friendly products to other Muslim-majority nations.
In the meantime, like nearly all Unilever products sold in Indonesia, the moisturizer has been halal certified to appeal to the country's increasingly religious-conscious Muslim customers. Halal certification is also being sought for makeup line Lakme, which was launched in Jakarta earlier this month by India-based Unilever Hindustan.
Unilever launched the hijab-friendly moisturizer and shampoo as its growth in Indonesia has slowed over the past few years. It was likely inspired by local rival Paragon Technology & Innovation, which has been enjoying growing popularity among Indonesian Muslim women with its brand Wardah -- seen as the pioneer of halal cosmetics brands in the country. Research company Euromonitor said Wardah has overtaken Unilever skin care product Fair & Lovely.
https://asia.nikkei.com/Business/AC/Unilever-Indonesia-expands-beauty-products-for-Muslim-women
--------
Russian women desperately seek daughters who became Daesh wives in Syria, Iraq
28 September 2017
MOSCOW: Three years ago, Petimat Atagayeva's daughter Zalina secretly left Russia for Syria, taking her 10-month-old baby boy with her, to join Daesh.
Since then, her mother has led an agonizing search, desperate for any trace of her daughter and grandchild.
"She was a beautiful and intelligent young woman. She was the best in the family. How could she have done this?" Atagayeva told AFP in Moscow, where she and several other women whose daughters had joined Daesh were meeting officials.
The women, who mostly come from the regions of Chechnya, Dagestan and Ingushetia in Russia's North Caucasus, spoke to AFP in a hotel, on a trip to the Russian capital organized by Chechnya's rights ombudsman.
The stories they tell are eerily similar: Their well-educated daughters, some of whom had just left school, secretly went to join husbands in Iraq or Syria where they lived for years with the terrorists and brought up children before disappearing without a trace as Daesh retreated.
Another missing woman, Zyarat, a young English teacher at a school in Dagestan went to Turkey in 2015, ostensibly for a family holiday.
"I was happy for them," said her mother Zhanet Erezhebova, her voice trembling with emotion.
"But a month later, I received a text message from an unfamiliar number: 'Mum, I can't come home'," she said.
"I tried to contact her husband, to ask him to give me back my daughter, to ask him why, but he didn't want to talk to me," said Erezhebova, who has come to Moscow with the other women in search of help.
A few months later, her daughter told her that her husband had been killed in Mosul, then the Daesh bastion in Iraq. "She was pregnant with twins. She was crying, she was asking for my forgiveness."
Their contact became less and less frequent as Iraqi troops advanced against the terrorists.
Her daughter's last message came in November last year: "Mum, our situation is difficult. If you don't get any more news from me, please find and save my children."
"Since then I have been searching for them, but I haven't found them," said the elderly woman, weeping.
A Chechen woman, who gave her name only as Patimat, said she had managed to visit her daughter and grandchildren in Manbij in Syria in 2015 when it was a Daesh hub.
"Their situation was precarious. They didn't have electricity or hot water," she said.
"I begged her to come back with me to Russia, but she said her husband would never let her leave — that it was pointless.
"She hadn't wanted to come to Syria but she was obliged to follow her husband, as is the tradition. She was 19."
In April, Patimat's daughter told her that her husband was dead, then there was no more word from her.
"All we can do is wait and hope," she said.
Aza Khayurina from Ingushetia had never traveled abroad before. But in 2015 when her daughter told her she was in Iraq, she immediately took a bus to Istanbul, hoping to get some news.
"She wasn't allowed to go out of the house without her husband, but he was sent on exercises. Three days later, they told her he was dead. She was pregnant," Khayurina said.
Khayurina later went seven times to Turkey, hoping to get her daughter back using people smugglers, who all turned out to be swindlers.
In her last message, her daughter told her she had lost 70 percent of her vision.
"She sent me a photo. She had lost so much weight, it was horrible. She looked like an 80-year-old woman," Khayurina said, fighting back tears.
Several thousand Russians, most from the majority-Muslim regions in the Caucasus, traveled to join terrorists in Syria and Iraq, according to estimates from the Russian security services.
As Daesh loses ground, relatives are now turning to the authorities in the hope of finding their loved ones lost in the chaos of the conflict.
"We are going mad. We don't even know where to turn anymore," said one of the women, Larisa, whose daughter Khava went to Mosul two years ago.
"We can't sleep at night anymore. We constantly see their faces."
http://www.arabnews.com/node/1168636/world
--------
Afghanistan's only female governor replaced by man
Sep 28, 2017
KABUL: Afghanistan's only female provincial governor has been replaced by a man, an official said Wednesday, in a blow to women politicians in the patriarchal country.
Masooma Muradi had faced strong resistance from religious conservatives and political opponents since her appointment in 2015 as governor of Daikundi, a remote province in central Afghanistan. "I can confirm Ms Masooma Muradi, the governor of Daikundi, has been replaced," Munera Yousufzada, a spokeswoman for the directorate of local governance, told AFP without giving a reason. "This is a normal procedure in the government. We are thankful for all her efforts. This is not any kind of prejudice against women." Yousufzada said Muradi had not been assigned another job. Muradi was handpicked by President Ashraf Ghani to lead Daikundi, but protests erupted even before she arrived in the impoverished province as her male political opponents attacked her lack of experience.
Her ascent to the post was a remarkable feat in Afghanistan where stubborn patriarchal traditions and conservative attitudes about a woman's place in the world persist.
Despite Ghani's efforts to appoint women to senior positions, Afghan politics remains largely a man's domain with just a handful of women holding down political positions.
In the entire country there are just two female ministers - counter-narcotics and women's affairs - one female deputy governor and two women district governors.
Ghani dismissed the only other woman governor, of central Ghor province, after protests from religious conservatives.
Muradi, who holds a degree in business administration, was a stark contrast to the warlords and strongmen who govern other provinces under a deep-rooted system of patronage politics.
In an interview with AFP last year Muradi said many people could not "bear having a woman in this position".
"I won't allow men to hush me up - society is not used to that from a woman," she said.
http://nation.com.pk/international/28-Sep-2017/afghanistan-s-only-female-governor-replaced-by-man
--------
King Salman's decision a real milestone improving women's rights: NSHR chief
28 September 2017
RIYADH: The National Society for Human Rights (NSHR) and the Human Rights Commission (HRC) have welcomed the Supreme Court's decision to allow women to drive.
"I must say that this royal decree is a historical one by all means and a real milestone on the Kingdom's path toward improving women's rights," the chairman of the NSHR, Mufleh Rabiean Al-Qahtani, said.
"Our wise leaders issued their decree to make transportation means available for absolutely everyone, and it's now the executive authorities' job to carry out this order in a way that employs and promotes its economic and social advantages," Al-Qahtani added.
Moreover, Al-Qahtani pointed out that "it is important to implement this decree in accordance with Islamic law and in a way which ensures the prevention of negative consequences."
For his part, the president of the HRC, Bandar bin Mohammed Al-Aiban, said: "The royal decree will implement the provisions of traffic regulations, including the issuance of driving licenses for men and women alike, which will further women's contribution to the development process and ensure they receive their full rights."
Al-Aiban stated that he highly appreciated the issued royal decree, especially the part which stated: "Because the government is the guardian of Shariah standards and considers maintaining them on top of its priorities in all matters, it will do what it takes to sustain society's safety and security."
He explained that the efforts of the country's leadership will continue to protect and improve all aspects of human rights, among which is women's right to drive cars and fully participate in their country's progress.
Al-Aiban congratulated Saudi women on their achievements and the progress they have made in many areas, and on the attention and care they receive from King Salman.
http://www.arabnews.com/node/1168736/saudi-arabia
--------
Austria becomes latest European country to ban burqas — but adds clown face paint, too
Sept. 27, 2017
Austria on Sunday becomes the fifth European country to ban wearing full face veils such as the burqa and niqab in public, a move prompted by the recent wave of migrants from Muslim countries seeking asylum.
The prohibition will also apply to scarves, masks and clown paint that cover faces to avoid discriminating against Muslim dress.
The Anti-Face-Veiling Act applies to anyone in public places and buildings, including schools, shopping malls and public transportation.
Other measures aimed at refugees to promote integrating them into Austria include compulsory courses to learn German and the country's values.
Although there are no reliable numbers, the ban is likely to affect only a few hundred Muslim women in the country who now cover their faces. Also affected are some of the estimated 70,000 Arab tourists who visit Austria's popular Zell Am See ski area every year.
The new law has angered Muslim groups. The Islamic Religious Authority of Austria calls it an infringement on privacy, religious freedom and freedom of opinion.
Austria's burqa ban "is a clear discrimination of Muslim women, who once again become victims of a policy of coercion," said Yeliz Dagdevir, 36, a Muslim psychologist in Lustenau who does not wear a veil. "Muslims are obviously still not a part of this country," she added.
People who obscure their face in public can be fined $175. Similar laws are in force or about to go into effect in Belgium, Bulgaria, France and Switzerland. Germany has a partial ban on face coverings that applies only when driving.
Austria's parliament approved the law in May after politicians, including Foreign Minister Sebastian Kurz — a front-runner to become chancellor in the Oct. 15 parliamentary election — argued that veils hinder Muslim women from integrating into Austria's predominantly Catholic society.
The burqa is "not a religious symbol but a symbol for a counter-society," Kurz told Austrian broadcaster ORF in August.
"We want to be able to look into people's faces in our society," added Heinz-Christian Strache, chairman of the right-wing Freedom Party of Austria, at an August news conference:
Austrian President Alexander Van der Bellen has criticized the law. "It is every woman's right to always dress how she wants," he recently told a group of students.
Islam is the second most widely practiced religion in Austria, with 7% of its 9 million people practicing it. France has the largest Muslim population in Europe, estimated at about 6 million.
"I am supporting the new law because women become invisible in public with full face veils," said Erika Reisinger, 64, a commercial clerk in Krems.
Rachid Nekkaz, French-Algerian businessman and political activist, has pledged to pay all fines imposed on women wearing full face veils in Austria. He has spent $350,000 covering similar fines in Belgium and France, Nekkaz told Austrian broadcaster Servus TV.
https://www.usatoday.com/story/news/world/2017/09/27/austria-becomes-latest-european-country-ban-burqas-but-adds-clown-face-paint-too/699273001/
--------
URL: https://www.newageislam.com/islam-women-feminism/senior-cleric-says-women-driving/d/112693
New Age Islam, Islam Online, Islamic Website, African Muslim News, Arab World News, South Asia News, Indian Muslim News, World Muslim News, Women in Islam, Islamic Feminism, Arab Women, Women In Arab, Islamophobia in America, Muslim Women in West, Islam Women and Feminism