New Age Islam News Bureau
3 Aug 2018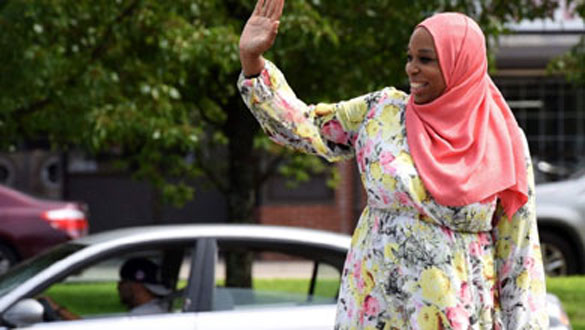 Tahirah Amatul-Wadud, who is running in the Democratic primary for US Congress in Massachusetts' First District, goes on a door-knocking and voter registration drive in Chicopee, Massachusetts, July 21, 2018. Amatul-Wadud is a mother of seven, a lawyer, a community activist and a Muslim, who rises before dawn, prays five times a day and fasts during Ramadan. Now aged 44, she faces the biggest hurdle of her life: asking a majority white constituency, where Catholics are the biggest religious group, to make her the first Muslim woman elected into Congress. AFP PHOTO
-----
• UAE Friday Sermon: The Equal Role of Women in Islam
• The Race for First Muslim Woman in US Congress
• Muslim Women Can Be Granted Divorce Maintenance by Courts: Bombay HC
• Saudi Women Join the Challenge during Hajj Hackathon In Jeddah
• Iranian Woman Hurls Abuse and Then Attacks another Female Driver In The Middle Of the Road Because She's Not Wearing A Hijab
• Women Activists Seek To Boost Women's Role in Iraqi Politics
Compiled by New Age Islam News Bureau
URL: https://www.newageislam.com/islam-women-feminism/selangor-raise-minimum-marriage-age/d/116027
--------
Selangor to Raise Minimum Marriage Age for Muslim Girls To 18
2 Aug 2018
SELANGOR is tabling a bill to amend the Islamic Family Law (State of Selangor) Enactment to raise the minimum age for marriage from 16 to 18 for Muslim girls at the state legislative assembly next month.
Menteri Besar Amirudin Shari said the government was waiting for the state legal advisor's report on the amendment to address the issue of underage marriages.
https://www.themalaysianinsight.com/s/84143
--------
UAE Friday Sermon: The Equal Role of Women in Islam
August 3, 2018
God has placed men and women in equal positions, as counterparts to each other in duties, rulings and performing good deeds, the sermon will tell worshippers on Friday.
performing good deeds, the sermon will tell worshippers on Friday.
Women are mentioned throughout the Quran. One instance is in the start of Surat An-Nisaa (Chapter of women): "Oh mankind, fear you Lord, who created you from one soul and created from it its mate and dispersed from both of them many men and women." (An-Nisaa: 1). Prophet Mohammed said: "Indeed, women are the partners of men."
When it comes to actions, men and women are judged equally – as is mentioned by God in the Quran.
"Whoever does righteousness, whether male or female, while they are a believer – We will surely cause them to live a good life and We will surely give them their reward [in the Hereafter] according to the best of what they used to do." (An-Nahl: 97).
Islam attributes many special privileges to women. One of them is the right to protect her financial earnings.
Islam also made it obligatory for women to be granted part of an inheritance, as specified in the Quran: "for men is a share of what the parents and close relatives leave, and for women is a share of what the parents and close relatives leave, be it little or much — an obligatory share." (An-Nisaa: 7).
Women's right to education, at a time when they were solely considered homemakers, was also safeguarded by Islam.
The Quran mentions many women as examples of strong role models. Among them is Sayida Mariam (Mary) the mother of Isa (Jesus). Another is Queen Balqees (the queen of Sheba) who was known for her wisdom and rigorous decisions.
One of the first women mentioned in the history of Islam is Khadija bint Khuwailid. She was the first to believe in the Prophet, helped him in his cause and supported him with her wealth after she became his wife. Her daughter, Fatima bint Mohammed set another example in defending her father and supporting her husband.
Worshippers will be told that Islam has opened all the doorways of goodness for women to play a positive role in building society and women have seized this opportunity and many of them became innovators. The idea for the first pulpit made for the Prophet came from a woman and the pulpit went on to become an integral part of all mosques.
Women have left their remarkable footprints in every walk of life, the sermon will say, before enjoining worshippers to pray to Allah to bless, protect and honour them in this world and in the Hereafter.
https://www.thenational.ae/uae/heritage/uae-friday-sermon-the-equal-role-of-women-in-islam-1.756603
--------
The Race for First Muslim Woman in US Congress
August 3, 2018
It's an incongruous sight, a woman in a salmon pink hijab standing on a Massachusetts traffic median, waving at oncoming cars and asking perfect strangers to vote her into Congress.
"Hey how are you? Good to see you!" hollers Tahirah Amatul-Wadud at a male pedestrian. A few cars beep their horns, the odd driver zaps down his window to say hello. Quite a few drive past, seemingly oblivious.
Amatul-Wadud is a mother of seven, a lawyer, a community activist and a Muslim, who rises before dawn, prays five times a day and fasts during Ramadan.
Now aged 44, she faces the biggest hurdle of her life: asking a majority white constituency, where Catholics are the biggest religious group, to make her the first Muslim woman elected into Congress.
But for her it's about policy, not religion. It's about better representing and improving lives in western Massachusetts, an area suffering from higher than average unemployment, where many work two jobs just to make ends meet.
"I don't always talk about religion because I don't look to lead or serve from a religious prespective," she tells AFP at her campaign headquarters just outside Springfield.
She says her goals are secular, but her faith is "where I find my core strength."
Indefatigable, armed with a warm smile and a lawyer's mind, Amatul-Wadud is part of a groundswell of women and progressive Democrats running for office this year, motivated at least in part by opposition to President Donald Trump.
She's one of five candidates vying to become the first Muslim woman in Congress in November mid-term elections -- 12 years after Minnesota's Keith Ellison became the first Muslim in the US House of Representatives.
If she's successful, she would also become her district's first woman and first African American in Congress.
- 'Hope is possible' -
Except it's a long shot. Her opponent in the September 4 Democratic primary is Richard Neal, who has served in Congress since 1989. She has raised a total of $72,000 compared to his reported $3 million.
When she moved to Springfield aged nine, he was the city mayor.
Now she wants his job, championing progressive causes such as Medicare for all, affordable education and wider access to high-speed internet, and eschewing donations from corporate and special interests.
Her team claims to have nearly 300 volunteers as they build a grass-roots campaign, knocking door to door to hear people's problems.
If she beats Neal, she will repeat the triumph of 28-year-old political novice, Alexandria Ocasio-Cortez, who trounced a Democrat grandee in a New York primary by running a similarly progressive and insurgent ticket.
That win gave her campaign a huge shot in the arm, boosting contributions. "It was wonderful," Amatul-Wadud tells AFP. "If she could win, then hope is possible, here in our home."
Dressed in a floral dress, black pants and platform heels, she powered through the sticky heat of a recent afternoon, trading pleasantries and soliciting votes at a church barbeque.
Ira Prude, a 28-year-old factory worker who worries about opioid addiction, homelessness and violent crime, says it meant a lot that she stopped by.
"She seems to care a lot about her community. You know, where she grew up," she said. "So I think that's good."
- 'Time for a change' -
As Amatul-Wadud makes her way through the picnic, a few look up surprised.
"There are times where I could see that people are surprised that I present the way that I do," she tells AFP. "But have I had overt nasty racism right in my face? No, I'm grateful for that. I hope that that never happens."
Despite increasingly overt bigotry in the country at large, the racism and Islamophobia she experiences lies online, forcing her to ask her teenage daughter to remove "vile things" that were "scaring" people.
While her decision to run is motivated primarily by discontent with the status quo in her community, she admits that Trump's election "changed everything".
"Some of his policy, some of his character was alarming to people... I had friends and neighbors, clients who told me that they were waking up feeling they had an elephant on their chest," she said. "Their futures did not look bright."
Deanna Williams, 56, joined the campaign after being laid off earlier this year. Amatul-Wadud was her divorce attorney -- "she did me well and then we became friends," Williams laughs.
"It's time for a change. Western Mass is suffering and we just need more people to get into Washington to help out the cause," she told AFP. "Too many people are struggling and don't have a job."
Back at campaign HQ, Amatul-Wadud declares herself "very" confident of winning her David-and-Goliath battle against Neal.
But if she doesn't? "I am not going anywhere," she replies.
http://www.thejakartapost.com/news/2018/08/03/the-race-for-first-muslim-woman-in-us-congress.html
--------
Muslim Women Can Be Granted Divorce Maintenance by Courts: Bombay HC
August 03, 2018
MUMBAI: The absence of specific provisions in the Dissolution of Muslim Marriages Act about granting maintenance for wife did not bar courts from granting such relief if necessary, the Bombay High Court said on Thursday.
Justice Shalini Phansalkar-Joshi said the court had to do "substantive justice" and must not be "misled by technicalities".
The high court dismissed an appeal filed by a Muslim man challenging the trial court's court order granting his estranged wife maintenance and half the share in the couple's property while granting them divorce.
The petitioner whose name was not disclosed had claimed that the Dissolution of Muslim Marriages Act was conspicuously silent on the rights of married Muslim woman for maintenance or matrimonial property.
Under a suit for dissolution of marriage, a woman could not claim maintenance or a share in property, he said.
Justice Phansalkar-Joshi rejected this view.
Merely because the act did not mention that the court had powers to do certain things, it could not be said that the court could not grant such relief if it deemed it necessary, the judge said.
"The right of maintenance and right in the matrimonial property... are incidental to the main relief of dissolution of marriage and therefore, these reliefs are very much an integral part of the decree of dissolution of marriage," said the judge.
"Hence, they are required to be considered even if at times such reliefs are not asked for," the high court said.
https://www.ndtv.com/india-news/muslim-women-can-be-granted-divorce-maintenance-by-courts-bombay-high-court-1894420
--------
Saudi Women Join the Challenge during Hajj Hackathon In Jeddah
2 August 2018
The Hajj Hackathon organized by the Saudi Federation for Cybersecurity, Programming and Drones, being organized in Jeddah (from 1 - 3 August) has witnessed significant presence of Saudi women who have joined the event following long hours of study and training.
They demonstrated their ability to innovate, analyze, design and find solutions in the digital world. They also discussed artificial intelligence and the future of Internet.
While the Hajj Hackathon program brought together programmers and developers from 51 countries – in the largest gathering of innovators in the region – the enthusiasm of young Saudi women, assigned to a number of teams as per competition rules, was obvious.
They began working with dedication and perseverance as they set the ultimate goal for this competition before their eyes, exploiting technology to make pilgrimage easier.
One such participant Ghadir al-Otabi told Al Arabiya: "Today I am proud to participate in this event with a huge number of developers from all over the world with Saudi Arabia as the host country."
"It is true that the competition is difficult but the goal we all seek is a supreme one in designing and developing a technical application that serves the pilgrims of the House of God," she said.
Al-Otaibi said that her team consists of five individuals and the tasks were divided among them each based on their area of study, specialization and experience.
On her team's chances of winning, she said: "We have ambition and our idea is innovative and will greatly improve and facilitate medical care for pilgrims."
Ghadir pointed out that if they do not win, it will not make her sad. Instead, she will say to the winning team: "Congratulations, you won the biggest technical challenge awaiting the actual implementation of your Hajj program."
In the same context, Fawzia al-Mutairi, a computer scientist, said she has a beautiful feeling seeing the official Kingdom's support for anything, which can facilitate the lives of pilgrims to perform their duties saying, "Our country wants to develop and progress in technology and this is our chance to participate in making history."
Fawzia explained that her team comprises five girls, working individually on design and programming.
She predicted that her team will win since they have "amazing ideas", as she put it saying: "Our ideas will help solve the big problems, but if we do not win, it would be enough that we have acquired the skills and attended the greatest technical event, and we have benefited from it."
The winners received a message encouraging them to continue pursuing their dreams and strive to excel under the banner of Vision 2030.
The teams competing in the Hackathon consist of 3-5 participants, from the same nationality or from different countries. Each team has experience in a number of areas such as programming, development and design and is working in the presence of 90 mentors from 20 countries.
https://english.alarabiya.net/en/features/2018/08/02/Saudi-women-join-the-challenge-during-Hajj-Hackathon-in-Jeddah.html
--------
Iranian woman hurls abuse and then attacks another female driver in the middle of the road because she's not wearing a hijab
2 August 2018
Feminists in Iran have expressed outrage after a video emerged showing a hijab-wearing woman attacking another woman for not covering up.
In the footage, a woman whose whole body is covered bar her face and hands pulls up on a road next to the car being driven by the uncovered woman.
With a young child and another woman sat next to her, the chador-wearing aggressor shouts and points angrily.
She yells: 'Do you have the nerve to do it? Yes or no?'
But then, just as the uncovered woman explains that 'these things [covering up] aren't that important for us', the belligerent woman leaves her car and marches towards the victims.
She thrusts her hands through the driver's window, grabs her arm and shouts: 'Come out of your car now!'
The woman inside tells her to get out of the car and to 'get lost', but the aggressor persists in holding onto her and screams at her aggressively.
She tells the victim that 'wearing hijab is a law' and repeatedly tells her to get out of the car while yanking her arm.
The woman pleads: 'This is none of your business.'
But the aggressor is not dissuaded, and replies: 'I'll hit you with my shoe. You have the nerve?'
She adds: 'You have no right to be like this in society. There are laws here.'
The video was posted to the activist group My Stealthy Freedom, which aims to win freedom for Iranian women.
The veil has been a mandatory dress requirement for women in Iran since the Islamic Revolution in 1979.
The Islamic code also forbids women touching, dancing or singing with men outside their families.
Women are only allowed to show their face, hands and feet in public and are supposed to wear only modest colours.
http://www.dailymail.co.uk/news/article-6020151/Iranian-woman-hurls-abuse-attacks-female-driver-hijab.html
--------
Women Activists Seek To Boost Women's Role in Iraqi Politics
03 Aug 2018
Women activists seeking to boost the role of women in Iraqi politics presented their vision on the inclusion of the gender equality perspective in the new Government of Iraq's programme and advocated the support of the United Nations in achieving their meaningful and effective representation in political processes.
The group of 13 women activists from the Iraqi Women Network, 1325 Iraqi Network, 1325 Alliance, and academics presented their demands at a meeting today with Special Representative of the United Nations Secretary-General (SRSG) for Iraq Ján Kubiš, who commended the efforts of the activists and pledged increased UN support to achieve their goals.
The participants lamented the lack of political will and vision to include women in decision-making positions.
They demanded to broaden space for women in the political and reconciliation processes that have not yet materialized regardless of pledges to do so as well as a multitude of government strategies, plans, and national frameworks, often with the support of the UN.
The women charted out the way forward on gender equality for the future government, Council of Representatives and leaders of political parties.
Recommendations highlighted the need to include women in committees negotiating the Government formation, a 30-percent share in the upcoming Cabinet, independent commissions and institutions in the government's legislative and executive branches.
The participants also called for the establishment of a national mechanism with powers and authority to coordinate the implementation of national frameworks advancing the women, peace and security agenda, including the National Action Plan on UNSCR 1325. The participants requested United Nations' active and effective support for their proposals and demands, also through UN work with the government and political leaders, heads of political blocs.
Special Representative Kubiš commended the efforts of the women, saying it came at an opportune time between elections and the government's formation.
He underscored that the United Nations Assistance Mission for Iraq (UNAMI) will urge political leaders and forces to reflect the gender perspectives in the government's programme as well as a gender-responsive budget.
Mr. Kubiš reiterated UN commitment to strengthening civil society's efforts to achieve gender equality and the empowerment of women and said UNAMI is ready, based on its reinforced mandate, to continue and enhance its work in this respect.
The participants also raised general concerns, which included the steady regress on women's rights, the lack of meaningful steps to address women's rights and lack of economic opportunities for women. They stressed developing special programmes to empower youth - with a focus on the role of females - as future leaders in all aspects.
The women explained that Da'esh created more problems for women than they already faced, notably women with no livelihoods and heading households, some of whom are suffering due to stigma and association with the terrorist group as well as lack of care for families of martyrs who fought Da'esh.
They stressed the need to adopt transitional justice mechanisms to ensure political and community reconciliation, accountability and justice and reparations for survivors of Da'esh's atrocities.
In the same context, the Special Representative met two days ago with the delegation of the National Team implementing the Iraqi National Action Plan on UNSCR 1325.
The delegation presented similar requests, in addition to discussing the progress on the implementation of the INAP as well as the challenges impeding its implementation, including lack of a dedicated budget to support INAP activities.
Mr. Kubiš commended the work of the National Team. He reiterated that UNAMI would continue to work with political leaders to include gender perspectives in the government programme as well as a 30 percent quota for women representation in the Cabinet and leadership positions.
https://www.devdiscourse.com/Article/100083-women-activists-seek-to-boost-womens-role-in-iraqi-politics
--------
URL: https://www.newageislam.com/islam-women-feminism/selangor-raise-minimum-marriage-age/d/116027
New Age Islam, Islam Online, Islamic Website, African Muslim News, Arab World News, South Asia News, Indian Muslim News, World Muslim News, Women in Islam, Islamic Feminism, Arab Women, Women In Arab, Islamophobia in America, Muslim Women in West, Islam Women and Feminism