New Age Islam News Bureau
7 May 2014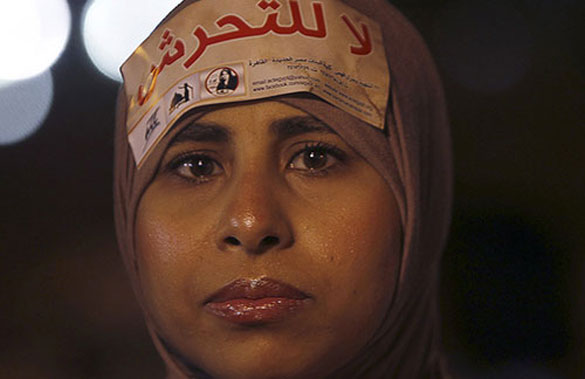 A woman wearing a sign on her head that reads "No Harassment" takes part in a protest in support of women rights in the constitution in front of the presidential palace in Cairo, Oct. 4, 2012. (Photo by REUTERS/Amr Abdallah Dalsh)
-----------
• Egyptian Women Scared To Speak Out Against Sexual Harassment
• Boko Haram Terrorists Kidnap 8 More Girls, Hours after Leader Issues Threat
• At Gaza's Horse Clubs, Girls Eager to Ride
• Runaway Girls Killed or Jailed Under Afghan Customary Laws
• Turning Daughters into Sons, Afghans Empower Girls
• Myanmar Activists Condemn Plans to Stop Buddhist Women Marrying Non-Buddhists
• Expatriate Women Struggle for Their Divorce Rights in Saudi Arabia
• Female Entrepreneurs A Rarity in Lebanon
• Lebanese Women 'Run Forward' For Their Rights in Beirut Marathon
• Malaysia: Labelling Anti-GST Rally Participants as Prostitutes Denounced
Compiled by New Age Islam News Bureau
URL: https://newageislam.com/islam-women-feminism/seeking-greater-equality,-indian-women/d/76914
---------
Seeking Greater Equality, Indian Women Turn To Unexpected Source: Shariah Courts
07 May, 2014
MUMBAI, India (RNS) Khatoon Shaikh had no formal education, never worked outside the home and lived in the kind of neighborhood that many people might call a slum.
But when Shaikh witnessed her sister-in-law victimized, first at the hands of a violent husband, and again by a patriarchal justice system, she took charge.
Shaikh started her own Shariah Adalat, a court based on Islamic law, just for women.
"We needed a place where women's voices could be heard," the mother of seven said.
That was 20 years ago. Since then, the court has moved from Shaikh's home to a two-room office in the north Mumbai neighborhood of Bandra. And it now operates within a broader organization called BMMA, or Indian Muslim Women's Movement, which Shaikh helped form in 2007.
But Shaikh is setting her sights still higher: By the end of this year, BMMA plans to bring her vision for a gender-equal Shariah law all the way to the Indian Parliament.
"We want to challenge the legal concept of Shariah law and reclaim it for ourselves," said Noorjehan Safia Niaz, one of the co-founders of BMMA who is drafting the bill. She has worked as an adjudicator in Shaikh's all-female court since its inception.
In India, all Muslims are entitled to resolve issues of family law — marriage, divorce and questions of inheritance, alimony and child support — according to Shariah, the moral and religious code described in the Quran.
This right has been guaranteed since 1937, when Muslims sought to legitimize and protect their identity in India, which is majority Hindu. And it was followed two years later by a second act regulating the use of Shariah in Muslim family law.
But shortly after partition with Pakistan in 1947, efforts to reform Shariah in India became secondary to the new country's primary goals of economic development and national unity.
Beyond a few scant stipulations on the circumstances under which women may file for divorce and the terms of alimony and child support, Islamic law today remains largely open to interpretation by the people who practice it.
Even within the Muslim community, there is little consensus on how issues such as polygamy or the minimum age of marriage or male-initiated divorce should be treated.
The majority of cases are tried in community courts run by male religious leaders who all too often end up enforcing their own, frequently misogynistic, understanding of Shariah.
For example, under the current system, Shariah courts recognize the right of Muslim men to unilateral oral and written divorce. This means a man can divorce his wife without her consent simply by repeating the words "I divorce you" three times in front of witnesses.
There are also reports of husbands divorcing their wives via email and text message, or through registered mail. When the women sign their names to accept the letter, they unwittingly agree to the divorce.
"It's a very patriarchal system," said Niaz. "In some places women aren't even allowed into the courtroom."
That's what happened to Samina Chisty recently. After she found out about her husband's extramarital affairs, he obtained an oral divorce without her presence or consent.
"He just gave me a piece of paper that said we're divorced," Chisty told the all-female Shariah court in Bandra.
According to Chisty, the fact that she worked outside the home makes her a "bad Muslim" — and unworthy of justice — in the eyes of the conservative Islamic judges.
BMMA aims to put a stop to this gender-based discrimination by introducing new legislation to codify India's Shariah system.
The proposal would write into Indian law an unambiguous definition of how Muslim men and women can obtain divorces (informed two-party consent), the minimum age of marriage (18), the community's stance on polygamy (illegal) and every other aspect of Shariah that pertains to family law.
Shaikh and Niaz say their interpretation of Shariah is still firmly rooted in Quranic teachings. They simply read Scripture from a feminist perspective.
"As women and as people who believe in equality, we cannot believe that God created women inferior to men," Niaz said.
Gopika Solanki, a professor of political science at Carleton University in Ottawa who has studied India's family laws, says codification remains a controversial topic in India.
"Clergy are not open to reform experiences which are pro-women," wrote Solanki. "Muslim women in Pakistan enjoy more legal protection than Indian Muslim women."
Pakistan has codified its Islamic law, along with Iran, Tunisia and most other Muslim countries.
Hindu nationalists, those who argue that India is culturally and historically rooted in Hinduism, oppose the use of Shariah as well.
Under the mantle of secularism, they aim to replace religious-based laws with a Uniform Civil Code, which Solanki described as "a tool to construct a Hindu nation in which Muslims and other minorities would assimilate."
The political party pushing hardest for adoption of the Uniform Civil Code is also the front-runner in India's current election: the nationalist Bharatiya Janata Party.
Niaz said the BMMA might reconsider introducing its legislation this year if the BJP comes into power. But she and Shaikh won't give up. Gender-based discrimination, they said, must end.
http://www.washingtonpost.com/national/religion/seeking-greater-equality-indian-women-turn-to-unexpected-source-shariah-courts/2014/05/06/33ce04e2-d539-11e3-8f7d-7786660fff7c_story.html
---------
Egyptian women scared to speak out against sexual harassment
07 May, 2014
CAIRO — The phenomenon of sexual harassment in Egypt has led to the emergence of grassroots movements defending a woman's right to safely walk in public places. These movements include the "I saw harassment" movement and the Facebook page "I will not remain quiet about harassment," among many other movements, most of which are established by victims of harassment.
"Sexual harassment is a pathological phenomenon that was met with acceptance by the street, the law, and the regime in Egypt." That is how Hannah Kamal, a psychotherapist, life coach, yoga teacher and founder of 35B, an institution for psychological and spiritual healing, described sexual harassment.
Speaking to Al-Monitor, Kamal explained the reasons for the phenomenon of sexual harassment in Egypt. "So far, no deterrent legal convictions have been implemented against harassers, giving the impression that there's a general acceptance of the phenomenon. Thus the [phenomenon] has spread for the first time to universities, and a group of young men harassed a female student on the campus of Cairo University [in mid-March this year]. Surprisingly, the head of the university and some journalists criticized the victim for not dressing modestly," she said.
Kamal told Al-Monitor that the reason behind the spread of the phenomenon is the decline in public morality, the lack of security after the January 25 revolution, and societal acceptance of the phenomenon. She responded to those who blamed girls for not dressing modestly by saying that veiled women are being harassed too.
"Sexual harassment in Egypt has reached a new moral low. It went from individual action to mass acts, whereby young men who don't know each other agree to prey on girls and harass them to the point approaching rape," Kamal said. "This happened during some gatherings on the anniversary of the January 25 revolution in 2013 and on national holidays," she said.
However, sexual harassment became more widespread following the January 25 revolution and after the lawlessness that has swept Egypt ever since. Kamal draws a link between the demise of the Mubarak regime and the prevalence of this phenomenon, saying "repression" is a main factor that led to this case.
"The reason for this shift is that Egyptians were suddenly released from suppression after 30 years of dictatorial rule and smelled the breeze of freedom in January 2011. So all the psychological maladies inside them came out to the surface and were directed toward the weakest in society: women. So impudence entered everything in the Egyptian street, especially given the lack of security. The strong did whatever they wanted with [society's] weakest."
Women are widely perceived in Middle Eastern societies as a weaker social segment, which might lead unstable men to perceive them as prey that can be oppressed.
Nehmat Gamal Azar, a victim of harassment and the administrator of the Facebook page "I will not remain quiet about harassment," told Al-Monitor about the vulnerability she faced. "I was weak when I was first harassed by physical contact in the street in 2010. I went and told the [police] station but was subject to another type of harassment by the security men in the station. They asked me: 'He did what? He touched your … ? Or did he place his hand on your … ?' They used explicit words, which offended me more than the incident itself. Then they continuously smiled at me and asked me: 'Were you going there to meet him? Did you know him before then?' So I quickly left the station. I returned a while later to get the report number so that I could follow up on the case, but I found that they gave me a fake number. No police record had that number."
Azar founded her Facebook page as an outlet to confront the perceived weakness of women in the face of sexual harassment. "I started working on my Facebook page and I found many girls who had the same experience as I. We started exchanging experiences about how to deal with the issue. The National Center for Women's Rights contacted me and gave me training sessions on how to protect myself, deal with the harasser, and understand his mindset. After that, I was exposed to two harassment incidents. In one of them, I caught the harasser, who was sitting behind me in a minibus, and I took him to the nearest [police] station. That case is still in the courts."
Fadia Abu Shahba, a professor of criminal law at the National Center for Criminal and Social Research and the head of the Department for Criminal Treatment, said that the law against harassers has been amended, with the highest penalty being three years in prison for sexual harassment and death in the case of rape.
But Abu Shahba told Al-Monitor that this penalty has little teeth, saying, "The girl or woman who was harassed must have more courage and notify the police. But what happens is that the girl and her family fear for their reputation [in case] it becomes known that she was harassed or raped."
Abu Shahba, who visits prisons to analyze the psychology of offenders, met a man in the prison of Abu Zaabal who was detained on charges of rape. He told her that he had committed 21 rapes and that he didn't differentiate between a child, an elderly woman, or a young woman. Unfortunately, the 21st crime was the first to be reported.
"When the victim remains quiet because she knows that her home will be destroyed if her husband finds out that she was raped and that it will be a mark of shame on her forehead and the foreheads of her children, it encourages the [criminal] and his [likelihood] to repeat the crime," she said.
Indicators so far don't give much hope for Egyptian women. In November 2013, the Thomson Reuters Foundation issued a report on the status of women in the Arab world, which showed that sexual harassment was at the top of the violations against women in Egypt.
A BBC Arabic report in April 2013 said that harassment in Egypt constituted 13% of all crimes. The report also said that 60% to 85% of women in Egypt were harassed, and that this was confirmed by statistics which put Egypt in second place after Afghanistan with regard to sexual harassment.
http://www.al-monitor.com/pulse/originals/2014/05/egypt-sexual-harassment-spread.html#ixzz313us5Tic
---------
Boko Haram terrorists kidnap 8 more girls, hours after leader issues threat
07 May, 2014
Militants from the Islamic terror group Boko Haram have made good on their leader's chilling threat, kidnapping eight more girls from a Nigerian village late Monday, authorities said.
The abductions came hours after Boko Haram leader Abubakar Shekau was seen on a widely-circulated video vowing to continue kidnapping the daughters of Christians, forcing them to convert to Islam and selling them into slavery. The kidnappings brought to more than 300 the number of girls who have been taken, according to Nigerian police.
Police said the girls, reportedly ranging in age from 12 to 15, were taken on trucks, along with livestock and food from the village of Warabe, in the nation's northeast.
"They were many, and all of them carried guns. They came in two vehicles painted in army color. They started shooting in our village,'' Lazarus Musa, of Warabe, told Reuters.
Shekau, whose group's name translates to "Western education is sinful," took credit for the kidnapping of the girls in the hour-long video that opens with Boko Haram fighters firing guns into the air and shuoting Allahu Akhbar!"
"I abducted your girls," he said. "By Allah, I will sell them in the marketplace," he said in the video.
President Obama reacted to the kidnappings Tuesday in an interview with ABC, calling them "heartbreaking" and "outrageous."
"You've got one of the worst regional or local terrorist organizations in Boko Haram in Nigeria, they've been killing people ruthlessly for many years now and we've already been seeking greater cooperation with the Nigerians – this may be the event that helps to mobilize the entire international community to finally do something against this horrendous organization that's perpetrated such a terrible crime," Obama said.
On Tuesday, the White House said U.S. Secretary of State John Kerry had spoken with Nigerian President Goodluck Jonathan, who welcomed Kerry's offer of a U.S. team to provide support. The U.S. has said it stands ready to send a team of American military and law enforcement personnel to aid in the hunt for kidnap victims.
Kidnapped girls have reportedly been forced to marry their abductors — who paid a nominal bride price of $12 — or taken to neighboring Cameroon and Chad. An intermediary has told Nigeria's government that the terror group is willing to negotiate ransoms for the girls, and that two have died from snakebites and several more are ill. More than 280 remain in captivity and 53 have escaped, according to Nigerian police.
One 16-year-old Nigerian girl who was present during the mass abduction at the Chibok Government Girls Secondary School on April 15 recalls the students were at first happy to see gunmen.
The girls in the school dorm could hear the sound of gunshots from a nearby town. So when armed men in uniforms burst in and promised to rescue them, at first they were relieved.
"Don't worry, we're soldiers," the girl, who later escaped, recalled them saying. "Nothing is going to happen to you."
The gunmen commanded the hundreds of students at the Chibok Government Girls Secondary School to gather outside. The men went into a storeroom and removed all the food. Then they set fire to the room.
"They ... started shouting, `Allahu Akhbar,' (God is great)," the 16-year-old student said. "And we knew."
The terrorists kidnapped the entire group of girls and drove them away in pickup trucks into the dense forest.
Their plight -- and the failure of the Nigerian military to find them -- has drawn international attention to an escalating Islamic extremist insurrection that has killed more than 1,500 so far this year.
The military says it is diligently searching for the girls, with extensive aerial surveillance.
"Every information relayed to security agencies has so far been investigated, including the search of all places suspected as a possible hide-away of the kidnapped girls," Information Minister Labaran Maku said Friday.
But many soldiers have told the AP they are demoralized, because Boko Haram is more heavily armed and better equipped, while they get little more than a meal a day. In the meantime, the parents are frantic. Through sobs and jagged gasps for air, the mother of a missing 15-year-old said she had lost confidence in the authorities.
"I am so very sad because the government of Nigeria did not take care of our children and does not now care about our children," said the mother, who spoke on condition of anonymity to protect her daughter. "All we have left is to pray to God to help them and help us."
The Associated Press contributed to this report.
http://www.foxnews.com/world/2014/05/06/hundreds-girls-still-missing-in-nigeria/
---------
At Gaza's horse clubs, girls eager to ride
07 May, 2014
GAZA CITY, Gaza Strip — Drawing girls from Gaza's best families, equestrian clubs are unexpectedly flourishing amidst the Gaza Strips' harsh conditions and societal pressures.
A far cry from the carefully manicured polo fields and competition rings in Florida's Wellington or Canada's Spruce Meadows, Gaza's equestrian clubs do things a little differently.
Two and half years ago, the Palestinian Equestrian Club in northern Gaza adopted a loose outfit as the official uniform for female members, in line with traditions in the conservative Gaza Strip.
Amal Yaghi, the director of the club, which is owned by businessmen belonging to Hamas and some independent investors, told Al-Monitor that the loose outfit was a private policy of the club, and it was presented to female riders based on an agreement with families and the club's board. According to her, this was done so that girls could practice the sport freely, as well as to prevent female riders from "drawing attention" to themselves while riding horses.
"There is a growing demand from young men and women to join these clubs, and families heavily encourage [their children] to practice this sport. We now have between 120 and 150 members, and a third of them are girls. Although now we do not have many members signing up each month, since youth are busy with their studies in high schools and universities, starting from June 1 we will have between 80 and 100 new riders registering each month," she told Al-Monitor.
Yaghi noted that the Palestinian Equestrian Club, which was established in the mid-1990s, is one of the biggest equestrian clubs in all of Palestine. Its total area exceeds 27 dunums [6.7 acres]. She said that there are currently three equestrian clubs in the Gaza Strip, but that the sport is limited to the privileged few as most cannot afford the fees.
"The high prices of the equestrian lessons are another reason that prevents families from sending their children to clubs, in light of the state of extreme poverty from which they suffer. Only high-class families are able to send their children to such clubs," she said, adding that "the club charges 200 shekels ($60) for a limited number of lessons. This price might increase should the number of monthly lessons increase."
Salma Shawa, 17, a horse rider who belongs to one of the largest and richest families in Gaza, has found unending support from her family. She told Al-Monitor that society is against such practices, as many frown upon women riding horses.
"I am confident in myself and do what I love ... I find it easy to practice my favorite hobby, and I don't need to pay attention to those who want to bring me down. I won't stop coming to the club, and I come three times every week."
Najah Zaarab, 15, similarly told Al-Monitor that "it is nice for a person to practice a sport they love. I feel that I am one with my horse. I feel thrilled. It is a perfect sport to unwind." She explained that this is the only sport that girls in the Gaza Strip practice openly, as they are not allowed to participate in any other sports.
Yet despite the growing interest in the sport, conservative Gazan society still adheres to strict customs and traditions, particularly when it comes to females practicing the sport. The Hamas government has previously banned female sports in Gaza, such as the Women's Marathon last year.
"Although we accept members in the club starting from five years of age and up, we now only have female members in their late teens. As for women in their 20s and 30s, they come to ride horses for short periods. They are not training to be equestrians, but rather ride for fun. This is because we do not have a culture of women in their 20s and 30s coming to train to be jockeys," Yaghi added.
In the south of Gaza City lies the Friends Equestrian Club, which is less than a year old. It is located on five dunums [1.2 acres] of land, most of which is allocated to a track used for training and racing. It is slowly working to expand in size into an agricultural district far from residential areas. Although this club lacks the many facilities that are found in other clubs, it has seen an increase in members, especially in recent months. "Despite the fact that clubs dedicated to equestrianism are relatively new, we already have 25 female members and 50 male members," Mohammed al-Rifati, the owner of the club who also works as a trainer, told Al-Monitor.
Rifati works as a trainer for both male and female riders. "We have seen a high demand from girls and their families. We now have 25 female members, and their numbers increase significantly in the summer. When I carry out training I make sure that the riders do not feel that I am differentiating between boys and girls. The message I deliver is that I am training them to be a good rider, without differentiating between them," he added.
Many of the women riding horses at the equestrian clubs were not wearing hijabs, the Islamic veil, and no government restrictions seem to be preventing them at this stage. Though the sport is on the rise, some locals object to women participating in the sport.
Mohamed Abou Zed, 52, a carpenter from Rafah and middle class, said that horseback riding does not do any good for girls, who should stay at home. "[Horseback riding is] deviating from the [girls'] natural path," he said. "I do not like sending my girls to these clubs to practice horseback riding because it does not benefit them in any way. Moreover, our habits and traditions forbid us from doing such practices, especially in our eastern society."
Hassan Ahmed, 40, a taxi driver from Gaza who has six children, expressed similar views. He told Al-Monitor that few families send their daughters to equestrian clubs because of the high fees. "It is well known and agreed in society that it is not right for a grown up girl to exercise this sport. This is not to mention the facts that girls are trained by male coaches, and the dire financial conditions of families," he said.
The clash between conservative and progressive has a strong presence in this sport, with the parents of daughters participating in horseback riding supportive of females learning the sport, and critical of conservative views against it.
Tareq Zaarab, the father of Najah and a company manager, told Al-Monitor that the conservative Gaza Strip needs courage to overcome the boundaries of women playing sports.
"Last week we were at a resort and my daughter was riding the horse. I was expecting that the people there would be upset, but I was surprised that they applauded her once she was done. Some have even encouraged her to participate in horse races," he added.
Nabil al-Maqousi, a merchant from the Gaza Strip and a father of two riders, a girl and a boy, said that society has a misconception about female horseback riders.
"For me, I do not care about society, since Islam encouraged horseback riding, and society complicates everything. This explains the small number of female jockeys in [Gaza's] clubs. Moreover, society has a problem with the way girls ride horses."
Zeina al-Helou, 15, who has been riding horses for almost a year, told Al-Monitor that while many people object to girls practicing equestrianism, she doesn't pay attention to it. "This opposition doesn't bother me much. The most important thing is that I love and enjoy this hobby. It is not necessary that society accepts everything we do."
http://www.al-monitor.com/pulse/originals/2014/04/equestrian-clubs-gaza-booming.html#ixzz313xssyfJ
---------
Runaway girls killed or jailed under Afghan customary laws
07 May, 2014
NEW YORK (Thomson Reuters Foundation) - There is nothing in Afghan civil or Islamic law that makes it illegal for a girl to run away from home to avoid forced marriage. But nothing can protect a runaway girl from customary laws that put her in jail or put her to death for allegedly tarnishing the family's honour.
That was illustrated vividly recently in the death of a 18-year-old runaway girl named Amina, shot to death after accepting her family's vows not to harm her, according to a report in the New York Times.
Amina's death, considered an honour killing by local activists, is only one of an estimated 150 such murders committed annually in Afghanistan, Rubina Hamdard, a lawyer with the Afghan Women's Network told the Times.
Faced with a forced marriage arranged by her family, Amina had run away from home and taken refuge in a women's shelter. Two weeks ago, she agreed to leave the shelter and return home after her family gave signed assurances she would not be harmed and even repeated those pledges on video at the Ministry of Women's Affairs in Baghlan Province.
But she never reached home. On her way there in the family car, nine masked gunmen attacked, dragged her out of the car and shot her to death, according to her brother and uncle. No one else was harmed.
It is unclear whether the killing was arranged by Amina's would-be fiancé, as the police suspect, or by her own family, as women's activists believe, the Times said. What is clear to all is that Amina was the apparent victim of an honour killing.
POLICE VIRGINITY TESTS
Even when they are formally reported, which happens in less than half the cases, very few of these killings result in convictions, according to Hamdard.
Part of the problem is the strength and tenacity of customary or tribal practices that judges, often poorly educated, continue to invoke despite civil and Islamic laws to the contrary, including Afghanistan's Elimination of Violence Against Women Act.
"In Afghanistan judges stick to customary law, forget sharia (Islamic) law, let alone civil law," Shala Fareed, a law professor at Kabul University, told the Times.
Of 4,505 cases of violence against women in 2013, which include issues such as forced marriage, less than 10 percent are resolved through the legal process, with nearly half being dropped or settled out of court, according to the latest report from the Women's Ministry cited by the Times.
When police find unmarried women, even legal adults such as Amina, out alone and unaccompanied by close relatives they routinely arrest them and subject them to a virginity test by a forensic pathologist, a test demanded by customary law but not condoned by civil law, according to the Times.
Amina, who successfully passed the virginity test, was not charged with a crime and left at a women's shelter.
Uranus Atifi, head of the legal department of the women's ministry in Pul-e-Kumri, the provincial capital where Amina was found, said she only handed Amina over to her family after the girl made it clear that "she didn't want her case to get bigger and create more problems for her".
http://www.trust.org/item/20140505083130-51fm6/?source=hpMostPopular
---------
Turning daughters into sons, Afghans empower girls
07 May, 2014
FOR CENTURIES, families in Afghanistan with no male heirs have turned to the tradition of bacha posh. Daughters are transformed into sons — their hair cut, names changed, dresses swapped out for boys' clothing. The young girl is reintroduced into the community where neighbors and extended family members dutifully accept the charade. The new son brings honor to the family — and, in perhaps the happiest cases, gets credit for fulfilling the superstition that a bacha posh will help bring about the birth of a little brother. Then, usually at marriage, most find themselves women again.
From the comfort of my American home, it'd be easy to dismiss this age-old custom from my family's homeland as fundamentally backwards. No doubt the practice perpetuates the idea that girls are less desirable or valuable than boys, a damaging message being sent loud and clear by these young women's own mothers and fathers. The perceived necessity for bacha poshs only demonstrates the depth of misogyny in a country where just the veneer of maleness can convert a child from a burden into a source of pride.
And yet my righteous indignation as quickly melts into desperate optimism. Most of what we know about bacha poshs — which literally means "dressed up as a boy" in Dari — is anecdotal, but it unquestionably frees these young women from many of the oppressive restrictions that mark an Afghan girl's life. She can attend school, leave her home unchaperoned, even work at her father's side.
Azita Rafaat, a former bacha posh, went on to become an educated parliamentarian. Bibi Hakmeena similarly became a mujahideen fighter and then a politician. A third former bacha posh became a provincial head of Afghanistan's Women's Affairs Department. I once read the story of a nurse-anesthetist who, after being struck by her husband, actually had the gall to strike back, perhaps because of her bacha posh past. He never hit her again.
These are just a few cases, but one can imagine how great the impact could be in a society where even adult women barely achieve second-class status. Giving a handful of girls the chance to look boys in the eye, to stroll through their neighborhood streets without hiding their faces, to sit in a classroom, to voice their opinions — all seem to plant the seeds of aspiration and entitlement both among the bacha poshs themselves but every girl around them, too.
It is important to remember that the bacha posh, a young child, cannot consent to her relatives toying with her gender identity. She is not warned of the psychological effects of the transformation, not prepared for having her freedoms and self-confidence stripped away once she reaches marrying age.
Yet I choose to believe that some good does come from this tradition. We've learned from these twice-undone women that something lingers with them. When the veil goes back on and these boy-girls become women, some of their confidence remains. It's part of their adult identity and part of what they teach the next generation of Afghan girls.
Nadia Hashimi is an Afghan-American pediatrician living outside Washington, D.C. Her debut novel, "The Pearl That Broke Its Shell" will be released this week.
http://www.bostonglobe.com/opinion/2014/05/04/turning-daughters-into-sons-afghans-empower-girls/pSaViZo4OEcL68RT7vsFlJ/story.html
---------
Myanmar activists condemn plans to stop Buddhist women marrying non-Buddhists
07 May, 2014
BANGKOK (Thomson Reuters Foundation) – A planned law intended to stop Buddhist women in Myanmar marrying non-Buddhist men is "a disgraceful act that would invite international ridicule" and violate women's basic rights, a statement released by 97 civil society organisations said.
The law, proposed initially by Buddhist nationalists and some monks, would force Buddhist women wanting to marry outside their religion to get permission from their parents and local government officials.
Human Rights Watch said a copy of the proposed law it had seen also sets out a 10-year prison sentence and property confiscation for any non-Buddhist who seeks to marry a Buddhist in violation of the law.
In February, President Thein Sein, praised for introducing democratic reforms in the impoverished majority-Buddhist country, asked the National Assembly to draft four controversial laws to "preserve race and religion". They relate to population control, religious conversion, monogamy and restricting interfaith marriages.
No curbs are planned for Buddhist men wishing to marry outside their religion.
The law is expected to be submitted to the president by June 30, media reports say.
The statement, endorsed by 97 groups in Myanmar representing different faiths and ethnic groups, said organisations working to promote women's rights and equality strongly rejected such a bill which was "based on discriminatory beliefs that women are generally physically and mentally weaker than men, and therefore need to be supervised and protected".
"This denies women their inherent rights … of freedom of choice," it added.
The statement also warned that faith-based extremist nationalism could destroy peace and incite conflict.
"There are religious and ethnic differences among the nationals of Myanmar, and developing initiatives based on religion hinders the implementation of national solidarity and current peace building processes," it said.
RELIGIOUS CONFLICT
The statement said amendments to the controversial 2008 constitution and peace negotiations with armed groups should be prioritised over the interfaith marriage bill.
Since Thein Sein's government took power, ending five decades of iron-fisted military rule, it has abolished media censorship laws, allowed protests and started ceasefire negotiations. Western governments have lifted or suspended sanctions in response.
Yet the country has been grappling with anti-Muslim sentiment since religious conflict erupted in June 2012, killing at least 240 people and displacing more than 140,000 people, mostly Muslims.
"We believe that current faith–based political activities, including the arguments against interfaith marriage currently taking place in the country, are not in accordance with the objectives of the peaceful coexistence of all faiths and the prevention of extreme violence and conflict, but are instead events and ideas designed to distract the public before the 2015 election," said the statement.
"We view these events as delaying the momentum of transition to democracy, and as a hindrance to national peace processes and the constitutional amendments desired by Myanmar's people," it added.
May Sabe Phyu from the Gender Equality Network said the government should instead focus its efforts on a law to eliminate violence against women which is in the works.
"It is very disheartening for women's rights activists that the government is fast-tracking a law that restricts women's rights and doesn't adhere to international rights standards when it should instead be supporting a law that will be truly effective in protecting women," she told Thomson Reuters Foundation by phone from the capital Yangon.
Shwe Shwe Sein Latt, founder of non-governmental organisation Phan Tee Eain, said civil society groups have been expressing their concerns to government officials in private about the law but were assured it was only a rumour.
She said she was hounded by supporters of the law when she criticised it previously.
"But I feel it is our duty to speak out publicly against this. We're very anxious," she added.
http://www.trust.org/item/20140506151058-waj7t/?source=jtDontmiss
---------
Expatriate Women Struggle for Their Divorce Rights in Saudi Arabia
07 May, 2014
JEDDAH – Many expat women here struggle for their rights given the different legal framework in the country. Women who spoke to Saudi Gazette reported cases of physical and emotional torture and said they lack support and the right to get a legal divorce and Khula in Saudi Arabia.
Samia Khalid, mother of two, said when a wife initiates divorce and is denied, she has to resort to Khula where she has to prove her husband' guilt or incompetent in court. "Many complaints don't get women anywhere because the judges ask you to sort the issue out and delay matters that sometimes need an urgent solution," the Indian national working in Dammam said.
"When I tried to get a Khula in 2005, my husband would not show up in the court. Officials kept telling me to try harder and that I should respect my marriage and my kids by staying in it. So, unless I had proof that my husband was an alcoholic, drug addict, a rapist or someone who had AIDS, I knew I was not getting anywhere. I never did. He threatened me and my family back home and that he would keep our child under his custody. It's been ten years now. And I still live with him, crippled by emotions, his threats and the hardships law imposes on someone like me who has no 'Wasta' and no money."
Haifa Hafiz, a 43-year-old Pakistani woman living in Riyadh, told Saudi Gazette that for ten years she has been fighting for divorce. She said she cannot afford the huge sum involved in getting a Khula. To add to her agony, her family in Karachi has shunned her for her refusal to stay with her husband. "I have been living in this marriage for twenty hard years now. My husband thinks his image will be tarnished and he does not want to bear the burden of his mistakes. However, I have three children and a very orthodox family in Pakistan. My mother told me I cannot come home if he divorces me. So I decided to get a Khula. Now I have to get it from Pakistan because he refuses to go to court and our marriage certificate is issued in Pakistan."
She said it was extremely difficult for women in her position with no contacts and financial help to move around, especially without a driver and not being allowed to drive.
Sabiha Ashfaq, a 36-year-old housewife from Balochistan living in Jeddah, has been married for 21 years and has four children. She has been trying to work and earn to feed the family as her husband does not make enough to support them. "I cannot even travel without my husband's approval. He is my Kafeel and my Mahram. I have tried so hard to go back home during the last three years but he always uses emotional blackmail and keeps me here. I want to see my parents and live away from him."
She has been trying to file for divorce since the birth of their daughter who is now three years old.
Humera Tahir, a 39-year-old mother of two, said there is a stigma attached to divorce and Khula in South Asian communities and it is hard for expatriates living in Saudi Arabia because of the legal constraints and restricted freedom of movement for women in general.
"My husband kept me here for five years. After that I left for India and thanks to my father who was alive then, we got my khula papers ready. I came back to Jeddah and was hired as a teacher and the school I work for is my sponsor. However I see the difference in mentalities and how men generally think in our countries. I was lucky to have a father who helped me. My brothers refused and till date curse me. My mother never wants to have me around. She feels ashamed of me and my children."
She said it is a tragedy that many Asians look down upon the practice of divorce. "Most of them are Muslims and even then they frown upon what is permissible under the Islamic Shariah," she said.
http://www.saudigazette.com.sa/index.cfm?method=home.regcon&contentid=20140507204316
---------
Female entrepreneurs a rarity in Lebanon
07 May, 2014
There is a great difference between work and entrepreneurship, and women in Lebanon are not aware of it. The more the job is confined to specific tasks and limited working hours, the better option it becomes in the eyes of Lebanese women. Meanwhile, leadership positions are left for men, who take more confident steps in the business world. They establish their own companies or launch their own initiatives, which are a better source of income than a job.
This phenomenon is based on clear figures demonstrating the great imbalance between women and men in Lebanon when it comes to entrepreneurship. According to the Central Administration of Statistics, only 15% of Lebanese women are employers or self-employed, while the rate rises to 42% for men.
These figures raise important questions about the situation of working women in Lebanon. What drives them to take up regular jobs, which usually have limited horizons? What stops them from being well-achieved in the business world, although they are seen as a model for educated and ambitious women in the Arab world?
Secured rights
Lina Ahmar, a mother of two, has aspired to establish her own furniture showroom for years. However, she has yet to achieve her dream even though she is over 40. Lina keeps backing down at the last moment and sticks to a day job that allows her to be on time to pick up her children from school.
Lina said that the salary she received was not tempting, but at least she was entitled to take leave and could be at home during holidays. This may no longer be an option for her should she choose to take the hard way, i.e. become self-employed.
This mindset is shared by many other women who believe that a job can secure their rights. They are entitled now to a 10-week maternity leave. They also benefit from the pensions of the National Fund for Social Security and from the almost free medical services. As for self-employment or freelancing, it can entail profits but as well losses, which is a great burden on women.
According to employee Hala Saada, there are no incentives for women to become truly pioneering in business. Women bear the responsibility of a family, and find themselves sometimes forced to leave their jobs because of the many pressures they face and the inability to reconcile work and family.
Social researcher Khouloud al-Haber explains to Al-Hayat that there are many obstacles that hinder women's leadership in Lebanon; most importantly a lack of encouragement from parents and spouses.
According to Haber, women in Lebanon are still living in a bubble, despite the developments that have taken place and the rights they have gained. Women still fear to discover themselves and have bigger ambitions, as this might affect their marital status.
She also added that men's perception of women was changing gradually, as many men have come to accept success of women even if it is greater than theirs. On the other hand, there are men who cannot accept that a woman might be more professionally successful than they are. They try to impede her progress, usually under the pretext that she is neglecting her family for work.
The surprising thing in Lebanon is that women who have their own businesses are usually single, while married women face hardships when taking such a step.
Supporting pioneering women
As opposed to the gloomy outlook for women's leadership in the business world, there are many women who have broken all taboos and overcome many barriers, either physical or moral, in order to reach achievement.
Accessory and antique designer Lara Mhanna proudly recounted her own experience and how her works have reached many Arab countries. Although married and a mother of two, she runs a workshop with seven workers.
However, Mhanna does not deny that there are many obstacles that impede the road of both pioneering women and men in Lebanon. She mentioned the lack of security and political stability, and the lack of special activities that create job opportunities and reduce unemployment. She also gave great importance to the husband's support so that women could be independent in their own work or in running an institution, be it large or small.
There have recently been campaigns organized by NGOs or financial institutions and banks to support women's leadership inclinations by providing the necessary funds to projects that will generate money at a later stage. Financial advisors and economists are trying in this context to guide women within their own projects to achieve better outcomes.
The challenge for Lebanese women today is not only to improve their career, but also to overcome the limitations that have been placed by society to curb their capabilities, so they can keep pace with the global changes that put them at the heart of entrepreneurship.
http://www.al-monitor.com/pulse/culture/2014/05/women-lebanon-employment-entrepreneurs.html#ixzz313uZSUjy
---------
Lebanese women 'run forward' for their rights in Beirut marathon
07 May, 2014
Crowds lined the streets of Beirut as a women's marathon snaked its way through the city this week.
Women from all walks of life – the handicapped, the young and the elderly – participated in the event aimed at empowering women through sports and geared towards reminding women that health is vital.
A number of men also joined in the campaign which ran under the slogan "Run forward, there is no going back."
"We are doing this, to increase awareness that there is no difference between a man and a woman. This marathon is to highlight this issue," said one of the organizers to Al Arabiya News Channel.
One man who attended the event told Al Arabiya News Channel that "we are with women, if women are happy then we are happy to. We want to satisfy them."
Some women saw the marathon as a reminder that they should take care of their health.
One participant told Al Arabiya News Channel: "All women should practice sport, for their health, heart, better blood circulation and to stay young."
This is the second year the women's marathon has taken place in the city and it is part of a wider movement in which Lebanese women find increasingly creative ways to promote their rights.
In early 2013, dozens of Lebanese women danced in front of the home of the country's parliament speaker, Nabih Berri, to send a clear message of urgency to pass a law that looked to protect women from domestic violence.
The women were successful in pressuring the government to pass the law.
However, Human Rights Watch said the domestic violence law Lebanon's parliament passed on April 1 should advance women's rights and safety, but falls short in key areas.
It said the new law establishes important protectionist measures and related policing and court reforms, but leaves women at risk of marital rape and other abuse.
http://english.alarabiya.net/en/life-style/2014/05/05/Lebanese-women-run-forward-for-their-rights-in-Beirut-marathon.html
---------
Malaysia: Labelling Anti-GST Rally Participants as Prostitutes Denounced
07 May, 2014
The young women's section of PAS or better known as Ameera has come out strongly to condemn the move to label PAS women taking part in the recent anti-Goods and Services Tax (GST) peaceful rally as prostitutes.
Ameera secretary Nurul Syuhada Shuib said the move to link Muslim women with scarves going to a peaceful rally as prostitute was superficial, irresponsible and disrespectful to women.
"This is especially so since there is a stark difference between women participating in peaceful rally and those of prostitute,"she said in a statement May 6.
She also said the saying of the Prophet used to justify the labelling was taken out of context as pointed out by former Perlis Mufti Datuk Mohd Asri Zainal Abidin.
Nurul Syuhada expressed confidence that detractors of the decision by women to participate in the rally should be aware of the role played by women including their role in wars.
She said there were various examples to show that Muslim women would participate in any social activities and despite possible differences of opinions on the matter, it would be far fetched to say that women participating in a demonstration as prostitutes.
Nurul Syuhada said its unfortunate that such an attack could come from someone with a religious knowledge and not from the orientalist, liberal or feminist.
She said Islam is a religion that acknowledged the role and the position of women and those out to question the role of women should be respecting of the rights of women to participate in various activities, holding a job and playing their roles in society within the framework of Islamic teachings.
Nurul Syuhad was responding to a statement posted on the social media that likened women in scarves participating in the recent anti-GST rally as "high class prostitutes".
The rally,in which participated tens of thousands of Malaysians, was held in conjunction with May Day and to protest the implementation of GST due to take effect April next year.
http://www.malaysia-chronicle.com/index.php?option=com_k2&view=item&id=277181:labelling-anti-gst-rally-participants-as-prostitutes-denounced&Itemid=2#.U2qg84FdU4U#ixzz314DD0kyh
---------
URL: https://newageislam.com/islam-women-feminism/seeking-greater-equality,-indian-women/d/76914