New Age Islam News Bureau
01 July 2022
• Saudi Women Unemployment Rate in Q1 Lowest In 20 Years
• Tunisia: First Edition of Takelsa Women's Festival Promotes Female Farmers' Products
• Women's Market in Kabul Creates Opportunities
• Idlib's Female Journalists Battle against the Regime, the Patriarchy and the Misogynistic Interpretations of Islam
• 2022 AFC U-23 Asian Cup, Women's Team Triumphs Highlight Saudi Football Progress
• Basra Feminist Team Fights Violence against Women and Promotes Their Rights
Compiled by New Age Islam News Bureau
URL: https://newageislam.com/islam-women-feminism/seda-kacan-turkey-racer/d/127379
--------
Seda Kaçan Turkey's 1st Female Track Racer in 30 Years Leaves Doubters in Dust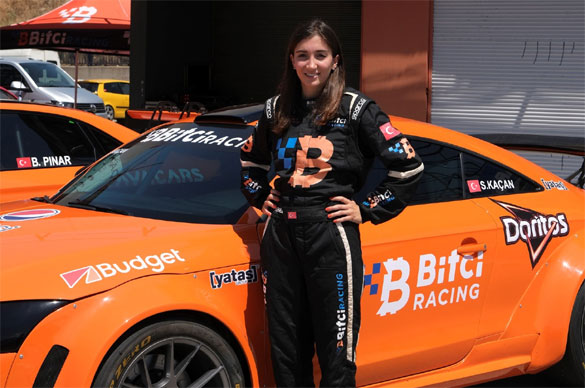 Turkish track racing driver Seda Kaçan poses for a photo in Izmir, Turkey, June 17, 2022. (AA Photo)
-----
JUN 30, 2022
Seda Kaçan went down in history when she participated in the Turkish Track Championship as its first female pilot in nearly three decades.
However, her road to track racing was not easy and the 29-year-old said she had to a lot of people trying to discourage her.
Kaçan recently participated in the 2022 Turkish Track Championship, organized by the Turkish Automobile Sports Federation (TOSFED) in the southwestern province of Izmir on June 18-19.
Driving for the Bitci Racing team, she finished the first day in the sixth place, before coming fifth on the second day.
In doing so, Kaçan became the first female track-racing driver since Ann Tahincioğlu, who competed in the 1992 Turkish Track Championship.
Kaçan said she was interested in motorsports from an early age. She has continued to follow her lifelong passion for driving while also having a career in marketing.
Describing her difficult journey in motor racing, Kaçan said she had no one in her family or around her interested in the sport.
"My first driving experience was virtual when I played a racing game on our home computer. I realized, there was a burning desire inside me for motorsports. As I got older, I would often steal the family car and that's how my talent behind the wheel was discovered," she said.
Like many professional racers, she started with go-kart racing before proving her doubters wrong to go professional as a track championship driver.
Chasing a lifelong dream
Originally from western Turkey's Kırklareli, Kaçan's professional career, however, only started after she moved to the country's largest city, Istanbul for university.
"I almost gave up my dream of becoming a racecar driver because of negative opinions from people and since there was no such opportunity in Kırklareli. However, after my admission at Yıldız Technical University, I met people from the racing community," she said.
Even some of them discouraged Kaçan by saying it was a very costly sport to get into and was not right for her.
"After I started building a career in marketing, I realized that I gave up on my passion very quickly. So, I researched and attended various training. That's when I met my current team director, Ibrahim Okyay. He told me to start with karting," said Kaçan.
At the age of 26, Kaçan started taking go-kart lessons but once again, she was met with opposition.
"I ignored everyone who said 'Don't do it. It's a man's sport. How will you manage work and sports at the same time?' and I moved forward with my plan."
"I'm glad I took this risk. I'm having a lot of fun and progressing very well. Last year, I followed the Turkish Karting Championship all season. I even took the podium several times. Before long, I realized that if you follow your passing you can achieve very good results," Kaçan said.
Coming from a family with a modest income, it was difficult for Kaçan at the beginning. "My mother is a teacher, my father is in the military. My sponsors enable me to do this job. I also had a sponsor in the Turkish Karting Championship. Bitci Racing and my company has supported me a lot this year. Thanks to their support, I can do this sport."
"It may be an expensive sport, but instead of giving up, I saw that there were sponsors ready to support young people with talent," she added.
Looking forward
Kaçan said everyone at the track welcomed her with open arms and she has made a good start to the season.
"The first leg in Izmir was like a training session for me. This was my first professional race. More than anything, I was happy to see all the athletes and staff welcome me by saying they were proud to see a female pilot on the track," she said.
"I want to prove that women can also participate in motorsports and they should be supported, maybe even more than men."
The 29-year-old is now aiming to become Turkey's first female track racing driver in the international arena.
Source: Daily Sabah
https://www.dailysabah.com/sports/motorsports/turkeys-1st-female-track-racer-in-30-years-leaves-doubters-in-dust
--------
Saudi Women Unemployment Rate In Q1 Lowest In 20 Years
A woman walks past a sign during the Future Investment Initiative conference in Riyadh, Saudi Arabia October 24, 2017. REUTERS/Faisal Al Nasser - RC12E9B6E840
----
June 30, 2022
RIYADH — The unemployment rate among Saudi women aged 15 years and above reached 20.2 percent at the end of the first quarter of 2022 compared to 22.5 percent by the end of the fourth quarter of 2021.
This is the lowest unemployment rate recorded among Saudi women in 20 years since 2001 when it was 17.3 percent, according to a report carried by Al-Eqtisadiah newspaper based on official data.
On the other hand, the economic participation rate of Saudi women in the labor market decreased to 33.6 percent by the end of the first quarter of 2022, against 35.6 percent by the end of the fourth quarter of 2021.
The economic participation rate of Saudi women at the end of the fourth quarter of 2021 was the highest in history. Thus, the economic participation of Saudi women exceeded the target of 25 percent set in the National Transformation Program 2020, while the rate of economic participation set as a baseline within the program was 17 percent, recorded in 2017, the report indicated.
Source: Saudi Gazette
https://saudigazette.com.sa/article/622447
--------
Tunisia: First Edition of Takelsa Women's Festival Promotes Female Farmers' Products
30 JUNE 2022
Tunis/Tunisia — The first edition of the Takelsa Women's Festival was held on Thursday, under the theme "rural women's activity and contribution to achieving a healthy environment."
This festival was organised by the Takelsa Female Farmers' Organisation for Development, in cooperation with "Web Tunisia" organisation.
The aim of this festival is to promote products by women farmers in the region, particularly the 192 members of the association, aged between 18 and 54.
The Takelsa Female Farmers' Organisation was established in 2015, with support of the Tunisian Union of Social Solidarity (UTSS) and the French Ministry of Foreign Affairs, said President of the organisation Hedia Ben Saoud.
It helps mentor and guide female farmers in promoting and marketing their products, namely cattle breeding, poultry farming and milk production, she added. Goods also include pepper products, spices, textile and others.
A number of training programmes was held in the fields of environment conservation and agricultural marketing for the benefit of member farmers.
The biggest complication facing these women is the lack of means of transport, Ben Saoud pointed out, calling on potential partners to provide a private vehicle to these women so as to help promote their products.
She also noted their lack of equipment and the need to develop infrastructure, to ease the farmers' movement across the area.
Secretary General of the organisation Rim Ben Saoud, for her part, urged the civil society to help the organisation become a centre for ecological production.
The organisation has turned farmers from rivals to partners, said UTSS local development coordinator Mohamed Meftahi, reiterating commitment to keep supporting farmers and financing their projects.
Likewise, Mayor of Takelsa Walid Amari commended this first edition of the festival, calling it a success for rural women. The municipal Council is fully prepared to support the women of the organisation, he said, noting that the locality is the largest in Nabeul governorate, with 27 thousand hectares.
It includes 17 residential tourist and industrial communities, in addition to the distinctive beach and forest.
Source: All Africa
https://allafrica.com/stories/202207010347.html
--------
Women's market in Kabul creates opportunities
July 1, 2022
Several female entrepreneurs formed a women's market to ramp up business and encourage women to shop.
The women entrepreneurs called on the Islamic Emirate to support them.
"I call on the Islamic Emirate and the international community to support the female entrepreneurs, particularly women in the private sector," said Nafisa, a female entrepreneur.
The market is the first to be dedicated only to women customers and vendors in Kabul.
The female entrepreneurs hoped that such markets would benefit their business.
"This market is the first to be inaugurated. We have had some exhibitions this have a positive motivation for women," Danish Sadid, a female entrepreneur.
Fariba is a high school student who is now working in this market as the schools for female students beyond grade six have remained closed.
"We have opened a shop here and are busy working to stand up on our own two feet and to have an income," said Sayeda Ghazniwal, an entrepreneur.
Meanwhile, the Afghanistan Women's Network (AWN) urged the Islamic Emirate to provide facilities for women entrepreneurs.
"We call on the Islamic Emirate to facilitate markets for the female entrepreneurs in the country because this is a need," said Mohammad Anwar Sedeqqi, head of the AWN.
This comes as earlier, some women entrepreneurs in the western province of Herat has reopened a similar market dedicated for women.
Source: Pak Observer
https://pakobserver.net/womens-market-in-kabul-creates-opportunities/
--------
Idlib's Female Journalists Battle against the Regime, the Patriarchy and the Misogynistic Interpretations of Islam
Hadia Al Mansour
01 July, 2022
Female journalists in Idlib continue to face colossal challenges when it comes to doing their job, whether collecting information, contacting sources, or filming in public spaces.
Hayat Tahrir Al-Sham (HTS) has banned the latter under threat of arrest, as the hardline Islamist group and de facto authority in Idlib continues to consolidate its suffocating policies towards journalists in Idlib, silencing those who speak out against its violations against civilians.
But HTS's oppressive security apparatus and strict monitoring of female journalists are not all they face.
Even worse is the stance of their own community, which sees women subjected to intimidation whenever they try to cover events, and their every movement scrutinised. They are fully aware that one misstep could endanger not only their professional life but quite possibly their actual one.
Added to these barriers are the issues faced by all across the war-ravaged region – the repeated bombardment of the opposition-held areas by the brutal regime of Assad, and the intentional targeting of journalists; in addition to logistical issues like electricity and internet blackouts as well as a lack of materials.
About why she chose to become a journalist, ex-teacher Hana al-Mohammed (39) says: "I always felt things were unjust – like when I observed how everyone at the teacher training college for girls in Kafranbel was guaranteed secure employment and I wasn't – instead I was forced to move from school to school […] barred from a fixed job, just because I didn't have any connections in the ruling Baath party."
None of the certificates she obtained, the training courses she did or the experience she gained was enough to secure Hana a full-time teaching post. It was all "useless without the right connections – the most influential factor within a corrupt system which had long plundered our rights, dreams and aspirations," she says.
When the spark of rebellion ignited in Deraa and spread across the country, feelings that many women in Idlib had long repressed surfaced. On 27 April 2012, Hana marched for the first time with other women from her town, Kafranbel, brandishing a banner that read: "death over humiliation".
She wore a face veil, fearful of being recognised and seized afterwards by Assad's henchmen, who carried out arrests after every demonstration.
Soldiers and security services would raid people's homes, having received detailed reports about those participating in the protests from spies and informants. They would uproot the demonstrators from the arms of their families like "the soul is plucked from the body," in Hana's words.
Hana chose to quit teaching and become a journalist in 2015, to document what was happening in Kafranbel, which experienced repeated acts of terrorism at the hands of the regime and its Russian ally, and later extremist Islamist factions including the Islamic State group (IS).
"As a journalist, I focused on women, children, and other vulnerable groups and the challenges they faced in such a complex situation, whether health-related, economic or to do with the security situation," says Hana.
"I had to contribute to the victory of our orphaned revolution in my own way, using my pen to transmit the hardships and pain of those grieving at a time when there was a huge amount of media misinformation penning alternative names for the revolution which bore no relation to the truth: betrayal became 'coexistence' and 'civic loyalty', the revolution 'a crisis', the revolutionary, an 'armed terrorist', the liberation of the land from tyrants, a 'war'," she further explains.
Hana wasn't afraid of taking on a new profession, even one that would invariably invite condemnation from Idlib's society, which clings to a stereotypical view of women and places them into a one-size-fits-all template that cannot be altered. However, Hana has broken the mould and continues reporting reality as she sees it in defiance of her circumstances.
Journalist Mariam al-Mustafa (40), for her part, faced continuous threats from anonymous figures who used bogus WhatsApp numbers, warning that she "would pay" for her attacks on HTS after she wrote a report documenting their repression against women in Idlib and their interventions to stop women working by claiming it violated sharia law and religion.
"The threats made me more cautious – I started using borrowed names and changing houses periodically. This has destroyed any sense of safety and stability for me and my family."
However, she keeps working. Despite seeing her brother arrested by the regime early on, then seeing him in the Ceasar photographs of the regime's torture victims, to the repeated destruction of her home under bombing raids – from which her and her children survived by sheer chance – to the suffocating oppression of the current de facto rulers, she has remained steadfast in her mission to continue writing and reporting, regardless of the risk.
Journalist Rawaa Al Bakour (39) tells a different story – one of the shocking responses of the local community to the launch of the Mazaya magazine (an organisation working to empower women in Idlib).
She and three other female journalists started the magazine in 2015; it was the first media experiment of its kind in the region. The four volunteers hoped the magazine would be a success, and chose article topics relating to women's issues – women's rights, lives, success stories, ambitions, and challenges. The magazine was printed and issued on a monthly basis.
The project had been going for less than a month when heavily armed fighters from Jabhat Al Nusra, the group in control of the area at the time, stormed the women's workplace. They trashed the office and expelled the women, threatening to arrest them if they returned, accusing them of immodesty, being infidels, and yelling obscenities, according to Rawaa.
"They deserved it, what do they want doing these things, they should feel ashamed, why aren't they at home looking after their husbands and children, by God, they've reaped what they sowed!"
These were the gloating words muttered by the men of Kafranbel who amassed outside the Mazaya's offices as they gleefully followed the course of events, words that still echo in Rawaa's memory.
"The men's reaction revealed their deep-seated hatred and rejection of any activity women undertake in our society. A logical response would have been to feel proud of our work and what we were doing, and to reject such a blatant assault on our right to free expression."
Rawaa says journalism has changed the way she understands her life: "That I, as a woman living in a traditional, patriarchal and conservative society, am not a 'lesser rib' – an idea that gets drummed into us! Actually, I am capable of a lot, of breaking the stereotypes, exiting the cage of custom and tradition and of fulfilling my potential."
Jabhat Al Nusra's attempts to intimidate Rawaa and her colleagues didn't succeed. The journalists regrouped the following day, and a number of local women came to offer their solidarity. They reopened the office, cleaned up the mess and got back to work.
Rawaa continued with the magazine until late 2018 when the regime unleashed a violent military campaign across south Idlib, and she was forced to flee. But she hasn't stopped working – currently submitting her articles to numerous media outlets as a freelance journalist.
Sahir al-Idlibi (30), works in electronic journalism and has trained many women in journalistic skills. She was deeply influenced by the burgeoning movement of individual social awareness, which reshaped her perspective on the demand for freedom, justice and democracy in a country where these ideals had long been absent during the Assad family's rule.
She says: "I came to feel my role was no longer just to record events, instead I felt I'd become a cog in the machinery shaping these events – an essential partner in the creation of a new phase of Syria's history."
According to Reporters without Borders, there are 60 female journalists working in Idlib province, and The Syrian Centre for Media and Freedom of Expression ranked Syria 174th out of 180 countries for press freedom in 2019.
The Syrian Centre for Journalistic Freedom (SCJF) said in its last annual report that "restrictions on press freedom alongside threats violating the safety and security of media workers and the freedom of the press, formed direct causes for the majority of documented violations during February 2022".
Hadia Al Mansour is a freelance journalist from Syria who has written for Asharq Al-Awsat, Al-Monitor, SyriaUntold and Rising for Freedom Magazine.
Source: The New Arab
https://english.alaraby.co.uk/features/syria-female-journalists-idlib-challenge-patriarchy
--------
2022 AFC U-23 Asian Cup, women's team triumphs highlight Saudi football progress
June 27, 2022
RIYADH: The triumph of the Young Falcons at the 2022 AFC U-23 Asian Cup and the recent successes of the women's national team has marked yet more milestones for Saudi Arabian football this year, after the senior team qualified for the World Cup in Qatar and the Kingdom's clubs rack up great results in continental competitions.
Saudi Arabian Football Federation (SAFF) President Yasser Al-Misehal said: "The success of the Saudi national teams demonstrates that our strategy is yielding positive results. Bringing back to the Kingdom the AFC U-23 Asian Cup for the first time ever with our very own Saudi national coach, Saad Al-Shehri, is a source of great pride and satisfaction.
"The players who achieved this great feat will be part of the main drivers of the success of our National Team going forward."
He added: "This gives us greater confidence and trust in our younger generation, beside the achievements we had this year for both men's and women's football. We are working on developing a pathway tailored for every up-and-coming Saudi footballer on the grassroots level.
"We are working on extending a very large pool of Saudi talent with the support needed for the upcoming generations of Saudi football to match the highest professional levels of the game, be it in the technical and tactical aspects of the game, as well as the dietary, psychological, physical and athletic aspects."
The U-23 victory comes soon after the senior Green Falcons team qualified for their sixth World Cup participation ahead of this year's tournament in Qatar. Herve Renard's team topped their qualification group, which featured continental giants such as Japan and Australia.
The Saudi Pro League continues to grow in quality and importance at the Asian level, with Al-Hilal currently the holders of the AFC Champions League title. This year, three Saudi teams are set to feature in the competition's round of 16, with Al-Hilal, Al-Shabab and Al-Faisaly having topped their respective groups in the first round.
Earlier this month, the Saudi Futsal National Team also grabbed the silver medal in the West Asian Football Federation's Futsal Championship. The Green Falcons demonstrated incredible quality throughout the tournament, before narrowly losing 5-3 to hosts Kuwait in the final. The team continued their fine run of form on the road reaching the quarterfinals in the Futsal Arab Cup taking place in Dammam following a thrilling 3-2 encounter against Iraq that ended their campaign.
Saudi women have also enjoyed their fair share of success in football this year. In February, the newly launched Saudi Women's National Team played its first ever official games against the Seychelles and the Maldives, winning both games with the same 2-0 result.
The Kingdom concluded their successful hosting of the 2022 West Asian Football Federation's Women's Futsal Championship in Jeddah, where the Saudi Women's Futsal National Team made its debut in the competition and claimed a silver medal following a 4-2 defeat in the final against Iraq.
Source: Arab News
https://www.arabnews.com/node/2111646/sport
--------
Basra Feminist Team Fights Violence Against Women and Promotes Their Rights
Amr EL-Tohamy
25 Jun 2022
Fifteen young Iraqi women in the southern city of Basra have come together to form an organisation to campaign against violence against women and for women's rights.
The organisation, called the Basra Feminist Team, hopes to change stereotypes of women and generally improve their lives.
One member is 22-year-old Shukr Huyam, who said she joined the group because she had experienced various "patterns of discrimination" at university.
Young women in Iraq "are constantly subjected to bullying, harassment, and violence of all kinds in daily life," Huyam told Al-Fanar Media.
Since last year, the team has been working to promote women's issues and mobilise the public against domestic and other forms of violence, by documenting such acts and spreading information about them.
The founders are also trying to introduce the concept of feminism and explain terms that may be misunderstood because of what they call "widespread stigmas and myths about feminism."
In Defense of Rights
The Basra Feminist Team is trying to create "a balanced life, in which women can naturally obtain their right to education and general life choices without guardianship or coercion," Huyam said.
Huyam is a final-year student at the College of Education for Girls at the University of Basrah who has a physical disability. She said she faced difficulties because she could not go to the rehabilitation centre without being accompanied by a male relative. Her family has also been criticised because a driver takes her to university.
She sees women as "victims of false beliefs and traditions that exclude and marginalize women in the public sphere."
Demanding their rights puts women in the position of being accusers, she added. They are called "traitors" because people are unwilling to examine traditions that "constitute a barrier to women in their normal daily life."
A government statistic published last year recorded 5,000 cases of violence against Iraqi women in a single year. The report, issued by Iraq's General Secretariat for the Council of Ministers, said "the real number exceeds the published figures because many cases are not reported due to some customs and traditions that prevail in society."
Raising Public Awareness
The Basra Feminist Team organises activities at Basra's educational institutions. The events aim to empower women by presenting positive role models and raising awareness of women's rights, including the right to jobs they have been excluded from and their right to drive a car. Women drivers are rarely seen in Basra because of "religious, security, or tribal restrictions," team members say.
The team also organises vigils to demand improvements to divorce legislation, especially in regard to a mother's rights to custody of her children.
Safaa Abd Ali, another co-founder, said the Basra Feminist Team was created because of a feminist need, and a feeling that too many "wrong things happened to women."
Abd Ali, who is a law graduate, told Al-Fanar Media that the team wanted to spread hope through positive messages about women's rights and demands. She said it did not receive financial aid from any party and financed its work through monthly contributions from members, ranging from one to five dollars.
The team aims to change the perception that a woman's role is limited to raising children in the home and other concepts that allow guardianship of women.
Adyan Yarub, another team member, aged 24, said she joined the Basra Feminist Team as a volunteer in the media department to "restore the rights of Iraqi women, in Basra in particular, and support women in rejecting restrictions and violence."
Yarub, who has a diploma from Basra's Southern Technical University, said she would continue to be a member despite constant campaigns attacking the group.
The Role of Social Media
Ruba Ali Al-Hassani, an Iraqi postdoctoral scholar at Britain's Lancaster University, noted an increase in news about violence against women and girls in Iraq in recent years. She said there were two reasons behind this: Social media helped people know about such stories, and Iraqi society had become more militarised after the 2003 U.S. invasion.
The chaos that followed the toppling of Saddam Hussein's regime "caused the spread of terrorist groups and non-state armed groups, which made Iraqis more vulnerable to violence in all its forms," Al-Hassani said.
She told Al-Fanar Media that high rates of poverty contributed to men's feeling aggrieved by state and non-state groups. She said this had always applied to Iraq's patriarchal tribes. They now exploited the political and security vacuum to intervene and try to resolve their disputes according to their own customs. These include child marriage and the exchange of women to resolve disputes.
Al-Hassani's research focuses on Iraq's justice system and the behavioural mores of Iraqi society. She says that the hard work of organisations like the Basra Feminist Team was "making us witness a greater public discourse on women's issues today, which is a step in the right direction."
Al-Hassani said there was violence against women throughout Iraq, not just in Basra. But there was "more violence in conservative cities," she said, "because they are more associated with patriarchal traditions."
Source: Al Fanarmedia
https://www.al-fanarmedia.org/2022/06/basra-feminist-team-fights-violence-against-women-and-promotes-their-rights/
--------
URL: https://newageislam.com/islam-women-feminism/seda-kacan-turkey-racer/d/127379
New Age Islam Islam Online, Islamic Website, African Muslim News, Arab World News, South Asia News, Indian Muslim News, World Muslim News, Women in Islam, Islamic Feminism, Arab Women, Women In Arab, Islamophobia in America, Muslim Women in West, Islam Women and Feminism