New Age Islam News Bureau
7 Dec 2015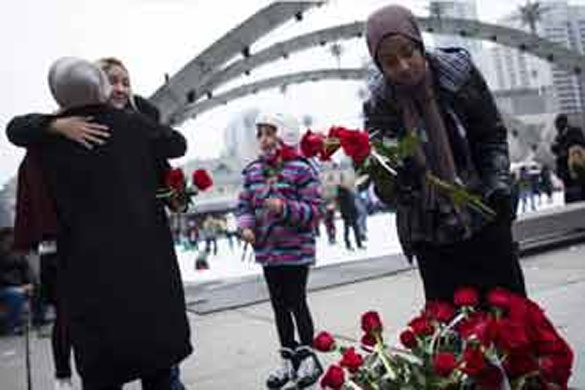 Photo: Amina Warsame, right, grabs more roses as a fellow Muslim woman gets a hug from a recipient in Nathan Phillips Square.
---------
• Muslim women hand out roses as a thank-you for Toronto's support
• G25 wants anti-constitutional Shariah laws reviewed
• Saudi teacher rescues five women from blazing car
• Nigerian woman killed in election violence in Bayelsa State
• California female shooter has no links with Pakistan: Nisar
• EY MENA wins global women's economic empowerment award
• Duo accused of confining man, 5 women and demanding Dh15,000
• California shooter studied at Al-Huda institute: teacher
• KP enacting law to make education compulsory for all children
• Husband-and-wife jailed for RM6.78 million scam
• Shahrizat: Wanita Umno to focus on women professionals, corporate members
• Juvenile, four others plead not guilty to raping 14-year-old girl
• Snapchat comes in handy for female poll candidates
• Call to protect salons run by women legally
• 46 Saudis marry African women
Compiled by New Age Islam News Bureau
URL: https://newageislam.com/islam-women-feminism/sc-rejects-uniform-civil-code/d/105533
----------
SC rejects uniform civil code PIL against 'discrimination' faced by Muslim women
December 7, 2015
New Delhi: The Supreme Court on Monday declined to entertain a public interest petition seeking direction to parliament to enact a uniform civil code to put an end to alleged discrimination being faced by Muslim women.
An apex court bench headed by Chief Justice T.S. Thakur said that it is for parliament to take a call on the issue and it was not in the realm of the apex court to issue a direction on this.
Chief Justice Thakur, in a disapproving note, told senior counsel Gopal Subramaniam that if such petitions were filed without regard to the law, the court will come down very heavily.
The court asked why none of those who are being allegedly discriminated against have come forward for redressal.
http://www.siasat.com/news/sc-rejects-uniform-civil-code-pil-discrimination-faced-muslim-women-881402/
----------
Muslim women hand out roses as a thank-you for Toronto's support
Dec 06 2015
A group of Muslim women in Toronto handed out a thousand roses in Nathan Phillips Square on Sunday as a thank you for the support Torontonians have shown since the Paris attacks, each bearing a note saying: "From a Muslim who loves and cares for all of humanity."
Organizer Dr. Yusra Ahmad said the recent spate of terrorist attacks that culminated in Paris, and the local fallout involving violent acts against women in Toronto, motivated the initiative.
It also coincided with the National Day of Remembrance and Action on Violence Against Women, on the anniversary of the Montreal Massacre of 14 women at the École Polytechnique on Dec. 6, 1989.
"It's time for us to reconnect with our deepest selves and intentionally cultivate more respect, kindness and compassion — one rose at a time," said Ahmad, a psychiatrist who sees the impact violence and Islamophobia have on women.
She said the rising virulence of the rhetoric against Muslims has flooded her with sadness, grief, alienation and fear.
"Really, what we urgently need now is precisely the opposite," she said. "We need more human connection, compassion, kindness and love."
Ahmad said the red flowers carry an overarching theme of intimacy and kindness, and that 1,000 roses are 1,000 opportunities to honour the human capacity for connection and resilience.
http://www.thestar.com/news/gta/2015/12/06/muslim-women-hand-out-roses-as-a-thank-you-for-torontos-support.html
----------
G25 wants anti-constitutional Shariah laws reviewed
December 7, 2015
KUALA LUMPUR, Dec 8 — G25, a pro-moderation group comprising retired civil servants, has said it intends to pressure the government into repealing Shariah laws deemed to be in conflict with the Federal Constitution, especially those affecting privacy.
Its spokesman Datuk Noor Farida Ariffin was quoted today by English daily The Star as saying that the group will set up a consultative council to study these laws and subsequently recommend that they be repealed or be amended where necessary.
She cited as example the laws governing khalwat (close proxi­mity), noting that Malaysia is the only Muslim country with such laws.
"We are saying this is against Islam. You cannot knock on someone's door at 3am and go into their bedroom and arrest them," she told a press conference after an Islamic forum here yesterday.
Noor Farida added that non-Muslims will also be included in the council as they have been affected by the laws.
She cited as example the tussle over bodies or cases of marriages involving the unilateral conversion of children to Islam.
"A spouse converts to Islam, and then the Shariah Court dissolves the marriage.
"This is something they cannot do because the marriage was solemnised under the Law Reform (Marriage and Divorce) Act 1976 which is a civil law. And then the non-converting spouse has no remedy," Noor Farida was quoted as saying.
Yesterday the group held a forum on Islam and democracy where the speakers at the dialogue warned that Islamic conservatism was pushing Malaysia towards an "apartheid state".
At the end of the forum, the group issued a statement reaffirming its commitment to uphold the Federal Constitution and the Rukun Negara.
http://www.themalaymailonline.com/malaysia/article/g25-wants-anti-constitutional-shariah-laws-reviewed
----------
Saudi teacher rescues five women from blazing car
December 7, 2015
Manama: A Saudi teacher who single-handedly rescued five women out of a blazing car has been feted for his bravery.
Abdul Aziz Al Harbi did not hesitate even for a moment when he saw a car in flames following a horrific crash and rushed to help the five passengers out to safety.
The drivers of the two vehicles were killed in the head-on collision in Al Qaseem on Sunday, the first day of the school week.
The women were teachers being transported to their school and one of the drivers was also a teacher, Saudi reports said.
Abdul Aziz was feted on social media as a hero who was not afraid the fuel tank would burst and risked his life in order to save the women trapped in the burning car.
Prince Faysal Bn Mishal, the governor of Qaseem, called Abdul Aziz to convey his gratitude and to thank him for his gallantry and bravery, Saudi media reported.
Education ministry officials also called to express their gratitude to the teacher who rescued the five teachers despite the difficult situation.
"I salute you for this noble act," Azzam Al Dakhil, the education minister, told him. "God bless you, my son."
A travel company offered him free air tickets and accommodation in the sacred city of Makkah to perform Umrah.
Saudi Airlines, the state carrier, offered him two free tickets to any destination in Saudi Arabia or the Middle East in recognition of his brave act.
Abdul Aziz said that he also received a SR100,000 donation, but did not specify its origin.
http://gulfnews.com/news/gulf/saudi-arabia/saudi-teacher-rescues-five-women-from-blazing-car-1.1632890
----------
Nigerian woman killed in election violence in Bayelsa State
Dec 5, 2015
A Nigerian woman has been killed in violence during polls to elect a new governor in the southern state of Bayelsa.
On Saturday, Bayelsa governor's spokesman Daniel Iwariso-Markson said the woman had lost her life in a shooting incident in the town of Oporoma, located west of Port Harcourt, capital of Rivers State.
"She was hit by bullets fired during the shooting," he said, without giving details.
Further details regarding the victim have not been released.
Officials said a number of other shootings also took place during the day.
Bayelsa governor Seriake Dickson said the attacks targeted his supporters.
"There was a premeditated attack on my supporters in Brass, Ekeremor and Southern Ijaw (municipalities) which left one dead," said Dickson, who is running against former governor Timipre Sylva.
The incident came despite the government's deployment of some 14,000 police officers for the election.
Bayelsa's incumbent governor is seeking another four-year term, while Sylva is seeking to return as governor once again, in a move which is seen by many as a victory for President Muhammadu Buhari's All Progressives Congress (APC) party.
Campaigners on both sides have been accusing each other of being responsible for the violence leading up to the vote.
Nigeria has also been gripped by Boko Haram violence. At least 17,000 people have been killed and more than 2.5 million made homeless since the Boko Haram militancy began in 2009, when the terror group started an armed rebellion against the government.
The terrorists have recently pledged allegiance to the Daesh Takfiri militant group, which is primarily operating inside Syria and Iraq.
http://www.presstv.ir/Detail/2015/12/05/440467/Nigeria-election-Bayelsa-Oporoma-
----------
California female shooter has no links with Pakistan: Nisar
December 7, 2015
Referring to the recent shooting in California, Interior Minister Chaudhry Nisar Ali Khan on Sunday said that the act of an individual does not represent a country or religion, adding that every Pakistani who has a heart and has some understanding will condemn this incident.
Nisar strongly condemning the California shooting incident in US has said that Pakistan will extend all possible legal assistance for investigation about the girl involved in the incident.
"It is sad that a Pakistani woman's name is attributed to this tragedy," he said. He said that Interior Ministry had started the investigations as soon as the name came forward. Nisar said that all media reports about Tashfeen Malik were correct.
"Tashfeen Malik belonged to Dera Ghazi Khan from where the family shifted to Saudi Arabia some 20 to 25 years ago. However, Malik kept visiting Pakistan and completed her education here. Later, she got married in Saudi Arabia and went to the United States from there," he said.
Nisar termed the shooting as an attempt to malign Islam and Muslims, and said that 'such incidents are making life difficult for Pakistan and Muslim Diaspora'.
"The wrongdoing of an individual Muslim or Pakistani does not mean the entire country or religion is at fault," he said.
"The Western world in particular and the world in general are getting the impression that whatever these extremists are doing is actually Islam," remarked the minister.
He said Islam's teachings start with peace and end with peace. "Whatever these terrorists are doing has nothing to do with Islam or Muslims."
He also lauded the US government's approach regarding the case adding that extremists, far right elements in US administration and public are criticising the US government for not blaming Muslims and Pakistanis for terrorism but the government has so far refused to take such a stance.
He criticised the media for reporting that a US delegation had met with the prime minister to discuss the California shooting, adding that the report was false and no such meeting took place.
"There are certain objectives behind such reports. Intelligence information is shared through Ministry of Interior and Exterior. Information about Malik will be shared in accordance with international laws," he said.
Nisar, however, claimed that Pakistan has assured US authorities of full cooperation during their probe into the matter.
Meanwhile, the Foreign Office, in a statement issued on Sunday, vehemently condemned the tragic shooting incident in the US state of California.
The FO spokesman said we offer condolences to the families and friends of the victims in this act of terrorism.
Qazi Khalilullah said the people of Pakistan, being worst victims of terrorism over the years, share the grief of the people of the United States and stand by them in their pain and sufferings.
FIR AGAINST ALTAF NOT FROM GOVT
About the FIR registration of the case of Dr. Imran Farooq, Interior Minister said that it was a purely judicial process and the judiciary will decide the case.
Nisar denied any direct or indirect link of the government with registration of Dr Imran Farooq's murder case against Mutahidda Qaumi Movement (MQM) Chief Altaf Hussain in Pakistan and clarified that the case was registered on the basis of a report prepared by the joint investigation team (JIT), formed to probe the murder of MQM's senior leader in London in 2010.
Addressing a press conference on Sunday, Chaudhry Nisar said that the federal government had only approved the registration of the case in the country, adding that timing for lodging the FIR was also determined by the JIT. He said even Prime Minister Nawaz Sharif was not aware of the progress of the murder case. "In any case, state is the party and not the government," he remarked.
Terming the murder case as one of its kind, the minister said that the suspects are in Pakistan, the bank transactions took place here, but the incident happened in London. British institutions have been taken into confidence in the regard, he added.
Nisar said that cooperation with Scotland Yard would continue in the case, on which he added a new JIT would soon be formed.
"The investigation will proceed according to findings of the new JIT. Scotland Yard will be contacted if a need arises to seek any information."
http://www.pakistantoday.com.pk/2015/12/06/national/california-female-shooter-has-no-links-with-pakistan-nisar/
----------
EY MENA wins global women's economic empowerment award
Dec 7, 2015
DUBAI — Ernst & Young's "Women. Fast Forward" program has been named as the winner of this year's prestigious "Best Global Initiative for Women's Economic Empowerment Award" at the WIL Achievement Awards 2015.
This award recognizes EY's efforts to encourage women's economic empowerment globally.
Samar Obaid, partner at EY, received the award at a ceremony recently at the Jumeirah Etihad Towers, Abu Dhabi. The award was presented by United Arab Emirates Minister of Economy Sultan Bin Saeed Al Mansoori and Sophie Le Ray, CEO of Naseba and the founder of WIL forum series.
Yasmeen Muhtaseb, MENA diversity & inclusiveness leader at EY, said: "We are delighted to receive the award for our "Women. Fast Forward"
initiative. We are confident that with the right policies and leadership support, gender parity in the workplace will become a reality sooner rather than later. EY has been a strong advocate of accelerating women's advancement because we see the economic contribution when women are enabled to realize their full potential and contribute to our societies."
EY's "Women. Fast Forward" program supports the fact that a company with even one woman director outperforms those with none (Global Gender Gap Report 2014, World Economic Forum). The program supports:
1. Illuminate the path to leadership. Good opportunities for progression are considered a top enabler by men (26%) and women (35%), suggesting that organizations must work harder to make the path ahead clearer to women, demonstrate what is possible and show them career opportunities that match their skills and ambition.
2. Speed up culture change with corporate policy change. The twin enablers of work/life balance and flexibility are high on the women's list of accelerators. From its own experience and what the high-performer responses suggest, EY says informal flexibility for both men and women is highly effective in helping all employees balance their personal and professional lives.
3. Establish a supportive environment and work to eliminate conscious and unconscious bias. Men cited unconscious bias as the No. 1 barrier for women in the workplace. Twenty-seven percent of men said that in their own experiences having a supportive culture is the best way to support women's career advancement. To advance women, EY recommends that leaders must spread an organization-wide message that bias is unacceptable.
EY is a global leader in assurance, tax, transaction and advisory services. The insights and quality services it delivers help build trust and confidence in the capital markets and in economies the world over. It develops outstanding leaders who team to deliver on its promises to all of its stakeholders. In so doing, it plays a critical role in building a better working world for our people, for our clients and for our communities. — SG
http://saudigazette.com.sa/business/ey-mena-wins-global-womens-economic-empowerment-award/
----------
Duo accused of confining man, 5 women and demanding Dh15,000
December 6, 2015
Dubai: Two men have been accused of confining a visitor with his five female friends inside a flat for nearly six hours and stealing their passports and mobiles phones.
The duo, K.G. and K.A., from Comoros Islands, were said to have forced their way into the flat and posed as policemen to the Pakistani visitor and his countrywomen friends.
When the visitor failed to give the duo Dh15,000, K.G. and K.A. beat him up and stole the passports and mobile phones of the six Pakistanis.
Prosecutors charged the defendants with theft and illegal confinement.
The suspects pleaded not guilty and refuted their accusations when they showed up before the Dubai Court of First Instance on Sunday.
"We did not do that … we are innocent," K.G. told presiding judge Shaikha Hamad.
According to the charge sheet, prosecutors said the defendants and another suspect, who remains at large, took the Pakistanis' belongings and ran away after they locked them inside the flat in February.
The visitor claimed to prosecutors that the incident happened while he was helping his women friends find accommodation in Bur Dubai.
"A building's watchman took us to a flat to check it out. While we were inside, three men stormed in and claimed to be policemen. They showed us IDs that I could not properly read or see. I handed my passport to one of them … then suddenly another one beat me. They demanded payment of Dh15,000 but I said that I did not have money. They assaulted all of us … and prevented me from escaping. They kept us in the flat for around six hours during which they constantly asked me to pay them money or call some friends to bring me money. Then they stole our mobile phones and passports and ran away," testified the visitor.
One of the visitor's friends claimed that she had asked him to help her find a place to rent, according to her prosecution statement.
"While we were checking the flat, the suspects confined us inside and asked him to pay Dh15,000. They claimed that they would keep our passports in their possession until they collect the money. We were scared and afraid to run away," she claimed.
A policeman testified to prosecutors that the visitor's friend notified them about the incident.
"We went to the building in Al Rifaa … we arrested the duo under the building where they had been waiting to take the money. The suspects claimed during questioning that the visitor owed them that money and they wanted him to pay," he claimed.
Two lawyers will be appointed to defend the suspects when the court reconvenes on December 20.
http://gulfnews.com/news/uae/courts/trio-accused-of-breaking-into-school-stealing-dh23-400-from-safe-1.1632560
----------
California shooter studied at Al-Huda institute: teacher
December 7, 2015
MULTAN: The woman who, with her husband, shot dead 14 people in California last week attended one of the most high-profile religious teaching centres for women in Pakistan, a teacher at the Al-Huda institute told AFP Monday.
Tashfeen Malik, 29, studied at the Al-Huda Institute in Multan, which admits middle-class women and also has offices in the US, the UAE, India and the UK, the teacher at the teaching centre who gave her name only as Muqadas said.
"It was a two-year course, but she did not finish it," the teacher Muqadas said. "She was a good girl. I don't know why she left and what happened to her."
The teacher did not say when Malik studied at the Al-Huda institute, but fellow classmates at the Bahauddin Zakariya University said she had attended the institute after classes at the university, which she attended from 2007-2013.
Farhat Hashmi's organisation, Al-Huda institute, has no known extremist links, though it has come under fire in the past from critics who say its ideology is extremist in nature.
Malik and her husband Syed Farook, 28, went on a killing spree at a social services centre in San Bernardino. Investigators suspect that Malik, who went to the United States (US) on a fiancee's visa and spent extended periods of time in both Pakistan and Saudi Arabia, may have radicalised her husband.
The probe is trying to establish if she had contact with radicals in either country.
An administration official at the academy in Multan said he could neither confirm nor deny that Malik had studied there, and said he would discuss the issue with management.
"But we have nothing to do with it (the shooting) and are not responsible for our students' personal acts," he added.
One of Malik's former classmates at the Bahauddin Zakariya University in Multan, where she studied pharmacology, told AFP she had attended the institute after classes, saying she "drastically changed" during her time there.
"Gradually she became more serious and strict," said the student, requesting anonymity.
A second university student who also requested anonymity confirmed the account.
Pakistan has pledged to crack down on religious seminaries suspected of being breeding grounds for intolerance or even fostering extremism, with the country's information minister Pervez Rashid terming them "universities of illiteracy and ignorance". However the government's efforts to rein in madrassas have prompted anger from many clerics.
http://www.dawn.com/news/1224752/california-shooter-studied-at-al-huda-institute-teacher
----------
KP enacting law to make education compulsory for all children
December 7, 2015
PESHAWAR: The Khyber Pakhtunkhwa government has finally decided to enact the much awaited laws on compulsory education, regularisation of private schools and recruitment of school specific and non-transferable teachers.
The decision was taken in a meeting chaired by Pakistan Tehreek-i-Insaf chief Imran Khan, according to a statement issued here on Sunday.
The senior officials of elementary and secondary education department gave timeframe to Imran Khan for enactment of each law, Mushtaq Ahmed Ghani, the spokesperson for provincial government, told Dawn.
Provincial govt will also legislate to regulate private schools and recruit school-based teachers
"The strategic support unit established at Chief Minister's House will monitor the timeframe given by the education department regarding the impending legislation," said Mr Ghani, who was also present in the meeting, held at Khyber Pakhtunkhwa House, Islamabad on Saturday.
Amendments in Khyber Pakhtunkhwa Universities Act, 2012 regarding relaxing criteria for appointment of vice-chancellors would be introduced in Khyber Pakhtunkhwa Assembly in March 2016, an official told Dawn.
Academic activities at the newly established Women University, Mardan will also commence from March 2016 to provide higher education facilities to girl students from the entire province in general and from Mardan, Charsadda, Nowshera and Malakand districts in particular, says the statement.
The meeting was co-chaired by Chief Minister Pervez Khattak. Besides other, the meeting was also attended by Minister for Elementary and Secondary Education Mohammad Atif, Chief Secretary Amjad Ali Khan, Additional Chief Secretary Dr Hamad Owais Agha, Principal Secretary to Chief minister Dr Shahzad Bangash, secretaries of the relevant departments and a team of Department of International Development (DFID), UK.
Speaking on the occasion, Imran Khan stressed the need for improvement of college and university level standard of education and asked the provincial government to take immediate steps for making educational institutions autonomous and responsible.
Thanking DFID for helping Khyber Pakhtunkhwa government to improve the standard of education in the province, Pervez Khattak said that provincial government was making all required financial resources available for education sector and spending 29 per cent of its budget for improving the state of education and it did not get the loan of a single penny for the purpose.
He directed the higher education department to accelerate work on establishment of Chitral University. He also ordered to provide transport facility to teaching staff of government colleges within the current month. He also directed to expedite the process of legislation for introducing reforms in education sector.
Briefing the meeting on priorities, progress and current status as well as timelines set for achieving the goals in elementary and secondary education and higher education department, Sahibzada Mohammad Saeed, the head of strategic support unit, said that law department had vetted the draft legislation for making school education compulsory for all children in the province and it would be implemented by June 2016.
He said that merit would be established for school based recruitment of teachers and posting and transfers would be checked and availability of teachers would be ensured through another proposed law which had been sent to law department for vetting and it would be implemented by the next April.
http://www.dawn.com/news/1224681/kp-enacting-law-to-make-education-compulsory-for-all-children
----------
Husband-and-wife jailed for RM6.78 million scam
Ho Kit Yen
December 7, 2015
KUALA LUMPUR: A man and his wife were jailed by the Sessions Court for a RM6.78 million get rich quick scam involving buying and re-selling air and car racing tickets. They were charged under the Penal Code, Banking and Financial Institution Act (BAFIA) and the Anti-Money Laundering and Anti-Terrorism Financing Act (AMLAFA)
Sessions Court judge Abdul Rashid Daud jailed Ahmad Sabri Abdul Manat and his wife Fellinnia Saruti Sadri, four years and one year respectively, from the date of their arrest on January 21. They pleaded guilty to a total of 54 charges under the three Acts. Monday was fixed for trial but the couple changed their plea. Upon hearing sentence, Fellinnia broke down in tears. Her husband remained calm.
They were charged in February this year.
According to the facts of the case, Sabri started an "investment" scheme based on Malaysian Airlines (MAS) and Formula One (F1) tickets. He persuaded victims that he obtained a special price when he bought the tickets and that they could sell the tickets at 10 to 15 per cent higher.
Sabri collected RM6.78 million from victims between April 2010 and February 2011. He deposited RM4.43 million in Felinnia's bank account.
During mitigation, Sabri's lawyer Shahrom Mohamad told Judge Abdul Rashid that his client was suffering from pneumonia. "He needs constant medication and treatment for his illness."
"He seeks the court to hand down a lighter sentence."
He added that Sabri regretted his action and that he was led astray by greed to earn money without working.
Fellinnia's lawyer Ahmad Faris Khairudin said during mitigation that she was only an accomplice. "Her involvement was minimal. She was persuaded to use her account for the money transfer."
"The Attorney-General Chambers has accepted the letter of representation by her asking for a light sentence."
Deputy public prosecutor Nurshuhaida Zainal Azahar told the court that a deterrent sentence should be imposed.
http://www.freemalaysiatoday.com/category/nation/2015/12/07/husband-and-wife-jailed-for-rm11-million-scam/
----------
Shahrizat: Wanita Umno to focus on women professionals, corporate members
December 7, 2015
KUALA LUMPUR, Dec 7 — Wanita Umno will be more aggressive in approaching women professionals and corporate members to help alleviate their position.
The movement leader, Datuk Seri Shahrizat Abdul Jalil said these group of women were the decision makers and they contributed to the country's development, but were not given due recognition.
"Wanita Umno will form a group specially to focus on championing this group of women professionals. I will also meet them periodically to know issues facing them.
"We are not pursuing just political issues, but to also look after the interests of women in all fields," she told reporters at the 'Women Power Talk' programme here today.
The speakers at the event included Second Finance Minister Datuk Seri Ahmad Husni Mohamed Hanadzlah and Deputy Higher Education Minister Datuk Mary Yap Kain Ching.
Shahrizat said Wanita Umno would also develop a data base to gather information on women professionals and corporate figures.
We have applied for fund from Umno Malaysia for the purpose and it has been approved, she added.
Meanwhile, Ahmad Husni praised Wanita Umno for the initiative taken.
In his speech, he said in a country which is moving towards achieving the
developed status, there is a need for all quarters to equip themselves with knowledge, skills and new technology to be able to keep abreast with others.
"Now, the world landscape has changed where the people should not be too dependent on the government, there should be capacity building," he added. — Bernama
http://www.themalaymailonline.com/malaysia/article/shahrizat-wanita-umno-to-focus-on-women-professionals-corporate-members
----------
Juvenile, four others plead not guilty to raping 14-year-old girl
December 7, 2015
JOHOR BARU, Dec 7 — Five men, including a 16-year-old, pleaded not guilty in the Sessions Court here today to a charge of raping an under-age girl.
Muhammad Nuzul Ikhram Nurallail, 19, Mohamad Ridzuan Mohd Asri, 19, Muhammad Saiful Fauzi, 18, Muhammad Azlan Md Lazan, 19, and the juvenile, made the plea before Judge Mohamad Haldar Abdul Aziz.
The five men, together with another person still at large, were charged with raping the 14-year-old girl at a public toilet at a recreation park at Taman Setia Tropika, Kempas here between 12.30 am and 2 am last September 30.
They are charged under Section 375B of the Penal Code which carries an imprisonment for up to 30 years, if found guilty.
No bail was offered by the prosecution which was conducted by deputy public prosecutor Norashikin Ibrahim.
Mohamad Haldar set Dec 30 for mention. — Bernama
http://www.themalaymailonline.com/malaysia/article/juvenile-four-others-plead-not-guilty-to-raping-14-year-old-girl
----------
Snapchat comes in handy for female poll candidates
7 December 2015
JEDDAH: Social media is the most widely used medium used by female candidates to promote their candidature for the third municipal elections.
In addition to the use of Twitter, Instagram, Facebook and YouTube, the Snapchat application entered the race as many candidates began using it to show their electoral platforms.
Women in particular are using social media as their best option in view of the regulations on campaigning for the elections. Social media is also the cheapest way of campaigning, suiting the financial capabilities of the majority of candidates.
Speaking to a local publication, Hala Hakim, one of the female candidates said: "The majority of the female candidates chose the C category license which is limited to using media and publicity because it suits their financials."
She said using social media to publicize for the municipal elections gives the candidate "a better chance to reach voters, especially since a high proportion of Saudis from all age groups consider such media outlets an important part of their daily schedule."
She added: "It is difficult for most women to go to any campaign headquarters."
Ahmad Bayoini, an information technology expert, said social media opened new doors for candidates to reach voters. "It became an integral part of the campaign drive. Internet in general has many features and options, such as establishing a special website for the candidate, or a page on any networking site which provides interactive methods such as video or direct contact with the targeted segment of society."
He added that social media is considered a complementary means and candidates cannot depend on it totally without resorting to other traditional means such as meetings, seminars and lectures.
Hani Al-Ghamdi, a social consultant, demanded official television channels and radio stations broadcast special programs on the elections to give male and female candidates equal chances to display their political platforms and raise awareness on the municipal elections, and the importance of participating in it.
"We can see now that preparing for the elections by both candidates and voters, compared to the population is not satisfying. This requires more awareness programs to familiarize the public on the municipal electoral process," he added.
He said that if the official television and radio channels broadcast special programs on the municipal elections and gave equal opportunities to candidates, it would help in disseminating an electoral culture and help the people choose their candidates.
http://www.arabnews.com/saudi-arabia/news/846691
----------
Call to protect salons run by women legally
7 December 2015
JEDDAH: Some government officials have urged the Ministry of Interior to ensure that all government departments are aware of licensed services at beauty salons.
The request comes following the banning of massage services for women by some government officials at salons, spas and hotels, local media reported on Sunday.
The letter to the ministry emphasizes the need to protect such services and business activities, so long as they have been properly licensed via official channels, describing such activities as "rights that are projected by laws and regulations."
"In the event of a violation, the guilty should be penalized in accordance with relevant regulations, without impacting the provision of services to citizens and residents," the letter reads.
Reports published in June 2015 had pointed to the requests by businesswomen in the beauty industry to the municipalities to reverse the ban on massage centers and female sports centers. Many businesswomen had said they suffered tremendous losses after having invested heavily to establish such businesses and purchased "very expensive" equipment.
Businesswomen were forced to close down their centers and provide home services to customers to cover employee salaries. The municipalities first approved such businesses and then issued a ban order, the report said.
Jawaher Al-Aql, head of the committee of women's centers at the Riyadh Chamber of Commerce, said the ban "prompted women to call for punishing only violators, rather than generalizing and penalyzing everyone in the sector, especially as this has forced women to turn to the black market to obtain the needed services."
http://www.arabnews.com/saudi-arabia/news/846631
----------
46 Saudis marry African women
7 December 2015
JEDDAH: The civil status courts have recorded 46 cases of Saudi men marrying African women over the last two years. Saudis marrying Sudanese women were the largest number with 16 contracts followed by 12 Eritreans.
The figure included 12 marriages to Nigerian women and five to Ethiopians. The number of Saudis marrying American women was seven while British women came last.
The Ministry of Justice is studying the imposition of penalties on Saudi violators who marry non-Saudi women without following the proper procedures. The penalties would be imposed on those who marry a foreign woman without documentation in any Saudi embassy or civil status courts if the marriage takes place in the Kingdom.
Rayan Mufti, legal adviser and lawyer, said the Ministry of Interior had made regulations to cover the marriage of a Saudi to a non-Saudi woman and vice versa.
There is no set punishment for a person who marries a foreign woman without documenting the marriage at a Saudi embassy or, if inside the Kingdom, through the civil status courts.
Such marriages result in children without documents to prove who they are and what their nationality is. Children should have personal documents to prove their identity and parents who fail to provide them will be punished.
The legal adviser added that the majority of undocumented foreign marriages inside the Kingdom are mostly entered into by military men and young people whose requests have been rejected because they were not of the legal age that enabled them to sign a marriage contract.
Scholarship students who marry outside the Kingdom often fail to document their marriages for fear of losing their scholarships. They may marry and leave their children without any identification documents.
He said that one penalty for a Saudi man marrying a non-Saudi included disciplinary action by the Board of Grievances and not being allowed to bring his spouse into the Kingdom.
Ibrahim Mubarak Al-Juwair, professor of social sciences, said compatibility between couples increases the chances of success of marriage. He pointed out that marrying a woman from another nationality needs skill and sacrifice to make a successful marriage.
Some men are tempted to marry foreign women, but after a while, differences surface and the marriage is terminated.
http://www.arabnews.com/saudi-arabia/news/846736
URL: https://newageislam.com/islam-women-feminism/sc-rejects-uniform-civil-code/d/105533
Womens in Islam, Islamic Feminism, Arab Women, Womens In Arab, Islamphobia in America, Muslim Women in West, Islam Women and Feminism