New Age Islam News Bureau
6 Aug 2015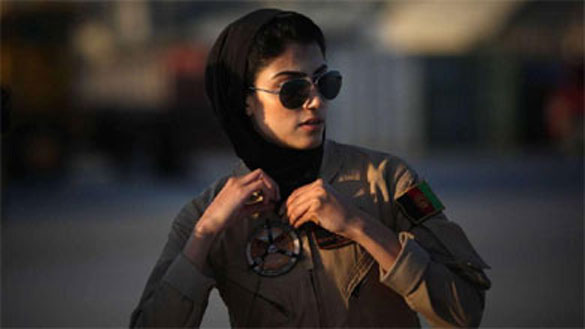 Niloofar Rahmani (23) is a pilot of the Afghan Air Force
----------
• Saudis Warned Over Marrying 'Unidentified' Yemen Women
• In Afghanistan, Death Threats Shatter Dream of First Female Pilot, Niloofar Rahmnai
• Making a Case for Saudi Arabia's Women Entrepreneurs
• Malaysian Girl, 11, Shocks Grandmother by Giving Birth
• Sharp Rise In Women, Children Casualties in Afghan War, UN Says
• Indonesia Maid Who Escaped Death Sentence Set To Leave Saudi
• 'Shut Up Your Mouse Obama' Muna Al-Beheiri Seeks To Attend Suez Canal Opening
• Pak Govt-Unicef Plan to 'Improving Quality Of Life of Women, Children'
• More Muslims Are Signing Up For Halal Dating, But How Islamic Is It?
Compiled By New Age Islam News Bureau
URL: https://www.newageislam.com/islam,-women-and-feminism/new-age-islam-news-bureau/saudis-warned-over-marrying--unidentified--yemen-women/d/104192
-------
Saudis Warned Over Marrying 'Unidentified' Yemen Women
06 Aug 2015
Saudi Arabia has warned its citizens against marrying "unidentified" women from areas along the border with Yemen, adding that those who marry foreigners without permission will be punished.
The interior ministry said in a statement on Thursday that it had noted that some elderly men, particularly those living near the border, had approached authorities to legalise the situation of their "unidentified" wives, despite knowing they were breaking the law.
"Due to the serious consequences resulting from this issue, [the interior ministry] urges citizens to observe the law, pointing out that anyone who marries a foreign woman without prior permission will be brought before the competent authorities for punishment for dealing with unidentified people," the interior ministry said.
The conflict in Yemen has forced at least 30,000 Yemenis and nearly 10,000 third-country nationals to flee to Saudi Arabia, according to the UN refugee agency.
Since the beginning of the Saudi-led air strikes on the country, many of those fleeing have smuggled themselves illegally through the two countries' 1800km border.
Others have stayed in the kingdom beyond their permitted visa period.
In May, the Saudi king issued an order allowing Yemenis living illegally to settle their situation, prompting thousands to queue at the Yemeni embassy in Riyadh to receive a residency permit.
The interior ministry indicated that it was during that period that Saudi elderly men wanted to settle the situation of their wives.
'Desperation and poverty'
It is common for elderly Saudi men to marry much younger Yemeni women, Saba Zawbah, national coordinator for human rights projects at the UN development agency, told Al Jazeera. Many of them are underage girls, she said.
Zawbah said that "tourism marriage" had been very common in Yemen over the recent years, whereby "Saudi men in their forties and fifties would marry young women aged as young as 12 in return for money given to her family."
"The desperation and poverty of Yemeni families in Saudi Arabia could lead to a similar situation there," she said.
In the Middle East, Saudi Arabia and Yemen are the only Arab countries that do not have laws setting a minimum age for marriage.
According to a December 2011 Human Rights Watch report, approximately 14 percent of girls in Yemen, the Arab world's poorest nation, were married before the age of 15, and 52 percent were wed before they turned 18.
http://www.aljazeera.com/news/2015/08/saudis-warned-marrying-unidentified-yemen-women-150806110721916.html
-----------
In Afghanistan, Death Threats Shatter Dream of First Female Pilot, Niloofar Rahmnai
Aug. 4, 2015
KABUL—At age 21, Niloofar Rahmani became Afghanistan's first female fixed-wing military pilot, living out her father's dream and emerging as a symbol of her country's revolutionary assent to roles for women outside the home.
That was also when her life began to unravel. "This was my dream job," the Afghan Air Force captain said. "I never thought I would want to quit."
Now 23 years old, Capt. Rahmani faces death threats from both the Taliban and members of her extended family for daring to work in the male-dominated world of military aviation. Her parents and siblings also fear for their lives, and the family of eight lives in hiding, their comfortable middle-class life lost.
The U.S.-led coalition had publicized Capt. Rahmani's achievements, helping turn her into one of the faces of the post-9/11 generation of Afghans, those who came of age after the end of Taliban rule. Online photos of the young pilot in her khaki jumpsuit, loose head scarf and aviator sunglasses went viral.
Her experience, however, reveals the limits on women's rights here, despite the sizable investment by the U.S. and its allies to promote gender equality. Among the advances: Girls schools have opened, women have joined the workforce and some have shed their burqas. But efforts to empower women have at times clashed with traditional Afghan culture.
Capt. Rahmani grew up in a family that embraced the U.S.-backed order that followed the Taliban's ouster. When the Afghan Air Force began recruiting women, she signed up in 2011 with the support of her family. She was 18 years old.
"We should have this right in Afghanistan," she told The Wall Street Journal during training in 2012, and urged other young women to follow. "I decided to join the military to be an example for others."
Capt. Rahmani flies a Cessna 208 turboprop plane that ferries soldiers to battle—and sometimes brings home their remains. A year ago, she became an aircraft commander.
Her father, Abdoul Wakil, had wanted to join the Afghan Air Force as a young man in the 1980s. "The children knew that their father's dream hadn't come true," he said. "But I never imagined that by becoming a pilot we would face such problems, that we would suffer this much."
By 2013, Capt. Rahmani had become well-known in Afghanistan and that was when the threatening phone calls began. At first, she had trouble understanding the shouted messages. The men calling didn't speak her language, Dari. But their message was clear: Quit or die.
A letter then landed on her doorstep one night. "You have not taken our threats seriously," said the letter, dated Aug. 3, 2013. "Islam has instructed women not to work with the Americans or British. If you carry on doing your job, you will be responsible for your destruction and that of your family."
The mailed threat was signed by a faction of the Pakistani Taliban, the Tehrik-e Taliban Swat. It advised her "to learn from Malala Yousafzai," the teenage Nobel laureate who was nearly killed for campaigning for women's rights in her home valley of Swat, Pakistan. The family, including Capt. Rahmani, temporarily fled to India.
More frightening, Capt. Rahmani said, were threats from relatives who accused her of shaming the family. In one photo widely shared on social media, two female U.S. pilots lifted Capt. Rahmani in celebration after her first solo flight. Rumors spread that the U.S. pilots were actually men, and they were converting her to Christianity.
Some of Capt. Rahmani's male relatives, including uncles and cousins, believed the only way to restore their family honor was to punish her, she said. After a guard halted a break-in at the longtime family home in Kabul, she said, they sold the house. They have since moved houses every few months.
After Capt. Rahmani returned from India, the Afghan Air Force asked her to quit, saying she had abandoned duty. She said pressure from the U.S.-led coalition kept her job.
Over the past year, Capt. Rahmani's brother Omar said, he was twice attacked, first in an attempted shooting near his university, and then in a hit-and-run that broke his arm. The family's main breadwinner—Mr. Wakil, an engineer—lost his job last fall after harassment by his colleagues over his daughter's notoriety, Mr. Wakil said.
Capt. Rahmani's older sister, Afsun, has suffered her own consequences: Her husband's family shunned her, and she is now divorced, a rare and shameful circumstance in Afghanistan. As a result, she hasn't seen her 4-year-old son in more than a year, according to family members.
"Had I known, I would never have put my family through this," Capt. Rahmani said. "Despite the situation we are in, they are still supporting me. Sometimes I feel that if I didn't have their support, I wouldn't be alive."
In March, the U.S. Department of State honored Capt. Rahmani with an International Women of Courage Award, acknowledging the personal risks she took for her career. She visited San Diego to fly with the Navy's Blue Angels, and the mayor proclaimed March 10, 2015, "Captain Niloofar Rahmani Day."
Capt. Rahmani's superiors were reluctant to grant her permission to travel to the U.S. and gave no recognition of the honor when she returned, Capt. Rahmani and foreign officials said.
"Niloofar is not the only one who is being threatened—all pilots are," said Col. Bahadur Khan, spokesman for the Afghan Air Force. "The enemy doesn't distinguish between men and women. She should stand firm against the threats and serve the country bravely."
Of the threats and attacks on her family, Capt. Rahmani said, her superiors have told her, in essence: You knew what you were getting into. We didn't force you to join.
"Her visibility served on one hand as a source of inspiration, but on the other hand as an irritant to those who were not progressively minded," said John Michel, a retired U.S. Air Force Brigadier General who was in charge of the U.S.-led coalition's Air Training command until August 2014. "It's disappointing to hear where we are at now."
Although Afghanistan is short of skilled pilots, Capt. Rahmani hasn't flown since early July because of security risks.
The U.S. military has offered a chance for her to temporarily relocate to the U.S. for training aboard C-130 transport aircraft, an opportunity she is eager to pursue. She also could enroll in aviation school outside Afghanistan to obtain a commercial pilot's license, she said, an expensive option her family can't afford without help.
"I really wanted to be in the military. I really wanted to be in the Air Force," said the aviator, currently one of three female Afghan military pilots. "But I can't continue like this."
—Nathan Hodge contributed to this article.
Write to Margherita Stancati at margherita.stancati@wsj.com
http://www.wsj.com/articles/in-afghanistan-death-threats-shatter-dream-of-first-female-pilot-1438738716
-----------
Making a Case for Saudi Arabia's Women Entrepreneurs
Zakia Al Moammar
August 6, 2015
I opened Hasna Riyadh, or Riyadh Lady, in 1960. Wearing my abaya and hijab, I would sell dresses to ladies who lunched in Saudi Arabia's capital. They wanted to get their hair and nails done, wear beautiful outfits and go to parties, but they had nowhere to go for such things. Riyadh was still a small town. I would buy two or three of each design from Lebanon, and later London, for my customers. Sometimes Italian traders would come to show me their items.
I was the first Saudi woman to do this, so I had a lot of trouble from the muttawa, the religious police. They would say they saw men going into my shop and other things to get me to stop trading. They did not like seeing a woman owning and running her own business. I was an oddity and went against the social norms of the time, and still do for many today.
Women loved the store. But I didn't make enough money as my expenses were high and I was too trusting of people, some of whom would take dresses with the promise of paying me later. It was also very tiring; I was in my 30s and had six children. Neither this nor the muttawa stopped me, but profitability forced me to close my doors. People would come to me afterwards: "Why did you shut it, why did you shut it?" they asked.
The shop, however, gave me the tools to get into the real estate business on the advice of a friend of the family. I sold the shop and used the money to buy land, which was very cheap at that time. I started small but traded up and up, making profits along the way. A lot of men would come to my house to solicit land.
They refer to me as Umm Mohammad, the mother of Mohammad — which is the name of my son.
Transition
In some ways it was a much more private business than the shop. But I was not afraid of anyone. I moved into building small apartments, and later shopping malls. Although I am now in my 80s — I'm not sure of my actual age — I am still very active, despite my bad knees.
My pickup trucks are my prized possessions. I get in the back so I can survey land as my driver takes me around. I am very hands-on and my staff know it. The container office at the back of my garden will be crane-lifted to my next project in just a few days. From there, I can inspect pipes and meet with accountants and engineers. I sometimes like to arrive first so I know who is on time.
I remember details of every transaction: each dress I sold, the rents I collected, the name of each customer. I made mistakes, of course, but when anyone starts something new this is inevitable. My husband came from a prominent Saudi family and was an adviser to King Abdul Aziz and then King Saud. We had connections. Some people were helpful, others were not.
But this was my own money — in Islamic culture women keep their money after marriage — and these were my own businesses. I had pride in what I did and I am proud of what I've achieved without a single day of formal education.
Those women who say they do not want or need to work are lazy. They just want to socialise and watch television. It used to be much harder for a woman in the kingdom, but not anymore.
Women need to work. There are strong, intelligent, courageous, educated women here. People outside Saudi Arabia don't know it.
We are the matriarchs of the family and we are the ones who will help the country progress socially and economically. This is not a backward place, as many in the West imagine.
I liked Margaret Thatcher a lot. She, like me, dealt mainly with men. She was strong and well respected.
My staff, many of whom have been with me for decades, say the same about me. I don't know why the men were, and still are, afraid of me. I am very pleasant.
http://gulfnews.com/opinion/off-cuff/making-a-case-for-saudi-arabia-s-women-entrepreneurs-1.1562466
-----------
Malaysian Girl, 11, Shocks Grandmother by Giving Birth
6 HOURS AGO
BAHAU (THE STAR/ASIA NEWS NETWORK) - An eleven-year-old girl gave birth to a baby boy at a private clinic near here on Wednesday morning, and police are now looking for the man who is believed to have raped her.
Jempol police district chief, Supt Hamzah Alias, said the grandmother had taken her to a private clinic when she complained of abdominal pains early yesterday.
The grandmother was stunned when the doctor informed her that the girl was experiencing labour pains.
The Year Five pupil, who is doing fine after delivering the baby, has been admitted to the Tuanku Ampuan Najihah hospital in Kuala Pilah for observation.
Her baby, although born underweight, is also doing fine.
"The girl's family has lodged a police report. We hope to arrest the suspect soon. This is statutory rape," he told The Star.
The man, who is in his 30s and has a criminal record, is not related to the girl.
Police have classified the case under Section 376 of the Penal Code which provides a jail sentence of up to 20 years prison and whipping.
"Preliminary investigations showed that the girl lived with her grand­mother. We are still trying to establish the facts of the rape case," he said.
When contacted, State Welfare, Women and Family Development Committee chairman Norhayati Omar said she was appalled by the incident.
"I have not met the girl or her family but it is sad that this had to happen," she said, adding that she planned to visit the girl soon.
Datuk Norhayati said this is believed to be the youngest case in the state.
She added that she was told the girl, who is the eldest of three siblings, knew she was pregnant but did not dare tell her family.
Asked whether the girl or her family would be allowed to keep the baby, Ms Norhayati said this could not be determined as yet.
"I need to talk to her family and get the details. Only then will we be able to decide the next course of action," she added.
The girl's father is a lorry driver while her mother works in a restaurant as a helper.
http://www.straitstimes.com/asia/se-asia/malaysian-girl-11-taken-to-clinic-for-abdominal-pains-but-shocks-grandmother-by-giving
-----------
Sharp Rise In Women, Children Casualties In Afghan War, UN Says
August 5, 2015
The United Nations said in a report Wednesday that an increasing number of women and children were getting hurt or killed in Afghanistan's war against the Taliban and other anti-government fighters.
The number of casualties among women rose by 23 percent and the number of casualties among children rose by 13 percent in the first six months of 2015 as compared to the same time period last year, the report said.
Dominic Medley, a spokesman for the U.N.'s Assistance Mission in Afghanistan, told Al Jazeera that the significant increase in casualties among women and children could be blamed on a combination of factors, including more ground fighting — the leading cause of civilian casualties — and a rise in the use of indiscriminate weapons.
Ninety percent of all civilians casualties resulted from ground engagements, improvised explosive devices, suicide attacks and targeted killings, the report said.
UNAMA attributed 70 percent of the 4,921 civilian casualties to insurgent forces, including 1,592 deaths. Meanwhile, the total number of casualties in the almost 14-year conflict was up one percent in the first half of this year, compared to the same January to June period last year, the U.N. report said.
Among those killed was 14-year-old son of Khakishah Ghafouri. The teen was killed by the blast wave of a suicide bomb attack targeting a military convoy of foreign soldiers on the main road to Kabul airport.
"He was a good, smart and brave boy. He told me all the time he wanted to be a lawyer," Ghafouri told Al Jazeera. "When these suicide attacks happen, the poor people suffer, because in every suicide attack, many people die, many are injured — it's all civilians."
UNAMA chief Nicholas Haysom said, "the cold statistics of civilian casualties do not adequately capture the horror of violence in Afghanistan, the torn bodies of children, mothers and daughters, sons and fathers."
Afghanistan's security forces have been fighting the Taliban alone since the withdrawal of U.S. and international combat troops last year. The Taliban have sought to take advantage by escalating their attacks, spreading their footprint from the south and east to the north, and joining forces with other insurgent groups.
Afghan officials have said other armed groups, as well as the Islamic State in Iraq and the Levant — which controls about one-third of Syria and Iraq and has a small but growing presence in Afghanistan — have joined the anti-government war.
In a worrying trend, more civilians were injured or killed by government forces than the Taliban during armed clashes, the U.N. said, although the insurgents remained responsible for the majority of civilian casualties overall. Explosive devices like mortars, rockets and grenades used during clashes caused most of the injuries and deaths during ground engagements, the U.N. said.
Heather Barr, a senior researcher on Afghanistan with the New York-based Human Rights Watch, echoed UNAMA's call for all parties in the Afghanistan conflict to avoid harming civilians.
The Afghan government "has to take responsibility for civilian casualties — it has to educate its forces about what international law is on the protection of civilians, and if there are deaths caused by government forces, they must be investigated," Barr said.
With no NATO troops on the battlefields following the withdrawal of international combat troops from Afghanistan at the end of last year, she expressed concerns those numbers could rise further.
"There seems to be no willingness by the government to take seriously these problems," Barr said. "As there are fewer and fewer international forces to watch and constrain what the Afghan security forces are doing, there is less constraint than before, and no reason to believe things will improve with the continuing drawdown."
Al Jazeera and wire services. Jennifer Glasse contributed to this report from Kabul.
http://america.aljazeera.com/articles/2015/8/5/un-reports-rise-in-afghan-women-children-casualties.html
-----------
Indonesia Maid Who Escaped Death Sentence Set To Leave Saudi
5 August 2015
An Indonesian women who have previously been sentenced to death in Saudi Arabia for allegedly practicing witchcraft is set to fly home, after efforts made by Jakarta to have her set free, local daily Arab News reported on Wednesday.
Rika Mustikawati, a domestic helper who was sentenced to death in 2012 in the southwestern province of Asir, had been charged by authorities for practicing witchcraft on her employer's wife.
In 2012, several months after Mustikawati's imprisonment, the Indonesian Consulate's legal team made efforts to have her released.
The appeals court decided to annul her death sentence and recommended a hearing with a new judge. The new trial resulted in the maid's sentence being commuted from capital punishment to a three-year-jail terms.
"The case is closed now; she is relieved and will fly home," Syarif Shahab, information secretary at the Indonesian Consulate in Jeddah, told Arab News on Tuesday.
Mustikawati is one of 68 Indonesian workers since 2011 who has been spared a death sentence after intervention from Jakarta – and one of 12 so far this year.
24 Indonesian citizens are currently in prison facing the death sentence – 12 for charges of murder, nine for adultery and three for practicing black magic, according to an Indonesian foreign ministry statement.
http://english.alarabiya.net/en/News/middle-east/2015/08/05/Indonesia-maid-who-escaped-death-sentence-set-to-leave-Saudi.html
-----------
'Shut Up Your Mouse Obama' Muna Al-Beheiri Seeks To Attend Suez Canal Opening
August 06, 2015
Muna Al-Beheiri, the Egyptian woman who famously told Obama to shut up his "mouse," denied that she will deliver a speech during the opening of the new Suez Canal.
She told Al-Arabiya that she did in fact submit an application to participate in the event and now awaits the approval to attend.
Beheiri said she submitted a request to participate at the Monufia governorate, her hometown, where officials told her all invitations have been handed out and that the management of the Suez Canal authority has only settled with 8,000 guests, adding that she requested them to find a way for her to participate and they've promised to do so. — Al Arabiya.net
http://www.saudigazette.com.sa/index.cfm?method=home.regcon&contentid=20150806252544
-----------
Pak Govt-Unicef Plan to 'Improving Quality Of Life of Women, Children'
August 06, 2015
LAHORE: The Punjab government and Unicef, the United Nations agency for children, have joined hands for provision of human and technical support to government partners and international non-governmental organisations for enhancing capacity building of administrative departments.
An agreement was signed by Planning and Development Board Chairman Irfan Elahi and Unicef Senior Representative in Pakistan, Angela Kearney, at a ceremony at the Planning and Development Complex here on Wednesday.
Under the 2.5-year agreement, Unicef would provide technical assistance of $37 million to the Punjab government for implementation of multiple-year work plan (MYWP) that took effect from July and would run till December 2017. To be implemented through government structures, the plan would contribute to improving the quality of life of women and children in Punjab.
The programme would focus on supporting the Punjab government in improvement of maternal and child health, improvement in sanitation, addressing stunting and malnutrition among children, reducing child mortality, polio eradication, emergency preparedness and response with a key focus on disaster risk reduction and promotion of education for all, focusing on the marginalised and disadvantaged population in the province.
Irfan Elahi acknowledged Unicef's long partnership with the Punjab government. The continued technical and financial support by Unicef has produced results on ground, he said while pledging stronger working partnership with the organisation in the future.
Angela Kearney thanked Elahi for coordinating the development platform in the province that catalysed Unicef's participation in the development space in promotion of realisation of children and women's rights in the province.
She recommitted Unicef's continued support to the government for capacity and service delivery development and strengthening while calling on provincial development partners to ensure utilisation of available resources for development.
Published in Dawn, August 6th, 2015
http://www.dawn.com/news/1198700/govt-unicef-plan-to-improving-quality-of-life-of-women-children
-----------
More Muslims Are Signing Up For Halal Dating, But How Islamic Is It?
06 August 2015
Written by Mushamir
Welcome to Malaysia, where 35-40 percent of the population are single, unmarried, divorced and widowed, according to the Statistics Department.
In 2010, those aged 15 years and above who were never married accounted for 40 percent of the population in Malaysia, with 37 percent of Malaysians in Kuala Lumpur, and 35 percent of those in Selangor yet to get hitched.
The percentage of males who were never married (37.8 percent) was higher than females (32.2 percent). By comparison, the percentage of males and females who were married were almost similar at 59.8 percent and 59.4 percent respectively.
It is no surprise that we have Tinder, OkCupid and many other dating services that try to make matches between those looking for a partner, for whatever reasons.
But interestingly, there has equally been a rise of 'Muslim', or 'Halal', dating and matchmaking services lately, that leverage on their compliance with Shariah and Islamic Sunnah methods in sanctioning a holy match make.
Once, a Muslim man could only walk so far in his village to find a potential mate, and end up in a traditional arranged marriage to a Muslim woman of family acquaintance. But now, the emergence of Muslim dating services has simplified the matchmaking process for Muslim singles to find a potential life partner in safe environments.
Dating services like Halal Speed Dating, Mat Dan Minah, SingleMuslim.com, SecondWife.com and other social platforms, offer Muslim singles a chance to get to know one another and maybe find life partners, in the name of the Almighty.
Malaysian Digest looks from a religious point of view at how these 'Islamic' dating methods nowadays are in line with Islam, and we also tackle the tangly issue of finding second, third and fourth wives in this age of Halal dating.
Halal Speed Dating?
HalalSpeedDating.com is the brainchild of three friends — Norhayati Ismail, Zuhri Yuhyi, and Syed Azmi Alhabshi — who wanted to provide a more Shariah-compliant social platform that match makes singles the Islamic way − that is, interaction with potential love interests, all while being supervised by a wali (guardian of a potential bride), mahram (blood relation), or a chaperone.
Malaysian Digest speaks to Zuhri Yuhyi, as one of the co-founders of Halal Speed Dating on their recent first matchmaking event.
"It went very well, as we got an overwhelming response. We were targeting for 40 people, but instead 1,200 people registered their interest. More than 90 percent were serious to get married.
"Yes, the demand is high and it is highly required to avoid a lot of social ills, heartbreaks, and premarital sex.
"The reason we had around 80 people for our first event was because of the venue capacity, and the time limit of 3 hours. Some of the registrants came from Singapore, Norway, and we even had an 18-year-old female.
"Out of the 80, there were 14 matches. And surprisingly, there are more girls than men, that is something we are still trying to figure out, where are the men?
"There are more single men than women in Malaysia, the ratio at the event, 3 to 1 (women to men), for industry standards it's a very good number. I've personally been to many matchmaking events where there's 10 women to 1 men, and we've achieved 3 to 1, that's significant for such events.
"It's not speed dating if it isn't fast, so each person has around five minutes to talk with a different candidate," he shared.
Zuhri then affirmed of the short listing process for the candidates.
"We pre-screen each one when they register, asking them to write down their intentions and an essay about themselves and the types of spouses that they want.
"From this we can sense what kind of person they are looking for (characteristics) and we also shortlist and prioritise those who want to get married within a year," he added.
How Islamic Can Speed Dating Be?
Speed dating, or Tinder swiping, or OkCupid messaging are all synonymous with the hook up culture. So, how has this Halal version been more Islamic?
Zuhri tells us: "It's safe to compare this to Islamic banking, where it's not just for Muslims, it's for others as well. What's different is that the method is carried out in a Shariah-compliant manner.
"Because according to Islamic requirements, for example, when a woman wants to interact with a man, they need a wali or chaperone, or a family member to be present. It has to be done in a dignified manner.
"The reason for doing this is that we want to speed up prospects of meeting candidates. I believe it is more efficient, for example if I have a friend who wants to introduce me to a lady, it might take some time.
"But when you come to the event and meet 30 candidates at the same time, along with your wali, it helps speed up the matchmaking process. It is a big decision to make when talking to 20 different ladies for only five minutes.
"If you want to discuss further with different ladies, you'll have to submit a form to us. And if one of the ladies' match with you, then we will contact you to inform about the match, and we'll pass you the contact number of her wali.
"We've also included a lot of other Islamic practices too, such as no dating. Yes, we call it halal speed dating as it's easy to explain, but we don't encourage the act of dating. There's no dating in Islam for strangers to get together and such.
"After the speed date, if a man wants to talk to the lady, he will be given the contact of the chaperone, not hers. Future dates will have to be chaperoned until they get married," he explains.
Chaperones, In The 21st Century?
One way of describing Islamic matchmaking is to avoid fitnah (slander), or defined as anything that can bring about bad mouthing, intentions, and assumptions from other people that a couple might 'be up to no good'.
Zuhri enlightens further of how the dating scene as we know it is considered a new concept.
"This isn't strictly an Islamic way only. Other cultures have also practiced this a long time ago, and during our grandparents' time, they did not go out on dates.
"If a guy was interested in a girl, he'll go to talk to her, and if she agrees, and her parents agree, they get engaged, then get married. It was done in a very responsible way. They don't go out dating.
"We want to bring back this beautiful tradition, back when divorce rates and social ills were lower, compared to nowadays.
"We believe there's a strong correlation − that if people start their marriage in a respectable manner, their marriage will last. That's the spirit of Halal speed dating - dignified with a chaperone matchmaking event," he claims.
How About Dating For Second, Third, And Fourth Wives?
"We had one or two people looking for second wives, and a woman even registered to look for a second wife for her husband (with her own reasons), which were according to the Sunnah.
"We respect that but we focus more on those who are single and not married, and the divorced and widowed.
"It's not really our focus right now, providing second wives for those who are already married, even if it is permissible and legal in Islam and Malaysia.
"During registration, we ask if one is divorced or married, and we ask all candidates to be transparent.
"Men cannot find second wives without the consent of his first wife, which is the law in Malaysia. We are not planning to go that way," he shared.
A Religious Cleric Approves Of Halal Speed Dating
To find out if Halal dating services are a way forward for Muslims to find their match, Malaysian Digest then spoke with the UMNO Young Ulama Committee Chairman Ustaz Fathul Bari Mat Jahaya.
"Halal speed dating is a good concept - it is in line with Islamic teachings which encourage couples to see each other first before tying the knot. Ustaz Fathul Bari Mat Jahaya Ustaz Fathul Bari Mat Jahaya
"In fact, in the olden days, Islam encourages couples to get to know each other especially on their engagement day. This would help them learn about each other's attitude, characteristics, family background and so forth before getting married.
"In contrast to modern day dating which involves hanging out together − going to the cinemas for example, that contradicts with the Islamic teachings," he enlightened us.
In Islam, it is compulsory to bring along your wali or mahram if you want to meet a partner, to avoid unwanted temptations and sexual desires.
"As long as the wali is present in any dating sessions, then it is permissible in Islam.
"When it comes to finding the second, third or even fourth wife through online dating and so forth, it is considered permissible in Islam but it must be Shariah-compliant. In short, it must not go against the state's religious law.
"Do bear in mind however, there are a few simple requirements to adhere to marry more than one – First, you must be financially stable to support all households, secondly, you must be physically abled as well as emotionally under control (ensure all of them are happy), then, you must treat your wives justly and with all fairness.
"When it comes to online dating, the only thing that I disagree is the display of photos which sometimes can be a tad revealing.
"I'm also against the concept of sending private messages via social media platforms such as Facebook and WhatsApp – they only bring about undesirable outcomes," he lamented.
Marriage Made In Heaven
With all the buzz over Halal matchmaking events, we wondered if it brings to the fruitful outcome of marriage.
A source who has witnessed her friend go through the process, confirms that it is reliable, and that her friend is now to be married to a man whom she met through an event called 'Soul Seekers', organised by the same individuals of the Halal Speed Dating.
She tells Malaysian Digest of how her friend had met the future husband during the event.
"First, there are forms to fill up and candidates must answer preset questions. The organiser will then match you according to those answers.
"On the day of the event, you are given a chance to talk with the candidates that have been shortlisted based on the matching profiles. It's basically like a resume.
"The talk was enough to determine if the candidates did have a certain chemistry with each other. The men then would choose who they would want to pursue. After that, there will be another session with the 'chosen' one.
"My friend chose the man according to his answers, and obviously she found him attractive. He did not shortlist her in the first round, but as the organisers could see that their profiles matched, for the second round, they organised for the two of them to meet up.
"After several communications only through WhatsApp, they then decided to tie the knot later this year. They don't go out on dates, and they only communicate with one another solely to discuss about their wedding preparations.
"She seems content, and I am glad that she has found someone the Halal way. In all honesty, I would go through the same and I would recommend for anyone seeking a life partner to give it a chance too.
"I mean, why not? We'll never know who our soul mate is or where they might be," the source who has also signed up for an upcoming Halal matchmaking event told us.
It's good to hear that in what many perceive to be a conservative religion of Islam that disallows dating, heaven made matches can still be made in the traditional way - just in a speedier manner with speed dating.
For future participants who are looking for marriage in the Halal speed dating manner, we asked Zuhri, his most important advice for a long term marriage, to which he replied:
"The most important aspect of marriage is piety - a man who strives for Allah's love and a woman who does the same, they are the ones who have a strong fundamental base and guide, for people to maintain a strong marriage.
"And when practicing your religion truly, continue to do your best to follow the Quran and Sunnah, that makes way for a lasting marriage," he concluded.
http://www.malaysiandigest.com/frontpage/282-main-tile/564302-more-muslims-are-signing-up-for-halal-dating-but-how-islamic-is-it.html
-----------
URL: https://www.newageislam.com/islam,-women-and-feminism/new-age-islam-news-bureau/saudis-warned-over-marrying--unidentified--yemen-women/d/104192