New Age Islam News Bureau
5 May 2013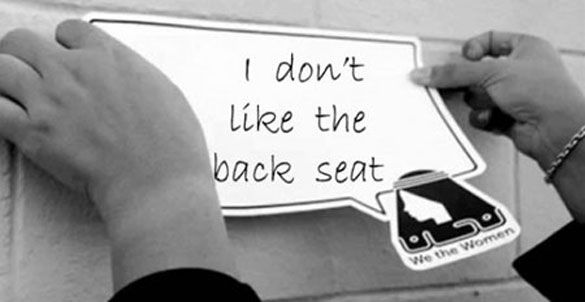 Saudi Women Seek Driving Licenses in UAE
-----------
• Delhi-Based Afghan Woman Moska Najib Shortlisted For 'World's Best Job'
• Saudis Allow Sports for Some Schoolgirls
• J&K Women Candidates Post Best Ever Result In UPSC This Year
• Saudi Women Seek Driving Licenses in UAE
• Shafia Bibi Determined To Vote for PPP for Giving Her Monthly Grant of Rs 1000/=
• 4 Women among 5 Shot Dead in Karachi
• Girls School Buildings in Saudi Kingdom to Undergo Safety Checks
• It's Still a Struggle for Women Politicians in Malaysia
• Bangladesh Building Collapse Victim's Wife Sues Rana, 2 others
Compiled by New Age Islam News Bureau
URL: https://newageislam.com/islam-women-feminism/saudis-allow-sports-some-schoolgirls/d/11425
-----------
Saudis Allow Sports for Some Schoolgirls
May 4, 2013
RIYADH, Saudi Arabia (AP) — Saudi Arabia's official news agency says private girls' schools are now allowed to hold sports activities in the kingdom, "according to the rules of Shariah."
Saudi Arabia follows an ultraconservative interpretation of Shariah, or Islamic law. It still prohibits sports lessons in government-run girls' schools, and female sports clubs are banned.
The agency said Saturday that the Education Ministry ordered private girls' schools to provide appropriate places and equipment for sports. Students must adhere to "decent dress" codes, and female Saudi teachers should be given priority in supervising.
The ministry said that some private girls' schools had been holding sports activities without rules protecting the interests of the students and their health.
Two Saudi women competed for the first time in last year's Olympics wearing a modified veil agreed upon by Olympic officials.
http://www.nytimes.com/2013/05/05/world/middleeast/saudis-allow-sports-for-some-schoolgirls.html
-----------
Delhi-Based Afghan Woman Shortlisted For 'World's Best Job'
Rakhi Chakrabarty
May 5, 2013
NEW DELHI: Moska Najib does not fit in with any stereotype of an Afghan woman. The 29-year-old documentary filmmaker is among the top 25 shortlisted for one of the six 'best jobs in the world' — lifestyle photographer in Melbourne. She is the only Afghan to beat 600,000 applicants in the race. If she wins the job, she will earn Australian $100,000 (around Rs 55 lakh) in six months.
"An Afghan has a lot of limitations while applying for a visa or a contest. The minute you say you are an Afghan, there are a lot of queries, your background (is checked). And, many of these competitions are geared towards a Western audience," says Moska.
This was open to all nationalities. Moska, a former BBC journalist, decided to apply. The job, capturing life in the south-eastern Australian state Victoria in photographs, films and writing, is exciting. It entails surfing, skiing, rappelling, winemaking and researching penguins at Phillip Island — everything one fancies on an adventure holiday.
Photography for Afghan women, whose subservience is often attributed to culture, is a challenge. For globetrotter Moska (Pushtoo for muskaan meaning smile) it's passion.
She was recently in Kolkata photographing Afghans, called Kabuliwallas, in the 21st century. "The street in Kolkata where many of them live looks like that in Kabul."
While shooting in Kolkata, she spotted the advertisement for the "best jobs" on Facebook.
In 2009, the "Best Job in The World" was for a caretaker of the Great Barrier Reef islands. This year, there are six world's "best jobs" — chief funster, outback adventurer, park ranger, wildlife caretaker, lifestyle photographer and taste master — each with an Australian $100, 000 package for six months.
"I had only five days to apply," says Moska. She rushed to Old Delhi to shoot a 30-second video to explain why she is the best person for the job. "I identify very much with Old Delhi. It's as if time has stood still here. One learns to pause and stay," says Moska.
Moska, who lives with her mother, came here when she was eight years and has not been able to return home in war-ravaged Kabul since. She lost many of her relatives, including those she held dear. "My father was amazing. I was very close to him. He had an aura and exuded confidence. He was a brave man and made others around him feel brave," she says.
Moska has fond memories of her childhood in Kabul. "As an Afghan away from home, I'm very protective of memories of growing up in Kabul," she says.
Through her participation in the 'best job' contest, she wants to spread a message among displaced Afghans across the world — of hope and optimism.
http://timesofindia.indiatimes.com/india/Delhi-based-Afghan-woman-shortlisted-for-worlds-best-job/articleshow/19889955.cms
-----------
J&K Women Candidates Post Best Ever Result In UPSC This Year
May 5, 2013
SRINAGAR: Women candidates have posted their best ever results in the UPSC exams in Jammu and Kashmir with three of the 11 successful candidates from the state belonging to the fairer sex.
Syed Sehrish (rank 23), Anchita Pandoh (rank 446) and Ruveda Salam Bajad (rank 820) are among the 11 successful candidates from Jammu and Kashmir who cracked the prestigious Union Public Services Commission examination this year.
While Shah Faesal is generally considered as an inspiration for the Kashmiri youth to give their best at the UPSC examination, it was Ovessa Iqbal who in 2010 became the first Muslim woman to qualify the examination, paving the way for young girls.
Although Iqbal was not the first woman from the state to qualify the prestigious examination - Priyanka Dhar did it in 2008. Incidentally, Dhar who hails from a remote village in Leh district was the only woman candidate to qualify from the state that year.
The number was doubled last year as Sehrish and Pooja Hali cracked the examination.
Sehrish, who was allotted to IPS cadre last year and is currently undergoing training in Karnataka, wanted to join the IAS. She appeared for the examination again this year and cracked it, but she is not alone as Pandoh and Ruveda gave her company in this year's list.
"I was inspired to work for my society and the great potential of the IAS that makes a positive contribution for its growth and development," Sehrish said while explaining her decision to strive for improving her rank.
http://timesofindia.indiatimes.com/home/education/news/JK-women-candidates-post-best-ever-result-in-UPSC-this-year/articleshow/19895715.cms
------------
Saudi Women Seek Driving Licenses in UAE
RIMA AL-MUKHTAR
5 May 2013
JEDDAH: Dubai traffic police are seeing an increase in the number of Saudi women seeking to obtain drivers' licenses in the city and other cities within the United Arab Emirates.
Dubai Chief of Police Lt. Gen. Dhahi Khalfan said police are receiving driving-license applications from Saudi women wanting to drive in Dubai and other cities, although he noted the number of requests is not particularly high.
He said Saudi women possessing driving licenses are permitted to drive in Dubai.
Although the number of Saudi women seeking to drive outside the Kingdom is relatively low, there is an increased interest to get behind the wheel. In fact, more and more Saudi husbands and fathers are supportive of the idea because it means convenience for the families and independence for their wives and daughters.
Ferdous Abbar, a 27-year-old Saudi living in Dubai, discovered that learning to drive was difficult, but that she had to do it.
"When I first moved here, I used to rely on my husband and taxis to get around the city, but then my husband made me apply to driving school to get my license," Abbar said. "At first, I found it difficult and could not get over my fear and learn quickly. Had I learnt how to drive at an early age, it would have been easier."
Huda Jazzar, 30, is another Saudi who was embarrassed to confront her non-Arab friends about not being able to drive.
"I am always asking my friends to pick me up and drop me off when I go to Dubai almost every week," Jazzar said. "I spent so much money on taxis and metros that I set aside a special budget just for that. I decided to enrol in the driving school in Dubai."
Saudi women also head to Bahrain to receive driving instructions and exams.
"My father taught me how to drive at the age of 16 because he said I might need it someday, said Afaf Al-Yafi, a 28-year-old lecturer. "I remember he used to take me for a ride every day after sunset in our neighbourhood in Dammam. For my 21st birthday, my father drove me to Bahrain and applied for the driving school there and I got my license that I now use internationally, especially when I take my children to Bahrain for a weekend. I must say, this is the best gift anyone could have given me."
Saudi women need to take the initiative and learn how to drive, according to Sabria Jawhar, a Saudi newspaper columnist who wrote about Saudi women driving issues in the international press.
"We live at an age where Saudi women work in the Shoura Council and we are witnessing a boom in the labour market. All we need is to be independent from our drivers," Jawhar said.
"I sometimes wonder why don't we just go for it, like the time King Faisal opened educational institutes for women and told his people it is optional for them to enrol," adding, "If this issue is only being delayed because society is rejecting it, then they shouldn't we open driving schools and leave it up to society to decide if they want to send their girls to learn or not."
Jawhar said she is not surprised to see women flying to other countries to learning to drive elsewhere.
"This is a skill that everyone may need at one time or another. We all need to learn how to drive in case of emergency and women are taking the initiative to sit behind the wheel and learn," she said.
"They are getting a license because their own country is not providing them with one so they are pushing them to go somewhere else."
Jawhar noted that if there is "nothing from a religious point of view against driving," then there isn't anything preventing women from driving.
http://www.arabnews.com/news/450484
-----------
Shafia Bibi Determined To Vote for PPP for Giving Her Monthly Grant of Rs 1,000
May 05, 2013
CHACHRAN SHARIF: Shafia Bibi, 41, has never voted in her entire life. But times have changed; it's time for her to pay off a debt. A resident of a village, Basti-i-Sa'adat, on the east bank of the mighty Indus that separates Chachran Sharif from Kot Mithan, she is determined to get out of her home on May 11 to vote for the Pakistan People's Party for giving her a monthly cash grant of Rs1, 000 under its flagship national social safety net initiative, Benazir Income Support Programme (BISP). "I have been getting Rs3,000 every three months for the past 15 months, which helps my family pull through," Shafia Bibi, covered from head to toe in what is referred to as a shuttlecock Burqa in this part of the world, tells Dawn. Given that her husband, a daily wage earner, earns less than Rs3,000 a month, the cash grant she gets under BISP means a lot to the mother of two daughters with disabilities. If nothing else, it has become easier for her to borrow little amounts from their relatives and neighbours in times of dire need. The creditors know that their "capacity to repay on time" has improved."You cannot imagine what these quarterly payments mean for people like us," Shafia's husband adds. The extra money her wife gets under BISP is spent mainly on food and medicines for children. Miles away in Jajja Abbasian village, Fateh Mohammad will also vote for the PPP man Makhdoom Syed Shahabuddin for similar reasons: his wife is one among the thousands of recipients of the grant in Khanpur. A PPP old-timer, it is important for people like him to re-elect the PPP for the continuation of cash payments because the programme may be rolled back if the party is defeated in the election.The PPP candidates are depending a great deal on the goodwill BISP has created for their party amongst the voters from the poverty-stricken south Punjab. PPP leader Qamaruz Zaman Kaira believes the poor who have been getting financial help under BISP will support the PPP. "Certainly, the areas with higher incidence of poverty, such as south Punjab and the interior of Sindh, have more BISP beneficiaries and it will have an impact on the outcome of election there," he says. There are also many who are unhappy with the PPP because they are still not getting the stipend. In Basti-i-Saadat, for example, Shafia Bibi is the only woman getting the stipend. There are at least 10 others who qualify for support and deposited the forms a year ago but aren't getting any stipend. "We are waiting to hear from the government," complains Shamshad Bibi as her son shows Dawn official acknowledgement receipts for 10 forms. "We will not vote (for the PPP)."BISP features prominently in the PPP's election campaign in the print and the electronic media with party chairman Bilawal Zardari-Bhutto promising to double the monthly stipend if the party is re-elected. Its candidates, too, do not forget to remind their voters of the difference the little cash grants have brought in their lives and promise to increase the amount if their party is re-elected. "We are getting a lot of support from the beneficiaries of our anti-poverty programme," claims the PPP's Waqas Naveed Gorchani, who is facing Shahbaz Sharif for a provincial assembly seat from Jampur, a tehsil of Rajanpur. "It sure is going to make a lot of difference on the election results," he insists, saying there are about 25,000 recipients of BISP cash grants in his constituency. The programme has in the last four years distributed more than Rs130 billion amongst five million ultra-poor families. The selection of the recipients was made on the basis of the results of a nationwide poverty survey of 27 million households. It had identified over seven million ultra-poor families eligible for the support. The government has promised to disburse the grant with arrears to the eligible families still not receiving the stipend owing to shortage of funds or any other reason.
The rivals, nevertheless, dismiss the talk of BISP impact on election outcome in favour of the PPP as blown out of proportion. "The voters realize that the PPP government has taken away more in the shape of higher food and fuel prices than the meager amount it has given them under the income support scheme. The PPP can't dupe them into voting for its candidates," contends Shah Mehmood Qureshi, the Pakistan Tehreek-i-Insaf leader contesting against a son of Yousuf Raza Gilani from one of the two national seats he is running for in Multan. In Muzaffargarh, Mohammad Shafique, who owns a roadside tea stall, does not agree that all the women benefiting from BISP will vote for the PPP. "Who says so? Do you think my wife, who has been getting a stipend for two years now, will vote of her own accord? No. She will vote for the candidate I will tell her to. And I will not vote for the PPP," he says. Analysts also warn against overestimating the potential impact of BISP on the outcome of the election. "How many of them will actually get out of their homes to vote will largely depend on the ability of the candidates to transport them to the polling stations since an overwhelming majority of the cash support recipients live in remoter, poverty-stricken rural areas of Pakistan. Hence the possible impact of the programme on electoral outcome will vary from constituency to constituency and candidate to candidate," argues a Karachi-based analyst, who is bound by his professional contract to not publicly speak about BISP on which he has extensively worked on. A majority of the poor getting cash grants could already be PPP voters. In that case, BISP will help the party only to the extent of "retaining" its support base in that segment of voters rather than winning new supporters. The analyst quoted above, nevertheless, points out that many women receiving the cash stipend did not have national identity cards before applying for the BISP assistance. It means that there is a big likelihood that these women had never voted in the past.
"This segment of 'new voters' is culturally, socially and economically different from the segment of new voters Imran Khan's PTI talks about, urban youth. Which way will it swing is hard to tell as yet. Still a majority of them could support the PPP," he says. Finally, he says, the BISP beneficiaries have the potential of influencing the close races. "It is irrational to assume the BISP beneficiaries can impact election in a constituency to the extent of leading a candidate or a party to the victory stand. The BISP vote is incrementally important but it cannot save a candidate or party that has lost public support from defeat," he says.
Launched in 2008 through an act of parliament, the country's first large-scale cash transfer initiative has won praise from international lenders like the World Bank for being one of the most transparent and effective anti-poverty programmes. This hasn't prevented the critics of the PPP from alleging BISP is being used by the party leadership to 'buy support for the party's re-election'. PTI leader Imran Khan is reported to have dubbed the scheme as no more than a scam to buy votes and the PML-N has pledged to reform it and rename it on coming to power.
Faisal Bari, professor of economics at the Lahore University of Management Sciences, warns against maligning BISP just because it carries the name of the slain PPP leader Benazir Bhutto. He does not see any logic in the argument that the government has used the programme to buy votes. "If the argument is that cash grants are being given to the PPP supporters alone, then the scheme has no more power than retaining their support. If the argument is that the stipend is being given to those who aren't supporters of the PPP, then the amount of the grant is too little to buy their votes."He says BISP was launched because the government realized that the people living in extreme poverty needed its help to cope with the economic pressures. Parliament unanimously passed the BISP bill because all the parties felt the need for helping the poor, and it will be a pity if we lose this national institution to political wrangling, he says.
http://dawn.com/2013/05/05/income-deposited-outcome-awaited/
-----------
4 Women among 5 Shot Dead in Karachi
May 05, 2013
Four women among five people were gunned down in Fareed Colony, Orangi Town within the remits of Mominabad police station.
Police said that two gunmen were barged into the house and shot dead 40-year-old Nasreen Habib, owner of the house; Shazia, 28, her seven-year-old girl Zubaida, Zeenat, 30, and Muhammad Zubari, 28. Nasreen was living in the area since 10 years and allegedly running a brothel den. There were a number of other women who were also doing their business from the said den. Police said that assailants reached the den after Zubari and shot each of them inside the house.
Orangi Town SP Chaudhry Asad when contacted said that the incident occurred over personal enmity as they hailed from KPK. The bodies were later moved to morgue after autopsy at Abbasi Shaheed Hospital.
On the other side, some gunmen shot dead a man in the remits of Korangi police station.
Police said that Wali Muhammad was standing outside his residence where gunmen riding a motorbike shot him three times and managed to flee. Police shifted the body to morgue after autopsy. The case has yet to be registered till this report was filed.
http://www.nation.com.pk/pakistan-news-newspaper-daily-english-online/karachi/05-May-2013/4-women-among-5-shot-dead
-----------
Girls School Buildings in Saudi Kingdom to Undergo Safety Checks
GHAZANFAR ALI KHAN
Sunday 5 May 2013
RIYADH: Female education supervisors will carry out inspections of private and international girls' school buildings to ensure their safety, according to a directive from the Ministry of Education.
Supervisors will ensure that inspections are conducted in construction and electric fittings, and that there is availability of security and safety tools and management.
The move will prevent major accidents including fires caused in schools because of the poor safety and security record.
The directive comes in the wake of several incidents involving fires that have left women dead or injured. One case involved Jeddah's Baraim Al-Watan Girls' School in which three teachers died and several other teachers and students were injured in the November 2011 blaze. Emergency exits were either blocked or improperly marked.
This exercise is part of the ministry's move to make sure the schools comply with all safety and security regulations before they start operations in the next academic year.
The ministry, which does not employ engineers or technical personnel, urged the school owners and governing boards to take care of safety and security aspect, said Awatef bin Fahd Al-Harthi, director general of private and international education at the ministry.
Al-Harthi, who issued a circular to regional education departments, said supervisors will visit the schools and fill out an evaluation form that has to be approved by the department.
The form requires supervisors to ensure the safety of the school building's "construction" and "architecture." There are provisions in the forms to mention irregularities and to furnish reports about cracks in the walls or water leaks and completion of maintenance works in the school building.
The form also requires the supervisor to ensure the availability and operating status of fire extinguishers, the availability of standard-meeting emergency exits, first-aid kit and medications (small pharmacy), the quality of electrical fittings and the availability of an early-warning system. Al-Harthi's directives stipulated the evaluation form has to be signed by the supervisor and the school principal prior to the signature of education department's director.
"This is a commendable step of the ministry," said Ibrahim Al-Qayid, an educator and member of the National Society for Human Rights. He urged all school managements to check on the school buildings and to monitor air quality, fire code compliance, policies on chemicals and hazardous waste, as well as pest control and chemical spraying of school grounds.
Schools must adopt emergency safety plans, said Al-Qayid, adding that "there must be adequate emergency exits, safety equipment and wide windows in school buildings."
http://www.arabnews.com/news/450498
-----------
It's Still a Struggle for Women Politicians in Malaysia
By HARIATI AZIZAN
May 5, 2013
The Election Commission has recorded a 40% increase in the number of women contesting in GE13. But the political ground is as challenging for women now as it was in the past.
IN 1962, Tan Sri Aishah Ghani, one of Malaysia's pioneer women political leaders, took the helm at Umno's Bukit Bintang division.
Today, she remains as one of the very few women in Malaysia to have headed a division of a political party.
Thus, her passing on the eve of Nomination Day for the 13th General Election threw the spotlight on Malaysian women's participation in the politics of the country.
One can't help but wonder what the Umno veteran would have made of the number of women contesting in GE13.
It cannot be denied that some concrete steps have been made in increasing the number of women in politics. The Election Commission has recorded a 40% increase in the number of women contesting in GE13. Closer scrutiny, however, reveals that women still make up only about 10% of the total number of candidates.
So whatever the results today, one thing is for sure women leaders will make up less than 10% of our Parliament.
Being accepted as a candidate was one of the challenges faced by women leaders during the country's first election after Merdeka, the political icon said in an interview a few months ago.
"It was difficult to be accepted as a female candidate. Although I had no problem working with the men, people were a lot more prejudiced about women politicians back then," said Aishah.
"I remember quite a few good women candidates in the early days who were not voted or nominated simply because they were women."
Fortunately, it did not take the party leadership long to change their mindset about women leaders, she said.
"We stopped facing resistance from the top leaders or within the party. It was just society that was not ready for female leaders. Many candidates we put forward lost."
In the first general election in 1959, Aishah lost when she contested for the Setapak Parliamentary seat as a candidate for the Alliance Party.
"There were groups who panned women, saying that they were not suitable to be wakil rakyat. Women were easy targets for dirty tactics in politics," said Aishah.
Still, she took her loss in her stride and persisted in politics.
Aishah, who in her lifetime had countless times declared that "Politics runs in her blood", joined Umno in 1949 when she was in her early 20s. Nevertheless, she was already involved in politics by then, having led Angkatan Wanita Sedar (Awas), the women's wing of the Malay Nationalist Party (PKMM) for over a year.
She conceded that much of the blame for the low number of women in political leadership positions lies with the women themselves.
As she put it, women leaders today seem content to be the right hand of their parties.
"I think women leaders last time were more vocal in all issues. Now, women leaders are pigeonholed. They are lumped only with women issues."
While she was happy that more young women are joining political parties now, Aishah questioned their intentions.
"Are they in politics to rub shoulders with leaders? Or for fame and wealth? Or their own benefit? Or are they in it for the people and the country?"
It is not enough for women to "enter" politics, she advised.
"They need to understand the ideas and concept of politics. They need to understand what democracy is. They also need to understand the realities of politics as well as the current affairs in the country and the rest of the world. Until this happens, we will not be seeing a female prime minister anytime soon," Aishah once lamented.
Hunger for knowledge
As she put it, "They need to use their head!" but even with the easier access to information, many today don't read enough.
Knowledge was indeed vital for Aishah, who went on a "hunger strike" at the age of 11 when her father tried to stop her from going to school. Then, when she was in her 30s, she decided to leave her three children and husband at home to further her studies in Britain. She read journalism at the Regent Street Polytechnic in London.
When she returned after graduation in 1959, she worked as a journalist with the Malay daily Berita Harian and resumed her political activities.
In 1960, she was picked to be vice-chairman of the Umno Malaya Kaum Ibu Movement.
Two years later, Aishah was appointed the first woman Senator in the Dewan Negara.
Later in the same year, she became the country's first female representative at the United Nations General Assembly.
She only left her "day job" in 1963 she had worked her way up the rung to become an editor with the NST group by then to take up the post of Wanita Umno deputy chief.
In 1973, Aishah was appointed Social Welfare Minister, a post she held until 1984.
Her struggle to uphold and protect women's rights in the country led to the formation of Pertiwi, which fought for the rights of Muslim women, in 1967.
When she passed away at the age 90, Aishah had long retired from politics but she had been as busy as ever as chairperson of Koperasi Jaya Murni Wanita Berhad which, among others, helped women to set up small businesses.
During this interview, Aishah had reminisced about the spirit of the leaders of yesteryear.
"Everything we did was for the people and the country."
The best memory she had of elections, she said, was of walking from house to house to get the people's support.
"We were close to the people, and we even slept at people's homes. But we also got chased away quite a few times because people did not know much about the election process."
These days, she said, she couldn't feel the same spirit.
"The culture has changed, I know that, but you just can't discard the good values. We need to preserve the good values of the past in our society. Maybe the younger politicians today are a bit spoilt."
One thing she expressed disappointment in was the lack of continuity in the women's struggle.
"We fought for more freedom and social justice for women but it seems like women today are not following it up to fight for more rights and freedoms for women in the country.
"Some of the concerns may seem trivial (to people today) but these little issues affect the lives of women and women leaders need to ensure that whatever laws (like the Islamic Family Law she helped standardise) and programmes introduced to assist women are effectively enforced. They are the voices of the ordinary women," said Aishah.
Her eldest son Shairuddin Abdul Aziz said Aishah was looking forward to GE13. She had told this writer with a fiery glint in her eyes, "I hope the general election goes smoothly this time as always. The challenge is bigger now with the advent of social media, especially for young and female politicians. At the same time, they should not just look at how they can win. They have commitment to the people."
http://thestar.com.my/news/story.asp?file=/2013/5/5/nation/13068287&sec=nation&utm_source=TSOL_main&utm_medium=links&utm_campaign=GE13
-----------
Bangladesh Building Collapse Victim's Wife Sues Rana, 2 others
MAY 05, 2013
The wife of a dead victim of Savar building collapse filed a murder case against Sohel Rana, the owner of the shattered Rana Plaza, and two others on Sunday.
The other accused are: Bazlus Samad Adnan, owner of New Wave Style which was housed in the collapsed building, and the chief engineer of Savar municipality.
The name of the engineer could not be known immediately.
Sheuli Akter, widow of Jahangir Alam who was killed in the building collapse, filed the case with the Court of Chief Judicial Magistrate of Dhaka.
Senior Judicial Magistrate Wasim Sheikh recorded the statement of the complainant and took the cognisance of charges.
The court will pass an order on the issue later in the day.
The body of Jahangir Alam was recovered on April 24, the day when the nine-storey building collapsed in Savar.
The death toll in the building collapse is now 572.
With this, Rana has been made accused in five cases in connection with the collapse.
Of the cases, two cases were filed with Savar Model Police Station and two others under the labour act.
http://www.thedailystar.net/beta2/news/victims-wife-sues-rana-2-others/
-----------
URL: https://newageislam.com/islam-women-feminism/saudis-allow-sports-some-schoolgirls/d/11425