New Age Islam News Bureau
21 Jan 2013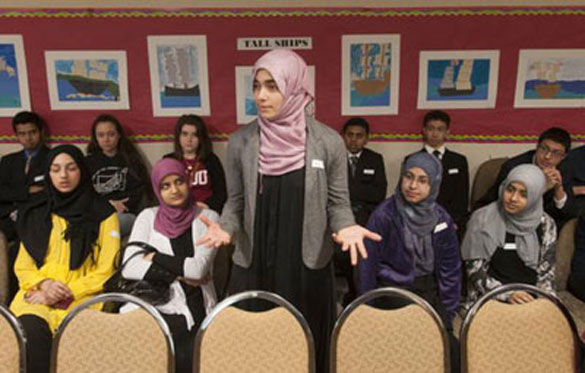 • Jewish Women Birthing More Children; Muslim Women Less
• Egyptian Bank Giving Loans in Promotion of Polygamy
• Another Girl Raped By 'Father of Six' In Bangladesh
• Dallas Jewish and Muslim Teens Build Understanding
• Child Marriage Restraint Amendment Bill Rejected By Pakhtunkhwa Assembly
• Child Rape Incidents on Rise in Recent Years in Bangladesh
• Assad's Mother Leaves Syria to Join Daughter in Dubai
• Syrian Regime Recruits Female Soldiers To Check Veiled Women
• Still Veiled: Saudi Women Deserve Better Future, Must Fight For Rights
• Arab-Israeli Woman a Rising Voice in the Wind
• Sudanese Samia Elected Chairperson of Muslim Women Parliamentarians
• Indonesian Fashion Brand Keeping Muslim Women Up2date
• Saudi Activist Defends Pro-Women Stance
• Death of a Christian Child Maid: 3 Years On, Mother Appeals to Pak President for Mercy
• Focus on Volunteerism, P M's Wife Asks Malaysian Youth
Compiled by New Age Islam News Bureau
Photo: Dallas Jewish and Muslim Teens Build Understanding
URL: https://www.newageislam.com/islam,-women-and-feminism/new-age-islam-news-bureau/saudi-young-female-runaways-send-a-message-to-society/d/10091
---------------
Saudi Young Female Runaways Send a Message to Society
ALAA ALGHAMDI
21 January 2013
The Commission for the Promotion of Virtue and Prevention of Vice has recently conducted a study on a growing social problem — that of runaway girls or 'escape girls' who have ended up in detention centres after fleeing their homes. The problem has not reached the point of an epidemic, but is pronounced, with over 500 girls and young women categorized as runaways in the past several years.
As is always the case when dealing with the behaviour of the younger generation, it does not do any good to be too reactive — instead, if we put energy into ascertaining why the phenomenon occurs we may have a better chance of dealing with it.
The Commission's study indicates that many of these young female runaways do not have a high degree of education. Many also have problems at home, such as neglect and total lack of communication with parents and other family members.
In extreme cases some run away due to emotional or physical abuse by either parent or siblings. Any one of these scenarios may be the reason girls choose to run away — their home setting simply does not give them an adequate reason to stay.
Of course, if they leave home at a young age and with little education, their prospects out in the real world on their own are very bleak indeed. This is where young girls may end up in big trouble, and some are caught by the authorities and sent to a detention centre. But rather than punishing girls for running away, it would be much more constructive if we could deal with conditions at the home that put them at risk.
It is interesting however, that about 38 percent of the girls in the Commission's study were between 21 and 25 years old — while over 50 percent were of ages 16 to 20. It would appear to me that there is a material difference between these two groups.
Young women over 21, unlike their younger counterparts, are emotionally and developmentally mature. They are, in fact, adults, and surely their decision to leave home must be viewed in a different light? Rather than criminalising these women, an effort must be made to bring them back into productive society with better educational and job opportunities.
There is no denying that our society is changing. Perhaps it is time to view young women living on their own as a valid lifestyle choice, and to encourage their employment and participation in society.
The fact that so many girls and young women choose to run away from their homes is undoubtedly a social problem, but it is helpful to view it from a broader perspective.
What message are these girls and women trying to send us? What are they seeking? How can we best respond? If we do not wish these young women to live on the outskirts of society, we have to make a more understanding and hospitable space for them within it.
http://www.arabnews.com/young-female-runaways-send-message-society
---------------
Jewish Women Birthing More Children; Muslim Women Less
01.14.13
Figures released by the Central Bureau of Statistics state that Jewish women are currently giving birth to an average of three children as opposed to 2.53 in 1995, while Muslim women are birthing 3.51 children as opposed to the 4.74 in the year 2000. The data were published as part of the bureau's demographic survey.
According to forecasts, by the end of 2035, the number of Jews in Israel will be between 7.7-9.9 million while the Arab population will be between 2.3-2.9 million.
http://www.ynetnews.com/articles/0,7340,L-4332332,00.html
---------------
Egyptian bank giving loans in promotion of polygamy
January 21, 2013
CAIRO: In a strange development, the Egyptian Bank for Development and Agricultural Credit is to grant loans to low-income farmers in an effort to give them funds necessary to marry a second wife. The goal, the bank said, was to assist in helping unmarried women tie the knot, but it has brought on scorn from women's rights activists in the country who say the move is counter to Egyptian values.
"This is not Saudi Arabia and we are not a country where we support polygamy," university student Heba Aly told Bikyanews.com after hearing the news. For her, the idea is "a horrific show that Gulf efforts are coming to Egypt more and more."
She blamed the idea on the rise of the Muslim Brotherhood and the Salafists – ultra-conservative Puritans – who have given the Gulf more power in everyday Egyptian affairs.
"I find this disgusting. Egypt is not a place where we have a lot of men marrying more than one woman and for a bank to actively promote polygamy makes me sick and I really want to leave this country if it continues," she added.
The Bank's chairman, Mohsen Batran, said at a press conference held with the Minister of Agriculture last Tuesday that the bank will be granting loans to young farmers, to help them with the cost of marriage, according to government-run al-Ahram newspaper.
His initiative includes encouraging polygamy, provided that they will just wed two wives. The bank's chairman said that the loan's interest on the first marriage is three percent while for the second marriage is six percent.
Men seeking a third wife will have to pay a loan's interest of more than 15 percent.
According to Al-Ahram, there are 9 million unmarried women in Egypt and as women get older they face a cultural backlash as a result.
Batran, meanwhile, criticized those who are sceptical about the bank's support to the farmers, adding that the bank had helped 37,000 farmers with their debts.
http://bikyanews.com/84125/egyptian-bank-giving-loans-in-promotion-of-polygamy/
---------------
Another Girl Raped By 'Father of Six' In Bangladesh
January 21, 2013
A 10-year-old girl was raped allegedly by a 38-year-old father of six in a village in Chittagong's Anwara upazila yesterday.
Doctors at One-stop Crisis Centre (OCC) of Chittagong Medical College Hospital (CMCH), where the girl is undergoing treatment, said her condition was stable.
Police are trying to nab the alleged rapist, Jamir Hossain, a farmer and neighbour of the victim's family, who is on the run, said Anwara Police Station Officer-in-Charge Abdus Samad.
A case was filed with the police station in this connection, he said.
"The girl, daughter of a farmer, went to a field, leased by Jamir, near her residence in the morning to play with her friends," said the victim's uncle.
At one point, Jamir found the girl alone in the field around 10:00am and forcibly gagged and raped her. Her friends later found her lying unconscious and immediately informed her family members, he said.
The girl was rushed to CMCH around 12:30pm and transferred to OCC around 2:00pm, he said, adding that Jamir had married twice and had four daughters and two sons.
http://www.thedailystar.net/newDesign/news-details.php?nid=266081
---------------
Dallas Jewish and Muslim teens build understanding
By EDEN STIFFMAN Staff Writer estiffman@dallasnews.com
20 January 2013
While thousands will honor the Rev. Martin Luther King Jr. at a Dallas parade Monday, on Sunday a group of local teens quietly put his dream of peace and tolerance to practice.
Some wore yarmulkes, others hijabs, or headscarves, and together they discussed the basics of Judaism and Islam — both the similarities and differences.
"There are so many negative stereotypes out there," said Muhammad al-Amin, one of the events' two speakers and the founder of the Deen Institute of North America, a Dallas-based organization that works to eliminate discrimination against Muslims.
Full report at:
http://www.dallasnews.com/news/community-news/dallas/headlines/20130120-dallas-jewish-and-muslim-teens-build-understanding.ece
---------------
I stand by my message, says Facebook girl
21 January 2013
"We have to keep expressing what we feel irrespective of efforts to curb our freedom of expression"
"Even today I stand by what I had written as a status message on my Facebook page. I only apologised to those who were hurt by that comment and hence I removed it. We have to keep expressing what we feel irrespective of efforts to curb our freedom of expression," said Shaheen Dhada, the girl from Palghar tehsil in Thane district of Maharashtra who was arrested for posting a comment against the Shiv Sena on the day of party chief Bal Thackeray's funeral.
Full report at:
http://www.thehindu.com/news/national/i-stand-by-my-message-says-palghar-girl/article4326582.ece
------------
Child Marriage Restraint Amendment Bill Rejected By Pakhtunkhwa Assembly
January 21, 2013
In what can only be described as a missed opportunity, the Child Marriage Restraint Amendment Bill 2013, presented in the Khyber-Pakhtunkhwa (K-P) Assembly last week, was rejected by most lawmakers. What makes this particularly telling is that ANP MPA Munawar Sultana, who was presenting the bill, was unable to get the support of her party members, especially parliamentary party leader Mian Iftikhar Hussain who in 2010 had said he supported imposing restrictions on child marriages. Mr Hussain appeared to have reneged, saying that there was no age limit in other Islamic countries for marriages. Ms Sultana should be commended for recognising just how child marriage stunts a child's growth on a personal, health, social and educational level and how this impacts society but sure enough, she was slammed for promoting a Western agenda.
Full report at:
http://tribune.com.pk/story/496610/child-marriage-2/
---------------
Child Rape Incidents on Rise in Recent Years in Bangladesh
January 21, 2013
About 201 children murders and 90 children rape cases were reported in daily newspapers in 2012, said speakers at a roundtable discussion in the capital yesterday.
The actual number of cases of violence against children is much higher than that reported in newspapers as parents are unwilling to report such cases to concerned authorities, they said.
"It is a sad fact that violence, particularly sexual violence, against children has seen a sharp rise in recent years. This kind of abuse against the most vulnerable section of a society raises questions about our humanity," said Md Emranul Huq Chowdhury, chairperson of Bangladesh Shishu Adhikar Forum (BSAF).
Full report at:
http://www.thedailystar.net/newDesign/news-details.php?nid=266080
---------------
Assad's mother leaves Syria to join daughter in Dubai
21 Jan 2013
Sydney, Jan. 21 (ANI): The mother of Syrian President Bashar al-Assad has reportedly left the war-torn country and joined her daughter in Dubai, according to an activist and expatriates in the United Arab Emirates.
The Age quoted Syrian expatriates, as saying that Anisa Makhluf has been living next to her daughter, Bushra, Assad's only sister, in Dubai for about 10 days.
Full report at:
http://www.newstrackindia.com/newsdetails/2013/01/21/49-Assad-s-mother-leaves-Syria-to-join-daughter-in-Dubai-.html
---------------
Syrian regime recruits female soldiers to check veiled women
20 January 2013
The Syrian regime has started recruiting female soldiers to perform security checks on veiled women.
In the already conflict-ravaged central city of Homs, the recent recruits dressed in their new military uniforms, carried their weapons, guns and rifles and stood at check points in preparation.
"The sight of these girls is disturbing," Rasha, a Homs resident, told Al Arabiya. "They look like predators and treat every woman that passes by as if she's a slave or a Jew in the concentration camp."
Full report at:
http://english.alarabiya.net/articles/2013/01/20/261575.html
---------------
Still Veiled: Saudi Women Deserve Better Future, Must Fight For Rights
Sharifa Ghanem
January 20, 2013
DUBAI: We sit and we watch. We praise any small movement by the women's rights community in Saudi Arabia as if it is the beginning of a monumental change that will dramatically shake-up the future of the ultra-conservative Gulf country. The reality, despite the obvious optimism in recent years, is that women in Saudi Arabia are facing the worst political and social future of arguably any country in the world.
Full report at:
http://bikyanews.com/83986/still-veiled-saudi-women-deserve-better-future-must-fight-for-rights/
---------------
Arab-Israeli woman a rising voice in the wind
Ruth Eglash, Special for USA TODAY
January 20, 2013
TEL AVIV – Asma Agbaria-Zahalka blends well into the ultra-trendy Tel Aviv office crowd in her tailored black pants and crisp, white shirt.
Talking into her smartphone as she crosses the square in front of the city's hip Cinematheque, one gets a sense of why this young Arab-Israeli woman is energizing liberals in a country where left-wing politics have little support these days.
"Sorry I'm late; I just finished an interview with Ynet (the largest online Hebrew news outlet). Now I only have six more to go today," she says with a wide smile.
Full report at:
http://www.usatoday.com/story/news/world/2013/01/19/arab-israeli-politician/1843271/
---------------
Sudanese Samia Elected Chairperson of Muslim Women Parliamentarians
January 21, 2013
Khartoum - The Conference of Muslim Women Parliamentarians of the Inter-Parliamentary Union of Member States of the Organization of Islamic Cooperation has elected Deputy Speaker of the National Assembly, Samia Ahmed Mohamed as Chairperson of the Conference of Muslim Women Parliamentarians.
Full report at:
http://news.sudanvisiondaily.com/details.html?rsnpid=218535
---------------
Indonesian Fashion Brand Keeping Muslim Women Up2date
Sylviana Hamdani | January 20, 2013
For Indonesian fashion designers, working within the parameters of Muslim women's fashion can be a challenge. But working with those boundaries can also help fuel creativity. Despite religious stipulations, Indonesian designers have managed to create attractive and comfortable attire for Muslim women.
One of the most successful fashion brands for Muslim women is Up2date, started by Indonesian designers Irna Mutiara, Tia Wigati and Aju Isni Karim in 2006.
"The three of us agreed to start a ready-to-wear Muslim women's fashion collection for modern women," Irna said. "We started with the styles that we ourselves would like to wear. It should be fresh, casual and easy to mix and match."
Full report at:
http://www.thejakartaglobe.com/lifeandtimes/indonesian-fashion-brand-keeping-muslim-women-up2date/566207
---------------
Saudi activist defends pro-women stance
By Habib Toumi
January 20, 2013
Manama: A Saudi activist has rejected claims that she had insulted the companions of Prophet Mohammad (PBUH) by supporting moves to empower women politically.
Suheila Zain Al Abideen Al Hammad had come under attack from Saleh Al Fawzan, a conservative religious scholar, after she said that the Prophet's companions took into consideration the views of women and that they were keen on the participation of women in public life.
Full report at:
http://gulfnews.com/news/gulf/saudi-arabia/saudi-activist-defends-pro-women-stance-1.1134736
---------------
Death of a Christian Child Maid: 3 Years On, Mother Appeals to Pak President for Mercy
By Rana Tanveer
January 21, 2013
LAHORE: The mother of a 12-year-old maid whose death sparked protests amongst the Christian community three years ago has appealed to President Asif Zardari for justice and accused a lawyer and two rights activists of damaging her case.
Shazia Bashir died on January 22, 2010, with initial reports indicating that she had been badly beaten and suffered possible sexual abuse. The case gained a lot of media attention because of the apparent brutality of her murder and several human rights and minority activists rallied around her.
Full report at:
http://tribune.com.pk/story/496757/death-of-a-child-maid-3-years-on-shazias-mother-appeals-to-president/
---------------
Focus on Volunteerism, P M's Wife Asks Malaysian Youth
By Hana Naz Harun
New Straits Times
Jan 19, 2013
KUALA LUMPUR - The prime minister's wife, Datin Seri Rosmah Mansor, has called on the younger generation to channel their energy and focus towards volunteerism.
Girls, she said, could get involved in set-ups like the Girl Guides to work in teams and reach out to the society.
Speaking at the Girl Guides Association Federal Territory of Kuala Lumpur's turun padang with the disabled programme, she said this would also be in line with the spirit of 1Malaysia, that emphasised cooperation.
Full report at:
http://news.asiaone.com/News/AsiaOne%2BNews/Malaysia/Story/A1Story20130119-396616.html
---------------
URL: https://www.newageislam.com/islam,-women-and-feminism/new-age-islam-news-bureau/saudi-young-female-runaways-send-a-message-to-society/d/10091