New Age Islam News Bureau
25 Nov 2013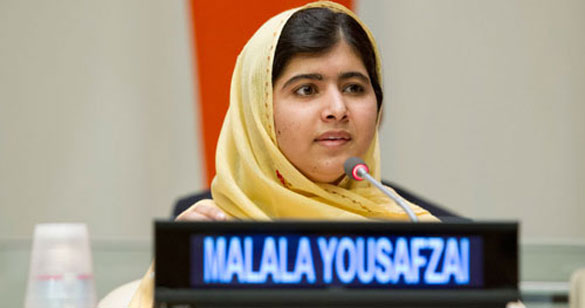 Malala Yousafzai
--------------
• Monthly 200 Nigerian Girls Are Trafficked to Russia for Prostitution - Envoy
• 93 Schoolgirls Sexually Harassed Aboard Patna Train in Bihar, India
• Gender-Mixing While Shopping Allowed: Senior Saudi Scholar
• Mexico to Give Equality Prize to Malala
• Arab Women Find a Voice in Turkish Soap Operas
• Shaikha Lubna Receives Environment Prize
• What's It Like Being A Muslim Woman In Scotland Today?
Compiled by New Age Islam News Bureau
URL: https://newageislam.com/islam-women-feminism/saudi-women's-university-spat-with/d/34586
------------
Saudi Women's University in Spat with Religious Cops
25 November 2013
The world's largest female-only university has been embroiled in a public spat with Saudi Arabia's religious police over the reported presence of men on campus.
According to English language Saudi Gazette newspaper, the Princess Nora Bint Abdulrahman University in Riyadh rejected a request from the Commission for the Promotion of Virtue and Prevention of Vice to open an office within its grounds.
Princess Nora University has around 56,000 female students and academic staff, but is said to have drawn the ire of the kingdom's hard-line conservative establishment due to reports of young men sneaking onto the campus and photos of females running in a marathon which appeared on Twitter.
Saudi Gazette said earlier this month that a vehicle belonging to the religious police had attempted to enter the campus without permission, but had been turned away by university security. According to the newspaper, the commission would have to obtain the consent of both the Ministry of Higher Education and the powerful Council of Ministers before it could move onto the university grounds.
The Haia, or religious police, are appointed by the government to enforce strict Sharia law in the Gulf kingdom, including the separation of unrelated males and females, dress code and Islamic food rules.
It has been criticised in the past for abusing its powers, including last month when the Saudi Minister of Labour accused the Haia of violating an agreement on the feminisation of lingerie and accessory shops by forcing employers to implement strict rules that do not exist.
The religious police also are known to enforce a custom that prevents women from driving in the kingdom, despite there being no formal law.
http://www.arabianbusiness.com/saudi-women-s-university-in-spat-with-religious-cops-527864.html
------------
Monthly 200 Nigerian Girls Are Trafficked to Russia for Prostitution - Envoy
25 November 2013
Berlin — No fewer than 200 Nigerian girls are trafficked every month to Russia for prostitution, the nation's ambassador to that country, Amb. Asam Asam has said.
Asam, who spoke against the backdrop of consular challenges faced by the embassy, disclosed this in an interview in Berlin.
Investigations reveal that the crime had decline in Western Europe following strict laws on illegal migration, and joint efforts by Nigeria and the governments of those countries to curb the menace.
However, attention has shifted to Eastern Europe as the new destination for the trade.
"The major consular challenge we face in Moscow is the influx of trafficked persons from Nigeria, not less than 200 girls are trafficked every month, and we have so many of them exposed to danger.
"Some are thrown out of the window and treated harshly, there must be a way of stopping these racketeering , these girls are not tourists, students or government officials yet they are given visas from the Russian embassy in Abuja",
"So far we have deported over 240 girls since 2012, you will be shocked, at the extend of resistance from the girls, we tell them Russia is not a destination for prostitutes yet they still come" Asam said.
According to him, the mission tries to curb the menace by arranging deportation exercise for those caught, but the challenges are enormous.
The envoy said such intervention would be more effective at the point of entry "the strategy is to stop them from Nigeria, and fish out those involved in the trade.
"For instance a well known Russian human trafficker who has been in the trade for about 20 years was caught in Nigeria,"
"The National Agency for the Prohibition of Traffic in Persons( NAPTIP) was on the verge of releasing her before I filed a protest from Moscow to the Comptroller General of Immigration," Asama stressed.
He said even the parents of those trafficked encourage their children
"I spoke to the mother of one of the girls and she said her daughter should remain in Moscow and try to survive the ordeal, this is very sad indeed coming from one's parent."
He tasked the media on sensitising the public on the dangers of trafficking in Russia, "this East European nation has become a new destination for them, and believe me it is a very big crime here."
Asam, however, said that other Nigerians who reside in that country were students, and professionals in various fields of human endeavours. (NAN)
http://allafrica.com/stories/201311210906.html
------------
93 Schoolgirls Sexually Harassed Aboard Patna Train in Bihar, India
25 November 2013
A group of 93 schoolgirls travelling on a train from Patna to Dhanbad were sexually harassed for more than four hours in the wee hours of Sunday.
The students along with three women teachers from Carmel School in Dhanbad and Digwadih in Jharkhand were returning after participating in a two-day environmental camp in Patna.
Around 10pm on Saturday, the girls and the teachers reached Patna railway station to find that their reserved seats in the Ganga Damodar Express had been occupied by a large group of men claiming to be examinees of the railway recruitment exam.
The group approached the railway police, but the cops just asked them to enter the compartment and said the men would vacate the seats on their own.
The men, however, refused to vacate the seats.
After the train left Patna junction around 11.40pm, the men began harassing and molesting the girls.
When the teachers protested, the men assaulted them. No co-passenger or train staff came to their rescue.
The ordeal lasted until the men got down at Koderma station four hours later.
After the girls got down at Dhanbad railway station, they could be seen crying and narrating the incident to their parents who had come to pick them up.
"It was a nightmare. I never want to travel in trains again," a Class-9 girl told Hindustan Times.
"Those men had grabbed all our seats and began harassing us. When our teachers protested, they slapped and assaulted them. We travelled the whole way standing and huddled together in queues, as the men kept on pulling us."
However, a police complaint will only be lodged on Monday, said one of the teachers travelling with the girls.
"The students are very tired and traumatised, and need rest. So, we have decided to lodge a police complaint tomorrow," said Sonali Singh, a teacher at Carmel School, Dhanbad.
http://www.hindustantimes.com/india-news/93-schoolgirls-sexually-harassed-aboard-patna-train/article1-1155273.aspx
------------
Gender-Mixing While Shopping Allowed: Senior Saudi Scholar
25 November 2013
Muslim women are allowed to mix with males at shopping centres and hospitals, but they should be dressed decently and avoid seducing men, according to a senior Saudi Islamic scholar.
Sheikh Abdullah bin Suleiman bin Manei, a member of the seven -man Supreme Scholars Authority in the conservative Gulf Kingdom, said women should spend more time at their homes but advised men to listen to their wives and not to ignore them.
'Sada' Arabic language published what it said were new Fatwas (Islamic edicts) by Sheikh Manei on various social issues in the country, where gender mixing is strictly banned in most places, including schools and universities.
"As for gender mixing in public places, unintentional mixing in such places as shopping centres and hospitals is not prohibited, but my advice to women is that they must dress decently and keep their face veil on.
"They should also avoid seducing men," he said.
Asked about women who are sterilised, he said such acts are prohibited in Islam but Muslim women can stop getting pregnant temporarily to contribute to birth control "This is because women need rest sometimes and also need to look after their children. Stopping getting pregnant for a while will benefit women," he said.
Sheikh Manei, also an adviser at the Saudi Royal Court, said women can go out shopping and to other places but advised them to spend much of their time at home to look after their children and stave off problems that could lead to a divorce.
"As for men who seek to sideline women, I say that women who present their opinions are not violating their decency.
"Women are our sisters and we should listen to their opinion and accept it if it is right.
"There have been many cases when women presented the right opinions and view points," he said.
Sheikh Manei also appeared relatively open to women getting jobs but again stressed they should be dressed decently.
"Women can take any job provided they do not hold all the powers in any company.
"They can start business and have a position in a company.
They also can manage their own assets as long as they stick to a decent appearance."
http://www.emirates247.com/news/region/gender-mixing-while-shopping-allowed-senior-saudi-scholar-2013-11-25-1.529159
------------
Mexico to give equality prize to Malala
2013-11-25
MEXICO CITY: Mexico said Sunday it will award its 2013 International Prize for Equality and Non-Discrimination to Malala Yousafzai, the Pakistani teenager shot by the Taliban for championing girls' rights to education.
The award seeks to recognize Malala's efforts for "the protection of human rights" and especially her fight to protect the right to education without discrimination on "grounds of age, gender, sex and religion," Mexico's official National Council to Prevent Discrimination said in a statement.
The award ceremony is planned for early 2014.
The 16-year-old, who survived a gunshot wound to the head in 2012, has become a global ambassador for the rights of children.
She is currently living in Britain, where she underwent surgery after the attack.
Malala, who since age 11 has written a blog about girls' right to education, has written an autobiography, addressed the United Nations and set up a fund to help girls around the world go to school and promote universal access to education.
Last week, she was awarded the European Union's prestigious Sakharov human rights prize at a ceremony significantly held on World Children's Day.
http://www.dawn.com/news/1058435/mexico-to-give-equality-prize-to-malala
------------
Arab women find a voice in Turkish soap operas
25 November 2013
Turkish soap operas are having an effect on women across the Muslim world, says the director of a documentary filmed partly in Abu Dhabi and Ras Al Khaimah.
Nina-Maria Paschalidou's film Kismet, which is showing at the International Documentary Film Festival Amsterdam ahead of a planned broadcast on Al Jazeera TV, examines the reasons behind the explosion in popularity of the soaps in countries from the UAE to Bulgaria and Greece.
"Soap operas talk in a very simple and direct way to women. They enter homes in a way no one else can enter," said Paschalidou, who directed Kismet.
With Turkish soap operas, viewers in the Middle East see women with whom they can easily identify, she said.
"What they see is a woman like themselves, who is Muslim, who is religious, who is traditional, but on the other hand is modern and I think this is who they want to be, who they aspire to be," Paschalidou said.
Work on her project started in 2010 when the Greek director was told by a Turkish friend about the popularity of the series Noor, the story of a woman of humble means who rises professionally and discovers true love.
Noor was the first Turkish series to cross borders and win the hearts of viewers in the Middle East and the Balkans.
Spurred on by its success, Paschalidou began researching the country's burgeoning soap operas and soon found the subjects were increasingly about women's rights.
Noor and other soap operas, which often tackle sensitive subjects such as rape, forced marriage, divorce and extramarital affairs, are inspiring female audiences to assert themselves, she said.
For her documentary, Paschalidou interviewed Samar, a 54-year-old from Lebanon who has lived in the UAE for more than 30 years and has Emirati citizenship.
Twice divorced, she struggled to end her second marriage of 11 years and had to go through two court cases to achieve it.
She credits soap operas – especially Fatmagul, the story of a woman who is raped but finds the courage to take her case to court – with encouraging her to speak up and fight for her rights.
Paschalidou collaborated with the UAE's Veritas Films, which helped with production and filming in Abu Dhabi and RAK. Two other women and a man from the UAE are featured in the movie.
The challenging task of getting Samar, who the film crew did not want to identify, and other women to open up was made easier because famous Turkish actors, directors and screenwriters were also featured in the documentary, said Eva Sayre, the business director at Veritas.
"All we had to do," Ms Sayre said, tongue in cheek, "was tell them they were going to be in the same film as X, Y and Z star of whatever show, and that opened a lot of doors.
"But I also think that the women that we talked to, who have been through difficult times in their lives and had an empowering experience where they went to court, or they got a divorce, or took some sort of proactive step to do something in their life, they are proud of it in a way and they want to share that experience with other people."
The soap operas have repeatedly been criticised for undermining traditional values.
In July 2008, Saudi Arabia's Grand Mufti urged viewers to avoid Noor and issued a religious ruling against it.
Paschalidou's documentary features a marriage councillor in RAK who blames Turkish soap operas for rising rates of divorce.
But the director said the programmes presented the female point of view in gender relations and tapped into a "universal language among women where women just want to be equal with men".
"It is not the ideal, romantic man they are dreaming of," she said. "What they are dreaming of is a life of their own choice in every way that one can see.
"They want to marry the man they want, they want to be able to work, to do what they want, to have children or not to have children, to make their choices.
"There is one common theme – having a respectful life and to be able to pursue what you want."
vtodorova@thenational.ae
http://www.thenational.ae/uae/women-in-the-uae/arab-women-find-a-voice-in-turkish-soap-operas#ixzz2lhcB70a2
------------
Shaikha Lubna receives environment prize
(Wam) / 25 November 2013
The accolade is testimony to the vital role the UAE plays in leading international diplomacy towards a sustainable and clean world.
In recognition of her efforts in the international environmental policy and her contributions to motivate the International Renewable Energy Agency (Irena) to choose the emirate of Abu Dhabi to host its headquarter, Shaikha Lubna Al Qasimi, Minister of Development and International Cooperation, has received the Elizabeth Haub Prize for Environmental Diplomacy for 2012 in Milan, Italy.
The accolade is testimony to the vital role the UAE plays in leading international diplomacy towards a sustainable and clean world.
Wolfgang Burhenne, Executive Governor of the International Council of Environmental Law (ICEL), presented the prize in the presence of Jumma Mubarak Al Junaibi, UAE Ambassador to the Federal Republic of Germany, Khalid Salem bin Ghalaitah, UAE Consul-General in Munich, and an assembly of international officials and experts in the environment sector, in addition to German and European media.
Speaking on the occasion, Shaikha Lubna said: "The UAE's achievement in developing and preserving the environment is a result of the philosophy of the late president and founder, His Highness Shaikh Zayed bin Sultan Al Nahyan and follow-up by the President, His Highness Shaikh Khalifa bin Zayed Al Nahyan; His Highness Shaikh Mohammed bin Rashid Al Maktoum, Vice-President and Prime Minister of the UAE and Ruler of Dubai, Their Highnesses Members of the Supreme Council and Rulers of the other emirates; General Shaikh Mohammed bin Zayed Al Nahyan, Crown Prince of Abu Dhabi and Deputy Supreme Commander of the UAE Armed Forces, and Crown Princes of all other emirates.
http://www.khaleejtimes.com/kt-article-display-1.asp?section=newsmakers&xfile=data/newsmakers/2013/November/newsmakers_November28.xml
------------
What's it like being a Muslim woman in Scotland today?
25 November 2013
Those are the three phrases Scotland's young people think of when it comes to Muslim women, according to a study of people aged 11 to 24 by the Amina Muslim Women's Resource Centre in Glasgow.
Staff from Amina, who visit schools and youth groups to educate young non-Muslims about racial stereotyping, found the results shocking considering young people are considered more open-minded and tolerant than their parents and grandparents.
While many Muslim women say such stereotypes do not shape their daily lives, others claim there is a growing hostility towards them.
In the coming weeks, three major events will address the question of what it means to be a Muslim woman in Scotland. One will address how the debate surrounding the Islamic veil is affecting Scottish communities, while the others will look at the experiences of Muslim women and Islamophobia in Scotland.
One young Muslim woman summed up her experiences of being seen as a threat, a foreigner or an oppressed victim, saying the sense of distrust was "subtle" and "something you can feel", adding: "You go in an environment where you are the only person with brown skin: people will be polite to you but you can feel there is a distance, something not spoken ... This is how we feel."
This, as well as the more outrageous incidences of racist abuse, is what these events hope to address.
A recent study by Birmingham University found 58% of those who experience Islamophobia are women and in 80% of those cases, the woman was wearing an item identifying her as Muslim: a headscarf, the hijab, a niqab, which covers the face except for the eyes, or a burqa or full-face veil.
A Private Member's Bill is making its way through the UK Parliament urging the Westminster Government to make it illegal in England and Wales to wear a garment that obscures the face in a public place.
The SNP have vowed to maintain the right of Muslim women to wear the niqab, with Shona Robison MSP, Minister for Commonwealth Games and Sport, confirming to Yousaf they have no plans for legislation which will restrict the use of any veil.
At the Amina Muslim Women's Resource Centre, Samina Ansari, a development officer at the helpline, who herself has faced abuse, is convinced Islamophobia and reported instances of it are on the rise, particularly in the last year.
She said: "There was a lot of media hype around the niqab issue and that stirred up a lot of emotions ... The rise in groups like the SDL and the EDL (Scottish and English Defence Leagues, which claim to oppose Islamic extremism), has not helped. There seems to continuously be a lot of negative media coverage around Muslims, around Islam, I can't see that going away in the near future, and I think with a young Muslim population here in Scotland, who perhaps are more vocal than previous generations, they are more likely to come forward."
Tomorrow, Justice Secretary Kenny MacAskill will visit Amina to hear its concerns about Islamophobia and racism. Staff will challenge him to do more to help.
Amina recently encouraged 400 Muslim women in Scotland to say how they viewed themselves.
One of those who took part in the "I Speak for Myself" campaign was 28-year-old Talat Yaqoob.
A blogger and community campaigner in Edinburgh, Yaqoob says she is a "liberal" Muslim who does not wear a headscarf, but when she visits the mosque, she will dress traditionally and cover her head.
This is when she has experienced people looking at her "differently" which she says makes her paranoid.
Yaqoob said: "I don't think the niqab or the hijab is a way that I need to express my faith, but at the same time, I understand that might be the way someone else is expressing their faith and I believe it is their right to do that … There is still a misunderstanding of what that represents and I think there is an idea of 'that looks different'.
"For me, some of that might be innocent, and I would be very happy if somebody stopped me and said 'what is that you are wearing?' I would have a conversation about that. But the problem arises when people assume there is a negativity surrounding that person because they are wearing something that is related to Islamic culture."
Also tomorrow, a public meeting will be held in Glasgow inviting women to discuss the "increasing hostility" around a woman's right to wear a headscarf or niqab.
Speakers will include Glasgow MSP and Minister for External Affairs and International Development Humza Yousaf, human rights lawyer Aamer Anwar, and journalist Yvonne Ridley, who was captured by the Taliban in Afghanistan and converted to Islam after her release.
Ridley, who lives in the Borders and is assistant director general of the West European branch of the International Muslim Women's Union, said the debate was fundamentally a feminist one.
"I think it is very important that a woman is allowed to wear what she wants," she said, "and that is before we even talk about religion.
"Every time a male politician stands up and starts criticising the niqab, it manifests itself in an attack on a Muslim woman. Somewhere some idiot will verbally or physically attack a Muslim woman. I want to take religion out of the equation for a moment and tell men to get out of our wardrobes."
Yousaf described a growing physical and verbal hostility towards women who choose to wear the niqab, veil or hijab. He said: "A lot of people in the Muslim community have approached me, both men and women, more so women, to say they feel under threat. They feel that every time this issue it brought to prominence they are less likely to go out and less likely to be seen in public because of various incidents they fear might happen so I feel it is important we address it.
"What we are witnessing now, over the last few months, is an increase in hostility. I mean hostility in two ways. One is the media agenda, certain elements of the media who are quite happy to turn this into a sensationalist issue. The other element of hostility is [revealed in] a report about how Muslim women are more likely to be under attack from Islamophobia and more likely if they wear the hijab [the Birmingham University study]."
Next month, four seminars will be hosted by Edinburgh University. Dr Rahielah Ali from the University of Newcastle, will speak on Muslim Women and Anti-Muslimness in Scotland. Mona Siddiqui, professor of Islamic and interreligious studies at Edinburgh University, said the veil was surrounded by controversy because of its political connotations, rather than the religion it represents.
She said: "It is not just seen as a sign of religious difference. For a lot of people there is a hidden agenda there and that is why so many people see it as something that is threatening to what they perceive is outside what Scottish Islam looks like or Scottish identity looks like."
There are 76,000 Muslims living in Scotland, according to the 2011 census, making up 1.4% of the population. Aamer Anwar says only around 200 women in Scotland wear the niqab, and yet the debate has become front-page news.
He said: "It's a deliberate attack on the Muslim community because it will very quickly move from the niqab to the hijab to the idea of being a Muslim full stop. It occupies front pages of the national media and can occupy our TV and news items, and chat shows and politicians seems to spend all their time on it.
"In reality, what you are talking about is an extremely tiny minority of the Muslim community, but somehow this is being conducted as if it is a major issue."
Not every Muslim, though, believes there is a toxic anti-Muslim feeling here. Asma Abdalla, 53, came to Scotland in 2000, living in Edinburgh then settling in Glasgow.
From Sudan, she said she has never experienced Islamaphobia, and had been welcomed into the community. She chooses to wear a headscarf: it was part of her culture in Sudan, but since coming here it has become more important to her.
"In the organisations I have worked in, I have not faced anything. It's really very friendly in my area and in my work," she said.
http://www.heraldscotland.com/news/home-news/whats-it-like-being-a-muslim-woman-in-scotland-today.22776536
------------
URL: https://newageislam.com/islam-women-feminism/saudi-women's-university-spat-with/d/34586