New Age Islam News Bureau
9 Oct 2019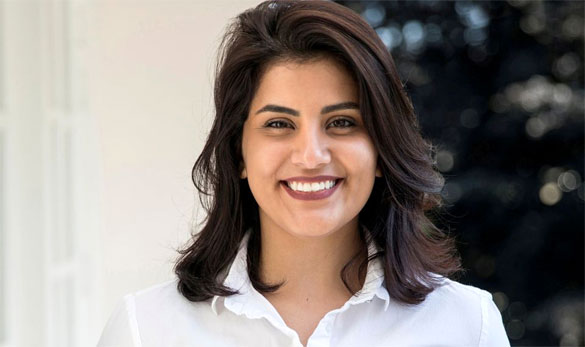 Jailed Saudi women's rights activist Loujain al-Hathloul has been nominated for this year's Nobel Peace Prize
------
• Charter Launched In Abu Dhabi To Ensure Rights Of Arab Women
• Salam Stars Challenge Stereotypes In Female Athletics
• Kuwait Backs Women Empowerment At UN, Globally
• Burqa Ban 'Has No Place In A Society That Promotes Equality', Says UN
• Rescued From Sex Slavery, Red Tape Traps Bangladeshi Girls In India
• Matron Allegedly Beaten To Death By Russian Female Inmates At Gadani Central Jail
• Turkey's first lady reopens 441-year-old fountain
• UK Boss Fined $27K for Racially Abusing Muslim Female Employee
Compiled by New Age Islam News Bureau
URL: https://www.newageislam.com/islam-women-feminism/saudi-womens-rights-activist-loujain/d/119952
--------
Saudi Women's Rights Activist Loujain Al-Hathloul Contender For Nobel Peace Prize
Oct 9, 2019
Jailed Saudi women's rights activist Loujain al-Hathloul has been nominated for this year's Nobel Peace Prize after being put forward by group of Norwegian and Canadian politicians.
Hathloul, along with at least a dozen other women's rights activists, were arrested over a year ago as Saudi Arabia ended a ban on women driving cars, which many of the detainees had long campaigned for. Local media tarred them as traitors.
The case has drawn global criticism and provoked anger in European capitals and the US Congress following last year's murder of journalist Jamal Khashoggi by Saudi agents inside the kingdom's Istanbul consulate.
Rights groups say at least three of the women, including Hathloul, were held in solitary confinement for months and subjected to abuse including electric shocks, flogging, and sexual assault.
Saudi officials have denied torture allegations and said the arrests were made on suspicion of harming Saudi interests and offering support to hostile elements abroad.
https://www.presstv.com/Detail/2019/10/09/608220/Saudi-Arabia-Woman-Activist-Loujain-alHathloul-Contender-Nobel-Peace-Prize
--------
Charter Launched In Abu Dhabi To Ensure Rights Of Arab Women
October 9, 2019
It aims to secure their rights and ensure their active participation in attaining their country's goals.
The Arab Charter on Women's Rights has been launched in Abu Dhabi. During a special ceremony on Tuesday, the Federal National Council (FNC), in cooperation with the Arab Parliament, launched the charter that is said to be an "exceptional and qualitative move towards the advancement and empowerment of Arab women".
It aims to secure their rights and ensure their active participation in attaining their country's development goals and objectives. The ceremony was held under the patronage of Sheikha Fatima bint Mubarak, Chairwoman of the General Women's Union, President of the Supreme Council for Motherhood and Childhood, and Supreme Chairwoman of the Family Development Foundation.
Sheikh Nahyan bin Mubarak Al Nahyan, Minister of Tolerance; Dr. Meshaal Al Salmi, Arab Parliament President; Fawzia Zainal, Bahrain's Speaker of the Council of Representatives; Dr. Alia Hatog-Buran, President of the Parliamentary Assembly of the Mediterranean; and Maya Morsy, Egypt's National Council for Women President, were among the top officials present for the launch.
In a speech delivered on behalf of Sheikha Fatima bint Mubarak, Sheikh Nahyan said: "The Arab Charter on Women's Rights is a historical document, predicated on the noble and moral principles and teachings of the Islamic faith.
"This charter is a source of pride that highlights the principles of equality, equal opportunity, and joint action among all elements within a nation to attain progress and prosperity in Arab society."
https://www.khaleejtimes.com/uae/abu-dhabi/charter-launched-in-abu-dhabi-to-ensure-rights-of-arab-women-
--------
Salam Stars Challenge Stereotypes In Female Athletics
by Salam Fatayer
Oct 9, 2019
The topic of hijab, a headscarf worn by Muslim women, has always resulted in a variety of opinions. If we add wearing a hijab while competing in a sport, the focus becomes on the attire of the athlete rather than the skillset.
At Salam High School, Coach Martie Budnowski says the high school varsity volleyball team is currently in the works of changing the perception around Muslim female athletes that wear a hijab.
"We are right in the middle of changing culture when it comes to female athletics here at Salam," said Budnowski. "Salam is just starting to get into the 'It's okay to win and we can fight to win to win' mentality, which still needs to grow as opposed to 'we're just so glad we get to play.'"
This the first season with Coach Budnowski, and with her addition on the team, Salam Stars had a significant victory against Tenor High School with a five-set match.
Some girls on the team expressed that having a win under their belt gave them confidence and ignited a spark to continue giving it their all, even when sometimes facing bias for wearing a headscarf.
I can't lie and say I never felt discrimination because I wear hijab," said Ameera Jaber, student-athlete.
Although some students recognize that facing prejudice on and off the court is prevalent, another student-athlete Phareda Be says that's not always the case.
"I would go to parks and practice there," said Phareda Be. "Some girls, I have no idea who they are, they just see me play volleyball and are like, 'can I join?' and stuff like that, so I have a positive view when playing volleyball."
Women that choose to wear a hijab and also participate in a sport shouldn't be seen as something out of the norm yet the act is treated as such.
For instance, if we take Ibtihaj Muhammad, a 2016 Olympics bronze medalist for fencing, she's notably known for being the first Muslim American to wear a hijab while competing for the Olympics. Najma Abdi, student-athlete, says that what one decides to wear shouldn't be a relevant factor when playing volleyball.
"People don't understand that there is a difference between my skills and what I represent," said Abdi. "I represent Islam and my skills have nothing to do on whether I'm wearing a scarf or not."
With every practice and every game, Salam Stars are dismantling the idea that wearing a hijab can be limit one's ability. The team symbolizes self-acceptance and resilience. At the end of the day, this is a story about a high school volleyball team learning to be better teammates, making friends and practicing to win matches. Just like any other sports team.
https://radiomilwaukee.org/story/community-stories/salam-stars-challenge-stereotypes-in-female-athletics/
--------
Kuwait Backs Women Empowerment At UN, Globally
Oct 9, 2019
NEW YORK, Oct 8, (KUNA): The State of Kuwait continues to work intensively to boost cooperation with international institutes and the UN to empower women and bolster their rights, said a Kuwaiti diplomat Tuesday.
The UN had played a great role in better women's representation at high-ranking jobs and position, Kuwaiti diplomatic Attache Hala Al-Garabally in a UN committee meeting dedicated to empowering women and supporting their rights.
She commended the role played by the General Secretariat in achieving equality between genders by 2021. She added that her country had viewed UN data and reports regarding women empowerment and representation, stressing that the State of Kuwait will do its best to implement recommendations to enable more rights for women.
Bolstering women's rights is an integral component of Kuwait development vision 2035 and it is an essential goal within the UN Sustainable Development Goals (UNSDGs), she said, affirming that Kuwait was willing to provide support to both strategies.
Meanwhile, the State of Kuwait called on Tuesday for the bolstering of UN Security Council's preventive diplomacy role in armed confl cts, especially in Africa. During a UNSC meeting on "Peace and Security in Africa: The Centrality of Preventive Diplomacy, Conflict Prevention", Kuwait's Permanent Representative to the UN headquarters in New York Ambassador Mansour Al-Otaibi said that his country was keen on supporting the important role played by preventive diplomacy in areas of conflict.
The State of Kuwait had highlighted the issue during its June presidency of the UNSC in the name of safekeeping international peace and security, indicated Al-Otaibi. Mediation is a civilized means to bring on a resolution to any conflict of international proportion and this should be advocated by all countries, added the Kuwaiti diplomat who called on the UNSC to use articles within the UN statute to end conflicts peacefully.
He stressed that negotiations, talks and legal procedures were all better than war and therefore, all countries as well as regional and international entities should aspire for peace and security whether in Africa or elsewhere.
Meanwhile, Ambassador Al-Otaibi commended the role played by Ethiopia and the African Union in aiding parties in Sudan to reach a peaceful resolution to their dispute.
https://www.arabtimesonline.com/news/kuwait-backs-women-empowerment-at-un-globally/
--------
Burqa Ban 'Has No Place In A Society That Promotes Equality', Says UN
October 8, 2019
The Netherlands' partial ban on face coverings – widely known as the Burqa ban – discriminates against Muslim women, the United Nations special rapporteur on racism has said in a damning report. Tendayi Achiume said the measure, which came into force on August 1, had 'no place in a country that promotes equality between men and women'. While the legislation was carefully worded to include all face coverings so as to be ostensibly neutral, Achiume said it was shaped by a political climate of hostility to Islamic forms of dress such as the niqab. 'The political debate surrounding the adoption of this law makes plain its intended targeting of Muslim women, and even if this targeting was not the intent, it has certainly been the effect,' she said in a preliminary report presented in The Hague on Monday. People who wear face-covering headgear in schools, hospitals and public buildings, or on public transport, are liable to receive a €150 fine if they refuse to remove it. Only around 150 women in the Netherlands are estimated to wear a niqab or Burqa. Achiume said the law reflected a contradictory situation in which the Dutch tradition of hostility was being subverted to impose western cultural norms on migrant populations. 'The paradox in the Netherlands is that insistence that equality and tolerance already exist actually operates as a barrier to achieving this equality and tolerance in fact,' she noted. Zwarte Piet Achiume visited the Netherlands last week to observe its progress on tackling racism and discrimination. All nations that sign the UN's International Convention on the Elimination of All Forms of Racial Discrimination undergo an inspection every four years. Her final report will be submitted to the UN Human Rights Council in July. Five years ago the head of the UN's human rights committee, Verene Shepherd, pitched in to the debate on the character of Zwarte Piet when she said the practice of wearing blackface for the Sinterklaas festivities 'should stop'. Her remarks were interpreted in Dutch media as a demand to abolish the Sinterklaas tradition altogether and were angrily denounced by 'pro-Piet' campaigners. Achiume praised the progress made since then to remove the 'dehumanising and stereotype' aspects of Zwarte Piet. Blackface Piets have been dropped from the children's TV show Sinterklaasjournaal and St Nicholas's ceremonial parade in November. She also expressed concern about recent reports of racial and ethnic discrimination within The Hague's police department and called for better protection for whistleblowers within the force. 'The government must take urgent steps to deal decisively with structures and individuals that promote or even tolerate racism and discrimination within police forces, and the government must at the same time provide strong protections for whistleblowers brave enough to come forward with the truth,' she said.
https://www.dutchnews.nl/news/2019/10/Burqa-ban-has-no-place-in-a-society-that-promotes-equality-says-un/
--------
Rescued From Sex Slavery, Red Tape Traps Bangladeshi Girls In India
Roli Srivastava, Naimul Karim
OCTOBER 9, 2019
SOUTH 24 PARGANAS, India/DHAKA (Thomson Reuters Foundation) - Priya was 15 when a relative in Bangladesh tricked her with the promise of a dream job as a singer, drugged her, and trafficked her across the border into the sex trade in India.
After several failed attempts to escape the brothel in the eastern state of West Bengal where she was trapped for six years, Priya was rescued along with other girls from Bangladesh and India in a raid by police and anti-trafficking campaigners.
Heading home and pursuing her musical ambitions beckoned, or so she thought. But three years after her rescue, the prospects of making it back to her family appeared ever more distant.
For Priya, now 24, was one of about 180 Bangladeshi sex trafficking survivors stuck in shelters in West Bengal - with many having waited years for official clearance to go home due to complex and lengthy bureaucracy across the two countries.
"How long can I wait?", said Priya, using her 'brothel name' to hide her identity for fear of being shamed in Bangladesh.
"Maybe I won't go now even if they ask me to," she said last month at a shelter, sitting in a room adorned with paper roses.
Victims wishing to return home must first gain approval from police, social workers, judges, border forces and bureaucrats at both state and federal level, a process that involves about 15 steps, analysis by the Thomson Reuters Foundation has revealed.
While the two nations are working towards faster returns, the long waits facing dozens of survivors could stymie their efforts to start life afresh back home and leave them vulnerable to being trafficked again, according to activists.
"Living in a shelter ... can be traumatic," said Tariqul Islam of Justice and Care, a charity that reintegrates victims in Bangladesh. "When they return after two years or more, it becomes hard for them to adjust to the changes and recover."
"Traffickers often keep track of their victims even after they return home. When they notice that the girl does not have a job, or is finding it hard to adjust, they target her again."
Thousands of Bangladeshis are trafficked to India each year - many of whom are sold into prostitution or domestic servitude - anti-slavery activists say, although official data is lacking.
In the last eight years, Bangladesh has brought home about 1,750 trafficking survivors from India, predominantly women and girls in West Bengal and the western state of Maharashtra.
However anti-slavery charities that help victims in India say most are kept in shelters for years - first awaiting the conclusion of court proceedings, then the repatriation process.
Justice is often slow and convictions are rare. One in four trafficking cases in India leads to conviction, while in Bangladesh, only 30 convictions have been secured under a 2012 law, with more than 4,000 cases still awaiting trial.
India and Bangladesh signed a partnership in 2015 to speed up repatriations, but how a victim is treated - whether it is their experience with the judiciary or the wait to go home - varies from one Indian state to another, according to activists.
A long-awaited deal aimed at streamlining the system is to be finalised soon, officials from the two governments said.
"At the moment it sometimes takes 18 to 22 months," said Ferdousi Akhter, joint secretary with Bangladesh's interior ministry. Yet charities say it can drag on for up to six years.
"A victim has to go through many layers to be repatriated from India," Akhter added. "We are in talks to cut down these layers ... victims can surely make faster returns."
In a small house on the outskirts of Bangladesh's capital Dhaka, mother-of-two Basiron remembered the call to say her missing daughters had been found in a brothel in India a year after they disappeared.
"When I heard the news, I screamed! I felt as though my heart was going to burst," the 47-year-old single parent said.
The girls - now aged 16 and 17 - were rescued in 2017 from a brothel in West Bengal where they were held in one room, beaten, plied with drink and drugs until addicted, and repeatedly raped.
Two years on, they are still waiting to go home.
Charges against the 16 people arrested in their trafficking case are yet to be filed in court, which refused them permission to return and testify from Bangladesh.
At a shelter for trafficking victims in a village in West Bengal, the two sisters showed off sketches of huts surrounded by trees and a river - their way of remembering home.
The younger girl, Neela, said she wanted to take out a loan and set up a beauty parlor when she finally returns home.
"The Indian girls who were rescued with us went back home in no time," said Neela, whose right arm was covered with scars - evidence of self-harm during her time in the brothel.
"We feel happy for them. Maybe we too will go back one day."
Basiron and her daughters stay in touch through occasional phone calls - they do not discuss the case but talk about meals and movies they have enjoyed - yet the mother is losing hope over their return and is increasingly worried for their safety.
"There are times when I see reports on the news about children getting kidnapped or killed ... those nights are the hardest to sleep," said Basiron, who works as a domestic helper.
"I haven't seen them in three years. Not even a photo. I don't know what they look like."
West Bengal has a 21-week deadline for a rescued victim to be sent back home but it is rarely met, state officials said, due to lengthy court cases in India and the time it takes Bangladesh to confirm that a survivor is one of its citizens.
That is due to the high volume of cases, the fact that some victims do not share their home addresses for fear of reprisals against their families, and because relatives cannot always identify them easily after years apart.
To ensure faster returns, India has started sharing photos of victims with Bangladeshi officials over the past year, having previously just provided their name, sex and age.
Sitting at her desk, state government anti-trafficking consultant Madhumita Haldar showed two photos of a teenage Bangladeshi victim on her smartphone. In one she was wearing a headscarf, in the other her face was covered in garish make-up.
"But how is a parent supposed to recognize their child from this?" she asked, surrounded by victim case files stacked high.
More than 80% of the 180 female trafficking victims in West Bengal waiting to go home still have not had their nationality verified by Bangladesh and some have been waiting for over a year, Haldar said.
A Bangladeshi officer who declined to be named said police never took more than six weeks to complete the process, despite some delays in verifying victims' addresses.
Yet in one case, a teenage girl died of acute abdominal pain that shelter officials later linked to her withdrawal from alcohol and drugs as she waited for her repatriation order to be completed by Bangladesh, according to activist Tapoti Bhowmick.
"Within a day and a half (of her death), all the paperwork was completed and the clearances were in place," said Bhowmick from Sanlaap, an anti-trafficking charity in West Bengal.
"Should these girls die to go back to their country?"
Priya's story ends more happily.
Weeks after speaking to the Thomson Reuters Foundation, the teenager returned to Bangladesh, having spent nearly nine years in India.
She is now in another shelter, being cared for by a charity, but is set to return to her family home in the coming weeks.
"It feels really good to finally return," Priya said by phone from the shelter. "I have forgotten what my house looks like, but I know that I will be able to recognize once I see it.
"I just want to go home and see my family."
https://www.reuters.com/article/us-india-bangladesh-trafficking-insight/rescued-from-sex-slavery-red-tape-traps-bangladeshi-girls-in-india-idUSKBN1WO055
--------
Matron Allegedly Beaten To Death By Russian Female Inmates At Gadani Central Jail
Ismail Sasoli
October 08, 2019
A matron who was deployed on duty at the women's barrack inside Central Jail, Gadani in Balochistan's Lasbela district was beaten to death allegedly by Russian female inmates, police said on Tuesday.
The body of 23-year-old Zoya Naz, who was performing the night duty at the women's barrack, was found in a pool of blood on Tuesday morning, according to a First Information Report (FIR) of the incident registered on a complaint of the deputy superintendent of the Gadani jail.
As per the FIR, seen by Dawn.com, Zoya, who hailed from Gadani, had entered the women's barrack at 5pm on Monday to begin her shift which was to end at 8am on Tuesday.
However, when the jail's head warden went to open the gate of the women's barrack at 6am, he was informed by an inmate that the Russian female prisoners at the facility had "brutally" murdered Zoya overnight.
Police officials found the matron's body lying in a pool of blood by the gate of the barrack. According to the FIR, prisoners told police that at around 12:30am, three Russian female inmates strangled Zoya with a rope and repeatedly struck her head with a cement block and her face with a stone. The victim reportedly died on the spot.
The three Russian inmates, who were nominated in the FIR registered under Sections 302 (premeditated murder) and 34 (common intention) of the Pakistan Penal Code, have been incarcerated in the Gadani jail for the past five months, according to Shakeel Ahmed Baloch, the jail superintendent. They were arrested in Quetta under the Foreign Act; although their jail sentence had ended, they were shifted to Gadani jail until the legal procedure for their deportation was completed at the Russian consulate in Karachi.
Hub Assistant Superintendent of Police Naveed Alam told DawnNewsTV that police had found in their initial probe that the Russain prisoners, who were Muslims, had engaged in an argument with the deceased matron over a religious issue.
https://www.dawn.com/news/1509729/matron-allegedly-beaten-to-death-by-russian-female-inmates-at-gadani-central-jail
--------
Turkey's first lady reopens 441-year-old fountain
Talha Öztürk
08.10.2019
BELGRADE, Serbia
Turkey's First Lady Emine Erdogan on Tuesday participated in the reopening ceremony of Ottoman heritage fountain, in Serbian capital Belgrade.
The fountain was built 441 years ago by famous Ottoman statesman Sokollu Mehmed Pasha in the Belgrade's Kalemegdan fortress.
Turkish Cooperation and Coordination Agency (TIKA) carried out intense work to renovate it.
Erdogan also visited the Little Stairs in Kalemegdan, built-in 1903 by Serbia's first female architect Jelisaveta Nacic, which was also restored by TIKA.
Her other engagements included visiting Gobeklitepe Photography Exhibition, which was exhibited as part of Turkish Week program.
Tamara Vucic, the wife of Serbian President Aleksandr Vucic accompanied Emine Erdogan.
https://www.aa.com.tr/en/culture/turkeys-first-lady-reopens-441-year-old-fountain/1606340
--------
UK Boss Fined $27K for Racially Abusing Muslim Female Employee
October 9th, 2019
A British Muslim woman of Pakistani origin has been granted a payout totalling over £22,500 after enduring 3 and a half years of racist and Islamophobic abuse from her company's director.
Miss Noreen, of Pakistani origin, worked as a recruitment consultant for Peterborough-based agency RecruitmentFinder Ltd. from 2013 until she was made redundant in 2017, according to court documents from Bury St Edmunds employment tribunal.
Miss Noreen, 27, was at the brunt of regular derogatory and abusive comments over both her race and religion from her boss, identified in the documents as Mr P Clarke.
Mr Clarke complained to Miss Noreen about "You P*kis", and called her fasting during the holy month of Ramadan a "lot of bollocks to me".
Read more: World Hijab Day promotes visibility, not meaningful progress
Even the food she brought from home was remarked upon by Mr Clarke, who referred to everything, including a pasta dish, as "curry".
Mr Clarke said she looked like a "curry muncher" and also made derogatory comments about her weight, according to the tribunal documents.
Miss Noreen reported the comments became worse for the last 18 months of her employment, after she pointed out to Mr Clarke she had placed more staff in recruitment than he had.
At this point he stopped paying her the bonuses and fuel allowance she was entitled to.
Mr Clarke also made comments about Miss Noreen's job security which made her fear for her job to the point where she stopped taking the holiday leave she was entitled to, taking only Christmas Day, New Year's Day and Easter Monday.
Mr Clarke's threats made Miss Noreen too fearful to act on or report his abusive behaviour.
After she was made redundant, Mr Clarke did not pay her any of her entitled holiday pay or redundancy pay, which along with the missed fuel and bonus payment totalled around £15,000.
Miss Noreen was also awarded £7,500 compensation for discrimination she suffered in the workplace.
Women who wear headscarves face particular discrimination in the workplace, while young Muslims feel forced to work "10 times as hard" as their white counterparts to get on in their jobs, according to a report by The Guardian.
Discrimination and lack of cultural awareness in the workplace means young British Muslims are unable to reach their full potential at work, according to a 2017 report by the Social Mobility Commission.
Only 6 percent of Muslims are in higher managerial, administrative and professional occupations, according to the UK's 2011 census.
https://www.albawaba.com/editors-choice/uk-boss-fined-27k-racially-abusing-muslim-female-employee-1313723
--------
URL: https://www.newageislam.com/islam-women-feminism/saudi-womens-rights-activist-loujain/d/119952
New Age Islam, Islam Online, Islamic Website, African Muslim News, Arab World News, South Asia News, Indian Muslim News, World Muslim News, Women in Islam, Islamic Feminism, Arab Women, Women In Arab, Islamophobia in America, Muslim Women in West, Islam Women and Feminism