New Age Islam News Bureau
04 February 2021
• Iranian Women Paralympians' Busts Unveiled
• Istanbul to Hire Its First Female Firefighters
• First Women's Bike Race Diversifies Sport In Syria
• Uighurs Women Subjected To Systematic Rape, Sexual Abuse in China: BBC Report
• French Hijab Wearers Must Navigate Politics to Keep Identity
• One Year On, Muslim Women Reflect On Wearing the Niqab in A Mask-Wearing World
• How France's Separatism Law Affects Muslim Working-Class Women
Compiled by New Age Islam News Bureau
URL: https://www.newageislam.com/islam-women-feminism/saudi-womens-football-television-coverage/d/124226
--------
Saudi Women's Football Television Coverage to Kick Off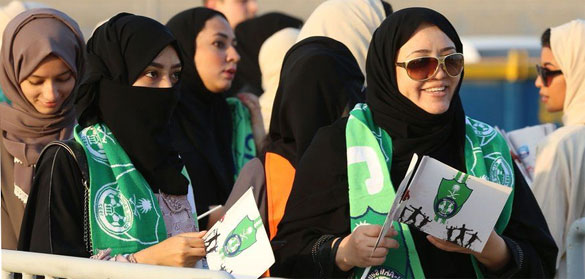 Supporters arrive at the King Abdullah Sports City in Jeddah for Friday's game
-----
DEEMA AL-KHUDAIR
February 04, 2021
JEDDAH: The Women's Football League could soon be televised, according to Saudi Sports for All Federation (SFA) Executive Director Shaima Al-Hussaini.
Al-Hussaini told Asharq Al-Awsat: "We strive for the second edition of the women's league during this year 2021 to be more expanded in terms of media coverage. We'll work with our partners in the media sector on how to broadcast on television."
Louloua Al-Ghubaysh, a 25-year-old teacher, said that she had been brought up on football, and was one of many female football fans in the Kingdom celebrating the news.
"I'm so happy to hear this news, I personally have been watching football since I was a child. My dad used to play for Al-Ittihad, and I'm an Ittihad fan. I love soccer and watch the matches regularly," she told Arab News.
"Football for women is exciting news. They did this, and it's 2021, everything is growing and the Kingdom is changing. I love my country so much, everything is changing for the better; women are driving, women are playing golf now, women are doing so much," she said.
Basma Saeedi, a 26-year-old pharmacy graduate, also grew up in a football-loving family.
"Part of our quality time is to watch the game together as a family. I'm so excited to cheer for women's teams this time," she said.
Highlighting the progress of women under the social reforms of Saudi Vision 2030, she said: "In recent years, the Kingdom has witnessed great support for Saudi women in various fields, and the greatest evidence of that is what we will see today. Honestly, I would not have expected this today, but as a football fan I am very happy for my fellow sisters for this great progress and I hope that they reach the World Cup."
Last November, more than 24 teams based in Riyadh, Jeddah and Dammam competed for the Champions Cup. The Challenge Riyadh football team took home the cup and award of SR150,000 ($40,000) with second place going to Jeddah Eagles.
https://www.arabnews.com/node/1803516/saudi-arabia
--------
Iranian Women Paralympians' Busts Unveiled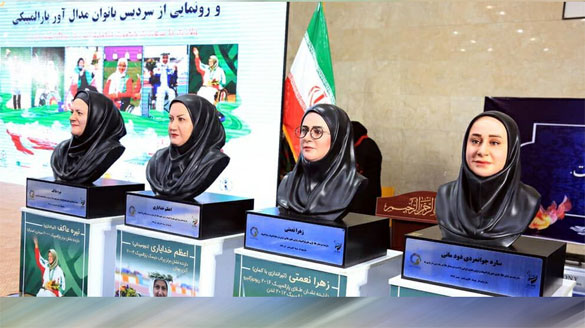 February 3, 2021
On the occasion of the 20th anniversary of establishment of Iran's National Paralympic Committee (NPC), the busts of Nayereh Akef, Azam Khodayari, Zahra Nemati, and Sareh Javanmardi were unveiled.
Also, the memory of Para archer Razieh Shirmohammadi, who passed away in June 2019 due to heart attack at the age of 41, was cherished.
Mahmoud Khosravi vafa, head of Iran's National Paralympic Committee (NPC), President of Iran's National Olympic Committee (NOC) Reza Salehi Amiri and head of Iran Sports Federation for the Disabled Mohammad Shervin Asbaghian attended the ceremony.
Akef is the first Iranian woman to win a medal in Paralympic. She claimed a bronze medal at the 2000 Summer Paralympics in Sydney, Australia in shooting.
Khodayari represented Iran in the 2004 Summer Paralympics in Athens, Greece and won a bronze medal in the women's F56/58 discus throw event.
Nemati has won two gold medals at the 2012 and 2016 Paralympic Games in archery. She became the first Iranian woman to win a gold at either the Olympic or Paralympic Games.
Javanmardi also won two gold medals in Rio Paralympic Games. She seized two gold medals at the 10 m air pistol SH1 and Mixed 50 m pistol SH1. Javanmardi is the first ever female gold medalist from Iran to win in the shooting category of the Paralympics Games.
https://www.tehrantimes.com/news/457729/Iranian-women-Paralympians-busts-unveiled
--------
Istanbul to Hire Its First Female Firefighters
FEB 02, 2021
Turkey's most populated and most famous city Istanbul is late to the party in hiring female firefighters. The municipality took its first step on Monday, however, to start a new tradition. In recruitment trials for the city's fire department, 50 women competed against 200 men.
Rolling water hoses and weights and carrying dummies posing as victims to safety, the women showed off their skills while working to secure a job.
Istanbul Mayor Ekrem Imamoğlu watched the firefighter test at the Avrasya Show and Arts Center. "This is a very exciting development for us. We selected a quota of 50 women for firefighter recruitment. We plan to hire 500 more staff this year," he told reporters.
Though their number still lags behind men, women are increasingly finding a place in male-dominated fire departments across the country. The female employment rate is around 32% in Turkey and the government is working to boost employment opportunities for women, with incentives and funds for entrepreneurs and workers.
"We needed this recruitment drive as it has been a long time since the fire department hired so many people. Istanbul needs more firefighters due to its growing population and a faster response to fires and likely disasters. I am especially excited for women. Women and men should enjoy equality in opportunities in every aspect of life. Women can perfectly handle this job," he underlined.
He said they would diversify job opportunities for females in the municipality and hire more women in the future.
"Unless you equalize women's labor with men's labor, you cannot talk about a morally rich society. We had gender equality in the past but it was confined to rural regions where women and men were working in the fields together. Urbanization spoiled this equality. Now, a larger part of the population lives in the cities and unfortunately, women have been victims of this urbanization in terms of employment," he said.
Imamoğlu also answered reporters' questions about a leaked audio recording of an official from his Republican People's Party (CHP) that apparently confessed to having a bias for party members in hiring new staff for the municipality. The mayor said that, on the contrary, the city is actually engaged in a fair recruitment process for the first time in years. "People apply through an e-government website and anyone who is eligible will be hired. We never questioned any applicant's political affiliation. It is correct that we hired people aligned with the CHP. But we also hired people from other parties, including the Justice and Development (AK Party)," he said, referring to the party of his predecessor, Mevlüt Uysal.
https://www.dailysabah.com/turkey/istanbul/istanbul-to-hire-its-first-female-firefighters
--------
First Women's Bike Race Diversifies Sport In Syria
Akhin Ahmed
Feb 3, 2021
A group of female journalists and activists in the city of Qamishli, in northeastern Syria, are behind an initiative called "I Want a Bike" that strives to overcome traditions and taboos that prohibit women from riding bicycles and motorcycles as well as encourage reliance on bicycles and reduce pollution.
I Want a Bike has received broad acclaim among local women.
Midia Ghanem, a 28-year-old reporter for a local newspaper called Ronahi, first thought of the idea. In cooperation with the Sports Federation affiliated with the Autonomous Administration of North and East Syria, she put on the first women's cycling race on Jan. 16, the first such race in the area.
Ghanem told Al-Monitor that about 30 participants competed in in the town of Amuda, west of Qamishli. She said, "It took a lot of time and effort to prepare for the competition and I trained the competitors for two months."
Ghanem noted, "Since our team succeeded, we are planning to hold competitions in different cities and towns in northeastern Syria, with the participation of women from Kobani, Derek, Manbij, Raqqa, Deir ez-Zor and other places. We seek to turn our competition into a wider annual event to reach all of northeastern Syria, with the participation of the largest number of women possible."
She explained that the three-kilometer race started at the Darbasiyah roundabout and ended at downtown Amuda's Free Woman Square. The top three finishers won training bicycles provided by the Sports Federation.
Ghanem said, "I have been riding a bike since childhood and never stopped. All my friends can testify that I am a skilled bike rider. One of my friends asked me once to teach her to ride a bike, so I taught her within five hours. When I saw how happy she was to be able to ride a bike, I got the idea for the I Want a Bike campaign."
She said that about two months ago, "I presented the idea to my colleague, journalist Shinda Akram, who works as a TV host at a local channel. She was interested and just a few days later we had formed a cycling team of 15 young women. Every day we have new women joining the team, which includes 50 women today, and we welcome others to join whenever."
Speaking about the difficulties she faced, Ghanem noted that she has been harassed for riding a bike to work, but she didn't let it stop her thanks to the support of friends and co-workers. "I get my daily exercise by riding my bike to work, not to mention that using bikes reduces car exhaust that causes respiratory diseases, and it is an easy, clean and economical means of transportation."
Akram told Al-Monitor, "Our campaign calls for encouraging women's cycling and even motorbike riding in public streets, and for breaking the barrier of fear for some girls who are too shy to ride bikes."
Akram said, "Riding a bike needs appropriate clothing, and it is preferable to wear sporty clothes for comfort and protection," adding that women unfortunately also have to consider their clothing while riding bicycles so that they are not targets of harassment and bullying.
Rider Rima Abdel Samad won first place in the Jan. 16 race. Heba Aladdin came in second and Narin Nazir came in third, and they all received bicycles.
Aladdin told Al-Monitor that participating was a dream come true. She pointed out that bike riding saves commuters time by helping them escape traffic, and it also reduces air pollution.
Local cardiologist Luay Hassan told Al-Monitor that cycling has both physical and psychological health benefits for women, noting, "Women cycling daily, whether for pleasure or as a means of transportation, helps fight obesity, promotes cardiovascular health and reduces anxiety and depression. It also maintains health and strengthens the bones, as well as helping to burn a lot of calories and generally improves the level of fitness."
https://www.al-monitor.com/pulse/originals/2021/02/syria-northeast-women-bicycle-bike-marathon-sports.html
--------
Uighurs Women Subjected To Systematic Rape, Sexual Abuse in China: BBC Report
Feb 4, 2021
BEIJING: Women in China's system of detention camps for ethnic Uighurs and other Muslims in its western region of Xinjiang were subject to rape, sexual abuse and torture, according to a BBC report on Wednesday.
The British broadcaster said "several former detainees and a guard have told the BBC they experienced or saw evidence of an organized system of mass rape, sexual abuse and torture."
Women were removed from the cells "every night" and raped by one or more masked Chinese men, the report said. Some of the women who were taken away from the cells at night were never returned.
More than a million men and women have been detained in Xinjiang camps, which China says exist for the "re-education" of the Uighurs and other minorities.
Beijing denies accusations of abuse in Xinjiang, and has said the complexes it set up in the region provided vocational training to help stamp out Islamist extremism and separatism. Those in the facilities have since "graduated", it says.
Asked on Wednesday about the BBC report, foreign ministry spokesman Wang Wenbin said it "is wholly without factual basis" and the people interviewed by the BBC have been "proved multiple times" to be "actors disseminating false information."
'Deeply disturbed': US
The United States is "deeply disturbed" by reports of systematic rape and sexual abuse against women in China's internment camps.
Asked to comment, a state department spokeswoman said: "We are deeply disturbed by reports, including first-hand testimony, of systematic rape and sexual abuse against women in internment camps for ethnic Uighurs and other Muslims in Xinjiang."
The spokeswoman reiterated US charges that China has committed "crimes against humanity and genocide" in Xinjiang and added: "These atrocities shock the conscience and must be met with serious consequences."
The official said China should allow "immediate and independent investigations by international observers" into the rape allegations "in addition to the other atrocities being committed in Xinjiang."
The United States accuses China of committing genocide against Uighurs in Xinjiang.
Last year, a report by German researcher Adrian Zenz published by the Washington-based Jamestown Foundation think tank accused China of using forced sterilisation, forced abortion and coercive family planning against minority Muslims.
https://timesofindia.indiatimes.com/world/china/muslim-women-subjected-to-systematic-rape-sexual-abuse-in-china-report/articleshow/80680309.cms
--------
French Hijab Wearers Must Navigate Politics to Keep Identity
Shweta Desai
01.02.2021
PARIS
Few issues trigger reactions in French politics as much as Muslim women donning the veil and headscarf, or hijab, who once again find themselves at the center of controversy as far-right leader Marine Le Pen last week proposed a nationwide ban of the garment on the streets and in public places.
A day before world hijab day is marked on Feb. 1, activists from feminist group Nemesis, dressed in flowing black burqas, staged a protest in front of the Trocadero, overlooking the Eiffel tower. They held a large banner that read, "France in 50 years" in a visual assertion that this is the future of the country if "creeping Islamists" are not reigned in.
"World hijab day is an ideological weapon aimed at trivializing the veil, it is a real insult to the women who are forced to wear it. As identity feminists, we wanted to show the French the face of France in 50 years if the Islamists and their accomplices win," the group said in a statement, adding that Paris police arrested the group's president for this peaceful action. "It's not a fantasy, for our girls, let's fight before it's too late," they said.
France has some of the most restrictive laws in Europe against public displays of religion and religious symbols. Girls in school are already prohibited from wearing the hijab, while full face-covering burqas were outlawed in public in 2010. Several municipalities adopted a burkini ban barring women with full-body-concealing swimwear from beaches, though this was later challenged in court and suspended but continues to be in force erratically.
Nevertheless, clothing associated with Islam and Muslims is often attacked on the grounds of being a "symbol of Islamic extremism and separatism."
Yet, a growing number of French fashion brands run by veiled women have cropped up in recent years, selling modest fashion options from hijabs and turbans to full-body coverings like the jilbabs and burkinis. The recently concluded 36th edition of the "oriental fashion" week alongside the Paris fashion week in January showcased caftans, robes and wide-legged palazzo pants, aptly depicting the growing clientele for such fashion.
The popularity of these enterprises shows, that beyond politics and discrimination, there is an ever-growing demand and large market to tap into in France, which is home to the largest Muslim minority in Europe.
"Imposed bans will not change the behavior of Muslims, quite the contrary. The more we forbid such fashion the more enthusiasm it arouses," says Bassma Wehbe, founder of the Nice-based Zaynab stylist and online brand specializing in comfortable designer Islamic clothing. Her range of tailor-made, high-end clothing is designed for veiled Muslim women "to feel free and true to our religion," she said.
"Many Muslim women struggle to compose practical and elegant sports and beach wardrobes doing 'the best' with what they have on hand. So yes, there is a very large market to be taken and the community has great purchasing power too," Wehbe affirmed, noting that her brand's hijabs saw high annual sales, with demand for burkinis soaring during the summer season.
Myriam Garrigues, a 32-year-old self-taught stylist and owner of Mimoza, a brand based in Toulouse designing Islamic outfits for women, men and children, feels that interest is growing in modest fashion thanks to the open-mindedness the younger generation that has no desire to assert their identity and refuse to give up on their choices as older generations did.
In her own experience as a young veiled woman, Myriam says she never faced discrimination professionally though her garb elicited negative reactions in some cases, almost preventing her from taking the end-of-highschool baccalaureate exams or from entering college. "But, as long as the law allowed me to wear it, I was able to assert my rights. To do this, it's essential to know our rights and not be afraid to demand that they be respected," she said.
Wearing the veil still comes at a great cost for many other professional women often forced to choose between their religious identity or career.
A senior duty officer employed with a private airline, who prefers to be named as Rachida in this story, recalls how her French boss was alarmed when she decided to start wearing the hijab seven years ago and refused to help her source a uniform with the head covering, which was easily available in neighboring Britain. "He would say, 'But why? You look so beautiful, so why the hijab?'"
Rachida then started noticing changes among the immigration staff at Paris Charles de Gaulle Airport. The customs officer who knew her familiar face would now regularly single her out, while in Paris's historic city center and at Champs Elysee, she was stopped by police who would ask to see her papers. "I failed to understand why they would behave in this manner, when I've been at the airport for work every second week. And all this started to happen only after I began to cover my head."
While Rachida was lucky enough to work at a company that supported and allowed her to wear the hijab as part of her uniform, Yousra, another hijab wearing Muslim woman who preferred to withhold real name in this article, faced discrimination that led twice to her dismissal due to her headscarf.
Once while employed at a women's boutique in Paris, her manager refused to extend her contract, while at a later job at a real estate firm, a client specifically complained about her headscarf. At both places, she was told explicitly that she would not be able to work with her hijab.
A 2018 study by sociologist Hanane Karimi reinforces the wide sentiments that Muslim women in France are deterred from accessing the job market due to Islamophobia and discrimination, pushing them instead into social entrepreneurship and self-employment.
Karimi's study found that the desire to "start a business of one's own was at once an expression of a refusal to negotiate the right to wear a hijab, which is constitutive of one's identity as a Muslim woman, and an act of overcoming the negative stereotypes to which they are subjected."
Yousra's story is such that confirms Karimi's findings. A graduate of a business school, she turned the headscarf into an advantage by starting her own real estate agency. "There are very few veiled women who work in real estate and clients who are Muslims or from other religions approach me because they know I have principles," she confirms, smilingly.
Rachida and Yousra admit that while things have worked out in their favor so far, for many other hijab-wearing French women, the challenges to aspire for a career and the inner struggle to stay true to their faith are made more difficult in the current political environment. Both feel that if the situation in France worsens amid the rise of right-wing politics, they could have to immigrate to other countries.
Bassma, too, believes that the government does not have the right to forbid women from wearing the hijab in public places as "this would impact our freedom and human rights."
"When the government cannot solve the real problems at hand like healthcare and rising unemployment, they try to create problems and tell people they have a solution to resolve it," Rachida summarized her feelings towards legislation proposed by the Macron government against so-called "Islamist separatist" and the counter-bill proposed by Le Pen, attacking the wider Muslim population. "I will not remove my hijab for Le Pen," she says with confidence.
Myriam too has noticed a shift following debates on the government's proposal that raises questions on young children wearing hijabs. She revealed that a few weeks after this question was raised at the National Assembly in January, her brand was "entitled to an inspection by authorities including police, tax regime, social security and labor inspector." "I guess it's no accident," she reluctantly admits.
https://www.aa.com.tr/en/europe/french-hijab-wearers-must-navigate-politics-to-keep-identity/2130007
--------
One Year On, Muslim Women Reflect On Wearing the Niqab in A Mask-Wearing World
February 4, 2021
One year into the pandemic, protective face masks have come to signify different things for different groups of people.
To some it's an issue of protest, while for some others it's a statement of social responsibility. Some people have even turned it into a style statement and are willing to spend hundreds of dollars on designer masks.
At the same time, racialized perceptions related to masks have put an additional burden on groups that already experience racism and inequality. Across the country, several Black American men have been arrested, followed and challenged by police officers who claimed they looked "suspicious" in pandemic masks.
But in a group I have studied since 2013 – Muslim women in the West who wear the niqab, or the Islamic veil, along with a headscarf, the experiences have been more positive.
The niqab is worn by a small minority of Muslim women. It is a piece of cloth tied over the headscarf (hijab) that comes in a variety of styles and colors. It is sometimes mistakenly labeled as the burqa, which is an all-enveloping garment that largely entered the American imagination during the U.S.-led invasion of Afghanistan. At that time the Western media, while depicting burqa-clad women, wrote about how the war would help advance the rights of Afghan women.
Niqab wearers are a difficult group to study, and scholars have described them as a "rare and elusive religious sub-culture." Despite this challenge, I have been able to conduct three research projects that relied on interviews with women who wore the niqab.
Initially, I conducted a larger study of 40 women that I published in my book "Wearing the Niqab: Muslim Women in the UK and the US." I also interviewed a group of 11 women in April 2020 after mask-wearing became mandated in public in many U.S. states and countries. In January I was able to reach 16 women who agreed to be interviewed about their experiences of wearing the niqab one year into the pandemic.
I found that many recently adopted the niqab because walking around with a covered face became less daunting as more people appeared in public with face masks. As I found, many wanted to wear the niqab to underscore the religious character of this practice.
Some women wore a mask under the niqab, mindful of the health guidance that requires masks to be constructed out of a "tightly woven fabric," in order to stop the virus from being spread. Others used thick, snugly attached niqabs in lieu of a mask.
Studies have shown that Muslim women more likely to experience prejudice in public spaces, employment and other services, when they dress religiously. Over 80% of the women I interviewed for my book said they experienced some form of abuse in public, such as hostile stares, comments, having the niqab ripped off or being physically injured.
Legislation that bans religious face coverings in public has been passed in some countries and territories, such as France and Quebec. On March 7, Swiss citizens will be voting on a niqab ban in a nationwide referendum. In the past, advocates of such laws have argued that face-covering is a sign of religious extremism, social separation and patriarchal oppression of Muslim women.
However, during the pandemic, criticism has been leveled by scholars and activists at governments that upheld such legislation while simultaneously requiring their citizens to wear masks.
In France, for example, one is liable to pay US$165 (or 135 euros) if caught in public without a mask, while wearing a niqab still carries a risk of being fined up to $180.
During my interviews in April with 11 niqab-wearing women in the United States and Europe about their experiences of face-covering during the early phase of the pandemic, I found their responses to be guardedly positive. Women reported decreased levels of the kinds of prejudice they experienced before the pandemic. They attributed this to the new social expectation that everyone was wearing a facial covering. Many enjoyed the sense of "invisibility" while wearing the niqab.
A woman from Illinois who I spoke with over Zoom (names of the respondents are withheld to preserve their anonymity) said: "There are so few of us, and still we were told we were a threat to society because we covered our faces. Now that argument has just disappeared. I just hope this sentiment doesn't make a comeback once the pandemic is over."
Free to dress religiously
Almost a year later, I went back to find out whether the "mask effect" held steady for these women. I spoke with 16 women who said that the niqab had become a much more accepted option among the pandemic masks. I found that many women were switching from wearing it only occasionally outside their homes to every time they were in public spaces. Some actually adopted this garment for the first time in their lives.
In an online poll that I ran with the help of the owner of the online Islamic fashion boutique Qibtiyyah Exclusive UK as part of my 2021 study, 14 women out of 51 who responded said that they had decided to begin wearing the niqab during the pandemic.
One anonymous respondent commented: "I feel this is the perfect opportunity for any Muslimah [Muslim woman] to start wearing the niqab. I would if I didn't already." Another wrote: "It's been a flawless transition [to wearing the niqab]. No one says a word." Another stated, "I'd been experimenting with the niqab before, but now, since COVID, I have worn the niqab full time."
[Deep knowledge, daily. Sign up for The Conversation's newsletter.]
The niqab is not mentioned by the Quran – which mandates only modest clothing for both men and women more generally. The Quran (24:31) says: "And tell the believing women to lower their gaze and guard their chastity, and not to reveal their adornments except what normally appears. Let them draw their veils over their chests, and not reveal their hidden adornments …"
An individual practice
There is a common misconception in the West that this is an oppressive, patriarchal practice forced upon Muslim women. In reality, several studies have shown that many women choose to wear the niqab – sometimes against their families' preferences.
The 40 niqab wearers I interviewed for my book considered it a religious practice. Many of them said that the wives of Prophet Muhammad reportedly wore it regularly. A woman from Texas said: "I wear the niqab because I choose to follow what I believe to be the most accurate interpretation of God's word that says women who cover their faces will be rewarded for fulfilling this extra duty."
It is a highly individual practice to which the women I interviewed came after a long reflection. They acknowledged that while the niqab may be suitable for them, it might not work for others. A woman from the U.K. explained why some women choose to wear it while others don't: "The Quran says to cover yourself modestly. Now, the interpretation of that is different to every group of Muslims. Some people believe it just to be the loose dress. Others believe it to be an outer garment as well as headscarf. Yet others would go one step further and say it's the face covering as well, because [the Quran] says to cover yourself."
Women who adopted the niqab after the beginning of the pandemic also described their experiences to me. Following years of doubt about the safety of wearing the niqab in their neighborhoods, they felt this was the best time to try.
A woman from Pennsylvania who began wearing the niqab in late 2020 sent me a message: "I wanted to wear the niqab for a long time, but I live in a very white area. I was afraid – I don't like to be stared at and I already get enough of that in my hijab. With everyone wearing a mask, I figured now's the time. At first, I wanted to only test it out, but literally nobody looked at me twice. So I'm just wearing it, with a mask underneath."
https://theconversation.com/one-year-on-muslim-women-reflect-on-wearing-the-niqab-in-a-mask-wearing-world-154045
--------
How France's Separatism Law Affects Muslim Working-Class Women
SALAHUDDIN MAZHARY
February 4, 2021
Is it French Muslim women who are losing out or is it France, which is failing to tap into a potential gold mine of human talent and intelligence?
The French president's proposed 'charter of republican values' is being billed as the antidote in the fight against 'Islamist' separatism. A special commission in the French National Assembly approved the charter, and the wider assembly will be submitted during February. Many domestically and internationally have lambasted the draft law as it grants draconian powers to closely scrutinise almost every aspect of the lives of country's nearly 6 million-strong Muslim community.
TRT World spoke to three religiously observant French Muslim women of North African origins- Tesnim, Nadia and Ines - who wear hijab, to see how existing and proposed legislation is impacting their personal and professional lives.
Every time Tesnim steps through the glass door to her prestigious government ministry job, she has to leave her hijab at the door. Since 2004, France has banned women from wearing hijabs, the headscarf worn by observant Muslim women, at schools and other government institutions. After a year she has become inured to the daily, enforced shedding of religious identity, which at first gnawed away at her conscience.
"I felt horrible everytime I used to take off my headscarf at work, now I am used to it. I would take off my hijab at work, but put it back on once out of the building, on public transport and at home," Tesnim tells TRT World.
"The pressure to maintain these conflicting realities became too great , as my fellow Muslim colleagues began to find out I was a hijabi outside work. It was as if I could feel them judging me for living a double life".
She feels that this situation normalises a state of affairs in which France's anticlerical, secular establishment punishes individuality and religious difference, today especially that of Muslims.
"I have become accustomed to not being respected for who I am," she adds.
Faith or career?
Nadia, another young French North African Muslim woman takes a different approach, insisting that her headscarf stays on at work. As a result, she has been denied and openly refused job opportunities, even unpaid ones. In one interview with a well-respected NGO, Nadia had impressed the interviewer over the phone with her academic and career credentials. When she candidly asked the interviewer if wearing the headscarf would be a problem, the interviewer replied it would, saying she would have liked to hire Nadia but since the NGO was government-funded, the hijab would make it impossible as it would contravene the secular ideals of the state.
Several years on, Nadia tells TRT World: "I am still struggling to find a job appropriate to my qualifications. It is hard to find a good job in my field where they will accept me for who I am, let alone the skills I have to offer."
"It is no longer fair that society makes my identity such a barrier that I cannot even get a voluntary job, I should not have to offer to work for free," she adds.
Similarly, in one interview with a potential recruiter, Ines appeared to be successful sans-hijab, and the company even offered her the job role. When Ines mentioned she wanted to be allowed to wear her hijab when working, immediately the interviewer's friendly tone turned and his line of questioning became more hostile and he ended the interview abruptly without getting her to sign the contract. Thereafter despite her attempts to follow up, the company never responded any further.
"Whilst I have become used to poor treatment as a hijabi when I job search, the interviewer's change in demeanour shocked me, to this day I feel betrayed as up to that point I was confident I would secure the job," Ines says.
"Before my hijab was mentioned, he saw the full extent of my capabilities, when I brought it up, suddenly my skills became irrelevant as he could not see beyond his prejudice. I feel this is an apt metaphor for how French society treats us, the sight of our veils blinds many from seeing us as human beings with talents and skills to offer".
At her business school, a private institution, where she was allowed to wear hijab, one male teacher made it his mission to pressure her to remove it during his class.
Private institutions are not just vulnerable to the caprices of individual staff such as this, they can also be subject to the overreach of the state. The French authorities arbitrarily closed down the predominantly Muslim-populated (90 percent) MHS College and High School in early December 2020.
Who's the loser in the end?
This was one of the only institutions where Muslim girls did not have to sacrifice an integral part of their faith to receive an education. Tesnim is proud to have volunteered there on numerous occasions previously.
The proposed anti-separatism legislation gives individuals like Ines' teacher carte blanche to act on their personal prejudices. And the dragnet spreads further as parents will be prevented from giving their children a home education.
Ines has previously worked in the UK, where her lived experience as a practising Muslim was much less than problematic than in her own country as her hijab and Arabic skills were considered an asset in a retail shop environment in central London that many wealthy Arab customers frequent. Like many others with a similar background, Ines is planning to take her skills out of France, to countries her faith is not seen as a barrier and for now she has set her sights on returning to the UK.
Tesnim similarly hopes to use her experiences in the health sector to work in low-income countries. "I no longer want to spend my life fighting for basic rights in an unfair system that will always punish the Muslim and Arab parts of my identity, no matter how hard I try to 'integrate'. Whilst I respect those that fight back, I see it an opportunity to go elsewhere where my skills are needed and who I am and my religious values are not made a problem", she says.
Nadia is determined to fight on despite the seemingly insurmountable challenges. She is currently writing a book and expanding her social media presence to share her story with others.
She tells TRT World that she hopes her story of the struggles she faces in France will help her "create a community of women who have lived through discrimination" and cultivate male allies who would support her cause .
"We need to work as a team to build inclusive, co-operative communities where we create entrepreneurship opportunities for one another beyond the limitations society and state impose on us daily. And I want my book to reach my non-Muslim fellow French countrymen and women so they get a personal insight of what it is like to live in my shoes, so I hope it is a starting point of dialogue and empathy and diffusing the antagonism between different communities."
Is it these women who are losing out or is it France, who, due to its intransigence to see beyond a piece of cloth, is failing to tap into a potential gold mine of human talent and intelligence? Or are both parties losing out? These measures against the hijab are intended to bar participation in society.
Elizabeth Levy, the right-wing editor-in-chief of the French online journal Causeur, captures the nation's uncompromising hostility towards the headscarf when she says "the veil offends against a certain way of living in France" and that "often the veil goes hand-in-hand with hatred of France". France's education minister Jean-Michel Blanquer on several occasions has made clear that "the headscarf is not welcome" in France.
France's so-called 'secular' model
This expectation for French Muslims to cast aside their religious identity is rooted in the history of French colonial and immigration policies. France's immigration model is based on assimilation rather than integration, the latter the predominant model in other secular, multicultural environments like the US and the UK. Major waves of immigration arrived during the 19th century and after the Second World War, comprising Italians, Spaniards and then immigrants from the colonies to fill labour shortages to build France's industries.
Each wave of immigrants were expected to subordinate cultural and religious values and identity markers to the values of French state secularism and those from other European countries, with similar cultural and religious mores, easily acquiesced. However the Muslims' refusal to discard religious and cultural practices such as the hijab and to a much lesser degree, the niqab, are seen by French politicians across the spectrum as an existential threat.
Moreover, the French state's current attitude to hijabis has echoes in French rule in Algeria. The country was ruled not as a colony or protectorate, but as any other province of Metropolitan France (i.e. a "departement"). The French, hostile to the Haik, a traditional white Algerian veil, staged mass public 'unveiling' ceremonies in which local women would have their veils removed, both voluntarily and by force. These women and others who chose to discard their Islamic culture were conferred by the French with citizenship and the chance to participate in French society.
The French state then, as now, framed this state-enforced unveiling of Muslim women as liberation from the supposed shackles of Islam and patriarchal Maghreb culture. Naturally, as a legacy of this putative "mission civilisatrice", France was the first European nation to enforce a niqab/face veil ban back in 2011. This idea of saving Muslim women from the clutches of Muslim men is not only patronising, it has the opposite effect of emancipation, placing obstacles in their participation from society, employment and debate. It forces the likes of Nadia, Ines and Tesnim to often make agonising choices between careers and faith.
All three of my interviewees see no contradiction between being French citizens and Muslims, despite the hostility of the State to their beliefs. Nadia especially believes her Islamic values encourage her to positively contribute towards society. Her means of doing that would be by working in a mainstream NGO, but despite her qualifications, her hijab bars her from delivering on those intentions. Many attempts at inclusion and integration have been repeatedly made, but each time the French state and society suppress them because they do not fit France's secular model.
In 2019 French sportswear brand Decathlon announced a hijab for runners, but fury from politicians from across the spectrum and a campaign of physical and verbal threats to staff compelled the company to remove the product from its French stores. Even those hostile to it acknowledged it was not against the law, but protested against it vehemently in any case.
In September 2020, Maryam Pougetoux, the spokesperson of the French National Union of Students (UNEF) was addressing the French parliament on the effects COVID-19 had on young French people. A senior member from the ruling party La Republique En Marche led a walkout to protest Pougetoux's hijab in the National Assembly indicating strong antagonism to the Muslim headscarf at highest level of politics. This attitude goes right up to Macron himself when he declared in 2018 that the hijab is "not in accordance with the civility of our country".
This enshrined attitude was merely a dress rehearsal for today's proposed anti-separatism laws. The parliamentary example of exclusion cited, ironically perhaps fuels the very separatism France wants to eradicate by delegitimising normative Islamic practices. It would deal a coup de grace to any hopes of the State of fostering a visible and viable Muslim identity within the national framework.
The exclusion all my interviewees feel could intensify in the light of France's far-right leader Marine Le Pen's proposal to ban headscarves in all public spaces under the Constitution, labelling it an 'Islamist item of clothing'. Current polls show Le Pen is neck-and-neck with President Macron which suggests she may have a chance of winning France's 2022 presidential elections. Le Pen is capitalising on lingering popular anti-Muslim sentiment from the murder of Samuel Paty in October 2020 and is riding a wave of discontent over the government's handling of the coronavirus pandemic.
Even if she does not win next year's elections, prospects are bleak for Muslims as Macron has a track record of imposing tougher policies targeting the Muslim community to stave off the electoral threat of the far-right. As we pass yet another World Hijab Day, it is important to recognise how the headscarf my interviewees wear has become a symbol of the battle for the country's soul, held hostage by an increasingly negative national discourse.
Whilst it is important to acknowledge the history of French suspicion of religion vis-a-vis the violence of the 1789 revolution, it is important that the country directs itself away from a cycle of self-harm. Psychologists often say that a sign of insanity is to do the same thing repeatedly and expect a different result, a cycle in which France is trapped all the more so with these new separatism laws.
France has always maintained a deep attachment to the long-cherished societal value of laicite, the anticlerical secularism it cherishes, so naturally Macron needed to portray himself to the public as a champion of those national values amidst recent crises. But this blind adherence to an intrusive state secularism also blinds the country morally, and stunts its progress as recently seen in Macron's refusal to apologise for the crimes and atrocities committed during the colonial rule of Algeria.
Macron's most recent endeavour has been to create a French Islam subservient to the direction of the State via the Charter of Republican Values signed by the French Council of Faith (CFCM), to which all religious authorities in the country must agree. The Charter subordinates religious convictions to the duties required upon each citizen by the secular state. It gives the State leverage to interfere in mosques and control the finances of mosque administrations and organisations run by Muslims.
Tesnim and some of her peers are not convinced anything will change anytime soon. In fact she feels things may get worse. She and many others have felt besieged, especially since the 2015 Charlie Hebdo shooting. They have felt an erosion of their fundamental rights and civil liberties and constraints on voicing their opinions for fear of being labelled 'separatist'. Under the charter, dissenting views could be suppressed under the pretext of "posts that incite hatred".
This new legislation could effectively silence legitimate criticism of well-documented institutional racism by equating it to "anti-France hatred" (Article 9). It is not just Muslims protesting against the Charter. Other religious groups such as The National Council of Evangelicals of France have contested this 'republican authoritarianism' and 'intrusive secularism'.
Whilst Tesnim suspects that the anti-Muslim prejudice may never reach Holocaust-era persecution of Jews in France, it is frightening enough for her that the 1942 Vél d'Hiv round-up of Parisian Jews for deportation to concentration camps is within national living memory, and that a French far-right politician 3implied that Muslims considered 'radical' by the State be held within internment camps .
Whilst this is a very fringe view in France, with the President pandering to the growing far-right national presence, these comments unsurprisingly provoke alarm and fear amongst the marginalised and frankly weary French Muslim community. And considering we have just commemorated another International Holocaust Remembrance Day, it serves as an enduring lesson as to what can happen whenever state-sponsored targeting of minorities is taken to its logical extremes.
https://www.trtworld.com/magazine/how-france-s-separatism-law-affects-muslim-working-class-women-43856
--------
URL: https://www.newageislam.com/islam-women-feminism/saudi-womens-football-television-coverage/d/124226
New Age Islam, Islam Online, Islamic Website, African Muslim News, Arab World News, South Asia News, Indian Muslim News, World Muslim News, Women in Islam, Islamic Feminism, Arab Women, Women In Arab, Islamophobia in America, Muslim Women in West, Islam Women and Feminism