New Age Islam News Bureau
27 November 2021
• Ridwa: Egyptian Campaign Seeks Fair Inheritance Rights for Women
• Village Woman Shares Success Story At Int'l Symposium In Kazakhstan
• Egypt: Arab Women Organization Thanks Sisi over Supporting Women Issues
• Lt Gen Nigar Johar Becomes First Female Colonel Commandant Of Army Medical Corps In Pakistan
• Turkish Police Tear-Gas Women Protesting Over Violence
Compiled by New Age Islam News Bureau
URL: https://www.newageislam.com/islam-women-feminism/saudi-women-startup-culture/d/125854
--------
Saudi Women Seize Startup Culture with Both Hands; No Less Than 17.7 Percent Either Started Or Ran A Business In 2020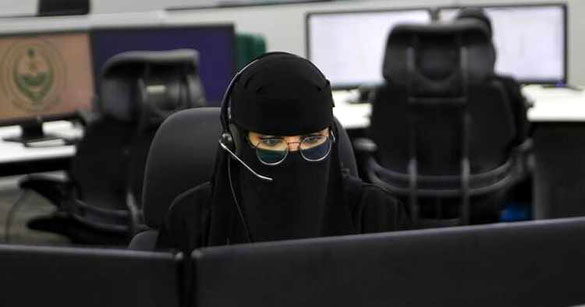 A Saudi woman works as an operator at the National Center for Security Operations for Haj, ahead of the annual haj pilgrimage, in the holy city of Mecca, Saudi Arabia July 15, 2021. REUTERS/Ahmed Yousri
-----
November 26, 2021
Saudi Arabia is making the transition to a more diversified economy, after being reliant upon oil for much of the past century — a trend sparked by Vision 2030 as well as commitments made at the COP26 Summit last month.
While corporate giants such as Aramco and Sabic continue to dominate the economy, a culture of enterprise is taking hold as more and more young people start their own companies.
And contrary to international perceptions, it is Saudi women who are playing a major part in this new era.
No less than 17.7 percent of Saudi women either started or ran a business in 2020, according to a report last month from the Global Entrepreneurship Monitor, a London-based data group that tracks startups across the world. This is considerably higher than the global average of 11 percent of females who go into business.
The report also noted that over 30 percent of Saudi women intended to launch a business in the next three years; and that, compared to men, women were "more likely to act on these intentions."
GEM says these moves are backed by "recent government policies and interventions to support female entrepreneurs in the Kingdom."
Nouf Al-Qahtani, the owner of the NSHQ chain of perfumeries, is a case in point. Al-Qahtani first went into business in 2005, repackaging and reselling her perfume collection.
Her startup took her from the souqs of Kuwait to the essential oil dealers of France and Italy, and a SR300,000 ($80,000) loan from the Prince Sultan Fund allowed her to launch her first shop in Alkhobar in 2015.
Today, she runs three perfume boutiques in Alkhobar and Riyadh with a staff of 14, while a fourth outlet is on the way.
She adds: "Many businessmen in Saudi Arabia did not even want to talk to a single woman when I started my company. They would say, 'Come back with your father or your brother and we will talk to him.'
"But now Saudi women are more powerful. They encourage each other, and even the mentality of Saudi men has changed. If they start any business, they want a female partner. You know why? Because she will work harder, she will do her best to prove herself and she will be more organized."
Al-Qahtani credits this cultural shift to the reforms introduced by Crown Prince Mohammed bin Salman.
She says: "I love the way he makes Saudi citizens, and especially women, believe in themselves and their national identity. Saudi consumers used to want only imported products — now they are really interested in local producers like myself."
Abeer Al-Hashim, the owner of the Nine Soft Serve chain of ice-cream outlets, is another woman who started more or less from scratch and went on to greater things.
Beginning with a single Alkhobar-based mobile unit in the Kingdom's Eastern Province in 2018, Al-Hashim now operates six retail outlets — four in Riyadh and two in Alkhobar.
Al-Hashim agrees that circumstances have rapidly improved for female entrepreneurs in Saudi Arabia.
She says: "Even five years ago it was very tough for women to have an independent life and to run an independent company."
"The entire commercial process is easier now, especially in terms of tech applications – it's so simple to communicate with the government online, and as a woman you no longer need a man to speak on your behalf."
Al-Hashim was recently approached by Monsha'at — the General Authority of Small for Medium Enterprises — which told her that her product was ideal for franchising. It went on to provide Al-Hashim with guidance and resources to expand her operation locally and internationally, including putting her in touch with a franchising consultancy.
This is an example of the proactive new approach of the Saudi government — a sea change from the cumbersome red tape and excessive delays that used to await anybody doing business in the Kingdom.
"We get such a lot of official support," says Al-Qahtani, "and that's something that I'm very proud of."
Rana Mirza, who faced successive hurdles when establishing her Jeddah-based Language & Listening Stimulation Center for children with learning disabilities in 2012, wishes she had enjoyed the benefits that female startup founders now take for granted in Saudi Arabia.
Mirza said: "I had to pay a man to follow up on all the paperwork in the various government offices, but now I can do it all myself. And the government e-services save a huge amount of time and energy, because you don't have to visit a physical office anymore. It's all online."
This is an important factor for Mirza, whose 40-employee center requires numerous official licenses to provide a range of linguistic and psychological therapies.
These businesswomen have their own clear message for other women considering a new startup.
Al-Hashim said: "You cannot start something without a sense of passion. If you don't have passion for what you're doing, you're wasting your time."
Mirza's advice is more hands-on: "Try to have knowledge of management, quality control, finance and customer service — before you start your business. I learned that the hard way. It's not just about your passion — it's about the know-how."
All three of these entrepreneurs are testament to the fact that significant opportunities exist for anybody, male or female, who takes advantage of the emerging culture of enterprise in Saudi Arabia.
Source: Arab News
https://www.arabnews.com/node/1975861/business-economy
--------
Ridwa: Egyptian Campaign Seeks Fair Inheritance Rights for Women

Enas Kamal
18 November, 2021
"My father died 40 years ago, leaving behind several sons and three daughters. At first, everything was handed to my eldest brother because that was what my mother wanted, all the papers and property were passed to him. After our mother died, we asked for our inheritance but there were always delays. Now, our brother has died, and the situation is the same. We don't know what we own, and where. All assets have been transferred to our brothers. We don't know how to get hold of our inheritance".
This was one from 106 testimonies recorded during a recent campaign called Ridwa that was launched by two initiatives: Superwoman and Barah Aamen which have been publishing testimonies about women's lost inheritance rights due to Egyptian societal norms. The two feminist initiatives have been active since 2016 and seek to provide safe spaces for women, work towards equality and combat gender-based violence in Egypt.
#Where's_Women's_Inheritance?
On 14 October 2021, the campaign was launched on Facebook, Twitter and Instagram and a series of women's testimonies were published with the hashtag #Mirath_as-Sittat_Fain? (#Where's_Women's_Inheritance?).
The date coincided with the International Day of Rural Women, and the campaign is still ongoing, as it aims to find legal and social mechanisms to provide justice for women regarding their inheritance rights.
"There was a reason we chose this date," says Shaimaa Tantawi, one of the Barah Aamen's founders, in a conversation with Al-Araby Al-Jadeed, The New Arab's Arabic-language sister publication.
"Many studies show that the percentage of women who own land is minuscule compared to men – according to the agricultural census in 2000, only 7.5 percent of women own any land, and the total area owned by women collectively was 432,000 acres, which is 5.1 percent of the total agricultural land in the country. The area owned by men is around 8.4 million acres."
Tantawi references research published last year by Qana University revealing that 95.5 percent of women in Sohag and Qana provinces alone are deprived of their inheritance completely and mentioned another study: The Inheritance of Women in Upper Egypt: Between Reality and Hope, which indicated that women in Upper Egyptian society suffer from unjust customs amounting to economic violence against them, a big part of which is the denial of their inheritance rights.
Women deprived of the wealth they create
This is despite the fact that many women work and are actually the family breadwinners. Therefore, Ridwa is demanding changes to ensure just treatment for women who are being deprived of an inheritance which they themselves contribute a huge part of.
"The father owns possessions, land and property, which he leaves to his sons, ignoring his daughters. When his daughters find out, the parents deny it… after some time they will propose to give their daughters a small fraction of what they're rightfully owed. Most of them refuse, but some agree as it's better than nothing," reads another testimony from the Ridwa campaign.
Tantawi says: "We focused on women's inheritance rights because men always prefer offering a ridwa (a small amount of money) to assuage women in lieu of their real rights so they won't end up owning land and property." The term is more familiar in rural areas and Upper Egypt than in urban areas, and in a dictionary, it means an acceptance of fate.
Tantawi says all the testimonies display clear oppression against women but one of the most harrowing stories was about the mother of a girl who was denied her inheritance. Her mother became ill and suffered a stroke.
However, the family members who had seized her rightful share of the inheritance never considered returning it to her so she could afford medical treatment, and she died. Her daughter insisted that if she had been given her share she could have had surgery and maybe survived. She holds the members of her family who stole her inheritance responsible for her mother's death.
Women denied their inheritance in religion and law
Today, most Egyptian citizens are Muslims. Islam makes it clear in a verse from Surah An-Nisa (Chapter on Women) in the Quran that: "Those who unjustly seize the property of orphans will be consumed by fire, and they will burn to a blaze".
However, we see that most women are denied what is rightfully theirs. Likewise, the Fatwa Committee of the Islamic Research Academy has stated in the past that depriving women of their inheritance was a custom in Jahiliyyah times (the 'age of ignorance') and Islam fought against this.
In Islam, women have the right to half the inheritance their brothers receive. This is an idea which some feminist groups are quietly trying to challenge, promoting equality in inheritance rights between brothers and sisters.
In late 2017, President Abdel Fattah Al-Sisi approved a law that would, for the first time, see those who deprived someone of their inheritance punished. This was nearly 75 years after the Inheritance Law (Law 77 of 1943) was passed, and the new punishment was a jail sentence of six months and a fine of 20-100,000 Egyptian pounds (EGP).
Tantawi says Ridwa is demanding these laws be activated and applied, and that the state deal with the issue seriously. It is not logical, she insists, that women are working and contributing financially to build a life with their husbands, but have no right to share in the wealth created.
Similarly, women are told they will inherit less because men have more financial responsibilities. However, while this may have been the case in the past it is not true today, which makes it an obsolete idea. According to one study, four million Egyptian families are being financially supported by women.
Economic violence and intimidation
For many women, economic violence (the deprivation of economic rights) is backed up by intimidation and even sexual and physical violence. Aya Moneer, the founder of the Superwoman initiative as well as one of Ridwa's founders, says that threats against women over inheritance rights often come from male heirs who see women as marginal and as not having rights.
If they do agree to give her something, they will decide the amount and the terms. Moreover, when women pursue their rights it can cost them family relationships, or even lead to legal threats against them – women find themselves being seen as the transgressors, instead of people with the right to what they are owed.
She added that Egypt's patriarchal society does not allow women to own property. If she has received her inheritance from her father, she will be forced to hand it over to her husband. The justification is that he will be providing for the family, and she and everything she has is his property and she has no right to object.
Furthermore, many girls' inheritances are controlled by the father's family who claims that they are covering the girls' expenses so should control their shares. Then, after hoarding the females' shares, they don't cover any of their expenses.
When it comes to land, an old expression is used when justifying women's barring from their inheritance: "The word soil should be said in the local dialect". The saying infers that land should not leave the family. Instead, women will get a paltry amount of compensation (the ridwa).
Social media success
An element of the Ridwa campaign was the tweeting of sarcastic memes about men usurping the inheritance rights of women. Using memes as a medium to highlight these issues were widely accepted and circulated on social media, says Moneer. Unlike the mass criticism they received when using traditional media like articles, the tweets were positively accepted and shared by social media audiences.
The organisers received many comments. One was from a man justifying why men inherit agricultural land in Upper Egypt and women don't. He claimed that men in Upper Egypt work for free on their father's land, increasing the land's value, so they have more right to it.
In response, Moneer said that rural women in Upper Egypt make up 49 percent of the population and work many unpaid jobs, spending an average of 16 hours daily working for free, whether on the land or looking after the household. This means for two-thirds of their lives they are working unpaid.
This campaign was launched at a time of social media uproar in Egypt due to the murder of a girl who was burned to death by her brother over an inheritance dispute. This was not the first incident of its kind this year: last January a man murdered his sister with the help of his son over inheritance, and in March a similar tragedy occurred.
Moneer says that when they began the campaign, she believed the issue was mainly down to the exploitation of the religious pretext. However, she realised the matter was much more complex, involving emotional blackmail, control and violence. Women's inheritance rights are stolen under the protective wings of the law, by a society clinging on to the repression of women, linked to the societal view of women as inferior.
There was a clear desire that women's economic status remain subjugated so that they remain unable to compete with men in the family, who not only usurp their inheritances but claim ownership of their opinions and decisions as well.
According to Moneer, the hashtag #Where's_Girls'_Inheritance? had around a quarter of a million views on Twitter on day one of its launch, which Tantawi says surprised them: "We were surprised to see the Twitter audience interact with a serious matter like women's inheritance rights so enthusiastically."
Enas Kamal is a freelance journalist in Egypt who has written about women's issues for Raseef22.
Source: The New Arab
https://english.alaraby.co.uk/features/egyptian-campaign-combats-womens-inheritance-denial
--------
Village Woman Shares Success Story At Int'l Symposium In Kazakhstan
November 26 2021
A woman who made her village famous countrywide with special tomato paste and tarhana soup in the northwestern province of Bursa has been invited to international symposiums in Kazakhstan to share her experiences with young female entrepreneurs.
"A woman can succeed in anything she wants," Sermin Cakalıoğlu said in her speeches to Kazakh women in five meetings in three cities.
The primary school graduate mother of four changed her village Saitabat's fate in 2002. A TV series at the time had made neighboring Cumalıkızık Village famous nationwide. Getting inspired by this, Cakalıoğlu united all the women around to make her village known for "cuisine."
First, she established Turkey's first village women's solidarity association, then she, with other villagers, started making tomato pastes and tarhana soup. In a short time, their products started to be sold nationwide.
She also opened a restaurant in the village where local tourists flock. It did not take much time for her to open two more branches in Bursa and the capital Ankara.
Today she is the head of the 113-membered association, where some 60 women are employed.
"It is not only me who made it; it was us. It's the team's success," Cakalıoğlu said.
If there is someone to applaud for, it is the "women of her village," she added.
When asked what she told Kazakh women, she noted, "I want to be a role model for all the women who sit at home, saying 'I have no education and job.' I did it; we did it."
Stating that "her village women's voice has been heard from Europe," Cakalıoğlu highlighted that she gets symposium invitations from time to time from different countries.
Source: Hurriyet Daily News
https://www.hurriyetdailynews.com/village-woman-shares-success-story-at-intl-symposium-169639
--------
Egypt: Arab Women Organization Thanks Sisi Over Supporting Women Issues
26 NOVEMBER 2021
The members of the Arab Women Organization's Supreme Council sent Thursday a cable to President Abdel Fattah El Sisi thanking him on his support to and interest in the issues of women.
During the council 10th meeting, held in Cairo, they also extended thanks to the president for his support to the Arab Women Organization, which Egypt led calls for its establishment.
Libya's Minister of State for Women Affairs Horeya Al-Tarman and the current president for the Arab Women Organization said the members of the council praised Sisi's efforts to ensure women's rights and to empower them in all fields, especially by making the leading and decision-making posts accessible to women in many domains, topped by the judiciary.
Source: All Africa
https://allafrica.com/stories/202111260480.html
--------
Lt Gen Nigar Johar Becomes First Female Colonel Commandant Of Army Medical Corps In Pakistan
November 26, 2021
Lieutenant General Nigar Johar has become the first ever female general to be appointed the colonel commandant of Army Medical Corps (AMC), the military's media affairs wing said in a statement on Friday.
According to the Inter-Services Public Relations (ISPR) statement, Chief of Army Staff (COAS) Gen Qamar Javed Bajwa pinned the badges of rank to formally install Lt Gen Johar during a visit to the AMC centre, Abbotabad.
The COAS also laid a wreath at the Yadgar-i-Shuhada and offered prayers.
Speaking on the occasion, Gen Bajwa said that installation of the first-ever three-star female general as the colonel commandant of AMC was "a matter of immense pride for the Pakistan Army and the country".
He also lauded the contributions of AMC in ensuring high standards of healthcare during peace and war.
"The AMC has always answered the call of duty during natural calamities, both inland and abroad. Our doctors and paramedic staff have been frontline warriors against Covid-19 and [have displayed] exemplary commitment and resolve for the safety and well-being of the people of Pakistan," he remarked.
Keeping pace with rapid advancements in medical science is imperative for doctors and paramedics so that they are at par with modern militaries and the best global practices in healthcare, he added.
Lt Gen Johar is a graduate of the Army Medical College and holds an MCPS degree in family medicine, MSc in advanced medical administration and a Masters in Public Health. She has served as the National Instr­uctor of Hospital Prepar­edness in Emergency.
Her military career is filled with firsts. Besides being the first female officer to be promoted to three-star rank, she was also the first female officer to command an army hospital, when she headed Combined Military Hospital, Jhelum, as a brigadier. At the time of her promotion, she was commanding the Military Hospital, Rawa­lpindi.
She has been decorated with Tamgha-i- Imtiaz (Milit­ary) and is also the recipient of Fatima Jinnah Gold Medal for meritorious services in Army Medical Corps from the prime minister of Pakistan. Earlier this year, she also received the Hilal-i-Imtiaz.
A telefilm starring Mahira Khan was also made on Lt Gen Johar which aired earlier this year.
Source: Dawn
https://www.dawn.com/news/1660409/lt-gen-nigar-johar-becomes-first-female-colonel-commandant-of-army-medical-corps
--------
Turkish police tear-gas women protesting over violence
Nov 26, 2021
Turkish police fired tear gas to break up a protest in Istanbul by women demanding the country's return to a landmark international treaty, signed in the same city, that is meant to protect women from violence.
The women marched along Istanbul's main pedestrian street, Istiklal, on Thursday to mark the November 25 International Day for the Elimination of Violence Against Women. Holding colourful banners, they chanted slogans and vowed not give up on the Council of Europe's Istanbul Convention.
Riot police, who had set up barricades at the end of the street to prevent them from proceeding further, fired tear gas when a group of protesters tried to breach the barriers. At least one protester was injured, the Cumhuriyet newspaper reported.
Similar protests were held in Ankara and other cities.
Turkish President Recep Tayyip Erdogan pulled Turkey out of the Convention with a surprise overnight decree in March, triggering condemnation from women's rights groups and Western countries. A court appeal to prevent the move was rejected and Turkey's withdrawal was formalized in July.
Some officials from Erdogan's Islam-oriented party had called for a review of the agreement, arguing it was inconsistent with Turkey's conservative values.
The government announced its own "Action Plan for Combating Violence against Women," including goals such as reviewing judicial processes, improving protection services and gathering data on violence.
Human rights groups say violence against women is on the rise in Turkey.
The advocacy group, We Will Stop Femicide, says 353 women have been murdered so far in Turkey in 2021, and 409 were killed last year. In October, 18 women were killed by men and 19 others were found dead under suspicious circumstances, according to the group.
Source: Hindustan Times
https://www.hindustantimes.com/world-news/turkish-police-tear-gas-women-protesting-over-violence-101637875278585.html
--------
URL: https://www.newageislam.com/islam-women-feminism/saudi-women-startup-culture/d/125854
New Age Islam, Islam Online, Islamic Website, African Muslim News, Arab World News, South Asia News, Indian Muslim News, World Muslim News, Women in Islam, Islamic Feminism, Arab Women, Women In Arab, Islamophobia in America, Muslim Women in West, Islam Women and Feminism