New Age Islam News Bureau
22 Nov 2015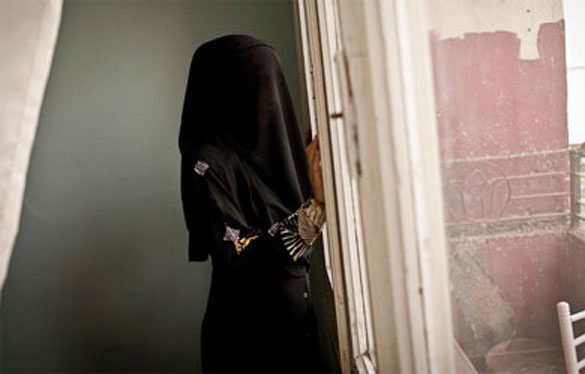 Aws, 25, a former resident of Raqqa, Syria, used to be a member of the Khansaa Brigade, the Islamic State's female morality police. Her first husband was a jihadist, and when he died in a suicide operation she reluctantly agreed to marry another fighter. Credit Tara Todras-Whitehill for The New York Times
• Saudi Women Seek Legal Route to Assert Personal Rights
• ISIS Women and Enforcers in Syria Recount Collaboration, Anguish and Escape
• 4 Women Naxals Killed by Security Forces in Chhattisgarh
• 100 Women 2015: Desperate not to have children
Compiled by New Age Islam News Bureau
URL: https://newageislam.com/islam-women-feminism/saudi-women-seek-legal-route/d/105371
------
Saudi Women Seek Legal Route to Assert Personal Rights
NADIA AL-FAWAZ
22 November 2015
JEDDAH: There has been a rise in the country's courts hearing personal rights cases involving women, including divorce, alimony, visitation rights and custody of children, according to experts.
They are also likely to be involved in cases of Khula, where guardians or parents refuse marriage offers from suitors, and adultery, the experts were quoted as saying in a local publication recently.
Majed Garoub, a lawyer, said most lawsuits involving women revolve around personal status laws, mostly divorce. Women are also involved in business-related cases as owners of firms, he said.
"Recently we have seen, unfortunately, cases of sexual harassment added to the list as women are increasingly finding jobs or are involved in various business sectors," he said.
Garoub said the media should do more to educate women about their rights. Awareness campaigns were also the duty of civil society organizations specializing in issues involving women and the family, he said.
Abdulaziz Al-Shabrami, a lawyer and former judge, said women now outnumber men in almost every sector of the economy. "Therefore, it is only natural that there would be more lawsuits involving women than men," he said.
"The most important lawsuits linked to women are personal status cases such as marriage, divorce, visitation rights, alimony and others," he added.
The lawyer said that the media has played a positive role in creating awareness about women and their rights, and how they can seek redress for their grievances through the country's courts.
Mazen Al-Oufi, a lawyer, said litigation is a way to guarantee that women's rights are protected under Islamic law, "without bias or discrimination. Women can exert this right and demand redress by choosing the legal representative of her choice."
"Our legal system gives women an extra edge over men in the litigation process in terms of alimony, custody and visitation rights, by allowing her to file the lawsuit from her place of residence if the defendant lives in another location."
Khulod Al-Rawashdeh, a lawyer, said most cases involving women are linked to child custody, khula, alimony, adultery and other family issues.
"Recently, courts have been considering new lawsuits brought by women against their husbands who take their salaries."
She said that some men allow their wives to work on condition they hand over their entire salaries or pay all household expenses, including for drivers and maids. These results in women filing for divorce, she said.
She said there has been a 30 percent rise in lawsuits filed by women.
"This is probably because women are now more aware of their legal rights. However, about 79 percent of women go to courts at a very late stage because they are ignorant of their rights," she said.
Lolwah Al-Buraikan, assistant professor at Princess Nora bint Abdulrahman University, said women are mostly involved in divorce cases.
She said many working women do not have time to try to heal failing relationships through discussions.
In addition, women who are housewives seek divorce because they know they can get certain social security benefits from the government.
Others want to get out of their marriages because their husbands may be considering marrying a second wife. Al-Buraikan said there is no longer a great stigma attached to divorce in this country.
However, more people are getting divorced because of the abuse of social media.
Many men are now addicted to having relationships online, resulting in women feeling neglected and insulted, she said.
http://www.arabnews.com/featured/news/839271
-----
ISIS Women and Enforcers in Syria Recount Collaboration, Anguish and Escape
By AZADEH MOAVENI
SOUTHERN TURKEY — Dua had only been working for two months with the Khansaa Brigade, the all-female morality police of the Islamic State, when her friends were brought to the station to be whipped.
The police had hauled in two women she had known since childhood, a mother and her teenage daughter, both distraught. Their Abayas, flowing black robes, had been deemed too form-fitting.
When the mother saw Dua, she rushed over and begged her to intercede. The room felt stuffy as Dua weighed what to do.
"Their abayas really were very tight. I told her it was their own fault; they had come out wearing the wrong thing," she said. "They were unhappy with that."
Dua sat back down and watched as the other officers took the women into a back room to be whipped. When they removed their face-concealing niqabs, her friends were also found to be wearing makeup. It was 20 lashes for the abaya offense, five for the makeup, and another five for not being meek enough when detained.
Their cries began ringing out, and Dua stared hard at the ceiling, a lump building in her throat.
The three Syrian women interviewed for this article, all former members of the Islamic State morality police who escaped to Turkey this year, met with a reporter in a southern Turkish city for hours of interviews, together and separately, over the course of two multiday visits.
The names Aws, Dua and Asma are pseudonyms used for their protection, but they fully identified themselves and their family connections.
Their accounts of working for the Islamic State, of their lives and of events in Raqqa, Syria, in recent years were consistent with one another and with interviews and accounts of other former and current residents of Raqqa.
The women also shared cellphone images of locations in Raqqa, and of their lives there, that were independently confirmed.
In the short time since she had joined the Khansaa Brigade in her hometown, Raqqa, in northern Syria, the morality force had grown more harsh. Mandatory abayas and niqabs were still new for many women in the weeks after the jihadists of the Islamic State had purged the city of competing militants and taken over. At first, the brigade was told to give the community a chance to adapt, and clothing offenses brought small fines.
After too many young women became repeat offenders, however, paying the fines without changing their behavior, the soft approach was out. Now it was whipping — and now it was her friends being punished.
The mother and daughter came to Dua's parents' house afterward, furious with her and venting their anger at the Islamic State.
"They said they hated it and wished it had never come to Raqqa," Dua said. She pleaded with them, explaining that as a young and new member of the Khansaa Brigade, there was nothing she could have done.
But a lifelong friendship, with shared holiday gatherings and birthday parties, was suddenly broken. "After that day, they hated me, too," she said. "They never came to our house again."
Dua's second cousin Aws also worked for the brigade. Not long after Dua's friends were whipped, Aws saw fighters brutally lashing a man in Muhammad Square. The man, about 70, frail and with white hair, had been heard cursing God. As a crowd gathered, the fighters dragged him into the public square and whipped him after he fell to his knees.
"He cried the whole time," Aws said. "It was lucky for him that he had cursed Allah, because Allah shows mercy. If he'd cursed the Prophet, they would have killed him."
Today, Aws, 25, and Dua, 20, are living in a small city in southern Turkey after fleeing Raqqa and its jihadist rulers. They met up here with Asma, 22, another defector from the Khansaa Brigade, and found shelter in the city's large community of Syrian refugees.
Raqqa is widely known now as the capital of the Islamic State's self-declared caliphate and as the focus of heavy airstrikes by a growing number of countries seeking revenge for the group's recent terrorist attacks. But the city in which the three women came to adulthood used to be quite different. Identified here by nicknames, the women spoke for many hours over the course of two visits this fall, recalling their experiences under Islamic State rule and how the jihadists had utterly changed life in Raqqa.
All three described themselves as fairly typical young women of Raqqa. Aws was more into Hollywood, Dua into Bollywood. Aws's family was middle-class, and she studied English literature at a branch of Euphrates University, a three-hour bus ride away in Hasaka. She devoured novels: some by Agatha Christie, and especially Dan Brown books. "Digital Fortress" is her favorite.
Dua's father is a farmer, and money was tighter. But her social life was closely intertwined with Aws's, and the cousins loved their charming city. There were long walks to Qalat Jabr, the 11th-century fort on Lake Assad; coffee at Al Rasheed Park; and Raqqa Bridge, where you could see the city lights at night. In the gardens and amusement park in the town center, there was ice cream and communal Shisha pipes to gather around.
"In the summer, everyone went out at night and stayed out late, because it was so hot during the day," Dua said.
The women keep pictures of their old lives in Raqqa on their cellphones, scenes from parties and countryside outings. Aws's gallery includes days on the lakeshore, her friends in bathing suits, dancing in the water.
nytimes.com/2015/11/22/world/middleeast/isis-wives-and-enforcers-in-syria-recount-collaboration-anguish-and-escape.html
----
4 Women Naxals Killed by Security Forces in Chhattisgarh
All India | Press Trust of India | November 22, 2015
RAIPUR: At least four women Naxals were killed and a top Maoist leader injured in a gunbattle with security forces in insurgency-hit Sukma district today.
The operation was conducted jointly by Special Task Force (STF), District Reserve Group from Dantewada district and Central Reserve Police Force (CRPF) in the forests of Gadiras Police Station area, Inspector General of Police, Bastar Range, S R P Kalluri, told PTI.
Calling the operation a big success, Mr Kalluri said security forces acted after they got information about presence of 'Divisional Commander' rank cadre Aaytu along with a group of rebels in Gadiras area, which falls on the Sukma-Dantewada border, located around 450 km from Raipur.
Aaytu is the DVC member of Darbha Division of Maoists and also in-charge of of Malangir Area Committee, which has executed several deadly attacks in the region, including the deadly Jiram valley massacre, in which top Congress leaders were among 31 people killed.
"We received inputs about the presence of Aaytu last night, following which we mobilised our composite forces towards the region to nab him," the IG said.
While cordoning off the forests on top of the Nagalguda Pahad (hill) at around 5 AM, the security forces spotted the Naxals' hideout and started encircling the spot.
Sensing their presence, some of the armed cadres opened indiscriminate firing on them, prompting them to retaliate, he said.
After the ensuing gunfight that lasted for about two hours, the ultras fled from the spot leaving behind their belongings, he added.
During searching of the spot after the encounter, bodies of four women Naxals clad in uniform, besides a 303 rifle, two 12-bore rifles and Naxal-related items were recovered, he said.
The IG said that Aaytu was shot from close quarters in the gunbattle, but his colleagues managed to drag him inside the jungle.
Further details are awaited as the security forces are yet to come out of the jungle, he added.
With this encounter, the number of Naxals who have been gunned down so far this month by the Bastar Police has reached 14.
http://www.ndtv.com/india-news/4-women-naxals-killed-by-security-forces-in-chhattisgarh-1246123
-----
100 Women 2015: Desperate not to have children
22 November 2015
As a woman, there are four little words I can say that invite more condescension than almost any others: "I don't want children."
"But why?" people ask, as if there's a simple answer to why you viscerally, instinctively reject something that's considered a fundamental part of humanhood.
The fact is, there's nothing about creating another human that appeals to me. That's an emotional thing, and translating it into rational reasons takes something away from its strength.
If I say I don't think I'd be a good parent, for instance, people respond, "Everyone feels that way at first." If I say I can't imagine ever having the time, energy or money, I'm told I'll "find a way to manage". If I say I want to devote my life to my career, they say I'm "selfish".
This year's season features two weeks of inspirational stories about the BBC's 100 Women and others who are defying stereotypes around the world.
Like us on Facebook and follow us on Instagram using the hashtag #100Women.
There's no acceptable reason to not want a baby, it seems.
You'd think, from the responses people give, that everyone who procreates is ecstatically happy with their choice.
I know categorically that this isn't true, because it happened to my mum.
Holly Brockwell with mum and siblingImage copyrightHolly Brockwell
She's never hidden the fact that she didn't want kids in the first place, and only agreed to have them because my dad was desperate for a family.
It's partly my own fear of capitulating that's driven me to try getting my tubes tied - to take the choice away in case I'm ever tempted to betray my beliefs for love. After being told four separate times that I was "too young to even consider it", despite the fact that there's no minimum age for sterilisation in the UK, I finally got referred this year.
I was ecstatic - until I tried to arrange the operation. Marie Stopes, who do the procedure for the National Health Service, told me matter-of-factly that there were no surgeons available, and I'd have to go back to my GP. In the meantime, I'd moved into the area of a different NHS Trust - which has meant starting the whole process again.
You may wonder why I don't choose another, less drastic, form of contraception but the pill has been making me sick for years and the only other option is the coil, which I'm not willing to have because I know two people who've experienced horrendous side-effects.
I don't need reversible contraception. There's a 10-minute keyhole operation that can solve this problem for good, and I can't believe that at the age of almost 30 in 2015, I'm still having to fight to get it.
We can choose to get pregnant at 16 but not to decline motherhood at 29. It seems our decisions are only taken seriously when they align with tradition.
Well, I've never been one for tradition. I recently started a tech website written by women - I'm proud to say it's the only baby I'll ever have.
Holly Brockwell will be taking part in a Q&A on the 100 Women Facebook page on Tuesday 24 November 15:00-16:00 GMT. Please visit the page to leave your questions.
I think I'm very lucky to be a woman, but unlike many, I have never felt maternal. I have always thought it is a crime to bring a child you don't want into this world.
I've worked very hard to set up my own business. I now employ six people and find nothing more satisfying than my job. Some people think I'm selfish, I don't know, perhaps I am. But regardless of what people think, I can't give up on a dream that after so many years has recently come true.
My parents were shocked when they heard that I don't want to have a child. They still bring it up at every chance they find. And it's not just them. Other family members try to convince me that I'm making a mistake. I remember in the first years after my wedding, which was about 10 years ago, people were very judgmental. They even suggested that I or my husband were infertile and that we were hiding it.
Cartoon showing childfree woman
They have now more or less given up but my parents are very persistent. My father says one day my biology will make me want to have a child. The other day, my mum was combing my hair and said it made her very sad that I will never get to experience what she has experienced. Like my dad, she thinks I will change my mind.
Levels of childlessness tend to be highest in parts of Northern/Southern Europe and East Asia, and lowest in Eastern Europe and parts of Southern Europe and Central and Western Asia (UN)
Childlessness appears to be related to educational attainment - in Switzerland about 21% of all women age 40 are childless, but this rises to about 40% for women who have completed tertiary education (OECD)
I think the fact that many of my friends are childless, even though they have been married for many years, helps a lot. Having a child is a burden for educated women in Iran. It means you can't concentrate on your job, your freedom is limited and if your marriage doesn't work out, your chance of finding another husband is low.
Don't get me wrong, I love children. I am patient and can easily get down to their level and spend hours playing with them - just as long as they aren't mine. When I see a child hanging off her mum's neck, I feel suffocated. I'm so happy that she's not mine.
From day one, I told my husband that I didn't want a child, and he seems OK with it. I can sometimes see in the way he looks at children that he wouldn't mind being a father but he respects my decision. Convincing his parents was difficult too.
I do think about it every day, though. In fact, I wish I could find motherly feelings in myself. I do wait for the day that I might change, however unlikely that seems.
http://www.bbc.com/news/magazine-34521525
-----
URL: https://newageislam.com/islam-women-feminism/saudi-women-seek-legal-route/d/105371