New Age Islam News Bureau
22 Sept 2019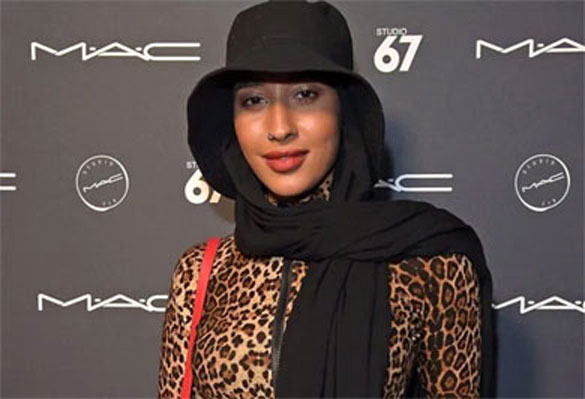 Mariah showcasing her own unique style at an event in LondonCredit: Getty - Contributor
-----
• Women Own 60% of Social Media Businesses In Dubai
• Muslim Athlete Sues Air Canada for Forcing Her to Remove Hijab
• Niqab Issue: All Ceylon Jamiyyathul Ulama Tells Muslim Women To Exercise Caution
• British Muslim Model Mariah Idrissi on Owning 100 Hijabs, Changing The Fashion Industry And Inspiring Others
• Indonesian Activist Seeks Rights, Equality and Gender Justice for Women
• Man, Accused Of Giving Triple Talaq, Gets Pre-Arrest Bail
• Iran Has 'Assured' Women Can Attend Qualifier: Infantino
Compiled by New Age Islam News Bureau
URL: https://www.newageislam.com/islam-women-feminism/saudi-women-scrap-traditional-abaya/d/119804
--------
Saudi Women Scrap Traditional Abaya In Bold Bid For More Freedom
21/09/2019
LONDON - In a daring sign of rebellion, Saudi women activists ditched their body-shrouding abayas in Riyadh, saying they want to "live freely and without restrictions."
The billowy over-garment, usually black, is customary public dress for women in Saudi Arabia, where not wearing it can invite harassment or even legal trouble.
Disillusioned with the repressive social norms, more women have taken to defying traditional dress codes, hoping to pave the way for greater freedoms in the fast-changing society.
Among them is Mashael al-Jaloud, a 33-year-old human resources specialist who recently visited a mall in Riyadh clad in an orange top and baggy trousers. Shoppers looked on with amazement as she walked by, she said. Some asked if she was a model.
Not all took kindly to Jaloud's defiant display, with one fully veiled shopper threatening to report her to the police.
Another young Saudi woman, Manahel al-Otaibi, a 25-year-old activist, was spotted wearing denim overalls in Riyadh's al Tahliya street.
Otaibi said she has been living in Riyadh without an abaya for four months because she wants to "live the way I want, freely and without restrictions."
"No one should force me to wear something I don't want," she said.
In March 2018, Saudi Crown Prince Mohammed bin Salman bin Abdulaziz suggested a more tolerant approach to women's dress, saying they should not be compelled to wear abayas because they are not mandatory in Islam.
Despite Crown Prince Mohammed's statements — accompanied by a sweeping liberalisation drive in line with Vision 2030 that has seen women gain the right to drive and travel with greater independence — boundaries remain largely untested in the ultra-conservative society.
Liberal Saudi women such as Jaloud and Otaibi say little has changed in their day-to-day lives and they hope for greater freedom to dress as they like in public without scrutiny or backlash.
https://thearabweekly.com/saudi-women-scrap-traditional-abaya-bold-bid-more-freedom
--------
Women Own 60% of Social Media Businesses In Dubai
September 22, 2019
Dubai - Demand for starting business through social platforms such as Facebook etc. is on the rise in Dubai, with a lot of traders especially the women applying for Trader License.
Official data by the Department of Economic Development showed that 3,333 licences have been issued to trade goods on social media since the launch in 2017. UAE nationals accounted for 2,420 - 72 per cent - of the total licences secured and 60 per cent of the licences have been issued to women.
Nada Nader, team leader for DED Trader, Business Registration & Licensing (BRL) sector, said Trader License plays a significant role in promoting consumer confidence in shopping for products and services on social networking sites.
The licence not only eliminates any obstacles for social media users but also improves accountability and intellectual property protection. Licensing a business activity enhances consumer confidence and removes the risk of infringement on a reserved trade name or other intellectual property. A licence also guarantees the rights of everyone concerned and defines the legal accountability of the trader.
The advantages of getting the DED Trader licence include trade name protection, greater customer confidence, participation in exhibitions and conferences, bank facilities (Emirates Islamic, Abu Dhabi Commercial Bank and Mashreq Bank), membership in Dubai Chamber, which facilitates import and export, and displaying products in consumer points of sale.
Investors keen to start business through social media can obtain licence from DED Café in Jumeirah, Palm Strip Centre; Dxb Businessmen Services, Al Khail Mall Al Quoz; Twasol Businessmen Services, The Dubai Mall; Al Nukhba Businessmen Services, Al Nahda; Khidmaty Government Services Centre, Abu Hail; and Tasheel - Al Barsha Mall.
The Trader Licence can be registered under the name of a single owner only. The licence holder cannot open a shop or issue visas and in case of a legal dispute, the licensee alone will be held responsible.
https://www.khaleejtimes.com/women-own-60-of-social-media-businesses-in-dubai
--------
Muslim Athlete Sues Air Canada for Forcing Her to Remove Hijab
September 22, 2019
SAN JOSE, Calif. -- Fatima Abdelrahman has achieved a lot of firsts in her life. She ranked top five on the U.S. junior national squash team in her age group, and she's the first national team member to compete wearing a hijab.
"It's a part of me. It's something that I wear every day. It's part of my daily life. I am proud to wear it," says Fatima, who just turned 13-years-old.
But on her flight to her first international competition from San Francisco to Toronto, Fatima, who wasn't wearing a headscarf in her passport photo, was asked to remove her hijab by Air Canada staff at the boarding gate.
"The Air Canada agent looked at my picture, looked at me, and said 'These don't connect. You need to take it off,' (as) he pointed at (my hijab). I said, 'No, I can't.' He said, 'No, you need to!' I said, 'No, I can't, religious purposes,'" explains Fatima, who lives in Santa Clara, California.
She said a female Air Canada employee escorted her inside the jetway and forced her to take off her headscarf. Fatima said she felt violated and humiliated.
She said the female agent told her, "'Just quickly take it off, so you can board.' So, I quickly took it off, didn't really know what to do. All my teammates had passed, my coach had passed. I had no idea I was alone. So, I quickly took it off. She barely glanced (at the passport) and then up at me. And (then said), 'Ok, hurry up! Hurry up! Go grab your stuff!'"
Fatima said her issue is that she wasn't given private screening room to remove her headscarf, though she repeatedly ask for one. It's also required by state and federal law.
She feels that she was singled out.
"First of all, the hijab doesn't cover my face. So even though in the passport photo I was not wearing the hijab, you can still see my face, and see that it is the same person," said Fatima. "I saw someone wearing a hat, but they weren't asked to remove it. Not trying comparing the scarf and a hat. But still, it does cover your head. So why was I asked to remove it, and not them? So yeah, I did feel discriminated against."
Fatima's older sister, Sabreen, tweeted about the incident, which did generate a response from the airline.
"They saw a complaint and were like, copy-paste, here is an incident form. 'Let's try and cover this up!'" explained Sabreen on how her family interpreted the airline's response.
Sabreen Abdelrahman
@Sabreen_magdy
. @AirCanada pls explain why you pulled aside my 12yr old sister for flight 758 making her take off her hijab AT THE GATE?? AFTER she already passed security??
Thx for ruining her experience as the first U.S. National Team Squash player in Hijab + her first time traveling alone
5,424
11:53 PM - Aug 1, 2019
Twitter Ads info and privacy
2,408 people are talking about this
Ammad Rafiqi, with the Council on American Islamic Relations San Francisco Bay Area, is the lawyer for the family.
"There is a history of Muslims... being picked (out), specifically on these issues. And that's our concern," said Rafiqi.
He said most security screening is done by the TSA, which already checked Fatima's passport and cleared her to fly. He says Air Canada violated U.S. and California law by not providing Fatima a private screening area.
"This is something Air Canada says is in their procedures, but either they don't follow it, or it's not something that's in the training for their employees, and that's the concern here," said Rafiqi.
Air Canada did not respond to repeated requests from ABC7 News for comment. But the family said, in an email from Air Canada, they were told the airline updated their policy since the incident.
Rafiqi said they gave Air Canada two weeks to respond to their complaint.
https://abc7chicago.com/society/muslim-athlete-sues-air-canada-for-forcing-her-to-remove-hijab/5558874/
--------
Niqab Issue: All Ceylon Jamiyyathul Ulama Tells Muslim Women To Exercise Caution
September 22, 2019
Despite the Police Department having clarified that the ban on the face veil was lifted with the removal of Emergency, the All Ceylon Jamiyyathul Ulama (ACJU) said yesterday that it stands by earlier advice to the community to exercise caution.
In a letter to Muslim Religious Affairs Minister M.H.A. Haleem, Police Spokesman Ajith Rohana has clarified that the law pertaining to the niqab, burka and face cover was implemented under Emergency and is no longer valid.
However, the ACJU, the apex religious body of Islamic theologians, said yesterday that it stood by its earlier communication to the community. It had said: "The ACJU requests especially the Muslim women to avoid possible inconveniences that may be caused by attiring the face cover in public and to act in a responsible and serious manner considering the present situation."
The ACJU already knew the regulations no longer applied because it has sought the advice of its lawyers, said Moulavi Arqam Nooramith, ACJU Secretary for Youth Affairs. But its position remains the same and is also conveyed to those who contact it directly for guidance.
In its statement on September 1, 2019, the ACJU–which met on Friday to reassess its stand– said that wearing a dress code of one's choice is a fundamental human right of every man and woman on earth. Sri Lanka's constitution also protects these rights.
"Followed by the deplorable incident of April 21, an unusual situation prevailed in the country and the Emergency law was imposed by the Government," it said. "Followed by this, a temporary ban of face cover or niqab was too imposed during the time of the Emergency law. Though the Emergency law was lifted on August 23, a Special Gazette has been issued enabling the deployment of armed forces to maintain public order in the country. Ever since the incident, it seems that a fear psychosis among the people is still not completely detached."
"In this current situation, there seems to be possibilities that the Muslim women who attire the face cover publicly may face inconveniences," it said. "So, at this uncertain political situation, it is our responsibility to ensure all possible means to avoid paving the way to racial elements."
http://www.sundaytimes.lk/190922/news/niqab-issue-acju-tells-muslim-women-to-exercise-caution-369713.html
--------
British Muslim Model Mariah Idrissi on Owning 100 Hijabs, Changing The Fashion Industry And Inspiring Others
22 Sep 2019
WHEN Mariah Idrissi pulls one of her many hijabs from a bag during photoshoots, stylists often mistake it for a skirt.
But for the British model, this piece of material is as important as her shoes, jewellery or make-up. It is part of her identity.
Four years ago she was the first Muslim woman to feature in a mainstream fashion campaign wearing a hijab.
In the wake of London Fashion Week being criticised for a lack of diversity, Mariah, 27, has told how she hopes to inspire others to help change the industry she works in.
In an exclusive interview with The Sun on Sunday, she said: "I feel so proud of my hijab. It is part of me. Being a Muslim is my USP.
"I've got two boxes of hijabs — I must have around 100.
'I'M NOT SURE ABOUT THE BURKINI'
"I'm not sure about the burkini as a fashion item though, and you probably won't see me modelling one."
Talking about the fashion industry, she said: "I have not faced any racism in my personal life but in my career my hijab is a real issue to some people.
"It can either draw them in or put them off.
"The fashion industry needs more people from ethnically diverse backgrounds behind the scenes.
"Hopefully I can inspire them to think that it's possible."
Mariah, who lives with her parents in North West London despite jetting around the world, revealed that she was spotted in a shop by a casting agent just weeks before shooting her 2015 groundbreaking H&M ad. She now wants to offer a different take on beauty to that seen on Love Island.
Mariah said: "When people say to me as a Muslim woman that I'm oppressed, I don't see that. I see I'm the most free.
"I'm not under pressure to get a bum job to show off in a bikini in Ibiza. It doesn't apply to me.
"It's a real shame that there are young girls who feel they have to change to fit in. It's another side to beauty.
"I started watching Love Island this year and in many ways I love it.
"But it worries me what happens on that show and the pressure and mental health issues they face, especially as role models to young women.
"You should also be allowed to dress more modestly and still be seen as beautiful."
Mariah was born in London and brought up by her mum, an accountant from Pakistan, and Moroccan dad, a chef in a private members' club.
She said: "My parents were very laid back and encouraged me to be whatever I wanted to be.
"My mum was conscious of her faith and I went to Islamic school on Sundays, from age four until 16.
"I did a GCSE in Islamic studies. I only started wearing the hijab properly when I went to college to study art. I felt it represented my faith.
"Modelling was never part of the agenda for me. I never saw anyone like me, a hijab-wearing Muslim, doing it when I was growing up. I never thought it was an option. It's sad thinking about it, but growing up I didn't even think, 'this needs to change'. I just thought, 'it's not for us'. I would never have dreamed of seeing a woman in a hijab, or even a Muslim, in a fashion shoot less than ten years ago.
'I WAS STUNNED'
"For so long, the only time you'd ever see a depiction of a Muslim woman was as the terrorist's wife."
After college Mariah studied English and History, hoping to follow a movie career, when she was spotted.
She said: "I was managing a children's clothes shop. A woman called and asked if I wanted to go on her casting books. A few weeks later she called me back and said H&M wanted to use me for a campaign. I was stunned.
"I didn't tell anyone, I didn't think it would be a big deal. My mum and dad just said, 'that's nice'.
"The shoot only took a few hours and I had no idea it was global."
Three weeks later the image of her standing outside a fish and chip shop while wearing a hijab was broadcast around the world and viewed by more than 15million online. In one day, Mariah saw her Instagram followers jump from 20 to 20,000.
She now has close to 90,000. She said: "It was insane, and a real sign that people were ready for modest fashion. People would contact me telling me what an inspiration I was."
Since then, Mariah has travelled the globe modelling for magazines including Vogue and designers such as Gucci.
She said: "I have absolutely loved it. It shows how far we have come that a woman like me can model in this way. That wouldn't have been possible ten years ago."
'TRENDY AND MUSLIM'
But Mariah, who prays five times a day, said she still faces ignorance in the industry. She said: "There's a stigma attached to Muslim women being frumpy. But you can be trendy and fashionable and be Muslim.
"I've known that all my life and it seems people are realising it now. It's about dressing modestly. I've had a 6ft blonde say to me, 'I'm so happy to meet you, I can now tell people I don't need to take my clothes off'.
"Once, I had a brand deal but then a stockist said it couldn't be associated to me because it wouldn't attract people of its image. I have had stylists not understand the hijab and think it's a skirt, or say, 'can we do one without the hijab?' I've even been asked if I'll wear a bikini. It's down to ignorance rather than vindictiveness."
A year after Mariah's H&M shoot, US model Halima Aden was the first Muslim to wear a burkini on the front of Sports Illustrated mag, which has a bikini issue each year.
Mariah said: "It was the first time I've seen a burkini look good. To me it's a necessity. I wear one but it's not a fashion thing for me."
Mariah, who cites models Winnie Harlow and Naomi Campbell as role models, also wants to work with Victoria Beckham and Burberry.
https://www.thesun.co.uk/fabulous/9978164/muslim-model-mariah-idrissi-hijab/
--------
Indonesian Activist Seeks Rights, Equality and Gender Justice for Women
by Paolo Fossati
09/20/2019
Jakarta (AsiaNews) - After raising the minimum age for women to marry, the next step to be taken in Indonesia is a law on gender equality and justice, said Dian Kartikasari, general secretary of the Coalition of Indonesian women for justice and democracy (Koalisi Perempuan Indonesia, KPI), speaking to AsiaNews.
Founded in 1998, the KPI has contributed decisively to the historic decision by the Indonesian parliament to raise the minimum age for brides from 16 to 19 years.
According to KPI's data, 27 per cent of Indonesian children are involved in child marriages. The number of females is higher than that of males. In the world, Indonesia ranks 7th for this kind of union in the world; second only to Cambodia in Asia.
For Kartikasari, "The reasons behind the phenomenon are above all cultural. For many people, a girl who gets married soon ceases to be a burden on the family." Hence, "Poverty also plays an important role.
"Among the more conservative Muslim communities, early marriage is also as a way to avoid the sexual activity of young women. Fortunately, the raising of the minimum age will affect not only civil authorities but also religious courts, which have so far contributed to the practice."
"The campaign for raising the minimum age began in 2010, when we asked the government to change the Marriage Law, in force since 1974," Kartikasari explained.
"At the time, the government told us that doing it would be too complicated. We therefore turned to parliament, where, however, we failed to overcome the opposition of more conservative religious groups.
"In 2014 we changed strategy and called on the Constitutional Court to express itself on Article 7, the one that set the minimum age limit for marriage.
"Faced with a first failure, we realised that it was necessary to collect more data and information, to better highlight the importance of the issue."
"We have been confronted with members of the Coalition who were victims of the practice in the past. We asked them if they were willing to tell their experience to the judges of the Constitutional Court. Finally, in December 2018 the Court accepted our request and urged lawmakers to change the law.
"The stories we brought to court are really tragic. There is that of Mariati, who was forced by her father to marry a family friend at age 13 because he contracted a debt with him after losing money gambling. Shortly thereafter the girl became pregnant, but the child she was carrying died during childbirth.
"Another story is that of Rahmina. The mother of the young woman is very poor, so she thought that with her daughter's marriage she would solve all her problems. Rahmina married four times: the first at only 12, then at 16, 18 and finally at 26.
"During the second marriage, she was used to prepare food for farmers who worked for her husband. One day she was bitten by a snake. The infection caused by the poison cost her the amputation of a leg. Faced with her disability, the husband decided to abandon Rahmina."
The parliamentary vote on Monday is a great victory for the Coalition. However, general secretary of the KPI notes "there is still a lot of work to do. The next step to be taken is a law on gender equality and justice. This will be hard to achieve, especially because of conservative Islamic movements.
"By promoting interpretations of Islam inspired by the Middle East, radicals reject our demands because in their view they represent a threat to the authority and power of man in society.
"Still, we are not alone in this battle, because we are supported by several progressive and moderate Muslim leaders who stress that gender equality is part of Islamic teachings. Other religious communities are also on our side; Christians, Buddhists, Hindus are with us."
http://asianews.it/news-en/Indonesian-activist-seeks-rights,-equality-and-gender-justice-for-women-48063.html
--------
Man, Accused Of Giving Triple Talaq, Gets Pre-Arrest Bail
SEP 21, 2019
MUMBAI: A 39-year-old man, said to be the first person in the city to face a case under the law penalizing triple talaq, has been granted pre-arrest bail by a court here.
A case under the Muslim Women (Protection of Rights on Marriage) Act, 2019, passed by Parliament in July, was registered by Nagpada police against Sayyed Anwar Ali last month.
His wife, a dietitian by profession, alleged in her complaint that Sayyed divorced her through instant triple talaq in 2018.
According to the police, it was the first case to be registered under the new law in the city.
Pronouncing instant triple talaq can attract imprisonment of up to three years for a Muslim husband.
In his anticipatory bail plea, Sayyed claimed that it was a divorce by mutual consent.
"It was mutual consent divorce over three different sittings in the presence of families of both the parties," his lawyer Arif Siddiqui said.
He also produced in the court documents establishing that it was a consensual separation, the lawyer said.
Sessions judge M A Baraliya granted Sayyed pre-arrest bail on Friday, advocate Siddiqui added. https://economictimes.indiatimes.com/news/politics-and-nation/man-accused-of-giving-triple-talaq-gets-pre-arrest-bail/articleshow/71238272.cms
--------
Iran Has 'Assured' Women Can Attend Qualifier: Infantino
Sep 22, 2019
MILAN, Italy (Reuters) - FIFA has been "assured" by Iranian authorities that women will be able to attend the October World Cup qualifier in Tehran, Gianni Infantino, president of the body said on Sunday.
A female Iranian fan died earlier this month, after setting herself on fire to protest against her arrest for attending a match.
FIFA officials have been in Iran this week discussing preparations for the Oct. 10 World Cup qualifier against Cambodia, their first home game of the 2022 qualifying competition.
"We need to have women attending – we need to push for that with respect but in a strong and forceful way and we cannot wait anymore," Infantino told a FIFA conference on women's football.
"We have been assured, that as of the next international game of Iran, women will be allowed to enter football stadiums," he said.
"This is something very important, it is 40 years that this has not happened, with a couple of exceptions, but it is important to move to the next level and to the next stage," he added.
FIFA said on Saturday it would be working with the Iranian football federation to develop plans for women to attend domestic matches in the Iranian league as well.
Sahar Khodayari, dubbed "Blue Girl" for the colors of her favorite team Esteghlal, died in hospital after her self-immolation outside a court where she feared being jailed for six months, having attended the match in disguise as a man.[nL5N2615LX]
Khodayari's death has caused widespread outrage in Iran and internationally, prompting calls on social media for Iran's football federation to be suspended or banned by FIFA.
Critics say FIFA's own statutes hold discrimination on grounds of gender punishable by suspension or expulsion.
While foreign women have been allowed limited access to matches, Iranian women have been banned from stadiums when men's teams have been playing, since just after the 1979 Islamic revolution.
There were signs the situation regarding female fans in Iran was changing when a group of women was permitted to attend the second leg of the Asian Champions League final in Tehran last November, a match where Infantino was present.
Female fans, however, have been denied access to matches since. At Iran's friendly against Syria in June, women were locked out of the Azadi Stadium and detained by security forces.
https://www.investing.com/news/general/iran-has-assured-women-can-attend-qualifier-infantino-1983296
--------
URL: https://www.newageislam.com/islam-women-feminism/saudi-women-scrap-traditional-abaya/d/119804
New Age Islam, Islam Online, Islamic Website, African Muslim News, Arab World News, South Asia News, Indian Muslim News, World Muslim News, Women in Islam, Islamic Feminism, Arab Women, Women In Arab, Islamophobia in America, Muslim Women in West, Islam Women and Feminism