New Age Islam News Bureau
19 Sept 2018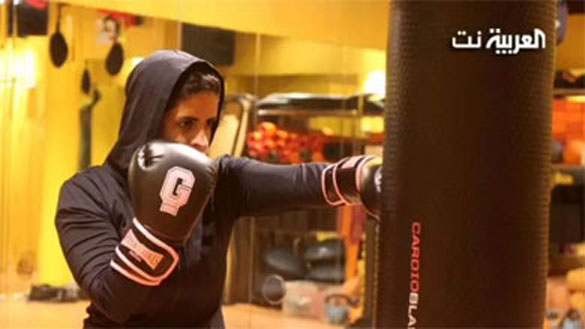 Al Arabiya English joined the two young women in the enthusiastic atmosphere during their boxing class and heard from their trainer Fatema al-Nuaimi. (Al Arabiya)
------
• Iranian Mother 'Marched Teenage Daughter to GP for A Virginity Test after Finding Her with Secret Boyfriend'
• Hyderabad: Students Deplore Forced Burqa Removal
• Pakistani Women Use Internet To Smash Patriarchy And Be Free
• Baha'i Women Continue To Get Deprived Of Education In Iran
• European Rights Court Slams Belgium on Headscarf Issue
• 161 Saudi Women Get Training In Aviation Security
Compiled by New Age Islam News Bureau
URL: https://www.newageislam.com/islam-women-feminism/saudi-women-put-boxing-gloves/d/116425
--------
Saudi Women Put On Boxing Gloves for Sporting Glory, Self-Defense
18 September 2018
A young Saudi woman tightens the band around her wrist and puts on her boxing glove before starting a training class inside a boxing hall in one of the specialized clubs in Khobar, eastern Saudi Arabia.
Fatema al-Nuaimi then starts to move lightly around the punching bag as Esraa Qadri moves toward her, challenging her to a friendly spar.
These young women are a growing segment of society who are taking up different sports as gyms and clubs begin opening their doors to females across the country.
Throwing punches
Al Arabiya English joined the two young women in the enthusiastic atmosphere during their boxing class and heard from their trainer Fatema al-Nuaimi.
Nuaimi says she has always loved sports activities, especially boxing. After first learning the sport, she says she has carried on persistently and intensively trainings to achieve her progress at all the different programs and levels, eventually becoming the first Saudi woman to get a master's degree in the Pink Gloves Boxing program.
She moves between Khobar and Jeddah to teach young women who are interested in her training classes specialized in boxing and its rules. She said she hopes that, eventually, they'll be qualified enough to then become trainers themselves and pass on the skills to more women.
Inviting girls to the ring
"Boxing is a spirit sport. It provides fitness, intelligence, and nourishment of the soul. It is also a self-defense method, when needed," Qadri told Al Arabiya English. "That's why I encouraged and invited young women to practice it, for its importance in developing her personality, physical and mental health," she added.
Boxing is a sport that has emerged in a society that has traditionally viewed it as suited only for men.
https://english.alarabiya.net/en/sports/2018/09/18/Saudi-women-put-on-boxing-gloves-for-sporting-glory-self-defense.html
--------
Iranian Mother 'Marched Teenage Daughter to GP for A Virginity Test after Finding Her with Secret Boyfriend'
19 September 2018
A couple marched their 18-year-old daughter to the doctor for a 'virginity check' and warned her secret boyfriend they were 'dangerous' because they were Muslim, a court heard.
Iranian parents Mitra Eidiani, 42, and Ali Safaraei, 56, who live in south London, are also alleged to have threatened to kill their daughter Sophia Safaraei and her boyfriend, with Ms Eidiani saying: 'You have seen what our people do on the news.'
In a statement read to Kingston Crown Court today, Doctor Helen Lewis said that Ms Mitra had responded to her refusal to carry out the check by telling her she did not understand her and Mr Safaraei's culture.
'Sophia said she didn't want to be examined by anyone,' the statement read.
'I explained to Sophia I could not even touch her without her permission and I would not examine her unless she consented to this.
'Mitra voiced unhappiness with this. She said I didn't understand her culture and then called Sophia's father, Ali Sarafaei, who was waiting outside.
'She told me he was strict, not liberal like her, and would insist on me performing a virginity test.'
Doctor Lewis said the Ms Eidiani then drew unfavourable comparisons between her family's culture and 'your' culture (referring to the UK) as Mr Safaraei threatened to go to the police while Sophia appeared tearful.
The jury heard Sophia told police she was from a 'strict Muslim family', but defending Eidiani, John Skinner said that 'was not really true'.
Sophia said 'it was more of their upbringing than mine', adding: 'There's more of the culture than religion'.
The mother allegedly later bit her daughter and the father is accused of threatening Sophia with a kitchen knife after returning from the doctor.
Sophia was also told she would be sent 'back to Iran to marry a cousin,' jurors heard.
The parents found out college student Sophia was in a relationship with her workmate Bailey Marshall-Telfer, 18, when the pair were caught meeting secretly at her home.
The couple then visited Mr Marshall-Telfer at work, where Eidiani suggested 'that they, as Muslim people, were dangerous', the court was told.
David Povall, prosecuting, said Eidiani came home unexpectedly while Mr Marshall-Telfer was at their house in Wandsworth, south London.
He initially tried to climb from a bathroom window but she discovered some of his belongings, including a pair of headphones, the jury heard.
Mr Marshall-Telfer told Kingston Crown Court he was confronted by the pair at Sports Direct - where he first met workmate Sophia, 18 - the day after the relationship was found out.
He said Eidiani told him: 'Don't come near my daughter again. I don't want you communicating with her or anything like that.'
Mr Marshall-Telfer added: 'She was like, "how can she be with someone like you?"
'She went on to say that she is a Muslim and her husband is a Muslim and "you have seen what our people do on the news and stuff, we're dangerous people, be careful".'
Asked by prosecutor David Povall what else Eidiani said, he added: 'That her husband was more angry than she was and he was going to kill me and that there would be a shadow around me and they might come back the next day with someone else.
'I was really quite scared, nervous, it shook me a bit when I was trying to do my job. I believe I was just saying 'alright' most of the time because I was not trying to do anything to make her more angry or say anything else or create a scene in the store.'
Mr Marshall-Telfer, who began a relationship with Sophia in January 2018, said Sarafaei then arrived ten to fifteen minutes later and repeated the threats.
He said: 'He came up to me and was like, was I the one that was in his house? I was like yes, I made a big mistake and I apologise. He didn't really address the apology.
'He just kept asking me what had happened in there and that he had CCTV in his house just to, I guess, play mind games so I would say what happened.
'He said he was going to keep coming back and at the right place and at the right time that he would kill me.'
Mr Marshall-Telfer was caught at Sophia's house days earlier when her mother came home unexpectedly, the jury heard.
He claims he was forced to clamber out of a bathroom window in a bid to flee, but was caught out because he left belongings in the house.
He said after the incident, Sophia also sent him a message about her parents forcing her to have a 'virginity test' at a GP clinic.
The message said 'that her parents were trying to get her examined at the GP and that they were going to get her to tell lies to get me in trouble', he said.
Mr Povall asked: 'Do you remember what lies?' Mr Marshall-Telfer said: 'I think it was along the lines of rape.'
Eidiani wept as Sophia told the jury: 'We panicked because we didn't expect it to happen so I had no choice but to tell him to go on the roof.
'We were both scared, we didn't know what to expect and obviously it would be a shock for my mum. She did tell him not to come back and we should not have contact anymore. She did break his headphones and Bailey was shocked when he saw them.'
Mr Povall said after Eidiani broke the headphones, she told Mr Marshall-Telfer: 'That's the least way I can cause you some harm'.
He added: 'She shouted, she was threatening, she took a photograph of him and she insisted that he leave the house.'
Mr Povall said Sophia's father then returned home after the boyfriend had left.
He added: 'Sophia describes hearing from inside her room her mother begging her father, "please, don't hurt her".
'But in any event, her father came up to the room shouting at her angrily, telling her that he would kill her and insisting that he and his wife should take Sophia to the doctor so that it could be checked whether she was still a virgin.'
Sophia told jurors: 'I did get threatened - that if I didn't go, stuff like I can get killed.
'The doctor asked me the reason why I was in that day and I didn't talk, I just told my mum, as they were the ones that wanted me to get checked. They said "if she wants to get checked she has to say herself".'
Mr Povall added: 'This led to Ali Safaraei coming into the consultation room himself in order to see if this could be made to happen.
'The doctor was adamant, rightly, and in due course the family left without Sophia having been violated in this way.'
But when the family returned home from the doctor, her mum became 'extremely angry' and bit Sophia, the jury heard.
Mr Povall said: 'She started to shout, she grabbed hold of Sophia's arm and she bit her in the arm, leaving a distinctive bite mark on her forearm.
'Both parents were pushing her around. Sophia said she was going to leave home and went up to her bedroom.
'But her father came up, this time holding a knife from the kitchen and a pair of scissors.'
Speaking from behind a screen, Sophia told jurors: 'My father then came into my room armed with a big kitchen knife and said you have to get checked. They were saying if I'm a virgin why can't you prove it? What are you scared of?'
A photograph of a large yellow bruise on her forearm, allegedly caused by the bite, was shown to the jury.
In the following days, the parents made life 'extremely unpleasant' for Sophia and Mr Marshall-Telfer, Mr Povall said.
He said: 'She was called a prostitute, her father threatened to kill both her and Bailey. She was told she was disowned, it was suggested she might be sent back to Iran to marry a cousin.'
On May 17 2018, Mr Marshall-Telfer was threatened by Eidiani while at work at a Sports Direct store near Clapham Junction, where he had met Sophia, the court heard.
The prosecutor added: 'She made comments to him pointing out her religion, that she was Muslim, that her husband was Muslim and suggesting that they as Muslim people were dangerous, that he should be careful, that her husband was angry and wanted to kill him and that they would be back and she left.'
Safaraei then showed up and said 'he was going to keep coming back and when the time and the place was right he would kill Bailey', Mr Povall said.
Sophia reported the alleged abuse on May 18 at Wimbledon police station. Safaraei and Eidiani, both of Clapham, deny two counts of controlling or coercive behaviour and one count of making a threat to kill.
Eidiani also denies one count of assault occasioning actual bodily harm. Eidiani pleaded guilty to one count of criminal damage, related to the headphones, at an earlier hearing.
Parveen Mansoor, representing Safaraei, told the court he is not a Muslim and 'would have been fine' about his daughter having a boyfriend. The trial continues.
https://www.dailymail.co.uk/news/article-6180639/Couple-marched-daughter-doctor-virginity-check-discovering-secret-boyfriend.html
--------
Hyderabad: Students Deplore Forced Burqa Removal
Sep 19, 2018
Hyderabad: After female aspirants faced issues with the mangalsutra during the VRO examination, Muslim women from foreign countries studying in Hyderabad speak out their anguish on having to remove their Burqas in front of men in examination hall during degree exams.
The Muslim women alleged that during every exam, they were being forced to remove their Burqas in front of men even though they were not comfortable about it.
They also alleged that whenever they tried telling the examination centres that they were not comfortable about removing the Burqas, they were forced by being told that they had to strictly follow the rules of the examination centres.
A Muslim woman from a foreign country studying in Hyderabad in a degree college affiliated to Osmania University, on the condition of anonymity, said, "Whenever I wrote examinations in different examination centres, they never allowed me to write the exam in Burqa. Instead they let me cry despite my telling them that this was not my culture. Once, when I was writing the final exams for my first semester, I was nine months pregnant. The examiner shouted at me in front of other students and said that I would cheat because I was wearing a Burqa. I told her 'You can check I am not carrying anything' and this happened in a Muslim college."
Another woman on condition of anonymity said, "When I was writing the final exam, I was not allowed to enter the examination hall by a Muslim examiner. It was the Roza month and I told her that it was a holy month for us and I couldn't remove my Burqa but she said was also a Muslim and she had to obey the rules."
Prof. Sriram Venkatesh, Director, Osmania University Foreign Relations Office, said, "We have to respect the sentiments of each and every community and it is not correct if colleges ask them to remove the Burqa. We just have to be more vigilant in the examination halls to prevent any malpractices; for that strict frisking is enough. We should respect their culture. If students who have faced such issues complain to us, we will take action against such colleges but we have not given any such orders to any degree colleges asking them to remove Burqas.''
https://www.deccanchronicle.com/nation/current-affairs/190918/hyderabad-students-deplore-forced-Burqa-removal.html
--------
Pakistani Women Use Internet To Smash Patriarchy And Be Free
By KUNWAR KHULDUNE SHAHID
SEPTEMBER 19, 2018
Gender disparity has dogged Pakistan since it gained independence in 1947. It has been ranked the second worst in the World Economic Forum's 2017 gender equality list for the third successive year.
But the swift growth of digital media in the country has prompted many progressive female voices to challenge the entrenched patriarchal system.
However, the digital world is also dominated by men and there is a visible gender inequality there. Over the past year, Pakistan contributed 35 million new accounts to Facebook with more than three-quarters of those users being male.
The Pakistani women fighting this male domination on social media comprise digital journalists, social media activists, bloggers, vloggers, filmmakers and entrepreneurs.
Earlier this year, the film Motorcycle Girl was released and enjoyed considerable success at the box office. The film is a biopic of motorcyclist Zenith Irfan. She rose to fame in 2015 after becoming the first female biker to travel solo across Pakistan – from Lahore to the Khunjerab Pass bordering China.
Social media to the rescue
Speaking to Asia Times, Irfan said she owed the spread of her story to her Facebook page and blog 'Zenith Irfan: 1 Girl 2 Wheels'.
"I [was] writing to smash a patriarchal curtain. Social media gave me that freedom and space to communicate my thoughts as a woman in Pakistan. Today, people know me as the Motorcycle Girl of Pakistan and it's because of a simple choice I made three years ago – that is to speak and let your voice be heard," she said.
Irfan says the growth of other platforms like Instagram has also allowed women to share their stories online. She believes that being relatable on the web is the easiest way to put forward your story.
"Do not let anyone tell you that you can't just because you are a woman. In fact, tell them you can, because you are powerful, courageous and have the ability to create another life," she says.
Irfan's story is among the growing sparks of hope among women in a country whose Human Rights Commission recently published a damning report on the state of women's rights. Following the report, the house of its editor was raided.
In August this year, sisters Najda and Nudrrat Khawaja launched Pear Perfect, an online apparel and clothing store dedicated to plus-sized women. The idea was conceived when they were shopping for their sister-in-law and were told by a salesperson at a leading fashion outlet that they didn't keep 'unhealthy' sizes.
"We wanted to create space for people who don't conform to a particular body structure. There are a few outlets that offer plus-sized clothes, but their measurements aren't much different to the usual large size. We wanted to come up with realistic measurements for plus size people," Nudrrat Khawaja said.
Describing her venture as a feminist initiative that countered certain patriarchal notions about women and female beauty, Khawaja said Pear Perfect was more than just a business. A defining point of this venture was to counter fashion that exploits the vulnerability of women about their body image by creating standard ideals of beauty.
"There are many women coming forward and telling us that they've always wanted good quality, ready-to-wear clothes in their sizes. That's the vacuum we wanted to fill. Besides the sales, the community building is very strong. [Hence] we haven't had to go for advertising – the message is organically spreading and women are sharing their personal stories."
Khawaja said that while the Facebook page has allowed women to connect and share ideas, there was also a backlash. "There are a few negative comments where people are targeting the model and accusing us of promoting obesity. We're not promoting obesity, we're promoting body positivity."
Feminist initiatives facing a backlash is normal in a country where voices often challenge age-old norms. There was also disagreement among women about what truly constitutes a 'feminist' idea. Zenith Irfan, for instance, maintained she is 'not a feminist.'
"If feminism means to hate others, protest violently, be irrational and loud, [then] I am not one," she says. She also feels there are females 'misinterpreting feminism.'
Feminist without the label
To address misconceptions about the term 'feminism,' in addition to educating those who attack feminist voices, journalist Sabahat Zakariya decided to launch her YouTube channel 'Feminustani' – the name merging feminism with the Urdu word for teacher, ustani.
Inspired by 'Feminist Frequency', Zakariya says her channel tries to fulfill the lack of progressive voices catering to Pakistani women's issues. "The English speaking and English reading audience can tap progressive voices from around the world. But there aren't many people speaking [while] keeping the local context in mind, especially in Urdu," she says.
While Zakariya aims to keep her content more localized and encourages more women to embrace feminist ideals, she maintains that labels shouldn't be enforced. "Virginia Woolf said she's not feminist, even though she's prominently featured in gender studies courses. Hence, as long as [Zenith Irfan] is doing what she's doing I consider her a feminist, and more importantly someone who's challenging certain [patriarchal] notions. I don't feel there's any need to push the labels."
Zakariya adds that unlike traditional media, there is more space to voice opinions on digital platforms since 'there are no gatekeepers.'
"Whenever a channel is approached with such an idea, we are told nobody is going to watch it. There is a need to highlight those voices who don't see themselves [represented] in TV dramas or morning shows, which is only possible on social media."
Many female journalists point out that a lot of women's issues are highlighted anonymously in the traditional print media. Zakariya feels that with a name and a face there is a completely different impact. "Hence the visual aspect of digital is very important, and would hopefully help create inspiration for others," she says.
http://www.atimes.com/article/pakistani-women-use-internet-to-smash-patriarchy-and-be-free/
--------
Baha'i Women Continue To Get Deprived Of Education In Iran
19 September 2018
The deprivation of Baha'i women from their education has become a continuing process in Iran.
Shaghayegh Zabihi Amri, a Baha'i student at the Department of Architectural Drawing of the Non-Profit University of RASAM in Karaj, was denied an associate degree and barred from continuing her undergraduate studies.
Ms. Zabihi had been previously summoned by the security department of Karaj Azad University and questioned regarding her Baha'i beliefs. Nevertheless, the interrogation did not lead to her dismissal from school, and she continued her studies until graduation. Upon completion of her studies, when she went to receive her associate degree, she was handed a letter by the Evaluation Organization. She had to personally refer to the Evaluation Organization, where she was verbally told that she could not receive her degree, and that she could not continue her studies for a Bachelor's Degree because of her faith in Baha'ism.
Baha'i students, including Baha'i women, are systematically denied higher education in Iran. The records of dozens of Baha'is who successfully passed the competitive National University Exam to continue their education at university level have been flagged "deficiency on file," because of their faith, rendering them ineligible to apply for college.
The number of Baha'i students who have been deprived from pursuing higher education this year has so far exceeded 50.
From September 15-18, 2018, the names of twelve more Baha'i women were among the students barred from continuing their education: Foruzan Noordel from Tabriz, Hoda Hedayati, Kiana Rastak, Negar Ighani and Sahar Mohebpour from Shiraz, Hanan Hashemi Dehej, Hasti Maleki, Tina Hamidi Fard from Tehran, Rojhan Khouniki, Sahba Imani, Mahsa Sotoudeh, and Saba Fazli from Karaj.
Earlier, the names of nine Baha'i women deprived of pursuing their education due to their faith had been announced: Taranom Motamedi Borujeni from Shahin Shahr, Isfahan; Shamim Idelkhani from Moghan, Ardebil; Farnia Iliazadeh, Sarvin Azarshab, Shahrzad Tirgar, and Melina Ghavami Nik from Tehran; Parmida Hossein Pooli Mameghani; Parand Misaghi, and Shaghayegh Ghasemi.
https://women.ncr-iran.org/iran-women-news/5472-baha-i-women-continue-to-get-deprived-of-education-in-iran
--------
European Rights Court Slams Belgium on Headscarf Issue
18.09.2018
By Hajer M'tiri
PARIS
The European Court of Human Rights on Tuesday convicted Belgian authorities for violating the EU Convention on Human Rights by excluding a Muslim woman from a courtroom for refusing to remove her headscarf.
In 2007, the applicant, referred to by the EU court as "Mrs Lachiri", was attending a court hearing in a case concerning the death of her brother.
The presiding judge of the court told Lachiri "that she could not enter the hearing room unless she removed her headscarf". She refused to comply and did not attend the hearing.
Lachiri challenged the decision in local courts before lodging a complain at the top EU court in December 2008.
The ECHR ruled by a majority of six votes to one "that there had been: a violation of Article 9 (freedom of thought, conscience and religion) of the European Convention on Human Rights".
According to the court's ruling, excluding Lachiri "from the courtroom on the grounds that she had refused to remove her headscarf had amounted to a 'restriction' on the exercise of her right to manifest her religion."
"The Court therefore held that the need for the restriction in question had not been established and that the infringement of Mrs Lachiri's right to freedom to manifest her religion was not justified in a democratic society," read the ruling.
https://www.aa.com.tr/en/europe/european-rights-court-slams-belgium-on-headscarf-issue/1257942
--------
161 Saudi Women Get Training In Aviation Security
Sep 19, 2018
RIYADH — The Saudi Academy of Civil Aviation has trained 161 Saudi women to work in aviation security, Al-Watan newspaper reported.
The General Authority for Civil Aviation has said aviation security is a new window for employment for Saudi women. The security officers are responsible for the safety and security of passengers and staff members working at the airport.
The tasks of aviation security officers include ensuring all safety and security precautions are implemented, communicating between airports through an efficient network, ensuring that all safety and security regulations are unified across the airports in the Kingdom and facilitating all commercial aviation operations.
The graduates of the training program are capable of developing and enhancing security procedures followed at Saudi airports, preparing a national aviation security program and responding quickly in the event of any security threats.
The graduates are also trained to ensure all airport staff and airline operators adhere to national and international regulations, inspect the operational quality of airports, ensure that all equipment are handled correctly, execute secretarial tasks, review security committee reports, issue licenses to employees of the aviation sector and evaluate security threats and their severity.
http://www.saudigazette.com.sa/article/543739/SAUDI-ARABIA/161-Saudi-women-get-training-in-aviation-security
--------
URL: https://www.newageislam.com/islam-women-feminism/saudi-women-put-boxing-gloves/d/116425
New Age Islam, Islam Online, Islamic Website, African Muslim News, Arab World News, South Asia News, Indian Muslim News, World Muslim News, Women in Islam, Islamic Feminism, Arab Women, Women In Arab, Islamophobia in America, Muslim Women in West, Islam Women and Feminism