27 January 2022
• Saudi Women Power Ahead By Seeking Train Drivers Jobs
• Protest March In Bengaluru Against Harassment Of Muslim Women Over Hijab N Karnataka
• Bangladesh Skipper Nigar Sultana Considers Maiden Women's World Cup Appearance As 'Big Opportunity'
• They Served, Too. New Database Shows Black Women's Service In World War II.
Compiled by New Age Islam News Bureau
URL: https://www.newageislam.com/islam-women-feminism/saudi-women-train-drivers/d/126468
--------
Saudi Women Power Ahead By Seeking Train Drivers Jobs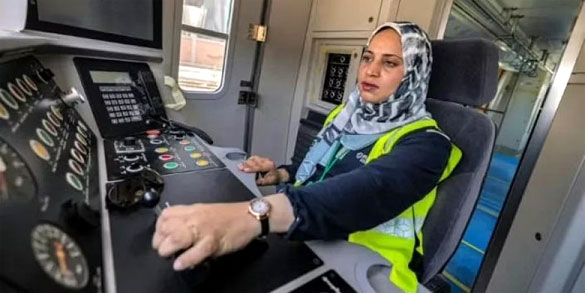 It is the first time train driver jobs have been advertised for women in Saudi Arabia/ GETTY IMAGES
----
Dr. Mohamed Ramady
February 26, 2022
A recent report about a job advert to recruit 30 female train drivers attracting 28,000 applicants in Saudi Arabia made global headlines for many reasons. Some commented that such an enthusiastic response to the advertised jobs could only have occurred due to the ongoing measures the Kingdom is taking to empower women in all spheres of life. It would be instructive to note that Saudi women were legally allowed to drive in 2018.
Others commented that such a huge response indicated a pent-up demand for work opportunities among Saudi women, notwithstanding the romanticism associated with long-distance train journeys such as the Moscow to Beijing Trans Siberian Railroad or the London to Venice Orient Express.
In Saudi Arabia, the 30 selected female drivers will drive somewhat faster bullet trains between the cities of Makkah and Madinah operated by the Spanish railway operator Renfe, after a year of paid training. Inter-GCC and cross-country rail links in the Kingdom will open up more opportunities in the future for both male and female drivers.
The enthusiasm for this hitherto male-dominated sector is that job opportunities for Saudi women, have until recently, been limited to roles such as teachers and health workers. Things are, however, changing for the better as Saudi women are now joining the financial sector, and taking up jobs previously restricted to men or migrant workers whether as private taxi service drivers or airline hostesses.
The opening up of the Saudi tourism and hospitality sector has also attracted significant Saudi female interest. All these factors have led to the doubling of female participation in the Saudi workforce in the last five years to around 33 percent. The trend of lower youth unemployment is also encouraging for the 20-24 year group, which fell to 23.6 percent from 28 percent in the first quarter of 2021.
However, Saudi female unemployment rates remain higher than males, with the female rate at 21.2 percent in Q1 2021, compared with 7.2 percent for males in the same period. However, the opening up of opportunities for Saudi females has reduced the overall female unemployment rate from 24.4 percent in Q4 2020 to the latest estimate of 21.2 percent according to the official data. Despite such an improvement, the overall Saudi female labor force participation rate remains stubbornly higher than that of males at 32.3 percent in Q1 2021 compared with 66.2 percent males.
Diversifying the Saudi economy away from oil dependency and public sector jobs continue to be a major objective for Saudi Arabia. The latest official data indicates that in Q1 2021, around 54 percent of all Saudis held jobs in the public sector versus 44 percent in the private sector. Speedier recovery from the pandemic-related restrictions and a more optimistic outlook by the private sector is predicted to improve the overall private sector participation rate, with the unemployment rate forecast to decline to 10.3 percent by the end of 2022.
What is of interest is that while almost 60 percent of those employed in the public sector were Saudi males, this was reversed in the private sector, where almost 60 percent were Saudi female employees indicating an increasing trend for the Saudi private sector to prefer Saudi female employees, especially in health and social work, education, wholesale and retail.
A post-pandemic pickup in tourism in Q2 2022 should also help boost seasonal employment in the Kingdom, particularly for qualified female workers. Not to be outdone by the enthusiastic female response to the train driver recruitment drive the Red Sea Development Co. has had over 40,000 job applicants and recruited the first batch of 60 graduates noting its tourism's transformational potential to create 120,000 direct and indirect jobs. There are currently 1,500-employees with more than 50 percent comprising Saudi nationals.
Other sectoral areas such as accommodation and food, administration support, and even manufacturing have seen a steady increase in female participation, as well as in previously male-dominated sectors such as technical activities.
The opening up of the Saudi economy with constant reminders of mega value projects and initiatives promising an optimistic vision of the future where everything is seemingly possible for both genders has raised high expectations for jobs from a relatively youthful population, as the overwhelming response of 28,000 applicants for 30 female train drivers has highlighted.
There is now a need for urgency for a significant increase in new and consistent job creation for both genders, particularly in the private sector. The announced and planned megaprojects have to ensure that labor localization programs are central to such projects, especially for government contract awards to the private sector to avoid frustration and disappointment at the lack of meaningful new job opportunities.
Source: Arab News
https://www.arabnews.com/node/2032296
-----
Protest March In Bengaluru Against Harassment Of Muslim Women Over Hijab N Karnataka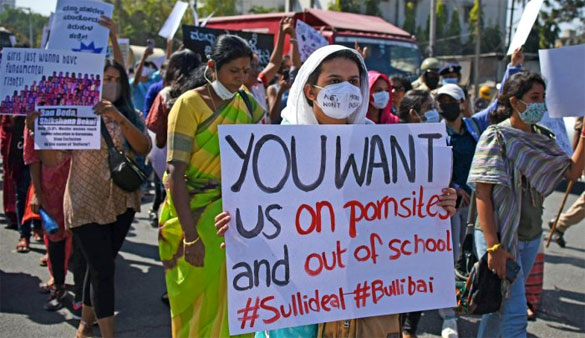 Several women, trans persons, LGBTQI persons and citizens walk from city railway station to Freedom Park asserting the fundamental rights to education, dignity and solidarity with Muslim students and communities, in Bengaluru. Credit: DH Photo
-----
Chiranjeevi Kulkarni
FEB 27 2022
A protest march on Saturday called out the growing harassment of Muslim women in Karnataka.
More than 100 activists, students, teachers, academicians, writers, social workers, artists and transgender persons marched from the KRS Bengaluru railway station to Freedom Park calling for upholding the dignity, plurality and peace guaranteed in th...
"Women's fundamental right to dignity and education is being violated. In colleges across Karnataka, Muslim women have been denied entry if they chose to wear Hijab. TV channels have sensationalised the videos of teachers being forced to remove Hijab...
They demanded that students be allowed to take exams. Those unable to attend class should be given full attendance and additional classes should be conducted to compensate for the missed classes. "The media should stop its unethical coverage which is...
Source: Deccan Herald
https://www.deccanherald.com/city/top-bengaluru-stories/hijab-protest-march-against-harassment-of-muslim-women-1085530.html
-----
Bangladesh Skipper Nigar Sultana Considers Maiden Women's World Cup Appearance As 'Big Opportunity'
By IANS News
February 26, 2022
Bangladesh skipper Nigar Sultana said their maiden appearance in the ICC Women's Cricket World Cup is a 'big opportunity' for her team. Come March 5, Bangladesh will be the newest team to enter the Women's Cricket World Cup fold when they will face South Africa at University Oval in Dunedin.
"I think this is a big opportunity for all of us. We've been working so hard for this and this is our first ever World Cup. I think if we could do well here, it will be a great moment in Bangladesh cricket," said Nigar during the captains' virtual media conference on Saturday.
Nigar also felt that coming to New Zealand early in order to acclimatise to the conditions will keep them in good stead ahead of warm-up matches against England and Pakistan on Monday and Wednesday respectively.
"We came a bit early just because we wanted to adapt to the wickets and the conditions because we have never played here in New Zealand conditions. So, we have had a lot of good quality practice sessions here, we are trying to assess the wicket and, in the conditions, I think our girls have done very well.
Nigar believes that a mix of experienced as well as young players along with understanding of their roles will make her life easy during the World Cup.
"We want to make this World Cup memorable because this is our first-ever World Cup. We want to play and deliver to our best. We have good quality experienced players in our team, which makes my job easier because they understand how important their roles are in my team.
"They already know what they need to do in main matches. There are a lot of young players who have been doing well in the last couple of months and put in lot of wonderful efforts. We are looking to do well in the main matches."
"I guess we do have a good bowling attack as well as in the batting. But I think everyone knows that we have a good bowling unit. So, we just want to go with our strength and would like to play to our potential."
Nigar, 24, signed off by saying that the knowledge gained from Bangladesh men's side, who played Tests in New Zealand earlier this year, will come handy during the tournament.
"We do have some good relations with some of the players so they shared a lot of experience about the condition and how we're going to the play here. I think it is going to help us in the practice matches and the main matches as well."
Source: Cricketnmore
https://www.cricketnmore.com/cricket-news/bangladesh-skippers-nigar-sultana-considers-maiden-womens-world-cup-appearance-as-big-opportunity-94719
-----
They served, too. New database shows Black women's service in World War II.
By Linda Blackford
FEBRUARY 27, 2022
At the same time Yvonne Giles has been unearthing military history at African Cemetery No. 2, one of her friends and colleagues decided to ask a slightly different question: What about Black women who served? Reinette Jones, co-founder of the Notable Kentucky African Americans Database at the University of Kentucky, was introduced to the idea by Barbara Kent, director of military and veterans affairs at Eastern Kentucky University. Kent had arranged a showing of the documentary "the SixTripleEight" at the Lyric Theater. The documentary is about the 6888th Central Postal Directory Battalion, a unit of 800 Black women who were sent to Europe during WWII where they sorted 17 million pieces of mail for troops. They worked in England and in France. So Jones got curious about whether any of those women were from Kentucky, and like every obsessive researcher, she started to research. "I went down a rabbit hole," she said. "I needed to know more." initially finding 18 Black women from Kentucky who served with the Women Army Corps in World War II. While many books have focused on white women in the military, very little has been done on their Black counterparts, Jones said. "It was very revealing because of the difficulty in just getting the names." $2 for 2 months Subscribe for unlimited access to our website, app, eEdition and more CLAIM OFFER Jones started a list of people like Norene Harris, whose father was a coal miner who moved from Alabama to Hazard. Jones found a Cinncinnati Enquirer story about her 1942 swearing-in with the WACs at Fountain Square, one of four Black women among 31 whites. Jones is still researching their experiences, the racism they faced at home and abroad before and after the war. "It seems the opportunities they thought would be there for employment and job training and education were not there after all," she said. That's from the story of Anna B. Collins Morrison of Richmond, who went on to great civil rights fame: "She was one of the four WACs who took on the U.S. Army in 1945 in the fight for better work assignments for African American WACs at the Lovell General Hospital at Fort Devens, MA," Jones writes. "The four women were Johnnie Murphy from Rankin, PA; Alice Young from Washington, D.C.; Mary Green from Conroe, TX; and Anna Collins Morrison from Richmond, KY. The women led in the work strike that started March 9, 1945. The four refused to go back to work and were court-martialed on March 19, 1945. The next day the women were sentenced to one year of hard labor in prison with a dishonorable discharge for each woman. News of the trial and the convictions were carried in a few Kentucky newspapers including The Courier-Journal, Owensboro Messenger, The Park City Daily News, The Lexington Herald, and the Lexington Leader. "After the trial, the Black press, Black women's organizations, and Civil Rights organizations and leaders responded in force with their support for the four WACs. Thurgood Marshall of the NAACP Legal Defense Fund was chosen as the attorney to represent the four women in their appeal. The women were confined to rooms in the Lovell Hospital during the appeals process.The appeals worked in the women's favor. On April 2, 1945, their sentences were revoked and they were allowed to return to duty at the Lovell Hospital. Captain Myrtle Anderson was placed in charge of the segregated 4th WAC Company of African American women. The African American WACs continued to be assigned the most menial jobs and they did not receive the training that was promised when they signed up."
Source: kentucky
https://www.kentucky.com/opinion/linda-blackford/article258505833.html
-----
URL: https://www.newageislam.com/islam-women-feminism/saudi-women-train-drivers/d/126468
New Age Islam, Islam Online, Islamic Website, African Muslim News, Arab World News, South Asia News, Indian Muslim News, World Muslim News, Women in Islam, Islamic Feminism, Arab Women, Women In Arab, Islamophobia in America, Muslim Women in West, Islam Women and Feminism