New Age Islam News Bureau
13 November 2020
• Saudi Ladies International: Maha Haddioui Setting A Shining Example For Female Arab Golfers
• Iranian Women Entrepreneurs Recognized for Innovative Activities
• US Vice President-Elect Kamala Harris Inspires Hope, Dreams In Her Ancestral India
• Saudi Arabia Wins ITU Award For Women Empowerment
• Former IS Woman Charged In Germany Over Yazidi Abuses In Syria
Compiled by New Age Islam News Bureau
URL: https://www.newageislam.com/islam-women-feminism/saudi-women-outnumber-men-visiting/d/123463
--------
Saudi Women Outnumber Men In Visiting Entertainment Facilities
November 12, 2020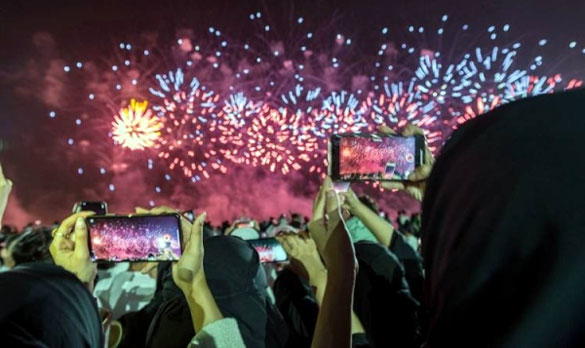 Around 65 percent of women above the age of 15 and 63 percent of men visited entertainment and recreational facilities and destinations during the last three months
------
JEDDAH — Saudi women outnumber men in terms of visiting entertainment facilities and destinations, according to the latest figures released by the General Authority for Statistics (GaStat).
Around 65 percent of women above the age of 15 and 63 percent of men visited entertainment and recreational facilities and destinations during the last three months, Al-Watan newspaper reported citing the GaStat figures.
The GaStat report revealed the latest indices of activities in the Kingdom's cultural and recreational sectors.
According to the report, Saudis prefer to read online editions of newspapers and magazines rather than their print editions. However, both men and women prefer to read print versions of books than online editions. Among men, 62 percent read books while among women the percentage is 54.
Regarding reading books, 50 percent of men read print versions while seven percent read online editions while among women 52 percent read print editions whereas seven percent read online editions.
The report showed that around 67 percent of Saudi men read newspapers and magazines while this percentage among women is 51.
Around 96 percent of men watch television while this figure among women is 97 percent. The report showed that the number of women who listen to radio programs is less than half of men, with men making 63 percent while women accounting for only 24 percent.
It was revealed in a GaStat survey that 92 percent of men and 85 percent of women use the Internet while the percentage in the use of computers among men and women is 65 and 43 respectively.
Around 92 percent of men use smartphones while the figure among women users of smartphones stands at 85 percent, the report pointed out.
https://saudigazette.com.sa/article/600220/SAUDI-ARABIA/Saudi-women-outnumber-men-in-visiting-entertainment-facilities
--------
Saudi Ladies International: Maha Haddioui Setting A Shining Example For Female Arab Golfers
November 11, 2020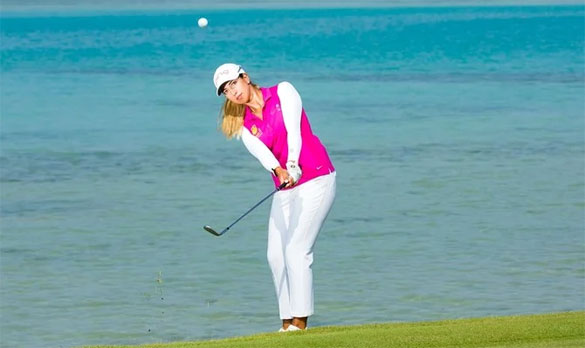 Morocco's Maha Haddioui is hoping for a memorable week in Saudi Arabia. (Golf Saudi)
-----
DUBAI: When - as a child - Maha Haddioui would watch with fascination professional golf players in her native Morocco, she could never have imagined that two decades later she would be the first female Arab golfer from her country to be playing on the Ladies European Tour.
Her list of firsts grows by the day. Tomorrow she will be the only professional Arab golfer taking part at the $1million Aramco Saudi Ladies International, presented by PIF at the Royal Greens Golf & Country Club in Jeddah.
She's been called a role model and trailblazer. An engaging and incredibly calm individual, she seems to be carrying that heavy crown easily, even when the questions seem to always focus on her identity more than her expertise.
With each question comes a smile which belies the obstacles she's had to overcome in a region of the world where entering into professional sport is not always seen as a natural, or even respectable, career path.
"I started golf when I was 12 and at first it was just a game, just having fun with it," Haddioui said. "I decided then to go to the US to pursue my education and play golf more seriously. That was ok, but when I finished university and graduated, that's when I started facing some of the challenges. When I wanted to be a professional golfer and play on the Ladies European Tour, a lot of people kind of didn't understand why. They didn't really take it seriously, and I think that was the hardest thing to deal with, the doubts and also I didn't have other women to play with, I was just used to playing against men. That was something that improved my game."
"My grandma played a big role in that, she was always telling me it's ok to be scared, it's ok to be unsure just go for it head first. That's what I've always done and it's worked out ok for now."
Playing at the first ever professional golf tournament for women in Saudi Arabia has shone a light on her personally, and also on the giant steps the game is taking in the region.
"This is a new page for women's golf, a new page for women in Saudi and I'm really happy and proud to be part of that as the only Arab player, for now. I'm really proud to represent my region in my region. It's a big tournament, it's a big statement. As we know, women's golf is sometimes not getting the recognition it should, and having Saudi put up such a big prize fund for two tournaments in a row is a huge statement to make, to close that gap between women's and men's golf."
Haddioui is no stranger to playing in the Gulf. She has already visited Saudi Arabia four times, and last week she took part at Dubai Moonlight Classic. But she sees differences in the course she steps on tomorrow.
"This week the course is in really, really good shape," she said. "It's a course I really know well now, the greens are amazing. It's going to be quite different from last week, the greens are not as grainy. There is going to be a bit less to worry about when it comes to chipping, and working out the grain. It can be really windy here so that's going to be a big focus if the wind picks up. Off the tee, it's a straight forward course, some long holes out there. So, it's really about hitting the right sides of the fairways and from there trying to hit as close as I can on the greens."
Haddioui has yet to claim a title on the Ladies European Tour and doesn't see her participation as a token gesture. She is in Jeddah to win.
"Anywhere would be special for me to get my first win," she said. "But it would mean a lot more to happen here, because it's somewhere I call home, it's an Arab country. I love the course, I love the place and feel really welcome here."
The Moroccan is also hoping that in coming years more female Arab golfers will join her on the tour, and more events in this part of the world can only raise the profile of the game.
"When I started playing, I used to look up at the pros and go watch the Lalla Meryem Cup in Morocco," Haddioui said. "I think it's really important to be able to see the players, to see how they work, how they play. To see they are human, to realize this is something I can definitely do, and I think in doing that and creating events, it's going to motivate a lot of young girls to take up the game."
To celebrate the historic nature of both tournaments, Golf Saudi will this week launch a world-first 'Ladies First Club', which will offer free golf to 1,000 women living across the Kingdom.
"This is how you start, golf is huge all over the world and it's huge when it comes to growing as a person, when it comes to tourism," Haddioui added. "Saudi is opening up on a lot of matters, and opening up to golf is very important one and I think it's really going to grow the game and I'm really happy about that."
While all the events and initiatives are providing opportunities, Haddioui bellies that there needs to be a change in mindset of how golf and other sports are viewed as viable career options for young Arab women.
"To be honest, I'm always so grateful that I was able to take up this game when I was younger," she said. "It's something that completely changed my life, travelling the world doing what I love and I wish the same for every woman in the Arab world, to be able to pursue these kinds of opportunities. I would say the hardest thing for me is, when it comes to mentalities, people don't really understand it or see it as a job.
"Unfortunately, I was told many times, when are you going to take up a serious job, a real job," she added. "Making people understand that this is my job, that having a good job is not necessarily just being a doctor, that's something that will help women's golf, or golf in general, for any athletes. Taking sports more, a sport can be a job, it can be a career, it can be something amazing, so when people start looking to that, I think there will be a lot more great Arab athletes"
She reveals she is delighted sharing her experience and advice with up and coming golfers these days, and can already see the benefits some of them are reaping.
"I get a lot of questions, we had a young 11-year-old who comes and practices with me a lot of times, she just won the World Championship for 11-year-old [age group]," Haddioui said. "Seeing things like this happen, it's just amazing. And this week there is an amateur playing from Morocco, Ines [Laklalech]. For me it's the first tournament I play abroad where I'm not the only Moroccan, it's a huge improvement and something that I'm very happy about."
But does Haddioui feel like a trailblazer?
"To be honest I don't really think of it that way," she said with typical humility. "I'm just doing my thing, I'm just going for my dreams and my goals, and if that can inspire young girls, then I'm very happy about that. Sometimes it is hard being the only one doing something, but if it can inspire other people, then that's the best gift I can ever have."
In Jeddah this week, a lot of attention will focus on her, especially if she pull off what would be a sensational win.
You get the impression, however, that she would be as happy, if not happier, when what makes her stand out today, is no longer important enough to get mentioned. Should the day come when there are other talented Arab golfers challenging her, she will know that she has done her job right all along.
https://www.arabnews.com/node/1761606/sport
--------
Iranian Women Entrepreneurs Recognized for Innovative Activities
November 12, 2020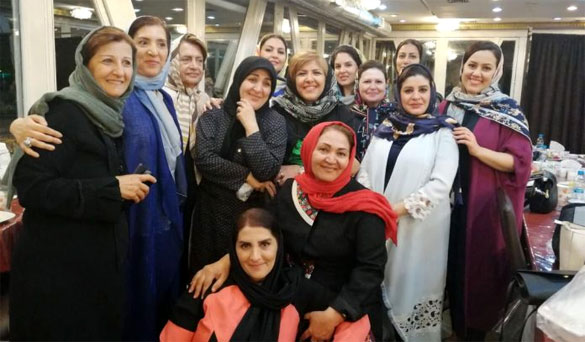 Top Iranian women entrepreneurs working in the domains of job creation and creating added value have been recognized in appreciation of their services.
-----
They presented their capabilities in a ceremony attended by Sorena Sattari, the vice president for science and technology, and Masoumeh Ebtekar, the vice president for family and women's affairs, who commended the entrepreneurs for their activities.
In the ceremony, Sattari said the creation of an appropriate ecosystem for women's innovative activities as well as trying to pave the way for that is among the priorities of the Science and Technology Department of the Presidential Office.
"In the early days of moving towards [creating] a knowledge-based ecosystem, top researchers and professors conducted a survey, which was published under the name "Getting to know the Silicon Valley." This book answers the question why this area is unique. The reason is that it highlights the existence of a proper ecosystem for innovative activities and the existence of its culture," said Sattari.
He said a proper atmosphere to promote innovative activities among women is a prelude to boosting their businesses innovatively.
"The same thing goes for women's knowledge-based businesses. If an ecosystem is created for their activities, we will definitely see women play a more pivotal in this arena," he added.
He said women should be given the chance to stabilize their role in bringing change.
Meanwhile, Ebtekar noted that women have been moving forward on the scientific front and secured good achievements in the promotion of science and technology.
https://ifpnews.com/iranian-women-entrepreneurs-recognized-for-innovative-activities
--------
US Vice President-elect Kamala Harris inspires hope, dreams in her ancestral India
SANJAY KUMAR
November 12, 2020
NEW DELHI: US Vice President-elect Kamala Harris has made history by becoming the first woman, and female black American and Asian American to be elected to the second-highest office in America.
And women in her ancestral village and throughout India on Wednesday revealed how they had been "inspired" by the 56-year-old politician.
Some made colorful rangoli designs outside their houses, while others distributed sweets among residents of Thulasenthirapuram village, in the southern Indian state of Tamil Nadu, to celebrate the success of "one of their own."
Meethavi Gopalan, a teacher from the nearby town of Mannargudi, told Arab News: "Kamala Harris belongs to this village (Thulasenthirapuram) as her ancestors lived here. We feel inspired by her success. This is a great moment for us in the area and also as a woman."
The sleepy village of Thulasenthirapuram, in Nagapattinam district, came to life on Sunday after American news networks declared Joe Biden and Harris as the winner of the US elections.
Soon, women from nearby areas made a beeline to the village temple to partake in festivities. Leading the initiative was local councilor Arulamozli Sudhakar who organized the celebratory events.
"We are very proud of her as she is the first woman vice president of the United States," she told Arab News.
A high school dropout, Sudhakar, 35, said Harris' win had motivated her to pursue higher studies. "I am courageous now after Kamala's victory. Not only am I going to pursue my degree now, but I am also thinking of fighting for elections in the regional and national assemblies."
She added that several women in the village who had left their jobs to focus on their domestic lives also "wanted to pursue their interests and be productive members of society. Harris has made us realize that nothing is impossible for girls or women."
Harris was born in the US to an Indian mother and a Jamaican father – both of whom had migrated to America to study.
But despite her mother's death from cancer in 2009, Harris continued to keep in touch and foster strong relationships with India and her relatives.
She was five years old when she last visited Thulasenthirapuram, and in her autobiography, "The Truths We Hold: An American Journey," she talks about walking along Chennai's beaches with her grandfather.
As a senator, Harris has been a vocal advocate of women, human, and minority rights – an endorsement welcomed by many women working for rights groups in India who said they felt "a sense of relief with Harris' election."
Jameela Nishat, a women's rights activist from the southern Indian city of Hyderabad, told Arab News: "I had been watching the US election very closely and with lots of hope this time. The moment I came to know that Harris' party had won the verdict I felt a great sense of relief and joy."
"The atmosphere in the country has become so suffocating with the way the government is going after minority and rights activists that it had become difficult to breathe. In Harris, we see hope, someone who can listen to our voice."
Harris' Delhi-based maternal uncle, Balachandran Gopalan, said that human and women's rights would now "get the focus that they deserve."
"There is no point comparing the democratic regime with the (President Donald) Trump one; the new government will be better in every respect not only in human rights," he told Arab News. "I feel the new administration's response to some of the things happening in India would be different from Trump's regime."
Biden and Harris have both been critical of the treatment of India's Muslim minority by the country's ruling Bharatiya Janata Party (BJP) and the political marginalization of Kashmiris after the abrogation of the special autonomous status of Jammu and Kashmir by New Delhi last year.
Delhi-based research scholar and activist, Zikra Mojibi, has criticized the Citizenship Amendment Act (CAA), legislation which extends citizenship to Hindus, Sikhs, Parsis, Jains, Christians, and Buddhists from neighboring Bangladesh, Pakistan, and Afghanistan, but excluded Muslims.
"Harris is a new ray of hope for the minorities. She has always been looked up to. Now that she is in a position of power, hopefully, the minorities' voice will be heard in much better ways," Mojibi said.
https://www.arabnews.com/node/1761901/world
--------
Saudi Arabia wins ITU award for women empowerment
November 7, 2020
RIYADH — The Kingdom of Saudi Arabia won a global award for empowering women, in the sector of communications and information technology for the Year 2020.
The award was accorded to the Kingdom by the International Telecommunication Union (ITU).
Such achievement highlighted the ongoing support for the women's role, in all domains, reflecting the wise leadership keenness on promoting the new women generation contribution.
Their contribution would bolster the drive of the national development, in the context of the National Shift Program as well as the ambitious anticipations of the Kingdom's Vision 2030. — SPA
https://saudigazette.com.sa/article/600033/SAUDI-ARABIA/Saudi-Arabia-wins-ITU-award-for-women-empowerment
--------
Former IS Woman Charged In Germany Over Yazidi Abuses In Syria
November 12, 2020
FRANKFURT: German federal prosecutors on Wednesday said they had charged a German woman with crimes against humanity allegedly committed while she was living in Syria as a member of the Islamic State jihadist group.
The suspect, identified only as Nurten J and the mother of several children, is accused of crimes related to the persecution of the Yazidi minority in territory controlled by IS.
Nurten J is believed to be the first European woman charged with crimes against humanity over abuses committed in Syria as part of the jihadist group.
In a statement, prosecutors said the woman travelled to Syria with her then three-year-old daughter in 2015 to join IS and marry an IS fighter, also from Germany, with whom she had other children.
Throughout 2016 and 2017 she received frequent visits from a friend who owned a Yazidi "slave" also forced to do housework at the suspect's home.
Nurten J was "following the ideology of IS according to which the enslavement of the Yazidis was justified", the prosecutors in Karlsruhe said.
The suspect also stands accused of war crimes against property for living in a home that had been seized by IS from its rightful occupants, and for endangering her daughter by taking her to a war zone.
In addition, she faces charges for violating weapons laws.
After IS lost its territories in Syria, the woman was held in Kurdish captivity before being transferred to custody in Turkey and then sent back to Germany.
Dying of thirst
Germany has charged several German and foreign nationals with war crimes and crimes against humanity carried out abroad, using the legal principle of universal jurisdiction which allows crimes to be prosecuted even if they were committed in a foreign country.
Few of the charges so far have involved women, however.
A German woman named as Jennifer W went on trial in Munich last year accused of the war crime of letting a five-year-old Yazidi girl die of thirst in Iraq.
Both the child and her mother were held captive as household slaves by Jennifer W and her IS husband, an Iraqi national. He is on trial in Germany for genocide and murder.
Last month, another German court sentenced the German-Tunisian wife of a rapper-turned-jihadist to three-and-a-half years in prison for having taken part in the enslavement of a Yazidi girl in Syria.
The Islamic State group committed atrocities against the Yazidis in 2014 that are being investigated by the UN to determine whether they can be qualified as genocide.
https://www.freemalaysiatoday.com/category/world/2020/11/12/former-is-woman-charged-in-germany-over-yazidi-abuses-in-syria/
--------
URL: https://www.newageislam.com/islam-women-feminism/saudi-women-outnumber-men-visiting/d/123463
New Age Islam, Islam Online, Islamic Website, African Muslim News, Arab World News, South Asia News, Indian Muslim News, World Muslim News, Women in Islam, Islamic Feminism, Arab Women, Women In Arab, Islamophobia in America, Muslim Women in West, Islam Women and Feminism