New Age Islam News Bureau
14 Jan 2014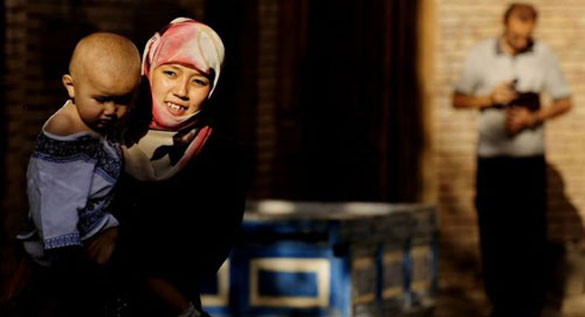 A Uyghur woman carries her child through a street in Kashgar in Xinjiang, July 10, 2009.
-------------
• Sex Crimes against Young Children Rise in England, Research Suggests
• Myanmar Still Uses Rape as Weapon of War: Women's Group
• Malala Yousufzai Presented With Basava Shri Award at London
• Ghana Islamic Schools to Ban Mini-Skirts
• 95 Percent of Saudi Nurses Earn Patient Satisfaction, Says Survey
• Uyghur Woman Forced to Abort Six-Month Pregnancy While Ill
• Syrian Women Demand Voice at UN-Brokered Talks
• 9,000 Non-Saudi Wives Get Nationality
Compiled by New Age Islam News Bureau
URL: https://www.newageislam.com/islam,-women-and-feminism/new-age-islam-news-bureau/saudi-women-on-cloud-nine-as-travel-notification-halted/d/35276
------------
Saudi Women on cloud nine as travel notification halted
Jan 14, 2014
Saudi women have applauded the decision taken by authorities to suspend the electronic system to notify male guardians about the departure and arrival of their female dependents.
They said the system should have been abrogated long ago, as "it is demeaning to women and restricts their freedom."
"The system has been suspended due to some observations and it will undergo amendment," said Lt. Col. Ahmad Al-Laheedan, spokesperson of the Passports Department in comments published on Monday. He indicated that the system could be reintroduced, adding new options.
"In the past, the system included all the names that were registered. However, in the next phase, it will be optional. The amendments seek to enhance the system to make it better and fulfill all its objectives," Al-Laheedan said.
"The notification process should have never been introduced in the first place because it is humiliating for women," said Sabria S. Jawhar, a Saudi columnist and assistant professor of applied linguistics at King Saud bin Abdulaziz University for Health Sciences.
"Women like myself who may have open permission from their guardian to travel find the issue particularly ridiculous because our guardians are notified of our every move as if we are children that need to be tethered to become responsible adults," Jawhar told Arab News. "We are responsible adults but are treated as immature or less responsible."
Jawhar opposed the move to introduce the system with modifications. "I hope this is a step toward canceling the whole system. We are born Muslim and we know the principles of our religion. There is no need for anyone, including the government, to monitor our behavior," she said.
Under the system adopted by the Passports Department, an SMS is sent to the male guardian to alert him whenever a female member of his family or a child crosses the Kingdom's border.
Maha Akeel, managing editor of the OIC Journal, also welcomed the move, saying the system was a big insult to women. "All Saudi women travel abroad with the permission of their parents or husbands. The system gives the impression that women require constant monitoring. It also shows that women cannot be trusted," she told Arab News.
Some Saudis, however, approved the system and considered it as a wise use of modern technology to help families keep track of the across-the-border movements of their womenfolk and young children.
They also hailed it as a positive step toward eliminating bureaucratic paperwork that required guardians to sign permission forms.
"Without such a system, a woman or a child would be free to come and go and travel abroad without her or his family knowing about it," one Saudi blogger wrote. "If such is the case, we will find many of our women and children going abroad without our knowledge," he said.
Suhair Adel rejected the system, saying it was humiliating for women. "This is total confusion," she posted on Al-Sharq's website. "What is the difference between men and women at this point? Should it be possible for my brother, who is 10 years my junior, to be informed about my cross-border movements while I know nothing about his whereabouts? There is obvious chaos in the application of the law," she said.
Budoor Al-Saleh said that it was not acceptable to equate women and children. "Why are you pushing us in the same category as children? Men should, in this case, be also included in the scheme," she said. Salwa, another blogger, said that since the aim of the notification system is to provide a good service for families, men should also be included to augment the advantages.
"I am sure that many problems would be solved if women were aware of their husbands' cross-border movements as well," Salwa said. "In fact, women would benefit from the system much more than men. So please include men and alert their wives about their international departures and arrivals," she said.
A young man who identified himself as an overseas student said that the system had spoiled the surprise he and his sister had planned. "My sister and I are students abroad and one day, we wanted to surprise our family by arriving into Saudi Arabia without telling them," he said. "However, the plan fell through after they were alerted via SMS that we had arrived in the Kingdom. We were truly disappointed."
http://www.arabnews.com/news/508841
------------
Sex Crimes against Young Children Rise in England, Research Suggests
Jan 14, 2014
Recorded sex crimes against children under 11 in England and Wales went up by 16% last year, research suggests.
There were 5,547 incidents, against the previous year's 4,772, according to data from 41 police forces obtained by children's charity, the NSPCC.
This means that 24% of all recorded sexual offences against children involved the youngest age group, with some victims as young as one.
The NSPCC said nearly half (46%) of parents had not tackled the issue.
The charity said the number of recorded crimes could have increased because more people were now coming forward in the wake of the Jimmy Savile scandal.
The NSPCC launched a campaign last summer to encourage parents to discuss sex abuse with their children.
Chief executive Peter Wanless said: "Sexual abuse continues to be a terrible scar on our society which won't heal by itself.
"Our campaign has started to make inroads in giving children the protection they need but there is obviously still a long way to go.
"The police figures are worrying because they should be going down not rising, although the 'Savile effect' may be resulting in more people reporting abuse.
"Whatever the reason, this highlights the urgent need to tackle this problem from an early age and parents and carers can play an important role by ensuring their children are armed with the knowledge to recognise the wrong kind of behaviour and keep themselves safe."
Five principles
The NSPCC wants parents to teach children five basic principles: "Privates are private, always remember your body belongs to you, no means no, talk about secrets that upset you, speak up - someone can help."
The overall figures for under-age sex abuse remained stable last year compared to the previous one.
A total of 22,654 sexual offences against under-18s were reported to police with nearly four out of five cases (17,354) involving girls.
Most of the offences, including rape, sexual assault, abuse through pornography and grooming, were against children of secondary school age.
http://www.bbc.co.uk/news/uk-25704909
------------
Myanmar Still Uses Rape as Weapon of War: Women's Group
Reuters
Jan 14, 2014
Washington. A women's group says the military in Myanmar is still using rape as a weapon of war, with more than 100 women and girls raped by the army since a 2010 election brought about a nominally civilian government that has pursued rapprochement with the West.
The Thailand-based Women's League of Burma said in a report made available to Reuters that 47 of the cases documented were gang rapes and 28 of the women were either killed or had died of their injuries. It said several victims were as young as eight.
The group said the situation showed the need for legal reform in Myanmar, also known as Burma, and for changes to a 2008 constitution to ensure that the military is placed under civilian control.
Myanmar's government denied the allegation.
"It's not the policy of our Tatmadaw [military] to use rapes as weapons," presidential spokesman Ye Htut told Reuters.
"If there are rape cases committed by individual members, we try to expose them and take effective action against the offenders. It would be very helpful in taking action against the offenders if those who prepared that report could send us the details of the cases," he said.
The report from the women's group comes less than a month after a bipartisan group of prominent US senators, Bob Menendez, Marco Rubio Ben Cardin and Bob Corker, introduced a bill saying that no funds made available to the Pentagon in 2014 should be provided to the Myanmar government until there is such reform and rights abuses are addressed.
The bill, which makes an exception for human rights and disaster response training for the military, also calls on the Pentagon and the US State Department to present a report on US strategy for military-to-military ties with Myanmar, including an assessment of the Myanmar military's rights record and the link between a deepening of such ties and reform.
The women's group said most of the rape cases it and its member organizations had documented were linked to offensives by the Myanmar military in the northeast of the country against ethnic minority Kachin and Shan insurgents.
It said that in the past three years, the Kachin Women's Association Thailand had documented 59 cases of sexual violence by Myanmar government soldiers. The Shan Women's Action Network reported another 30 cases involving 35 women and girls, it said.
'Widespread, systematic'
The women's league said the attacks were more than random isolated acts by rogue soldiers.
"Their widespread and systematic nature indicates a structural pattern: rape is still used as an instrument of war and oppression."
The league said more than 38 different army battalions were implicated in the cases it had documented. It said the incidents took place in at least 35 different townships and that it believed the reported cases were only the "tip of the iceberg" as many cases went unreported.
"The use of sexual violence in conflict is a strategy and an act of warfare that has political and economic dimensions that go beyond individual cases," the report said.
"Sexual violence is used as a tool by the Burmese military to demoralize and destroy ethnic communities."
The group said the abuses were potential war crimes and crimes against humanity and called for a thorough independent investigation.
The report highlighted one case in which an 8-year-old girl living with her grandparents was raped by a soldier in Hsipaw Township in northern Shan State, on April 14, 2013.
In another case, soldiers raped three women and a 12-year- old girl in Shan State's Ke See township on July 5, 2011. It said the girl was raped in front of her mother and one of the women was nine-months pregnant.
The 2012 State Department human rights report on Myanmar referred to rapes by both government forces and ethnic minority insurgent groups in Shan and Kachin states. It said that when government soldiers committed rape in ethnic minority areas, the army rarely took action to punish those responsible. The January 2013 Human Rights Watch report on Myanmar said sexual violence by the military remained a serious problem.
In October, 133 civil society organizations representing ethnic groups in Myanmar, including the women's league, wrote to US President Barack Obama, British Prime Minister David Cameron and Australian Prime Minister Tony Abbott to express concern about their military engagement with Myanmar.
http://www.thejakartaglobe.com/international/myanmar-still-uses-rape-as-weapon-of-war-womens-group/
------------
Malala Yousufzai presented with Basava Shri award at London
MB Maramkal,TNN | Jan 14, 2014
CHITRADURGA: In no way Chitradurga is connected with Pakistan, but the seer of Muruga Mutt Sri Shivamurthy Sharanaru created such an opportunity for Chitradurga to connect itself with Pakistan when he presented the mutt's prestigious Basava Shri award to Pakistani education activist Malala Yousufzai at her small London residence last week.
Award carries a citation and Rs 5 lakh cash prize. By receiving the award Malala joined revolutionary singer and balladeer Gaddar and social activist Medha Patkar who had received the award in the previous years. Her father Ziauddin, mother and two brothers played witness to the presentation ceremony.
Describing his meeting with the gutsy lady Malala as most cordial and inspiring seer said, "Hospitality extended by Malala and her family members reminded me of visiting a devotees house in my native state." "We all sympathize and support her cause," seer claimed to have told her presenting the award.
Narrating his moments in Malala's house, seer said, all of the team members who went to her house were a excited lot when she came and sat midst them to receive the award. Despite she receiving many awards, Malala is a humble soul with no hangovers of whatsoever, seer pointed out.
Briefing Malala about the necessity of maintain good relationship between two countries, seer asked her whether she plans to return to Pakistan. "Why not I want to return and continue my struggle against the ills of the society pat came the reply from her", seer said.
Seer said the zeal and enthusiasm in Malala to take on the mighty people on social issues is unfathomable. "I was amazed by her determination to return to Pakistan and fight for a cause" he said.
http://timesofindia.indiatimes.com/india/Malala-Yousufzai-presented-with-Basava-Shri-award-at-London/articleshow/28794325.cms
-----------
Ghana Islamic Schools to Ban Mini-Skirts
Jan 14, 2014
Female teachers would no longer be allowed to wear miniskirts to Islamic schools in the country. This is because they could badly influence pupils of those schools, Alhaji Baba Yahya Khalid, General Manager, Islamic Education Unit hinted on Saturday. He was speaking at a conference in Ho to deliberate on the future of Islamic Schools in the Volta Region. It was on the theme, "The future of Islamic Schools in Volta Region: The Role of Stakeholders." Alhaji Khalid said Islamic values and tenets demanded that women covered their whole bodies, except the face and the palms; hence "improper dressing" could not be tolerated in Islamic educational institutions. He said consequently, regular orientations would be given to teachers in Islamic educational institutions, so that they could impart "right values and attitudes" to the children. "Our system is very free. Our schools are open to non-Muslims, but they must respect our tenets and dress codes while in school," Alhaji Khalid said. He appealed to Directors of Education to confer with Islamic Education Unit Directors on the posting of head-teachers to Islamic schools for the necessary "preparations" to be made to avoid rejection of head-teachers. Hajia Nasiba Taahir-Swallah, a lecturer at the Islamic University College and a Clinical Psychologist, urged Muslim parents to choose "right" schools for their children, because as children grow, their teachers, friends and school environment exert influences on them. She asked parents to regularly monitor the lifestyles of their children and give them positive models to imitate and not allow them to go astray. Hajia Taahir-Swallah also asked Muslim parents to develop the habit of visiting their children at school and make time for them at home. Nii Laryea Afotey Agbo, Volta Regional Minister in a speech read on his behalf, said government was making education "almost free" hence; there was no excuse for any child to be kept out of the classroom. Mr Iddrisu Abass Amedor, Volta Regional Manager of the Islamic Education Unit, said enrolment in the 40 Islamic basic schools and one Senior High School in the region increased from 5,000 to 7,000 in 2013, representing 40 per cent. He, however, noted that out of 300 zongo communities, only 35 have formal schools since the establishment of the Islamic Education Unit in the Region in 1999. Mr Amedor, therefore, called for concerted efforts to address the challenge.
http://www.ghanabusinessnews.com/2014/01/13/islamic-schools-to-ban-mini-skirts/#sthash.kRW5OQjF.dpuf
------------
95 percent of Saudi nurses earn patient satisfaction, says survey
Jan 14, 2014
About 95 percent of patients and their escorts (relatives) expressed their satisfaction with the performance of Saudi nurses in hospitals in the Kingdom, local media said quoting a newly released survey.
The survey was prepared by Dr. Haya Al-Fawzan, the Dean of the College of Nursing at King Saud bin Abdulaziz University for Health Sciences.
The survey, which was carried out on 302 samples, including 149 patients, and 153 relatives, covered seven major themes: Knowledge of nursing basics, clinical skills, patient care, communication skills, decision-making, the involvement of care-givers such as relatives, and professional conduct.
According to the findings published in the American Journal of Natural Sciences Research last December, 80 percent of the respondents were found satisfied with the Saudi nurses and their knowledge of the basics of the nursing profession and presenting of information.
Around 89.4 percent of those surveyed were content with the clinical skills; 89 percent about patient care; and 95.4 percent were pleased with the communication skills of the Saudi nurses.
Likewise, 90 percent of the respondents confirmed the ability of Saudi nurses on decision-making, 93.4 percent expressed satisfaction with the involvement of family in the care of the patient while 92 percent affirmed their satisfaction with the professional conduct of Saudi nurses.
The research study, which was funded by the King Abdullah International Medical Research Center (KAIMRC) was conducted in a number of key medical centers, including King Abdulaziz Medical City (KAMC), Riyadh, King Abdulaziz Medical City (KAMC), Jeddah, King Abdulaziz Hospital (KAH), Ahsa, and Imam Abdulrahaman bin Faisal Hospital in Dammam.
http://www.arabnews.com/news/508851
------------
Uyghur Woman Forced to Abort Six-Month Pregnancy While Ill
Jan 14, 2014
One of four Uyghur women forced into late-term abortions in China's northwestern Xinjiang region underwent the brutal procedure while she was ill, her husband said this week, as a fifth woman was brought to the same hospital for a forced abortion.
Helchihan Mettursun, 36, and the three others had been forced by local authorities to undergo the forced abortions at the hospital in Hotan prefecture in the last week of December—including one woman who was nine months along, according to officials.
Mettursun's abortion six months into her pregnancy was a wrenching 28-hour ordeal that took place after local officials led her away from her home in a taxi while she was unconscious from fainting, her husband Abdurrahman Metturdi told RFA's Uyghur Service.
The first time officials came to their home to take Mettursun, who suffers from heart trouble, away to the hospital for the abortion, they had given up after Mettursun had a seizure, he said.
But they returned the next day, taking her away to the hospital in a taxi.
There, she received an injection while tied down to the bed, and was kept that way for more than a day until staff confirmed her fetus was dead, he said.
"They said the baby would come out in 24 hours, but it took 28 hours and during that time my wife was in agonizing pain, she was crying. I could not take it anymore and I went out," he said.
"At that moment I thought, those who get executed with one bullet to the head must be luckier than us."
Before the officials came, the couple, who has three daughters, had been nursing Metturdi's 83-year-old father Metturdi Seydi, who died shortly after the abortion, he said.
"When my father heard the sad news about my baby, he passed away in pain," said Metturdi, who is now caring for his wife as she recuperates at home.
"When I thought of my baby and how he was in agonizing pain while he was struggling to survive, my heart was torn apart in pain for days," he said.
Fresh procedures?
Mettursun and the three other women who had abortions at the Nurluq hospital in Keriya (in Chinese, Yutian) county were among six originally slated for the procedure that week, local officials had told RFA late last month.
Two of the women, however—one seven months along and the other more than four—managed to avoid the procedure, with one of them fleeing the area with her husband for a few weeks.
Officials at the Nurluq Hospital have denied performing the procedures, but the Arish township deputy chief and county family planning department head confirmed late last month that they had been carried out.
Arish township deputy chief Eniver Momin told RFA that due to recent publicity about the cases, local officials had temporarily put a halt on further planned abortions while they awaited orders from prefecture-level authorities about whether to continue.
On Monday morning, witnesses at the hospital told RFA that officials had brought in a woman from nearby Siyek township for a forced abortion.
Hospital officials said, however, that the woman left the facility Monday afternoon, accompanied by Siyek township officials, without having an abortion.
Hospital deputy director Memtimin Turdi confirmed the woman had been brought to the facility, but said no procedure had been performed.
Asked how many forced abortions had been performed in the hospital in the past three weeks, Turdi said the hospital had not done any.
Enforcing controls
Under a new law passed in December, married couples in China will be permitted to have a second child if one spouse is an only child. Current regulations allow a second child in certain cases, including if both spouses are only children themselves.
As ethnic minorities, the Uyghurs are exempt from the one-child limit.
But under Xinjiang family planning regulations, urban Uyghur couples are limited to two children, while rural couples are allowed three.
Experts say the rules governing "excess birth" are unclear and often abused by local authorities, or by the rich and politically connected, who can afford to pay large fines for bigger families.
Keriya Women's Union head Aygul Abduweli, who formerly worked in the family planning department for eight years, said laws were unclear on how far local officials could go to enforce the limits, since local officials are authorized to adjust the regulations to their own areas.
"No matter what [rule there are] in central or regional government's documents, it is also stated that local governments should adjust those regulations according the situation of their own localities," she told RFA.
She said regulations varied on how far into her pregnancy a woman could be ordered to abort.
"As a recall, in 2004 in Hotan prefecture had a special government document which clearly stated that it is not permissible to abort five-month pregnancies."
"In a document from the regional government, they said it was permissible to abort pregnancies over 45 days old," she said.
Reported by Shohret Hoshur for RFA's Uyghur Service. Translated by Mamatjan Juma. Written in English by Rachel Vandenbrink.
http://www.rfa.org/english/news/uyghur/abortions-01132014185518.html
-----------
Syrian women demand voice at UN-brokered talks
Jan 14, 2014
GENEVA — A group of Syrian women demanded Monday that the U.N. appoint a gender adviser and make other efforts to reflect their voices at Geneva peace talks aimed at ending the country's civil war.
Participants said at the end of a two-day conference for Syrian women that the international peace conference for Syria planned to begin next week in Switzerland must include women's representatives and push for constitutionally guaranteed equality between women and men, if there is to be lasting peace.
A prominent Syrian activist, Kefah ali Deeb, said the women must be heard because "no less than 80 percent" of all 9.3 million Syrians who need aid are women and children. The conference is meant to broker a political solution to the Syrian civil war whose raging violence has killed more than 120,000 people and force more than 2.3 million to flee the country, destroying much of the nation's economy and social structure.
"We cannot remain silent regarding events unfolding in Syria such as daily death, massive destruction, starvation of people and displacement of hundreds of thousands of Syrian families, in Syria and abroad, as well as the spread of terror, of violence, ongoing detentions, acts of kidnapping, destruction of infrastructures and the spread of diseases, particularly among children," she told reporters.
Women under Syrian President Bashar Assad's rule enjoyed freedoms and relative rights, but thanks to the civil war those rights recently have been dealt a setback in opposition-held areas of the country where al-Qaida militants have taken over.
Human Rights Watch said in a report Monday that some extremist Islamist groups in northern Syria, such as Jabhat al-Nusra, or the Nusra Front, and the al-Qaida linked Islamic State of Iraq and the Levant, (ISIS), are imposing strict and discriminatory rules on women and girls, such as requiring them to wear headscarves and full-length robes, that have no basis in Syrian law and limit their ability to carry out essential daily activities, move freely in public or to attend school.
British Foreign Secretary William Hague told the U.K. Parliament that the government has "urged the U.N. to facilitate a clear role for women's groups and civil society, in the form of a consultative body" at the Geneva talks, and is providing 200,000 pounds ($327,000) for that purpose.
The Syrian women in Geneva are forming a team to coordinate with peace negotiators, said Phumzile Mlambo-Ngcuka, executive director of U.N. Women, which was a co-sponsor with the Netherlands of the Syria women's conference at the U.N.'s European headquarters in Geneva.
The women's conference agreed that Syrian authorities must put an end to all arbitrary detentions and prosecutions by security forces, lift all travel restrictions on activists and politicians, and ensure the safe return of refugees and displaced people.
They also demanded that authorities and rebels must allow humanitarian and medical aid to flow unhindered to all areas based on needs, under the supervision of an independent commission with international oversight.
http://www.washingtonpost.com/world/europe/syrian-women-demand-voice-at-un-brokered-talks/2014/01/13/face707c-7c6a-11e3-97d3-b9925ce2c57b_story.html
------------
9,000 non-Saudi wives get nationality
Jan 14, 2014
RIYADH — Awasser, a private Saudi institution and NGO working for the abandoned Saudi families living abroad, has in a recent report revealed that 9,000 non-Saudi wives have been granted Saudi citizenship. The report said most Saudis marry foreign women since the cost of marriage to a foreigner is much less than marrying a Saudi.
http://www.youtube.com/watch?v=Fjq5fWYLhi0
------------
URL: https://www.newageislam.com/islam,-women-and-feminism/new-age-islam-news-bureau/saudi-women-on-cloud-nine-as-travel-notification-halted/d/35276