New Age Islam News Bureau
17 December 2021
• In A First, Kuwait Opens the Door for Women to Join the Army
• Hijab Is a Symbol of Women's Liberation, Not Oppression
• Angela Ghayour Is Empowering Women and Girls of Afghanistan with Her Online School
• Iran Regime Executes the Sixth Woman in Less Than a Month, 128th Woman Since 2013
• Four Female Political Prisoners Receive an Additional 60 Months in Jail in Iran
• Malaysia Women and Girls Forum Kicks Off With Spotlight on Bodily Autonomy, Sex Education
• Israel Arrests 27-Year-Old Palestinian Mother for 3rd Time In Less Than 2 Years
Compiled by New Age Islam News Bureau
URL: https://www.newageislam.com/islam-women-feminism/mashael-obaidan-dania-akeel-dakar-rally/d/125977
--------
Saudi Women Mashael Al-Obaidan and Dania Akeel Set To Compete In Dakar Rally In Historic First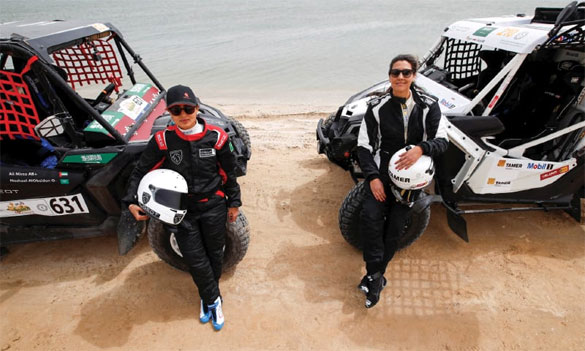 Mashael Nasser Al-Obaidan and Dania Akeel posing for photographers during the first stage of Sharqiyah International Baja Rally. — Reuters
------
Dec 15, 2021
Mashael Al-Obaidan and Dania Akeel will be the first female drivers from Saudi Arabia to compete in the Dakar Rally next month, the Saudi Automobile & Motorcycle Federation said on Wednesday.
The 44th edition of the endurance rally in Saudi Arabia is more than 8,300 kilometres long with a route that traverses deserts and mountains and the duo will drive up to 600km a day in a taxing schedule.
Women were not allowed to drive cars in Saudi Arabia until a ban was lifted in 2018.
"To drive on this famous event in Saudi is a dream come true," Al-Obaidan, 33, said. "I'm doing what I love and I'm receiving so much support from people who say that what I am doing is inspiring a lot of people.
"When I finished seventh on the hardest round in the (FIA World Cup for Cross Country Bajas) series, against competitors who had been competing in the sport for more than 15 years, I knew I could do this.
"I soon realised that I was unlocking doors and breaking down barriers with my achievements. We are paving the way for females to understand the journey we are taking and to join us." Akeel, also 33, spent last year recovering from a fractured spine and multiple pelvic breaks following a crash on the track in Bahrain but that did not put her off racing as she won the overall title at the FIA World Cup for Cross Country Bajas.
"Those months after the crash were painful, but in some ways I was lucky because I didn't need surgery. In motorsport you accept the risks and ultimately you have to make a choice," Akeel said.
"You have got to respect the Dakar. It's the longest rally on the calendar and Saudi is an incredible location. You can cross 200km and the landscape, terrain and weather can change three or four times." Reuters
Source: Tribune India
https://www.tribuneindia.com/news/schools/two-saudi-women-set-to-compete-in-dakar-rally-in-historic-first-350729
--------
In A First, Kuwait Opens The Door For Women To Join The Army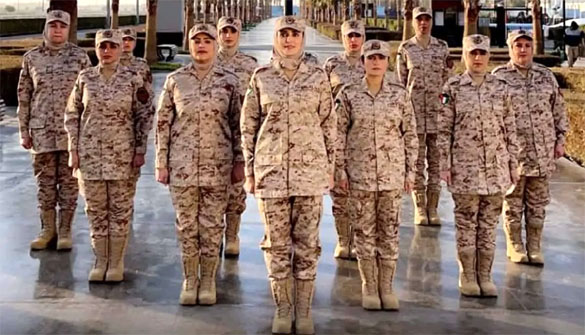 Representative Image
----
Sakina Fatima
17th December 2021
Kuwait: For the first time, the Kuwaiti army on Thursday has announced the opening registration for women wishing to enrol, starting from Sunday, December 19, about two months after a related decree was issued.
The army staff headquarters said that recruitment registration will be open online for Kuwaiti women holding university, diploma and secondary school degrees as non-commissioned officers and soldiers.
The registration date will be from December 19, 2021, to January 2, 2022, and that the duration of the course will be three months, the date of which will be announced later.
The applicant must be at least 18 years old and not over 26 years old, be healthy, have a good biography, and pass the personal interview.
In addition, those wishing to volunteer "should not have been previously convicted of a criminal penalty or a crime against honour or trust unless she has been rehabilitated, and that she terminates her work by the authority in which she works in accordance with the applicable laws and regulations, and that the educational certificate obtained is approved and certified by the official authorities in Kuwait".
On October 12, 2021, the Kuwaiti Defence Minister, Sheikh Hamad Jaber Al-Ali Al-Sabah, issued a decision allowing women for the first time to join the army as officers and soldiers, after their role in the past was limited to civilian specializations, which is considered a historic decision in the country since the announcement of its establishment.
This step came after a similar decision from Saudi Arabia, which announced the opening of its armed forces sector to women, while allowing both sexes to register, by launching a unified portal for admission in February of this year.
It is reported that military ranks from soldier to sergeant are available to women in the Saudi army, the Royal Saudi Air Defence, the Royal Saudi Navy, the Royal Saudi Strategic Missile Force, and the Medical Services of the Armed Forces.
Source: Siasat Daily
https://www.siasat.com/in-a-first-kuwait-opens-the-door-for-women-to-join-the-army-2242978/
--------
Hijab Is a Symbol of Women's Liberation, Not Oppression
Dec. 17, 2021
As an Ahmadi Muslim woman who wears a hijab, I unequivocally state that contrary to the popular belief that a hijab oppresses the wearer and curtails their empowerment and freedom, it, in fact, is a symbol of women's liberation, because women wearing them are judged for their personality, ability and intellect, not their physical beauty.
From a religious perspective, it strengthens one's relationship with God. It is the pride, identity and hallmark of a Muslim woman, besides acting as a shield from sexual exploitation and objectification.
The recent news of removal of an elementary school teacher from her teaching position in Quebec for the mere reason that she was wearing a headscarf is upsetting.
Quebec's controversial Bill 21 is a threat to the freedom of religion Canada strongly advocates. It is imperative for an inclusive society to reconsider it.
Source: The Star
https://www.thestar.com/opinion/letters_to_the_editors/2021/12/17/hijab-is-a-symbol-of-womens-liberation-trust-me.html
--------
Angela Ghayour Is Empowering Women and Girls of Afghanistan with Her Online School
Jaismita Alexander
10 Dec 2021
Angela Ghayour was just 13 when she started teaching Afghan children who could not attend school. More than two decades on, she started an online school to educate women and children in her hometown in Afghanistan after the Taliban took over the country.
A resident of the UK now, Angela had to leave the Afghan town of Herat when civil war broke out in 1992. She was eight years old then. The family fled to Iran and settled there but visa anomalies prevented Angela and her siblings from attending school for five years.
When Angela eventually started going to school, she decided to help children like her. She started off by teaching 14 Afghan children who couldn't go to school.
Years later, Angela returned to Afghanistan and completed her education, going on to become a qualified secondary school teacher. She is now founder of the Online Herat School that has about 1,000 students and 400 teachers.
Angela has been able to reach out to women and girls in Afghanistan in the war-torn country with the motto 'The pen instead of the gun'.
Edugraph caught up with Angela Ghayour in an online chat on her journey, motivation and work. Excerpts:
Edugraph: Tell us about your journey
Angela Ghayour (AG): One of my motivations for establishing the Herat School was not to repeat my childhood for the children of Afghanistan. And if we consider that education in Afghanistan is the only way to save children from underage marriage, we can imagine how education will affect the lives of these children. For me, education was so fragmented under compulsory immigration that I did not even imagine whether I would be sent to school the next day or not. Eventually, I returned to Afghanistan after finishing high school in Iran, and despite the hardships of being a wife and mother in an anti-feminist society, I was able to graduate from university.
Imagine a situation where no one considers your interest in education to be constructive. But my love of learning and raising my children prevented me from dropping out of school after migrating to Europe. We moved to the Netherlands, but the hardships inherited from the same culture and anti-feminist system forced me to quit my job and immigrate to England with three children. I believe that social struggle should make us more empowered. I now plan to complete my master's and doctoral studies.
Why and how did you start Online Herat School? Tell us more about it.
The advent of the Taliban made me realise that education was not just about memorising certain texts. I wanted to take care of the girls of my homeland through education because there were forces that had been thinking of killing people in the mountains for 20 years and such people were occupying the seat of power. They were depriving women and girls of education. The basic idea was to eliminate educational discrimination. I could not wait and witness the despair, tears and hatred of the girls of my homeland and I started asking teachers around the world to join me in teaching girls and women online.
How important is it to educate women and girls?
Women's education is the foundation of social education and if we can have a plan for women in a society, we actually have a plan for peace and development in that society. Any society that does not consider women is doomed to fail and today one of the criteria for equitable development is education.
How do you keep the girls and women of Afghanistan motivated to complete their studies?
Motivation to attend online classes is one of the most important challenges of any online programme, whether it is at Harvard University or the Online Herat School. There is a lot of data to support this, but online education in Afghanistan is currently the only option for women. Our hope is to reduce the problems of online education by providing access and to strengthen and enhance this motivation in students by using technological solutions to provide a platform that is easier to access for the girls in need.
How do you think education is changing?
Education means empowerment and empowerment means that people can see the results of their efforts and thrive. To be able to communicate with the international community and consider themselves citizens of the international community, not individuals in the ideology of political Islam.
Source: Telegraph India
https://www.telegraphindia.com/edugraph/news/angela-ghayour-is-empowering-women-and-girls-of-afghanistan-with-her-online-school/cid/1842571
--------
Iran regime executes the sixth woman in less than a month, 128th woman since 2013
December 16, 2021
The Iranian regime executed the sixth woman in less than a month's time.
Reports from Iran say the authorities of the Prison of Amol carried out the hanging execution of an unidentified woman at dawn on Tuesday, December 14, 2021. She had been imprisoned for seven years.
The Iranian state media have not announced the news of the hanging of this woman on the charge of murder.
As reported, none of the prison guards were willing to put the noose around her neck. Therefore, she had to wait for hours by the gallows before an agent came from outside and put the noose around her neck.
Amol is one of the major cities of Mazandaran Province in northern Iran.
This is the 128th woman executed by the clerical regime since the summer of 2013, and the sixth woman hanged in less than a month (23 days) in Iran. All of the six executions were carried out secretly.
The world's chief executioner of women
Iran holds the world's top executioner record, with the highest number of citizens executed per capita. It is also the world's chief executioner of women. An average of 15 women is executed in Iran every year. The executions are grossly unfair.
The actual number of executions, particularly the number of women executed, is much higher. The clerical regime carries out most executions in secret and out of the public eye. No witnesses are present at the time of execution but those who carry them out.
The Iranian regime open-handedly uses the death penalty as a form of punishment. In a discriminatory manner, this punishment is carried out against religious and ethnic minorities, political dissidents, and women.
According to Amnesty International, more than two-thirds of the world countries have abolished or halted the death penalty. However, in Iran, the killing machine is taking up speed under Ebrahim Raisi, the notorious henchman of the 1988 massacre, and Gholam Hossein Mohseni Eje'i, another notorious judge involved in the genocide.
Source: Women NCR
https://women.ncr-iran.org/2021/12/16/iran-regime-executes-the-sixth-woman/
--------
Four Female Political Prisoners Receive an Additional 60 Months in Jail in Iran
December 16, 2021
The Revolutionary Court of Tehran issued 60 months in prison for four female political prisoners serving their sentences in the notorious Qarchak Prison.
Reports on December 16, 2021, indicate that the Revolutionary Court of Tehran issued a total of 60 months of jail term for Parastoo Mo'ini, Zahra Safaei, Forough Taghipour, and Marzieh Farsi. The court had convened on November 24, 2021.
The authorities of Qarchak Prison fabricated a new case for the four female political prisoners because they sent out a letter in June, calling for the boycott of the clerical regime's sham presidential election. Each of them has been sentenced to an additional 15 months in prison.
The four political prisoners have received other sentences, including cleaning deserted areas for four months, writing a 40-page thesis on the crimes committed by the opposition PMOI/MEK, two years ban on leaving the country, and confiscation of their belongings.
Of the four female political prisoners, only Parastoo Mo'ini had attended the trial on November 24. The prisoners' lawyers were not present in the court, either. Therefore, the court issued its verdict in absentia. The presiding judge, Afshari, warned Ms. Mo'ini that he would send her to exile in a remote area.
Detained for supporting the opposition PMOI/MEK
The four female political prisoners are supporters of the opposition People's Mojahedin Organization of Iran (PMOI/MEK).
Parastoo Mo'ini, 21, is a student of computer sciences. She is detained in Qarchak Prison and her mother, Zahra Safaei, held despite dire health.
Parastoo's grandfather, Hassan Ali Safaei, was a political prisoner under both dictatorships of the Shah and the mullahs. He was executed in 1981 in Evin Prison.
Security forces arrested Parastoo Moini and her mother, Zahra Safaei, in Tehran on February 24, 2020. They also arrested Forough Taghipour and her mother, Nasim Jabbari. They were subsequently transferred to the Intelligence Ministry's detention center (Ward 209 of Evin Prison). Parastoo Mo'ini and Forough Taghipour were transferred to Qarchak Prison in early March 2020.
Zahra Safaei, Parastoo Mo'ini, and Forough Taghipour are serving their prison sentences of eight, six, and five years. Marzieh Farsi is illegally detained without standing trial.
The lives of the four female political prisoners are in danger in Qarchak Prison. The prison authorities had previously hired mercenaries to kill them by attacking them and pouring boiling water. In another vicious attack on December 13, 2020, some 20 prison guards attacked the ward of these political prisoners and brutalized all of them.
On July 26, 2021, Parastoo Mo'ini was threatened by her interrogator: "The situation may be like 1988 again!"
1988 is a reference to the massacre of 30,000 political prisoners in the summer of 1988.
"If we do not execute you, we will make you wish to be executed," he told the prisoner in another part of his threats.
Source: Women NCR
https://women.ncr-iran.org/2021/12/16/four-female-political-prisoners/
--------
Malaysia Women and Girls Forum kicks off with spotlight on bodily autonomy, sex education
17 Dec 2021
BY MILAD HASSANDARVISH
KUALA LUMPUR, Dec 17 — The second annual Malaysia Women and Girls Forum today brought together a line-up of stakeholders involved in the social and economic advancement of women and girls in Malaysia.
The day-long forum focused on bodily autonomy to ensure Malaysian females have access to this important human right.
This year's theme was Bodily Autonomy: Ensuring Rights & Choices for Malaysia's Women & Girls.
The virtual forum was officiated by Health Minister Khairy Jamaluddin and continued with keynote and plenary sessions by notable figures from various organisations focusing on women's rights and empowerment.
In his keynote speech, Khairy said violence against women is a health issue, a violation of women's human rights, their bodily integrity, and their sexual and reproductive rights.
"Abused women are more likely than non-abused women to engage in high-risk behaviour, such as smoking and substance use disorders.
"Furthermore, the chronic stress caused by violence is linked to higher rates of chronic diseases such as heart disease and diabetes, mental health disorders and infections for abused women."
Khairy noted that the wellbeing of Malaysia's women and girls is the wellbeing of Malaysia itself.
"When a country fails its women, that country fails.
"We cannot progress nor make advancements as a nation if we do not have the full participation and properly invest in our female population."
Commenting on bodily autonomy, Khairy said it is a promise that is legally endorsed by the laws here for each and every Malaysian.
However, he said there are essential social and legal gaps that need to be bridged when it comes to women and girls.
"These gaps can and will be filled when all of us as a society decide to do better."
Among the other speakers were United Nations resident coordinator for Malaysia, Singapore & Brunei Darussalam Karima El Korri, Kuantan MP and Parliamentary Select Committee member for Women, Children and Social Development Issues Fuziah Salleh, Permatang Pauh MP Nurul Izzah Anwar and student activist Ain Husniza Saiful Nizam.
Gender-based violence amid Covid-19
A plenary session moderated by Nurul Izzah looked at the current scenario and root causes of gender-based violence against the backdrop of the Covid-19 pandemic.
The panel, which included women from various women organisations focused on the role, perspectives and recommendations of civil society in centring the rights and choices of women and girls in Malaysia.
Women's Aid Organisation (WAO) Sumitra Visvanathan opened the session by sharing some worrying statistics from the organisation's recent survey to understand what Malaysians think about gender equality and violence against women.
According to Sumitra, the survey showed that the Covid-19 pandemic has worsened the gender gap in areas such as gender-based violence; women's employment rights in the workplace; sexual, reproductive and women's health as well as children and girl's rights.
"Since the pandemic began in March 2020 until now, WAO has addressed 15,000 cases of violence against women and girls."
Sumitra said the survey showed that gender-based violence is much more prevalent today than previously documented.
"Disrespect for bodily autonomy and violence-endorsing attitudes are prevalent and persistent drivers of gender-based violence."
To end such violence, Sumitra called on Malaysians to address violence-endorsing attitudes in society.
Citing a study she said that violence-endorsing attitudes justify, excuse, minimise or trivialise physical, sexual and other forms of violence against women or blame or hold women at least partly responsible for the violence perpetrated against them.
"Such attitudes are often expressed by influential individuals or held by a substantial number of people which create a culture in which violence at best is not clearly condemned."
Referring back to the survey, Sumitra said they found that only half of Malaysians are likely to oppose violence-endorsing attitudes and support gender equality.
Starting sex education from young
Young and vocal Ain put a spotlight on the importance of comprehensive sexuality education in schools during her discussion session with Spot Community Programme founder Siti Aishah Hassan Hasri.
The 17-year-old highlighted the issues of rape jokes and asked Siti Aishah to comment on how does the normalisation of such jokes in school violates bodily autonomy.
"Rape joke, unfortunately, normalises sexual violence as something that's funny and permissible.
"It also normalises the violation of boundaries and the right to do what you want to do with your body, the choice to have personal and physical space as well as the choice not to participate."
Echoing similar sentiments, Ain agreed that rape jokes play a role in normalising such criminal acts and may even lead to rape threats.
Ain put a spotlight on sex education and systemic misogyny in public schools early this year after complaining in a TikTok video that a teacher had joked about rape.
The video sparked a nationwide debate and prompted other girls and women to share similar experiences.
The movement then escalated on Twitter with a hashtag #MakeSchoolASaferPlace that set Twitter abuzz and appeared among the top 10 trending topics in the country and eventually gained support from prominent personalities in Malaysia.
Commenting on the movement, Siti Aishah said such initiatives are vital in provoking thoughts, promoting healthy and safe conversations on bodily autonomy.
"When our society decides to honour bodily autonomy across all social aspects, we can expect a lot of systemic changes."
Organised by the United Nations Population Fund (UNFPA) Malaysia on behalf of the United Nations in Malaysia, Singapore and Brunei Darussalam the forum identifies, engages and tracks key social, economic and legislative changes that are needed to accelerate the rights and well-being of Malaysia's women and girls.
The topics that were discussed under the umbrella of bodily autonomy at the forum included bodily autonomy as a core pillar of human rights, comprehensive sexuality education, ending violence against women, the media's role, and youth and social narrative.
*Malay Mail is the official media partner for the Malaysia Women and Girls Forum 2021.
Source: Malay Mail
https://www.malaymail.com/news/malaysia/2021/12/17/malaysia-women-and-girls-forum-kicks-off-with-spotlight-on-bodily-autonomy/2029172
--------
Israel arrests 27-year-old Palestinian mother for 3rd time in less than 2 years
16 December 2021
A 27-year-old Palestinian mother from the occupied West Bank has been arrested by the Israeli authorities for the third time in less than two years, an prisoner advocacy group says.
The Palestinian Prisoners Society (PPS) said on Thursday that Shurouq al-Badan, who was abducted by Israeli forces last week from the West Bank city of Bethlehem, was slapped with a four-month administrative detention for her political activity against the Israeli occupying regime.
Badan, a mother of a 5-year-old baby girl, was first detained in 2019 and spent one year in administrative detention without any charge or trial. She was re-detained in September of last year and spent another six months in administrative detention before being released in May.
According to the PPS, at least 32 Palestinian women have currently been languishing behind bars at Israel's notorious Damon prison. They are subjected to very harsh conditions and are constantly monitored through surveillance cameras.
The female Palestinian prisoners have to spend most of their days in damp and humid rooms, particularly in the winter season, the PPS said.
A number of rights advocacy groups earlier this year reported on the occasion of International Mother's Day that Israel was holding several Palestinian mothers in jail, adding that they are subject to various kinds of torture and not allowed to meet with their relatives.
In September, following Palestinian outrage and a public campaign that drew international attention and condemnation, a heavily pregnant Palestinian detainee was released from an Israeli jail to house arrest to give birth at home.
Anhar al-Deek, 26, in her ninth month of pregnancy, was released from Damon prison to house arrest in the village of Kafr Nai'ma in the West Bank after paying a bond of more than $12,000.
More than 7,000 Palestinian prisoners are currently held in some 17 Israeli jails, with dozens of them serving multiple life sentences.
Hundreds of detainees, including women and minors, are being held under the so-called administrative detention in various Israeli prisons, with some of them being held in that condition for up to 11 years without any charges brought against them.
The detention takes place on orders from a military commander and on the basis of what the Israeli regime describes as 'secret' evidence.
Israeli jail authorities also keep Palestinian prisoners under deplorable conditions that lack proper hygienic standards.
Palestinian inmates have been subjected to systematic torture, harassment and repression all through the years of Israel's occupation of the Palestinian territories.
Israeli forces have also arrested more than 17,000 minors since 2000.
Senior Palestinian officials say Israel must be held accountable for its persecution of Palestinian people, including its mass and arbitrary detentions.
Human rights organizations say Israel continues to violate all rights and freedoms granted to prisoners by the Fourth Geneva Convention and international laws.
Source: Press TV
https://www.presstv.ir/Detail/2021/12/16/672806/Palestine-Shurouq-al-Badan-Bethlehem-West-Bank-Israel-Damon-
--------
URL: https://www.newageislam.com/islam-women-feminism/mashael-obaidan-dania-akeel-dakar-rally/d/125977
New Age Islam, Islam Online, Islamic Website, African Muslim News, Arab World News, South Asia News, Indian Muslim News, World Muslim News, Women in Islam, Islamic Feminism, Arab Women, Women In Arab, Islamophobia in America, Muslim Women in West, Islam Women and Feminism