Age Islam News Bureau
11 Nov 2012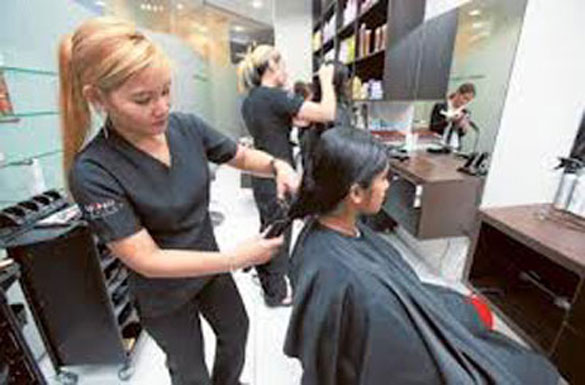 • Women, Children among Detained Suspected Militants in Pakistan
• Apparition of Virgin Mary on a Hospital Window Draws Hundreds
• Scores of Women Donate Hair for Cancer Patients in UAE
• Malala Day Meets With Befitting Expression of Love
• Women Fight to Define the Arab Spring
• 15 Malala scholarships announced by Lahore College for Women University
• Malaysian Policemen Accused of Raping Indonesian
• Australian Woman Sees Malaysia Drug Charges Dropped, Freed
• Husband Arrested Over Killing of Iraqi-American Woman, Earlier Taken As a Hate Crime
• Afghan Girl Tells Court She Hid Behind Father As He Was Shot, In a Case against Robert Bale
• Nigeria: Life as a Single Girl
Compiled by New Age Islam News Bureau
Photo: Scores of Women Donate Hair for Cancer Patients in UAE
URL: https://www.newageislam.com/islam,-women-and-feminism/new-age-islam-news-bureau/saudi-women-made-up-28-per-cent-of-the-drug-related-cases-reviewed-by-the-courts-of-law/d/9270
-----------
Saudi Women Made Up 28 Per Cent of the Drug Related Cases Reviewed By the Courts Of Law
Women from 25 nationalities arrested on drug-related charges
Saudi courts review 41,000 drug cases involving men in one year
By Habib Toumi
November 11, 2012
Manama: Saudi women were involved in less than one third of women's drug-related cases in the kingdom this year, statistics indicate.
According to a justice ministry report, Saudi women made up 28 per cent of the cases reviewed by the courts of law and related to the possession, use, smuggling and selling of drugs.
The remaining 62 per cent of the women were from 24 nationalities, with Yemenis topping the list with 29.3 per cent, followed by Somalis with 23.9 per cent, local Arabic daily Al Sharq reported on Sunday.
The capital Riyadh was at the top of the 34 cities where drug cases were reviewed. Drug possession and smuggling were the most common drug crimes in the city. However, in Jizan and Abha, both in the southwest of Saudi Arabia, the possession of Qat, a leafy narcotic popular in neighbouring Yemen and in certain areas of Africa, was the most widespread drug use crime.
According to the ministry report, men were involved in around 41,000 drug cases reviewed by 34 courts throughout the Saudi kingdom.
The number of cases for Saudis was 23,946 and 10,228 for non-Saudis. Yemenis again topped with 6,833 (66.8 per cent), followed by Egyptians with 673 cases.
Saudi Arabia has a very strict policy towards drugs and foreigners are regularly warned about legal consequences of involvement in the use or sale of narcotics.
http://gulfnews.com/news/gulf/saudi-arabia/women-from-25-nationalities-arrested-on-drug-related-charges-1.1103013
-----------
Women, Children among Detained Suspected Militants in Pakistan
November 11, 2012
LAHORE: Five women and two children were among 12 suspected militants detained following an exchange of fire with intelligence agency personnel in Lahore's Alfalah Town on Saturday.
According to residents of the area, the firing started at 3am Saturday morning. The suspected militants were using one of the houses in the area as their base.
Six hand grenades and a huge quantity of other sophisticated weapons were also recovered from the possession of suspected militants during a search operation of the house.
A map of former Prime Minister Yousaf Raza Gilani's house was also recovered.
While talking to The Express Tribune, senior police officials confirmed the operation but avoided providing details, revealing only that the operation was led by intelligence agencies, whereas the police and Elite Force were providing logistical support.
http://tribune.com.pk/story/463974/firing-incident-women-children-among-detained-suspected-militants/
-----------
Apparition of Virgin Mary on a Hospital Window Draws Hundreds
By Lydia Gomez
11 November 2012
KUALA LUMPUR: An image resembling the Blessed Virgin Mary which appeared on a window at a private hospital in Subang Jaya has sent hundreds flocking to witness the event.
Photos of the image - which have gone viral - show the figure wearing a blue and red robe with a halo above its head, similar to well-known depictions of Mother Mary.
News of the appearance exploded within the Catholic community and within hours, the devout, curious and sceptic converged at the Sime Darby Medical Centre (formerly known as the Subang Jaya Medical Centre) to see for themselves what many have touted as a 'miracle'.
Clutching rosaries, Bibles and even bringing along aged relatives in wheelchairs, many braved the thunderstorm yesterday evening and gathered at the first floor of the hospital's new wing singing hymns, lighting candles and reciting prayers.
Entrepreneur Jansen De Silva, was among the first few who turned up at the hospital when news of the apparition broke.
"I witnessed a fully formed image resembling Mother Mary on a window located at the 7th floor of this new wing. It was a truly amazing sight as the image was rather visible despite the distance from where I was standing (first floor)."
"On looking around, I could ascertain that there wasn't any architecture within the vicinity that could have reflected this image on a bright sunny afternoon," he said.
De Silva added that there was also a voice recording going around among those present that afternoon in which the words "Fatima Father' were clearly audible.
"I don't know how authentic it is, but I heard it for myself from a woman's mobile. It also captured some murmuring in the background," he said.
Desiree Lewis, 32, had also rushed to the hospital when she got a phone call from her relative informing her of the apparition.
"I was in the neighbourhood when I heard about this so I rushed here. I am truly awestruck and in a little bit of a shock. I never thought that Mother Mary would appear here," she said.
As evening came, the colour and definition of the image began to fade but people continued to gather in droves.
Retiree Jane Loh, 55, said she was happy to have made the trip from Seremban to see it despite the image slowly blurring.
"This is a miracle and it happened at our doorstep. It is a wake-up call," she said.
A spokesperson for the Catholic Church said church officials will have to investigate the event to determine if it was a true apparition.
Some of the most famous sightings of the Virgin Mary took place in Fatima, Portugal in 1917, in Lourdes, France in 1858 and closer to home, in Vailankanni, Tamil Nadu, India. The authenticity of every reported apparition is subject to approval by the Catholic Church.
http://sg.news.yahoo.com/image-of-virgin-mary-on-subang-hospital-window-draws-hundreds.html
-----------
Scores of women donate hair for cancer patients in UAE
Hair donated will benefit cancer patients in UAE, time extended to accommodate all donors
By Janice Ponce de Leon
November 10, 2012
Dubai: Scores of women have turned out to have their tresses chopped to help cancer patients in the UAE.
For the second year in a row, women in Dubai have heeded the call to help in their own way, by donating their locks to make wigs.
But this time, their hair will crown cancer patients right here in the UAE.
Over 41 women, mostly children and teenagers, had their hair cut and bagged at NStyle Nail Lounge on Saturday for the event, Hair for Hope.
The locks collected will be used to help financially vulnerable female cancer patients who have lost their hair due to the effects of chemotherapy.
"Last year we sent it [collected hair] to Beautiful Lengths in America, the concept of which I don't object to. But there are women suffering the effects of chemotherapy in this country. So we also need to support our women," Lola Lopez, founder of Volunteer in UAE, told Gulf News.
Lopez said she was surprised to see the turnout this year, as compared to when it was launched last year.
"This year we had to almost double the hours of the event to be able to accommodate the women who wanted to donate their hair. So I am very pleasantly surprised," Lopez said.
As much as 327 inches of hair — or over 27 feet — had been collected by 4pm on Saturday. The youngest donor was four-year-old Julia who gave away 10 inches of her hair.
Among those who had their hair cut for charity was Tahira Muzaffar Ali, 13, who intentionally did not have a haircut for a year in preparation.
The Indian expatriate's hair donation was the longest so far in the group at 23 inches.
"Last year I heard a boy was growing his hair to donate to cancer patients. If boys can do it, we girls can too," Ali said.
For nine-year-old Israa Rehan, who said that her hair is very precious to her, donating 16 inches of it to make others happy is more important.
"I feel very sad for the people who don't have hair, that's why I was very happy to give my hair to them. My hair is like gold for me but it will go to people who don't have hair because of cancer," Rehan said.
Because she didn't have the chance to go last year, Leanne D'Abreo, 15, made it a point to donate her hair this time.
"I read that wigs made out of real hair are very expensive. So I think it's a privilege for me to help cancer patients. It can make them feel more confident about themselves," D'Abreo, 15, who donated 10 inches of her hair, said.
Lopez said for Volunteer in UAE the next step is to find a partner salon in the UAE that can transform these beautiful locks into wigs for free in order to benefit UAE society directly.
http://gulfnews.com/news/gulf/uae/society/scores-of-women-donate-hair-for-cancer-patients-in-uae-1.1102643
-----------
Malala Day Meets With Befitting Expression of Love
By Tariq Farid
Nov 11, 2012
LAHORE: "Malala! We are with you... We love you... We salute you... Nation is proud of you... We are Malala... We support you to accomplish your mission... Long live Malala!"
"Malala is not simply a 14-year-old girl. She is a thought, which has stirred the whole society... She is a symbol of enlightenment... the beacon of hope... for us and our future generations... for peaceful life and equal rights for girls to education."
Echoes of these words were heard everywhere in the city on Saturday while the residents marked the Malala Day, declared by the United Nations in the honour of young rights activist, Malala Yousufzai, who was shot in the head by the Taliban last month for campaigning for girls' education.
Full report at:
http://www.dailytimes.com.pk/default.asp?page=2012\11\11\story_11-11-2012_pg13_1
-----------
Women Fight to Define the Arab Spring
By CAROL GIACOMO
Nov 11, 2012
When Mabrouka M'barek is in the Tunisian capital these days, much of her time is spent writing a new constitution as an elected member of the National Constituent Assembly. It is a role the 32-year-old mother of two embraces with idealistic passion and more than a little amazement. Before President Zine el-Abidine Ben Ali was ousted in 2011, she never imagined herself a "founding mother," as she referred to herself in a recent interview, of this country or any other.
Now Mrs. M'barek — a Tunisian-American whose constituents are Tunisians in the United States, Canada and Europe — is deep into one of the most important tasks of any new democracy. She is helping to write the document that will underpin the rights and responsibilities shared by the government and its citizens.
Full report at:
http://www.nytimes.com/2012/11/11/opinion/sunday/women-fight-to-define-the-arab-spring.html?_r=0
-----------
15 Malala scholarships announced by Lahore College for Women University
Nov 11, 2012
LAHORE: Lahore College for Women University (LCWU), acknowledging services for promotion of education rendered by Taliban-victim Malala Yousufzai, on Saturday announced to award the Malala Yousufzai Scholarship every year to 15 students belonging to Khayber-Pakhtonkhwa and the Northern Areas. LCWU Vice Chancellor Dr Sabiha Mansoor, in her message on the Malala Day, announced these scholarships. She said, "The 15 scholarships will be awarded on the request of the Student Council. Out of these, 10 scholarships will be for the four-year BS programme and five for the MS-PhD programme." The scholarships will include hostel accommodation, she added. Dr Sabiha further said, "Malala Yousufzai stands tall as a symbol of girl education and defiance against those who wish to impose their obscurantist agenda from behind the façade of religion. Malala is a brave and courageous girl, who despite all challenges to her personal her education, refused to bow to all these threats. She stands as a symbol of hope for women empowerment through education."
http://www.dailytimes.com.pk/default.asp?page=2012\11\11\story_11-11-2012_pg13_2
-----------
Malaysian Policemen Accused of Raping Indonesian
November 11, 2012
Kuala Lumpur. Three policemen have been accused of gang-raping an Indonesian woman at a police station in a northern Malaysian town.
Lau Chiek Tuan, a local politician, told AFP that the 25-year-old woman came to his office in the town of Prai just hours after the alleged rape on Friday.
Lau said he held a press conference on Saturday where the woman claimed the three officers in a patrol car stopped a taxi she boarded from a shopping mall in the town of Prai early Friday morning.
Full report at:
http://www.thejakartaglobe.com/home/malaysian-policemen-accused-of-raping-indonesian/555542
-----------
Australian Woman Sees Malaysia Drug Charges Dropped, Freed
Alisha Hassan | 11 November 201
KUALA LUMPUR: Australian Emma L'Aiguille, a 34-year-old mother of 6 had been accused of trafficking drugs in Malaysia and potentially faced the death penalty as a result.
But her charges were dropped by Malaysian authorities late last week in a move likely to boost relations between Canberra and Kuala Lumpur.
L'Aiguille's four-month jail nightmare ended on Friday, when prosecutors stunningly dropped drug trafficking charges against her.
"I feel great and am so glad that I'm free," she told the Herald Sun as she walked to freedom outside the Kuala Lumpur Court Complex.
Full report at:
http://www.bikyamasr.com/80496/australia-mother-sees-malaysia-drug-charges-dropped-freed/
-----------
Husband Arrested Over Killing of Iraqi-American Woman, Earlier Taken As a Hate Crime
San Diego police have arrested Kassim Alhimidi over the murder of Shaima Alawadi in what was originally thought to have been a hate crime
10 November 2012
Eight months after an apparent hate crime involving the beating to death of an Iraqi-American woman drew international attention, the woman's husband has been arrested on suspicion of murder.
Police in the San Diego suburb of El Cajon announced the arrest on Friday of Kassim Alhimidi, 48, and described the killing as an act of domestic violence.
Full report at:
http://www.guardian.co.uk/world/2012/nov/10/husband-arrested-iraqi-american-murder
-----------
Afghan Girl Tells Court She Hid Behind Father As He Was Shot, In a Case against Robert Bale
From Chuck Conder
November 11, 2012
Joint Base Lewis-McChord, Washington (CNN) -- A 7-year-old Afghan girl testified Sunday that she hid behind her father as he was shot and killed during a shooting rampage in southern Afghanistan those U.S. military prosecutors say was carried about by an American soldier.
The girl, identified as Robina, was one of a handful of Afghan children called to testify via satellite during an evidentiary hearing held at Joint Base Lewis-McChord, near Tacoma, Washington to determine whether there is sufficient evidence to support the military's case against Staff Sgt. Robert Bales.
Full report at:
http://edition.cnn.com/2012/11/11/justice/afghanistan-bales-hearing/index.html
-----------
Nigeria: Life as a Single Girl
BY ZAINAB RABI'U
10 NOVEMBER 2012
Human beings come into this world with little or no options of influencing their destiny. For instance, as you find yourself on this earth you did not have the choice of who your parents would be, or the choice of which race to belong to or more still the sex you would want to be. Consequently, some people come with silver spoons while others come with wooden ones.
The choice of being a female or not is entirely in the hands of God. Left to the individual one may choose to be born several times over as female or male depending on how lovely one has lived in this world. The life of a female, especially in the African setting, could be dotted with a lot of challenges ranging from less opportunity to accessing formal education, discrimination in employment, sexual harassment, to forced marriages.
Full report at:
http://allafrica.com/stories/201211110072.html?viewall=1
-----------
URL: https://www.newageislam.com/islam,-women-and-feminism/new-age-islam-news-bureau/saudi-women-made-up-28-per-cent-of-the-drug-related-cases-reviewed-by-the-courts-of-law/d/9270