New Age Islam News Bureau
30 Aug 2018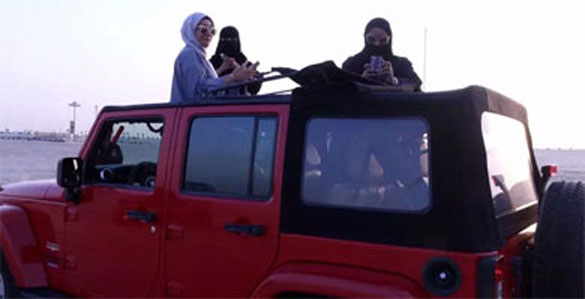 On the sand dunes of the eastern Saudi desert, Saudi women begin a Safari adventure in their four-wheel drive cars.
------
• Etihad Celebrates 2018 'Emirati Women's Day'
• Emirati Women Urged To Have Limitless Aspirations
• Four Women in Leading Jeddah Municipality Positions
• Five Saudi Women Pilots Granted GACA Licences
• UAE Leaders Pay Rich Tributes to Women
• 17% Married Pakistani Women Still Have Unmet Need for Family Planning
• Iraq Court Clears German-Turkish Woman of ISIS Ties
• Top Women Quran Activists Honoured in Iraq
Compiled by New Age Islam News Bureau
URL: https://www.newageislam.com/islam-women-feminism/saudi-women-begin-safari-adventure/d/116240
-------
Saudi Women Begin a Safari Adventure in Their Four-Wheel Drive Cars
29 August 2018
On the sand dunes of the eastern Saudi desert, Saudi women begin a Safari adventure in their four-wheel drive cars.
The women practice every week, with distances exceeding 45 kms that should be driven during a certain amount of time while keeping an eye on speed and the GPS.
These Saudi women seem to be determined on the journey as they bear with the heat of the sun and the sand.
30 dune bashing lovers
Away from paved roads, the young Saudi women deal with bumpy sand dunes with exceptional experience. 30 Saudi young women decided to join the training on dune bashing, along with 50 young men.
This happened after a group of adventurers announced their welcoming of female joiners who love Safari trips and would like to learn the special skills required for driving in such places.
Al Arabiya went on an adventurous trip with the Jeep group, in a desert extremely rugged.
Budour al-Shadawi was one of the first young women to get the training on driving up and down on the desert's sand dunes. She says: "I have great passion and love to this adventurous sport, I channel my energy into it."
She adds: "My love for adventures started in 2012, when I climbed Mount Kilimanjaro, the highest in Africa."
After enjoying mountain climbing, Budour wanted to experience something unique that allows her to discover Saudi Arabia. That was what made her take classes in desert driving, emergency car fixes, and dealing with Jeep cars.
https://english.alarabiya.net/en/features/2018/08/29/WATCH-Saudi-women-dune-bashing-in-the-desert.html
-------
Etihad Celebrates 2018 'Emirati Women's Day'
August 30, 2018
ETIHAD Aviation Group is marking 2018 Emirati Women's Day by hosting several events at its Abu Dhabi headquarters and releasing a video series that focuses on women in aviation.
The special events taking place at Etihad include circle discussions allowing Etihad's female employees to share their unique stories. A photography exhibition featuring portraits of pioneering female leaders from a range of UAE working environments, including aviation, is also being displayed at the headquarters.
The video series – which will be broadcast on Etihad's social media channels – champions the role of women in the aviation group and offers a 'day in the life' of the Emirati women as they pursue their careers. More than 380 Emirati women are in senior management and managerial roles, 16 pilots and 160 aircraft engineers and technicians.
Ibrahim Nassir, Chief Human Resources & Organizational Development Officer, said: "At Etihad, we understand the importance of a diverse workforce and value the significant contribution made by the women in our organization. More than half of our UAE National workforce are women, who work in diverse roles across the business including pilots, aircraft engineers and technicians."
Amina Taher, Vice President Corporate Affairs, said: "It is our responsibility to empower women to achieve success across all areas of our business. We are proud of the contributions made by the Emirati women at Etihad and strive to support their career growth and development. We encourage mentoring and training to ensure our talent is nurtured and developed, and this is proudly showcased throughout the video series which is launched today."
To celebrate Emirati Women's Day, there are books about famous Emirati women available for staff to read in the new reading corner and community library at its headquarters, courtesy of Jarir Bookstore. Etihad employees can also enjoy a coffee while reading, thanks to Nespresso.
Emirati Women's Day is held every year to mark the creation of the UAE General Women's Union in 1975. The occasion is dedicated to celebrating the achievements of Emirati women and is testament to the progress that has been made towards gender balance in the UAE.
One of the women in Etihad's video series is Mahra Al Marzooqi, who is undertaking a two-year on-the-job training program at Etihad Airways Engineering in order to achieve the GCAA Aircraft Engineering License.
Mahra said: "It was challenging for me at the beginning of the program because I was the only woman in the group. However, any nerves were quickly overcome as Etihad management and my colleagues were so supportive and made every day at work a fantastic experience." — SG
http://saudigazette.com.sa/article/542134/BUSINESS/Etihad-celebrates-2018-Emirati-Womens-Day
-------
Emirati Women Urged To Have Limitless Aspirations
August 28, 2018
Dubai: Emirati women must have limitless aspirations, build their personal brand and boldly get things done to succeed and achieve gender balance in the UAE.
This was the recommendation of a panel of prominent Emirati women during an event held to mark Emirati Women's Day on Tuesday.
The event was organised by the British Business Group Dubai and Northern Emirates.
Considered thought leaders and trailblazers in their field, the panelists included Maria Al Qassim (right), public policy consultant and commentator; Shaikha Al Maskari, chief innovation officer at the UAE Space Agency; Amal Murad, the first female Emirati parkour instructor, and Ayesha Bin Kalban, assistant registrar at Dubai International Financial Centre Courts.
Lubna Qassim, lawyer and one of the top 50 influencers in the Arab world, moderated the talk.
While Emirati women have achieved so much in society, the panellists believe that more can be done. Breaking social barriers, even the ones we impose on ourselves, is one of them.
"We are the reason why we women have limits and it's up to us to break those barriers. A lot of it does come from us and it's time to stop blaming external factors or men. If we want to go out there, then go out. Do it! There's nothing that can stop us now," said Amal Murad (right), drawing from experience.
Being a female instructor in a male-dominated field that involves a regimen requiring training in running, jumping from and climbing buildings, balancing, swinging, and using obstacle courses is not easy, Amal said. But the jump from working in the corporate world to working as a parkour instructor is much more challenging. When Amal made the move, she ended up defying her parents' wishes and going against the norm. But she carved a niche for herself and succeeded.
There is still a need to level the playing field on a policy level, Maria said. But removing social biases that are deeply imbedded across cultures, especially pertaining to women, is also important.
It doesn't help also that Emirati women are often typecast by some sectors of society. This, however, doesn't have to be the case forever.
"Emirati women are very misconceived. A lot of people think we're privileged, we're entitled. I think we've kind of played into those misconceptions as well. We've kind of let people think of what they want to think of us and we just socialise in our own communities without reaching out. So I blame ourselves sometimes," Ayesha Bin Kalban (right) said.
Ayesha agreed with the panelists that Emirati women need to get out of their shell and not to go by the dictates of society.
Aside from this, women must also "put themselves out there" and never hesitate in order to succeed, Shaikha Al Maskari (right) said.
"I needed to build my personal brand [based on excellence]. I stood out every time. That helped me a lot and helped me advance in the organisation," Shaikha, who helped establish the UAE Space Agency, said.
"I think women often restrain themselves. You want to get the job done? Stop complaining about it. Go fetch it. Go after your dreams. If you say 'Oh it's the world; they're not treating us right.' Yes that may be, but what are you doing about it? Stop slacking off and complaining about what the world is like through the eyes of people because we keep repeating these stories to each other. If you want something, just get it done."
https://gulfnews.com/news/uae/society/emirati-women-urged-to-have-limitless-aspirations-1.2272002
-------
Four Women in Leading Jeddah Municipality Positions
August 29, 2018
Manama: Four Saudi women have been promoted to leading positions within the Municipality of Jeddah in a new milestone in the drive to empower women and elevate their status in the kingdom.
Under the appointments announced by Mayor Saleh Al Turki, Areej Baqmi was promoted to director general of human resources.
She is the first woman in Saudi Arabia to hold this position in a municipality.
Areej was appointed in March 2017 as the director of the recruitment and manpower planning department.
Mariam Abu Al Ainain was named as the head of the women's municipality, the new name for the general directorate for women's services.
Shadha Al Muhanna was appointed as the head of the Dhahban municipality and Hiba Al Balawi as the head of the eastern municipality.
"The nominations aim to improve performances and boost productivity," the spokesperson for the Municipality of Jeddah said, quoted by Saudi daily Okaz on Tuesday.
The newly-appointed women will take up their positions within two days.
The first woman to be appointed head of a municipality in Saudi Arabia was Nahla Bint Saleh Madhhar who took over the women's municipality in Madinah in April.
In July, another woman, Daleel Khalaf Al Shimmari was appointed head of the women's municipality in the Northern Area.
Saudi Arabia has embarked on an ambitious drive to reform society and empower women politically, economically and socially.
The movement has been inexorably moving forward despite resistance from conservative forces.
Major breakthroughs were when women were allowed to attend sports activities and football matches starting in January and to get Saudi licences and drive in June.
https://gulfnews.com/news/gulf/saudi-arabia/four-women-in-leading-jeddah-municipality-positions-1.2272319
-------
Five Saudi Women Pilots Granted GACA Licences
August 29, 2018
Manama: Five Saudi women pilots have obtained licences by the General Authority of Civil Aviation (GACA) that allows them to work as captains on Saudi Arabian Airlines aircraft.
The issuance of licenses to Saudi women is part of GACA's drive to empower Saudi women to work in the aviation sector in line with the objectives of the International Civil Aviation Organisation (ICAO).
Although around 500 Saudi women are employed by Saudia, the kingdom's national carrier, mainly in the financial and IT departments and the reservation section, none of them are pilots.
Yasmeen Mohammad Al Maimani who made history by becoming in 2014 the second Saudi woman to receive a commercial pilot license from GACA, last year said she had high hopes for the opportunity to fly a plane for Saudia.
"My greatest dream was to become a pilot and my family fully supported me," Yasmeen said. "My high school average was high and I could join some of the best universities to study medicine or architecture. However, the dream of sitting in a cockpit and soaring high in the sky was a potent and sweet dream that truly overwhelmed me."
The family went along and they supported Yasmeen in all ways as she headed to Jordan where she joined a private aviation academy.
"I obtained my private pilot licence after one year and went back home to Saudi Arabia where my attempts to get recruited by an airliner failed. "I took up an administrative position in Rabigh Wings Aviation Academy and I became the head of pilots, but I did not fly any plane."
Determined to make her dream come true, she continued with her studies and training.
Yasmeen said that she received an offer from a US flight academy to be their representative in the Arabian Gulf.
"I accepted the offer and they later gave me half scholarship to study for a commercial pilot licence. I accepted the offer and I was able to finish my studies one a half years and obtain the licence. I returned home in 2013 upon my graduation and the GACA endorsed my licence. I was looking forward to piloting a Saudia plane after I was duly certified by the Saudi authorities to fly a plane, but I am still waiting."
Women in Saudi Arabia made history on June 23 when they were allowed to drive in the kingdom. Several other measures to empower them politically, economically and socially as part of an overhaul of the conservative society, may seem them allowed to pilot planes soon.
https://gulfnews.com/news/gulf/saudi-arabia/five-saudi-women-pilots-granted-gaca-licences-1.2272316
-------
UAE Leaders Pay Rich Tributes to Women
August 28, 2018
UAE leaders have paid rich tributes to women as the country's ministries, government departments and private companies rolled out a string of activities for the Emirati Women's Day.
Taking to Twitter on Tuesday, His Highness Sheikh Mohammed bin Rashid Al Maktoum, Vice-President and Prime Minister of the UAE and Ruler of Dubai, said "everything beautiful in our lives has a female fingerprint".
"The word 'life' (in Arabic) is feminine. Civilisation is feminine. Written words, poetry verses and beautiful wishes are all feminine. A woman is a gentle friend and companion, and a sincere teacher. God bless you all, princesses. May you continue shining with beauty, greatness and inspiration," the UAE Vice-President tweeted.
"On Emirati Women's Day, we celebrate women as a sister, partner and supporter of the country's development. I dedicate special wishes to the mothers, wives and daughters of the martyrs. I thank the mother of the nation, Sheikha Fatima, for her support, empowerment and encouragement to Emirati women."
His Highness Sheikh Mohamed bin Zayed Al Nahyan, Crown Prince of Abu Dhabi and Deputy Supreme Commander of the UAE Armed Forces, said the UAE's celebration of women is a celebration of a "fundamental partner who works hand in hand with men towards the journey of building and developing our nation".
"Women in the UAE have passed the stage of contributing to the development and progress to becoming achievers, who raise the status of our nation. On Emirati Women's Day, we renew our confidence in their potential and role in adding more progress to the country's balance," Sheikh Mohamed tweeted. "On this occasion, we remember stories of loyalty, willpower and solid determination of the inspiring mothers of the martyrs. They are the icons of giving, who taught the coming generations the greatest lessons of sacrifice and patriotism."
https://www.khaleejtimes.com/news/government/uae-leaders-pay-rich-tributes-to-women
-------
17% Married Pakistani Women Still Have Unmet Need for Family Planning
August 30, 2018
Islamabad: While 66% of the potential demand for family planning in Pakistan is being met, 17% of the currently married women still have an unmet need for family planning services while 34% of married women are currently using a contraceptive method. As such, if all married women who said they want to space or limit their children were to use family planning methods, the country's Contraceptive Prevalence Rate (CPR) would increase from 34% to 52%, states the Key Indicators Report of the 2017-18 Pakistan Demographic and Health Survey (PDHS)
The report, which presents a first look at latest estimates of basic demographic and health indicators, will be followed in December 2018 by a final report presenting comprehensive data analysis. The 2017-18 PDHS has been implemented by the National Institute of Population Studies (NIPS) under the aegis of the Ministry of National Health Services.
According to latest data reflected in the report, the unmet need for family planning is highest in Gilgit Baltistan (26%) followed by Balochistan and Azad Jammu and Kashmir (both at 22%). Islamabad has the highest percentage of women with demand for contraception satisfied with modern methods (55%) followed by Punjab and Sindh (both 50%).
The percent distribution of currently married women by the family planning method they currently use indicates that overall, 34% of currently married women use a method of family planning, with 25% using a modern method and 9% using a traditional method. Among currently married women, the most popular modern methods are male condom and female sterilisation (each used by 9%). The CPR among married women varies with age, rising from 7% among women aged 15-19 years, peaking at 48% for women aged 40-44 years, and then slightly declining to 37% among women aged 45-49 years, the report informs.
The 2017-18 PDHS data show that 86% of women who gave birth in the 5 years preceding the survey received antenatal care from a skilled provider at least once for their last birth, and that 51% women had four or more ANC visits. Moreover, 69% of women with a birth in the 5 years before the survey received sufficient doses of tetanus toxoid to protect their last birth against neonatal tetanus. Data on delivery and post-natal care for the mother are also reflected in the document.
The report also documents a pattern of decreasing childhood mortality in the last three decades. The overall under-5 mortality rate declined steadily from 112 deaths per 1,000 live births during the 5 years immediately preceding the 1990-91 PDHS to 74 deaths per 1,000 live births in the most recent 5-year period. Infant mortality decreased from 86 to 62 deaths per 1,000 live births over the same periods. Though the neonatal mortality stagnated at 55 deaths per 1,000 live births for nearly a decade, it has declined to 42 deaths per 1,000 live births in the most recent 5-year period.
With reference to HIV/AIDS awareness and knowledge, the report states that 32% percent women and 67% men have heard of AIDS; 18% of women and 46% of men aged 15-49 years know that consistent use of condoms can prevent the spread of HIV; 25% women and 58% men know that limiting sexual intercourse to one faithful, uninfected partner can reduce the chance of contracting HIV.
https://www.thenews.com.pk/print/361392-17-married-pakistani-women-still-have-unmet-need-for-family-planning
-------
Iraq Court Clears German-Turkish Woman of ISIS Ties
August 29, 2018
An Iraqi judge on Wednesday cleared a German-Turkish woman of having ties to Islamic State, a judicial source said, more than a year after she was detained.
Hadya Abdel Qader had been held without charge since her arrest by Iraqi security forces in Mosul, in a part of the northern city held by ISIS.
The jihadist group was ousted from Mosul in July last year after a months-long battle, during which suspected members were rounded up.
But a judge at Baghdad's central criminal court found no evidence to link Qader to ISIS, a judicial source said Wednesday, August 29.
The 40-year-old will remain in prison while prosecutors are given a month to decide whether to confirm or overturn the judge's ruling.
The office of Germany's anti-terrorism prosecutor did not confirm the details of the case, telling AFP only that her name "was not unknown" to authorities.
Iraq has sentenced more than 300 people to death for belonging to ISIS, including around 100 foreigners. At least the same number have received life terms, Iraqi judicial sources have said.
On April 18, Iraq sentenced five women from Azerbaijan and a woman from Trinidad to death and two Russian and French woman to life in prison for joining ISIS. A spokesperson for the Azerbaijan ministry of foreign affairs told The Defense Post on April 23 that the ministry was not notified through official channels about the sentence. Earlier in April, the Baghdad court sentenced six Turkish women to death for ISIS membership and a seventh to life in prison. They had all joined their husbands in Iraq and Syria after 2014.
Also in April, an Iraqi court commuted the death sentence of a German woman of Moroccan origin, reducing her sentence for ISIS membership to a life term. Earlier this month, the court sentenced the woman's daughter Nadia Rainer Hermann, also a German national, to life in prison.
A 17-year-old German girl was sentenced in February to six years in prison for ISIS membership and illegally crossing the border.
Last month, the United States repatriated Samantha Elhassani, an American woman who traveled to Syria with her husband and children to live in ISIS territory.
https://thedefensepost.com/2018/08/29/iraq-clears-german-woman-isis-ties/
-------
Top Women Quran Activists Honoured in Iraq
August 30, 2018
According to the information office of the Astan, Sarwar Mahdi Abdullah, director of the center, said that the women were this year's top Quran students of the center.
They successfully passed the courses of the center in the categories of Quran memorization, recitation and interpretation.
More than 20 students from different provinces of Iraq, as well as Nigeria and Saudi Arabia participate at the Quranic courses of the center, which was opened two years ago.
Quranic activities have significantly developed in Iraq since the 2003 overthrow of former dictator Saddam Hussein.
There has been a growing trend of Quranic programs such as competitions, recitation sessions and educational programs held in the country in recent years.
http://iqna.ir/en/news/3466648/top-women-quran-activists-honored-in-iraq
-------
URL: https://www.newageislam.com/islam-women-feminism/saudi-women-begin-safari-adventure/d/116240
New Age Islam, Islam Online, Islamic Website, African Muslim News, Arab World News, South Asia News, Indian Muslim News, World Muslim News, Women in Islam, Islamic Feminism, Arab Women, Women In Arab, Islamophobia in America, Muslim Women in West, Islam Women and Feminism