New Age Islam News Bureau
15 Apr 2020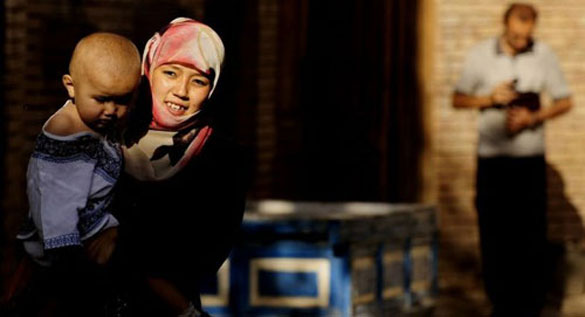 Shohreh Bayat referee the final of the Women's World Chess Championship earlier this year
----
• Saudi Women Are Speaking Up Online
• Iranian Woman Fears Punishment After Condemnation For Not Wearing The Appropriate Headscarf
• Saudi Women Increase Role In Workforce In Late 2019: Data
• Women's Inaugural Event In Saudi Arabia Rescheduled For October
• Coronavirus: Sheikha Fatima Sends Message Of Gratitude To Every UAE Doctor
• Can Qasem Soleimani's Young Daughter Continue His Path?
• Meet Amani Saeed, The Poet Championing Women and Confronting Islamophobia, One Verse At A Time
• Afghan Women Must Play 'Crucial' Role In Taliban Talks, Says Legislator
• Iran's Women Basketball Team on a Promising Path
• VP Asks Iranians to Use Helpline to Report Domestic Violence
• How Three Middle Eastern Women Are Changing the World Through Healthcare
Compiled By New Age Islam News Bureau
URL; https://www.newageislam.com/islam-women-feminism/saudi-women-speaking-up-online/d/121580
-------
Saudi Women Are Speaking Up Online
Hiba Zayadin
April 14, 2020
Over the past two weeks, Saudi women have taken to Twitter, using pseudonyms, to share their experiences with sexual harassment, the reasons behind their hesitance to report these abuses to the authorities, and demands for the abolition of the discriminatory male guardianship system.
It is a remarkable show of courage at a time when Saudi authorities – under the de facto rule of Crown Prince Mohammed bin Salman – have maintained a sweeping campaign of repression that included dismantling and silencing the country's women's rights movement. Prominent women's rights activists like Loujain al-Hathloul and Samar Badawi languish in prison nearly two years since their arrests, while other women since released face travel bans and outstanding trials.
At the same time, Saudi Arabia introduced reforms for which these women had long advocated. Today, Saudi women can drive; those over 21 years old can obtain passports and travel without permission from male guardians; and recently introduced laws are meant to protect them against sexual harassment and employment discrimination.
Using two Arabic language hashtags which translate to "why I didn't report it" and "down with remnants of the guardianship system," Saudi women pointed to persistent elements of the male guardianship system that continue to keep women trapped in abusive situations.
Saudi women complained that if they attempt to flee abuse, they can still be arrested and forcibly returned if their male family members bring a legal claim based on uquq (parental disobedience), inqiyad (submission to a guardian's authority), or leaving the marital or guardian's home. They also spoke of how when they report abuse, they are often referred to closed shelters, which they are typically not allowed to leave unless they reconcile with family members or accept an arranged marriage.
The world is being told that Saudi Arabia is modernizing on women's rights. But the reality is that with no organized women's rights movement or environment in which women can safely and openly demand their rights, there is little room for further advances. The international community should call for the release of all women's rights activists, the safeguarding of women's right to freedom of expression and association, and for the complete abolition of the male guardianship system.
https://www.hrw.org/news/2020/04/14/saudi-women-are-speaking-online
--------
Iranian Woman Fears Punishment After Condemnation For Not Wearing The Appropriate Headscarf
April 14, 2020
(CNN)It was a dream come true for Shohreh Bayat to referee the final of the Women's World Chess Championship earlier this year but what should have been a career highlight quickly turned into a nightmare.
The Iranian chess arbiter is yet to return home to her family following the conclusion of the tournament in January, fearing punishment after she was criticized online for not wearing the appropriate headscarf.
Bayat's concerns stem from a photograph taken from the event which appears to show her not wearing a hijab. The picture was subsequently shared and Iranian websites reportedly condemned her for what some described as protesting the country's compulsory law.
"I knew that I had to cover my hair so I did that like many Iranian women but I was wearing a loose hijab because I don't believe in the hijab," Bayat told CNN Sport.
"Actually, I hate the hijab. I was just trying to wear it somehow to show that I am not a religious person and I was wearing it in a modern way. By Iranian standards, it was totally okay."
The photographs in question were taken at the first stage of the chess championship in Shanghai, China, before Bayat flew to Vladivostok, Russia, for the second leg between Ju Wenjun and Aleksandra Goryachkina.
While trying to focus on the job at hand, Bayat was subsequently seeking reassurances from the Iranian Chess Federation who had alerted her to the apparent storm brewing at home.
She said the federation had initially asked for a more appropriate picture of her at the tournament, which Bayat took offense to.
She then says the federation told her to post an apology on her social media channels. She agreed under the condition that it would guarantee her safety but she said the federation refused and purged her picture from their website.
A steely determination breaks through. So too does a wave of controlled anger with its roots embedded in years of wearing something she never wanted to wear.
The headscarf, or the hijab, has been a mandatory part of women's dress in Iran since the 1979 Islamic revolution but, in recent years, some women have mounted opposition and staged protests about headwear rules.
Bayat says she has often been accompanied by a minder who ensures the country's rules are followed when she works abroad but says economic issues have seen that role reduced.
Fearing such punishment in Iran and making the most of a British visa she had obtained for an upcoming tournament in Gibraltar, Bayat opted to fly to the United Kingdom after the final.
Despite being "broken" by her situation, she says she's been blown away by the global support she's received since her story was shared around the world.
"Since I came here, I felt that I received many many positive impressions from people. It's not easy to describe it in words.
"I can't even keep up because there are many, many people who helped me here. So I don't know how to name them because all of them were nice to me."
Bayat is unsure how and when she will ever see her family again, making the most of daily phone and video calls with her husband to keep her spirits up.
"Maybe after 10 years, 15 years. But as long as this regime is in Iran, I don't think I can come back," she said, haunted by the prospect.
With the added uncertainly of the coronavirus outbreak, which has rocked Iran and much of the world, the possibility of meeting her family in another country has become even more difficult with traveling severely restricted.
She says she is currently without a passport while her asylum application is processed and concedes the chances of her husband getting a British visa to join her in the UK are unlikely.
Despite her life being turned upside down, Bayat says she doesn't regret anything about her decision. She just wishes she had protected herself more at the start of the ordeal.
"When you live in Iran, you have to follow these things that hurt you, you have to be a different person that you are not," she said.
"It's not easy, all the time you feel unsafe, you feel unhappy by wearing things that you don't want, by showing yourself something that you are not.
"These are the advantages of my decision; I don't have to wear the hijab, I don't have to pretend that I am a Muslim, I can just be what I am."
https://edition.cnn.com/2020/04/14/sport/shohreh-bayat-chess-iran-hijab-uk-spt-intl/index.html
--------
Saudi women increase role in workforce in late 2019: Data
April 14, 2020
By Tommy Hilton
DUBAI — Saudi Arabian women continue to make up an increasing part of the Kingdom's workforce, with participation growing 2.8 percent in the fourth quarter of 2019 to 26 percent, according to official data.
Unemployment had fallen in the third quarter to 12 percent from 12.9 percent in the second, according to official data released Monday by the Kingdom's General Authority of Statistics (GASTAT).
The unemployment rate among Saudi Arabia's total population stood at 5.7 percent. Around one-third of residents in the Kingdom are non-Saudis.
These numbers will likely take a hit in 2020 as the ongoing coronavirus pandemic causes severe economic shocks around the world. Governments have imposed lockdowns and shut businesses, with Saudi Arabia putting a 24-hour curfew in place for its major cities.
Economic participation among Saudis, a goal of the Kingdom's ambitious Vision 2030 plan and Saudization initiatives, has increased. Figures for all Saudi Arabian citizens were up from 45.7 percent to 46.7 percent in Q4 2019. For Saudi Arabian males, the figure was 66.6 percent – a slight decrease of 0.4 percent.
The increase reflects the growing role of women in the workforce. Age is also a factor, with young people constituting the highest proportion of the unemployed. The survey reported 64.1 percent of Saudi Arabians aged 20-29 were unemployed.
GASTAT conducts quarterly surveys of the labor market in the Kingdom and also uses data from the Ministry of Human Resources and Social Development, Human Resources Development Fund, National Information Center, and General Organization for Social Insurance (GOSI). -- Al Arabiya English
http://live.saudigazette.com.sa/article/591858/SAUDI-ARABIA/Saudi-women-increase-role-inworkforce-in-late-2019-Data
--------
Women's inaugural event in Saudi Arabia rescheduled for October
APRIL 15, 2020
The first women's professional golf event to be staged in Saudi Arabia has been rescheduled for Oct. 8-11 after it was postponed last month due to the coronavirus pandemic, organisers have confirmed on Tuesday.
The Saudi Ladies International, which is part of the Ladies European Tour (LET), will be hosted at the Royal Greens Golf & Country Club with a purse of $1 million, and is the first of its kind to be held in the kingdom.
"We have been extremely impressed by Golf Saudi's commitment to working through the challenges and making this historic event happen," Alexandra Armas, LET CEO, said in a statement.
"We would like to thank all stakeholders for their incredible support, and I am sure that this fantastic new tournament will be one of the major highlights of 2020."
The tour has been on hold since the South African Women's Open finished on March 14, with the next scheduled event the Jabra Ladies Open at the Evian Resort Golf Club in France from June 18-20.
https://www.espn.in/golf/story/_/id/29033081/womens-inaugural-event-saudi-arabia-rescheduled-october
--------
Coronavirus: Sheikha Fatima sends message of gratitude to every UAE doctor
April 15, 2020
Abu Dhabi: Sheikha Fatima bint Mubarak, Chairwoman of the General Women's Union (GWU), President of the Supreme Council for Motherhood and Childhood, and Supreme Chairwoman of the Family Development Foundation (FDF), has sent motivational words of thanks and gratitude to all doctors working nationwide, expressing her heartfelt appreciation of the remarkable and heroic role they are playing as the country's first line of defence against the COVID-19 pandemic.
The message, which has been sent to their phones, reads as follows: "My son, (daughter) Dr...... I extend you my sincere thanks and appreciation for the sincere efforts you're making to protect COVID-19 patients. Our hearts stay with you all, as you're wholeheartedly responding to the call of duty in such a time of distress. God bless you all and keep you a cherished asset for your homeland.... Your Mother, Fatima bint Mubarak."
Dr. Abdul Rahman bin Mohammad bin Nasser Al Owais, Minister of Health and Prevention, extended deep thanks and sincere appreciation on behalf of all doctors nationwide to Sheikha Fatima for her noble gesture, which, he said, mirrors her keenness to express the measureless love, pride, and gratitude all people of the UAE feel toward the remarkable role played by doctors during these trying times.
"The message instills positive energy into the spirit of all those concerned with the UAE health system, motivating them to spare no effort in order to overcome this health crisis," the minister added.
https://gulfnews.com/uae/health/coronavirus-sheikha-fatima-sends-message-of-gratitude-to-every-uae-doctor-1.1586895575880
--------
Can Qasem Soleimani's young daughter continue his path?
by Arash Azizi
APRIL 15, 2020
Late March marks the ancient holiday of Nowruz, the Iranian New Year. But with Iran one of the worst hit by the coronavirus pandemic, Nowruz had a somber tone this time around. Being avid users of Instagram, Iranians took to the photo-sharing app to share their mood on Nowruz. Among them, was a young woman in her late twenties and an unlikely rising celebrity in Iran and beyond.
Zeinab Soleimani was virtually unknown as a public figure before January 2020. She is the youngest child of Qasem Soleimani, a general in the Islamic Revolutionary Guards Corps (IRGC) who led its foreign arm—the Quds Force—and masterminded Iran's armed intervention in the Middle East. After the commander was killed in a US drone attack on Baghdad's international airport on January 3, Zeinab quickly emerged as his most visible offspring.
On Nowruz, Zeinab used Instagram to share a memory of her father with a picture of a dog tag that the fallen general had gifted to his daughter. "You gave me this when we went to Syria and asked me to keep it so they would know that I'm your daughter," Zeinab wrote on her Instagram post. "You told me you'd be happy if we were martyred together. You flew away and left me behind. Maybe my wings were too small." Zeinab ended by wishing a happy new year to the "honorable and patient" people of Iran.
Such posts are typical of Zeinab Soleimani, who is a regular on Instagram—the only major social media platform not blocked in Iran. Emerging from obscurity, she is now easily a household name and subject of dozens of media stories in Arab, Israeli, and Western media. A common theme contained in her Instagram posts are praises sung about her father and comparing him to historical Islamic figures such as the companions of Hossein, the third Shia imam who was killed in the historical battle of Karbala in Iraq in 680 AD.
Due to security concerns, Qasem Soleimani's personal life was tightly guarded during his lifetime. Very little is known about his wife—even her name is unknown—his four children, and a late son that he lost to disease many years ago.
But, for those in circles close to Soleimani, Zeinab has long been well-known as an ardent devotee of her father who often accompanied him on his numerous trips to the Arab world, including Iraq, Lebanon, and Syria.
In 2016, when visiting the family of an Iranian soldier killed in Aleppo, Syria, Soleimani briefly spoke fondly of his daughter. "I have a daughter who is a guerrilla in her own right," he told them, according to the account they later published.
An Iraqi Shia militant mentioned Zeinab's surprising presence by the side of her father, even during intense battleground trips in Iraq.
"She is very bright, speaks very good Arabic and English, and was clearly a favorite of her father," the Iraqi follower of Soleimani explained to this author, speaking not for attribution. "We were all shocked at how often she'd accompany him on trips."
"Zeinab resembles Hajji Qasem more than anyone in the world," Nasrollah Jahanshahi, a fellow IRGC member who has been working as Soleimani's personal driver since the 1980s, recounted in an interview with Sobhe Sadegh, an IRGC publication. "In both her attitude and behavior, she is very much like Qasem Soleimani."
In the aftermath of Soleimani's assassination in January, Zeinab became the public face of the Soleimani family, openly calling for Iran to avenge her father's blood. Her older brothers, Mohammad Reza and Hossein, were also shown on state television but pride of place was given to Zeinab, who delivered a searing 10-minute speech at her father's memorial in Tehran on January 6.
This was a calculated decision by the Iranian leadership that speaks not only to Zeinab's rhetorical talents, but her symbolic presence. Soleimani's daughter is named after Zeinab bint Ali, a sister of Imam Hossein and a key figure in Shia history. In 680 AD, after Hossein and his comrades fell to the armies of the Caliph Yazid in the Battle of Karbala, Zeinab led the caravan of survivors as they were taken as prisoners of war. She purportedly made a memorable address to Yazid in his Damascus palace, bemoaning him for straying from the path of the Prophet Mohammad. Shia political movements have idolized Zeinab as a symbol of resistance and eloquence for years. Her shrine outside Damascus continues to be a focus of pilgrimage for Shia Muslims. Ali Shariati, an Iranian thinker who pioneered modern revolutionary Shia politics, is buried in the shrine—right next to Zeinab.
The symbolism of an eloquent speech given by a young woman named Zeinab, starting with verses of the Quran and ending with her calling for revenge of her fallen father, was not lost to millions of Shias and many other Arabs familiar with Shia imagery. Iran's sophisticated media coverage put Zeinab in the spotlight from the outset. When meeting Iranian President Hassan Rouhani, Zeinab asked him to avenge her father's death. In an interview with the Lebanese television station Al Manar, which is affiliated with the Shia militia group Hezbollah, Zeinab repeated the same request for revenge, this time, from her "uncle Hassan Nasrallah," the secretary-general of Hezbollah.
In the fiery speech at the Tehran memorial, she addressed US President Donald Trump with the same phrase her father had once used: "Trump the Gambler." She said the US president was being "played by the Zionists" and warned the families of US soldiers in the region that they should "spend their days… waiting for the death of their children." She ended by listing five men that could help "destroy" Trump now that her father was gone: Hamas leader Ismail Haniyeh, Palestinian Islamic Jihad leader Ziyad Nakhale, Syrian President Bashar al-Assad, Iraqi Shia militant leader Abu Hassan Ameri, and Abdulmalek Houthi, the leader of the Iran-backed Houthi rebels in Yemen. The Tehran speech was followed by a few more; she spoke at the Friday prayers in Kerman, a city in southern Iran where her father was buried, followed by another memorial speech in Beirut, given in fluent Lebanese Arabic—although, with a Persian accent.
Esmail Ghaani, Soleimani's successor as the leader of the Quds Force, is struggling to fill the old general's shoes. More of a specialist in Iran's relations with its allies in the Indian subcontinent, Ghaani has failed to coordinate between the pro-Iran forces in Iraq, Lebanon, and Syria in the swift way that Soleimani did. He also lacks the general's charisma and character. Could the young Zeinab help continue the path of her father by emerging as a charismatic leader in the region?
We know very little about her besides the fact that she was born in 1991, has studied humanities, and has been living in Tehran for many years. Rumors of her having married a son of Baqer Qalibaf, an old comrade of Soleimani in the IRGC during the eight-year war with Iraq and, now, a powerful politician slated to become the next speaker of the parliament, were falsified—she is said to be married to a cousin. By all indications, Zeinab is talented and charismatic but her hardcore rhetoric will repel as many as it will attract. Prior to her father's assassination, her only known intervention was an online attack on Saba Kamali, an Iranian actress who outraged conservatives by comparing Imam Hossein to Sahar Khodayari, also known as the "Blue Girl," a 29-year-old young woman who died following self-immolation in a protest against the ban on women entering Iranian stadiums. "I advise you to be silent and keep your empty beliefs in your limited brain," Zeinab wrote, addressing Kamali. Qasem Soleimani was able to be popular among many Iranians precisely by avoiding such outbursts on sensitive domestic issues.
Some of Zeinab's Instagram posts show an attempt to appeal to a wider audience. One of them is accompanied by a song by Salar Aqili, a popular Iranian singer based in Tehran, who caused outrage in 2017 by giving an in-studio interview to the London-based banned satellite channel Manoto.
Both for Iranian audiences and beyond, Zeinab has to shape a careful message if she wants to inherit her father's popularity.
Arash Azizi is a writer and scholar based at New York University. He is the author of the upcoming book, "The Shadow Commander: Soleimani, the US and Iran's Global Ambitions" which will be published by Oneworld Publications. Follow him on Twitter: @arash_tehran.
https://atlanticcouncil.org/blogs/iransource/can-qasem-soleimanis-young-daughter-continue-his-path/
--------
Meet Amani Saeed, the poet championing women and confronting Islamophobia, one verse at a time
6 March, 2020
Just some of the powerful sentences by poet Amani Saeed, who has taken the London Slam community by storm with her defiance in the face of Islamophobia and her exquisite words on the beauty – and complexities – of being a Muslim woman living in the West.
The 24-year-old recently published a collection called Split, in which she documents her thoughts on spirituality and her identity, multi-faceted as it is.
"The school I went to in the States was really diverse and I was actually in the majority. It was mostly South and East Asians. There's something about your confidence when you're in the majority, of not being knocked down from a young age and not having to bear the brunt of that.
"So when I came here [UK] it was a real culture shock for that reason. I just remember being so appalled by how people were treating Muslims at the time. That was when Daesh [the Islamic State group] was at its height and they were beheading bus drivers and so on.
"I lived with a bunch of Evangelical Christians. They were lovely people, but I remember once we were watching the news and they were showing a [graphic] video with the guy's head blurred out. It was terrible, but all of their heads just turned to look at me. And I remember thinking, 'What are you looking at me for?'" she adds.
"I then realised they were looking for an explanation. Or some kind of proof that I thought this was terrible – which I thought was a given!"
Born in the UK, Amani grew up with a foot in England and a foot in America's New Jersey, along with a rich cultural tapestry. She has family from both Iraq and India, as well as uncles and aunties born in both Pakistan and India after the partition of 1947.
Hers is a unique position; Amani is both a Muslim and a 9/11 survivor, and carries both the trauma of the Twin Towers falling in 2001 – a seismic shock in the cultural fabric of America – as well as the Islamophobia that was borne out of that shock.
A storm of anti-Muslim sentiment is spreading across the world; India's Hindu-Supremacist Narendra Modi has made the country deadly to live in as a Muslim, with riots and killings happening all over the country. In the UK the Conservative party is frequently having to deny its Islamophobia.
"We went into the towers, we got boat lifted out of the situation, my mum was on one of the last trains before the building went down."
She adds: "On the one hand you think, 'That is my personal trauma, that is something I experienced,' and at the same time people are calling you a terrorist. It is hard."
And it's not only political landscapes that provide a breeding ground for anti-Muslim rhetoric. A viral hashtag, #FlyingWhileMuslim, was created after Ryanair CEO sparked controversy by saying terrorists are "generally Muslims," pushing for more checks on Muslim men.
The rise in far-right rhetoric has bolstered Islamophobia, as seen in the deadly New Zealand Christchurch Mosque massacre, and more recently the deadly Germany shootings which is being investigated as a far-right terror incident – but it's not always overt.
"I have a lot of privilege in terms of I'm light-skinned, I don't wear a hijab, for all intents and purposes a lot of the time people think I'm hispanic. So I don't get racial epithets yelled at me in the streets," Amani says.
"Where I faced more Islamophobia is in the workplace. I remember one time when I was very new at my job, I walked in and someone who was a couple of levels above me found out I was Muslim. In front of everyone in an open-plan office, she said to me, 'If you come in tomorrow wearing a hijab, we know you've been radicalised. Ha ha ha!' She thought she was being funny. I remember standing there, 21-years-old, facing off a 40-plus-year-old woman thinking, 'I'm new to this job, what the hell do I say to you?'
"A year later the Muslim ban was in effect in America and again she thought she was making a joke by saying, 'Oh, it means you can't go back to the States to visit your parents anymore. Ha ha!' I'm a dual national and I'm privileged to have both passports, but I remember at the time, my inner New Jersey came out and I went, 'Damn you can't say that!' It just came out. I didn't even think about it!"
Amani also commented on the situation in China, where millions of Uighur Muslims have been interned, tortured and killed on the basis of "re-education" and the weaponisation of the 9/11 rhetoric.
"It's the next Holocaust, and the world is passively watching on," she said, choosing to spill her frustrations out by writing a poem about it.
"I wrote it because we don't talk enough about it when it's the next Holocaust. It is! You're putting people in concentration camps, the stories that come out of there are atrocious. There are stories of people being experimented on. Of people dying.
"It's horrific and no one seems to care, or if people do know about it, they decide China is such a big economic power that of course 'What can any one government do?' It's horrible."
Much of Amani's poetry explores the lines between stereotype and expectation and of Muslim women's bodies being weaponised by both white feminists – who use it to argue for liberation, and for parts of the Muslim community – who weaponise it as a form of control.
"It is being someone who can't win the argument between your society and your community. I say it so much. No matter what you do, people are scrutinising your existence.
"If you're not wearing a hijab, 'Why aren't you wearing a hijab?' If you are wearing a hijab, you're not wearing it correctly."
She continues, "If you're doing arranged marriage, 'Oh Jesus Christ you're not liberated!' according to Western feminism, but if you try and find marriage for love, if you have sex before marriage "Astaghfirullah! Everyone has an opinion, a debate over your body and you just get lost in this wash of people's opinions."
Despite the maelstrom of misunderstanding, stereotype and stigma pushed onto Muslims as though they are a monolith, Amani remains steadfast in the simplicity and beauty of Islam.
"The sahib I knew in America answered all my questions about that. He said something that really stuck with me, which is that, 'Islam is a really simple religion for those two reasons. And if people are complicating things, they don't have to be that complicated because what is at the root of it is your intentions.'
"There are different ways of reflecting on God, and I think the most important thing to me as a Muslim woman is not to be so prescriptive about things, but to do the best that you can and to have the best intentions that you can when you do it."
Amani Saeed is a member of Barbican Young Poets and the poetry collective The Yoniverse. She runs a poetry open mic night called The Hen-nah Party and is currently working on a poetry show at The bunker Theatre.
https://english.alaraby.co.uk/english/society/2020/3/6/amani-saeed-the-poet-championing-muslim-women
--------
Afghan women must play 'crucial' role in Taliban talks, says legislator
April 03, 2020
KABUL: Afghanistan's "fragile gains" in women's rights are at risk unless women play a key role in peace talks with the Taliban, one of the few female members of the government's negotiating team has said.
Lawmaker Fawzia Koofi, a vocal critic of the Taliban, is one of five women on the 21-member team announced by the government last week to hold historic talks with the militant group that once banished women from public life.
She pledged to fight for the hard-won gains made by Afghan women since the era of Taliban rule, from education to freedom of movement, as the country seeks to draw a line under more than 40 years of war.
"Women's role at this critical time in our history is very crucial and pivotal," said Koofi, 45, a single mother of two daughters and the first woman to set up a political party in Afghanistan.
"They have been victims of war. It is time women start playing their role as peace builders," she said, warning their "fragile gains" would otherwise be at risk.
Under their rule from 1996 to 2001, Afghan women were obliged to cover their faces and could not study, work or leave the house without a male relative.
The group, which controls or contests more than 40pc of Afghan territory, has said it would now allow women to be educated and employed, but within the limits of Islamic law and Afghan culture.
The United States and the Taliban reached a peace deal in February, but many Afghan women are concerned that it does not include adequate safeguards for their rights.
It is not clear when negotiations with the Afghan government will begin. A Taliban team arrived in Kabul on Tuesday to start the process of exchanging prisoners, a precondition to the talks.
Meanwhile, Koofi said she had even struggled to get her own, mostly male team to support women's causes in informal rounds of dialogue with the group last year.
"Narrow-mindedness would be a small, yet gigantic step back," she told the Thomson Reuters Foundation. "We want and expect men to stand for women's rights."
Women have made huge strides since the Taliban were ousted in a US-led invasion in 2001, with growing numbers now finishing their education and finding work in previously male bastions including politics, the police and the judiciary.
https://www.dawn.com/news/1546038/afghan-women-must-play-crucial-role-in-taliban-talks-says-legislator
--------
Iran's Women Basketball Team on a Promising Path
April, 14, 2020
It will be an uphill battle towards promotion to Division A, but it is already on a promising path, FIBA reported.
Only last August, the women basketball team made history in securing its first medal by finishing third at the WABA Women's Championship in Amman, Jordan.
The men's national team program for Iran has already firmly planted themselves as one of the best in Asia. Now it's time for the women to rise, slowly and steadily with the help of Women's Super League.
"In Iran, we have five leagues for women, including the U-16, U-18, second Division, First Division, and the Super League. With this set in place, there is no surprise that women's basketball in Iran is slowly climbing and catching some attention." Talin Tahmasian, head of competition and refereeing for IRIBF Women's Federation said.
https://www.tasnimnews.com/en/news/2020/04/14/2243496/iran-s-women-basketball-team-on-a-promising-path
--------
VP Asks Iranians to Use Helpline to Report Domestic Violence
April 14, 2020
Iranian Vice-President for Women and Family Affairs has encouraged people to contact a helpline to report the cases of domestic violence or child maltreatment as people have been told to stay home to stop the spread of coronavirus.
With people across Iran advised to stay home to stem the coronavirus pandemic's spread, activists have reported a rise in domestic violence cases since the start of self-quarantines.
Meanwhile, Iranians received a text message on their mobile phones on Friday, sent by the Health Ministry, which asked people to call a hotline to report domestic violence cases.
In remarks on Tuesday, Vice-President for Women and Family Affairs Masoumeh Ebtekar said 123 is a national domestic abuse helpline serving as "Social Emergency Service" that provides advice and support to people.
The hotline can also prevent the commitment of crimes, because informing people about such social emergency service will deter the abusers and criminals from any wrongdoing, she noted.
123 is a free-phone 24 hour helpline run by the State Welfare Organization of Iran, which provides advice and psychological support to victims of domestic violence.
Ebtekar has announced that the helpline will greatly help strengthen the family foundations, since the service is not confined to a specific gender and is designed to address every type of violence that may harm the families.
She noted that while the social distancing programs have been carried out as a common protocol in the world to stop the spread of coronavirus, they have put family members in perpetual proximity to each other, which has increased the risk of tensions and domestic violence.
There has been a rise in the number of reports of domestic abuse in the world after the coronavirus-related lockdown restrictions, she added, saying the number of applications for divorce has risen by several times in Iran.
Ebtekar finally noted that the Vice-Presidency for Women and Family Affairs has prepared a series of podcast to help prevent domestic violence.
https://ifpnews.com/vp-asks-iranians-to-use-helpline-to-report-domestic-violence
--------
How three Middle Eastern women are changing the world through healthcare
Sarah Maisey
April 15, 2020
Cartier may not be the first company that springs to mind when thinking of business incubators, but that is precisely what the French jewellery house has aimed to be since 2006.
Through the Cartier Women's Initiative Awards, it seeks to provide meaningful support to female entrepreneurs in the as-yet male-dominated world of business start-ups.
The annual initiative divides the world into seven regions and invites women to submit their ideas and business plans, from which the initiative selects the strongest 21 (three from each region), who are then given one-on-one business and financial training by industry experts.
In June, one woman from each region will be named as laureate for 2020 and receive $100,000 (Dh367,250) each, with the rest receiving $30,000.
All 21 women will also receive a scholarship for the Insead Social Entrepreneurship Executive Education Programme, and ongoing assistance.
The Middle East and North Africa is one of the seven regions, and last week, Cartier announced the three entrepreneurs from the region who are bringing about change through their innovative ideas, energy and determination.
Egyptian Nadia El Din set up Rahet Bally in 2014 as an all-inclusive platform to support mothers financially, physically, emotionally and intellectually – online and in person.
Up to 20 per cent of new mothers are vulnerable to postnatal depression, and with no siblings or friends around – and with a young baby in tow – El Din found herself overwhelmed. From this came the realisation that too many of her countrywomen were being left to suffer alone.
Rahet Bally, which translates to "peace of mind", was set up as a Facebook group. El Din was keen for it to be a space where women could access practical help from professionals in real time.
She invited psychologists, paediatricians and nutritionists whom members could connect with and receive dedicated answers from. Within a month, more than 1,000 professionals came forward to help the 3,000 mothers who had signed up.
Six years later, El Din estimates that as many as 150,000 women across Egypt use the platform, either online or at the three facilities in Cairo.
El Din's latest venture is called the Cloud and offers mothers in Cairo a space to bring their babies. The women can rest in specially designed sleep pods, work in the office area, build their skills in workshops, socialise or join a book club, while a background-checked, all-­female staff of nearly 100 look after their children.
"Mums start crying when they come in because it's the first time anyone is taking care of them. They can have a shower. They can drink a cup of coffee while it's still hot. It's a place where they can actually breathe again," El Din says. "I'd love to have the Cloud in every district, to have a hundred workshops a day, and to expand outside Cairo to the rest of the Mena region."
Egyptian Dr Rasha Rady set up an organisation called Chefaa in 2017, with the aim of helping chronic patients access medication using artificial intelligence and GPS tracking.
As a paediatric haematologist, Rady is aware of the problems within the healthcare system in her country, which she says is overstretched and underfunded, and too often lacks accurate record-keeping.
As a result, patients may face worrying uncertainty about receiving the medication they have been prescribed. Inconvenient as this is for those with short-term illnesses, for those facing chronic ailments – requiring months, if not years of ongoing medication – it can be terrifying, and is something Rady had witnessed first-hand.
"In Egypt, pharmacy systems are still primitive," she says. "When I worked at the Cairo University Children's Hospital, a patient might come from a three-day car ride away to refill a prescription. Suddenly, when he arrives, the medicine is not available."
When a friend, Doaa Aref, was diagnosed with thyroid cancer in 2017, Rady felt urgent action was required. "She found out the surgery was the easy part," Rady says. "She said: 'Do you realise, I can order anything online – except the medication I need to stay alive?'"
When Aref recovered, the pair began to work together, drawing on Rady's medical knowledge and Aref's digital marketing expertise.
The result was Chefaa, a GPS-enabled app through which patients can order medicines online. The platform connects to an AI-powered system at pharmacies, which will scan stock to see if the medication is available. If so, it accepts the order and dispatches it to the patient, all without the need for them to leave the house.
Since launching three years ago, Rady can see the difference it is making to people's lives. "In the clinic, I see an average of 1,500 patients monthly. Through Chefaa, I fulfil 22,000 orders per month for both new and returning patients. The number of patients I have an impact on is more than 20 times the number I used to have."
A related tool, the Chefaa blog clocks about 14,000 visits per day. It helps to guide and educate the public about the safe use of prescriptions, and offers another way for older patients (who make up a large percentage of chronic illness sufferers) another way to connect with the service.
Encouraged by the uptake, the pair have a bold vision for the future of Chefaa. "I'm looking forward to our millionth order. The [first] million means 1 per cent of the population of Egypt. We hope to do that by the end of 2020," says Rady. "I have the dream that Chefaa will become a verb, that people will use the word when they talk about filling their prescriptions, like they say 'Uber' or 'Google'."
Rihab Hasanain created Blooming Bs (Blooming Box, Brain and Body) in 2016 in response to the rising incidence of childhood obesity in her native Saudi Arabia. Her aim was to provide fresh, healthy food to schoolchildren.
When Hasanain was searching for a school for her daughter, she found that the food being offered wasn't the most nutritious. "It was junk food being sold in the school cafeteria," she says. "Children are eating it for breakfast, and then they are supposed to go and study."
She also learnt that some parents, too, would add sweets to their child's lunch box for convenience. Knowing that obesity exposes children to a plethora of health risks, including insulin resistance and type 2 diabetes, breathing problems such as asthma and sleep apnoea, and an increased risk of cardiovascular disease later in life, Hasanain – who has a doctorate in health services management – set up Blooming Bs.
The company served 60,000 meals in its first year of operation, a figure that doubled to 122,000 in its second year. "In our third year, we are aiming to increase that by 50 per cent," says Hasanain. "We are catering meals for a school that has 400 students and another that has more than 1,000, and now we are receiving requests for schools that have more than 2,000 students."
The demand means Hasanain has had to increase staff levels from two to 20, further offering employment opportunities to her countrywomen. Coming from all over Saudi Arabia, each woman brings her region's recipes and styles of cooking, which in turn has given Blooming Bs a huge menu to work with.
Hasanain is proud of the food her company delivers. "It took a little bit of time for us to understand exactly what the children like," she admits, "but we came up with a menu that is loved by the majority of the them".
https://www.thenational.ae/lifestyle/how-three-middle-eastern-women-are-changing-the-world-through-healthcare-1.1006097
--------
URL: https://www.newageislam.com/islam-women-feminism/saudi-women-speaking-up-online/d/121580
New Age Islam, Islam Online, Islamic Website, African Muslim News, Arab World News, South Asia News, Indian Muslim News, World Muslim News, Women in Islam, Islamic Feminism, Arab Women, Women In Arab, Islamophobia in America, Muslim Women in West, Islam Women and Feminism