New Age Islam News Bureau
15 March 2019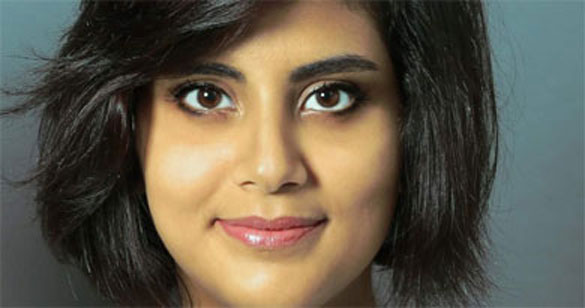 Saudi Activist Loujain al-Hathloul
-----
• Women Rally In Yemen's Sana'a To Condemn Saudi-Led Strikes
• Hijab-Wearing Muslim Americans Get Haircuts in Women-Only Salon
• Uzbekistan: Supporters of Islamic Clothing Take Battle To Court
• Pakistan Torn as Women's Day March Sparks Wave of 'Masculine Anxiety'
• Wife of Terror Suspect Blows Herself Up and Her Children in Indonesia
• Sturgeon Announces £400,000 For Malala-Inspired Pakistan Female Scholarships
Compiled by New Age Islam News Bureau
URL: https://www.newageislam.com/islam-women-feminism/saudi-women-activists-persecuted-under/d/118034
--------
Saudi Women Activists Persecuted Under 'Bogus' Charges, Says Amnesty
March 15, 2019
Women activists imprisoned by Saudi Arabia for almost a year face "bogus" charges, including contacting foreign media, human rights campaigners and international organisations, Amnesty International has said.
The trial of at least 10 women opened in Riyadh's criminal court on Wednesday after they were held last year in a sweeping crackdown on activists, legal authorities said, without specifying the charges.
Amnesty put the number of women who appeared in court at 11, adding that they were charged with promoting women's rights and calling for the end of the restrictive male guardianship system.
"The women were also charged with contacting international organisations, foreign media and other activists, including the Amnesty International," the rights group said on Thursday, calling the charges "bogus".
ALQST, a London-based rights group, said the women were charged under the kingdom's sweeping cybercrime law, which carries prison sentences of up to 10 years, based on their contact with "hostile entities", including human rights organisations.
"The charges against the activists are the latest example of the Saudi authorities abusing legislation and the justice system to silence peaceful activists and deter them from working on the human rights situation in the country," said Samah Hadid, Amnesty International's Middle East campaigns director.
"This trial is yet another stain on the Saudi authorities' appalling human rights record, and shows how empty the government's claims of reform really are."
'Traitors'
More than a dozen activists, many of whom campaigned for years for the right to drive, were arrested in May last year - just a month before the kingdom ended its long-standing ban on female motorists. Some were subsequently released.
At the time, the activists were accused by some government officials of undermining national security and aiding enemies of the state, while state-backed media branded them as traitors and "agents of embassies".
A court official said the women would have access to independent lawyers for the trial, a right that family members claimed they had been denied for the entire stretch of their detention.
The official did not specify a date for the next court hearing.
The trial of the women comes as Saudi Arabia seeks to placate international criticism over the brutal murder of journalist Jamal Khashoggi inside the kingdom's Istanbul consulate last October.
https://www.aljazeera.com/news/2019/03/saudi-women-activists-face-bogus-charges-amnesty-190315065133298.html
--------
Women Rally In Yemen's Sana'a To Condemn Saudi-Led Strikes
Mar 14, 2019
Women rally in Yemen's Sana'a to condemn the killing of 20 women and a child in Saudi-led strikes in the northern province of Hajjah.
https://www.presstv.com/Detail/2019/03/14/591016/women-rally-airstrike-Yemen-Hajjah
--------
Hijab-Wearing Muslim Americans Get Haircuts in Women-Only Salon
March 15, 2019
BOSTON, US: Every woman seems to have a haircut horror story. Muslim American women have ducked into salon backrooms, closets and basements to get their hair styled. One woman remembers hiding behind a piece of cloth draped over a doorway. Another recounts a haircut in a restroom. Others describe gut-twisting moments when strange men walked in and saw their bare heads anyway. Everyone remembers the shame and anger.
Shamso Ahmed knows the feeling — and she is determined to make a change. Ahmed, who wears a hijab, opened a women-only salon last month designed for Muslim women whose religious beliefs include not exposing their hair in front of men who are strangers.
"I really want to make a difference in people's lives by creating a place where women feel comfortable, safe," said Ahmed, 34. "With this space, I can guarantee that there's not going to be guys that walk in, so women will have the privacy they are looking for."
https://www.thenews.com.pk/print/444296-hijab-wearing-muslim-americans-get-haircuts-in-women-only-salon
--------
Uzbekistan: Supporters of Islamic Clothing Take Battle To Court
Mar 14, 2019
February was a time of hope and disappointment for wearers of the hijab at Tashkent's International Islamic Academy.
For the first time in Uzbekistan's history, a court heard a civil case about the Islamic headdress. At stake was the resolution of a standoff between the academy's administration and young women angered about what they feel is the denial of religious self-expression.
That the drama should be playing out in what bills itself as an Islamic academy is the ultimate irony.
The suit against the International Islamic Academy was filed by 45-year-old Abduvahob Yakubov, the father of a young woman at the institute.
"I petitioned the court to cancel the internal rule prohibiting women from wearing hijab and scarves," he told Eurasianet. "My daughter, Nozima Abdukharova, is in her second year of studies and has been prevented from going to class in her hijab."
Yakubov is a lawyer by training, so he decided to take on the case himself.
At 3 p.m. on February 15, the entrance hall at Tashkent's Shaykhontohur district court was packed. Police initially only allowed in representatives from the academy and their lawyers. But a large and excited crowd had also arrived, hoping to watch the highly unusual legal debate.
"I am very interested in how this hijab case turns out. It is the first time something like this is happening," Ulugbek Safarov, 23, a student at Tashkent University of Information Technologies, told Eurasianet.
Safarov heard about the case through social media and decided to go in a gesture of support for his fellow students.
Botir Shermatov, a lawyer, traveled to Tashkent from Moscow out of curiosity to hear both sides of the argument. He predicted that although the case was unlikely to go the student's way, it would undoubtedly draw considerable public interest.
"Under Uzbek law, the appearance of citizens in public places in religious attire may trigger a fine or administrative arrest for up to 15 days. Only [the clergy] can wear religious clothes," Shermatov said.
Passions were on full display in the courtroom. Yakubov insisted on the abolition of dress requirements at the Islamic Academy, arguing that there are no legitimate grounds for banning hijabs in an educational institution.
Meanwhile, a representative from the International Islamic Academy, Lutfullo Abdukadyrov, showed the court a pamphlet detailing the rule of conduct for students.
"At the Islamic Academy, it is not just hijabs that girls cannot wear, the rule also goes for short skirts and jeans. Students are required to attend classes in a standard uniform – a form of clothing approved by the country's Education Ministry," Abdukadyrov said.
After hearing both sides, the court ruled in favor of the academy, arguing that it had violated no laws in imposing the dress code.
A court in Tashkent heard Yakubov's appeal on March 13 and upheld the verdict passed down last month. Yakubov says he now intends to pursue the matter to Uzbekistan's Supreme Court.
This standoff began in September. Shukhrat Yovkochev had shortly before that been appointed rector of the International Islamic Academy. Banning the hijab was his idea. Staff was posted at the entrance to the building and those students who declined to abide by the rule were forbidden from going to class.
The rule elicited mischievous mockery. Some students wore wigs instead of hijabs, to ensure they were nominally not exposing their uncovered heads. After class, they replaced the wigs with hijabs.
Despite its name, the International Islamic Academy is a secular institution, although it is also seen as part of a government effort to optimize the quality of the country's religious education. It was created in April 2018 on the foundations of what was formerly called Tashkent Islamic University.
Nozima was not alone in taking her stand.
Luiza Muminjonova, 19, moved from her hometown of Urgench, around 1,000 kilometers west of Tashkent, to enroll in the International Islamic Academy. After passing the entrance exams, she signed up to take classes in the Pilgrimage Tourism department.
But when the first day rolled around, she was not allowed through the door.
"There is a sign at the entrance, it says that women may only wear dark skirts and white jackets. Skirts have to be worn below the knee. I was told to wear this uniform and take off the hijab. But I could not go along with that because those rules contradict my religious beliefs," she said.
After quickly ratcheting up dozens of hours of unattended classes, Muminjonova was expelled.
Muminjonova said that she refuses to believe wearing a hijab can be legitimate ground for expelling somebody from school. And so she too turned to Yakubov for help filing a civil suit.
Her suit, which was heard on February 20, was also unsuccessful. Tashkent district court ruled that Muminjonova's expulsion was in line with the rules of the International Islamic Academy.
While preparations for her legal campaign have been underway, Muminjonova has been working at a tourism agency and dedicating herself to improving her English, which she wants to parlay into studying tourism management.
"If the Uzbek court does not restore my rights, I will appeal to United Nations bodies responsible for upholding freedom of religion and belief," she said.
Yakubov told Eurasianet there are even more young women who have been expelled from the Islamic Academy over their hijab.
"According to my information, there are about six young women," he said. "But they still want to keep a low profile."
This is not the first time that Uzbekistan has grappled – and chosen the path of prohibition – with the matter of religious piety in education.
Since the death of President Islam Karimov in 2016, many have become more bold in expressing their faith-based views in public. Last year, the government's official policy on school uniforms, which allowed for the headscarves to be forbidden, provoked much umbrage among conservative commentators. Some wrote angered commentaries about it online, only to find themselves being summoned to the police station.
Ravshan Nazarov, a historian, falls on the secular side of the argument. The Islamic academy should be entitled to decide what its students may or may not wear, he said.
"Uzbekistan is constitutionally a secular state – there is a separation between religion and state. So we can consider this court's ruling something of a legal precedent," he said.
https://eurasianet.org/uzbekistan-supporters-of-islamic-clothing-take-battle-to-court
--------
Pakistan Torn as Women's Day March Sparks Wave of 'Masculine Anxiety'
15 Mar 2019
One poster read: "Keep your dick pics to yourself." Another had a drawing of a vagina and two ovaries and the words: "Grow a pair!" A third said, "If you like the headscarf so much, tie it around your eyes."
The posters featured at women's day marches across Pakistan last week, and were just a handful among hundreds that highlighted fundamental rights issues such as access to education and employment. They have since unleashed a social media storm. Thousands complained the marchers were "vulgar" opportunists who had infringed on conservative values in the Muslim-majority country and supplanted a legitimate fight for rights with a liberal, anti-Islamic agenda. Many called for a parallel men's march.
Shaan Shahid, arguably Pakistan's biggest film star, wrote on Twitter he thought the posters did not "represent our culture, our values". Veena Malik, a popular actor who caused an uproar in 2012 when she appeared almost naked on the cover of an Indian men's magazine, posted that the march had "brought humiliation to women of Pakistan".
Kishwar Naheed, a poet best remembered for a poem called "Us sinful women", was seen in a video saying: "The next time you make such slogans, remember your culture, your traditions."
Some of the profanity-filled tirades were more frightening. Javeria Waseem, a film student, posted screenshots of a group of boys sexually harassing her 16-year-old younger sister online and threatening her with rape for posting on Instagram in support of the march.
Nighat Dad, a rights activist who was photographed holding a poster that read: "Divorced And Happy", received messages filled with sexual innuendo and threats of sexual violence.
At least seven women who attended the march in Lahore and did not want to be identified told the Guardian they had received threats of physical and sexual violence from social media users after posting pictures of the posters.
In Pakistan the threats of violence are not hollow. About 500 women are killed each year by family members who believe their honour has been damaged, according to the Human Rights Commission of Pakistan.
'You can't say you are happily divorced'
Dad, who organised the women's march in Lahore, said people were angry over the posters because most Pakistanis, especially men, could conceive of better school and workforce participation and parliamentary seats reserved for women, but were not yet ready to allow them free choice.
"When women make demands about their personal lives, their bodies, their sexuality, that's when people feel threatened," Dad said. "So it's OK to ask the government for the right to education but you can't say you are happily divorced because the breakdown of a marriage is a shameful thing, a woman's failure, and you can't say 'don't send me dick pics' because so-called respectable women don't use words like dick."
It made sense, then, that the posters that got the most vitriolic responses were "those that spoke to the intimate relations of power within the household", said Nida Kirmani, a feminist sociologist at the Lahore University of Management Sciences.
One popular poster called for men to warm their own food; another asked them to find their own socks. And one read, "I'll warm your food but you warm your own bed." .
"Of course these kinds of slogans have unleashed a wave of masculine anxiety," said Sabahat Zakariya, a newspaper editor who runs a YouTube channel to explain feminist theory.
"The home is the seat of masculine power and the posters hit right at the heart of that," she said. "Men are afraid that women will now also start asking for rights within the home; they will question why they should stay in abusive marriages or always be the ones who cook. That's a lot scarier for some people than sending girls to school or letting them work."
But Dad called the protests "a great start".
"It is a huge success of the march that taboo topics like women's rights to their own bodies, their sexuality, are being discussed for the first time."
https://www.theguardian.com/world/2019/mar/15/pakistan-torn-as-womens-day-march-sparks-wave-of-masculine-anxiety
--------
Wife of Terror Suspect Blows Herself Up and Her Children in Indonesia
MARCH 14, 2019
Jakarta. Police said an Indonesian woman with affiliations to the Islamic State had detonated at least two home-made bombs in Sibolga, North Sumatra, early on Wednesday morning (13/03), killing herself and two of her children.
The incident happened at the tail end of a massive police operation that had netted three terror suspects and 300 kilograms of explosives.
The explosives were seized in the coastal town—an eight-hour drive south from the provincial capital Medan—on Tuesday.
Police have been on the hunt for terrorist networks across the country to prevent them from attacking officers and public facilities, with just over a month left before Indonesia holds a presidential election.
The scattered body parts of the Sibolga female bomber—who appeared to be in her 30s—were found inside her home, Brig. Gen. Dedi Prasetyo told reporters in Jakarta.
On Tuesday afternoon, the police's anti-terror unit Densus 88 had arrested the woman's husband, Husain, aka Abu Hamzah, a suspected terrorist who has been affiliated with the Islamic State network in Indonesia. Husain was also arrested in Sibolga.
Police had then gone on to Husain's home, where his wife and two of the couple's children, both under five years old, were hiding.
According to the police, Husain's wife threw a bomb at officers as they rushed her home. One police officer and a neighbor were injured by the blast.
The police spent the next 10 hours negotiating with Husain's wife, trying to persuade her to surrender. Husain had tried to help convince his wife to give herself up to no avail, Dedi said.
Around an hour after midnight, the woman blew up two more bombs. The second bomb killed her and the two children, the police suspected. Police have so far recovered body parts from two individuals, a female adult and a two-year-old.
"Husain is an expert at making bombs and recruiting new members [to his terrorist network], but it was his wife who was the real ideologue," Dedi said.
"Husain's wife has always been much more militant than himself," the police officer said.
The police's bomb squad Gegana, including a robot unit, has been deployed to the house to find and defuse more bombs.
"Dozens of houses in the area have been damaged. The bombs used low explosives, but the impact was significant," Dedi said.
"Husain said he had assembled dozens of bombs. His wife had four of them, as well as dozens of kilograms of potassium that can be used as explosives," Dedi said.
Network
The home-made bombs were being assembled by Husain and his group to be used in daring attacks of security officers, according to the police spokesman.
Before Husain's arrest, police had already captured other individuals from the same network in Lampung and West Kalimantan on Sunday. The police spokesman did not reveal how many are now in custody.
"They're all from the same network. They communicate with each other on WhatsApp and Facebook," Dedi said.
Election
Indonesia's Politics, Law and Security Affairs Coordinating Minister Wiranto said the operation in Sibolga was part of a continuing effort to fight terrorism.
"Terror networks get on the move again whenever our security forces do not monitor them," Wiranto said on Wednesday.
According to the minister, the Sibolga blast will not affect security and safety in the country before the general and presidential elections on April 17.
"People will say the election is not going to be safe. I guarantee you, it will be," Wiranto said.
https://jakartaglobe.id/context/wife-of-terror-suspect-blows-herself-up-and-her-children-in-sibolga
--------
Sturgeon Announces £400,000 For Malala-Inspired Pakistan Female Scholarships
14 March 2019
Nicola Sturgeon has announced £400,000 of funding to help disadvantaged women and girls in Pakistan complete their education, inspired by education campaigner Malala Yousafzai.
Previously, the Scottish Government offered a masters degree scholarship to poorer women in Pakistan and a separate programme for disadvantaged and minority children.
Now, the new scheme will provide scholarships to women and girls through their secondary education, undergraduate degree and masters degree.
Pakistan has 25 million children who do not go to school and more than half of them (55%) are girls, according to a Scottish Government report published last year.
For the poorest 20%, two in three girls do not attend school, due to factors such as discrimination, conservatism and lack of facilities and teachers.
The First Minister attended the annual dinner organised by homelessness campaigners Social Bite in Edinburgh on Wednesday evening where Ms Yousafzai, the youngest Nobel Prize laureate, was a guest speaker.
Ms Yousafzai became an activist for female education after being shot by the Taliban.
The First Minister said: "Tackling poverty and inequality is a central aim of the Scottish Government, whether that is at home or abroad and girls still face the largest barriers to accessing secondary and undergraduate education.
"In 2013 we set up a masters scholarship scheme for Pakistani women which was inspired by Malala Yousafzai's courageous campaign for better education for girls.
"The Scotland-Pakistan Scholarship for Young Women and Girls will help a new generation of Pakistani women and girls achieve their full potential and ambitions."
The previous scholarship helped more than 500 women between 2013 and 2016.
More than 5,600 women applied in 2017/18 and 173 scholarships were awarded.
The children's scholarship programme helped more than 4,000 children complete a year of schooling, 2,000 of which were in 2017/18.
https://home.bt.com/news/uk-news/sturgeon-announces-400000-for-malala-inspired-pakistan-female-scholarships-11364345032035
--------
URL: https://www.newageislam.com/islam-women-feminism/saudi-women-activists-persecuted-under/d/118034
New Age Islam, Islam Online, Islamic Website, African Muslim News, Arab World News, South Asia News, Indian Muslim News, World Muslim News, Women in Islam, Islamic Feminism, Arab Women, Women In Arab, Islamophobia in America, Muslim Women in West, Islam Women and Feminism