New Age Islam News Bureau
25 Apr 2020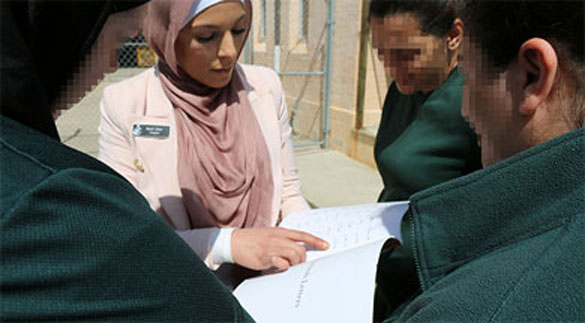 Manal Daher with inmates. (Photo taken prior to social distancing laws).
-----
• Saudi Woman: Plays Key Role in Development March, Building Society
• NSW Prisons Welcome First Female Islamic Chaplain
• Domestic Violence in COVID-19 Lockdown: Palestinian Women Are Dying at an Alarming Rate
• No COVID-19 Furlough for Imprisoned Iranian Women's Rights Activists
• For UAE Muslim Convert, Khadeeja, Ramadan Is Her Favourite Time Of The Year
• Pakistani Muslim Cleric Gets Roasted on Social Media for Linking Coronavirus with 'Immoral' Women
• Iraqi on Genocide Charges in Germany for IS Killing of Child
• Four-Year-Old Fake News About Qatari Princess Caught with Seven Men Resurfaces on Social Media
• Pakistani Actress Mansha Pasha Urges Fans to Pray for Doctors in Ramadan
• Amid Lockdown, Hijab Clad Woman Is Distributing 100,000 Meals A Day in Mumbai
Compiled ByNew Age Islam News Bureau
URL; https://www.newageislam.com/islam-women-feminism/saudi-woman-plays-key-role/d/121671
-------
Saudi woman: Plays key role in development march, building society
April 24, 2020
RIYADH — The Saudi woman, with her thought and action, has succeeded in contributing to the advancement of the march of national development and has become an active partner in the nation's growth and development.
The Saudi women have achieved qualitative leaps in various fields ranging from science and economy to politics and societal development.
The Kingdom's wise leadership is keen and caring to empower, support, enable and promote the role of the woman at all levels. This has enabled the Saudi woman to move forward with confidence and competence, contributing remarkably to the future of her country.
While widely sharing the role with men in the service of society and the nation, the Saudi woman is relying on the absolute confidence being given to her pivotal and vital role by the wise leadership in contributing her share in the national growth story.
Following social, economic and civil reforms, since 2015, woman has witnessed unprecedented steps in order to enhance and empower her status in a way consistent with her capabilities to achieve more successes in various fields.
And for this purpose, new legislation have been enacted regarding regulations and laws related to her, while the goals of the Kingdom's Vision 2030 empowered the Saudi woman to be a key element in national development.
The leadership has paved the way for her to be a contributor to various aspects of development at a time that the vision's programs and executive initiatives have strengthened her status while enabling her to realize her aspirations and ambitions.
The Saudi woman is witnessing an exceptional phase, represented in her actions to serve the society. In recent years, the Saudi woman has accomplished various achievements, especially in the social aspect. This is due to the deep connection with the nature of a woman and her responsibility towards her family and the society.
Many women in Saudi Arabia are now known as leaders in the social sphere, filling positions in universities, ministries and institutions, concerned with enabling and rehabilitating women in the community.
The Arab Women's Committee, under the umbrella of the Arab League, declared Riyadh as the Capital of Arab Women 2020 under the slogan "Woman is Homeland and Ambition", and this declaration comes as an affirmation to the role of the Saudi women and to the continued support provided to them by the government.
The declaration also comes as proof of the advancement of Saudi women working in high positions, and their presence in local and international events confirms that Saudi women have gained the trust, which is deserved, of the wise leadership. This has enabled them to participate and deliver their opinion in the international community.
In line with the efforts of the Kingdom to serve the cases of Arab women and support the development of societies, Saudi Arabia's capital, Riyadh, in February 2020, hosted the works of the 39th session of the Arab Women's Committee that was held under the slogan "Empowering Women... Development of Society".
This session aimed to advance women's status, support their rights through economic and social empowerment and highlight their leadership and influential role in vital sectors.
To fulfill the dreams, hopes and ambitions of Saudi woman in the field of community service, the National Transformation Program (NTP) 2020 increased the participation of Saudi women in labor community, by enabling them to work in higher positions.
In this regard, Dr.Deema Saleh Alathel was appointed as a representative of private sector institutions and DeemaAbdulaziz Al-Sheikh was also appointed as a representative of civil society institutions.
The government has also established specialized centers and launched initiatives for women to train them in order for them to fill leadership position and enabling them to be decision makers.
One of these initiatives is the "Leadership Training and Guidance for Female Cadres" initiative that aims to train up to 1,700 females working in the public and private sectors to be promoted to leading positions.
The Leaders Development Center also launched the "Rakeen" initiative that aims to enhance capacity building for women leaders, which enables them to achieve the strategic objectives of charity and voluntary sector via a package of training and development programs that will provide them with the needed leadership skills to promote charity and development organizations and to achieve social development effectively.
The Saudi woman is known as an active player in the social sphere through her outstanding contributions to charity and voluntary works and in the service of the society.
The Saudi women's charitable efforts are distinguished by their following organized and official methods, participating in voluntary associations concerned with women; their education and the difficulties that they face.
Some of the associations are independent, while other associations are under the supervision of the Ministry of Human Resources and Social Development, which specified numerous programs and initiatives to achieve its strategic objective that aims at supporting women and increasing their participation in the labor market.
The nonprofit charitable sector in Saudi Arabia is witnessing rapid growth and the women have a pivotal role in it, attempting to achieve the Vision 2030 and benefiting from the ministries' initiatives to play their role and fulfill the ambitions of the leadership and the society.
The initiatives that have been provided by ministries to empower women include the "Promotion Flexible Work" initiative, which aims to increase the number of female workers by providing flexible working hours, and the "Promotion of Remote Working" initiative, which aims to create a flexible recruitment method for those who face difficulty to be in the workplace.
This is in addition to the "Support and Facilitation of Women's Transportation" initiative and "Providing Care Services for The Children of Working Women" initiative, as well as "Parallel Training to the Requirements of the Labor Market" initiative, which aims to develop women's personal and technical skills to help them in the labor market.
The conference of the Role of Saudi Woman in Development entitled "Towards a Vibrant Society", held in February 2019 in Riyadh, reaffirmed the role of Saudi woman in building a vibrant society. The conference was organized by the National Observatory for Women in King Saud University and General Authority for Statistics (GaStat), with the participation of UN Woman and Alwaleed Philanthropies.
The National Observatory for Women indicators were launched in this conference, which are considered as tools supporting the periodical measurement of Saudi woman participation in development. They are also considered one of the tools for developing strategies related to woman in Saudi Arabia.
At the opening of the conference, Minister of Human Resources and Social Development Eng. Ahmed Bin Sulaiman Al Rajhi asserted that the Saudi Vision 2030 has determined the road map and specified all national goals to empower woman, so that she becomes a real and active partner in developing our country.
He added that the vision has also developed executive programs and initiatives, which will transfer all our hopes into real achievements. He said that the undertaken works to ensure women empowerment in our country comes with total conviction that is derived from the Islamic principles, which give woman all her rights while offering her psychological and social protection.
Eng. Al Rajhi also stated that "since the foundation of our country, and its recent take off, the government has paid attention to woman's basic rights and needs and to achieve this, women empowerment programs have been designed especially in labor and education.
"At present, Saudi woman scores high in both work and education. Moreover, she participates in many outstanding scientific researches at both local and international levels. Saudi woman has also succeeded in the business sector, in addition to the management of corporations, banks and non-profit associations."
The Saudi woman continues to contribute effectively in advancing development through voluntary work, and the Saudi Vision 2030 believes and focuses on developing voluntary work. The wise leadership believed in the importance of voluntary work and provided a positive environment to promote the growth of voluntary sector.
Moreover, Saudi Arabia's Vision 2030 states that one of its goals is to increase the number of volunteers from 11,000 currently, to one million volunteers per year by 2030. Therefore, empowering woman in the voluntary sector is one of the pillars to achieve Saudi Arabia's development plan.
Considering the main role of women in development and the service of the society, the objectives of the Vision 2030 focused on ensuring the women's full participation in society's development since development and social construction cannot be reached except with the participation of women.
The Vision 2030 provided the support for women, empowering them to build their future. The Vision 2030 also believed in women's ambitions and has worked to develop their skills and to invest in their energy, in addition to providing the environment and services, which will help them to perform their national responsibilities. — SPA
https://saudigazette.com.sa/article/592295/SAUDI-ARABIA/Saudi-woman-Plays-key-role-in-development-march-building-society
--------
NSW prisons welcome first female Islamic chaplain
April 13, 2020
A Muslim community leader from Sydney's west has become Corrective Services NSW's first female Islamic chaplain.
Manal Daher works two days a week, providing pastoral care, spiritual support and religious advice to female inmates at correctional centres, including at Emu Plains.
"I am here to remind both Muslim and non-Muslim women that we all makes mistakes, but it's never too late to change our paths in life," Ms Daher said.
"I feel it is important that female inmates hear from a female voice as they feel more comfortable sharing parts of their lives with a woman rather than a male chaplain."
Ms Daher has worked in the Sydney Muslim community over the past decade and is NSW's first formally-qualified female Islamic Chaplain.
She runs her own organisation, Unity 4 Our Community, at Chester Hill, which assists Muslim women from broken families and relationships to access housing and other services or reconnect to the Islamic faith.
While working at the prisons, Ms Daher provides one-on-one counselling to inmates and teaches inmates to read the Qur'an and Arabic language during group sessions.
Ms Daher is one of around 80 full-time, part-time and volunteer chaplains from various faiths. There are currently 17 female chaplains.
"Not only do they assist the wellbeing and rehabilitation of offenders, chaplains are there to support correctional centre staff and inmates' families during times of stress and trauma," Mr Mascord said.
Ms Daher has also been a Qur'an teacher for more than ten years, a Disaster Recovery Chaplain and runs a charity called A.F.A.S Inc, which assists orphans and refugees in Turkey.
https://westernweekender.com.au/2020/04/nsw-prisons-welcome-first-female-islamic-chaplain/
--------
Domestic Violence in COVID-19 Lockdown: Palestinian Women Are Dying at an Alarming Rate
NIVEEN GHONEIM
APRIL 24, 2020
When asked about the seismic social and cultural changes pandemics have historically brought about, Yale Professor Frank Snowden, the world's foremost expert on the history of epidemics, compared infectious diseases to mirrors that reveal us to ourselves.
"Epidemics allow us to understand humanity and history. They touch the most intimate fibers of our human nature … They ask us questions of life and death and our attitude towards both. They ask us about our ethics. They show us if our world cares about the neediest people. Epidemics are like looking in the mirror of humanity," Snowden said.
Predictably, the COVID-19 pandemic has swept through nations and communities, revealing profound and often unpleasant truths about the social and cultural dynamics that informed every aspect of life before it, most notably in soaring domestic violence cases.
In Palestine, femicide and violence against women, issues that have plagued Palestinian society for decades, are now becoming more pronounced. Eleven women have been reported killed since the beginning of 2020, six out of whom were murdered in coronavirus lockdown, according to Palestinian women's rights activist ShathaShiekh Yousef, spokesperson of Tal3at, an intersectional feminist movement.
Since its inception on September 26 last year, Tal3at has organized numerous protests demanding justice for Palestinian women murdered at the hands of their family members or intimate partners. The movement was launched following the heavily publicized case of IsraaGhrayeb, a Palestinian woman who was allegedly beaten to death at the hands of her father and brothers.
With the coronavirus pandemic sweeping through Israel and Palestine, however, the political landscape is quickly changing, virtually eliminating all forms of public dissent and protest in the West Bank and Gaza, where the Palestinian Authority and the Hamas government have declared a state of emergency to deal with the looming public health crisis.
To honor the slain women and raise awareness about the escalating rate of domestic violence in Palestine, the Tal3at movement held balcony protests last Monday, calling on Palestinians to bang on pots and pans or hang signs in their balconies to make their solidarity with women victims of violence known. The protest saw participation from women across Palestine and the Palestinian diaspora, according to Yousef.
"Because of this current crisis and because of the escalation of [gender-based] violence and femicide, we have to find a way to protest even if we can't leave our homes and take to the streets to demonstrate," she tells Egyptian Streets. "We wanted to create noise amid the silence—it is not just silence due to the fact that there are no people in the streets, but it is also [a general] silence when it comes to violence against women and femicide."
The recently enacted state of emergency comes with added risk for Palestinian women. The reduced capacity at which the court system is operating eliminates the mere threat of litigation as a deterrent for perpetrators of violence against women. The lockdown also exacerbates the situation for women locked down with violent family members or spouses.
"[There are] women who suffer violence on a daily basis, be it physical, sexual, economic, political or psychological violence because they are in lockdown with their abusers under the same roof," Yousef explains. "It is also due, in big part, to the fact that the lockdown has created unemployment and an economic crisis that has increased the level of anxiety and stress among people, and this is something that is being exorcised in the form of violence by men towards women in their households."
Violence against women in Palestine has been on the rise for the past decade. According to a 2011 survey by the Palestinian Central Bureau of statistics, 37 percent of women have suffered gender-based violence in Palestine. In Hamas-ruled Gaza, 51 percent of women are victims of violence. In many cases, domestic violence escalates to murder. According to the Women's Center for Legal Aid and Counseling in Jerusalem, 23 women were killed at the hands of family members in the West Bank and Gaza in 2018 alone.
Women's rights activists in Palestine have long demanded legal reforms to offer better protections to women victims of violence, accusing Palestinian judiciary of undue leniency in dealing with perpetrators of femicide.
In addition to patriarchal social norms and culture, observers have attributed this rise to article 99 of the Palestinian penal code, which allows judges to issue reduced sentences for perpetrators of femicide, namely in honor killing cases. The law was amended in 2018, but Palestinian women continue to face increasing levels of gender-based violence.
In Israel's Palestinian communities, women face similar challenges. According to a 2019 Jerusalem Post report by Emily Schrader and Muhammad Zoabi, 50 percent of the victims of gender-based violence in Israel are Arab women. These figures are starkly alarming because Arab-Israelis only account for 20 percent of Israel's population, which is a strong indicator that Arab-Israeli women are disproportionately affected by gender-based violence.
Furthermore, statistics suggest that Arab-Israeli women enjoy less protection from the country's law enforcement. "In murder cases against Arab women, the state [of Israel] has only a 20 percent success rate in holding the perpetrators accountable," Schrader and Zoabi report.
"We have seen over the years that there are no serious legal measures taken against the killers of women [in Israel], except for very few cases. Many cases get dismissed for lack of evidence or because of tribal adjudication or family resolutions, which we believe to be very unfair to women who are killed and abused," Yousef explains. "As Palestinian women living in [Israel], we are subject to Israeli laws that discriminate against us on two levels: as women and as Palestinians. As an occupation regime, it is not really concerned about protecting us."
Yousef claims that many Palestinian-Israeli women who turn to Israeli police to report incidents of violence, harassment or sexual assault are blackmailed and dismissed.
The coronavirus pandemic may have exacerbated Palestine's gender-based violence epidemic, but the Israeli occupation and the archaic legal and social protection frameworks in the West Bank and Gaza had long conspired to create the elaborate matrix in which Palestinian women across Israel and Palestine are marginalized, disenfranchised, abused and even killed with impunity.
"The occupation commits crimes against our people, the Palestinian Authority oppresses us and so does Hamas in Gaza. This is why the law, be it Palestinian or Israeli, doesn't protect us, as women, from violence," Yousef says. "We are not demanding that the laws be changed because when we talk about a law to protect women in Palestine, we are talking about two systems that women live under—the Israeli occupation and the Palestinian Authority, and they are both oppressive regimes."
The answer, according to the activist, is reshaping the discourse about Palestinian women's rights and making it an integral part of Palestinian politics. "No free country can exist without free women. … We can't understand violence outside the context of the occupation that Palestinian men and women endure," Yousef explains.
"The Tal3at movement aims to redefine national liberation because liberation doesn't end with liberation from the occupation, we also have to work to free everyone in Palestinian society from violence, poverty, exploitation and all other forms of marginalization."
https://egyptianstreets.com/2020/04/24/domestic-violence-in-covid-19-lockdown-palestinian-women-are-dying-at-an-alarming-rate/
--------
No COVID-19 furlough for imprisoned Iranian women's rights activists
Apr 24, 2020
This week we highlight how women face increased vulnerability and risk of abuse during the pandemic lockdowns in the region, as well as the plight of women prisoners of conscience in Iran; how interreligious and LGBT couples are finding it even harder to connect under quarantine; and why we can't give up on Yemen.
This trend isn't unique to the region: There has been a troubling worldwide upward trend in domestic violence, including sexual abuse, against women and children during COVID-19 lockdowns. But there are culturally specific dimensions to it.
In Gaza, the AISHA Association for Women and Child Protection has documented a 30% increase in violence against women and 36% against children during the lockdown, as traditionally male-dominant households come under the stress of quarantine.
The closing of the courts in Gaza has made women more vulnerable, writes Hana Salah. Some divorced women are not receiving alimony, and fathers are denying mothers custody rights to their children. With the courts closed and the police focused on quarantine enforcement and other matters, there is little these women can do.
"Many complaints have been lodged with organizations that deal with violence against women, but many women dare not speak out for fear of their aggressors," writes Hanan Hamdan.
The Internal Security Forces, working with the National Commission for Lebanese Women, a nongovernmental organization, launched a national campaign this month to encourage women to report domestic violence they experience or witness.
In Iran, Leila Alikarami points out that while Iran has released 85,000 prisoners to prevent the spread of COVID-19 in the country's prisons, two notable women's activists, human rights lawyer Nasrin Sotoudeh and vice president of the Defenders of Human Rights CenterNargesMohammadi remain in prison.
"Despite Beirut's reputation for being the party capital of the Middle East," writes Wael Taleb, "Lebanon is still in many ways a conservative country. This includes interreligious marriages that are poorly viewed in the country, adding pressure to most interreligious relationships in Lebanon."
More so for Lebanon's LGBT community, which, Taleb continues, "face difficulties not felt by non-LGBT residents, and even though they are considerably freer than in other parts of the Middle East, society is still largely traditional when it comes to gay rights."
"'It makes me sad that my parents will never meet my partner,' Hasan [name changed, told Al-Monitor], 'In fact, the other day my father was talking about how he and his coworkers made fun of a guy because he was gay, so telling him is not the best idea.'"
"With the increasing number of domestic abuse cases in Lebanon due to home quarantine, and having to spend most of their time at home in the months to come," Taleb concludes, "individuals such as Hasan are not eager to have any discussion about their love lives with their parents."
The Saudi-led coalition announced a one-month extension of the cease-fire in Yemen April 24, and we think that's a hopeful kickoff to Ramadan.
The announcement follows a Ramadan appeal by UN special envoy Martin Griffiths to "put down the arms. Release all those who lost their liberty due to the conflict. Open humanitarian corridors. Focus on coordinating your efforts to help your country respond to the pandemic outbreak and other emergency needs."
Last week this column called on "all parties, including Iran, to double down on Griffiths' efforts and back the Saudi-led coalition cease-fire. There is not a more impactful step to be taken at this time, and the stars are aligned."
With regard to Griffiths' plea to "release all those who lost their liberty," those releases should include four journalists sentenced to death by the "Houthi-run Specialized Criminal Court." The case of the four reporters has been championed by the Yemeni Journalists Syndicate, the Federation of Arab Journalists, Reporters Without Borders and the International Federation of Journalists, which has warned of legal action against Houthi officials if they carry out the sentences. Ammar al-Ashwal has the story here.
Bryant Harris reports that "the Donald Trump administration is expected to provide slightly more COVID-19 relief to Yemen after cutting $73 million in humanitarian aid for the war-torn country last month. But Washington has yet to spell out its game plan for ensuring that assistance reaches the majority of the Yemeni population given Trump's recent decision to end funding for the World Health Organization (WHO) and the US refusal to administer assistance in Houthi-controlled territory."
Although there has only been one case of the coronavirus reported in Yemen so far, "there are reports that other cases are being kept under wraps so as not to discourage potential fighters from joining the war," reports Nadia al-Sakkaf.
"The Saudi-led blockade on Yemeni ports has probably helped delay an outbreak in the country," Sakkaf continues, "and the Houthis' military regime has appointed two lookouts in every neighborhood to keep track of any suspicious illnesses or deaths and report them to the authorities."
"Yemenis joke that the COVID-19 virus has been traveling around the world and decided to skip Yemen because the other diseases have it covered," writes Sakkaf.
https://www.al-monitor.com/pulse/originals/2020/04/women-children-iran-imprisoned-lockdown-covid19-coronavirus.html
--------
For UAE Muslim convert, Khadeeja, Ramadan is her favourite time of the year
Ashwani Kumar
April 25, 2020
For Khadeeja, a new Muslim, Ramadan is her favourite time of the year as the UAE presents an environment for complete devotion to Allah.
Khadeeja (formerly Shirley Rodriguez) is a Spanish Cuban born into a Catholic family. But now, she is fully committed in her effort to be closer to Allah.
"I went to a Catholic school. I couldn't fully understand the meaning of Christianity. Later, my family moved to London where I completed my graduation in journalism. Then I stopped religious practices as it wasn't coming from my heart."
The mellifluous call for prayer from th Sheikh Zayed Grand Mosque entranced her. "I first heard azaan during fajr. It was one of most special experiences of my life. I didn't understand it but I slept in peace. I visited the Grand Mosque, which was very special."
"I had job and family but I felt something was missing - it was Allah. It would have been hard for me to embrace Islam in the UK, where the religion is misinterpreted. Even as I loved London, I had to return to Dubai. It was a call from Allah."
By 2018, she returned and started learning about Islam. After seven months, she decided to embrace Islam. "My family respected my decision. On January 19, 2019, I became a Muslim. I have spent past year to change myself into a better Muslim."
Even as she doesn't speak the language, she prays in Arabic and goes to mosque. From January, she is wearing hijab all through the day. "I have left my bikini back. It all happen step by step and comes from my heart. Allah knows it's genuine. This Ramadan, I am trying to do everything as perfect as possible."
"I am not hungry or thirsty anymore. I am at peace. You can be closer to Allah all year but this holy month, you can see and feel others doing the same. Such environment helps you to focus on your relationship with Allah. Nothing else matters. We must remember the people in need and be grateful for what we have."
https://www.khaleejtimes.com/ramadan-2020/for-uae-muslim-convert-khadeeja-ramadan-is-her-favourite-time-of-the-year
-----
Pakistani Muslim Cleric Gets Roasted on Social Media for Linking Coronavirus with 'Immoral' Women
24.04.2020
New Delhi (Sputnik): Muslim clerics in Pakistan have been grabbing headlines ever since the COVID-19 outbreak. Until Thursday, many clerics were abstaining from obeying the lockdown by calling people to prayer in mosques.
Cleric Tariq Jameel in Pakistan believes that if a Muslim daughter practices immodesty and the youth indulges in immorality, then Allah's azaab (punishment) is brought unto such a nation, while referring to the pandemic.
Jameel was invited for a collective dua (prayer) on a Pakistani news channel on Thursday as part of Prime Minister Imran Khan's telethon programme to speak about the preventive measures of the coronavirus.
While most of the cleric's address included past plagues and religious references, Jameel, linked the outbreak of the pandemic with the immorality of women and their dancing. He expressed dismay over their way of dressing up as well as their dancing, which is considered immodest in more conservative Islam.
Ever since his address, social media has been abuzz over Jameel holding women responsible for the spread of the coronavirus. Netizens are surprised that a man who expressed his desire to be with hoors (angels) in a national address was talking about women's immodesty.
Many Muslim clerics in Pakistan have been opposing the lockdown amid the coronavirus outbreak in order to perform prayers in Mosques. They have said that this is an important time to pray to Allah. Doctors in Pakistan have been warning of a worsening of the situation if people continue to gather for prayers. The authorities have failed to prevent this. In some instances, police have been attacked when they have tried to stop congregations.
https://sputniknews.com/asia/202004241079080275-pakistani-muslim-cleric-gets-roasted-on-social-media-for-linking-coronavirus-with-immoral-women/
--------
Iraqi on Genocide Charges in Germany for IS Killing of Child
April 24, 2020
BERLIN — An Iraqi man went on trial in Frankfurt on Friday for genocide, war crimes and crimes against humanity, on allegations that as an Islamic State member he was part of an effort to exterminate the Yazidi religious minority, and killed a five-year-old girl he purchased as a slave by chaining her in the hot sun to die of thirst.
Taha Al-J., 27, whose full last name wasn't given in line with German privacy laws, faces a possible life in prison if convicted of the charges, and others including murder for the death of the Yazidi girl and membership in a terrorist organization.
No pleas are entered in the German system and Al-J. declined to give any opening comment to the panel of judges hearing the case other than to confirm his identity as the trial opened, according to the court.
Al-J.'s wife, a German convert to Islam identified only as 28-year-old Jennifer W., has been on trial separately in Munich since last April on charges of murder, war crimes and membership in a terrorist organization.
In 2015, Al-J. bought a Yazidi woman and her 5-year-old daughter as slaves at an IS base in Syria, prosecutors allege. The two had been taken as prisoners by the militants in northern Iraq at the beginning of August, 2014, and had been "sold and resold several times as slaves" by the group already.
"Taha Al-J. intended, according to the charges, to exterminate the religious minority of the Yazidis by his acquisition of the two Yazidi females, and to have personal benefits from their services in his household," the Frankfurt state court said as the trial opened.
The United Nations has called the IS assault on the Yazidis' ancestral homeland in northern Iraq in 2014 a genocide, saying the Yazidis' 400,000-strong community "had all been displaced, captured or killed." Of the thousands captured by IS, boys were forced to fight for the extremists, men were executed if they didn't convert to Islam - and often executed in any case - and women and girls were sold into slavery.
After purchasing the woman and her daughter, Al-J. took the two to his household in the Iraqi city of Fallujah and forced them to "keep house and to live according to strict Islamic rules," while giving them insufficient food and beating them regularly to punish them, according to the indictment.
Near the end of 2015, Al-J. chained the girl to the bars of a window in the open sun on a day where it reached 50 degrees Celsius (122 Fahrenheit) and she died from the punishment, according to the indictment. Prosecutors in the case against Al-J.'s wife said the punishment was carried out because the 5-year-old had wet the bed.
The Yazidi girl's mother, who survived captivity, testified at W.'s trial and is also expected to appear as a witness at the trial of Al-J., according to the court.
She's alleged to have made her way to Iraq through Turkey and Syria in 2014 to join the IS. In 2015, as a member of the extremist group's "morality police," she patrolled parks in Fallujah and Mosul, armed with an assault rifle and a pistol as well as an explosive vest and looking for women who did not conform with its strict codes of behavior and dress, prosecutors said.
She taken into custody when trying to renew her identity papers at the German embassy in Ankara in 2016, and deported back to Germany.
https://www.nytimes.com/aponline/2020/04/24/world/europe/ap-eu-germany-islamic-state.html
--------
Four-year-old fake news about Qatari princess caught with seven men resurfaces on social media
24th April 2020
A newspaper clipping is being circulated on social media after old, Islamophobic tweets by BJP MP Tejasvi Surya targetting Arab women resurfaced and subsequently received flak from prominent Arab influencers. The clipping is a report published by DNA which is headlined, "Qatari Princess caught in Orgy with 7 men". It cites a report by British newspaper Financial Times (FT) and says, "Qatari Princess SheikhaSalwa was caught having group sex with seven men at a hotel in London". The same clipping, posted by Twitter handle @TheSquind, has garnered more than 500 retweets. However, @TheSquind has tagged Princess Hend Al Qassimi, a member of the UAE royal family. Qassimi had recently called-out an Indian national working in Dubai for posting racist and discriminatory tweets against UAE.
Furthermore, it is being claimed in the report that when the Qatari Embassy in the UK was notified about the matter, they had offered the media outlet $50 million to kill the story. Twitter handle Kishore K Swamy too posted the clipping and said, "And she is the princess celebrated by Dmk it wing and single-source idiots. Bloody paid campaign rats."
Social media influencer PayalRohtagi, who on several occasions has been found spreading communally-charged misinformation, also tweeted the newspaper clipping with a message targeting journalist Nidhi Razdan.
With a Google search, Alt News found several reports which stated that the news story is "fake". A report published by Firstpost on August 24, 2016, said, "An alleged scandal about Qatari princess which Financial Times, a British publication reported has been termed 'fake'. At the time of writing, a variety of news reports have contradicted the Financial Times story — that has subsequently vanished as several Google searches revealed."
A Twitter search for the oldest article that had cited this alleged FT report revealed that a website named Oddcrimes.com was one of the earliest to cite it. The report published on this website doesn't exist anymore. This alleged report was cited by several other shady websites.
One such website is AWD News. It's a fake news website which had infamously published a piece of misinformation that led to Pakistan issuing a nuclear warning to Israel. Fact-checking outlet Snopes says the website "doesn't have more than a nodding acquaintance with facts, instead playing on nationalistic fantasy and conspiracy theory to create alarming (and thus clickable and shareable) stories". An archived version of the fake news story published by AWD News can be accessed here.
It may be noted that AWD News while quoting an alleged report by FT cited their source as another website called Middle East Press (archive).
Interestingly, this article by middleeastpress.com has also been deleted. This article too cited an alleged report by Financial Times, however, it carries no hyperlink.
Thus, it can be said with certainty that there exists no report by FT which is claimed to have broken the story of a 'Qatari princess caught with seven men'. Moreover, one of the earliest websites that cited this alleged FT report has a history of publishing fake news stories.
In an email response to Mumbai-based English tabloid Afternoon Voice, then Editorial Assistant at FT's Newsroom Michael Lindsay had said, "We understand that the article mentioned by you was originally published on www.awdnews.com, which is not our website. The Financial Times is not responsible for false article published by AWD. Further, it is not the case that the Financial Times has published any such news report, or been involved in any such events, as are mentioned in AWD's false article."
Moreover, the woman whose photo is being shared as Qatari Princess 'SheikhaSalwa' is actually the Chief Operating Officer of Dubai-based Mazrui Holdings Alia Al Mazrouei. You can watch a video interview of her with Dubai-based news outlet Gulf News.
https://www.altnews.in/four-year-old-fake-news-about-qatari-princess-caught-with-seven-men-resurfaces-on-social-media/
--------
Mansha Pasha urges fans to pray for doctors in Ramadan
Apr 25 2020
Pakistani actress Mansha Pasha extended Ramadan greetings to her fans and urged them to pray for the doctors and paramedics who are on the frontlines in the fight against the coronavirus pandemic.
Sharing photos of doctors and paramedics on Instagram and Twitter handles, the ChalayThaySaath actress said: "Past 2 days i have received messages from all over - Bahawalpur to USA, Peshawar to dubai, and back. All of them are saying the same thing - stay home. These first responders are human beings and they have families too. They are risking their lives."
She went on to say" "As a daughter of two doctors and the sister of one who is in the field right now, i can only marvel at the bravery of the frontliners."
"It is hard to look beyond oneself. But this Ramzan, thats what i hope and pray we all do. Lets look beyond ourselves, our petty differences and come together to look after one another."
It is hard to look beyond oneself. But this Ramzan, thats what i hope and pray we all do. Lets look beyond ourselves, our petty differences and come together to look after one another.
https://www.geo.tv/latest/284855-mansha-pasha-urges-fans-for-special-prayers-for-doctors-in-ramadan
----
AMID LOCKDOWN, HIJAB CLAD WOMAN IS DISTRIBUTING 100,000 MEALS A DAY IN MUMBAI
April 9, 2020
Mumbai: Amid nationwide lockdown and complete business shutdown, mass hunger looms for daily-wage earners who live from hand to mouth. NikhatMuhammadi – a hijab clad woman ought to feed such vulnerable groups and is serving almost 100,000 people a day in country's financial capital Mumbai.
As the Covid-19 fear still looming over our heads, hundreds of millions of Indians are forced to stay inside their homes to stem the spread of coronavirus. Apart from the government, medical practitioners, health workers and law enforcement agencies, civil society too has geared up to play its part.
Nikhat along with her team helps to prepare food at Bhisti Mohalla Sunni Muslim GhanchiJamaatkhana in Mumbai and distributes them to nearby slums.
"We were a mere handful of people when we started but now we have more than ten NGOs collaborating with us. Moreover, we only cook vegetarian food as the food distribution is not restricted to any particular community or religion as hunger sees no religion," explains Nikhat.
"No one Ever Sleeps Hungry (NESH) – a food distribution movement for around 200 to 250 people started 8 months ago from Muslim majority locality Nagpada in Byculla under the banner of Food – EkChoti Si Aasha", says Zaheer Dewan – NGO member.
Talking about the "Be Human Foundation" journey so far, Nikhat narrates, "We initially started the distribution with 150 people and today we reached almost 97,000 people. Now we are aiming to reach 500,000 slum dwellers in coming days".
Government issued guidelines are strictly being followed while carrying out the entire cooking and distribution process. The personnel involved wear protective gear and hand glows for containment efforts and to remain protected from the virus.
It is commendable to see a woman coming from a society which expects them to remain closed doors, is running and leading such large initiative along with men counterparts.
https://theshahab.com/blog/2020/04/09/amid-lockdown-hijab-clad-woman-is-distributing-100000-meals-a-day-in-mumbai/
--------
URL: https://www.newageislam.com/islam-women-feminism/saudi-woman-plays-key-role/d/121671
New Age Islam, Islam Online, Islamic Website, African Muslim News, Arab World News, South Asia News, Indian Muslim News, World Muslim News, Women in Islam, Islamic Feminism, Arab Women, Women In Arab, Islamophobia in America, Muslim Women in West, Islam Women and Feminism