New Age Islam News Bureau
15 March 2018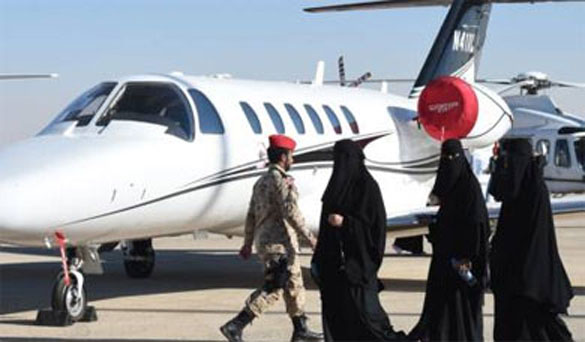 The latest decision to encourage Saudi women to wear uniforms in areas that had been restricted to men marks the spectacular breakthrough in their steady empowerment.
----
• 85pc Women Face Harassment in Karachi: Experts
• Two Women and Three Children Vandalise Mosque in the United States
• Saudi Women Allowed To Join Civil Defence
• DWE to Host 'Insta Hub - A Platform for Women E-Traders'
• Iran: Women Participate In Protests In Rasht, Arak, Tehran, Etc.
• Iran: Message Of a Suffering Woman on Iranian New Year's Eve
Compiled by New Age Islam News Bureau
URL: https://www.newageislam.com/islam-women-feminism/saudi-woman-minister-tells-un/d/114603
--------
Saudi woman minister tells UN of female jobs bonanza in Kingdom
JAMES REINL
15 March 2018
NEW YORK: Saudi Arabia is helping ever-more women into the workplace, with everything from college places to schemes for nurseries and transport, one of the Kingdom's highest-ranking female officials told the UN on Wednesday.
Tamadar bint Yousef Al-Ramah, who was appointed as deputy minister of labor and social development last month, addressed the Commission on the Status of Women (CSW) meeting in New York — a major annual women's rights gathering.
"The Kingdom of Saudi Arabia believes work is a woman's right," Al-Ramah told delegates. "We have put in place a program that supports the economic empowerment of women and increases her participation in the workplace."
Women now make up 56 percent of Saudi university graduates, she said. Some 205,000 female students receive grants to study abroad each year and women are bagging more jobs in private, public and government institutions, Al-Ramah said.
The speech came as Crown Prince Mohammed bin Salman implements the Vision 2030 reform agenda, which aims to raised the participation of women in the Saudi workforce from 22 percent to 30 percent by 2030.
Saudi officials are also loosening social restrictions on women, who can now attend sports events and will be allowed to drive cars from June as the Kingdom embraces a more open and tolerant interpretation of Islam.
But while there have been fast-paced changes in Saudi, the situation for women in the occupied West Bank and Gaza is one of stalled progress, Al-Ramah said under the UN General Assembly hall's domed roof.
"Palestinian women, similar to other women around the world, have the right to practice economic political and social activities, and this is impossible under the policy of blockade and colonialism practiced by Israel, the occupying power," Al-Ramah told delegates.
The UN's CSW gathering brings together some 6,000 envoys, campaigners, and activists for the world's largest annual events on making life better for women and girls, particularly those in developing countries.
http://www.arabnews.com/node/1266526/saudi-arabia
--------
85pc women face harassment in Karachi: Experts
March 15, 2018
KARACHI - Every woman has a story behind her, some have courage to tell it to the world, and some are not confident enough to share with their family even. About 85 per cent female face harassment of different kind on routine basis at various public places throughout the city, most importantly during travelling via public transport.
These views were expressed by Prof Dr Khalida Ghaus, Managing Director, Social Policy and Develop Centre (SPDC) while addressing the interactive seminar on the topic "The protections against harassment of women at workplace", organized by Ziauddin University on Wednesday. "It is known to all that we have full-fledge procedure of law with a view to file complain against cases pertaining to harassment but women usually feel frightened to report cases of such nature which certainly becomes a taboo in our society," she added.
The objective of this event was to create an in-depth awareness in the society regarding harassment faced by the females in our society and making all effective measures to nip this evil of harassment in the bud from all the facades of our society.
Dr Ghaus further stated that we need to provide knowledge related to the actual mean of harassment; we need to exaggerate the level of self-belief, optimism and confidence in woman to communicate with men pragmatically and boldly. The burden of self-esteem, respect and dignity that a woman is carrying on her shoulder is the main reason that she fails to confess how she is being exploited. Collectively we need to work on this we should break stereotypes; we should give them strength to raise their voices. Social activists Advocate Zia Ahmed Awan said that in our society discrimination starts even before the child is born. Large number of cases for harassment that I have received is mostly of maids. While addressing to the audience he said "you are not a good person if you are not helping others. Let's work together, let's think about voiceless people." Psychologist Dr Atia Naqvi motivated women by saying that "You have to hold your heads high, you have to make yourself strong , trust your judgment don't hide your feelings if you are not comfortable with anyone say it louder, learn to treat yourself with respect, otherwise it would be difficult for you survive in this society".
Prof Dr Sirajuddaula Syed, Senior Pathologist, talking to the audience said that we are living in a society where females are handicapped and can't speak for their rights. We as a society should teach them about their basic rights.
https://nation.com.pk/15-Mar-2018/85pc-women-face-harassment-in-karachi-experts
--------
Two women and three children vandalise mosque in the United States
15 Mar 2018
PETALING JAYA: The United States witnessed yet another case of Islamophobia after a mosque in Arizona was vandalised.
The Huffington Post reported that three Facebook live videos published on March 4 saw two women and three children vandalised and stole materials at a mosque in Tempe, Arizona.
The two women, Facebook user Tahnee Gonzales and Elizabeth "Liz" Dauenhauer took three unidentified children on a trip to the mosque to apparently "collect information" and to "expose mosques" in an attempt to teach the children how to be "American patriots".
The video first begins with the group stopping at a mini shopping centre which includes a store and a Muslim-owned restaurant. The women then discussed what they claimed to be the illegal invasion of Muslims into the country while the children followed closely.
Inside the mosque, the group then proceeds to take flyers off a bulletin board. As they enter a prayer area, they bump into a worshipper and accuses the worshipper of eating dogs and engaging in paedophilia.
The shocked worshipper is heard trying to pacify the situation.
According to Huffington Post, in another video, the group can be seen singing along to a Donald Trump song in the car urging viewers to raise their children to be patriots.
Gonzales is also heard telling viewers that Muslims were destroying America and were "devil Satan worshippers".
The women also praised the children for their racist comments and for participating in the burglary.
The children in the video were also seen climbing on top of the mosque's funeral van and are warned about "dead Muslims" and "sex goats."
Gonzales also rallies viewers to fight Islamic religious law and condemns Muslim Democratic candidate in Arizona for the US Senate, Deedra Abboud, as being a threat to America.
However, Abboud has called the women's actions as not representative of American values.
The women were said to be part of the Patriot Movement AZ, in which the Southern Poverty Law Center has called them a "fringe group being energised and influenced by the president's over-the-top rhetoric on immigrants and Muslims."
Huffington Post pointed out that Abboud had confirmed that Gonzales had been removed from the Patriot Movement AZ before the incident happened.
Ahmad Al-Akoum, the imam of the Islamic Community Centre of Tempe, where the incident occurred had delivered video evidence of the incident to the authorities.
He said although it was not the first time that the mosque was involved in a hate crime, he said it shocked the community to see young children also participating in the attack.
Arizona chapter of the Council on American-Islamic Relations executive director Imraan Siddiqi had also expressed his disgust at the fact that children were involved and were taught to hate people based on their belief system, what they looked like, or the colour of their skin.
The women have yet to be charged or be taken into police custody.
https://www.thestar.com.my/news/world/2018/03/15/two-women-and-three-children-vandalise-mosque-in-the-united-states/
--------
Saudi Women Allowed To Join Civil Defence
March 15, 2018
Manama: In January, they were allowed to join the General Directorate for Passports and in February, they gained the right to become soldiers. Now in March, Saudi women are being allowed to join the kingdom's civil defence force.
Deputy Director General of Civil Defence for Safety Affairs Abdul Rahman Al Hussaini said there have been several meetings with the civil service ministry to recruit women as safety officials in the Civil Defence and in the public sector.
Technical safety and civil defence courses will also be offered to both men and women in colleges, he said, Saudi daily Okaz reported on Thursday.
"We are working with the Ministry of Education to adopt safety engineering and fire science courses for both sexes in a number of universities," he said. "We have covered up to 50 per cent with Princess Nourah University, and we continue to work with other universities on the matter. There is a wide participation by women, especially during Haj and Umrah, in performing specific tasks," he said in the Saudi capital, Riyadh, as he highlighted Civil Defence achievements in the last 18 months.
The latest decision to encourage Saudi women to wear uniforms in areas that had been restricted to men marks the spectacular breakthrough in their steady empowerment.
The elevation of the status of women in Saudi Arabia is being promoted as part of the 2030 Vision launched by Crown Prince Mohammad Bin Salman.
Women's causes are being supported mainly by Shura Council members and the media.
In February, Shura Council Member Iqbal Darandari called for imposing mandatory training on Saudi men and women so that all Saudis can defend their country.
"Conscription is today a national necessity and should include both men and women," she said.
"Women must be trained to serve their country and defend themselves and their homeland in case of a crisis, war or attack in any region."
Saudi women are naturally strong and valiant and everyone would feel more comfortable with the knowledge that well trained women can defend the nation, she added.
Later in the month, Saudi authorities opened up army registration to women and gave them one week to submit their applications as part of the process that included personal interviews and tests.
The general directorate said that the successful candidates would be appointed to institutions in Riyadh, Makkah, Madinah, Qaseem, Aseer, Al Baha and the Eastern Province.
In January, the General Directorate for Passports announced that it would be recruiting 140 women, but officials were surprised to receive 107,000 applications.
http://gulfnews.com/news/gulf/saudi-arabia/saudi-women-allowed-to-join-civil-defence-1.2188352
--------
DWE to Host 'Insta Hub - A Platform for Women E-Traders'
March 14, 2018
Dubai Women Establishment (DWE) is set to host, in collaboration with the Department of Economic Development (DED), 'Insta Hub - a platform for women e-Traders', as the first of various initiatives and projects which the two parties plan to launch over the coming months. The event is being held in line with a partnership agreement signed by DWE and DED to support e-Trader licence-holders at Dubai Ladies Club in Jumeirah, from March 19 to 20.
'Insta Hub - a platform for women e-Traders' has been organised to help UAE and GCC female nationals who own e-businesses in marketing their products and services and reaching a larger range of consumers inside and outside of the country, through the e-Traders licences issued by DED to conduct business activities on social networking sites.
The event will feature workshops conducted by experts and specialists from DED who will deliver complimentary consultations, as well as talks by successful UAE e-business owners, and provide attendees with an opportunity to network with fellow entrepreneurs. The event will also include an exhibition to showcase a range of products from entrepreneurs across the UAE.
The 'Insta Hub' event is part of a partnership agreement signed between Dubai Women Establishment with the Department of Economic Development (DED) to register 36 e-Trader licences free-of-charge to UAE and GCC women who have established businesses on social networking sites. DWE supports female DED e-Trader licence holders by sharing details about their events with DWE's database and Dubai Ladies Club members, and promoting them via the Establishment's social media channels. DWE also provides the women e-Traders with a 30 per cent discount on annual membership and services provided by Dubai Ladies Club and the 'Al Asalla Spa', and organises exhibitions for their products and services at the Club's premises.
The agreement was signed by Shamsa Saleh, CEO of Dubai Women Establishment, and Omar Khalifa, deputy CEO of Commercial Compliance & Consumer Protection (CCCP) sector in DED. The ceremony was also attended by Lamia Abdulaziz Khan, Director of Dubai Ladies Club, Sultana Saif, Corporate Director of Development and Research at DWE and Maitha Shuaib, director of the corporate communications department at DWE, alongside DED representatives.
Omar Khalifa, said: "We are delighted to partner with Dubai Women Establishment to bring together leading business women in the UAE, and create more opportunities for doing business on social networking sites."
He added: "The Department of Economic Development is promoting further economic activity in Dubai by creating partnerships with government and private sectors. Our partnership with Dubai Women Establishment will add value to traders across social media channels. We will also enable social media entrepreneurs to participate in exhibitions held in the UAE, and open new channels for them in co-operation with major retail outlets." - business@khaleejtimes.com
https://www.khaleejtimes.com/dwe-to-host-insta-hub---a-platform-for-women-e-traders
--------
Iran: Women Participate In Protests In Rasht, Arak, Tehran, Etc.
14 March 2018
Women and men plundered by the IRGC-backed fraudulent Caspian Institute gathered in protest outside its office in Golsar district of Rasht, on Tuesday, March 13, 2018.
The protesters first chanted slogans outside the office and then entered the office of the institute. They chanted, "Every Iranian must seek Rouhani's interpellation" and "We want no hollow promises, give us our money back!"
On the same day, house owners in Arak, Central Province, staged a protest outside the Governor's Office against officials' inaction. More than 1,800 families in this city are awaiting their answers regarding their housing from the government.
In another development on Tuesday, March 13, teachers in Tehran and other cities staged protests demanding freedom of imprisoned teacher, Mohammad Habibi. They wrote on their classes' blackboards or held placards, demanding his release: "Teachers do not belong inside prisons."
Also the students of Science and Industries University (Elm-o San'at) in Tehran held a picket line in protest to the sentences issued for students, including Leila Hosseinzadeh. They held placards which read, "Our collective spirit has not died", "Every one of us is a Leila Hosseinzadeh", "Where is Parisa Rafii?"
http://www.women.ncr-iran.org/iran-women-news/4883-iran-women-participate-in-protests-in-rasht-arak-tehran-etc
--------
Iran: Message of a suffering woman on Iranian New Year's eve
14 March 2018
Farangis Mazloumi, mother of political prisoner Soheil Arabi, sent a message to her fellow compatriots on Tuesday, March 13, 2018, only a week ahead of the Persian New Year.
She called on parents of political prisoners to gather outside the Greater Tehran's Prison in Fashafouyeh for the New Year rituals. Ms. Mazloumi wrote in part:
In protest to the beating and transfer of Golrokh Iraee and Atena (Daemi), Soheil went on hunger strike and demanded that the two women be returned to Evin Prison. Soheil was subsequently brutalized and banished to the Greater Tehran's Prison. He has been beaten repeatedly to compel him to break his hunger strike. But he has continued with his hunger strike.
Today, I went to the prison to visit my son, but they prevented our visit. They said I cannot visit him because he has been transferred to another ward.
They broke my heart and my heart broke into one thousand pieces.
Now, I am addressing you, my dear compatriots, particularly the fathers and mothers of political prisoners. The New Year is coming. Let us take our Haft-Seen arrangements to the front of the Greater Tehran Prison and in this way let our children know that we are standing by them. We will never forget them. Our children are imprisoned for freedom. They want freedom so that all the people can live together in peace and friendship.
http://www.women.ncr-iran.org/iran-women-news/4882-iran-message-of-a-suffering-woman-on-iranian-new-year-s-eve
--------
URL: https://www.newageislam.com/islam-women-feminism/saudi-woman-minister-tells-un/d/114603
New Age Islam, Islam Online, Islamic Website, African Muslim News, Arab World News, South Asia News, Indian Muslim News, World Muslim News, Women in Islam, Islamic Feminism, Arab Women, Women In Arab, Islamophobia in America, Muslim Women in West, Islam Women and Feminism