New Age Islam News Bureau
8 Feb 2014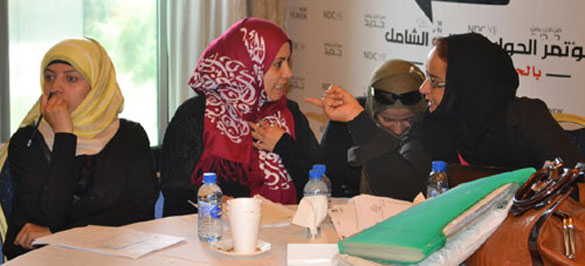 Photo: Yemeni Women Struggle To Achieve 30% of Their Participation
-----------
• Sex Workers Call on South Sudan Government to Promote Safer Sex with Army and Police
• Christian Girl Abducted, Converted and Forced To Marry a Muslim in Lahore
• Young British-Somali Women Fight FGM with Rhyme and Reason
• Female Literacy in Pakistan: Four Cities to Have New Women Universities
• Expats Married to Saudi Women Entitled To Pension
• Taliban and Government Imperil Gains for Afghan Women, Advocates Say
• Hijab Suggestion for Non-Muslims in Aceh Draws Criticism
• UAE Praised for Empowering Women as Lecture Highlights Islam's Equality
• Yemeni Women Struggle To Achieve 30% of Their Participation
• Muslim Woman Says Saddle Brook Managers Demanded She Remove Headscarf
Compiled by New Age Islam News Bureau
URL: https://newageislam.com/islam-women-feminism/saudi-woman-loses-life,-denied/d/35652
------------
Saudi Woman Loses Life, Was Denied Medical Help under Gender Law
February 07, 2014
The death of an ailing woman student at a Saudi university has stirred controversy on social media after an ambulance was denied access under the conservative Muslim kingdom's segregation laws. Amna Bawazeer, 24, died of a heart attack in the compound of the social sciences faculty of Riyadh's King Saud University.
Local media said medics in an ambulance were denied access because they were not accompanied by a "Mahram", a legal guardian or male member of her family.
Angry female students have gone on Twitter to blame faculty officials for Bawazeer's death.
But the university's administration hit back in a statement to stress that the student had suffered from a heart condition from the age of four.
She had died of a heart attack which proved fatal, despite the best efforts of the faculty's own infirmary to save her life.
In 2002, 15 young girls died in a school fire in the holy city of Mecca after religious police blocked their evacuation because they were not dressed in keeping with Islamic codes.
Witnesses said men in the civil defence were kept at bay because the children, aged 12 to 14, were not veiled or wearing the long, black "Abaya" robe which covers the entire body.
Saudi Arabia imposes a strict interpretation of Islamic laws, notably a segregation of the sexes, and does not allow women to work or travel without the authorisation of a male guardian from her family.
It is also the only country in the world that bans women from driving.
http://www.hindustantimes.com/world-news/saudi-woman-denied-ambulance-dies-due-to-lack-of-male-companion/article1-1181679.aspx
------------
Sex Workers Call on South Sudan Government to Promote Safer Sex with Army and Police
February 8, 2014
As a single mother of seven, Ajeng*, 35, was forced into sex work to support her children when she could find no other job.
In 2006, Ajeng discovered she was living with HIV and as a result her marriage broke down. Fortunately her children are healthy and living without the virus. In 2009, Ajeng, who is originally from Uganda, moved to Juba city, South Sudan in search of work as she could not find any in Uganda.
She was with her friend Arche*, 37, a single mother of five. The pair related how, since their husbands left them, they are in charge of their family's basic needs but life became so hard that they could not afford to provide for their children's school fees, medication, food, shelter and other personal needs.
Becoming a sex worker
In Juba, they did everything to look for a formal job but couldn't find anything and took up sex work following their friends' advice. They now both work in the old Custom market and are able to support their families' basic needs.
Arche is a widow who found out her HIV status before her first child was born; but her children are HIV negative.
In 2010, they joined the sex workers' group, they were introduced to the rest of the members and given guidance on the correct and consistent use of condoms before they started work. Arche and Ajeng explain that they face many challenges from their clients who are both civilians and army staff. Some clients reject the use of condoms during sex even though the pair disclose their HIV status.
Violence against sex workers
Arche and Ajeng also cited an example where a police officer raped a woman who is HIV positive. Ajeng said: "These people will all die if they don't lose their attitude of forceful unprotected sex." And the 'clients' aren't only putting themselves at risk, because after sleeping with the sex workers without protection, many go and have sex with their wives or their girlfriends, and sometimes even with young girls who are not able to negotiate protection.
Another issue Arche and Ajeng raise is how condoms should not be distributed to sex workers in open areas but through their network leaders because the police harass them when receiving the condoms.
But the work isn't all bad, they explain. Arche and Ajeng have some clients who are responsible and always ask for protection, and even leave without having sex if they don't have any condoms. They consider some of them as friends and some even like husbands.
Sex workers promote safer sex
Mindful of their HIV status, Arche and Ajeng visited the Juba Teaching Hospital to recruit people in the counselling team to try and target army personnel and the police because they are particularly at risk as many of them are their clients.
The sex workers' group has a social network all over Juba, with members from the neighboring countries of Uganda, Kenya, Congo, Ethiopia, as well as South Sudanese. It was formed to support its members in case they have problems with imprisonment, sickness or even death. Their motto is that they will never be buried in another land. If a problem is beyond the network's help, their leaders go to their embassies for further support.
Arche and Ajeng believe the government and non-governmental organizations should try their hardest to empower and raise awareness among citizens - both civilians and the army and police forces - about protecting themselves against HIV.
http://allafrica.com/stories/201402071155.html?viewall=1
-----------
Christian Girl Abducted, Converted and Forced To Marry a Muslim in Lahore
February 8, 2014
Lahore (AsiaNews) - After a Pakistani Christian girl from Punjab was abducted by a Muslim landowner, she was forced to marry him after conversion to Islam. Her family reacted in a public protest, demanding justice from civil authorities.
Police and the courts have failed so far to act and return the girl to her parents. The local Catholic Church has instead backed the family, condemning the "widespread practice" of kidnapping young Christian and Hindu women to marry them forcibly to Muslims and reduce them to a "state of slavery".
The latest episode involves a 16-year-old girl, Samariya Nadeem (Masih), who was abducted and forcibly married to a rich landowner.
The abduction took place 22 days ago in 270-TDA Layyah District when the young woman was on her way to school.
The family filed a complaint (First Information Report 14/14, under Section 365 B of the Penal Code) with the police for the abduction reporting that Samariya was taken against her will and forced to marry the man.
So far, police have failed to pursue any legal action against the local wealthy Muslim landowner who abducted the girl because of the influence he wields. Police investigators were also unable to talk to the bruised and terrified victim.
Anonymous police sources confirmed that the girl was "abducted" and forced to marry. However, an Islamic cleric involved in the affair said that it was "not illegal to abduct and convert non-Muslims".
This morning, the family organised a protest rally in front of the Lahore Press Club. Under Pakistani law, no one underage can be married without parental consent.
Civil society groups and human rights activists have appealed to Punjab's chief minister to take action and return Samariya to her parents and bring her abductor to justice.
Kidnapping and forced marriage have become a major issue in Pakistan, especially in southern Punjab and in the interior of Sindh province.
This is "very common in the region," said Fr Haroon James, a priest and activist in Lahore. Young women and girls "are forcefully converted and married to influential landlords who keep them as slaves."
Unfortunately, people seem to be increasingly "hopeless". For this reason, the Church has spoken out in the case, "demanding justice for her and the family." Yet, "Despite the fact that a FIR has been registered, the authorities have failed to act and protect the vulnerable," the priest added.
With a population of more than 180 million people (97 per cent Muslim), Pakistan is the sixth most populous country in the world, the second largest Muslim nation after Indonesia.
About 80 per cent of Muslims are Sunni, whilst Shias are 20 per cent. Hindus are 1.85 per cent, followed by Christians (1.6 per cent) and Sikhs (0.04 per cent).
Violence against ethnic and religious minorities is commonplace across the country, with Shia Muslims and Christians as the main target, with things getting worse.
Dozens incidents of violence have occurred in recent years, against individuals or entire communities, like in Gojra in 2009 or Joseph Colony in Lahore in March 2013, often perpetrated under the pretext of the country's blasphemy laws.
http://www.asianews.it/news-en/Christian-girl-abducted,-converted-and-forced-to-marry-a-Muslim-in-Lahore-30237.html
------------
Young British-Somali women fight FGM with rhyme and reason
February 8, 2014
Fahma Mohamed first heard about female genital mutilation (FGM) when she was 13. Educated, open-minded and strong willed, she didn't know what the term meant, so she asked. Told that the removal of a woman's outer sexual organs was something that had been carried out in her culture – among many others – for hundreds of years as a way of preparing girls for adulthood and assuring their virginity, she was horrified.
"My first reaction was disbelief. I thought it was something that happened in [her mother's] time, that happened in Somalia. I didn't think it would be happening to girls who are my age, or in the UK," she says. "But then I found out that it was. All I can remember thinking was – why hasn't anyone tried to stop this before?"
Fahma is one of nine daughters in a Somali family that moved to Britain when she was seven. Now 17, she is part of a new generation of anti-FGM campaigners determined to make politicians sit up and listen, and finally end female genital mutilation. A trustee of the charity Integrate Bristol, which fights against FGM, she has now become the face of the Guardian's campaign to help end the practice. She puts it simply: "I want to help these girls who don't have a voice."
In a classroom in the City Academy Bristol – one of the few schools in the country running a dedicated anti-FGM project – she joined a spirited group of teenagers, many of them wearing headscarves, to practice a song composed for the UNs FGM zero-tolerance day on Thursday.
Calling themselves the #FDL or Female Defence League – with some of the cheekier older girls substituting the word "fanny" for "female" – the girls belted out a song that, as they put it, is "sayin' no to bullshit oppression". In a rapped section, one of them spits out her contempt of politicians, such as the education secretary, Michael Gove, whom she accuses of shirking the issue: "I'm sorry, Mr Micky, if you still don't get it / Then David Cameron oughta say, beat it, Gove, beat it!"
Confidence in the group has not always been so high. Lisa Zimmermann, a teacher who co-founded the organisation, says she became conscious of FGM when told that 11 of 12 girls in a group she was taking on a trip had undergone cutting.
At first the group was limited to four girls, who wrote anonymous poetry. Soon more joined, but when the girls made a film, Silent Scream, about FGM, it met fierce opposition and critics descended on the school.
"We were accused of making a porn film – people said we'd forced the girls to be in it and didn't want the film to be shown," says Zimmermann. After some of the girls' mothers met police to ask for support, the screening went ahead and since then the group has grown to more than 100 members, who have appeared on television, taught at other schools and on the UN's FGM zero-tolerance day will host Alison Saunders, the director of public prosecutions for England and Wales. "Proud does not begin to describe it," says Zimmermann.
Fahma says she is sick of people citing cultural tolerance as a reason not to tackle FGM, adding that many do not realise what a serious issue it is. "I definitely know people it has happened to: girls who have been taken home, or who have had it here. For some of these mothers it's a lot cheaper and easier to get them done here. I know these girls, and it just fuels my passion. I want to get their voices heard."
The consequences for her friends are severe. "FGM is a terrible thing. Not only physically […] I think people don't think about how traumatic that would be, how it will mess her up emotionally. People don't understand that this is something they live with every day of their lives, not just physically but emotionally."
She is directly appealing to Gove to write to every headteacher in the UK before the next"cutting season" – the summer holidays; when girls are cut in order to give them time to recover without it being noticed by teachers – asking them to train schools and parents about FGM.
"A girl's high school years are when she grows up, learns about her body, goes through puberty … School students need to know about FGM and they need to know that it's wrong," says Fahma.
Asked if she thinks the famously intractable Gove – who has faced down repeated attempts to get sex and relationship education made compulsory in the school curriculum, and has ignored requests for meetings from other FGM activists – will listen, she smiled. "We are not going to be quiet, we are not going to shut up," she says. "It has taken us this long just to get people talking about it, we don't care how long it takes."
http://www.hiiraan.com/news4/2014/Feb/53196/young_british_somali_women_fight_fgm_with_rhyme_and_reason.aspx
http://thenews-uk.com/news/young-britishsomali-women-fight-fgm-with-rhyme-and-reason
------------
Female literacy in Pakistan: Four cities to have new women universities
February 8, 2014
FAISALABAD: A new women's university will be setup in Faisalabad, Multan, Bahawalpur and Sialkot each as part of the government's plans to increase female literacy in the country, and Education Department spokesman told to The Express Tribune on Thursday.
He said Rs266 million would be spent on establishment of these universities.
The spokesman said in addition to setting up new universities, 101 new colleges were also being constructed in the Punjab. He said missing facilities will also be provided at 96 colleges in the Punjab.
He said the government had planned to spend Rs1.47 billion for the purpose.
"Rs175 million has also been allocated for different projects for commerce colleges in the province," the spokesman added.
http://tribune.com.pk/story/668440/female-literacy-four-cities-to-have-new-women-universities/
------------
Expats married to Saudi women entitled to pension
February 8, 2014
The General Organization for Social Insurance (GOSI) has confirmed that foreign men married to Saudi women are eligible to receive retirement benefits, provided they are under the sponsorship of their wives and registered in the system as "special expats," like foreign women married to Saudi nationals.
Amal Al-Ghamlas, chief of GOSI's women's division in the Eastern Province, also confirmed during their monthly meeting on Tuesday that individuals cannot receive a salary and retirement benefits simultaneously, unless their total income is SR3,000 or less. The exceptions to this regulation are widows, who can receive both a salary and retirement benefits without any limits.
Women who are no longer eligible to receive retirement benefits because they have jobs will only become eligible again once they resign.
Meanwhile, Hind Al-Zahid, head of the Women's Business Center, requested during the meeting for GOSI to raise the limit to more than SR3,000, arguing that many women now have jobs and are earning over this amount.
She said many women in these positions do not inform GOSI that they are working because they do not want to lose their retirement benefits.
In response, Al-Ghamlas said that such women and their employers are breaking the law by not registering with GOSI. The electronic links between GOSI, the Passports Department and the Ministry of Labor specifically aims to prevent this phenomenon.
Mai Oraini, an employee in GOSI's women's department, said the system allows employers to have their fines reduced if they have broken the law once, or can justify their late registration and payments.
She said the Wage Protection System, which covers all Saudi women working in Saudi Arabia and Gulf countries, is to ensure their retirement rights in the future.
She said that employers must register all their foreign workers in Saudi Arabia on their date of entry or the date that their iqama is transferred from another employer.
Al-Ghamlas also made it clear that the dependents of Saudi women married to non-Saudis — her husband and her children — have the right to benefit from her pension in the event of her death, and if applicable, receive a survivor's pension.
However, dependents must be registered in the GOSI system as "special expats" and foreign spouses of Saudi women must be under her sponsorship to receive benefits, as per the new regulations, which took effect after the amnesty period ended.
http://www.arabnews.com/news/522686
------------
Taliban and Government Imperil Gains for Afghan Women, Advocates Say
By ROD NORDLAND
February 8, 2014
KABUL, Afghanistan — Advocates say that women's rights and security in Afghanistan are under mounting assault from all sides — the Taliban insurgency and the government alike — putting at risk 12 years of hard-won gains for women here.
The country's Parliament is about to approve legislation that would strip away crucial legal protections. The insurgents have mounted a string of violent attacks on female officials. And advocates for women are deeply worried by the news that President Hamid Karzai has been negotiating secretly with the Taliban, who enforced hard-line, fundamentalist restrictions on women during their years in power.
And the advocates see two potential disasters looming for Afghan women this year. One would be the failure to complete a long-term security agreement with the United States, which could lead to the departure of American and other international forces and aid agencies, by far the strongest proponents for women here.
The other is the election in April to choose Mr. Karzai's successor. The slates of many of the 11 candidates for president are dominated by warlords and fundamentalists who share the Taliban's view that women should never be allowed out of their homes.
"Women are not on the agenda now," said Huma Safi, an activist with Equality for Peace and Democracy, an advocacy group. "Every time we turn around, they're passing another law against women."
The killings of four female police officers since July and the abductions of and assassination attempts against female members of Parliament and their families in Ghazni Province last year have aroused concerns that the Taliban are singling out women for violence and intimidation, though all government officials, male or female, can expect to become targets.
The moves in Parliament, on the other hand, seem like attacks from out of nowhere, advocates say, with the potential to do much broader harm.
One of the proposed laws would have repealed a requirement that one-quarter of the seats on provincial councils be reserved for women. After intense lobbying, activists managed to get the bill amended to partly preserve the quota, at 20 percent instead of 25; it has been passed and now awaits the president's signature. "The sworn enemies of women almost got the quota eliminated," said Soraya Sobhrang, the representative for women on the national Human Rights Commission. They "have the power to pave the way for whatever law they want."
Another proposal would make it easier for a father to arrange child marriages, giving fathers guardianship rights over children that trump those of mothers and the courts. A third would prohibit the nation's courts from hearing testimony of one family member against another, a rule that would make it almost impossible to prosecute domestic violence and abuse cases. Both measures are seen as likely to pass, though the president could refuse to sign them.
Manizha Naderi, the head of Women for Afghan Women, a group that runs a network of shelters and counseling centers for abused women and children, said the law on testimony "virtually provides impunity" to abusers within the family.
Women at the shelters that her group and others run "include victims whose in-laws, husbands, fathers and sons have broken their arms and legs, chopped off lips, tongues and noses, pulled out fingernails, sold them, stabbed them and left them for dead," Ms. Naderi said. The proposed law would prohibit even the victims in cases like those from testifying.
In the section on Afghanistan in its worldwide report for 2013, Human Rights Watch said, "With international interest in Afghanistan rapidly waning, opponents of women's rights seized the opportunity to begin rolling back the progress made since the end of Taliban rule."
One of the biggest supporters of the bills is a member of Parliament from Herat, Qazi Nazir Ahmad Hanafi, who derides female activists as women of low morals who are un-Islamic. "Those who are against these laws are people who own shelters, which are run like brothels," Mr. Hanafi said. "These women have not helped women in Afghanistan, they have destroyed families."
"This is an Islamic country and women will be treated and respected in accordance with the guidance of Islam, not some communist, secular conspiracy," Mr. Hanafi said.
Ms. Naderi said she was anxious over Mr. Karzai's pursuit of a deal with the insurgents. "If the Taliban come back, they're going to come back with a vengeance, and they'll take it out on the women," Ms. Naderi said. With 28 facilities helping abused women and children in 10 provinces, Women for Afghan Women would be especially vulnerable, she said, "Our staff will be the first on the Taliban's list to set an example for others."
Other activists were not quite that alarmed, at least not yet.
"We are worried, but we are not without hope," said Hasina Safi, head of the Afghan Women's Network, an umbrella group of activist organizations. "We are much bigger in our numbers now, we have established networks, and we are not as isolated as we were in the Taliban time."
Activists from the women's network and other groups have held a round of meetings with Western embassies over the past three weeks, and they received what Ms. Safi said were oral assurances that financial assistance to Afghan women's groups would not be cut; nearly all such groups depend on money from international donors. In all, more than $100 million a year in aid to Afghanistan is earmarked for women's issues, the United Nations estimates.
Ms. Safi said the absence of women from Mr. Karzai's talks with the Taliban was a major concern. There are women on the country's High Peace Council, but Ms. Safi said they had been paid little heed, and the council itself is not closely involved in the talks.
Nader Nadery, director of the Afghanistan Research and Evaluation Unit, said women had gained political strength by building alliances. "Afghan women's groups have moved from being individual voices," Mr. Nadery said. "They are now a very powerful collective voice, if not a full-fledged movement, and it will be difficult for any politician to ignore them completely."
Ms. Sobhrang, the representative on the Human Rights Commission, said 30 activists had drafted a charter on women's rights that they plan to debate at a larger forum of female activists next week, and then use to assess candidates in the election, predicting that they would endorse one or two.
That could make an impact in the crowded field. At least one-third of registered Afghan voters are women, and their advocacy groups tend to have more money and organizing experience than many of the inexperienced presidential campaigns.
Ms. Sobhrang called the gains women have made since the ouster of Taliban rule in 2002 "fragile but reversible," a phrase often used by American military leaders in a broader context. "We still haven't brought fundamental change to the lives of women in Afghanistan," she said.
Four weeks ago, the country got its first female police chief, Col. Jamila Bayaz, who was given command of the sprawling District 1 headquarters in Kabul.
Colonel Bayaz, who is one of 2,000 women who have joined or rejoined the police force since 2002, said she was aware of the concerns about retaining the gains women have made. She began her career 32 years ago, when women were as numerous in the police force as they are now, an accomplishment interrupted by civil war and the ascent of the Taliban. She does not think that will happen again.
"I'm sure our international friends will not abandon us," the colonel said.
Habib Zahori contributed reporting.
http://www.nytimes.com/2014/02/08/world/asia/womens-rights-seen-as-vulnerable-to-reversal-in-afghanistan.html
------------
Hijab Suggestion for Non-Muslims in Aceh Draws Criticism
February 8, 2014
Jakarta. Human rights activists criticized the Aceh Shariah police on Friday for an official suggestion that non-Muslim women should wear the hijab in the semi-autonomous western region.
Banda Aceh Shariah Police on Wednesday detained 62 men and women for wearing improper clothes, releasing them the same day. Two were non-Muslims.
Samsuddin, the head of Aceh's Shariah Police Enforcement Office, said they should have been wearing the hijab as a sign of respect in the only province in Indonesia to enforce Shariah law
"Non-Muslims are also required to wear hijab, to respect Muslims in Aceh," he said, as quoted by news portal Merdeka.com.
Under a 2002 provincial Shariah bylaw, every Aceh resident is required to wear Islamic attire and women are required to wear the hijab and to avoid form-fitting attire. But the Shariah Police, before this week, only enforced the law for Muslims.
Samsuddin said those who violated the suggestion would be "educated" and sent on their way, but repeat offenders would be brought to an Aceh Shariah police office where parents or relatives would be required to pick them up.
Deputy Chairman of the National Human Rights Commission Imdadun said that the enforcement of the regulation for non-Muslims was a human rights violation and called on the Aceh government to put a stop to it.
"I call for the government not to continue such a policy," he said. "It will be a problem if other regions follow such an example. For instance, what if a majority Christian region such as Papua forces its residents, whether they're Christian or not, to wear crucifixes. This kind of policy is not appropriate to be implemented in Indonesia."
He said that Aceh's special autonomous status should have limitations. "They still need to obey the constitution and should not violate human rights," he said.
"Government officers did it just to keep the province as part of Indonesia," Bonar said. "The Aceh government, which fails to bring welfare to its people, plays the issue of Islamic Shariah to gain public support."
http://www.thejakartaglobe.com/news/hijab-suggestion-for-non-muslims-in-aceh-draws-criticism/
------------
UAE praised for empowering women as lecture highlights Islam's equality
February 8, 2014
ABU DHABI // The UAE's efforts to empower women have come in for notable praise in the past week.
Zeina Al Tibi, a French-Lebanese journalist and president of the Centre for Geopolitical Studies in Paris, said the UAE had become a model for equality in the region and across the world in the past decade.
And Cherie Blair, a prominent barrister and wife of the former British prime minister Tony Blair, praised the nation for its leading role.
She told Newsweek that Sheikha Fatima bint Mubarak, wife of the founding President Sheikh Zayed, had been pivotal in obtaining universal education for women in the 1970s, and in the appointment in 2004 of the first female Cabinet member, Sheikha Lubna Al Qasimi.
Mrs Blair also said the UAE was the top-ranking country out of 136 for the ratio of girls to boys in education, according to a report by the World Economic Forum.
Ms Al Tibi was in Abu Dhabi this week to give a lecture at the Paris Sorbonne University Abu Dhabi on Islam as a founder of women's equality.
The author of Islam and Women, in which she aimed to dispel misconceptions about the religion, said she hoped to address western notions that Islam promoted unequal treatment.
"My book is directed towards the European reader to give them the idea that their criticism against the Islamic religion is all wrong," Ms Al Tibi said. "Before Islam, women had no presence whatsoever in society.
"Islam was the first religion to give women their rights but unfortunately, with time and the dominance of the masculine society, it started imposing traditions instead of concentrating on religion."
She gave the example of Khadija bint Khuwaylid, first wife of the Prophet Mohammed, who was a businesswoman and known to travel around her community.
Ms Al Tibi said recent Arab leaders, such as Sheikh Zayed and King Mohammed VI of Morocco, advocated women's rights based on what they had learnt from Islam, "not from their own ideas".
Morocco had also reached a balance between Islam and modernity, she said.
In 2004, King Mohammed gave women many privileges derived from Islamic teachings.
"It raised the status of women in society and the family," Ms Al Tibi said. "For example, after a woman is divorced she has the right to take care of her children, even if she remarries.
"And if divorced, the ex-husband has to pay her half the price of the house."
The king also appointed a woman as a chief of a Moroccan state.
Involving women in politics is an area that requires attention, Ms Al Tibi said, adding that this would be the topic of her next lecture.
"Men and women have different streams of thought – not that one is right and the other is wrong, but they complement each other," she said.
"This is why it is important to involve women in politics, so their thought could complement their male counterparts."
Countries such as Saudi Arabia, which deprive women from the right to drive cars, do so out of masculine-orientated principles, rather than religious reasons, she said.
hdajani@thenational.ae
http://www.thenational.ae/uae/education/uae-praised-for-empowering-women-as-lecture-highlights-islams-equality#ixzz2sg4GkPhc
-----------
Yemeni Women Struggle To Achieve 30% Of Their Participation
February 8, 2014
The political participation of women is very important to the development of political, social and economic development in the country. The international community paid attention to their participation and keen to ensure all the importance of ensuring effective participation of women in community issues for the close correlation among women, development, democracy and human rights. Out of the reality that the women are the community issue and without caring about them and give them the freedom, equality, social justice and human rights, the society cannot make any progress.
The women representation in decision-making is still limited as they lack equal representation in governments, in representative institutions such as parliaments and local government, as well as, the weakness of her participation in the power executive. Not only that, but also women limited representation in the civil society organizations and political parties.
Since Yemen authenticated on many international conventions and treaties, including the Convention of the Elimination of All Forms of Discrimination against Women (CEDAW) so Yemen obliged to implement these agreements and then integrate them into national legislation, including securing the participation of Yemeni women in political life and create a legislative mechanism to accelerate women's access to decision-making positions, and within this mechanism is the seats allocation for women in various levels that are represented by not less than (30%).
Although of all the convention, still nothing has been achieved. The National Dialogue Conference (NDC) came to give the women the right of Quota system which is 30% female participation in the political positions in all institutions. Almost 30% of women participated in the NDC and by that women started to apply into the system.
Amatalalim al-Soswa, activist and NDC member, said that the participation of women in the decision-making positions is still weak because there is a gap between the concept of women's participation and her acceptance and the politicians misunderstanding of the women participation. Al-Soswa said that 30% of women participation is not an aim but a mean to access to promote the women participation fairly and equitably according to their performance and ability, "We don't want women to participate as a view; we want women with efficient ability and can prove their presence through all the difficulties she may have".
Related to the Quota system, she said that the 30% participation women override a great part of the war against women. We were able to install the 30% in the legislation, but we would like to put the additional constitutional law also defining women's quota in the judiciary and the executive branch.
"Some political parties still have a narrow view for the women's issue and consider it as a personal issue, I wish the NDC outputs could make Yemen live in peace and fair between both male and female" she added.
For those who reject the Quota system for women, al-Soswa said that I don't see any justification for those who object the 30% for women, and those who make it a religious issue; I want to tell them that women participation doesn't contradict with religion at all. We are keen to be careful about the holy materials.
Women were happy by their participation in the NDC but after the end of the NDC their happiness had an end. The first decision after the end of the NDC was to determine the members of determining regions commission, but most of the members were men and no quota was achieved in which there were only two between them all.
Arwa Othman, activist and NDC member, said that women did not have there equal participation in the determining regions commission, "I wonder where all the efficient women who participated in the NDC should be protesting against this decision."
While Saher Ghanem, activist and NDC member, said that it was not the fault of those who formed the commission but it was the fault of the parties who always presented in the decisions making positions with men and not giving the women the chance they've earned.
"So women in the parties have to prove themselves, and there should be a pressure on the Presidency to empower women since the Presidency is the first whom can enable women to achieve their 30%," she said.
Although there was a step against women, there is also a step with them, Ministers Council approved the adoption of women representation in public offices and leadership positions by 30%.
http://nationalyemen.com/2014/02/02/yemeni-women-struggle-to-achieve-30-of-their-participation/
------------
Muslim Woman Says Saddle Brook Managers Demanded She Remove Headscarf
February 8, 2014
SADDLE BROOK — A Muslim woman has filed a complaint claiming she was the victim of religious discrimination when managers at the Saddle Brook factory where she worked told her to take off her headscarf.
Naima Mnasri, of Elmwood Park, said she was waiting for an assignment on her second day of work at Paradigm Packaging Jan. 17 when she was "singled out" by a supervisor and told to remove her religious headscarf, called a hijab, because it was a safety issue, according to the compliant. A day before she worked at the plastic vitamin bottling company without incident.
"She informed the supervisor that it is a fundamental part of her religion that she wears her headscarf, as she is an observant Muslim," the complaint said. "The supervisor restated that she remove her headscarf for safety concerns and added that no religious symbol is permitted in the factory."
Mnasri went to a floor manager over the issue and was again told she couldn't wear the hijab, her complaint alleged. She left the job that day because of the confrontation.
The New Jersey chapter of the Council on American-Islamic Relations filed the complaint with the federal Equal Employment Opportunity Commission on Mnasri's behalf Jan. 29. In the complaint, a lawyer for the group said the company's actions violated Mnasri's First Amendment rights as well as state anti-discrimination laws.
"As required by the New Jersey Law Against Discrimination, the company cannot require an employee to violate or forego a sincerely held religious belief as a term or condition of obtaining or retaining employment," the group's civil rights director and lawyer, Khurrum Ali, wrote in the compliant.
Paradigm made no efforts to "reasonably accommodate" Mnasri, eliminating any claim that the religious accommodations were overly burdensome, the complaint alleged.
The company did not respond to a call for comment this week. An EEOC spokeswoman would not confirm or deny any complaint was filed and declined comment, citing agency policy.
Mnasri, who was placed in the position through a Paterson manufacturing staffing firm, has since found other work through the agency, according to the complaint.
http://www.nj.com/bergen/index.ssf/2014/02/muslim_woman_says_saddle_brook_factory_managers_demanded_she_remove_headscarf.html
------------
URL: https://newageislam.com/islam-women-feminism/saudi-woman-loses-life,-denied/d/35652