New Age Islam News Bureau
31 Oct 2019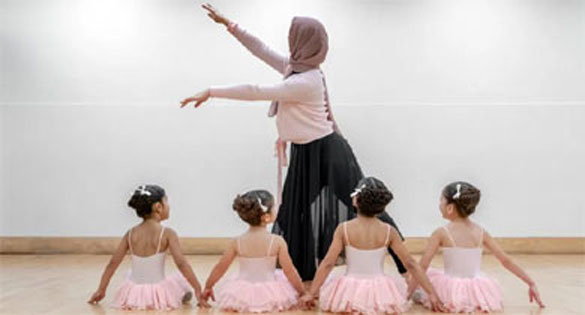 Grace & Poise Academy is the 'world's first' ballet school bringing the dance to the Muslim community (Picture: Guy Corbishley / Alamy Live News)
------
• This Ballet School for Muslim Kids Uses Poetry Instead Of Music
• WWE Riyadh Crown Jewel to Feature First Women's Match in Saudi Arabia
• Muslim Headscarf Debate Divides France, In Climate of Hate
• Option for Women Muslim Staff in Private Sector to Choose Whether To Wear Headscarf Lauded
• Saudi Sisters Lead Lifesaving Awareness Campaign over Killer Cancer Gene
• In Indonesia, 'bride kidnapping' fuels child marriage despite new ban
• 'Women Have Done So Much To Nurture Arab Culture'
• Embassy Of Sweden And VFS Global Boost Women Empowerment
Compiled by New Age Islam News Bureau
URL: https://www.newageislam.com/islam-women-feminism/saudi-woman-arrested-dancing-while/d/120140
--------
Saudi Woman Is Arrested For Dancing - While Wearing a Niqab Veil - During Music Festival in the Kingdom
30 October 2019
A Saudi woman has been arrested for dancing while wearing a niqab face veil during a music festival in the kingdom.
She was accused of 'disrupting social etiquette' in getting up to dance wearing the traditional black abaya robe and niqab in Riyadh.
The video showed the crowd cheering the woman as she moved along to a dance remix of Adele's Rolling in the Deep at the mixed-sex event.
The evening was part of Riyadh Season, a festival in the Saudi capital which includes artistic, musical and cultural events.
There will be more than 100 events at Riyadh Season over the course of two months, including 'Saudi Arabia's largest parade' involving 1,500 costumed participants.
It is unclear how the authorities in the ultra-conservative kingdom will react, following its announcement that any tourists visiting the country could face fines for public decency offences, including immodest dress and public displays of affection.
Violations include dropping litter, spitting, queue jumping, taking photographs and videos of people without permission and playing music at prayer times.
Fines range from 50 riyals (£10) to 6,000 riyals (£1,250).
Under crown prince Mohammed bin Salman, Saudi Arabia been opened itself up to liberal western values by bringing in cinemas, pop concerts and high-profile sporting events.
But the country is a hard sell for tourist bosses because of its strict social code and ban on alcohol.
The woman's arrest provoked an angry reaction on Twitter with one saying: 'Don't leave the treasure door open and punish the thief!'
Another said: 'The war on chastity and decency under the name of openness and development is severe in this time. All Muslim women and girls who are believers should take care of the Islamic veil.'
And a third added: 'We create the means of corruption and degradation and in return we want the community to be like followers of God's mercy.'
https://www.dailymail.co.uk/news/article-7631353/Saudi-woman-arrested-dancing-wearing-niqab-veil-music-festival-kingdom.html
--------
This Ballet School for Muslim Kids Uses Poetry Instead Of Music
Faima Bakar
4 Oct 2019
Two women in their 20s noticed that the ballet world was woefully lacking minority dancers, particularly Muslims. So Royal Academy of Dance trained Maisie Alexandra Byers, 24, and Dr. Sajedah Shubib who has a degree in psychology, 28, decided to open what they're calling the first ballet school for Muslim kids. Grace and Poise Academy in London opened up earlier this year with hopes of turning Muslim girls into little ballerinas. The school offers a unique poetry syllabus instead of music to be more inclusive as some followers of the Islamic faith don't listen to music. But it's also open to non-Muslims. While many Muslims do listen to music, some believe that certain instruments are not permissible while others who listen say it's the nature of some music that should be avoided (i.e obscene lyrics). And so the academy decided to avoid it altogether and provide a more mindful experience. There's also a Homeschooling Programme which allows those who are homeschooled to attend classes for a cheaper price of £6. For the rest of the evening class attendees, it's £8. At the moment they haven't had any performances yet but future shows will feature female-only audiences.
'We're passionate about child development,' explains Maisie and Sajedah to Metro.co.uk 'We believe that this unique approach to ballet helps the child's physical, emotional, social and cognitive development. 'Until now ballet has been inaccessible to many Muslims and Grace and Poise aims to cater to the Community. 'It also aims to provide a space to celebrate Islamic Identity and support the harmonious connection between mind body and soul. 'We are a school that aims to make ballet accessible to Muslims however we are of course open to all, we do have some non-Muslim students that came to us because they love our unique approach using poetry.'
Only a few months into their venture, the pair are delighted to see the reaction of the Muslim community. Some of their students include four-year-old Marym, Halimah aged four and Evi aged five. They dance to original poetry created by Haneen Shubib. The syllabus is being developed by Maisie and Sajedah to enhance the learning process so ballet training is in harmony with the child's developmental stages.
'We hope to provide opportunities for ballet to exist in different contexts,' adds Maisie and Sajedah. 'To encourage more diversity, inclusivity, and accessibility and for ballet to help strengthen the development of children that have not previously had the opportunity to explore this art form.' Recently Black and Asian dancers have finally got pointe shoes in their skin colour as most flats are in lighter tones. Prior to this, they'd have to spend time colouring them to in match their skin. Grace & Poise aren't using the shoes at the minute but hope to as their students progress. 'Currently as all of our students are beginner and pointe work requires years of precise training we don't have any children on pointe yet. 'However, for the future it seems imperative that options are made available for students.'
It is still early days for the company but they're hopeful it can get bigger and better. 'The reaction has been incredible, we are surrounded by the most supportive and loving communities who have aided us along the way,' they continued. 'Everyone is thrilled to have this opportunity and we have had many emotional conversations with mums telling us about the impact our classes have already had on their little ones and how they wish they had this opportunity as little girls themselves!'
https://metro.co.uk/2019/10/24/ballet-school-for-muslim-kids-uses-poetry-instead-of-music-for-performances-10974080/
--------
WWE Riyadh Crown Jewel to Feature First Women's Match in Saudi Arabia
October 30, 2019
RIYADH: WWE announced on Wednesday, the first ever women's match in Saudi Arabia will take place on Thursday, during the Crown Jewel press conference.
The conference was held at King Fahd International Stadium in Riyadh, and the event is part of Riyadh Season, which includes over 100 events happening in two months.
WWE Superstars Natalya and Lacey Evans will be the starts of the women's match.
Crown Jewel, one of WWE's premier pay-per-view events, will also feature Roman Reigns and matches between other boxing champions.
WWE Champion Brock Lesnar and Cain Velasquez will battle for the WWE title, while Braun Strowman and Tyson Fury will have a match too.
Seth Rollins and Bray Wyatt will compete for the Universal Championship.
Mansoor, a Saudi wrestler who won in the WWE's largest Battle Royale in history, also spoke during the press conference.
"I will make you proud and will not disappoint you," he said to the Saudi crowds.
International boxing champions Fury and Strowman commented on their match, as well as Velasquez and Lesnar.
Boxing icons Hulk Hogan, Ric Flair, Roman Reigns and Randy Orton were also at the junket.
Watch the live press conference here:
https://www.arabnews.com/node/1576491/sport
--------
Muslim Headscarf Debate Divides France, In Climate of Hate
October 31, 2019
PARIS — When a French official disrupted a regional council meeting to demand that a Muslim woman accompanying a group of schoolchildren be ordered to remove her headscarf, "in the name of our secular principles," her own child buried his head in her shoulder and cried.
The scene — too toxic even for official Julian Odoul's far-right National Rally party — triggered a venomous national debate that is scrambling questions over the headscarf, Islam, immigration and radicalization.
The clamor reached a crescendo with the shooting and wounding Monday of two Muslims outside a mosque in southwest France by a suspect with past links to the anti-immigration National Rally. The 84-year-old alleged gunman told investigators he attacked "to avenge the destruction of Notre Dame," Paris' grand cathedral ravaged by fire in April — which he blamed, inexplicably, on Muslims.
In other times, the Oct. 11 confrontation at the council meeting in Dijon might have been but one more installment in France's decades-long battle with itself over how to define, and enforce, secularism, a principle inscribed in the constitution more than a century ago to ensure neutrality regarding religions.
But today's uproar illustrates the growing unease — even contempt — by some sectors of society toward those Muslims seen as failing to join the French melting pot. Some contend it shows the normalization of Islamophobia in France.
"The veil (headscarf) is seen as the symbol par excellence of religious visibility" and is "seen by some ... as linked to radicalization," said Nicolas Cadene, No. 2 in the government's Observatory of Secularism.
"We're in a climate of a meeting of fears, emotions, instincts," he said in an interview.
For Cadene, French society is growing polarized as one part increasingly turns away from religion while another, notably Muslims, grows more visible. The attack inside Paris police headquarters early this month by a Muslim intelligence employee that left four dead raised already percolating tensions, he said.
In all cases, he said, the debate shows the confusion over the 1905 law separating church and state, the basis of the country's unusually important secular identity. He said the law is not meant to protect a "mythical identity, white and of Catholic culture" promoted by some.
Islam is the No. 2 religion in a largely Catholic nation where many, especially the anti-immigration far-right, hone to France's roots and view its Muslim population, which grew from the nation's colonial past, as intruders and a threat to the French way of life, including secularism.
Fifteen years ago, France forbid students from wearing "ostentatious" religious signs in classrooms. Seven years later, it became illegal to wear face-covering veils in French streets. While all showy religious signs are included in the 2004 law and all garments covering the face are banned in the 2011 measure, it has never been a secret that Muslims were the target.
The mother who was the focus of Julian Odoul's anger has said she decided to accompany a class because her son implored her to go.
"What he told me when he was crying is that he felt everyone was against me," the woman, identified only as Fatima E., told the Collective Against Islamophobia in France, which published the interview.
"I felt a rejection I've never felt before," she said. "Today, I have a negative opinion of what is called the Republic."
A caustic political climate five months before municipal elections is feeding today's debate. A tattered mainstream right is trying to rebuild itself by playing the anti-immigration card, while a newly strengthened far right tries to lure them to its ranks.
The French Senate approved a bill Tuesday proposed by the mainstream right that would oblige women wearing headscarves to remove them when accompanying school outings. The bill has almost no chance of becoming law since the lower chamber, controlled by President Emmanuel Macron's centrist party, will almost certainly axe it.
But the issue sparks discord even within Macron's government. For Education Minister Jean-Michel Blanquer, "it is not desirable" for a mother to wear a headscarf on a field trip. Prime Minister Edouard Philippe says that it's fine — as long as the mother doesn't proselytize.
Macron has shown cautious opposition to the idea.
"The wearing of a veil (head covering) in public spaces is not my affair," he said last week. "Laicite (secularism) isn't about that."
The real concern, he stressed, is stigmatization of Muslims, the majority of whom have adopted the French way of life.
Macron has concentrated on fighting radicalization and the apparent growth among Muslims of a community-based identity, which the French widely view as fertile ground for the propagation of political Islam.
For some, the issues are linked.
Far-right leader Marine Le Pen views the constant debate over the Muslim headscarf as a result of "massive immigration," which, she contends, leads to such closed communities.
"The veil is an ideological marker. It's a marker of identity," she said recently, also calling it a "political weapon" and "an infraction of secularism."
A poll by the Ifop firm published Sunday suggested that eight of 10 French think secularism is in danger.
For Muslim groups, the mosque attack was the culmination of a growing climate of hate.
A noted Lyon-area imam, Kamel Kabtane, denounced what he said was the "fractious and dangerous media and political campaign against Islam and Muslims."
Muslims fear more of the same from "the entrepreneurs of hate and violence" who want to "pit French against French," he said.
Barely a day goes by without a new round of soul-searching over secularism by politicians and pundits getting an unfiltered hearing in the French media.
Abdallah Zekri, council member and head of the Observatory for Islamophobia, suggested that those who use Islam to build their reputations via TV talk shows simply "shut up." — (AP)
https://www.phillytrib.com/religion/muslim-headscarf-debate-divides-france-in-climate-of-hate/article_27cedf44-ac74-51f5-9792-c6c05ed2c8a1.html
--------
Option for Women Muslim Staff in Private Sector to Choose Whether To Wear Headscarf Lauded
ALISHA NUR
31 OCT 2019
PETALING JAYA: The proposed dress code for women Muslim workers in the private sector has received the thumbs up from non-governmental organisations, but they stressed that staff should not be judged solely by the way they dress.
Malaysian Trades Union Congress (MTUC) secretary-general J. Solomon said to implement the dress code, policies need to be put in place and effectively communicated at all levels in the industry, including training institutions.
He said the Malaysian Association of Hotels can play a better role to facilitate adoption of the dress code in the hospitality industry.
"It is for Muslim women to choose whether to wear headscarves. Employers should not stipulate that their (female) Muslim employees should not wear the headscarf," he said.
"Ultimately, whether one dons headscarf will not be important, (it is) how effective the person is in the role as a frontliner that matters."
Deputy Minister in the Prime Minister's Department Fuziah Salleh had told the Dewan Rakyat on Tuesday that Muslim women working in the private sector, particularly those in frontline positions, will soon be allowed to wear headscarves while on duty.
Solomon said the private sector had always been hiring Muslim women who wear headscarves. However, headscarves can't be worn by frontline staff in international hotel chains.
"They need to understand that there is cultural diversity across the world," he said.
"Having the same dress code does not in itself make a hotel chain world class. What should matter to them is good service by those on duty. As such, dress code by hotel chains should not be overly restrictive."
Majidah Hashim of Sisters In Islam said the current practice that prohibits frontline hotel staff from wearing headscarves is discriminatory and infringes on freedom of expression.
However, women should not be judged by how they are dressed and any corporate dress code should reflect professionalism in their occupation, she pointed out.
"We are concerned about authorities and employers using dress codes to morally police Muslim women," Majidah said.
"The need to strictly control what women wear implies that she is unable to make the decision on her own and that she is a threat to social order. This obsession needs to stop."
She said women have come far and achieved great heights in education and the corporate sector.
"Women must be recognised for their important contributions to our economy and society, instead of how they are dressed."
https://www.thesundaily.my/local/option-for-women-muslim-staff-in-private-sector-to-choose-whether-to-wear-headscarf-lauded-KE1556950
--------
Saudi Sisters Lead Lifesaving Awareness Campaign over Killer Cancer Gene
DR. HAYA ZEDAN
October 31, 2019
RIYADH: Three Saudi sisters who took drastic steps to avoid developing breast cancer are leading a lifesaving awareness campaign to help women throughout the Kingdom.
Reem, Rabab and Rana Hajjar, known as the Saudi Previvors, all underwent a double mastectomy after being found to be carriers of an aggressive cancer-causing gene.
Their mother was diagnosed with cancer at the age of 29, and the sisters agreed to early blood tests which detected a high risk of them also falling victim to the killer disease.
Now, partly through an online help platform, the siblings are leading the way on women's health issues, driving community efforts to promote awareness and teaching Saudis about the importance of self-examination, breastfeeding, physical activity and maintaining a healthy lifestyle.
Their Saudi Previvors group aims to educate the public on health and wellbeing by focusing on ways to prevent the onset of breast cancer by taking proactive steps to lower risk factors.
The BRCA gene blood test, which the sisters took, is done to determine if a patient has changes or mutations in their DNA that increase the risk of breast cancer in the BRCA1 or BRCA2 genes.
With a high incidence rate of breast cancer in the Kingdom, the Hajjar sisters hope to save lives by sharing their experience and knowledge with other women.
As well as their mother, other women in their family had also been diagnosed with breast cancer at an early age. When their mother's cancer returned in 2015, doctors strongly advised the sisters to be tested. They were all found to carry the gene and decided to undergo a double mastectomy to remove breast tissue. It was at this time that they set up their group on Facebook.
"We started a page on Instagram and on Facebook. If you take proactive steps to prevent this from happening, you become a previvor. We are an open book, and many physicians refer patients to us for support," said the youngest of the sisters, 31-year-old Rana. "We hope our story can influence others to take these steps."
Awareness events, such as those happening in October for breast cancer, are an important way for individuals and families to learn about issues that affect their health. Simple adjustments to lifestyles can be enough to help limit the risk of developing life-threatening diseases and illnesses.
By taking proactive steps to prevent cancer from occurring, the sisters consider themselves to be "previvors" rather than "survivors" of the disease, hence the name for their group.
"We provide full support — physically, emotionally and mentally, by being positive and sharing our story. We believe that if a woman is brave enough to face this, it's better than living in fear of the unknown," said Rabab, 35.
Using the anonymity of the internet has helped many Saudi women to overcome the embarrassment, shame or fear that had previously held them back from asking questions.
Through their group, the sisters are able to help women work through their experience, explain about taking the blood test, and how to physically and emotionally manage results and procedures.
Reem, 36, the eldest of the three, said: "Love yourself unconditionally, find the strength within you, take the step … our motto in the campaign is 'your femininity is in your strength.'"
https://www.arabnews.com/node/1576856/saudi-arabia
--------
In Indonesia, 'bride kidnapping' fuels child marriage despite new ban
Thomson Reuters Foundation
October 31, 2019
LEMBAR: Fifteen minutes into their first date, Indonesian teenager Helma Yani received a marriage proposal from a boy she had just met.
He spirited her away to a relative's house and a month later, at age 17, they were married.
Yani is one of nearly 1.5 million child brides in Muslim-majority Indonesia, which has the world's eighth-highest number of underage unions according to the United Nations.
The government raised the marriage age for girls from 16 to 19 in September, but rights groups fear deep-rooted traditions and the practice of not registering unions could hamper efforts to end the scourge.
On Yani's island of Lombok, the Sasak people continue a centuries-old tradition of "bride kidnapping", in which a woman is taken away by her future husband before a wedding.
Known locally as "merariq", Sasak elders say the kidnapping is part of an elaborate courtship ritual requiring consent from both parents but is now widely abused to justify early marriages.
"I didn't know what to do when he proposed so I said yes," said Yani, looking away shyly as she spoke in her village where children and chickens roam the streets. "We rode off on a motorbike from the beach to his relative's house."
Her parents did not know where she was for days until the village heads came to say Yani had been taken by the boy and was preparing for marriage.
"I was angry and upset, I cried non-stop as I tried to search for her," said her mother Nur Halima as she cradled Yani's two-month-old baby girl.
"She had not finished school, but what can I do except let her get married? If she returns unmarried she could bring shame on our family," she told the Thomson Reuters Foundation.
Stories like Yani's are common across Lombok, but activists are fighting back with an unusual approach of joining forces with village elders to restore the traditional ways of "merariq".
Marriages go unregistered
Globally 12 million girls become child brides each year, according to campaign group Girls Not Brides.
They face greater risks of exploitation, sexual violence, domestic abuse and death in childbirth.
In Indonesia, a Southeast Asian archipelago of 260 million, poverty and tradition lead to one in nine girls being married before age 18, according to official statistics.
And the West Nusa Tenggara province, which includes Lombok, ranks among Indonesia's top 10 for child marriage.
Lombok's bride kidnapping ritual dates back generations among the Sasak, an ethnic Muslim group of about 3 million who mostly live on the island east of the resort destination Bali.
At one time, negotiations were held between families after a Sasak man set his sights on a woman, in contrast to bride kidnappings plaguing countries like Kyrgyzstan, Mali and Ethiopia.
The man would then take the woman to an agreed location to see if they were compatible, as relatives supervised.
Now the ritual often results in sad tales like Yani's – an easy excuse for men to force marriage on young vulnerable women.
Once a girl is with a suitor for days, parents are typically so desperate to avoid social stigma they agree to the union.
In Lombok, which sends one of the highest numbers of Indonesians overseas as migrant workers, some parents feel their daughters can be better looked after in their absence if they marry.
It also alleviates a financial burden.
"It is done in the name of tradition, so people just accept it blindly regardless if it is right or wrong," said Faozan, of the local non-profit Village Children Protection Group.
https://www.freemalaysiatoday.com/category/world/2019/10/31/in-indonesia-bride-kidnapping-fuels-child-marriage-despite-new-ban/
--------
'Women Have Done So Much To Nurture Arab Culture'
October 31, 2019
His Highness Dr Sheikh Sultan Bin Mohammed Al Qasimi, Supreme Council Member and Ruler of Sharjah, honoured Lebanese author and critic Dr Yumna Al Eid (also known as (Hikmat Sabbagh), as the 'Cultural Personality of the Year' during the inaugural ceremony of SIBF 2019 on Wednesday.
She won the award in recognition of the significant role she has played to promote the Arab literary scene through her contributions as an award-winning author and critic, for over four decades.
In her acceptance speech, she termed it as an honour to women's achievements, in particular to those who have done so much to nurture Arab culture.
"I perceive this occasion as an honouring of women's achievements, in particular, who have done so much to nurture Arab culture. Women writers liberate the collective consciousness from the practices and conceptions defined by a patriarchal culture. The fact that more women in our region are picking up a pen to write award-winning titles is a matter of pride," she said.
She added, "I emphasise the importance of printed books, which we are celebrating here, and encourage book fairs and Arabic publishing houses to together promote the sustainability of Arabic language books as they are central to nurturing our future generations."
Thanking the Sharjah Ruler and SIBF for the recognition, Dr Yumna Al Eid said, "I am delighted to be here with you at this cultural celebration in the Emirate of Sharjah. I have fond memories of Sharjah, which has been celebrating culture, books and authors without any discrimination by gender or nationality."
Sheikh Sultan honoured Dar Al Khaleej, Press, Printing and Publishing House as the Sharjah International Book Fair media partner.
As the 38th Edition of Sharjah International Book Fair celebrates the Republic of Mexico as Guest of Honour country, President of the publishing industry of Mexico Juan Arzoz Arbide thanked Sharjah for shining a spotlight on Mexican culture, literature, art and cuisine at one of the largest book fairs in the world.
Speaking at the SIBF 2019 inaugural ceremony, he said, "We are delighted to have received this tremendous honour. We believe that books can change minds; they are a key source of knowledge. Books build strong cultural relations and promote social integration and development. This international fair, which hosts my country Mexico as Guest of Honour, has allowed our authors and intellects to deliver on this mission. We look forward to receiving you all at the Mexico Pavilion at SIBF."
Sheikh Sultan honoured the winners of the 11th Etisalat Award for Arabic Children's Literature, which is organised by the UAE Board on Books for Young People (UAEBBY) and sponsored by the Etisalat Group.
The awards were presented during the opening ceremony of the 38th Sharjah International Book Fair (SIBF 2019) on Wednesday.
Award for the 'Children's Book of the Year' went for 'A story on S & L,' written by Anas Abu Rahma, illustrated by Lubna Taha and published by Al Dar Al Ahlia, Jordan.
The book titled 'Whose Doll is This?' won the 'Young Adult Book of the Year', written by Taghreed Al Najjar and published by Dar Al Salwa, Jordan.
The 'Best Text' Award went to 'Damascus: A story of a city' written and illustrated by Alaa Murtada and published by Al-Balsam Publishing House, Egypt.
Award for the 'Best Production' was won by 'Abu Karkouba,' written by Nabiha Muhaidli, illustrated by Walid Taher and published by Dar Al Hadaeq, Lebanon.
The 'Best Illustration' award was won by 'I Fly,' written by Dr Amani Saad Al-Najim, illustrated by Ali Khalid Al Zaini and published by ABC Publishers, Jordan. The newly added Award for the 'Silent Book' was won by 'The Secret of the Well,' illustrated by Masouma Haji Wand, ideated by Ali Al Qasem, and published by Dar Al Buraqh publishing house, Iraq.
This year the award had received 175 entries from around the world. While 98 entries were received in the 'Children's Book of the Year' category, 68 in the 'Young Adult Book of the Year' category, and nine in the 'Silent Book' category which was introduced this year.
https://www.gulftoday.ae/news/2019/10/30/women-have-done-so-much-to-nurture-arab-culture
--------
Embassy Of Sweden And VFS Global Boost Women Empowerment
October 30, 2019
RIYADH — VFS Global, the world's largest outsourcing and technology services specialist for diplomatic missions worldwide, is building on its Saudization initiatives by co-participating with the Embassy of Sweden at the 'A Step Ahead Career Fair 2019'. The three-day recruitment related conference was held in the capital city of Riyadh earlier this month, and was endorsed by the Ministry of Labor and the Human Resources Development Fund.
As the biggest event targeted toward empowering and employing Saudi women, entities from all industries participated to encourage women to explore how they can progress their careers and contribute to the leaderships' Saudization scheme, which is part of the leadership's Saudi Vision 2030.
Niclas Trouvé, Ambassador of Sweden to Saudi Arabia, Oman and Yemen, said: "The Kingdom of Saudi Arabia has an ambitious roadmap for enhancing the role that citizens play in the nation's future progress. This is why initiatives like the 'A Step Ahead Career Fair' are so vital in empowering future talents to pursue careers that will help define and achieve the country's vision for the years ahead. We were delighted to meet many young and talented candidates who certainly will have promising careers ahead."
Vinay Malhotra, Regional Group COO for Middle East, South Asia & China, VFS Global said: "Women of Saudi Arabia are vital in helping to shape diversity within the country's private and public sectors. As figures from the previous 'A Step Ahead' event reveal, this talented pool of skilled women also express a keen desire to become involved in boosting the social and economic future of the country. As such, VFS Global is proud to support workplace diversity in the Kingdom and empowering even more women to explore exciting career pathways."
By co-participating with the Embassy of Sweden, VFS Global showcased and promoted the exciting career opportunities that exist in the visa services, travel and tourism sector. This is also in line with the company's mission to achieve over 60% Saudization by 2020.
http://saudigazette.com.sa/article/581275/SAUDI-ARABIA/Embassy-ofSweden-andVFS-Globalboost-womenempowerment
--------
URL: https://www.newageislam.com/islam-women-feminism/saudi-woman-arrested-dancing-while/d/120140
New Age Islam, Islam Online, Islamic Website, African Muslim News, Arab World News, South Asia News, Indian Muslim News, World Muslim News, Women in Islam, Islamic Feminism, Arab Women, Women In Arab, Islamophobia in America, Muslim Women in West, Islam Women and Feminism