New Age Islam News Bureau
19 Jul 2017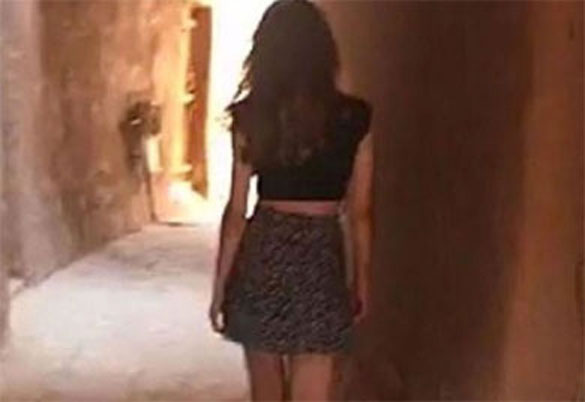 Saudi Arabia's state-run TV reported Tuesday that police in the capital, Riyadh, arrested the woman for wearing 'immodest clothes' and referred her case to the country's public prosecutor. Photo: @Twitter
-----
• More Muslim Women Seeking Divorce Because Of Abuse, SIS Reveals
• Women Dentists in Goa Receive Threat Letters in Name of IS Founder
• Teen behind New Hijab Emoji: 'I Just Wanted an Emoji Of Me'
• UAE Women Lead the Arab Power List
• Malala Meets Chibok 'Heroes', Calls for Education Emergency in Nigeria
• Malala Condemns China Over Death of Fellow Nobel Laureate Liu Xiaobo
• Iraqi Forces Arrest Foreign Female Members of ISIL in Mosul
• Saudi University Students Name Streets after Influential, Inspiring Women
Compiled by New Age Islam News Bureau
URL: https://www.newageislam.com/islam-women-feminism/saudi-woman-miniskirt-video-arrested/d/111884
--------
Saudi woman in miniskirt video arrested after public outcry
Jul 19, 2017
The woman, whose name was not given, was detained by police in the capital, Riyadh, for wearing "immodest clothes" that contradicted the country's conservative Islamic dress code, state media reported Tuesday. Police referred her case to the public prosecutor, according to the official Twitter account of state-run TV channel al-Ekhbariya.
In the video, which has gone viral since first emerging on Snapchat over the weekend, the woman is filmed walking around a historic fort in a miniskirt with no one else around. The short video, shot in a village in the desert region of Najd, where many of Saudi Arabia's most conservative tribes and families are from, is followed by other shots of her sitting in the desert.
The video sparked a Twitter hashtag that called for her arrest, with many saying she flagrantly disobeyed Saudi rules, which require all women living in the kingdom, including foreigners, to wear long, loose robes known as abayas in public. Most Saudi women also wear a headscarf and veil that covers the face.
Social media is wildly popular in Saudi Arabia as a space to vent frustrations and gauge public opinion. The outcry against the video and the woman's subsequent arrest reveal how powerful and widespread conservative views are in the kingdom, despite recent moves by Saudi Arabia to modernize and loosen some rules.
The country's 31-year-old heir to the throne, Crown Prince Mohammed bin Salman, has pushed for greater openings for entertainment in part to appease the youth, who are active on social media and can bypass government censors online. More than half of Saudi Arabia's population is under 25.
The government announced last week that girls would be allowed for the first time to play sports in public school and have access to physical education classes. The powers of the kingdom's religious police have also been curtailed, and they are officially no longer allowed to arrest people.
Despite these moves, strict gender segregation rules and other restrictions on women remain in place. Women are not allowed to drive in Saudi Arabia and cannot obtain a passport or travel abroad without a male relative's permission.
After the woman's video surfaced, some Saudis expressed alarm, saying that Twitter was being used as a tool to out other citizens.
Saudi writer Waheed al-Ghamdi wrote on Twitter that while the woman violated Saudi laws, her actions did not warrant such an outcry because they did not harm others.
"I am simply questioning the lack of priorities regarding anger and alarm expressed over human rights violations and oppression versus the harmless personal choices of others,'' he wrote.
Some of those defending her posted images from President Donald Trump's visit to Saudi Arabia in May, in which First Lady Melania Trump and his daughter Ivanka, though modestly dressed in higher necklines and longer sleeves, did not cover their heads or wear abayas.
One Twitter user, whose post was shared more than 1,700 times, superimposed an image of Ivanka's face on the young Saudi woman's body, writing: "Enough already, the situation has been solved."
The woman's image was blurred on Saudi news websites reporting on the case. It is common in Saudi Arabia to see heavily blurred or pixelated images of women's faces on billboards and storefronts _ in stark contrast to the many towering images of senior male royals displayed across the country.
http://timesofindia.indiatimes.com/world/middle-east/saudi-woman-in-miniskirt-video-arrested-after-public-outcry/articleshow/59660708.cms
--------
More Muslim women seeking divorce because of abuse, SIS reveals
BY BOO SU-LYN
July 19, 2017
KUALA LUMPUR, July 19 ― More Muslim women are initiating divorce from their husbands due to domestic violence, according to cases handled by Sisters in Islam's (SIS) legal service.
Telenisa, a free legal service by the Muslim women's rights group for both women and men, said almost half of the divorce cases it handled last year were "fasakh", a method of divorce which is initiated by the wife.
According to Telenisa, 62 of its clients (47 per cent) sought "fasakh" last year, up from 27 clients in 2015. A total of 66 clients sought "fasakh" in 2014.
"Fasakh" has become the most opted type of divorce application by women as they generally become more aware of their rights within marriage.
"Consistently high numbers of domestic violence cases reported in our Telenisa statistics also show 'fasakh' as the most obvious type of divorce to institute," the Telenisa team told Malay Mail Online in an interview.
In 2016, Telenisa recorded domestic violence as the most common reason for a marital breakdown in a quarter of marriages, followed by maintenance issues (17 per cent), extramarital affairs (16 per cent), communication problems (15 per cent), and other reasons like substance abuse, financial problems, polygamy, husband absconding and health reasons.
Last year saw 107 cases of domestic violence (25 per cent), up from 27 cases in 2015 (9.3 per cent). Telenisa recorded 127 domestic violence cases in 2014 (11 per cent).
"Domestic violence affects all walks of life, not limited to a certain sector of society. Increasingly, Telenisa has recorded greater levels of emotional and psychological abuse experienced by our clients," said Telenisa.
Telenisa also highlighted the Shariah Court's refusal to recognise protection orders issued by the civil magistrate court in a particular child custody case.
"The PO covered not only the client but included the children as well, from further violence, from the perpetrator. We see this as a failure on the Shariah Court's part to abide by the order which is criminal in nature and could pose dangers to the [physical and psychological] well-being of the children," said Telenisa, using the initials of "protection order".
A Muslim woman may apply for divorce through "fasakh" if her husband fails to provide maintenance, if he is insane, or if he treats her cruelly, according to the Islamic Family Law (Federal Territory) Act 1984. "Fasakh" also allows her to void a marriage she did not consent to.
"The Shariah Court requires the wife to provide strong grounds to pronounce divorce through 'fasakh.' The time frame till conclusion of the divorce may be longer than divorce initiated by the husband or if mutually agreed upon," said Telenisa.
According to Telenisa, divorce through "fasakh" can take up to two years or more, depending on the complexity of the case or if documents are incomplete (generally about nine months from the date of filing if documents are in order), compared to mutual divorces that can be done even during mention date itself, which is 21 days from the date of filing.
Rise of illegitimate children's cases
Telenisa recorded increasing cases of illegitimate children from 5.8 per cent in 2014, to 7 per cent in 2015, and to 11.4 per cent last year.
Telenisa said one of the reasons behind the rise of queries on illegitimate children was increasing awareness of its assistance on the issue.
"At Telenisa, we ensure our officers assist the clients with a gender sensitive approach without having any bias, prejudice or any other form of harmful behaviour," said Telenisa.
Telenisa described a case where a child was registered with his father's name on his birth certificate in 2004. The child's parents had married three months before his birth.
However, the National Registration Department refused to register the child under his father's name when his father tried to apply for the child's identity card last year, saying that the child would have to be registered with a "bin Abdullah" name as he was considered an illegitimate child.
"Such policies and practice are unfair, discriminatory and stigmatise the child for the rest of his or her life. Furthermore, this also deprives the rights of fathers who want to take responsibility for their child or children," said Telenisa.
Polygamy happening without wife's consent, knowledge
The number of polygamy cases recorded by Telenisa increased slightly from 68 cases in 2015 to 76 cases last year. Telenisa had 110 cases in 2014.
According to Telenisa, 2016 saw 28 and 23 complaints respectively of men entering polygamous marriages without their wives' consent or knowledge.
The lack of the wife's consent was also the most common issue in polygamy cases in 2015 and 2014, followed by complaints of the wife being kept in the dark.
"Under the Islamic Family Law (Federal Territory) Act 1984, a man has to apply to court before taking another wife. He also has to, among other things, prove to the court that he is able to support all his existing and subsequent wives and dependants.
"However, men end up marrying subsequent wives at neighbouring countries and not registering that marriage and therefore, the rights of subsequent wives and children are not looked after," said SIS.
SIS also pointed out that based on its national survey of the impact of polygamy, 44 per cent of first wives had to take an additional job or work overtime to ensure financial stability after their husbands took on extra spouses.
Most of Telenisa's clients involving polygamy were first wives who sought information on divorce procedures, matrimonial property, and child maintenance and custody.
"Second wives, on the other hand, usually seek information on marriage registration procedures as they mostly got married at the border. Most of them did not know that they have to register the marriage in Malaysia prior to filing for divorce or to claim for any rights as a wife," said SIS.
Telenisa also handled nine polygamous husbands between 2014 and 2016, who wanted to know their rights and responsibilities in polygamous marriages.
The legal service noted that polygamous marriages in most states, especially in Selangor and Federal Territories, required the Shariah Court's permission.
"Some clients, be they second wives and polygamous husbands, have asked about loopholes in the law and how can they escape going through court procedures. We would insist on clients following the law and remind them the consequences upon violation, especially the impact on rights of the second wives and children.
"We would at the same time emphasise to the husbands the importance to be just to the existing family (first wives and children) and the second wives," said Telenisa.
Telenisa's clientele increased from 397 people in 2015 to 419 last year, comprising 83 per cent women and 9 per cent men for 2016. Telenisa had 474 clients in 2014.
Clients can call Telenisa at 03-7960 8802 or email telenisa@sistersinislam.org.my.
http://www.themalaymailonline.com/malaysia/article/more-muslim-women-seeking-divorce-because-of-abuse-sis-reveals
--------
Women dentists in Goa receive threat letters in name of IS founder
July 18, 2017
Some women dentists practising in North Goa's Calangute belt have received letters "signed" by slain IS founder Abu Musab al-Zarqawi, demanding between Rs 1 to 2 crore as "protection money", the police said on Tuesday. The Calangute belt is known for "dental tourism". Prima facie, around five dentists have received such letters in the recent past, though the police have refused to divulge the exact number.
"Some women dentists practising in the Calangute belt of North Goa have been receiving the letters signed off with Abu Musab al-Zarqawi's name, which are being examined. "The letters demand protection money between Rs 1 to 2 crore. Formal complaints have been lodged with the police and we are investigating them," Calangute Police Inspector Jivba Dalvi said.
Abu Musab al-Zarqawi is believed to have been killed in 2006. The officer said police have taken all preventive measures and stepped up security outside the clinics of the complainants. Dalvi didn't specify the number of such complaints received by police and the exact nature of the threat given to the dentists concerned in these letters.
However, one of the complainants the PTI spoke to today has claimed that at least four more dentists in the area, besides her, have received such letters over a period of time. According to the sources in the police, one of the dentists had filed a complaint in May and again earlier this month. Similarly, some more women practitioners too have received such letters, they said.
Police have registered a case under section 507 (criminal intimidation by an anonymous communication) of the Indian Penal Code. The sources said the letter asked a complainant to hang a white coloured cloth outside her clinic if she was ready to pay the money. "In a bid to trap the sender, she did put up a white coloured cloth, but nothing happened. Later, she received another letter raising a similar demand," they said.
The dentist said she received the second threat letter only last week. "Both the letters I received had identical handwriting, though their content was slightly different," she said. She claimed at least four dentists from Calangute area have received such letters apart from her. "One of the dentists practising in Calangute and also in Mumbai had received a similar letter, following which she filed a complaint with the Mumbai Police. There are three more dentists who have received such letters in this area," she said, adding she was getting the support from local police.
Dental tourism is flourishing in Goa. Tourists, mainly foreigners, prefer getting their dental treatment done here as the expenditure is comparatively less than in their home countries.
http://indianexpress.com/article/india/women-dentists-in-goa-receive-threat-letters-in-name-of-is-founder-4756821/
--------
Teen behind new hijab emoji: 'I just wanted an emoji of me'
July 18, 2017
(CNN)Headscarf-wearing women now have an emoji of their own, thanks to a 16-year-old Saudi girl.
Rayouf Alhumedhi, who now lives in Vienna, proposed the idea last year to The Unicode Consortium, the non-profit corporation that reviews and develops new emojis.
And she's delighted that Apple accepted it. It was unveiled Monday on World Emoji Day as one of a collection of new emoji characters available on Apple devices later this year.
Alhumedhi is "happier than ever" that the emoji will soon be available. "I'm really happy with how it looks."
"I'm really happy with what it looks like," Alhumedhi told CNN on Tuesday. "I saw so many ideas, different colors and styles but I didn't know what it would finally look like. I'm just so excited because it's finally came out after all the work, all the writing."
Alhumedhi saw the new emoji for the first time Monday night when a friend sent her a message linking to a BuzzFeed article. "I got the news just like everybody else!" she said.
Lack of hijabi emoji was 'baffling'
She first had the idea in her bedroom in Berlin, where she lived with her family for five years after moving to the German capital from Saudi Arabia.
"My friends and I were creating a group chat on WhatsApp," Alhumedhi told CNN in an interview last year, "and I obviously had no emoji to represent me."
"The fact that there wasn't an emoji to represent me and the millions of other hijabi women across the world was baffling to me," she said. "I really had no initial idea in my mind of what it was supposed to look like, I just wanted it to be available in different skin tones -- millions of women from different races do wear it."
She drafted a proposal on her laptop and sent it to Unicode. "I did it very quickly. I did not understand how big a deal this was," she said Tuesday, reflecting on the process.
And she quickly gathered support. Jennifer 8. Lee, a member of the Unicode emoji subcommittee, put Alhumedhi in touch with Aphee Messer, who worked with the teenager to design the emoji.
Although many people were supportive, some described the emoji as "unnecessary" and a "part of patriarchal constructs that oppress women."
Alexis Ohanian, co-founder of Reddit, also backed her proposal and hosted an online discussion where Alhumedhi talked about her idea and responded to critics.
Although many people were supportive, some in the discussion described the emoji as "unnecessary" and a "part of patriarchal constructs that oppress women."
And reaction on social media since Monday's announcement has been equally mixed.
"The hijab is a symbol of oppression," wrote Joeymp on Twitter, replying to a tweet by Apple's CEO Tim Cook. "By including it as an emoji you are showing your support for the oppression of women."
"They are coming out with a woman wearing a hijab and a breastfeeding mom emoji," wrote ANEGIRL. "My faith in humanity is slowly being restored."
'The Muslim community will benefit'
The Unicode Consortium has dramatically increased the number of official emoji in recent years. It has approved 2,666 emoji as of June, up from 722 just two years ago. It's also made a greater effort to include diverse skin tones, flags and occupations.
Alhumedhi is aware that the emoji is contentious. "It will cause controversy," she said Tuesday. "Some people will try and pervert it, use the emoji in a hurtful way to perpetuate stereotypes.
"But overall, I think the Muslim community will benefit from it. Even if only in terms of representation. It's only an emoji. It's not a game changer. But it will make people happy. I hope so."
And she hopes it will promote tolerance too. Once women wearing headscarves "begin to show up on our phones, that will establish that notion that we are normal people carrying out daily routines just like you," she said last year.
"I wanted to be represented, as simple as that. I just wanted an emoji of me."
http://edition.cnn.com/2017/07/18/europe/hijab-emoji-teenager/index.html
--------
UAE women lead the Arab power list
July 19, 2017
Raja Easa Al Gurg rated third most influential woman in the Arab world
Women from the UAE dominated the list of the 100 Most Powerful Arab Women with as many as 18 making it to the top this year.
Sheikha Lubna Al Qasimi, Minister of State for Tolerance in the UAE, is revealed as the number one most powerful Arab woman in government in 2017.
Raja Easa Al Gurg, managing director of Easa Saleh Al Gurg Group, has been rated the third most influential woman in the Arab world.
Al Gurg has overseen the powerful Al Gurg Group, one of the UAE's oldest family firms, since 1960. Founded five decades ago, the conglomerate operates 28 companies and boasts 370 partnerships with multinationals, such as Unilever, British American Tobacco and Siemens. Al Gurg sits on several corporate boards, including HSBC Bank Middle East and Coutts Bank. She's frequently part of official trade delegations and is also active in philanthropic and women societies in the UAE.
The UAE is followed by Egypt and Lebanon with 16 and 12 women respectively.
Saudi Arabia's Lubna S. Olayan, CEO of Olayan Financing Company, and Lobna Helal, deputy governor of the Central Bank of Egypt, were ranked first and second respectively.
Among the others to be ranked in the list from the UAE are Dalya Al Muthanna, president and CEO of GE Gulf; Sheikha Bodour Al Qasimi, chairwoman of Sharjah Investment and Development Authority; Suzanne Al Anani, CEO of Dubai Aviation Engineering Projects; Maysa Jalbout, CEO of Al Ghurair Foundation for Education; Majida Al Rashid, head of real estate management at the Dubai Land Department; Maryam Al Suwaidi, deputy CEO of licensing, supervision and enforcement at the Securities and Commodities Authority; Hana Al Rostamani, group head of personal banking at First Abu Dhabi Bank; and Maitha Al Dossari, CEO of Emaar Entertainment.
Other UAE female executives who made it to the list are Amina Al Rustamani, Group CEO of Tecom Group; Shahla Abdul Razak Bastaki, deputy CEO of Dubai Silicon Oasis Authority; Shaikha Al Maskari, chairwoman of Al Maskari Holdings; Alia Al Mazrui, COO of Mazrui Holding; Maryam Al Mheiri, CEO of Media Zone Authority Abu Dhabi and twofour54; Maryam Mohamed Fekri, executive VP, COO, head of clearing, settlement and depository division at Dubai Financial Market; Kawthar Makahlah, CEO of BCI Group; Nadia Zaal, CEO of Zaya; and Amna BinHendi, deputy chairwoman of BinHendi Enterprises.
Saudi Arabia leads the charge, with businesswomen climbing the ladder across private and government organisations. This year saw Rania Nashar, CEO of Samba Financial Group, become the first woman in the Kingdom to head a commercial bank. Latifa Homoud Alsabhan was promoted to CFO of the Arab National Bank. Sarah Al Suhaimi was appointed as the chair of the country's stock exchange, Tadawul. Lubna S. Olayan, CEO of the Olayan Financing Company, tops the businesswomen list for the third consecutive year.
In the world of social media, Huda Kattan, a Hollywood trained make-up artist and beauty consultant based in Dubai, tops the list with over 23.8 million followers. Following her are Joelle Mardinian, a successful beauty and make-up entrepreneur, and YouTube star Hayla Al Ghazal, with over 9.3 million and 7 million subscribers respectively.
http://www.khaleejtimes.com/business/global/uae-women-lead-the-arab-power-list--
--------
Malala meets Chibok 'heroes', calls for education emergency in Nigeria
July 18, 2017
Nobel peace laureate Malala Yousafzai on Monday called for a "state of emergency for education" in Nigeria, as she visited the country and met some of the Chibok schoolgirls whose cause she championed.
The 20-year-old global education campaigner made the suggestion at a meeting with Acting President Yemi Osinbajo at the presidential villa in Abuja.
Nigeria has some 10.5 million children out of school — the most in the world — and 60 per cent of them are girls, according to the UN children's fund, Unicef.
Many of them are in the country's northeast, where the Boko Haram insurgency has devastated education in the last nine years, damaging or destroying classrooms and schools.
Yousafzai, who was shot and nearly killed by the Taliban in her native Pakistan in 2012 for insisting girls should go to school, told reporters: "I highlighted a few issues. The first was to ask the government to declare a state of emergency for education because the education of the Nigerian girls and boys is really important. The federal government, state government and local government should all be united for this."
"Secondly, the spending should be made public and thirdly, the Child Rights Act should be implemented in all states." Yousafzai said there was a "positive response" to the suggestion from Osinbajo, who has been standing in for President Muhammadu Buhari since he left on open-ended medical leave in early May.
The most high-profile symbols of the attack on girls' education are the more than 200 students who were abducted by Boko Haram militants from their school in the remote town of Chibok in April 2014.
Yousafzai, who was awarded the Nobel peace prize in 2014, joined politicians, celebrities and campaigners from around the world to support the online #BringBackOurGirls movement to demand their release. On a previous visit to Nigeria in July 2014, she urged the then-president Goodluck Jonathan to meet the girls' parents.
On the first anniversary, she called the missing girls "my brave sisters" and wrote in an open letter that she could not wait to meet and hug them. "You are my heroes," she said.
A total of 106 of the kidnapped girls have been released, rescued or escaped after more than three years in captivity, while 113 are still being held.
Yousafzai said she was "very happy" to see some of the girls, who are staying at a government-run facility in Abuja.
"I'm really excited to see them going back to their homes and to their families and continuing their education," she added. "But I hope the other girls who are still under abduction of Boko Haram are released."
https://www.dawn.com/news/1346099/malala-meets-chibok-heroes-calls-for-education-emergency-in-nigeria
--------
Malala condemns China over death of fellow Nobel laureate Liu Xiaobo
July 19, 2017
ABUJA: Nobel laureate Malala Yousafzai condemned China's treatment of her fellow peace prize-winner Liu Xiaobo following his death of liver cancer in custody last week.
Liu, 61, was jailed for 11 years in 2009 for "inciting subversion of state power" after he helped write a petition known as "Charter 08" calling for sweeping political reforms in China.
Liu's incarceration meant he was unable to collect his Nobel Peace Prize in 2010, and he became the second winner of it to die in state custody, the first being Carl von Ossietzky in Germany in 1938. Liu's wife Liu Xia remains under effective house arrest.
"I condemn any government who denies people's freedom," Yousafzai, 20, a Pakistani education activist who came to prominence when a Taliban gunman shot her in the head in 2012, told Reuters at a school in the northeastern Nigerian city of Maiduguri.
"I'm hoping that people will learn from what he (Liu) did and join together and fight for freedom, fight for people's rights and fight for equality," she said.
Yousafzai's trip to Nigeria was aimed at raising awareness of education problems in Africa's most populous country where over 10.5 million children are out of school, more than anywhere else in the world.
The issue is felt more severely in the mainly Muslim north. The south has over the decades seen greater investment and a system of schools started by Christian pastors affiliated with British colonists.
Nigeria needs to "increase spending on education and they need to make it public, the rate of spending planned and how much they're spending," said Yousafzai. Since her first trip to Nigeria three years ago, the proportion of the budget allocated to education has dropped from above 10 percent to around 6 percent, she said.
The eight-year Islamist insurgency of Boko Haram, whose name roughly means "Western education is forbidden," has compounded problems with education in Nigeria's north.
The militants have destroyed hundreds of schools and uprooted millions, forcing them into refugee camps which often lack the most basic necessities, let alone decent schooling.
On Monday, Malala called on Nigeria's acting president, Yemi Osinbajo, to call a state of emergency for the country's education.
"Nigeria in the north has been suffering through conflicts as well and extremism," she said.
"So it is important in that sense as well that they prioritize education in order to protect the future."
http://nation.com.pk/international/19-Jul-2017/malala-condemns-china-over-death-of-fellow-nobel-laureate-liu-xiaobo
--------
Iraqi Forces Arrest Foreign Female Members of ISIL in Mosul
Jul 18, 2017
The Iraqi officer said that a number of non-Iraqi female members of the ISIL terrorist group, including five Germans and some others from Russia, Turkey, Canada and Chechnya have been arrested by the pro-government forces in a tunnel in the Old Mosul district.
The officer added that the captured women that had hidden in the tunnel had their guns and explosive belts.
Media reports said on Sunday that the Iraqi Security Forces (ISF) found a massive ISIL base for the production of vehicle-borne improvised explosive devices (VBIED) in the liberated city of Mosul as they began scouting out throughout the Northern city.
Most alarmingly, Iraqi troops discovered literally dozens of ready-made armored VBIEDs which, had the battle for Mosul city lingered on any longer, would have undoubtedly have been used against them.
Iraqi troops discovered literally dozens of ready-made armored VBIEDs which, had the battle for Mosul city lingered on any longer, would have undoubtedly have been used against them.
Despite the fact that the VBIEDs were found neatly lined up in an almost production line-like fashion, one crucial element was to the fortune of ISF ordinance disposal teams found to be missing from the vehicles: explosives.
The VBIEDs seized by the ISF appear to be of the latest generation design used by ISIL. The car bombs have welded-on armor plating that shields the vehicle, as much as possible, from incoming fire, giving a would-be suicide driver a better chance of reaching their target.
In most cases, the armored VBIEDs built by ISIL are generally given just enough shielding as to not over-stress the engine of the vehicle used but to still offer decent protection from a range of small arms, including heavy machine guns. Often anti-ISIL forces have to employ anti-tank guided missiles (ATGM), RPGs, field guns and tank cannons in order to destroy the armored car bomb.
http://en.farsnews.com/newstext.aspx?nn=13960427001315
--------
Saudi university students name streets after influential, inspiring women
18 July 2017
Streets near the University of Hail in Saudi Arabia have been named after influential and inspirations women such as late Iraqi-British architect Zaha Hadid and Khadija bint Khuwaylid, the prophet's first wife.
The female students at the university chose to name the street near the engineering faculty after a world-renowned architect Zaha Hadid because of her inspiration in the field of architecture.
Girls volunteering in the university's communication and education center had selected prominent women to name streets after them. It's the first initiative of its kind and the university welcomed the idea and implemented it.
Hind al-Fahad, the center's director, told Al Arabiya that the center's aim is to propose initiatives and ideas and communicate them to the university.
Fahad said that since the university's campus includes more than 22 buildings, the volunteers at the center proposed naming the streets and squares after influential women.
"The streets were named after women who specialized in majors similar to the nearby faculties. For example, the street near the business faculty was named after Khadija Bint Khuwaylid because she was a businesswoman," she said.
Other streets were named after women from our modern history such as after Queen Iffat Al-Thunayan, who influenced Saudi women, Hayat Sindi, a Saudi scientist and others.
Hail University extends over a wide area, and it has more than 7 gates, 14 faculties and several women departments.
https://english.alarabiya.net/en/features/2017/07/18/Saudi-university-students-name-streets-after-influential-inspiring-women.html
--------
URL: https://www.newageislam.com/islam-women-feminism/saudi-woman-miniskirt-video-arrested/d/111884
New Age Islam, Islam Online, Islamic Website, African Muslim News, Arab World News, South Asia News, Indian Muslim News, World Muslim News, Women in Islam, Islamic Feminism, Arab Women, Women In Arab, Islamophobia in America, Muslim Women in West, Islam Women and Feminism