New Age Islam News Bureau
3 Oct 2018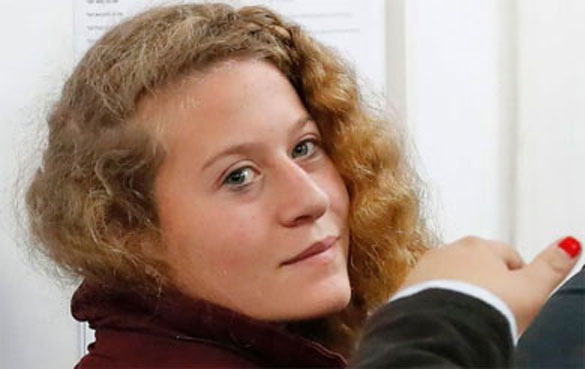 Tunisian President Beji Caid Essebsi on Tuesday met with teenage Palestinian resistance icon Ahed al-Tamimi and her family at Carthage Palace
------
• Tunisian President Meets Teen Palestinian Icon Ahed al-Tamimi
• Meet Huda al-Rasheed: Saudi Arabia's First Woman Broadcaster
• Moving Towards Moderation: Yoga Centres For Women Sprout In Saudi Arabia
• Deaths of Instagram Model, Other Women Shock Iraq
• ISIS Murder Kidnapped Woman in Damascus after Hindering Negotiations
• Arab News Strikes Partnership with Saudi Women Bowling Championship
• Over 100 Female Workers to Return From Saudi Arabia Wednesday
• Philippine Consulate Gives Shelter to 20 Women Evicted By Employer
Compiled by New Age Islam News Bureau
URL: https://www.newageislam.com/islam-women-feminism/saudi-woman-barred-marrying-musical/d/116556
--------
Saudi Woman Barred From Marrying 'Musical' Suitor
October 02, 2018
A Saudi woman has lost a judicial battle to marry the man of her choice as a court deemed him "religiously" unfit because he plays a musical instrument, a Saudi newspaper reported on Tuesday.
The ultra-conservative kingdom requires women to seek permission from male "guardians" — their fathers, husbands or other male relatives — to travel, get married and other tasks.
In some parts of the kingdom, a man who plays a musical instrument is considered of inferior status and having a bad reputation.
Two years ago the suitor, a teacher, asked for the hand of the woman, a 38-year-old bank manager from the ultra-conservative region of Qassim, north of the capital Riyadh, Okaz newspaper said.
But her family objected, saying he was not "religiously compatible" with her because he played the oud, the oriental lute which is popular across the Arab world.
The woman, who was not named, took her case to the courts.
A lower court weighed in on the side of the family, saying the marriage could not go through.
"Because the suitor plays a musical instrument he is unsuitable for the woman from a religious point of view," the court said, according to Okaz.
An appeals court ratified the verdict, making it final, the newspaper added.
The woman told Okaz she will seek intervention from the country's "highest authorities" — a reference to the royal court.
The bank manager, who holds a masters degree and is responsible for more than 300 employees, said she was determined to marry her suitor, describing him as "very pious and with a good reputation".
Saudi Arabia, a major US ally, has introduced a string of reforms over the past year aimed at improving the kingdom's image, including ending a longstanding ban on women driving.
But it continues to face criticism over the male guardianship system which allows men to exercise arbitrary authority to make decisions on behalf of their female relatives.
https://nation.com.pk/02-Oct-2018/saudi-woman-barred-from-marrying-musical-suitor
--------
Tunisian President Meets Teen Palestinian Icon Ahed al-Tamimi
02.10.2018
By Adel al-Thabti
TUNIS
Tunisian President Beji Caid Essebsi on Tuesday met with teenage Palestinian resistance icon Ahed al-Tamimi and her family at Carthage Palace, according to a presidential statement.
This reception of al-Tamimi represents "a renewed and firm recognition of the justice of the Palestinian cause and its place in the conscience of the Tunisian people", Essebsi said in a statement issued by the Presidency.
He underlined Tunisia's support for the Palestinian people and their right to establish their independent state with Jerusalem as its capital.
Al-Tamimi, for her part, expressed her gratitude to the Tunisian president for inviting her to visit the Arab country.
The Palestinian teen arrived in Tunisia late Monday upon an invitation from the Tunisian leader.
The visit coincided with the 33rd anniversary of Israeli airstrikes on the headquarters of the Palestine Liberation Organization (PLO) south of capital Tunis on October 01, 1985, which left scores of people dead.
Later in the day, the Tunisian General Union of Labour will hold a ceremony to honour the Palestinian activist and her family, the union wrote on Facebook.
On July 29, Israeli authorities released al-Tamimi and her mother, Nariman, after both had served eight months behind bars.
The 17-year-old was detained by Israeli forces last December after she was filmed slapping an Israeli soldier during a raid on her home.
In 2012, Istanbul's Basaksehir Municipality granted al-Tamimi the prestigious Hanzala Courage Award for defying Israeli soldiers who had just arrested her brother.
https://www.aa.com.tr/en/africa/tunisian-president-meets-teen-palestinian-icon-tamimi/1270476
--------
Meet Huda al-Rasheed: Saudi Arabia's First Woman Broadcaster
2 October 2018
Saudi Arabia's Channel One is remembering its first ever female presenter Huda Al-Rasheed, who appeared on screen as a news anchor in 1974.
Al-Rasheed is known as first Arabic news presenter on Channel One, before becoming the first woman from the gold to become an anchorwoman on the BBC network in London later in her career.
Before stepping foot on foreign shores for work, al-Rasheed encountered obstacles at home. Her father had strongly objected to her work in Saudi radio but she never stopped pursuing her dream.
She received an excellent expertise in media through for her work in the press, at the well-known Saudi Okaz newspaper during the early 1970s, at which she an editor for a weekly page called "Qitharati" or my guitar.
She also worked in Jeddah Radio where presented a political program called "The Say and Act" and another dedicated to poetry and culture. She worked there for three years before moving to Saudi TV to present the news.
First Saudi woman to get pilot license: Soon, I will captain a national airliner
Al Rasheed became the first woman from the gulf region to join the Arabic broadcast section of BBC, as Arabs recall her voice resonating on the network's international radio station saying Huna London (This is London).
She stayed in the UK away from home for three decades. She recalled that her father, who did not expect her success at the BBC, would proudly point to his friends that "this is my daughter Huda" whenever hearing her voice on air.
Her notable presence at the BBC gave an indicator of the quality and training at Saudi television and radio during its foundation phase, which paved the road for great names and unforgettable voices in the field.
Al-Rashed also started her literary work early in her career, through several novels "Tomorrow is Thursday", which was published in 1974, "Misdemeanor" in 1980, "The Divorce" written in 1993, "Love" in 2008, and "The Devil is Sometimes a Woman" in 2012.
https://english.alarabiya.net/en/features/2018/10/02/Meet-Huda-al-Rasheed-Saudi-Arabia-s-first-woman-broadcaster-.html
--------
Moving Towards Moderation: Yoga Centres For Women Sprout In Saudi Arabia
Oct 02, 2018
Riyadh: Postures, like squatting, lunging and doing headstands, were not permitted for Saudi women until a year ago. However, Crown Prince Mohammed bin Salman vowing an "open, moderate Islam," the kingdom last November recognized yoga as a sport. The Ministry of Commerce and Investment (MCI) has approved the teaching of yoga as a sports activity. Few months after the yoga was recognised officially, a new industry of yoga studios and instructors has sprouted in various Saudi cities, including the Holy cities Makkah and Madina. As a result, now one can witness in a sparse, wood-floored studio, Saudi women squat, lunge and do headstands.
All non-Muslim worships were banned in Saudi Arabia, the cradle of Islam, including Yoga which is widely perceived as a Hindu spiritual practice. But the new liberalization drive of Crown Prince has made it possible for even the women to go for it.
38-year-old, head of the Arab Yoga Foundation Nouf Marwaai, a Saudi woman spearheaded efforts to normalize yoga in the kingdom. She had to face insults and threats from extremists to challenge the notion that yoga is incompatible with Islam. She is quoted to have said, "I have been harassed, (and) sent a lot of hate messages." She has trained hundreds of yoga instructors in the kingdom.
Budur al-Hamoud, a recruitment specialist defends it saying, "Yoga has nothing to do with religion. It's a sport… It does not interfere with my faith."
https://www.siasat.com/news/moving-towards-moderation-yoga-centres-women-sprout-saudi-arabia-1415372/
--------
Deaths of Instagram Model, Other Women Shock Iraq
October 3, 2018
BAGHDAD (AP) — She was a 22-year-old former beauty queen, fashion model and social media star, whose daring outfits revealed tattoos on her arms and shoulder.
Tara Fares won fame and 2.8 million Instagram followers in conservative, Muslim-majority Iraq with outspoken opinions on personal freedom, such as: "I'm not doing anything in the dark like many others; everything I do is in the broad daylight."
It was also the way she died.
Last week, she was shot and killed at the wheel of her white Porsche on a busy Baghdad street during the day, apparently by a man who leaned in briefly and opened fire before speeding away on a motorcycle with an accomplice.
The killing, caught on security camera video, followed the slaying of a female activist in the southern city of Basra and the mysterious deaths of two well-known beauty experts.
The violence has shocked Iraq, raising fears of a return to the kind of attacks on prominent figures that plagued the country at the height of its sectarian strife.
Iraq is still recovering from its bloody fight against Islamic State militants. The country has been without a government since national elections in May, and riots have repeatedly broken out in the south over the authorities' failure to provide basic services.
"These harrowing crimes are worrying us," said Iraqi human rights activist Hana Adwar. "There are groups that want to terrify society through the killing of popular women and activists ... and to tell other women to abandon their work and stay at home."
It is not clear whether the deaths of the women are connected, and reports that they knew each other could not be confirmed.
Fares, with an Iraqi father and a Lebanese mother, first became famous in 2015 when she won an unofficial Baghdad beauty pageant organized by a social club. She has become a social media darling, with bold posts and photos of herself posing in elaborate makeup, tight jeans and blouses that showed off her tattoos.
A YouTube channel drew more than 120,000 followers in addition to those on Instagram, where she shared makeup tips.
She gave details of a brief marriage at 16 to an abusive husband who posted intimate photos of her on social media and took away their now 3-year-old son. Fares said the experience taught her "strength ... and how not to let anyone control me in anything."
Fares also spoke out occasionally against religious, tribal and political leaders.
While many young Iraqis shared her videos and pictures, others criticized her lifestyle as racy and un-Islamic.
She lived in Iraq's self-ruled Kurdish region with her family, visiting Baghdad from time to time. In a TV interview this year, she said her family had converted to Islam in 2002.
Hours after she was gunned down on Sept. 27, a video on social media showed her body being carried away by a group of young people, with her face and white shirt stained with blood. She was buried in the Shiite holy city of Najaf, her grave decorated with a black-and-white photo of her, along with red plastic flowers.
In August, Dr. Rafeef al-Yassiri, a plastic surgeon labeled "Iraq's Barbie," died under mysterious circumstances. Authorities initially called it a drug overdose but have not offered an update in over a month, leading to rumors she might have been poisoned.
Al-Yassiri, a Shiite Muslim with a prominent social media presence, ran the Barbie medical center, which offered cosmetic surgery as well as treatment for war victims and those with birth defects.
She posted photos of herself in full makeup and fashionable clothes, promoting her latest projects to more than 1 million Instagram followers. She also worked with local and religious charities.
A week after her death, Rasha al-Hassan, the owner of a well-known beauty center in Baghdad, was found dead in her home. Authorities initially said she suffered a heart attack.
On Sept. 25, a gunman killed Soad al-Ali, a prominent activist in the southern city of Basra. Al-Ali had organized protests demanding better services and jobs and decried the growing influence of Iran-backed Shiite militias in the area. Police said the killing was "purely personal" and had nothing to do with the protests.
Last weekend, another former beauty queen, Shaimaa Qassim, posted a video on Instagram in which she tearfully said she had received threats through social media.
Prime Minister Haider al-Abadi has ordered an investigation into what he called "well-planned kidnappings and killings." He said organized groups are "carrying out a plan to destabilize the security situation under the pretext of fighting perversion."
Security agencies have not yet commented on the investigation into Fares' death and no group has claimed responsibility.
Iraq once boasted a liberal society and progressive laws for women and the family, going back to the 1950s. Those gains were eroded after the 2003 U.S.-led invasion, which toppled Saddam Hussein and led to the emergence of powerful religious parties and a rise in extremism.
Posters on some streets, particularly near shrines, exhort women to cover their hair and wear an abaya — a long, black cloak that covers the body from shoulders to feet.
"After the killing of Tara Fares, I feel speechless," columnist Mohammed Ghazi al-Akhras wrote on his Facebook page. "We've reached the moment of total anarchy. They will kill everyone they don't like. ... The state of death is taking shape."
In one of her videos, Fares had chastised a Shiite cleric who she said had sought a temporary marriage with her, a tradition in Shiite communities that critics compare to prostitution.
"I'm not afraid of the one who denies the existence of God, but I'm really afraid of the one who kills and chops off heads to prove the existence of God," she wrote on Instagram in July.
https://www.tampabay.com/ap/national/deaths-of-instagram-model-other-women-shock-iraq-ap_nationalf55c7bf9aff64e8f9045c90c1de53af9
--------
ISIS Murder Kidnapped Woman in Damascus after Hindering Negotiations
2 October 2018
ISIS has murdered a woman they had kidnapped in Sweida, south of Damascus, following hindering negotiations with reconciliation committees.
Activists on social media said that the murdered woman was named Thuraya Abu Ammar.
According to the Suwayda24 news site, the woman was 25 years old, and was kidnapped on July 25 during an ISIS attack on the Al-Shubky village east of Sweida.
The murder was carried out hours after a statement was released by the negotiating committee that stated it would withdraw from negotiating with ISIS about abductees, according to Russia Today, and that it feared ISIS would kill all those kidnapped after the release of the statement.
https://english.alarabiya.net/en/News/middle-east/2018/10/02/ISIS-murder-kidnapped-woman-in-Damascus-after-hindering-negotiations.html
--------
Arab News Strikes Partnership with Saudi Women Bowling Championship
October 02, 2018
RIYADH: Arab News, the Middle East's leading English-language daily, has struck a partnership deal with the Saudi Women Bowling Championship, which is being held in the Kingdom for the first time.
The championship, hosted by the Saudi Bowling Federation, takes place in three cities and comes as the country is rapidly developing sporting facilities for women.
Arab News will be the exclusive English media partner for the event, with the newspaper's logo appearing on the participants' kit.
The bowling tournament will be held on Oct. 6 at Riyadh's Universal Bowling Center, on Oct. 13 at the Al-Gosaibi Bowling Center in Khobar, and on Oct. 20 at Jeddah's Iceland Bowling Center. The games are held from 1 p.m. to 8 p.m. daily.
Dr. Razan Baker, member of the board of directors and head of media and women's participation at the Saudi Bowling Federation, welcomed the partnership with Arab News.
"We are happy that Arab News is our English media partner and hopefully with such support we can increase participation and awareness about our game. Bowling is an old hobby practiced by many residents and citizens in the Kingdom and we look forward to welcome, nurture, and create excellent opportunities for all," Baker said.
"The Saudi Bowling Federation is proud and excited to host the first bowling championship for women this month. Women from various parts of the country have been contacting us with interest in learning how to play and practice bowling professionally. And is the time to try it out — or succeed and become the first Saudi bowling champion through one of our three championships."
The event will be covered by Arab News' team of reporters, with coverage in the newspaper and online at www.arabnews.com.
Saudi Arabia, driven by its Vision 2030 reform plans, is rapidly developing its sporting facilities. Reforms have included allowing physical education for schoolgirls, opening female-only gyms, and allowing women to attend football matches.
http://www.arabnews.com/node/1381421/sport
--------
Over 100 Female Workers to Return From Saudi Arabia Wednesday
October 3rd, 2018
They have suffered physical torture and extreme workloads working abroad
After enduring torture, and wage-related irregularities by their Saudi Arabian employers, about 150 Bangladeshi female workers are flying back to Bangladesh.
The women workers—who had worked as housemaids— are due to land at Hazrat Shahjalal International Airport on a Saudi Arabian Airlines flight at 1:55pm on Wednesday, said non-governmental organization (NGO) Brac's migration program.
"Some 144 Bangladeshi women are coming back today. Most of them were brutally tortured by their employers, and experienced different unexpected incidents. Many of them escaped from their employers' residences and remained in immigration camps for a long time," said ABM Farhad Al Karim, manager of Brac's migration program.
"We have learned that some of these women were extremely sick and physically vulnerable. Since the government does not have any rehabilitation centre for these returnees, Brac will receive them, and provide temporary shelter," he told the Dhaka Tribune.
Thousands of impoverished daughters and wives of rural Bangladesh head towards the Middle East every year to provide for their families; but the number of returnees is increasing daily.
According to Maleka Begum, a noted writer and researcher, around 735,575 female workers are currently employed in different countries—including those in the Middle East region.
Among these women, more than 234,831 women went to Saudi Arabia seeking employment.
"However, the government does not have any accurate data on how many Bangladeshi women workers have returned home after being deceived," Maleka said.
According to Brac, this year 67,000 women have gone to abroad while 59,000 Bangladeshi female nationals have gone to Saudi Arabia specifically.
Meanwhile, over 1,500 female workers have returned in 2018 so far.
More than 5,000 female workers have returned to Bangladesh in the last three years, Brac said.
When asked, Brac's Farhad said: "In most of the cases, the women have been coming back due to physical torture, extreme workloads, and irregularities over salaries. Their dignity is not ensured in the workplace, and their basic human rights are often violated by their foreign employers."
https://www.dhakatribune.com/bangladesh/2018/10/03/over-100-female-workers-to-return-from-saudi-arabia-wednesday
--------
Philippine Consulate Gives Shelter to 20 Women Evicted By Employer
Irfan Mohammed
October 3, 2018
JEDDAH — A group of 20 Filipino women, who were ejected from their accommodation by their employer for not reporting to work, took shelter at Bahay Kalinga, a shelter home for stranded female workers managed by the Philippine Consulate in Jeddah.
The women were not paid their salary and food allowance for the past two months by their employer and as a result women refused to report to work. Subsequently, the women were evicted them from the accommodation provided by the company.
The company had deployed the Filipino women to various hospitals and households in Jeddah to work as cleaners.
According to a statement from the Philippine Consulate, the women were being provided shelter by the Philippine Overseas Labor Office after they were formally taken into its custody.
The consulate officials swung into action when the ordeal of the women came to their notice. Consul General Edgar Badajos said on Tuesday that Philippines Overseas Labor Office was working for the repatriation of the aggrieved women with the coordination of the Philippine recruitment agency.
Labor Attaché Nasser Munder and Welfare Officer Yolanda Penaranda met the workers and assured them of all possible assistance.
These women were recruited by a leading Saudi recruitment agency that latter transferred the sponsorship to their current employer upon their request.
http://saudigazette.com.sa/article/544682/SAUDI-ARABIA/Philippine-consulate-gives-shelter-to-20-women-evicted-by-employer
--------
URL: https://www.newageislam.com/islam-women-feminism/saudi-woman-barred-marrying-musical/d/116556
New Age Islam, Islam Online, Islamic Website, African Muslim News, Arab World News, South Asia News, Indian Muslim News, World Muslim News, Women in Islam, Islamic Feminism, Arab Women, Women In Arab, Islamophobia in America, Muslim Women in West, Islam Women and Feminism