New Age Islam News Bureau
22 Jul 2015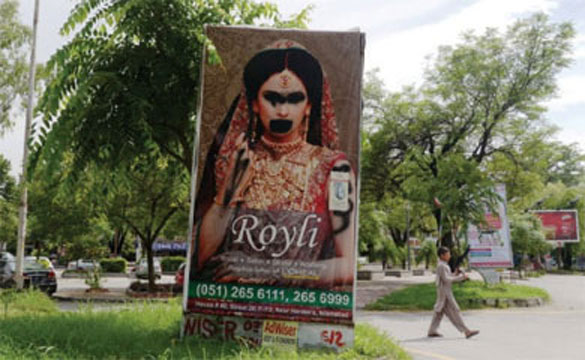 Photographs of models on these billboards in an Islamabad market have been defaced. — Photos by Ishaque Chaudhry
----------
• Saudi TV Just Got A Lot More Feminist
• Moral Brigade Active in Islamabad Again
• Kerala HC Allows Muslim Girls to Appear For Medial Entrance Test with Hijab
• 'Hunting Wolf' Case Takes New Turn; Court May Summon Girls
• Pakistan Supreme Court Stays Aasia Bibi's Execution
• Kabul Appellate Court Finalizes Decision on Farkhunda Murder Case
• Saudi Woman Diplomat, Moda Al-Khalaf, To Sue Abusive Tweeters
• Two Girls Found Dead After Missing For Three Days in Faryab, Afghanistan
Compiled By New Age Islam News Bureau
URL: https://www.newageislam.com/islam,-women-and-feminism/new-age-islam-news-bureau/saudi-tv-just-got-a-lot-more-feminist/d/103987
-------
Saudi TV Just Got a Lot More Feminist
Jasmine Bager July 21, 2015
An edgy drama about four young women who move to America is a surprise hit over Ramadan
At first glance, the four stars of a new Saudi television drama, "Mubta'ethat" or "Sponsored Women," look a little mis-matched. There's Salma, a chic tomboy with short hair and red lipstick, Raghad, a glam-girl with confident strides and princess curls, Sara, a feisty hijabi with colourful clothing, and Alia, a cautious girl who wears a black niqab (covering of the hair and entire face, with only slits for the eyes). But they have one thing in common: They've each got a U.S. visa page in their green passport. It is their golden ticket to leave their homes in Saudi Arabia to pursue an education in Philadelphia.
The show highlights how these Saudi women fluidly adapt to a Western world while maintaining their Eastern ideals. They enrol in English classes, move into their own apartments and learn how to drive a car. They all steer their own lives for the first time.
The script plays with the obvious contrasts inherent in the plot–the girls are almost as different from each other as their culture is from the one they'll encounter in the United States. It manages to also dig into stereotypes about America or women in veils.
During the 30 episodes, the women are forced to identify with each other and confront their own biases. Their friendship can be compared to that of a certain all-female cult HBO show from the 90s. The now classic formula of bringing together very different girls with strong personalities and courageous adventures still works. This time, with a Saudi accent.
The program debuted on June 17, the first day of Ramadan, and was broadcast in Saudi Arabia every night through the Holy month which ended in mid-July.
The show enjoyed a steady viewership over the course of the month. Each night, the episode would be uploaded on YouTube after it airs, and the comment section would quickly populate. "These girls don't represent any Saudi girl I know and I'm a sponsored student," reads a comment. "This is an amazing series, can't wait for the next episode," reads another. The positive reviews seem to outweigh the negative ones. Since it is broadcast during the Holy Month, this revolutionary show is representing millennials in a way that Saudi TV hasn't otherwise seen.
The show has an impressive pedigree: Directed by Oscar-nominated Saudi superstar, Haifaa Al Mansour and written by her sister, Noura Al Mansour, it was produced by Rotana Khalejia, a company that is partially owned by Saudi Prince Al Waleed Bin Talal.
The characters are from key parts of Saudi and represent different lifestyles and social temperaments. Surely, young girls in Saudi can identify with qualities found in every one of these women.
Salma is from the liberal West Coast, Raghad is from the luxurious capital, Sara is from the moderate East Coast and Alia is originally from conservative Al Qassim.
Each family reacts differently to the departure of their daughter to the faraway continent. And while each girl has at least one family member closely watching over them in Philadelphia, letting go is still nerve wrecking for the families.
In one comical scene, Alia's mother is seen stealthily stuffing stacks of (imported) ramen noodles and sacks of rice into her daughter's luggage before departing from Saudi. "They have that food in America!" her frustrated husband protests. "No! It's laced with drugs there!" the exasperated mother replies. They are nervous about sending their only child, a daughter, to the unknown.
"It smells like freedom! Of course, it tastes like nicotine," Salma, says on the phone, as she cautiously drags a puff from a cigarette upon arrival to Philadelphia, Pennsylvania. Despite being a few continents away, she maintains the Saudi fear of being seen smoking in public.
Actress Noor Al Badr who plays Salma, is a doctor in real life. She got "the randomest call" from Al Mansour who asked her to join the cast. Five days later, Al Badr was on the plane to Bahrain, where they shot most of the show.
"Of course, most people thought I was crazy. I was a doctor! According to most people in our society, acting is not something to be proud of. I think I'm the first Saudi girl to smoke on TV. I wanted to break the taboo," Al Badr said.
No Saudi feminist show would be complete without the subject of the hijab. The irony is not lost on the characters. Two of the characters don't cover their hair and two do. In one scene, Salma says of Alia, "She can see everyone but nobody can see her." Alia, played by actress Zara Albaloshi, repeats how her covering is the ultimate feminist statement. Perhaps most surprising of all, Alia falls in love with a non-Muslim American, Jason, who lives in her building. He becomes interested in Islam and converts. By the end of the series, Alia, the girl who only reveals her eyes to the world, gives her heart to Jason.
The show's U.S. location is also telling: Philadelphia is central to the American Dream. It is where the Founding Fathers signed the Declaration of Independence and the Constitution of the United States.
The women are in the U.S. on an academic scholarship, called the Saudi Scholarship. They are "sponsored," hence the title of the show. Saudi Arabia has been funding Saudi students in the U.S. since 1960, but the late King Abdullah's Scholarship Program, which launched a decade ago, was the largest push in encouraging female citizens to study abroad. In just five decades, Saudi girls went from not knowing how to read or write to a 97 percent literacy rate, according to UNICEF.
Although the image of Saudi women has changed over the generations, the outdated impressions haven't yet caught up with reality. The show makes a point of addressing these issues.
"With 150,000 men and women studying abroad, why is Saudi considered to be a 'developing country?' In reality, it is quite developed," Sara, played by actress Maram Abdulaziz, asks her classmates in one scene.
Actress Noura Assar's character, Raghad, has her camera at the ready to document the trials and triumphs of her Saudi female friends. An aspiring actress and director, Raghad's quiet rebellion comes in the form of selecting that area of study. There is no such industry in Saudi Arabia today.
Assar thinks the show is starting a different conversation. "I am proud to say that the image of Saudi women has come a long way from what it used to be; strong Saudi women always existed, however, the image was very much attached to a certain stereotype. The scholarships, I'd say, participated in this change due to the 'face to face' method of dealing with others, where people in other countries saw for themselves what these ladies can achieve and become," she said.
Her co-star agrees.
"Just because we can't drive doesn't mean we can't fly and reach for the stars. Hope the show will continue next Ramadan!" Al Badr said.
http://time.com/3965923/saudi-drama-sponsored-women/
-------
Moral Brigade Active in Islamabad Again
KALBE ALI — 22 July, 2015
ISLAMABAD: Are they back – the moral brigades that blackened the faces of women on advertisement boards in 2007?
At least that is what people feared when they found bared arms and faces of models on billboards defaced in Super Market during Eid shopping spree.
Nobody saw who did it but thoughts went back to religious activists, mainly seminary students, who did the same during the Lal Masjid-inspired heady 'Islah' (reform) campaign in the federal capital eight years ago.
However, like then, neither the advertisers nor their clients have felt reporting the vandalism to the police or the Capital Development Authority (CDA).
But privately, and guardedly, many have expressed despair at the possible return of the moral brigades.
"I cannot understand what anybody will gain by causing loss to me," said Sohail Shah, the advertiser of two of the three billboards disfigured at the Super Market.
"It will cost me Rs10, 000 to change the smeared reflector screen," he added. "Insurance is not available against vandalism and charging clients would be unreasonable and damaging to my business."
Sobia Amir, the owner of a salon, said her 'well-wishers' blamed the act on right-wing students, but felt "not much can be done about it."
Like most business persons of the city, she was reluctant to dwell any further on the subject out of fear of "firebrand clerics."
Because the billboards were disfigured in the vicinity of a girls' college, a cloth merchant of Super Market said, "it is possible that by striking in the heart of the city at the dead of night the vandals wanted wider coverage to their message."
The owner of a shopping plaza, Iskander Khan, observed that madrasa students indulge in such "hooliganism" to try to enforce the attire their teachers consider proper for women.
"Islamabad has no culture of hooliganism. Such incidents are rare and young Taliban are usually behind them in an effort to enforce their Sharia on us," he said, tracing the incidents to the street marches by the "female brigades" of Lal Masjid in 2007.
"We all remember the mild harassment students of big and small seminaries in F-7, F-6 and E-7 resorted to, armed with sticks, in various city markets that year," recalled Muzamil Sabri, the president of Islamabad Chamber of Commerce and Industry.
He said the ICCI felt concerned at the loss individual advertisers have suffered but more so for the fear syndrome that the incidents portend for the business environment in the city.
http://www.dawn.com/news/1195546/muttahida-ppp-created-crisis-in-national-politics-says-ji-leader
--------
Kerala HC Allows Muslim Girls to Appear For Medial Entrance Test with Hijab
Kochi July 21, 2015: The Kerala High Court on Tuesday granted conditional permission to two Muslim girls to appear for the July 25 All-India Pre-Medical Entrance Test (AIPMT) wearing Hijab, a customary religious dress.
Passing orders on their petition, Justice K Vinod Chandran said the students shall appear before women invigilators half-an-hour before the examination.
The court refused to interfere with the dress code prescribed by Central Board of Secondary Education (CBSE) for students appearing for AIPMT to prevent malpractices and said the petitioners would be subjected to any mode of personal search on any suspicion expressed by the invigilator.
If required, the headscarves and full sleeve garments to be removed and examined, for which the petitioners shall cooperate, the Court said.
Petitioners, including one Nada Rahim, had sought exemption from the dress code prescribed by CBSE. PTI
http://zeenews.india.com/news/india/kerala-hc-allows-muslim-girls-to-appear-for-medial-entrance-test-with-hijab_1633915.html
--------
'Hunting Wolf' Case Takes New Turn; Court May Summon Girls
July 21, 2015
Khaled Tashkandi & Hussein Hazzazi
Okaz/Saudi Gazette
JEDDAH – The "hunting wolf" case on Tuesday took a new turn with another video clip going viral on Monday showing the two girls in question riding a 4-wheel buggy on the sea shores.
The Honor and Morals Circuit will on Wednesday begin actual investigation in the case wherein several youths are accused of harassing the girls at Jeddah Corniche on the second day of Eid Al-Fitr. The court has already received the case file from the Board of Investigation and Public Prosecution (BIP).
Informed sources said that the two girls will be summoned if their involvement in the case is established beyond doubt. The sources said that the BIP will keep the defendants under detention. The incident has aroused a public outcry necessitating the detention, the sources said.
Social media reports suggested that the new video showing the girls riding the buggy might change the course of investigations.
Some people accused the two girls of having taken the initiative to attract the attention of the youths. Some others defended the girls' right to recreation and riding buggies so long as it was not in contravention to any of the rules and regulations.
Col. Dr. Ati Bin Atiyah Al-Qurashi, spokesman of Makkah Police, said on Monday that several teenagers have been taken into custody in this connection. They were detained after their statements were recorded and referred to pertinent authorities.
http://www.saudigazette.com.sa/index.cfm?method=home.regcon&contentid=20150722251115
------
Pakistan Supreme Court Stays Aasia Bibi's Execution
By Rana Tanveer: July 22, 2015
A three-member bench of the Supreme Court on Wednesday granted leave to appeal to Aasia Bibi, a Christian woman who was earlier sentenced to death for alleged blasphemy.
The bench also gave remarks, stating that it is essential to examine Aasia's case for administration of justice. Further suspending the decision of Lahore High Court (LHC) which had upheld her death sentence.
An objection was raised by the SC over the 11-day- delay in filing the appeal. However it said that this objection would be taken up in the next hearing of the case.
Aasia, 49, a mother of five, has been in jail since 2009 and on death row since November 2010 when she was found guilty by a subordinate court of making blasphemous remarks during an argument with a Muslim woman.
Two high-profile politicians – the then Punjab governor Salmaan Taseer and federal minister Shahbaz Bhatti – were murdered in 2011 after calling for reform of blasphemy law and describing Bibi's trial as flawed.
http://tribune.com.pk/story/924304/supreme-court-stays-aasia-bibis-execution/
--------
Kabul Appellate Court Finalizes Decision on Farkhunda Murder Case
By MIRWAIS ADEEL - Tue Jul 21 2015
The appellate of court has finalized decision regarding the lynching of Farkhunda who was brutally murdered over false Quran burning.
Officials in Kabul appellate court have said the case will be referred to the Supreme Court of Afghanistan for final hearing in the next couple of days.
Head of Appellate Courts of Crimes against Internal and External Security Ali Abdul Nasir Murid said justice has been availed in Farkhunda murder trial however he said a final decision will be taken regarding the case by Supreme Court.
"Specific conditions have been set for death penalty since the crime has not been verified but the higher authorities are authorized to decide regarding verdict," Murid quoted in a report by Radio Free Europe (RFE) said.
The primary court of Kabul awarded death sentence to Zain-ul-Abideen, Mohammad Yaqoob, Mohammad Sharif and Abdul Bashir who were found guilty of murdering the 27-year-old Farkhunda.
However, the appellate court of Kabul revised the decision and sentenced each convict for 20 years in jail, a decision which sparked furor among the civil society activists and family members of the victim.
The appellate court argues that there is no evidence to prove the murder of Farkhunda by the convicts despite numerous video tapes went viral on social media.
Farkhunda was brutally beaten, murdered and her body was set on fire by angry mob after she was accused of burning Quran.
At least 48 people including the custodian and the servant of the shrine were arrested by police after investigations revealed the accusations were false and no proof was found to prove the holy Quran was torched.
She was reportedly murdered after she spoke out against the superstitious practices she had witnessed with mullahs selling good-luck charms.
Her brutal murder also sparked several unprecedented protests in Kabul and other major cities of Afghanistan.
http://www.khaama.com/kabul-appellate-court-finalizes-decision-on-farkhunda-murder-case-9519
-------
Saudi Woman Diplomat, Moda Al-Khalaf, To Sue Abusive Tweeters
July 21, 2015
Ahmed Muaidi
Okaz / Saudi Gazette
JEDDAH — A Saudi woman diplomat said she would go to the court to file complaints against a number of tweeters, who used aliases or fictitious names on the Twitter accusing her of financial and ethical corruption soon after she was terminated as an assistant to the Saudi cultural attaché in Washington.
Moda Al-Khalaf, former assistant to the Saudi cultural attaché for the cultural and social affairs in Washington, said as soon as the news of her termination went viral, many tweeters wrote abusive tweets accusing her of financial and moral corruption.
The anonymous tweeters said she was relieved from her post because she had opened a restaurant in which she had employed Saudi scholarship students.
"I was not relieved from my post. I was assigned to work in the attache for four years, which were extended by two more years. I was informed about the end of my mission about six months ago," she said.
Al-Khalaf admitted that she does own a restaurant near the attaché, which she has named Al-Dirah (home village). "I have not violated the system by opening this restaurant," she added.
Al-Khalaf, a linguist, had worked before at the Saudi Embassy in Washington before she was seconded to the attaché where she was publishing a special magazine covering the activities of scholarship students.
She was also organizing the graduation ceremonies and supervising more than 260 Saudi Students' Clubs in the US.
http://www.saudigazette.com.sa/index.cfm?method=home.regcon&contentid=20150722251057
------
Two Girls Found Dead After Missing For Three Days in Faryab, Afghanistan
By ZABIHULLAH MOOSAKHAIL - Wed Jul 22 2015
Untitled-1Local officials have found the dead bodies of two girls who went missing on the third day of Eid-ul-Fitr in Qaisar District of northern Faryab province.
According to reports the girls, 17 and 18 years of age, were heading to the Bazaar of Qaisar District when went missing on Sunday.
Abdul Jamil Sediqi, governor of Qaisar District says that the dead bodies of these girls were found yesterday.
Marks on the dead bodies and evidences indicate that they were raped, persecuted and killed.
Three names have popped up who are alleged of carrying out the brutal act.
They are identified as Agha Sharab, Agha Basir and Agha Sayed.
However, security agencies have begun an investigation into the incident.
http://www.khaama.com/two-girls-found-dead-after-missing-for-three-days-in-faryab-3665
------
URL: https://www.newageislam.com/islam,-women-and-feminism/new-age-islam-news-bureau/saudi-tv-just-got-a-lot-more-feminist/d/103987