New Age Islam News Bureau
30 Jun 2020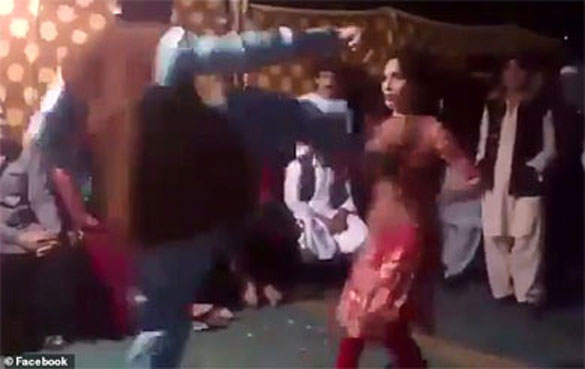 The shocking attack which was caught on camera saw the woman kicked in the chest by the man
-----
• A Woman Was Violently Kicked by A Man While Dancing at An Event in Pakistan
• First Female Lifeguards of Istanbul Start Job
• Afghan Women Leaders Seek Technical Assistance from Pakistan
• Safe Spaces for Women: Yet Another Sexual Harassment Scandal in The Educational Institutes of Lahore
• Woman Gets Notice for Asking Mosque to Lower Volume
• Malaysian Singer Fynn Jamal: Women Ignite Men's Lust Posing Provocatively; Victim-Blaming And #Metoo Just 'Western Concepts'
• A New Docuseries Looks at How Women of Colour Rewrote the Political Playbook In 2018
• France's 'Hip' Female Rabbi Draws Muslims, Christians And Jews In A Time of Crisis
• Female Trump Appointee Has Said Women Shouldn't Hold Public Office, Denounced Liberal Democracy
• Women's Voices Key ToCOVID-19 Recovery Plans
• Nissan Saudi Arabia Celebrates Women's Accomplishments With #Shedrives Campaign
• Woman in Dubai Drives Car into Sea After Receiving Bad News on Phone
• Activists Press for Tougher Penalties Against Female Genital Mutilation inEgypt
Compiled by New Age Islam News Bureau
URL: https://www.newageislam.com/islam-women-feminism/saudi-street-style-book-under/d/122253
--------
Saudi Street Style Book 'Under the Abaya' Celebrates Women's Empowerment
June 27, 2020
DUBAI: Saudi Arabia's first-ever street style book launched by Saudi entrepreneur and industry leader MarriamMossalli, "Under the Abaya: Street Style from Saudi Arabia," is groundbreaking in its exposure of the Kingdom's unique fashion scene, still little-known outside the country. While the first edition offered an introduction to progressive Saudi women, the second sheds light on their challenges and aspirations through the lens of fashion.
The book launched June 24, the same day Saudi Arabia lifted the ban on women driving one year prior.
"What better day to launch our book than on the anniversary of this historic move toward gender equality," said Mossalli. "It is a celebration of female empowerment in its purest form, as it allows the women of Saudi Arabia the opportunity to narrate their own stories through authentic representations of themselves."
Since founding Niche Arabia in 2011, a luxury consultancy firm based in Saudi Arabia, Mossalli has become one of the Kingdom's most recognized female voices in fashion and luxury.
"What I love most about 'Under the Abaya' is that it is the definition of women supporting women," Mossalli said. "A hundred percent of the proceeds will go toward granting scholarships so that young women can pursue their dreams of higher education."
LUX, one of Unilever's largest beauty and personal care brands, is the exclusive sponsor of the book.
"LUX is honored to partner with 'Under the Abaya' to shine a spotlight on inspiring Saudi women," said SeverineVauleon, global brand vice president, LUX. "We believe in the undying spirit of women everywhere who take pride and pleasure in their beauty and never let judgments hold them back; a woman's beauty is also an expression of her spirit, of who she is, of what she thinks, does and accomplishes."
Saudia Arabia's first female Ambassador to the United States, Princess Reema bint Bandar Al-Saud, authored the forward of the book. Princess Reema has long been dedicated to women's empowerment in the Kingdom.
In 2013, she founded Alf Khair, a social enterprise dedicated to providing access to opportunities for Saudi women by offering them professional guidance. She also co-founded the Zahra Breast Cancer Awareness Association.
"'Under the Abaya' encapsulates a desire to tell stories, and access or create opportunities," writes Princess Reema in the foreword. "The project's principles are an example of women supporting women."
The role of women has become a key feature of Saudi Vision 2030. The plan aims to have women play a greater role in society and seeks to raise female participation in the workforce from 22 percent to 30 percent.
"Young women are under a lot of pressure due to social media and expectations," said HayaSawan, a Saudi fitness trainer and healthy lifestyle enthusiast who is profiled in the book. "We as women should ensure that we raise our daughters in a way so as to encourage their inner beauty and cultivate their skills. We need to embrace the younger generations and accept them for who they are and not for what is required or expected of them. Be strong and beautiful."
Saudi actress, director and writer Fatima Al-Banawi, who also features in the "Under the Abaya," spoke about the judgments placed on women: "I believe we need to talk about these things and be aware of them because these experiences shape us, whether we are the ones judging or receiving judgement. Judgments come from incomplete stories and as humans, we love making stories."
https://www.arabnews.com/node/1696216/lifestyle
--------
A Woman Was Violently Kicked by A Man While Dancing at An Event in Pakistan
29 June 2020
A woman was violently kicked by a man while dancing at an event in Pakistan.
The shocking attack which was caught on camera saw the woman kicked in the chest by the man who had reportedly taken issue with the way she was dancing.
The disturbing clip has since been shared widely online.
Footage shows the woman dancing to music as guests sit and watch her.
Suddenly the perpetrator appears from the sidelines holding a Fanta bottle and raises his leg to kick her forcefully in the chest.
The victim falls backwards out of view.
In the aftermath of the incident, another man at the event is seen approaching the perpetrator.
According to a Pakistani media report, the man justified his actions by saying: 'It is not permissible for a girl to dance in front of others in this disgraceful way!'
It is unclear whether the man faced repercussions.
https://www.dailymail.co.uk/news/article-8469981/Shocking-moment-dancer-brutally-kicked-Pakistan.html
--------
First Female Lifeguards of Istanbul Start Job
June 29 2020
The first female lifeguards employed in Turkey's biggest metropolis have started working, Istanbul Mayor Ekremİmamoğlu has announced.
"More women will be in every workplace of the municipality," İmamoğlu wrote on his Twitter account, wishing the first three female lifeguards success.
The lifeguards, DoğaYağcı, EkinÖztürk and KübraÇakır, will be on guard in the public beaches of Çatalca and Riva, two resorts on the Black Sea shore of Istanbul.
Yağcı said she felt happy to have been given the chance to work as a lifeguard.
"The number of female lifeguards in Turkey is very low. But there must be no discrimination between men and women at work, because a woman can do anything," she said.
"I love my job. We save people. We save lives."
https://www.hurriyetdailynews.com/first-female-lifeguards-of-istanbul-start-job-156123
--------
Afghan Women Leaders Seek Technical Assistance from Pakistan
Myra Imran
June 16, 2020
Islamabad:Recent developments such as the appointment of former Ambassador Mohammad Sadiq as Pakistan's special envoy to Kabul and close alignment of both countries on the peace process shows that Pak-Afghan relationships are moving in the direction.
This was stated by Mehnaz Akbar Aziz, Member of the Parliament, Pakistan, while speaking to distinguished Pak-Afghan delegates, in a virtual cross-border women's dialogue on 'Socio-Economic Impact of COVID-19 on Women in Pakistan and Afghanistan'.
The dialogue was organized by the Centre for Research and Security Studies (CRSS), as part of its Pakistan-Afghanistan Track 1.5/II diplomacy – Beyond Boundaries. ShinkaiKarokhail, senior Afghan politician and rights activist, stated that COVID-19's impact has doubled or tripled women's responsibilities in Afghanistan and it will slow down the access of girls to education even more. It is feared that because of the economic impact of COVID-19, families will further prioritize educating boys rather than girls, while the number of out of school children is feared to increase – especially the number of girls.
Earlier, ImtiazGul, Executive Director CRSS, stated that adding the women component in Beyond Boundaries is good way of building on what CRSS has been doing since 2015.
MuzammilShinwari, who heads the organization for Economic Studies and Peace (OESP) - counterpart of CRSS in Afghanistan, enunciated that Pakistan has a good experience in distant learning such as Virtual University and Allama Iqbal Open University of Pakistan.
Later on, after a comprehensive discussion on the socio-economic impact of COVID-19 on women in both countries, AmmaraDurrani, who was moderating the session, along with CRSS team, penned the following joint policy recommendations, which were proposed by the delegates on both sides.
Formulation of a Pak-Afghan Bilateral Women Commission in which women leaders from all sectors come together to address and resolve current challenges faced by women in both countries through collaborative measures via this platform. Considering the current COVID-19 situation, personal and household hygiene awareness needs to be raised by government agencies, media, civil society platforms and donor organizations. In addition, personal hygiene kits can be provided to those in need.
Furthermore, participants recommended that, as during the pandemic domestic abuse has been on the rise in both countries, females in Afghanistan can also avail the e-medical and psychotherapy services provided by Pakistan to get help and awareness on how to deal in this difficult time. Also, Afghanistan can also adopt the same model on their online platforms.
Representatives of Islamabad Women Chamber of Commerce & Industry (IWCCI) extended their offer to Afghanistan Women Chamber of Commerce & Industry (AWCCI) to provide e-commerce training services, particularly on how to digitalize businesses using online platforms to Afghan businesswomen in order to enhance their skill development and help expand their businesses.
Inclusion of women leaders/activists in the peace process for their first-hand representation as they constitute 46% of the Afghan population and can best voice their issues on their behalf. Currently, there is limited women representation in the peace process but the participants urged to increase the numbers as well as engage women activists from all sectors of the Afghan society. Furthermore, participants urged there should be women representation from the Taliban side as well in the intra-Afghan talks to include their voices.
https://www.thenews.com.pk/print/673207-afghan-women-leaders-seek-technical-assistance-from-pakistan
--------
Safe Spaces for Women: Yet Another Sexual Harassment Scandal in The Educational Institutes of Lahore
By Ayesha Bibi
Jun 30, 2020
LAHORE: Two days ago, yet another sexual harassment scandal in the educational institutes of Lahore surfaced on social media.
This time, students from a private school, renown for catering to the elites of the city, broke their silence about the various forms of harassment, especially sexual, by three faculty members as well as intimidation and cover-up by the school administration itself.
The girls, including both current and former students of LGS 1/A-1 publically, narrated how incident after the incident took place over the course of years while the principal continued to shove things under the carpet by gaslighting the victims.
This was not an isolated instance. A few days ago, female students of the Lahore University of Management Sciences (LUMS), another elite private sector educational institution hailed as the 'Harvard' of Pakistan came forward in a private Facebook group with similar complaints of systemic predatory behaviour within the student body.
To the naked eye, both these incidents can be seen as one of the many little waves of the #Metoo movement in Pakistan, however, look closely and the systematic abuse of authority, use of victim shaming as an intimidation tool and incompetency of administrations lead to only one overwhelming truth: educational institutions in Pakistan have never been safe spaces for women.
Talking to Pakistan Today, a student from FC College, Ayesha Ali, opined why harassment continues to take place on campuses. "These incidents happen because men have enjoyed the fruits of oppression of women for so long that they know little to no harm will befall them if they prey on women or even young girls in any space, educational institutes included".
"The power dynamics between male-female relationships have always been skewed in favour of the male. Be it a faculty member or a fellow student, it is a known fact that the management of educational institutions will either try to bin the claims altogether or make efforts for a cover-up to avoid accountability at a personal and collective level," she went on to state.
The debate of whether the private sector in Pakistan is providing a high-quality service which the public sector has never been capable of or is it operated on a strictly money-making model is a long and old one which has established that any threat to the reputation of a private educational institute harms potential income generation.
Anmol Zahra, a former student of LGS 1/A-1 testified that the school administration did, in fact, have a toxic attitude towards any complaint that could highlight their incompetency and complacency.
"I personally did not experience any sexual harassment in school, however, the absolute authority and lack of accountability which is enjoyed by the management of the A-levels section ruined my batch's high school experience. The blatant misuse of authority, slut-shaming of students as well as the coordinator's mindset of how young girls should act is what normalised the conditions in which these harassers felt emboldened," she told Pakistan Today.
"LGS 1/A-1's school psychologist would ask girls, "do you have a boyfriend?" if they ever tried to talk to her," said one user on Twitter.
What is interesting about the most recent LGS scandal is that the students repeatedly approached the school admin with complaints as well as evidence being sexually violated at the hands of three male faculty members.
These ignored complaints, made over the course of years, became so normalised that some parents warned their girls to be careful while the students began mocking the incidents in annual farewells.
So, why wasn't any action ever taken?
Alina, a former student from FC College, who did not want to share her full name, explained, "it is important to realise that in the case of LGS 1/A-1, a system which was already in place i.e. the school management, failed its students".
She stressed that it is important to make a collaborative effort and come up with solutions which correct the loopholes in our system.
"It is important to equip women with tools to combat harassment, but it is also equally important to make conscious steps towards providing necessary training to sensitise the faculty besides creating a strong system which deals with such issues in all educational spaces," she concluded.
https://www.pakistantoday.com.pk/2020/06/29/safe-spaces-for-women-a-myth-in-pakistan/
--------
Woman Gets Notice for Asking Mosque to Lower Volume
Vijay Kumar Yadav
Jun 30, 2020
The city police have sent a warning notice to KarishmaBhosale, a Mankhurd resident, who recently visited a local mosque to request them to lower the volume of Azaan played at the mosque.
After her video went viral on social media last week, it led to controversy over Bhosale's action. Later, she claimed she was being bullied by locals.
Inspector Kishore Kharat, in-charge of Mankhurd police station, has sent a notice under section 149 (cognisable offences) of the Criminal Procedure Code (CrPC) addressed to her mother VarshaBhosale on June 24, the day of the incident.
The notice, a copy of which is with HT, stated it was inappropriate for her to visit the mosque and that she should have approached the police first with any grievance that she may have had. It also added that her going to the mosque and requesting them to lower the volume could have led to a law and order situation.
The mother-daughter duo has been asked to abide by the rules, failing which they could be booked for going against the notice and face charges under section 188 (disobedience to order duly promulgated by public servant) of the Indian Penal Code.
https://www.hindustantimes.com/mumbai-news/woman-gets-notice-for-asking-mosque-to-lower-volume/story-ij7TsBytEUfk5WMLr4mrJN.html
--------
Malaysian Singer Fynn Jamal: Women Ignite Men's Lust Posing Provocatively; Victim-Blaming And #Metoo Just 'Western Concepts'
29 Jun 2020
By Melanie Chalil
PETALING JAYA, June 29 —Social media users have lashed out at YouTube vlogger and singer Fynn Jamal for suggesting that women who used face filter apps provoked men to commit sexual assault.
When discussing the subject of rape on Instagram Stories, Fynn drew the public's wrath after claiming that women were to blame for posting selfies or photos enhanced by face filters because it "ignited men's lust".
"It doesn't necessarily mean you will be raped but a woman near him may be a victim of his lust," she wrote recently.
Fynn, who was responding to an Instagram user's comments on educating followers on the issue of rape, also said in her reply that victim-blaming was a Western concept along with the #MeToo movement, the global campaign against sexual harassment and sexual violence.
In another Instagram Story post, Fynn opined that a woman may be dressed modestly but how they posed for pictures on social media had an impact on other women who could be a potential target for rape.
"That's because there are women who wear tudung but take pictures as if they're cats in heat," she wrote.
"So others who wear tudung become victims."
She went on to criticise women who uploaded "cute pictures", saying they should stop pretending that such poses were innocent but were taken with the intention of attracting the opposite sex.
ZahirahHusna who shared Fynn's response on Twitter received over 21,000 retweets and hundreds of comments.
"So men are allowed to rape because it's all women's fault?" wrote @zulaikhaaina.
Fynn's controversial views also prompted rapper Caprice to seek an explanation from her – the two exchanged views on the matter via Instagram Live on Saturday night.
In the session, Fynn defended her views that using TikTok, facial filters and face enhancement apps contributed to sex crimes.
"Do you believe that all women get made up for men? My mum puts makeup on not for my dad but to look and feel good.
"But when you make the connection that using face filters leads to rape, I'm confused," Caprice said.
Although the two did not reach an agreement, Caprice told followers there was no animosity between them and that he only wanted to understand where she was coming from.
"I cannot accept the link between rape cases being committed due to the usage of filters on Instagram.
"I'm sorry if you disagree, a crime is a crime no matter how you look at it," Caprice said.
https://www.malaymail.com/news/showbiz/2020/06/29/malaysian-singer-fynn-jamal-women-ignite-mens-lust-through-face-filters-pos/1879857
--------
A New Docuseries Looks at How Women of Colour Rewrote the Political Playbook In 2018
By Vanessa Williams
June 29, 2020
About US is an initiative by The Washington Post to explore issues of identity in the United States. Sign up for the newsletter.
This November's presidential election, in which the two major candidates are 70-plus-year-old white men, stands in stark contrast to the political field two years ago, when women representing black, Latino, Asian American and Muslim communities were the stars of the 2018 midterm elections.
Women of color, relying mostly on grass-roots support and their own grit, defied the odds and broke barriers, winning a record number of seats in Congress and increasing participation among voters who often feel uninspired by electoral politics.
A new documentary set to premiere Monday night on PBS looks back at the efforts of a half-dozen female candidates of color, including Georgia Democrat Stacey Abrams, who became the first black woman to win a major-party nomination for governor. She fell 55,000 votes short of becoming the nation's first black female governor.
The film, "And She Could Be Next," comes out at a time when activists are pushing presumptive Democratic presidential nominee Joe Biden to pick a woman of color to be his running mate.
"We're thrilled this moment is happening," said MarjanSafinia, one of the filmmakers. "We had women of color run to be the top of the ticket. Maybe we will get one as vice president."
But more important, she said, is the organizing that the women in the film, and others like them, are doing around the country to prepare voters of color to wield the political power that they could gain as a result of continuing demographic changes.
"The idea of people of color being on the precipice of becoming the majority, and at the same time these candidates who share their lived experiences running for office to shape policies that will reflect the needs of their communities, is igniting the power of the vote and the power of civic engagement," Safinia said.
Ava DuVernay is executive producer of the two-part series, which airs Monday and Tuesday nights. In addition to Abrams, the documentary chronicles the campaigns of three women who were elected to the House in 2018: Veronica Escobar (D-Tex.), Lucy McBath (D-Ga.) and RashidaTlaib (D-Mich.). It also follows Maria Elena Durazo, a union organizer who won a seat in the California State Senate, and BushraAmiwala, a 19-year-old college student who ran a spirited but unsuccessful campaign for the Cook County Board of Commissioners in Skokie, Ill.
Only one of the women featured in the film is not running for office: NseUfot, executive director of the New Georgia Project. But her efforts to register voters and help them navigate the process of casting a ballot are depicted as equally important. The New Georgia Project was founded in 2014 by Abrams, when she was Democratic leader of the Georgia House of Representatives.
Abrams is no longer affiliated with the group, but has created a new organization to protect voting rights and increase participation by communities in the census.
Grace Lee, who partnered with Safinia on the project, said a central theme of the documentary is that "there is an organizer in all of us. That comes across when you watch the film and get to see, literally, organizers knocking on doors to get people to the polls" to vote for candidates who would hopefully better represent their needs and interests. "You don't have to run for office, just get involved in whatever issue is important to you and your community, whether it's defunding the police or schools. People are inspired by seeing regular people out there taking action."
The film explores the backstory of McBath, whose 17-year-old son, Jordan, was fatally shot in 2012 by a man who argued with a group of teens over loud music coming from their car. She left her job at Delta Air Lines to become a national spokeswoman for Everytown for Gun Safety and Moms Demand Action. McBath decided to run for Congress after the 2018 mass shooting that killed 17 students and teachers at Marjory Stoneman Douglas High School in Parkland, Fla.
Political handicappers gave McBath, an African American Democrat, little chance of winning Georgia's 6th Congressional District, a seat that had been held by Republicans for nearly four decades, including at one time by former House speaker Newt Gingrich. But McBath's compelling case for protecting children from gun violence helped her connect with suburban white mothers, and her willingness to reach out to long-ignored voters of color enabled her to eke out a win over Republican Karen Handel in 2018. McBath is running for reelection this year and will again face Handel in the general election.
Viewers in Georgia will have to wait until after November to see the documentary on TV. Georgia Public Broadcasting and Atlanta Public Broadcasting, citing the FCC's equal time rule, said it would be unfair to McBath's opponent to show the program. It is available for streaming at pbs.org.
Before becoming, along with Rep. Ilhan Omar (D-Minn.), one of the first two Muslim women to serve in Congress, Tlaib had been a fixture at demonstrations in Detroit. She was arrested at a rally calling for higher wages for airport workers just a month before her historic election. Escobar, who represents El Paso, had been a longtime immigration reform activist. She and Rep. Sylvia Garcia, a Democrat representing Houston, became the first two Latinas elected to Congress from Texas in 2018.
The first two Native American women — ShariceDavids (D-Kan.) and Deb Haaland (D-N.M.) — also were elected to Congress in 2018, along with several other young liberal women of color who challenged the conventions and politics of the institution. Among the more outspoken were Rep. Alexandria Ocasio-Cortez (D-N.Y.) and Ayanna Pressley (D-Mass.), who along with Tlaib and Omar were referred to as "the Squad" for clashing with both their party leaders and the Trump administration on such issues as health care, the environment and impeachment.
Women of color, who are about 20 percent of the U.S. population, remain underrepresented in elected office, accounting for 8.8 percent of Congress, said Kelly Dittmar, an associate professor of political science at Rutgers University and senior scholar at the Center for American Women and Politics at the school's Eagleton Institute of Politics. Overall, women are 50.8 percent of the U.S. population and make up almost a quarter of the 535 members of Congress.
Dittmar said there is "value in seeing women who have taken on candidacy and how they do it, both the challenges and the successes, to hopefully inspire other women to throw their hats in the ring."
"But then I think the documentary goes beyond that in tying candidacy and activism," Dittmar continued. "What I like about it is it highlights the work of women activists as candidates and how activism and advocacy can translate into candidacy, and that's the translation we need to happen in order to expand the pool of women candidates and women of color candidates and officeholders."
https://www.washingtonpost.com/nation/2020/06/29/new-docuseries-looks-how-women-color-rewrote-political-playbook-2018/
--------
France's 'hip' female rabbi draws Muslims, Christians and Jews in a time of crisis
June 29, 2020
Julia Lieblich
(RNS) — On Tuesday nights at 8:30 p.m., tens of thousands of people throughout France — believers and non-believers, Jews, Muslims and Christians — log on to Facebook to hear the nation's foremost female rabbi discuss the intersection of racism and anti-Semitism and help them make sense of a modern plague.
"We are in a moment of extreme vulnerability when life and death hold hands," said Rabbi DelphineHorvilleur, known for her original interpretations of Biblical texts, psychoanalytic thought, art and poetry. "Some people will use this moment to create a bubble of protection, to close borders and embrace ideologies of contamination that demonize people. But what is the meaning of my life if confinement makes me blind to the other?"
Horvilleur, 45, who has been called a rock star in a leather jacket, is a former model who has appeared on the cover of French Elle. The wild curls framing her face have been compared to the sidelocks of Hasidic Jews. She finds the descriptions amusing insofar as they counter stereotypes and help her reach audiences across cultures.
"I'm trying to create bridges between worlds that have stopped talking to each other," she said. "I'm trying to create links between words and worlds."
Horvilleur is also known as the rare public intellectual who has brought faith into the conversation in a country committed to laicité, or secularism. And though she is also one of the few progressive rabbis in France's overwhelmingly Orthodox Jewish community, she has become a leader of a growing movement of Jews from all denominations. Less an activist who urges congregants to take to the streets to protest injustice, she is a purveyor of ideas and a presenter of possibilities in the tradition of Simone de Beauvoir and Jean-Paul Sartre.
Horvilleur calls herself a storyteller, one who believes that "God has a good sense of humor." What could be more absurd than the pregnancy of 89-year-old Sarah, she asked, or the Hebrews walking for 40 years to reach a nearby destination? The underlying point to her humor, however, seems to be to encourage resiliency over despair.
The granddaughter of Czechoslovakian Holocaust survivors, she went to Israel at 17 to study medicine and wrestle with the tension between distinctly Jewish and universal ideas. She began to study Talmud and fell in love with "the sacred exercise of interpretation." Later, she moved to New York to study for the rabbinate at the Reform movement's Hebrew Union College.
Today, she is a leader of the largest liberal congregation in France, with more than 2,500 families. For more than a decade, she has published Tenou'a — Hebrew for movement — a magazine of art and Jewish thought that covers such issues as immigration and LGBTQ rights.
The role of religion in a time of crisis, she said, is to help people understand the past, interpret the present and think about the future. She rejects what she calls a religion of nostalgia that idealizes the past and seeks to recreate a world we once knew.
The Hebrew Bible, she said, is full of stories of leaders like Abraham, who were called to leave their birthplace to journey to an unknown region. "We are who we are because we were willing to go on another path. Judaism is a religion of becoming."
She understands God the way the Jewish mystics do: as infinite and impossible to describe in words and she is less concerned about what people believe than how they act.
One of only four female rabbis in France, she said that women have been shut out of the questioning that is a pillar of Judaism. The presence of women enables both men and women to read text differently, hear the voices of secondary characters and sometimes abandon old ideas. "You need to be unfaithful enough to our tradition to be truly faithful," she said. "It's an absolute paradox in our religion."
As protests over police killings of African Americans have spread to the streets of France, Horvilleur reminded her listeners that racism goes back to biblical days. When Moses married an unnamed Black wife, his older sister, Miriam, gossiped about the woman's race, and God struck her with leprosy. This story, Horvilleur said, shows how difficult it is to banish the ghosts that continue to haunt us. "What do these ghosts have to teach us and why are we so reluctant to let them go?"
"(Sigmund) Freud said the only way you know you have changed is when you react to the same situation differently," noted Horvilleur, whose most recent book, "The Rabbi and the Psychoanalyst," about religious and psychoanalytic interpretation, will appear in France in September.
Her popularity may be explained, in part, by an irresistible hopefulness in dark days. As people emerge from lockdown in France, she envisions a "messianic moment" — not the end times, she said, "but when something happens in our life that is totally unexpected and creates the opportunity to reinterpret our daily experience."
She hopes that moment will encourage dialogue between Muslims and Jews, which she has fostered through interfaith talks and a book she co-authored with French-Moroccan political scientist RachidBenzine, "A Thousand Ways to Be Jewish or Muslim."
"The virus travels very fast," she said. "We need to find ways to connect our narratives and experience to travel even faster."
The only line Horvilleur is wary of crossing, it seems, is that between religion and politics, given that the French expect a clear separation between church and state. When she objected publicly to Jerusalem being used as a political pawn after the United States moved its embassy from Tel Aviv to Jerusalem, the small, right-wing extremist group, the French Jewish Defense League, accused her of "stabbing Israel in the back" despite her deep attachment to the nation.
But she is beginning to receive surprising acceptance from more conservative Jews in France and was recently invited to participate in a ZOOM conversation with Rabbi Eliezer Melamed, a prominent ultra-Orthodox rabbi who lives in an Israeli settlement.
"He looks more like a rabbi than I do with his long, long white beard," she said, smiling.
Although they disagree about whether women should be allowed to be rabbis, they talked civilly, even warmly, about such topics as how to balance communal and individual selves, convincing Rabbi Horvilleur of the possibility of building bridges even during a pandemic.
"We have a shared heritage that allows us to listen to one another with humility," she said. "Such dialogue is what we dearly need in this time of brokenness."
https://religionnews.com/2020/06/29/frances-hip-female-rabbi-draws-muslims-christians-and-jews-in-a-time-of-crisis/
--------
Female Trump Appointee Has Said Women Shouldn't Hold Public Office, Denounced Liberal Democracy
Jun 30, 2020
TOPLINE Merritt Corrigan, who was recently appointed by President Trump as the White House's deputy liaison to the U.S. Agency for International Development, has a history of offensive comments about women, Muslims and the LGBTQ community, and has denounced liberal democracy while praising Hungarian strongman Viktor Orban, according to several reports.
KEY FACTS
In online posts, Corrigan praised Orban, the far-right, anti-Muslim authoritarian prime minister of Hungary, as a "shining champion of Western Civilization," when she worked at the U.S. embassy in Hungary, according to a ProPublica report.
"Liberal democracy is little more than a front for the war being waged against us by those who fundamentally despise not only our way of life, but life itself," Corrigan wrote in another post.
Corrigan also slammed Sen. Elizabeth Warren (D-Mass.) for supporting same-sex marriage, calling it a "sick statement," and arguing it's "exactly why women shouldn't be in office. They always advocate for themselves at the expense of men," according to a report from CNN's Andrew Kaczynski and Nathan McDermott.
Kaczynski and McDermott also uncovered tweets in which Corrigan expressed support for far-right European political parties like France's National Front and Germany's AfD, called for "mass deportations" of Muslim refugees, and slammed the Republican party for its "tacit endorsement of the gay agenda."
Corrigan has also espoused hardline anti-feminist views, calling for the establishment of a "Christian Patriarchy" and arguing that it's wrong to "empower" women and tell them they are equal to men.
Corrigan's extreme views, and those of Bethany Kozma and Mark Lloyd, have reportedly evoked outcry from her USAID colleagues, causing an internal revolt within the agency, but Acting USAID Administrator John Barsa put out a statement defending the appointees and slamming articles about them as "unwarranted and malicious attacks."
CHIEF CRITIC
USAID spokesperson PoojaJhunjhunwala, in a statement in response to the ProPublica report, said the agency had a "zero-tolerance policy of any form of discrimination or harassment based on gender, race, sexual orientation, religion or any other possible distinguishing characteristic that can define any of us."
TANGENT
As of now, Corrigan's Twitter account is set to private, and she has removed phrases like "conservative nationalist" and "Make Europe Great Again" from her bio, leaving only "[retweets] ≠ endorsements"
NEWS PEG
The revelations about Corrigan come at an inflection point over race in America. Trump has been repeatedly slammed for his handling of the protests and civil unrest in response to the death of George Floyd. Polls taken earlier this month have found that as few as 33% of Americans approved of Trump's handling of the death and the protests, which have been dragging down his overall poll numbers. Trump's weakness on these increasingly critical issues may come back to bite him in November.
https://www.forbes.com/sites/andrewsolender/2020/06/29/female-trump-appointee-has-said-women-shouldnt-hold-public-office-denounced-liberal-democracy/#661aa3161a65
--------
Women's Voices Key To COVID-19 Recovery Plans
KERRY BOYD ANDERSON
June 29, 2020
While the coronavirus disease (COVID-19) pandemic is causing suffering around the world, some groups of people are more vulnerable to its impact. Although men clearly have a higher mortality rate from COVID-19 than women, women and girls are still bearing the brunt of the impact in many ways. As an April UN report noted, "even the limited gains made" in increased rights and opportunities for women "in the past decades are at risk of being rolled back."
The pandemic is posing particular challenges for women and girls in terms of health and safety, the increased care burden, and the economic impact.
Women are often more likely than men to be front-line workers in the pandemic, increasing their potential exposure. Women make up 70 percent of health care workers globally, according to the World Health Organization (WHO). Unfortunately, they are often not well protected in these critical jobs. The UN has noted that personal protective equipment is often designed for men and may not adequately fit women. In Spain and Italy, at least earlier in the pandemic, a majority of health care workers who contracted COVID-19 were women.
Another negative effect for women is that, when health care systems become overwhelmed by COVID-19 cases or shift resources to focus on the pandemic, it often leads to a decrease in resources for other health needs, particularly reproductive and maternal health. For example, a study published in May in The Lancet journal estimated that pandemic-related disruptions to health care and food supplies in low and middle-income countries would lead to "an 8.3 to 38.6 percent increase in maternal deaths per month, across 118 countries" — and even higher increases in child deaths.
Domestic violence has also increased significantly during the pandemic. Times of crisis that drive anxiety frequently lead to abusers taking out their frustrations on the women and children around them, and stay-at-home orders sometimes forced women and children to stay with abusive men. The UN has said that gender-based violence is increasing "exponentially" during the pandemic. France has seen a 30 percent increase in domestic violence incidents since March, while Argentina has seen a 25 percent increase, and many other countries around the world are experiencing increasing numbers of cases.
The pandemic and related school and business closures have also vastly increased women's care burden. The UN estimates that women did three times the amount of unpaid care and domestic work as men before the pandemic. With schools and other child care facilities closed, many women found themselves with an impossible workload that combined their usual jobs and household work with caring for and even educating children constantly at home. Women also provide much of society's elder care — a task that became even more critical and more difficult as COVID-19 sickened many older people and many of their caregivers. Women also provide the majority of the world's unpaid health care, caring for the sick of many ages, and the pandemic has increased this workload, both by making more people sick — sometimes with long-term health effects after recovery — and by pushing other unwell people out of the formal health care system and into the care of women in their families and communities.
Women have disproportionately suffered from the economic impacts of the pandemic. In many less developed countries, women often work in the informal sector, which was hit particularly hard by quarantine measures and lacks job protections and benefits such as sick leave. Even in the formal sector, women earn less than their male counterparts. The World Economic Forum notes that women earn just 79 cents for every dollar men earn. In many countries, women are over-represented in the services sectors that were often the first to experience pandemic-related layoffs. Overall, women are less likely than men to have savings and more likely to live close to the poverty line, and therefore women are less able to cope with economic shocks. Furthermore, ongoing school and child care closures will force many women out of jobs as the pandemic continues.
Governments and communities that are forming plans for recovery from the pandemic and the resulting economic crisis must consider the impact on women if they want to succeed. Women play crucial paid and unpaid roles in economies and broader social roles, and their voices must be included in recovery plans. Unfortunately, women are under-represented in many countries' recovery planning. For example, women make up just 7 percent of the White House Coronavirus Task Force in the US and 32 percent of the WHO's Emergency Committee on COVID-19.
Recovery plans that take into account the impact on women are more likely to succeed and lead to more sustainable future economic and employment growth. In tangible ways, societies should recognize the economic value of the care work that women provide. Governments and communities should work to address inequalities in pay and access to the formal economy. Women's health should be seen as essential to the entire society's well-being, and societies should act to address domestic violence.
Women play a crucial role in determining how societies and economies will come out of this historic challenge. Economic recoveries will depend on women returning to work. Societies' futures will depend on mothers and female family members who care for children and try to fill in gaps in education during school closures. The extent to which the pandemic sets back progress or facilitates a strong recovery will depend, in many ways, on addressing the impact on women and their families.
Kerry Boyd Anderson is a writer and political risk consultant with more than 16 years' experience as a professional analyst of international security issues and Middle East political and business risk. Her previous positions include deputy director for advisory with Oxford Analytica and managing editor of Arms Control Today. Twitter: @KBAresearch
https://www.arabnews.com/node/1697276
--------
Nissan Saudi Arabia celebrates women's accomplishments with #SheDrives Campaign
June 25, 2020
JEDDAH — Nissan Saudi Arabia has launched an initiative under their "#SheDrives" campaign to empower women in Saudi Arabia. This initiative is an extension of Nissan's original campaign, "SheDrives" that was launched when the driving ban was lifted two years ago on the June 24, 2018. The campaign highlights the milestones and achievements of women since this decision came into effect, as well as Nissan KSA's contributions and continuous efforts to empower females in Saudi Arabia.
"Women are leaders and key players in every aspect of our community. In recognition of their unlimited potential and capabilities, we at Nissan Saudi Arabia celebrate their achievements in the SheDrives campaign. Empowering women is a key element of what we do at Nissan KSA, from our female employees and partnerships as well as discovering female Saudi talent and enabling them to excel in every aspect of the Saudi automotive industry," said Bader El Houssami, managing director of Nissan Saudi Arabia.
Nissan KSA's General Manager of Corporate Communication HatoonBushnaq also commented on her experience in the company, saying: "The momentous decision of lifting the driving ban widened the opportunities available to women in KSA. Driving enabled women to take further charge of their lives and pursue opportunities that were not readily available or accessible prior to this decision, and that were made possible with the support of the Saudi government.
"Nissan Saudi Arabia continues to support women by providing them with opportunities, even in leadership positions, in order to add a female perspective to the automotive sector and focus on the diversification of offerings and the empowerment of females at all levels of the business."
Nissan Saudi Arabia has consistently supported women over the years, with the SheDrives campaign featuring prominently after the driving ban was lifted. This branched out to further initiatives that Nissan KSA has specially curated for women in Saudi Arabia, such as the Nissan Sanadek application. The Nissan Sanadek application is an RSA application that was designed with the needs of female drivers in mind to give them peace of mind on the road.
Nissan's innovative NIM technology also provides female drivers with the safety features and security that they need on the road, as studies have shown that safety features are a top consideration for female drivers in Saudi Arabia. Prioritizing female drivers also extends to Nissan's authorized dealers in the Kingdom, as Petromin Nissan provides special offers and aftersales services that are customized for female drivers.
The SheDrives campaign celebrates the determination and relentlessness of the Saudi female spirit, with female motorsport driver Reem Al Aboud and chef KhuloodOlaqi featured as the faces of the campaign. Their stories echo the sentiment that with passion, hard work and perseverance, Saudi women can accomplish their dreams and make them a reality. Their inspirational message is a testament to the capabilities of females in Saudi Arabia, especially their huge potential in the KSA automotive industry and beyond. — SG
https://www.saudigazette.com.sa/article/594722/BUSINESS/Nissan-Saudi-Arabia-celebrates-womens-accomplishments-with-SheDrives-Campaign
--------
Woman in Dubai Drives Car into Sea After Receiving Bad News on Phone
June 15, 2020
She was rescued by the Dubai Police.
A car was pulled out by the rescue teams of Dubai Police after it was accidentally driven into the sea in Al Mamzar Creek.
According to Ajman News, the woman motorist was in the parking lot when she received some bad piece of news over her phone, and pushed on the accelerator by mistake. She forgot to use the hand brake.
Lieutenant-Colonel Ali Abdullah Al Qassib Al Naqbi, director of Maritime Rescue Division at Dubai Police, said that the 41-year-old Arab woman didn't sustain any injury, as she escaped from the car before it slid into the sea water. He added that she was parking her vehicle near the beach, and the incident happened due to lack of attention.
On Friday, the Dubai Police received a report at 4.30pm about the incident, and rescue teams swung into action. They dragged out the vehicle after it went 30 meters inside the sea.
Al Naqbi called on all motorists to drive with caution and pay attention while driving for their own safety and that of others.
https://www.khaleejtimes.com/uae/dubai/woman-in-dubai-drives-car-into-sea-after-receiving-bad-news-on-phone-
--------
Activists Press for Tougher Penalties Against Female Genital Mutilation in Egypt
Marwa Al-A'sar
Jun 29, 2020
CAIRO — Amendments to a number of articles in the Egyptian law incriminating female genital mutilation (FGM) have recently been finalized, toughening penalties against the perpetrator of this atrocious act.
On June 14, on the National Day for Elimination of FGM, head of Egypt's National Council for Women Maya Morsy told reporters during an online press conference that the proposed amendments include widening the criminalization scope and redefining the act of FGM as a form of deformity.
Morsy said that they also included a solution for incriminating medical professionals undertaking the procedure, giving no further details.
The finalized proposal was submitted by representatives of the National Council for Women, the National Council for Childhood and Motherhood, Al-Azhar institution and the three churches as well as a number of prosecutors.
The suggested adjustments came less than two weeks after a father had tricked his three young daughters in undergoing the procedure in southern Egypt.
A statement released June 3 by the public prosecution's office said that the man brought a doctor to the house and told his daughters that he came to vaccinate them against the coronavirus. Instead, he circumcised the girls, in a case that sent shockwaves across Egypt.
The prosecution investigated the matter and it turned out that the three sisters were injected with a drug that knocked them out before they had the invasive operation done to them. "They woke up with their legs tied while suffering from severe pain in their genitals," the statement read.
The girls informed their mother, who is divorced from their father, who reported the incident to child protection.
A forensic report revealed later "the excision of [their] … reproductive organs."
Both the doctor and the father were referred to an urgent trial before a criminal court within 48 hours of the investigations. No specific date has been set for the trial yet.
At the end of January, a 12-year old girl named Nada lost her life while undergoing circumcision at a private clinic in the south of Egypt. Her death preceded the International Day of Zero Tolerance for FGM on Feb. 6.
Nada's parents and the doctor who performed the procedure were referred to a criminal court pending trial. They have not stood trial yet.
Such incidents led advocates of children's rights to question the efforts and campaigns launched over the past years against the practice.
"As a lawyer I believe the main problem doesn't have to do with legislation, as it may seem to some. Rather, the organizations — which hold meetings and conferences to discuss the subject and suggest recommendations — need to simplify the issue and address people in their own language," children's rights advocate Mahmoud el-Badawy told Al-Monitor.
"The dilemma here has to do with turning all those laws and recommendations into reality positively reflected on the target groups. FGM is carried out everywhere and every day in Egypt, while only a small number of cases are reported," he said.
A 2016 survey by UNICEF indicated that 87% of women and girls ages 15-49 in Egypt have undergone the procedure.
FGM, also known as genital cutting or female circumcision, is a tradition dating back to Pharaonic times. It mostly exists in Africa and some Middle Eastern countries.
Even though the practice has been illegal in Egypt since 2008, it remains rife in this populous Arab country where some doctors, nurses and midwives undertake it in secret, especially in rural areas and in the south.
The Egyptian churches and the highest Islamic institutions in the country have recurrently rejected the procedure, saying it is prohibited by Islam and Christianity for causing irreversible harm to women.
However, many parents still believe that female genital cutting preserves a girl's chastity by curbing her libido and put their daughters through the ordeal.
"For a large segment of society, female circumcision is a deeply rooted tradition, mistakenly linked to religion. It is related to people's collective unconscious," psychologist HananMarzouk told Al-Monitor.
"Throughout my experience as a researcher in this domain, I came across men who even refuse to marry uncircumcised women, believing their wives have no right to enjoy intimacy, or because they have a sense of insecurity that they will be unable to satisfy women's physical needs," Marzouk said. "I'm talking about communities where there is limited or no sex education available and the whole issue is considered a taboo."
Other than the physical harm, the practice has a negative impact on women's psychological well-being.
"Women who underwent female circumcision are denied a normal sex life. They are ashamed of their bodies, and many of them find sex repulsive," Adel Midany, professor of psychiatry at Al-Azhar University, told Al-Monitor.
"Following the act they usually experience anxiety and reactive depression, mistrusting their parents who subjected them to this violation at the time when they were supposed to protect them against the world's evils. Over time they may also develop post-traumatic stress disorder," he said.
"Depending on the grade of circumcision, women who went through this experience suffer from orgasmic dysfunction, if not frigidity," Midany said, adding that very few couples seek professional help and are trained on specific techniques to help them enjoy intimacy.
A 28-year old woman told Al-Monitor about her traumatic experience with FGM that started at the age of nine.
"My mother brought a midwife to the house. I felt there was something not right. I can still feel the pain and fear I was undergoing as the old woman ruthlessly cut part of my body with a razor, while I was tied by my mother and her neighbors," she said on condition of anonymity, adding that she rejects the idea of marriage for fear of failure.
"The only person who was supposed to be the source of safety and comfort acted otherwise, which made me lose faith in her as a protector ever since," she said.
https://www.al-monitor.com/pulse/originals/2020/06/egypt-amend-law-fgm-women-death-trial.html
--------
URL: https://www.newageislam.com/islam-women-feminism/saudi-street-style-book-under/d/122253
New Age Islam, Islam Online, Islamic Website, African Muslim News, Arab World News, South Asia News, Indian Muslim News, World Muslim News, Women in Islam, Islamic Feminism, Arab Women, Women In Arab, Islamophobia in America, Muslim Women in West, Islam Women and Feminism