New Age Islam News Bureau
9 March 2015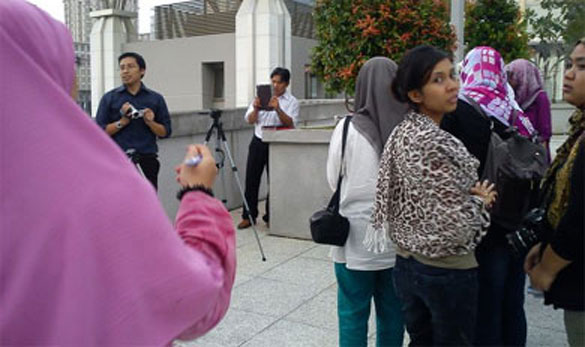 Outing in Putrajaya (File Photo) Kelantan Issues 1,000 Summonses For Exposing Their "Aurat"
-------------
• Saudi Single Women Challenge Tradition in Love and Marriage
• Indian Muslim Women Run In Burqas for Gender Equality
• Official: 200 Iraqi Turkmen Women Abducted By Isis, Awaiting Rescue
• Two Girls Killed For 'Honour' In Buner, Pakistan
• Afghan Artist in Hiding after Sexual Harassment Protest
• New Indonesian Draft Bill Defines Six Types of Sexual Violence
• Malaysian Businesswoman Emerges Top on Australia's List of Richest Self-Made Woman
• Kelantan Issues 1,000 Summonses for Exposing Their "Aurat"
• UAE Issues Decree Forming Board of Dubai Women Establishment
• Iran Charges Woman over 10-Marriage Con Trick
• Pak Punjab CM Announces Women Empowering Package
• Women Empowerment Needed For Positive Changes to Nation: Maldives Minister
• On International Women's Day, Yemeni Women Visited resigned PM In His House
Compiled by New Age Islam News Bureau
URL: https://newageislam.com/islam-women-feminism/saudi-single-women-challenge-tradition/d/101877
---------
Saudi Single Women Challenge Tradition in Love and Marriage
March 9, 2015
JIDDAH, Saudi Arabia - Amna Fatani knows she wants a brilliant career and a life different from that of Saudi women of her mother's generation who married early, usually to a husband not of their own choosing.
The 27-year-old, studying for her master's degree at Georgetown University in Washington and hoping to someday become Saudi Arabia's first female labor minister, is part of a growing number of Saudi women choosing to remain single through their 20s and into their 30s as they pursue other ambitions.
The trend has ruffled ultraconservatives who see it as an affront to the very foundations of the kingdom, where strict interpretations of Islam and rigid tribal codes have long dictated the terms of marriage.
"My friends and I have reached a point (where) we're very specific about what we want," she said. "I need someone who trusts that if I need to do something, I can make the decision to ask for help or choose to do it alone."
Saudi women stand at the centre of a societal pivot between the kingdom's push for greater women's education and rights to work, and laws that give men final say over their lives.
Women cannot travel, study abroad, marry or undergo certain medical procedures without the permission of a male guardian - usually a father or husband, or in their absence, an older or even a younger brother.
The growing number of single women has alarmed clerics, who have responded by pushing for early marriage and warning of alleged evil consequences of "spinsterhood," such as sex outside wedlock.
Traditionally, women in Saudi Arabia are expected to be married by their early 20s. In 2011, more than 1.5 million Saudi women over 30 were single, according to the Economy and Planning Ministry.
According to government figures, 3.3 million are women over 30 in this nation of 20 million people - and if the ministry's 2011 figure is unchanged, it means that about 45 percent of Saudi women over 30 are single.
Women have been taking on a greater role in public life, though their jobs are mostly in the education sector. The Labor Ministry says there are more than 400,000 working women in Saudi Arabia, compared with less than 55,000 before 2009.
Women outnumber men in the kingdom's universities, and there are tens of thousands of women among the 150,000 Saudis studying abroad on government scholarships.
Education also is changing women's attitudes toward marriage and giving them more confidence, said Hatoon al-Fassi, a professor of women's history in Saudi Arabia. "You can no longer control these attitudes," she says.
Some Saudi women also are challenging the rules on how to meet a prospective husband as they navigate through tradition and customs.
The kingdom's Wahhabi interpretation of Islam keeps the sexes strictly segregated, making it harder for young people to meet. Morality police make sure women and men are apart in restaurants, malls and public spaces, and schools and most universities are segregated.
Families are expected to arrange or, at the least, approve marriages. Conservative families see the idea of a daughter looking for a match on her own as scandalous. Entrenched tribal customs also weigh strongly.
One young woman told The Associated Press that at work, her sister fell in love with a Saudi man who was not from a tribe. Their father agreed to the marriage after meeting him, but an older male relative threatened to cut off the entire family if the marriage went ahead. The sister was forced to end the courtship and eventually married a man from her tribe, the woman said, speaking on condition of anonymity to discuss her family's private matters.
Parents usually arrange a "showfa" - Arabic for a "viewing" - so a man can see his potential bride at her home, without the traditional black robe and face veil worn by most Saudi women in public.
The practice is widely accepted and is sometimes the only chance for a man and a woman to see one another before deciding on whether to get engaged. Among the more conservative families, a groom is only allowed to see his wife after the wedding.
However, stories of secretive courtships away from parents' prying eyes abound in Saudi Arabia. One woman said she spent months chatting with a man online. They finally agreed to meet at a grocery store, where they texted from opposite ends of an aisle. They spoke face to face for the first time when he asked her father for her hand in marriage. Until today, their parents believe they met through work.
Saudi blogger and women's rights advocate Tamador Alyami says tradition is being outpaced by the Internet's potential for matchmaking. Private chat rooms and social media have given Saudis a space to pursue relationships on their own terms.
Alyami said women today are asserting their greater independence. "They don't just want their mothers to meet with their (prospective) husbands' mothers and, you know, make all of the arrangements on their behalf."
http://gazette.com/saudi-single-women-challenge-tradition-in-love-and-marriage/article/1547585
-----------
Indian Muslim Women Run In Burqas for Gender Equality
9 March 2015
Preksha Malu
To make a point about the daunting conditions that Muslim women exist in, 16 members of the Bhartiya Muslim Mahila Andolan participated in the 5km fun run. A few of them ran while wearing Burqas to highlight the need for a level playing field for Muslim women. Lia Caldeira and Bharti Shetty led the team representing BMMA, which has centres in 11 states and works for legal aid issues, Muslim divorce laws, community issues, wages, sanitation and health.
Humeira Qureshi, 20, had worn black clothes beneath her black Burqa, and admitted to feeling like being in an oven in the rising heat. "There are no sporting activities that can be done while in a Burqa. If you wear it it's an issue, and if you don't wear it, it's an issue. I am training with BMMA and there is no religious or political angle to this. By participating in the marathon we want to say that Muslim women, too, can take a step forward," said Qureshi.
Shetty said that they have prepared a draft of the changes they would like to bring in with respect to Muslim personal law. "We want to do away with the triple talaq where a man can divorce his wife by just uttering or writing Talaq three times. We want education for children and want to see that marriage takes places with the consent of both parties and is not forced upon anyone. We want to do away with Halala, a custom in which if a man wishes to take back his wife, she has to get married to another man for a day, and if the man refuses to part with her after that, she can't go back to her husband," said Shetty.
Qureshi said that the partiality and the burqa both need to go. "If I wear a burqa everyday, it is my choice. But if I wish to go to my college farewell and wear nice clothes, I will have to hide it under a burqa because my family wants me to. Families do not give economic freedom to their girls when it is necessary. You can't even buy sanitary napkins because you don't discuss periods with male members of the community. Men should know that women need to spend on such stuff and be a little sensitive towards this. People don't spend anything on educating the girl child and are surprised when she has four boyfriends. If you limit her freedom to get education and live by herself, she will find other ways to rebel," said Qureshi who is currently in her third year of commerce studies and is thankful for having liberal parents.
http://www.dnaindia.com/mumbai/report-muslim-women-run-in-burqas-for-gender-equality-2067078
-----------
Official: 200 Iraqi Turkmen Women Abducted By Isis, Awaiting Rescue
09 March 2015
More than 200 Iraqi Turkmen women have been abducted by militants affiliated with the Islamic State (ISIS) and are still awaiting rescue, chairman of the Iraqi Turkmen Front Arshad Al-Salehi said yesterday.
Speaking at a celebration organised by the Turkmen Women's Union to mark International Women's Day in the city of Kirkuk, northern Iraq, Al-Salehi said this is a "sad day" for Turkmen women.
He said ISIS militants had raped many of the women and killed others.
Al-Salehi pointed out that "hundreds of pregnant Turkmen women who fled from Mosul and Tal Afar died after going into labour while on the road and that many of their infants died as well."
He accused the world's media of ignoring the plight of Turkmen women and urged Turkmen politicians to address the injustice suffered by Iraqi women during all human rights conferences they attend outside of Iraq. Adding that the foreign and Arab media continues to ignore the suffering of Turkmen women for "political goals".
The event included an exhibition of drawings depicting life in the shadow of war in Iraq.
Artist Nursal Kojho told the Anadolu Agency that women in Kirkuk were suffering because of ISIS's terrorist attacks.
Nursal said: "Iraqi women, especially mothers who scarify their children for the country are living difficult days. As we fight terrorism, we lose our children, our husbands and brothers and I aimed with my paintings to illustrate that and to say stop the sound of weapons, we do not want women to cry."
https://www.middleeastmonitor.com/news/middle-east/17393-official-200-iraqi-turkmen-women-abducted-by-isis
----------
Two Girls Killed For 'Honour' In Buner, Pakistan
March 09, 2015
BUNER - An accused killed his two female cousins for honour here on Sunday and fled the scene.
Local sources said that the incident took place in Akhun Kaley area of Chagrazi in district Buner of Khyber Pakhtunkhwa (KP) where accused Zafar killed his cousins Rukhsana and Masheera for honour.
The killer was suspicious about the character of the two girls as they spent several hours away from home and returned back after prolonged delay.
The accused fled the scene after committing the dual murder.
Police have registered a case against the person and started raids for his arrest.
MAN TORTURES WIFE TO DEATH IN RY KHAN
A wicked person tortured his wife to death over domestic dispute here on Sunday.
Police arrested the accused.
Police said that in Liaquatpur area of Rahimyar Khan, a pitiless person on complaint of his sister and nephews, brutally tortured his wife Fozia, 23.
The neighbourers and dwellers of the area shifted the lady to hospital where doctors declared her dead.
The police arrested the husband and after registering a case started investigation.
http://nation.com.pk/national/09-Mar-2015/two-girls-killed-for-honour-in-buner
-----------
Afghan Artist in Hiding after Sexual Harassment Protest
MARCH 9, 2015
KABUL: A young Afghan artist who walked through the streets of Kabul wearing a suit of armour in protest against sexual harassment has gone into hiding after receiving death threats.
Kubra Khademi, 27, had walked around in the costume in central Kabul on February 26 hoping to cast a spotlight on groping and inappropriate touching of women in public spaces in Afghanistan. The suit was fashioned at a cost of 500 Afghanis ($10) by a local blacksmith, said Khademi.
She then decided to take it out for a run. After removing her coat in the street, the young artist, who was wearing a hijab, said she found herself harassed from all sides and was forced to flee after jeers and stones were hurled her way. "It did go according to what I was expecting.
The crowd was coming at me and sort of pushing me," she said on International Women's Day, adding she had to escape the area in a taxi.
Khademi said a painful event from her early childhood had evoked her bold protest.
http://www.dawn.com/news/1168287/afghan-artist-in-hiding-after-sexual-harassment-protest
-----------
New Indonesian Draft Bill Defines Six Types of Sexual Violence
March 09 2015
The National Commission on Violence against Women (Komnas Perempuan) has listed six forms of sexual violence that will become the basis of a draft bill on sexual violence.
From 15 types of sexual violence highlighted during a study between 1998 and 2003, the commission has selected six: rape, sexual harassment, sexual exploitation, sexual control, sexual torture and sexually charged punishment.
The draft bill drops other forms, such as forced prostitution, forced pregnancy and abortion, as well as traditional practices like female circumcision. Komnas Perempuan member Ira Harsono said it was too difficult to insert all 15 types into the bill.
"Although the bill only stipulates six types of sexual violence, we are making [broader] definitions and elements that in the end can accommodate all 15 types," she said.
The bill stipulates a maximum prison sentence of 15 years for sex-crime convicts.
Drafted at a time when violence against women and children is on the rise, the bill has been designed to impose stricter punishments on perpetrators of sexual violence.
The law also seeks to provide better protection for rape victims.
If the House of Representatives endorses the bill, the country will add to four other laws designed to protect women and children from sexual violence, including Article 285 of the Criminal Code (KUHP), the 2002 Child Protection Law, the 2004 Domestic Violence Law and the 2007 Human Trafficking Law.
According to commission data, from 1998-2010, there were 93,960 recorded cases of sexual violence. From the total number, about 22 percent of cases were left unprocessed due to the lack of relevant regulations.
Meanwhile, data from the Indonesian Child Protection Commission (KPAI) reveals a steady increase in cases of sexual violence against children, with 459 incidents recorded during the period between January and June of this year, compared to 590 reports made throughout the whole of 2013.
From 2011 to 2014, there were 2,124 recorded cases of sexual violence against children.
Ratna Batara Munti, chairwoman of the Indonesian Women's Association for Justice (LBH APIK) said like any country, Indonesia needed a specific law on rape and sexual harassment.
"The new bill on sexual violence can accommodate. But I must say that crimes like rape and sexual harassment need their own specific law," she said on Saturday, adding that such a law should also cover prevention and rehabilitation.
According to Ratna, though the sexual violence bill is not listed in the 2015-1019 National Legislation Program (Prolegnas), many activists were still hopeful they would push the bill onto the House agenda.
The groups are also closely monitoring the House's plan to amend the KUHP.
"We will supervise the revision, especially for the definition of rape, and we will urge lawmakers to put sexual harassment in the Criminal Code, which currently only punishes [for] molestation," Ratna said.
http://www.thejakartapost.com/news/2015/03/09/new-draft-bill-defines-six-types-sexual-violence.html
-----------
Malaysian Businesswoman Emerges Top on Australia's List of Richest Self-Made Woman
March 8, 2015
MELBOURNE, March 8 — Malaysian Vicky Teoh, who has a personal fortune estimated at A$938 million (RM2.6 billion), has once again been named by BRW (Business Review Weekly) magazine as Australia's Richest Self-Made Woman.
Vicky, 57, and her husband, David Teoh, 58, emigrated from Malaysia in 1986 and founded TPG Telecom.
According to BRW, Vicky owns a big chunk of TPG shares in her own right and is also active in the family's investments in start-ups such as online spectacles retailer Oscar Wylee.
The notoriously private Teoh is reported to own a fortune that has almost doubled in the past year to A$2 billion (RM5.7 billion), up from A$1.06 billion (RM3.0 billion).
The BRW Rich Women list, published to celebrate International Women's Day, highlights the 30 wealthiest self-made women in Australia.
The magazine reports that to be eligible, the women should have contributed to the creation of their wealth, and not have inherited any significant sum from the previous generation.
Mining magnate Gina Rinehart is excluded because of her inheritance from her father, Lang Hancock, despite her phenomenal success in business.
The 30 women on the list have a combined wealth of A$5.4 billion (RM15.3 billion), up from A$4.5 billion (RM12.8 billion) in 2014, and most individuals saw gains.
The next richest after Vicky Teoh is Charlotte Vidor of the Toga Hotels Group who has a fortune estimated at A$360 million (RM1.02 billion). — Bernama
http://www.themalaymailonline.com/malaysia/article/malaysian-businesswoman-emerges-top-on-australias-list-of-richest-self-made
-----------
Kelantan Issues 1,000 Summonses For Exposing Their "Aurat"
MARCH 9, 2015
KUALA LUMPUR, March 9 — The Kota Baru Municipal Council in Kelantan has issued 1,000 summonses since last year against those who expose their "Aurat" or who behave indecently in public, an official said yesterday.
The council's Supervisory Squad operations chief Shaifful Nizam Mohd Mukhtar told local paper Sinar Harian during its "Tutup Aurat" Operation that the move against so-called indecent dressing targeted workers at supermarkets and night markets.
"The Supervisory Squad was set up under the Development Department of MPKB-BRI, not just to focus on workers in supermarket premises who do not cover their 'aurat', but also on night market workers," Shaifful Nizam was quoted saying, using the initials for the Kota Baru Municipal Council Islamic City.
The maximum compound for indecent dressing or behaviour is RM500, Shaifful Nizam reportedly said.
"Aurat" in Malay refers to "intimate body parts" that Muslims must cover with clothing.
Kelantan's neighbouring state Terengganu has also recently cracked down on purported indecent dressing among Muslim women, a crime under Islamic state law that is punishable with a fine of not more than RM1,000, a maximum six-year jail term, or both.
http://www.themalaymailonline.com/malaysia/article/kelantan-issues-1000-fines-for-islamic-dress-code-violations
-----------
UAE Issues Decree Forming Board of Dubai Women Establishment
9 March 2015
UAE Vice President Mohammed bin Rashid Al Maktoum has issued a decree forming the board of Dubai Women Establishment (DWE), Emirates news agency WAM reported Monday.
Sheikh Mohammed proclaimed Mona Al Marri as Chairperson and Managing Director of the new board and Hala Youssef Badri as Vice Chairperson.
In reaction to the announcement, Sheikha Manal bint Mohammed bin Rashid Al Maktoum, the wife of Sheikh Mansour bin Zayed Al Nahyan, Deputy Prime Minister and Minister of Presidential Affairs expressed her gratitude for Sheikh Mohammed's support and effort to empower women.
Sheikha Manal also said that Sheikh Mohammed's move motivates Emirati woman to excel both on local and international levels.
Other members of the new board include Huda Issa Buhumaid, Khawla Rashid Al Mehairi, Hana Abdul Wahed Al Rostamani, Huda Saeed Naeem Al Hashimi, Lamis Mohamed Hamdan Al Shamsi, Muna Busamra, Lubna Qassim Bastaki.
Each woman is a member for three years and the post's duration is renewable.
http://english.alarabiya.net/en/special-reports/international-womens-day/2015/03/09/UAE-issues-decree-forming-board-of-Dubai-Women-Establishment.html
-----------
Iran Charges Woman over 10-Marriage Con Trick
March 09, 2015
TEHRAN: A young Iranian woman accused of marrying - and divorcing - 10 men in less than two years under an elaborate con trick has been charged with fraud, state media reported Sunday.
The alleged deception was made possible under Islamic rules that entitle a woman to a financial sum agreed before marriage but retrievable "on demand" any time after a ceremony takes place.
In Iran, an Islamic republic that has followed sharia law since the 1979 revolution, a soon-to-be bride sets a Mehrieh payment with her fiance - a dowry traditionally measured in gold coins.
In the case of the 20-year-old accused - who denies the charges - she married the men and immediately demanded her payment, never consummating the relationships, according to Iran, a daily newspaper.
The men had to pay half the Mehrieh payment to avoid breaking the law, but the woman said she actually agreed a 100-110 gold coin settlement, technically less than she could have claimed.
In each case, she then pressured her husbands for a divorce, the paper said.
A divorced woman in Iran can wipe her husband's name off her identity card if she can prove - using a doctor - she is still a virgin.
The woman is accused of repeatedly taking such steps to conceal her past from her unsuspecting victims.
"I don't see why I have to answer these questions," she defiantly told a court investigator who had summoned all 10 husbands to court, the report said.
"I'm innocent.
All my marriages have been legal and all my husbands married me at their own will and then we split up based on our differences.
"Under the law, since I was still a virgin, they had to pay half the dowry, and I would agree 100 to 110 gold coins and then would legally request my ID card to be cleaned of their names.
It remains common among Iranian women to secure their marriage with an "on demand" clause on their dowry, which often goes beyond a few hundred gold coins.
The accused's alleged money-making scheme was eventually discovered by staff at Tehran's public register office, who had become suspicious of her frequent visits to change her ID card.
A criminal court has charged her with fraud and scam in marriage and set a trial for her case, although no date for proceedings was published.
http://nation.com.pk/international/09-Mar-2015/iran-charges-woman-over-10-marriage-con-trick
-----------
Pak Punjab CM Announces Women Empowering Package
March 09, 2015
LAHORE - Punjab Chief Minister Shahbaz Sharif has announced that all out measures will be adopted for the social and economic empowerment of women.
The chief minister was addressing a special function in connection with International Women's Day at Aiwan-e-Iqbal, on Sunday.
Provincial Ministers Begum Zakia Shahnawaz, Hameeda Waheed-ud-Din, Minister for Women Development Balochistan Mir Izhar Khan Khosa, MNA Shaista Pervaiz Malik, Women Assembly Members, Country Head of DFID in Pakistan Richard Montgomery, United Nations' Country Director Women Jamshaid Qazi and a large number of women were present on the occasion.
The chief minister said that further legislation would be carried out with the consultation of women for their development while policies would be formulated and steps taken in this regard so that women could be brought at par with those of developed countries for playing their due role for national development.
"Women have played a key role in the revolution and development of various sectors of life. He said that instead of sitting at homes, women should come out in the field after acquiring education as he believes that Pakistan can regain its lost status in international community with the efforts of women for the progress and development of the country," the CM held.
He said that the Punjab government had taken historic steps for the economic and social empowerment of women from 2012 to 2015, however, a lot was still to be done. He said that women would have to work shoulder to shoulder with men in practical field as it is the only way to make Pakistan a developed and prosperous country.
The chief minister announced setting up of special centers for the provision of justice to women subjected to violence and said that women would be deputed at these centres. He said that the first special center in this connection was being set up in Multan where police, prosecution, medical and forensic facilities would be available under one roof. He said that it would be the first and unique centre of its kind in South Asia and prove to be a milestone in evolving a permanent system for redressing the grievances of women.
"The Punjab government has decided to give 33 per cent representation to women in all decision making boards and committees and added that it will help in participation of women of different sectors in decision making process. It has also been made compulsory that a woman should be the member of the recruitment committee in government institutions," the CM maintained.
Shahbaz Sharif said that Pakistani women are very talented and rendering invaluable services in different sectors. He said that be it medical education, engineering or any other sector, the girls have taken lead over boys and he personally observed this fact in the functions held for laptop distribution as well as in honor of position holder students.
He said that revolutionary measures have been adopted for ensuring women's share in heritance, protection of their rights, 15 per cent quota in government jobs as well as others. He said that in Malaysia, Turkey, Iran and other Islamic countries, women have worked side by side men and took their countries far ahead. He said that women as doctors, engineers, bankers, specialists and bureaucrats in these countries, have changed the destiny of their nations.
He said that Pakistani women like that of other Islamic countries, will also have to come forward and play their due role in the practical field. He said that Punjab government will continue to take effective steps for the development of women.
The chief minister announced setting up of a committee and said that further decisions would be taken for the empowerment of women with the consultation and proposals of this committee.
Referring to the steps taken for the promotion of education, the chief minister said that Punjab Educational Endowment Fund, which is a unique programme in the history of the country, had been set up in Punjab and the volume of this fund had increased to Rs12 billion. He said that 65 thousand poor but talented students were being provided scholarships from this fund.
"Daanish School System is another revolutionary step of Punjab government for providing quality educational facilities free of cost to the children of backward areas. Children of poor families have as much right over education as these of rich families. Through revolutionary measures in education sector, the Punjab government had also provided quality educational facilities to the children of poor and backward areas," he further added.
The chief minister further said that through Akuwat Foundation, small loans have been given to lakhs of women of the province to help them stand on their own feet and the rate of repayment of loan is about 100 per cent. He said that self finance scheme had been abolished in medical colleges and other educational institutions for upholding merit.
He said that self finance scheme was tantamount to robbing poor and talented children of their rights. He said that this scheme and the quota system was done away with so that merit could be upheld.
Referring to terrorism, Shahbaz Sharif said that terrorism and extremism had tarnished the image of Islamic world and caused an irreparable loss to Pakistan. He said that besides use of force for elimination of terrorism, provision of education, health and justice, elimination of unemployment and poverty besides equitable distribution of resources was essential for rooting out this menace.
He said it was lamentable that Muslims were killing fellow Muslims and bloodshed was being enacted in the name of Islam. He said that people of Pakistan and the entire leadership was determined to rid the country of terrorism and efforts in this regard would prove fruitful.
He said that the scope of skills development programme with the collaboration of British Department for International Development for making youth skillful is being extended to whole province. He said that Britain is extending commendable cooperation for the uplift of education, health, vocational education and other sectors in the province.
Provincial Minister for Women Development, Zakia Shahnawaz said that Punjab government led by Chief Minister Shahbaz Sharif has taken laudable measures for the welfare of women. Country Head of DFID, Richard Montgomery said that Punjab government has made commendable efforts for the promotion of education and empowerment of women in the province and Chief Minister Punjab Muhammad Shahbaz Sharif deserves credit for this achievement.
Country Director United Nations, Jamshaid Qazi said that provincial government has carried out effective legislation for the empowerment of women besides taken bold decisions for their progress.
http://nation.com.pk/lahore/09-Mar-2015/cm-announces-women-empowering-package
-----------
Women Empowerment Needed For Positive Changes To Nation: Maldives Minister
Mar 08, 2015
Women play an important role in national development, and restoration of women's rights and women empowered will lead to positive changes to the nation, said acting Gender Minister – Attorney General Mohamed Anil on Sunday.
Speaking during the officially ceremony held to mark International Women's Day held at Islamic Centre, Anil said that the foundation to a healthy nation lay within the grasp of women. He said that though small a nation Maldives may be, the country had been playing a vital role in work to eradicate discrimination against women.
"Women play an important role in a nation remaining a nation. Women are key to establishing sound society and nation," he said.
Speaking during a ceremony attended by President Abdulla Yameen Abdul Gayoom and top state officials, Anil said that women had made great achievements in the field of education, health, and work. Noting that Maldives provided equal educational opportunities to both sexes - male and female, Anil said that female students made up for a large percentage of national toppers.
Anil said that female students now made up for the larger percentage of students achieving higher education, taking example from the fact that 70 percent of last year's graduates from Maldives National University were female students.
He said that the government was putting great effort into eradicating various challenges faced by women and empower women. He said that pledges targeting women made in government manifesto were vital to women empowerment.
Anil noted that government had now published day care policies in order to eradicate challenges women face in venturing into the work field. And said that government was also working on stopping violence against women and that shelters had been established some atolls as part of the work.
"Our aim is to establish shelters and start services in all atolls of the country within 5 years of this government," he said.
http://www.haveeru.com.mv/news/59536
-----------
On International Women's Day, Yemeni Women Visited resigned PM In His House
March 8th, 2015
On March 8th, Yemeni women activists, poets and painters visited the resigned Prime Minister Khalid Bahah on their International Day who is under house arrest.
Bahah who is under Houthi's house arrest congratulated the women on their day and listened to some poetry from them. They shared their sadness that he couldn't come to the celebration and the campaign of One Thousand Roses organized by the Female Media Conglomerate.
They expressed their solidarity with him and whish wished for a homeland for everyone that is not governed by a specific party.
At the International Women's Day celebration, a group of Yemeni women lunched the campaign of One Thousand Roses to be for women over three days. The campaign is an expression of the most important needs of Yemeni women to live in peace and stop the ongoing conflicts that badly affect their lives.
Huda Ablan, the Vice Chairwomen of the Ministry of Culture, said that women are the ones who will prevail in values, civilization, civility, peace and equality.
"Women today bear the burden of change and are entrenched in a culture of dialogue. They will triumph over all attempts of violence and ruin," Ablan said.
Mahbob Ali, the President's Advisor for Media Affairs, added that the celebration of women is not a political or social obligation, it is a religious obligation.
"Women have sent a message to political parties that they should put the country's interest first and stop their conflicts and bloodshed. They have to work for the stability of Yemen. A woman is a man's partner," Mahbob added.
Since ancient times, Yemeni women have been part of political life and have had a distinct role. This historical legacy makes Yemen one of the few countries where women have gained balanced roles in public life in political history and have enjoyed confidence, respect, and acceptance in running and handling the affairs of governance.
Yemeni women have to be together and one hand to achieve all that they want.
http://nationalyemen.com/2015/03/08/on-international-womens-day-yemeni-women-visit-bahah-in-his-house/
-----------
URL: https://newageislam.com/islam-women-feminism/saudi-single-women-challenge-tradition/d/101877