New Age Islam News Bureau
29 Apr 2020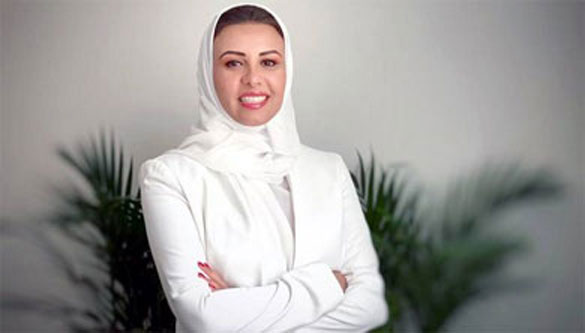 Dr. Amani Bint Abdulaziz Bin Ibrahim Al-Salem hopes her study will prove an important step in the direction of promoting the vital role of achieving objectives of the health sector in raising the quality
----
• Saudi Researcher Notches Up Several Academic Firsts
• Jailed Saudi Princess Asks Crown Prince and King For Mercy During Ramadan
• Coronavirus: Iran's Female Singers Familiar with Restrictive Measures
• Women Who Dare Dissent Targeted for Abuse by Yemen's Insurgents
• Calls in Egypt For Censored Social Media After Arrests of Tiktok Star, Belly Dancer
• Afghan Women with Disabilities Face Systemic Abuse: Watchdog
• How Afghan Women Fare Under Taliban Rule
• Pakistan's women riding a digital wave in drive for better jobs
• Spike in domestic abuse cases hits Iraq
• As Society Opens, Saudi Women Surge into Job Market
Compiled By New Age Islam News Bureau
URL; https://www.newageislam.com/islam-women-feminism/saudi-researcher-notches-up-academic/d/121705
-------
Saudi researcher notches up several academic firsts
April 5, 2020
Dr. Amani Bint Abdulaziz Bin Ibrahim Al-Salem hopes her study will prove an important step in the direction of promoting the vital role of achieving objectives of the health sector in raising the quality of life for Saudi citizens, as defined in Saudi Vision 2030.
Dr. Amani Al-Salem, the first Middle East researcher in the field of organ donation, was granted her PhD in health marketing from Griffith University, Queensland, Australia. Her doctoral thesis examined the development and promotion of post-mortem organ donation programs in the Kingdom of Saudi Arabia.
The field of organ donation is a vital, new area that holds great promise in the expansion of possible responses in dealing with incurable disease and illness.
The availability of donor organs after death and the possibility of further treatment may sustain optimism in some patients and may allow some patients to return to a place of hope from despair, reflecting the tenets of social cohesion.
Dr Amani Al-Salem conducted several studies on the factors that prevent Saudis from making the decision to donate organs after death and those that are motivating factors in making the decision to become donors.
Based on the results of these studies, she developed an integrated management plan aimed at increasing the proportion of donors by providing globally recognized best practices and successfully sustained solutions. She refined the potential application of these systems and proposals to suit the particular differences and requirements inherent in Saudi society.
A brain-dead donor can save the lives of eight patients and can donate about 40 tissues for potential benefit to other patients. The percentage of organ donation from the brain dead in Saudi Arabia, however, remains very low. Most of the available organs come from living donors (71%).
The findings of the research carried out by Dr. Amani Al-Salem are especially important when considering the acute shortage of organs available for use in transplantation globally. Every year, the opportunity is being lost to save thousands of people from inevitable death. The stark reality is that there are more than 17,000 patients with organ failure in Saudi Arabia on the waiting list: one death occurs every six hours due to the very small pool of available donor organs.
During her doctoral studies, researcher Dr. Amani Al-Salem received the award for Best Paper in Social Marketing from Australian and New Zealand Marketing Academy Conference (ANZMAC) 2018 Conference. Her academic output of exceeding 12 scientific publications in prestigious scientific journals, has enabled her to gain the status of a certified referee in a number of scientific journals and conferences.
She was also selected for academic work as a lecturer and was responsible for grading papers and tests of a number of post and undergraduate courses in the Marketing Department at Griffith University, Australia, for 2018 and 2019.
Dr. Amani Al-Salem's achievements have defined her as a leader with a number of academic firsts. She is the first Saudi woman to participate in a referee committee and since 2018, has been working as a certified scientific referee for several international conferences in the field of marketing and a number of prestigious Class A scientific journals.
She is also the first Saudi woman to work as a member and assistant researcher in a research center at Griffith University, Australia, commencing in 2018.
Dr. Amani Al-Salem said: "One does not make achievement without facing difficulties and challenges on the way. Only the most determined can reach the top. In order to succeed, we must first believe that we can do this and be optimistic because nothing can happen without hope and trust in God."
Dr. Al-Salem added that, as a scholarship student in Australia, she was very keen to reflect a positive image of our country and proud to raise the awareness of the role of Saudi women. Saudi students are aware of the great responsibility they carry, gratefully acknowledging the services and facilities available to scholarship students, provided by the Cultural Attaché and the Saudi Embassy in Australia, in supporting their education abroad and achieving their academic goals.
"We must be grateful to the wise leadership, headed by the Custodian of the Two Holy Mosques King Salman, and Crown Prince Muhammad Bin Salman – may God preserve them — not only by words but by exemplary action and behavior and dedication to achieve scientific excellence and distinction.
"By striving to achieve the highest ranks in our individual fields of research, we return to our country with valuable skills and knowledge to make our individual and collective contributions to the realization of the Vision 2030 and support our country in achieving its distinguished position among the ranks of developed countries.
"I ask God to grant you success and prosperity and help us to best represent our Kingdom and to perpetuate the grace of security, safety, prosperity and stability for our country."
https://saudigazette.com.sa/article/591538/SAUDI-ARABIA/Saudi-researcher-notches-up-several-academic-firsts
--------
Jailed Saudi princess asks crown prince and king for mercy during Ramadan
By Rayhan Uddin
28 April 2020
A jailed Saudi princess has urged her uncle, King Salman, and her cousin, Crown Prince Mohammed bin Salman, to "find justice in their hearts" during the Muslim holy month of Ramadan and release her from prison.
Princess Basmah bint Saud bin Abdulaziz Al Saud, 55, spoke out earlier this month for the first time since going missing over a year ago. She explained in a series of tweets that she was being held arbitrarily at al-Hair prison in Riyadh, and that her health was deteriorating severely.
"This week, Muslims around the globe begin our holy month of Ramadan, one that most of us shall spend with family, even if much limited owing to the ongoing pandemic," she said.
"I... will be spending the month at Hair prison unless my uncle, custodian of the two holy mosques, King Salman bin Abdul Aziz al Saud, and my cousin, Crown Prince Mohammed bin Salman al Saud, decide to release me."
The princess repeated that she had been abducted with one of her daughters, with no charges or investigation, and that her health was in a "very critical" state.
She urged the king and crown prince to "find in their hearts the sense of justice that ought to be impregnated in any Muslim during Ramadan", and release "their relative held arbitrarily in the worst conditions possible, in spite [of] her service for the kingdom".
The statement was posted on Princess Basmah's official Twitter account in both English and Arabic. She also clarified that her first statement two weeks ago was deleted due to a "breach of the account", and that all posts from now on would be published by her media office.
The princess is the youngest child of former King Saud bin Abdulaziz al-Saud, the second monarch of Saudi Arabia, and the granddaughter of Ibn Saud, the founder and first monarch of Saudi Arabia.
She has built a reputation as an outspoken member of the Saudi royal family, having in the past called for the country to adopt a constitutional monarchy, criticised the religious police, and spoken out on women's and humanitarian rights issues.
In a January 2018 interview with BBC Arabic, believed to be her last major media appearance, Basmah bint Saud urged Saudi Arabia to end its military intervention in Yemen.
News of her detention emerged just weeks after a number of Saudi princes were arrested as part of a mass purge by Mohammed bin Salman.
Relatives of a number of Saudi political prisoners have also called for their loved ones to be released during Ramadan - amid fears that coronavirus may spread in detention centres.
My sister @LoujainHathloul is spending her 3rd #Ramadan behind bars. 2years of abribtrary detention ! No trial, 8 months of solitary confinement ! No more visits !
On Friday, the death of prominent Saudi activist Abdullah al-Hamid while in custody sparked shock and denunciation.
https://www.middleeasteye.net/news/saudi-arabia-jailed-princess-mbs-pleads-ramadan-mercy
--------
Coronavirus: Iran's female singers familiar with restrictive measures
28.04.2020
Shabnam von Hein
"We haven't left the house for two months," says Massy Ahadi. "I miss the exchange and singing with the other women," the 40-year-old singer told DW from Tehran. To contain the virus, the Iranian government has called on all citizens to stay at home.
"The government avoids the word quarantine, and it requires us to voluntarily keep out distance from others," she says, adding that she believes the government hasn't officially imposed restrictions so it won't have to deal with people under quarantine. "There is no government aid in Iran."
Massy Ahadi makes a living by giving singing lessons to women. Women who can afford lessons belong to the middle and upper classes of Iranian society. For them, staying at a home is no problem financially. Some of them are quite willing to take lessons online and pay for them. But Massy Ahadi is worried: "Under the influence of the virus, the already poor economic situation in Iran could worsen even further." That might decrease the number of her students even more.
Massy Ahadi is famous for her interpretation of traditional Iranian music. She can only perform legally to an all-female audience. Since the 1979 Islamic Revolution, women have been forbidden to sing in public. As a result, many popular female singers left the country after the revolution. Many emigrated to the US, as did many other artists — in particular to California, which has the largest community of Iranians outside Iran. The west coast state is home to a flourishing Iranian music industry that provides young audiences in Iran with modern pop music.
"The love for traditional music has not died out among the young people in Iran," says Massy Ahadi. "I teach many talented young women who enjoy singing in the classical traditional style." They know they must never perform in public, she adds.
Over the past 40 years, the ban on performing in public has forced singers and musicians who stayed in Iran to move their art inside the homes. They sing for friends deemed trustworthy at private concerts.
Even celebrity female singers offer singing lessons for women, including the legendary Parvaneh Khatereh, the first female singer to appear on Iranian television in the 1950s. Khatereh discovered the talented young Massy Ahadi and gave her singing lessons until her death in 2008. Massy Ahadi also began teaching other women. She founded the Mahna women's orchestra that gave numerous concerts for women until 2015.
"We were successful, but it was also exhausting and depressing," she remembers. "We needed special permission for everything, our songs had to be approved and lyrics weren't allowed to contain forbidden words like "kiss" or "hug."
Even when all conditions were met, solo performances were still forbidden, even for an all-female audience. Ahadi left the group and began recording her songs as a soloist in private studios.
"I don't want to fit in anymore. Of course I know that I am acting illegally and that I can get into trouble. But I want to get out of our eternal 'quarantine'," she says. "Actually, we women have been quarantined for 40 years."
With singing lessons pared down due to the coronavirus restrictions, Massy Ahadi has started to work with other musicians on new online concerts from home. "This is a shared experience and I very much hope that something beautiful will come of it — for instance a cooperation with musicians outside Iran."
https://www.dw.com/en/coronavirus-irans-female-singers-familiar-with-restrictive-measures/a-53272796
--------
Women Who Dare Dissent Targeted for Abuse by Yemen's Insurgents
29 April, 2020
Samera al-Huri´s fellow activists were disappearing, one by one. When she asked their families, each gave the same cryptic reply: "She´s traveling." A few of the women re-emerged. But they seemed broken and refused to say where they had been for months.
They took her to the basement of a converted school, its filthy cells filled with female detainees. Interrogators beat her bloody, gave her electrical shocks and, as psychological torture, scheduled her execution only to call it off last-minute.
Activists and former detainees described to The Associated Press a network of secret detention facilities where they are tortured and sometimes raped. Taiz Street, a main avenue in Sanaa, is dotted with several of them, hidden inside private villas and the school where al-Huri was held.
"Many had it worse than me," said al-Huri, 33, who survived three months in detention until she confessed on camera to fabricated prostitution charges, a grave insult in Yemen.
Long-held traditions and tribal protections once guarded women from detention and abuse, but those taboos are succumbing to the pressures of war.
As men die in battle or languish in jail in a conflict now dragging into its sixth year, Yemeni women have increasingly taken political roles. In many cases, women are organizing protests, leading movements, working for international organizations, or advocating peace initiatives - all acts the Houthis increasingly view as a threat.
"This is the darkest age for Yemeni women," said Rasha Jarhum, founder of the Peace Track Initiative, which lobbies for women´s inclusion in peace talks between the Houthis and Yemen´s internationally recognized government.
Systematic arrests and prisons rife with torture have been central to war efforts by the Iranian-backed Houthis, the AP reported.
Estimates of women currently detained range from 200 to 350 in the governorate of Sanaa alone, according to multiple rights groups. The Yemeni Organization for Combating Human Trafficking says that´s likely an undercount.
Other provinces are more difficult to pin down. Noura al-Jarwi, head of the Women for Peace in Yemen Coalition, estimates that over 100 women are detained in Dhamar province south of the capital, a major crossing point from government-controlled areas into Houthi-run territory.
Al-Jarwi, who runs an informal support group in Cairo for women released from Houthi detention, has documented 33 cases of rape and eight instances of women debilitated by torture.
The AP met with six former detainees who managed to flee to Cairo before the coronavirus pandemic grounded flights and closed borders. Their accounts are supported by a recent report from a UN panel of experts, which said sexual violations may amount to war crimes.
One woman, a former history teacher who asked not to be identified to protect family in Yemen, was swept up in a crackdown on protests in December 2017.
She was taken to a villa somewhere on Sanaa´s outskirts, though she didn´t know where. At night, all she could hear was barking dogs, not even the call to prayer.
Around 40 women were captives in the villa, she said. Interrogators tortured her, one time tearing her toenails out. In more than one case, three masked officers told her to pray and said they would purify her from sin. They took turns raping her. Female guards held her down.
She acknowledged many women had been arrested in a recent anti-prostitution sweep of cafes, apartments, and women´s gatherings. They were accused of "aiming to corrupt society and serving the enemy," she said, referring to the Saudi-led coalition.
A parliamentary committee created last fall to probe reports of illegal detention discovered and released dozens of male detainees in its first weeks of work.
It planned to pursue the issue of women as well. But a Feb. 16 internal memo obtained by the AP complains that the Interior Ministry pressured the committee to end its investigation.
___
Calls in Egypt for censored social media after arrests of TikTok star, belly dancer
April 28, 2020
AMMAN: Egyptian lawmakers have called for stricter surveillance of women on video sharing apps after the arrests of a popular social media influencer and a well-known belly dancer on charges of debauchery and inciting immorality.
Instagram and TikTok influencer Haneen Hossam, 20, is under 15 days detention for a post encouraging women to broadcast videos in exchange for money, while dancer Sama el-Masry faces 15 days detention for posting "indecent" photos and videos.
MP John Talaat was among several politicians to complain, and has submitted a request to Prime Minister Mostafa Madbouly to increase monitoring and censorship of apps that young people use to post "unethical" and "inappropriate" videos.
"Because of a lack of surveillance some people are exploiting these apps in a manner that violates public morals and Egypt's customs and traditions," Talaat said on Facebook.
He did not respond to requests for additional comments about the video sharing apps that have become increasingly popular with younger people during the coronavirus lockdowns.
In 2018 Egypt adopted a cybercrime law that grants the government full authority to censor the Internet and exercise communication surveillance. A media regulation law also allows authorities to block individual social media accounts.
The Egyptian government was not immediately available to comment on the cases of el-Masry and Hossam — a student with about one million followers on TikTok and Instagram — who are being held in detention separately while under investigation.
Several women in Egypt have previously been accused of "inciting debauchery" by challenging the country's conservative social norms, including actress Rania Youssef after critics took against her choice of dress for the Cairo Film Festival in 2018.
Hossam was arrested after posting a now-expired video on Instagram explaining how women could earn up to $3,000 by broadcasting videos in exchange for money using the Singapore-based video creation platform Likee owned by China's Joyy Inc..
But her message was interpreted by Egyptian authorities as a promotion for young women to sell sex online, with the public prosecutor saying her actions took advantage of the poor financial state of young women and minors.
Hossam denied any wrongdoing but Cairo University — where she is studying archaeology — said it would enforce maximum penalties against her which could include expulsion.
El-Masry is being investigated for videos and photos that the public prosecution described as sexually suggestive. The dancer denied the accusations, saying the content had been stolen and shared from her phone without consent.
"[These laws] condemn people for their behavior that may not conform to imagined social standards for how to be a 'good citizen' and a respectful woman," she wrote in a Tweet.
https://www.arabnews.com/node/1666536/media
--------
Afghan Women with Disabilities Face Systemic Abuse: Watchdog
April 29, 2020
Human Rights Watch (HRW) issued a report on Tuesday focused on Afghan women and girls with disabilities who face high barriers, discrimination, and sexual harassment in attempts to access government assistance, health care, and schools.
Their 31-page report, titled "Disability Is Not a Weakness," describes in detail the daily barriers that Afghan women and girls with disabilities face in one of the world's poorest countries.
The Human Rights Watch report included interviews with 26 women and girls with disabilities and their families in the cities of Kabul, Herat, and Mazar-e-Sharif, as well as with 14 health and educational professionals in the same cities.
The report states that the Afghan government should urgently reform policies and practices that prevent women and girls with disabilities from enjoying their basic rights to health, education, and work. Furthermore, Afghanistan's donors should also support and advocate for the rights of all Afghans with disabilities.
"All Afghans with disabilities face stigma and discrimination in getting government services, but women and girls are the 'invisible' victims of this abuse," writes Patricia Gossman, associate Asia director at Human Rights Watch and author of the report. "The Covid-19 crisis will make it even harder for women and girls with disabilities to get adequate health care."
The Covid-19 pandemic exacerbates the problems faced by many people with disabilities. For disabled Afghan women who live in rural areas far from medical clinics, the absence of transportation, lack of paved roads, and long distances to clinics can create insurmountable barriers to obtaining health care, said the report.
Human Rights Watch in the study called on the Afghan government to undertake a "comprehensive review of health services for people with disabilities, particularly in rural areas, to improve outreach and access."
Providing context, the report said that Afghanistan has "one of the world's largest populations per capita of people with disabilities, where more than four decades of war have left millions of Afghans with amputated limbs, visual or hearing disabilities, and depression, anxiety, or post-traumatic stress."
The Human Rights Watch concluded that the "under-resourced Afghan health services are failing to meet the required needs of this population, and women and girls with disabilities are far less likely to obtain any assistance."
Alarmingly, the report further indicates that government officials have sexually harassed women with disabilities on several occasions, including when they visit ministries to claim disability benefits.
What allows this systemic abuse to continue, according to the report, is the stigma of reporting abuse of this kind. A woman in Kabul was quoted as saying: "I went to the ministry to get this certificate [for assistance]. They asked me whether I am married and when I said no, they told me that they can find me a husband. When I refused, the ministry employee told me that I can get this certificate only if I agree to be his girlfriend."
The report says: "Entrenched discrimination means that people with disabilities face significant obstacles to education, employment, health care, and rights guaranteed under the Afghan constitution and international human rights law. For instance, many people with disabilities in Afghanistan have been unable to acquire a national identity card needed to obtain many government services."
Providing figures, the report said that an "estimated 80 percent of girls with disabilities are not enrolled in school. Resistance from schools to accommodate children with disabilities, lack of dedicated transportation, and families' reluctance to send their disabled children for an education are major factors preventing children with disabilities from attending school."
Another conclusion of the report was that the Afghan government should "develop sustainable solutions to increase access to quality and inclusive education for children with disabilities, particularly girls," as girls with disabilities are "far more likely to be kept home from school because of compounded socio-economic barriers and violence."
The report quoted an official working with a humanitarian group who stated that children with disabilities "cannot go to regular schools due to lack of ramps. In some cases, the school principals do not want to enro;l them, because they need to be taken care of."
Even at home, disabled Afghan women and girls cannot always find solace and support, as they are "frequently isolated socially, humiliated in public or within their own families, considered a source of shame for the family, or denied access to public spaces and community or family social events."
"I'm supposed to get married, but my future in-laws think I cannot now," said a woman injured during a fight in 2017, "I have no hope for the future, but if I get treatment, I would have hope."
"In preparing for possible peace talks, Afghanistan's leaders have generally ignored the large population of Afghans who have disabilities, many as a direct result of the conflict," HRW's Patricia Gossman stated. "The government needs to ensure that anyone with a disability gets the assistance they need, now and in the future."
https://tolonews.com/afghanistan/afghan-women-disabilities-face-systemic-abuse-watchdog
--------
How Afghan Women Fare Under Taliban Rule
April 28, 2020
SEEBAK BAZAR, Afghanistan – A village some 70 kilometers south of the Afghan capital, Kabul, is typical of the predominantly rural areas controlled by the Taliban.
In Seebak Bazar, part of the Taliban-controlled Chak district in the central Maidan Wardak Province, life has adopted a somewhat normal pace. The ramshackle shops in the mud buildings along its dusty main street continues to attract customers as bearded Taliban fighters can be often seen patrolling the village.
But in sharp contrast to teeming Afghan cities, Kabul in particular, few women are seen in Seebak Bazar. Those venturing out of their homes, mostly with male guardians, must wear chadri or veils.
While girls can go to school, women have few employment opportunities. Twenty-nine-year-old Khalida, a midwife, is among the six women employed at a local health clinic. She works in strict segregation from her male colleagues.
"I am happy to serve the residents of my native village," she told Radio Free Afghanistan as she covered her face with a surgical mask. "I have been working here for the past year."
Khalida, who goes by one name only, however, was allowed to speak in a brief interview supervised by her Taliban minders. The mother of five had previously worked for two years in Jaghatu, another district in Maidan Wardak.
Khalida and her female colleagues were not invited to participate in an event held by local Taliban leaders and male medical staff to spread awareness about the coronavirus pandemic. All participants of the event were men from Seebak Bazar and nearby villages.
Her circumstances provide a brief insight into what the Taliban's signals about changes to their outlook on women's rights mean in reality. Leaders of the hard-line Islamist movement have frequently highlighted their intention to honor women's rights so long as they are in line with their interpretation of Islam.
"We together will find a way to build an Islamic system in which all Afghans have equal rights, where the rights of women that are granted by Islam — from the right to education to the right to work — are protected," Sirajuddin Haqqani, the Taliban's deputy leader, wrote in an op-ed in the New York Times on February 20.
But based on the current status of women in Taliban-controlled regions, it might mean that women will have token access to employment in essential jobs such as health workers or teachers. They will, however, be denied leadership roles and will have to work in strict gender segregation.
This is in stark contrast to the status of women in areas controlled by the Afghan government. In Kabul, women have access to education and employment, and enjoy a range of free movement and are a part of all walks of life. Women athletes are considered national heroes while female artists are celebrities. Women also have senior leadership positions in most branches of the government whose leaders insist on being committed to gender equality and protecting women's rights.
Lawmaker Nilofer Ibrahimi, a physician in her 40s, remembers being repeatedly beaten by the Taliban for serving as a healthcare worker during their stint in power in the late 1990s.
"The Taliban must remember that the status of women in Afghanistan is not the same as it was 20 years ago," she told Radio Free Afghanistan. "I did not give up working despite repeated beatings two decades ago, and now that I represent people, will it be easy to silence me?"
As the Afghan government anticipates engaging in peace talks with the Taliban, the status of women is likely to be a major point of contention. The Afghan government has already nominated scores of prominent women to represent it and all other factions supporting the current political system in complex future negotiations with the Taliban.
The Taliban, however, have no known women negotiators. No woman has ever held a leadership position in the movement.
https://gandhara.rferl.org/a/how-afghan-women-fare-under-taliban-rule/30581459.html
--------
Pakistan's women riding a digital wave in drive for better jobs
April 29, 2020
KARACHI: When Kainat Naz joined a women-friendly technology boot camp a year ago, she had no idea it would completely change her life and her views on how women can work in a conservative society.
So she signed up for tech programme called TechKaro, an initiative by Circle, a social enterprise that aims to improve women's economic rights in Pakistan, and is now working full time for a software company.
Naz said the course was challenging in many ways but she soon found that the women on the training were just as good as the men at tech skills like coding, web development and digital marketing, and also at presenting themselves at interviews.
"From developing our CVs, to giving us tips on dressing for work, to conducting ourselves during an interview and how to battle some sticky questions ... we were groomed for everything," said Naz.
It has set a target to increase this to 45pc, calling for more childcare and a crackdown on sexual harassment to encourage more women out to work and boost economic growth.
Seeing this gender gap, Sadaffe Abid, chief executive of Circle, set up TechKaro — aimed at helping women crack the traditionally male domain — with the support of a few private foundations in 2018 and took on 50 trainees in the first year of which 62pc were women and 75 in 2019 including 66pc women.
Abid, who previously worked for a micro-finance institution, said she was delighted that women like Naz were proving that women could succeed in the tech world.
"I am a firm believer that one of the most powerful uses of technology is to bring it to young women, especially from underserved communities, to unlock their talents, resourcefulness and creativity," said Abid.
"People told me I won't find women, or women will drop out in high numbers, or after completing the course, women won't find employment as the industry will not be open to hiring this unique diverse group with no degree in computer science.
"But I would say 50pc of the graduates, a majority of whom are women, have found work in software companies," said Abid, who also brought She Loves Tech to Pakistan, one of the world's largest women and start-up competitions globally.
After attending the TechKaro course, Naz found work earlier this year at an IT company earning double the salary she was getting as a teacher but which meant leaving her neighbourhood, using public transport, and working side-by-side with men.
"I had never ventured out on my own and I was dead scared the first time I had to do it, but now it is just fine," she told the Thomson Reuters Foundation in an interview by telephone from Orangi Town.
"The rest of Karachi is not quite the big bad wolf I'd imagined it to be," said Naz who navigated an app-based transit start-up to reduce her travel time by two hours a day.
"It gave me a lot of confidence when I asked my employers if they would have a problem with my wearing the niqab (a veil that fully covers the face) and they said they were only interested in my work performance."
The youngest of seven, Naz said she had the full support of her mother, who is a housewife, and her younger brother. "But we had to hide this from my older brother, who is married and lives separately, as he was unhappy even with my working as a teacher," she said.
She paid Rs500 ($3.13) a month for the course that involved 75 men and women and another Rs2,400 on bus fares to attend workshops after mornings of teaching, and often spent three to four hours on homework at night.
"I had thought men would be better at this, but when I was in the thick of things, I realised that was not the case. Anyone can learn, if they put their mind to it," she said.
"For those women whose families do not allow them to step out of their homes, this kind of work would be ideal ... All you need is a computer and the internet," she said.
Abid said TechKaro had continued its work during the coronavirus lockdown by going "fully digital" so that women could continue to learn tech skills from home.
"We have received applications from all across Pakistan," she said. "Our aim is to scale this up to thousands of young women for their success is Pakistan's prosperity."
https://www.dawn.com/news/1553090
--------
Spike in domestic abuse cases hits Iraq
28/04/2020
BAGHDAD - In Iraq, the nationwide lockdown since mid-March was meant to keep coronavirus cases down in the country, but it has led to a spike in another sad statistic: domestic violence.
The head of Iraq's community police, Brigadier-General Ghalib Atiyah, said its log of domestic violence cases has increased by an average of 30% since the curfew came into force — with some areas seeing as high as a 50%- spike.
In a single week, the United Nations in Iraq (UNAMI) reported: "The rape of a woman with special needs, spousal abuse, immolation and self-immolation as well as self-inflicted injuries due to spousal abuse, sexual harassment of minors, and suicide due to domestic abuse among other crimes."
In the southern province of Wasit, a 58-year-old doctor killed his wife after she refused to let him sell land that she owned, according to human rights lawyer Sajjad Hussein.
Eight months ago, the young woman in the shrine city of Najaf married a policeman who physically abused her and barred her from seeing her family, Malak's mother told Human Rights Watch (HRW).
On April 8, he beat Malak so badly she doused herself in gasoline and set herself on fire, her mother said, burning for several minutes before her father-in-law put out the flames. The young woman died 10 days later.
"Everyone is spending long periods of time together inside the house. The most insignificant thing can turn into a controversy that eventually leads to violence," she said.
Extended families often live together in one household in Iraq, swathes of which still hold on to conservative religious and tribal customs.
According to the UN, 46 percent of married women in Iraq have survived some form of abuse at home, of which a third report physical and sexual assault.
A recent survey by the International Organisation for Migration found that 85% of men in Iraq would bar female relatives from filing a police report.
And 75% of female respondents admitted they would not feel comfortable reporting to the police, likely fearing possible additional abuse and the cultural stigma in Iraq surrounding women entering stations alone.
Article 41 of Iraq's penal code gives men the right to "punish" their wives and children "within the limits of law and customs," a clause frequently used to dismiss cases brought against relatives.
Many abuse cases are "resolved" in tribal courts, which have their own legal framework that includes settlements to aggrieved families outside of official tribunals.
And "honour killings," or violence meted out extrajudicially against someone who broke a social norm, are usually met with light sentences by Iraqi courts.
After the public outcry over Malak, three of her male relatives were slapped with six-month jail sentences for "failing to assist someone in danger."
Activists have long pushed Iraq's parliament to adopt a more robust domestic violence law that would better protect victims and deter possible abusers.
"Every time, MPs bring up religion's role or pretend they're worried such cases would clog the courts," said advocate Afrah al-Qaisi.
Iraq's parliament should quickly revise, pass and enforce a domestic violence law in line with international standards, the New York-based HRW said.
"It should not take a global pandemic for Iraqi legislators to address the other deadly pandemic of domestic violence, but failure to do so will cost more lives," HRW's Belkis Wille said.
https://thearabweekly.com/spike-domestic-abuse-cases-hits-iraq
--------
As society opens, Saudi women surge into job market
April 28, 2020
Like thousands of Saudi women, Rouaa al-Mousa entered the workforce as reforms sweep the ultra-conservative kingdom and is certain that neither grumbling male bosses nor the coronavirus will change that.
Armed with a college degree but bound by conservative Saudi attitudes to women working, the 25-year-old was expecting to wait years before finding a suitable job.
She got a job working the evening shift as a receptionist at a government institution in Riyadh — part of a mixed team of 10 women and six men.
And although the coronavirus has threatened a global recession and put Mousa in lockdown for now, she is confident the long-term trend of getting women into the workforce is here to stay.
"I wanted to do my best during my studies so that I could get a job in academia afterwards, because that was the best option available for us. But big changes happened during the past four years," she said.
For decades, straitlaced Saudi society offered limited opportunities for women seeking a paid job and the few who did find work were mostly restricted to the health and education sectors.
But change came in mid-2016 when Crown Prince Mohammed bin Salman unveiled his "Vision 2030" plan aimed at diversifying the kingdom's economy and ending its addiction to oil.
The national blueprint promotes the tourism and entertainment sectors, while opening wide the doors of the labor market to millions of women by paring back the restrictions that had constrained them.
Fatima al-Dakhil got her big break as a sales manager at a French company in the Saudi city of Khobar after months of job hunting, but just weeks later Saudi Arabia took strict measures to combat coronavirus.
Despite being frustrated by the lockdown, which has forced her and hundreds of thousands of others to abandon their offices and work from home, Dakhil is confident that women across the country will continue to pursue careers.
Saudi women have now penetrated professional spheres at all levels — they are bankers, business owners, heads of financial institutions, border crossing officers, civil defense members, food cart vendors and shoe sellers.
Male employees report that their workplaces have changed dramatically — among the many small revolutions are women's toilets which have been introduced for the first time in some places.
The number of working women in Saudi Arabia reached 1.03 million in the third quarter of 2019, 35 percent of the total workforce, compared to 816,000 in 2015, according to official figures.
Rodina Maamoun has been tasked by the owner of five stores selling women's accessories with introducing women onto a formerly all-male staff.
"Customers, especially women, feel more comfortable with female assistants — sales and profits have risen," said the Saudi who employed 19 young women, almost entirely replacing the men.
Women are now allowed to drive cars, cinemas have reopened and genders are permitted to mix at events, including concerts, and in public places.
Some of those detained and allegedly tortured in custody are women's rights activists who were prominent in the campaign to end the driving ban.
Although the changes have been uneven, they have emboldened Saudi women to address decades of discrimination and marginalization, including graduates who are returning from Europe and the United States to seek jobs at home.
"Empowering Saudi women means empowering the Saudi family," said Rania Nashar, CEO of Samba Financial Group, the first Saudi woman to hold such a senior position.
Saudi women "are ambitious and passionate about playing a role in shaping the future of their country", she said.
https://egyptindependent.com/as-society-opens-saudi-women-surge-into-job-market/
--------
URL: https://www.newageislam.com/islam-women-feminism/saudi-researcher-notches-up-academic/d/121705
New Age Islam, Islam Online, Islamic Website, African Muslim News, Arab World News, South Asia News, Indian Muslim News, World Muslim News, Women in Islam, Islamic Feminism, Arab Women, Women In Arab, Islamophobia in America, Muslim Women in West, Islam Women and Feminism