New Age Islam News Bureau
9 Oct 2012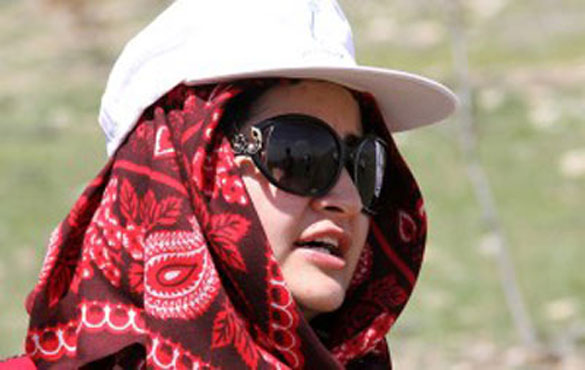 Photo: Afghan Parliamentarian & Peace Activist, Ms. Farkhunda Achieve N-Peace Award
-----------
• Police Arrest 3 in Bahawalpur, Pakistan for Selling a 19-Year-Old Woman
• Saudi Women to Be Granted License to Practice Law
• First Pakistani Astronaut awarded Power 100 Trailblazer Award
• Concerns over Growing Honour Killing, Rape Cases in Afghanistan
• Afghan Parliamentarian & Peace Activist, Ms. Farkhunda Achieve N-Peace Award
• Young Muslim Women Hear Leadership Lessons In Rochester
• 'Mother Teresa of Cairo' A Possible Nobel Peace Prize Winner
• Lack of Teaching Staff Irks Girl Students In Islamabad
• National Peace Award Winner Malala Injured In Firing Incident
• For Women Police in Pakistan, Glaring Disparity in Rural, Urban Mindsets
Compiled by New Age Islam News Bureau
URL: https://newageislam.com/islam-women-feminism/saudi-ready-re-accept-deported/d/8930
-----------
Saudi Ready to Re-Accept Deported Nigerian Women Haj Pilgrims
Written by Jacob Segun Olatunji and Kolawole Daniel, Abuja
09 October 2012
SPEAKER of the House of Representatives, Honourable Aminu Tambuwal, on Monday, said the Saudi Arabian authorities were ready to allow deported female Muslim pilgrims to perform this year's pilgrimage.
Tambuwal, who led the presidential committee to Saudi Arabia, to resolve the deportation crisis, made the disclosure at the presidential wing of the Nnamdi Azikwe International Airport, Abuja.
He also gave some hope that the Saudi authorities were also considering Nigeria's request to extend the deadline for the airlifting of pilgrims, so as to accommodate the deported pilgrims.
The speaker said the issue of male companion for female pilgrim was also settled, as the Nigerian delegation made it known that the issue of the companion (Muharam) was open to different interpretations from the four jurispidences in Islam.
"Our interface with the Saudi authorities has been very successful, because we had serious and deep engagement. The first good news is that all of those pilgrims who have secured valid visa are being taken back.
"The understanding so far with them is that, they will be allowed entry into Saudi Arabia. I believe also that if need be, we have requested for them to extend the time of airlift and also the time of issuance of visa to our pilgrims," he said.
Members of the presidential delegation included the Emir of Zuru, Alhaji Sani Sami; Alhaji Aminu Dantata; Professor Shehu Galadanchi; chairman of Nigerian Hajj Commission (NAHCON), Alhaji Mohammed Bello and the Minister of State for Foreign Affairs II, Dr Nurudeen Mohammed.
http://tribune.com.ng/index.php/front-page-news/48844-saudi-ready-to-re-accept-deported-pilgrims-tambuwal
-----------
Police Arrest 3 in Bahawalpur, Pakistan for Selling a 19-Year-Old Woman
By Kashif Zafar
October 9, 2012
BAHAWALPUR: Three people were arrested in Rajanpur on Sunday for abducting a woman and selling her off.
City DSP Arif Mirza told media in Bahawalpur that a 19-year-old resident of Shahdara was abducted by her neighbour, Samina Bibi.
She was later sold to Akbar Lashari, a resident of Tehsil Jampur, for Rs90, 000. Lashari then sold her to Fazal Hussain, Jind Wadda and Hamid Khan for Rs150, 000.
Civil Lines SHO Muhammad Afzal Lodhi and SI Muhammad Shabbir investigated the case and recovered the women from Fazilpur.
SI Shabbir led an Elite Force team to raid raided the Kacha area in Rajanpur from where the woman was recovered and three of the suspects were arrested.
Mirza said, "The gang trades in abducted women and forces them into prostitution."
He said police were looking for other members of the gang.
The abducted woman said Samina [Bibi] used to visit her family.
"She took me with her on September 28 and sold me to Lashari. I saw her receiving Rs90, 000 before he made me smell chloroform…I woke up at an unfamiliar place," she said.
She said several people had then raped and tortured her for three days before selling her for Rs150, 000. She was raped again.
The woman's father told The Express Tribune that he would have never suspected his neighbour could abduct his daughter. "We trusted Samina [Bibi]," he said.
DSP Mizra said police were looking for Samina Bibi.
http://tribune.com.pk/story/448858/human-trafficking-police-arrest-3-for-selling-woman/
-----------
Saudi women to be granted license to practice law
08 October 2012
Saudi Female lawyers will be allowed finally to obtain practice licenses after the approval of the Saudi Ministry of Justice, a Saudi newspaper reported on Monday.
The approval followed a series of discussions and consultations with experts and relevant bodies, both legal and religious, the Saudi al-Riyadh daily quoted an official source as saying.
According to the source, ministry representatives first suggested restricting the work of female lawyers to personal status cases, while other experts agreed that women should have the right to handle different types of legal cases without restrictions, especially that no religious reasons hinder that.
Women will have to meet the same conditions as men to practice law and this means they have to be graduates of the faculties of law or Islamic law or similar institutions. Experience is also a requirement.
Women who graduated from law schools were allowed to work as legal consultants in companies or banks, but could not officially represent clients in court. They were, however, permitted to act as "representatives" but were still not considered lawyers. By not holding a law license, women could not also open law firms in their names.
The issue of "representation," argued several judges, is problematic since women are actually practicing law but do not have the license that makes them part of the legal system and therefore held accountable in case of violations. In fact, several courts had filed complaints at the Ministry of Justice about professional mistakes committed by representatives.
The source added that the Ministry of Justice is currently taking the necessary procedures that would allow women to officially start practicing law. This includes preparing a database of licensed female lawyers and installing a fingerprint system in all courts so that their identity can be verified without having to expose their faces. The ministry had said earlier that no women can be obliged to show her face in court.
The ministry is currently receiving license requests which will be presented to a committee for review to make sure applicants meet the requirements.
According to the ministry statistics, the number of licensed practicing lawyers is 2,115, distributed amongst the provinces of the kingdom. The number, the ministry added, has been lately increasing and will increase more with the addition of females.
Calls for granting female law graduates practice licenses intensified last year with the campaign called "I am a female lawyer," launched on the social networking websites.
Organizers of the campaign objected to spending years studying law, sometimes in top-notch universities abroad, then not be allowed to practice law in their home country.
Many of them also argued that in a conservative society like Saudi, women do not feel comfortable hiring male lawyers especially in personal status lawsuits that might involve private details.
http://english.alarabiya.net/articles/2012/10/08/242517.html
-----------
First Pakistani Astronaut awarded Power 100 Trailblazer Award
Oct 09, 2012
First Pakistani Astronaut Namira Salim was awarded the Power 100 Trailblazer Award at the final awards ceremony for the Pakistan Power 100, which was held in London on the September 29. Namira was honoured with a Trailblazers Award for her efforts to promote international peace and harmony as the first Pakistani at the North and South Poles, as the first Asian to skydive over Mount Everest and for her upcoming flight into space with Virgin Galactic. Namira has raised her universal peace flag "Peace Making with National Souls" at all three poles and at top summits of the UN Generally Assembly, UNESCO and SAARC. In August 2011, Namira became the Honorary Consul of Pakistan to the Principality of Monaco.
Namira Salim also had the distinction of being placed on the Pakistan Power 100 and Women Power 100 list amongst other eminent personalities like National Assembly Speaker Fahemida Mirza and Foreign Minister Hina Rabanni Khar.
undreds of dignitaries from the international Pakistani community were in attendance at the Power 100 event, which also played host to a multitude of non-Pakistani invitees who came to show their support for Pakistan and the British Pakistani community.
They were joined by many leading who attended from Pakistan including Abdul Sattar Edhi, Naeem Zamindar, Zouhair Khaliq, Mona Kasuri, Tehmina Durrani, Monis Rahman, Naeem Ghauri, Rashid Rana and Amin Gulgee.
The event began with a warm and lively reception where guests and nominees chatted and relaxed before heading into the main hall for the awards ceremony. The proceedings began with a message from the founder of the Pakistan Power 100, Khalid Dar, who thanked all the invitees and nominees for attending and explained about his vision for the Power 100 and why it was so important.
The indomitable Abdul Sattar Edhi, who managed to attend the event despite ill health and a hectic schedule, received the Humanitarian Lifetime Award for his lifelong commitment to bettering the lives of all Pakistanis. Edhi's speech was a seminal moment at the event and received a standing ovation at the end, with many of the attendees moved to tears by his selfless and heartfelt words.
Speaking about the event, Namira said, "I am very happy to have received recognition from my own countrymen about my efforts to promote peace between nations, particularly Pakistan and I thank Khalid Dar and the panel for honouring me."
http://www.dailytimes.com.pk/default.asp?page=2012\10\09\story_9-10-2012_pg9_8
-----------
Concerns over Growing Honour Killing, Rape Cases in Afghanistan
Oct 08, 2012
Afghan Human Rights Commission officials on Monday expressed concerns regarding growth in honour killings and rape cases in Afghanistan.
The officials further added at least 100 Afghan women and girls have been killed or raped during the first 6 months of the year.
Human Rights Commission officials said they were shocked after 60 cases of honor killings and around 33 cases of rape were recorded during this period.
They also said violence against women is dramatically increasing in Afghanistan and emphasized they are working on programs on a bid to prevent the growing violence.
The officials said based on a program they are going to collect the views of the Afghans, government organizations and civil society organizations from across 34 provinces of Afghanistan and will hand it over to international community.
Full report at:
http://www.khaama.com/concerns-over-growing-honor-killing-rape-cases-in-afghanistan-118/
-----------
Afghan Parliamentarian & Peace Activist, Ms. Farkhunda Achieve N-Peace Award
By SADAF SHINWARI
Oct 09, 2012
Afghan parliamentarian and women's rights advocate who has tirelessly campaigned for girls' education and a woman peace activist in Afghanistan are among the recipients of the first N-Peace Award.
Ms. Farkhunda Zahra Naderi emerged as the winner of the N-Peace Award in the main category besides Ms. Quhramaana Kakar from Afghanistan, has gained formal seats for women in provincial peace councils, while also finding ways for women in the most volatile regions of Kandahar and Helmand to participate in the peace process.
Full report at:
http://www.khaama.com/afghan-parliamentarian-peace-activist-achieve-n-peace-award-747/
-----------
Young Muslim women hear leadership lessons in Rochester
Oct 08, 2012
By Kay Fate
Fatima al-Fihri. Ever heard of her?
Neither had Najma Sharif, 17, a senior at Century High School and one of about 40 people who attended the first Young Muslim Women's Leadership Summit in Rochester on Saturday.
Sharif had taken studies of Islamic women before, she said, but didn't know about al-Fihri — until Saturday, that is.
In 859, al-Fihri, the daughter of a wealthy Moroccan man, founded Al-Karaouine, a mosque that developed into a place for religious instruction and political discussion. Its education gradually grew to include a broad range of subjects, particularly the natural sciences, and it became the first school to award degrees.
Full report at:
http://www.postbulletin.com/news/stories/display.php?id=1510947
-----------
'Mother Teresa of Cairo' a possible Nobel Peace prize winner
08 October 2012
The prestigious Nobel Prize season kicks off Monday with rumors leading to Egypt's Maggie Gobran as the winner for the peace prize for helping Cairo's unfortunate children.
Gobran, known as Egypt's 'Mama Maggie', was nominated by members of the United States congress, a report from a Christian news site said.
According to the report, Congressmen Frank Wolf, Bill Huizenga, Joseph Pitts, Robert Aderholt and John Carter all signed a letter addressed to the Norwegian Nobel Committee Council, pushing that the Coptic be awarded of the prestigious peace title.
"Ms. Gobran is a woman of the utmost integrity and her tireless work has served thousands of Egyptians, including countless children. She has given a voice to the poor," reads the letter, as quoted by Christian Post.com.
Full report at:
http://english.alarabiya.net/articles/2012/10/08/242590.html
-----------
Lack Of Teaching Staff Irks Girl Students In Islamabad
Oct 09, 2012
ISLAMABAD: Lack of teaching and non-teaching staff in Model College for Girls I8/3 has become a source of perpetual nuisance for girl students of the federal capital. The college came into being three years before under the control of federal directorate of education but the lack of teaching staff has turned it into non-entity for the students.
"On our front we are facing shortage of lecturers in key subjects and this way our curriculum activities continue to remain disrupted throughout our academic year. This state of affairs shocks us when a teacher who is hired from other college quits the college when our examination is ahead," said a group of students.
Full report at:
http://www.dailytimes.com.pk/default.asp?page=2012\10\09\story_9-10-2012_pg11_1
-----------
National Peace Award Winner Malala Injured In Firing Incident
October 9, 2012
SWAT: Winner of the National Peace Award, Malala Yousufzai was injured along with two other women when unidentified men opened fire on a car in Swat, Express News reported Tuesday.
Yousufzai, who studies at Khushal Public School, was on her way home when the vehicle came under attack on Haji Baba Road. One of the other injured has been identified as Shazia and sources say the third was a teacher.
Yousufzai was shifted to Saidu Teaching Hospital immediately after the incident and it has been reported that she will be shifted to Peshawar.
Full report at:
http://tribune.com.pk/story/449070/national-peace-award-winner-malala-yousufzai-injured-in-firing-incident/
-----------
For Women Police in Pakistan, Glaring Disparity in Rural, Urban Mindsets
October 9, 2012
KARACHI: Contrary to popular belief, the policemen in rural Sindh are more open to have women police officers as against the people of Karachi.
The discussions on Women Police Reforms held at a hotel on Monday often turned up the heat when policewomen were accused of not coming out of their comfort zone or not being professional enough. But the participants at the event, organised by Individual land, agreed at least on one point: it is time to bring female police officers to the front and to introduce them to real policing.
Full report at:
http://tribune.com.pk/story/448929/for-women-police-glaring-disparity-in-rural-urban-mindsets/
-----------
URL: https://newageislam.com/islam-women-feminism/saudi-ready-re-accept-deported/d/8930