New Age Islam News Bureau
10 March 2014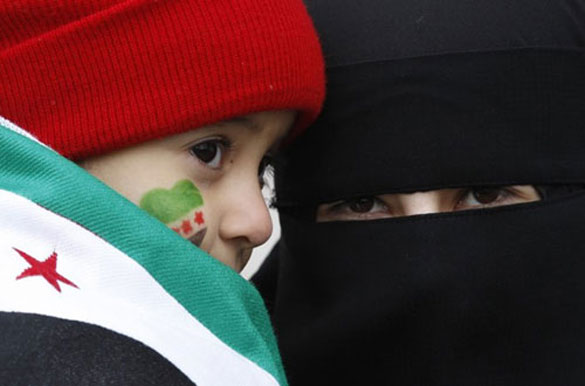 A Syrian mother and girl, her face painted with the colours of the Syrian independence flag, attends a protest against President Bashar Al-Assad, Reuters
----------
• Syrian Women Face Whipping and Execution for Breaking Sharia Dress Code
• The Sexual Exploitation of Syria's Female Refugees
• Two Star-Crossed Afghans Cling to Love, Even At Risk of Death
• Faisalabad Woman Forced To Drink Acid by In-Laws
• Arab world failing women in gender equality, education
• 'Women's Unpaid Work Accounts For 10.75% Of GDP' In Bangladesh
• Women's Day Event Denied Permission in Sudan
• Saudi Women Proud Of Blue-Collar Jobs
• A Restaurant Manned By Saudi Women
• Princess Latifa Bint Honours Disabled Children's Families
• India Will Take Around 56 Years to Achieve Female Youth Literacy: Report
• Symbolic Initiative: Cyclists Peddle On Women's Day
• Khalil: 2014 Wake-Up Call Year for Women
Compiled by New Age Islam News Bureau
URL: https://www.newageislam.com/islam,-women-and-feminism/new-age-islam-news-bureau/saudi-princesses-'imprisoned-by-king-for-13-years'-plead-for-help/d/56071
------------
Saudi Princesses 'Imprisoned By King For 13 Years' Plead For Help
Daily Mail
Mar 10, 2014
TWO daughters of the King of Saudi Arabia claim they and their sisters have been held prisoners in the royal palace for 13 years.
Princesses Sahar, 42, and Jawaher, 38, said they are being kept against their will in a guarded villa in the royal compound in Jeddah. Their claims shed light into the usually secret world of royal family of a country where women are effectively treated as second-class citizens.
Saudi Arabia is the only country in the world that prohibits women from driving. It scored 130th out of 134 countries analysed by the World Economic forum in a 2009 report on gender parity.
But the restrictions allegedly placed on Sahar and Jawaher go well beyond what is allowed under Saudi law. In emails and over phone to a Sunday newspaper, Sahar and Jawaher claimed that their sisters Hala, 39, and Maha, 41, are also being held, incommunicado, in separate villas in the Jeddah compound.
Their mother Alanoud Alfayez, who is divorced from Saudi King Abdullah, has reportedly written to the UN's human rights agency to intervene on their behalf.
She told the Office of the High Commissioner for Human Rights (OHCHR) that her daughters are "imprisoned, held against their will, cut off from the world", according to a report in The Sunday Times. Sahar and Jawaher told the paper in an email that they are kept alone in a house most of which they have closed off as they have been left to fend for themselves. "We slowly watch each other fading away into nothingness," they said, adding that they can only go out to shop for food — and even for this, they need permission from a half- brother whom the king has put in charge of them.
Abdullah became king of Saudi Arabia in 2005. The oil- rich state is a key ally of the US and its extensive royal family enjoy massive wealth, with the king one of the world's richest men.
The Sunday Times said details of the allegations made by the sisters and their mother had been put to the Saudi embassy, but there had been no reply.
Mail Today
----------
Syrian Women Face Whipping and Execution for Breaking Sharia Dress Code
10 March 2014
Women in Syria face whippings and even execution under a harsh regime being enforced by Islamist rebels, it has been claimed.
Rebels from the Islamic State in Iraq and Sham (Isis) have imposed a harsh regime, flogging women who break a strict dress code, imposing a tax on Christians and banning any behaviour deemed immodest or sinful.
Isis drove Syrian rebels from the free Syrian Army and the Al-Nusra Front out of the city of Raqqa, in northern Syria about 99 miles east of Aleppo earlier this year, and began transforming what had been one of Syria's more liberal cities into a hardline Islamist mini-state modelled on its own version of Sharia law.
One woman was allegedly sentenced to 20 lashes after an Isis "morality patrol" saw her holding hands with a male cousin. Another woman aged 19 was sentenced to 40 lashes after an Isis officer saw a picture of her on Facebook wearing a short-sleeved blouse, it has been claimed.
Everyone female aged 10 and over in Raqqa must cover themselves with the traditional abaya (the traditional cloak) and niqab (face covering), and Isis has decreed that no features should be displayed that are suggestive, vain or attention-seeking.
Women are also banned from talking loudly in the street, walking in public without a male chaperone (their father, brother or husband) and are not allowed to leave home after dark.
Everyone in the city has been banned from playing music in any public place and smoking, and the laws are reinforced by posters declaring that "a woman's modesty is her beauty" and by forcing men to go to the mosque and pray five times a day.
Churches have been burned and desecrated. Christians in the city have been banned from showing any sign or symbol of their religion and must pay a tax to remain in the city and avoid violent attacks.
Speaking who spoke secretly and anonymously to The Sunday Times, women in Raqqa spoke of living under the threat of violence and murder.
One woman said: "It's true that in Islam the veil is a must, but Islam doesn't impose the niqab."
Another said: "There have been whippings of women because of this. Some women have even been executed. It's become a case of living under the sword. Either one has to dress in the niqab by force of be executed."
According to a report by the World Economic Forum, the gender gap between men and women in Syria ranked 133rd of 136 countries in terms of opportunities like equal access to human rights like education and healthcare. Female healthy life expectancy is 65 and 11% of women marry between the ages of 15 and 19.
http://www.ibtimes.co.uk/syrian-women-face-whipping-execution-breaking-sharia-dress-code-1439519
------------
The sexual exploitation of Syria's female refugees
10 March 2014
Nawar is a shy 17-year-old with very pale skin, just like her sister Souza, who is 16. Four months ago, both were married off to much older Saudi Arabian men. But after 20 days, the men disappeared.
Their parents were paid a dowry of 5,000 Jordanian dinar (£4,200) for the two girls. Their father was asked at a local mosque whether he had any daughters. The matchmaker, a fellow Syrian, then proposed that they marry two Saudi friends. Nawar's husband was 55, Souza's 45.
The men promised to relocate the entire family to Saudi Arabia. But now the family live in a single mouldy room in Amman, their dreams dashed. Luckily neither of the girls is pregnant.
"There's just regret, regret about what happened," says Nawar.
After 20 days in a furnished apartment, the sisters had been sent home to their parents. Their husbands would return to Saudi Arabia to settle the paperwork and return shortly, they were told. But the girls have not heard from them since, and their Jordanian mobile phone lines have stopped working. The marriages are not legal under Jordanian law; they were performed by a local sheikh and with two witnesses, but were not registered at the court.
Nawar says she had no idea her husband would disappear. During their brief union he told her about the rosy future they would have in Saudi Arabia. "He took me to nice restaurants, he took me on trips and he promised to take me to even nicer places in Saudi Arabia," she says. She married the older man out of a sense of duty to her parents; they were in a difficult situation. "I didn't love him," she says.
Described as an "economic coping strategy" for refugees fleeing Syria's civil war, such early or forced marriages are on the rise. Syrian women are famed for their beauty and intelligence, making them desirable as wives, says Dr Amira Mohamed, a counter-trafficking officer at the International Organisation for Migration (IOM) in Amman.
"We hear lots of stories about brokers who take girls from the Syrian community and do matchmaking for marriage, for local men and men from abroad. And the marriage will be very short term, it could only last 24 hours, just to give a legal cover for sexual exploitation," she says.
Early marriages are a tradition in Syria. A United Nations study found that almost half of Syrian refugees consider it normal for girls to marry between the ages of 15 and 17.
For many of the refugees, most of whom come from rural areas, this is attitude is part of their tradition, says Dr Mohamed. "But from a human rights point of view it's a violation." The IOM has started an awareness campaign to teach people about human trafficking, including sexual exploitation.
The scale of the problem is unclear as official numbers are not available, but at least one new case is reported daily via a 24-hour hotline. Most of the unions are prompted by economic necessity. Many of the refugees have lost everything. Nawar's family arrived in Jordan with a debt of almost £3,000.
"We were in a very bad situation and had very little money. Then this offer [of marriage] showed up," says her mother. "I wanted to pay our debts and have a life like we had before in Syria." They were also hoping that marriage would offer the girls protection, both financially and physically. Instead, the marriages have been kept a secret, and the girls have been forbidden to tell any of their friends back home in Syria.
Their father, Abu Bashar, hopes that his daughters will be able to remarry to "nice respectable men". He will never marry them off to a Saudi Arabian again. "Not even for 10,000 dinar," he adds.
The sexual exploitation of women in such circumstances is not new. "Refugees find themselves in a situation where they sell whatever they have. For a woman it is typical either to work in a domestic situation or to do sex work," says Dr Mohammed.
In one of the capital's nightclubs, the stage is filled with 20 women in tight-fitting, bejewelled evening gowns. "All of them are Syrian," says the waiter, gesturing towards the dancing throng. During the evening, the women chat to the male clientele, and make arrangements for meetings later.
A thick layer of make-up fails to mask the girls' age – at least four look well under 18. When asked, they all provide the same story, saying they are of age and started working at the club four months ago through a friend. "No, of course I didn't used to do this in Syria," says Bouchra, a chubby girl from Damascus in a powder-blue gown. She is still clearly adjusting to her new life, glancing around nervously at the men. "I ended up in this situation because of the crisis," she says.
http://www.independent.co.uk/news/world/middle-east/easy-prey-the-sexual-exploitation-of-syrias-female-refugees-9179090.html
------------
Two star-crossed Afghans cling to love, even at risk of death
Rod Nordland, NYT News Service | Mar 10, 2014
BAMIAN, Afghanistan: She is his Juliet and he is her Romeo, and her family has threatened to kill them both.
Zakia is 18 and Mohammad Ali is 21, both the children of farmers in this remote mountain province. If they could manage to get together, they would make a striking couple.
She dresses colorfully, a pink head scarf with her orange sweater, and collapses into giggles talking about him. He is a bit of a dandy, with a mop of upswept black hair, a white silk scarf and a hole in the side of his saddle-toned leather shoes. Both have eyes nearly the same shade, a startling amber.
They have never been alone in a room together, but they have publicly declared their love for each other and their intention to marry despite their different ethnicities and sects. That was enough to make them outcasts, they said, marked for death for dishonoring their families — especially hers.
Zakia has taken refuge in a women's shelter here. Even though she is legally an adult under Afghan law, the local court has ordered her returned to her family. "If they get hold of me," she said matter-of-factly, "they would kill me even before they get me home."
Neither can read, and they have never heard Shakespeare's tale of doomed love. But there are plenty of analogues in the stories they are both steeped in, and those, too, end tragically.
Zakia invokes one, the tale of Princess Shirin and Farhad the stonecutter, as she talks about her beloved, and her long wait in the women's shelter to marry him. "I would wait until I reach my love, no matter how long," she said.
In 21st-century Afghanistan, as well, life is no fairy tale, especially in rural places like Bamian. Young people who want to choose their own mates face the harsh reality that strict social traditions still trump new laws and expanded rights — and that honor killings in such cases remain endemic.
Nearly all marriages are still arranged by the parents, and girls bring to their families bride prices that can be considerable — although for poor families like Zakia's and Mohammad Ali's, that might be a few goats. Afghan courts can also apply Shariah law, interpreting it to justify parental authority even over an adult child.
"The story of true love in Afghanistan," said Reza Farzam, an Afghan university professor, "is the story of death."
Zakia and Mohammad Ali knew each other from childhood, working in adjacent fields in the village of Khame Kalak, near the provincial capital.
"We would go to the desert and take our animals for foraging, and we used to spend our days in the huts around the animals," Mohammad Ali said.
Their love affair did not begin then. "We were too young to know of these things," he said. But their friendship was close, and it was abruptly cut off.
"Unfortunately, she grew up, and I could no longer see her," he said. Once past puberty, girls must remain covered and usually can go out only in the company of close male relatives.
Complicating matters, Mohammad Ali is a Hazara, who are mostly Shia Muslims. Zakia is a Tajik, a Sunni ethnic group. (As with many Afghans, neither has a surname)
Occasionally, though, Mohammad Ali would glimpse Zakia in the fields and catch her eye under her head scarf. He was sure she returned the interest. "One hundred per cent, I knew she loved me, too," he said. He found a young girl to be an intermediary, and gave her a cellphone to take to Zakia.
Zakia hid the phone where no one would find it, and for most of the past four years they spoke to each other once a week or so. Whenever Zakia, one of 10 children, could find some privacy, she would call him, let it ring once, and he would call back.
Mohammad Ali gave her calls a ringtone that was a verse from a popular Afghan song that recalls the story of Yusuf and Zuleika.
On one of their calls, he told Zakia the story. In the version as told among Afghans (details differ across the Islamic world, and in the Christian version it is the story of Joseph and Potiphar's wife in Egypt), Zuleika is a married woman who tries unsuccessfully to tempt Yusuf into adultery. He is thrown into prison, and Zuleika waits 36 years for him to be freed.
By then she is homely, old and blind, but her love has not flagged, and Yusuf marries her, miraculously turning her into a young beauty.
When he finished the story, Mohammad Ali said, "Her reply to me was that she's ready to wait for me for even 50 years."
Through his father, he twice sent messengers to Zakia's father to ask permission to court her. They were rebuffed, even after the offer of part of Mohammad Ali's family fields as a bride price.
Zakia took the initiative and showed up at Mohammad Ali's house, pleading to be taken into the family to marry him.
Mohammad Ali's family sent her back, not once but twice, despite his protests. His older brother and father beat him so badly that he was hospitalized, and he still bears a prominent bruise on his left cheekbone. "We didn't want them to be disgraced," he said. "But when they sent her back to her family it was not a secret anymore."
The second time, Zakia said, she, too, was badly beaten, and her cellphone was discovered and confiscated. She fled to Mohammad Ali's house a third time.
"I saw there was no place to go," he said, "so I brought her to the women's ministry."
When Zakia and Mohammad Ali showed up at the Bamian branch of the ministry, they were chased by Zakia's family, who rampaged through the building trying to find them. Policemen subdued the male relatives, but Mohammad Ali had to hide in a closet from Zakia's angry mother, he said.
When order was restored, Zakia's parents claimed the girl was legally engaged to someone else, an aunt's son, although the head of the Bamian Women's Ministry, Fatima Kazimi, said their versions varied about which one. Zakia denied she had consented to an engagement, so she was given refuge in the shelter, and the matter was referred to court.
Ms. Kazimi, who has successfully pushed the Bamian police to bring hundreds of prosecutions in cases of violence against women, was barred from the court proceedings. But she later learned that at the request of the judges, who were all Tajik, Zakia had put her thumbprint on a document agreeing that she would return to her family. Her family also put their thumbprints on written promises not to harm her if she did.
"The chief judge told me, 'We are Tajiks, and it dishonors us if you decide to marry a Hazara,' " Zakia said. "I told them whatever he might be, he's still a Muslim."
Ms. Kazimi visited Zakia with police and government officials present, telling her that she was free to do as she chose and that they would support her. Zakia asked to be kept from her family, saying she had no idea what she had signed with her thumbprint.
As Ms. Kazimi and policemen escorted Zakia out of the court, her family went wild.
"My father and mother were pulling my clothes and even ripping them off me," Zakia said. Her mother screamed at her, calling her a whore over and over — about the worst thing one can say to an Afghan woman. Zakia said her brother and brother-in-law tried to beat her, and they all threatened to kill Mohammad Ali and her, as well as Ms. Kazimi.
"They said if I go marry him, they will not let us live," Zakia said. "But if I go home, I know my mother and father will not let me live either."
In February, the chief judge, Atola Tomkin, issued an order suspending Kazimi and another women's ministry official from their jobs for intervening on Zakia's behalf. He also insisted that the document with Zakia's thumbprint was valid and that she should return to her family.
Judge Tomkin refused to speak to a journalist, but another judge who had served on the panel in Zakia's case, Sayif Rahman, called Zakia's charges of ethnic bias in the court "just propaganda." He said the court was just trying to mediate to reach a peaceful settlement, as called for under Islamic law.
The Women's Ministry has appealed the judicial decision, and the attorney general's office is reinvestigating the family's claims. Ms. Kazimi has little faith in the local legal system, however. Another of those in the shelter is a 14-year-old girl who had been raped by an old man, she said. The court ordered both of them tried for adultery and dropped the rape charge.
Zakia has now logged her fifth month in the shelter. She is not allowed a phone there, and has been unable to talk to Mohammad Ali.
"I'm very worried that my family is trying to harm him and his family," she said in an interview at the Bamian Women's Ministry. "If he should die, I should also die."
Mohammad Ali was interviewed separately at the ministry. "Our story is the same as Shirin and Farhad," he said. "We are stuck in such a story."
In the Afghan version of that Persian tale, Shirin is courted by a wealthy prince, as well as the penniless Farhad. She tells Farhad that if he can remove the face of the mountain with an ax, she will marry him instead of the prince. He labors for months, and when the prince sees he really is moving the mountain for her, he sends a woman to tell Farhad that Shirin has already married. Farhad kills himself, and so does Shirin when she learns of his death.
"I'm still standing on my word, and I will try to reach her until the last drop of my blood," Mohammad Ali said. "Shirin and Farhad knew that in this temporary world they might not reach one another, but God knew they might do so in the next world, and my ambition is also the same.
"If they separated me from her, if anything happened to her," he added, "I would commit suicide."
Mohammad Ali said he moves around his village with great care now, fearful of being attacked by Zakia's family. He says he is unarmed — "I don't have so much as a nail file" — although Zakia's family claims he carries a rifle with him.
Zakia's aggrieved father, Mohammad Zaman, and some of her brothers sat in their mud-walled house and gave their side of the story. By last week it had changed considerably. Instead of being already engaged, as the family had told officials at the women's ministry, Zakia was actually already married, to her cousin, and so could not marry again, her father said.
Court officials said there was no evidence that was true, and Zakia denied it.
Zaman said his nephew had already paid the bride price — 28,000 Afghanis, or $500, about the price of three goats. Zaman said he knew he could have gotten much more, "but he's my nephew, and I didn't want to cheat him."
The marriage was never consummated, he said, because of a delay in arranging a wedding party. In the meantime, Mohammad Ali came on the scene and lured Zakia away.
"We would not harm her. We would not do anything to her," said Zaman, who also claimed he had "not even a nail file" as a weapon. "We know that boy just deceived her. It was not her fault. We just want her to come home."
http://timesofindia.indiatimes.com/world/rest-of-world/Two-star-crossed-Afghans-cling-to-love-even-at-risk-of-death/articleshow/31773936.cms
------------
Faisalabad woman forced to drink acid by in-laws
10 March 2014
FAISALABAD: The in-laws over a domestic row subjected a mother of two children to torture, forced her to drink acid, who then landed in hospital in critical condition on Sunday here, Geo News reported.
Police said that the incident occurred at Naseerabad, where a mother of two children, Mumtaz Bibi was forced to drink acid after severe torture and later in a critical condition admitted into Allied Hospital, where doctors struggling to save her life.
Police have started investigation into the incident.
http://www.thenews.com.pk/article-140442-In-laws-force-woman-to-drink-acid-in-Faisalabad
------------
Arab world failing women in gender equality, education
March 10, 2014
BEIRUT: The Arab world is among the most unequal regions in the world when it comes to gender and education, according to a new report released Monday by UNESCO.
The Education for All Global Monitoring Report studied gender imbalances in education across the globe, finding that 100 million women in low- and middle-income countries were unable to read a single sentence. The report concludes that not a single goal set by the U.N.'s Education for All initiative will be reached by the 2015 deadline.
According to the report, it is projected that by 2015, only 70 percent of countries will have achieved parity between the sexes in primary education and 56 percent will have achieved parity in lower secondary education. The report calls for immediate efforts to address this gap and ensure equal access to education for both boys and girls.
In the Arab world, girls make up 60 percent of children out of school, the largest percentage of any of the regions in the report, including sub-Saharan Africa. Moreover, that number has not budged since 1999, indicating little if any progress.
"The Arab world is the region that is lagging most behind in that respect," the study's author, Pauline Rose, told The Daily Star by phone from London. "The reasons are largely cultural."
Cultural biases are compounded by poverty, Rose said, explaining that many poor families in countries like Yemen can only afford to send some of their children to school, and they see their male children as a better investment for the family.
"They are more likely to get a return on their son's education, because they expect them to get work and give more back to the household," Rose, who is the outgoing director of the EFA Global Monitoring Report, said.
In some countries in the region, such as Syria, violence has interrupted education for all children, but it is more likely to adversely affect girls than boys.
"In insecure contexts, girls are more likely to be subjected to sexual violence, and parents are less likely to let them go to school if they have to worry about them walking through the streets," Rose said. "This is in addition to whether there are any schools."
Even the seemingly bright spots in the report, such as that educated Arab women make 87 cents to the dollar men make – above the global average – are likely evidence of other socioeconomic inequalities.
"I think the reason for this is a very high selection bias," explained Rose. "If you are a woman who gets a job, you are likely be from a better-off family, to have connections."
One of the domino effects of having fewer girls in school is that the Arab world suffers from a shortage of female teachers in a region where segregated education is common and even preferred, especially in the same rural, disadvantaged areas where female teachers are needed most.
The two moderate success stories from the region were Iraq and Turkey, which both managed to close their gender gaps in education with teacher training and other targeted programs.
Even lower income countries can shorten this gap by reorganizing resources, Rose insisted. The key is to convince countries that girls' education benefits not only women, but also the society as a whole, leading to lower birth rates and higher survival rates among mothers and children.
Several strategies that have yielded positive results in some countries include giving stipends to families for sending their girls to school; providing scholarships to girls, especially for secondary school; and recruiting teachers from underserved areas who are more likely to stay and understand the culture.
"In West Africa, one of the things that helped is that religious leaders and community leaders have mobilized to encourage parents to send girls to school. Poverty is still affecting girls more. ... This is where cultural and community mobilization comes in, and it's not very costly."
http://www.dailystar.com.lb/News/Middle-East/2014/Mar-10/249764-arab-world-failing-women-in-gender-equality-education.ashx#ixzz2vZCJbyIm
-----------
'Women's unpaid work accounts for 10.75% of GDP' in Bangladesh
10 March 2014
A recent survey has unveiled that the total amount of unpaid domestic work carried out by women in Bangladesh is equivalent to 10.75% of the gross domestic product (GDP) of the country.
The nation-wide survey, based estimate of women domestic work in Bangladesh was conducted by independent multidisciplinary research organization Unnayan Onneshan, in connection with the International Women's Day, made the disclosure through a report released yesterday.
The total engagement of women domestic work was presumed to be equivalent to 9.3 million full-employments per year and the total unpaid work per year might be equivalent to Tk11,15,914.8 crore or $14.45 billion. The total GDP of Bangladesh was Tk1,037,990 crore in the FY 2012-13.
The survey was conducted in seven districts of seven administrative divisions and the number of households from each district was selected using Probability Proportional to Size (PPS) method. A total of 520 women, comprising 202 from rural and 318 from urban areas were chosen randomly and interviewed for the purpose.
The Unnayan Onneshan observes that the economic value of unpaid domestic work by women would have been much higher if the wages of women in Bangladesh were not comparatively low and the wage deferential between men and women was not so high.
"The percentage of the value of unpaid work in the share of GDP in Bangladesh remains low compared to other countries due to the lower wage structure in different occupations in Bangladesh," added the organisation in a press release.
The survey also found women who were employed in different types of professional services spend at least 3.69 hours per day for household work.
To estimate the monetary value of the unpaid household work by women in the country, the survey used two recognised methods - the opportunity cost and the market replacement cost.
The opportunity cost method measured the amount what women would earn if they are employed as waged labourers instead of engaged in unpaid domestic work, while market replacement cost method was used to find out the amount based upon what it would have been spent to hire someone to carry out the work.
Referring to the rising share of women in the labour force as "feminisation of labour," the Unnayan Onneshan said growing need and decline of familial support along with the ever-increasing pressures for sustenance had pushed women to engage in income generating activities, the press release said.
"Unless and until such realities are recognised and responded with appropriate policies, institutional structures and monetary instruments, it will be impossible for achieving real equality in the society," the research opined.
http://www.dhakatribune.com/law-amp-rights/2014/mar/08/womens-unpaid-work-accounts-1075-gdp#sthash.jjXXVGfA.dpuf
------------
Women's Day event denied permission in Sudan
10 March 2014
KHARTOUM: Sudanese authorities refused permission for an International Women's Day event in Khartoum, an activist said on Sunday, despite President Omar Bashir's vow that freedoms should be respected.
The March 8 event — marked around the world — had been held without incident for the past eight years at Khartoum's Nubian Club, women's activist Fahima Hashim said. "We didn't get the permission" from state security agents for Saturday's planned event, she said.
The women were told they needed additional authorization from a government commission handling voluntary activities but that was just a delaying tactic, said Hashim, director of the Salam Center for women's rights. Hashim said it was unclear why approval was denied but it might be connected with the larger size of this year's event.
"We had more than 30 groups joining us," she said.
The day-long event typically features exhibitions, forums, films and concludes with a party.
http://www.arabnews.com/news/537571
-----------
Saudi women proud of blue-collar jobs
10 March 2014
RIYADH — A number of Saudi women have taken maintenance jobs at Princess Noura University in Riyadh. They are working as electricians, plumbers and others and they are happy about what they are doing, Makkah daily reported on Sunday.
"We are working with love, passion and pride," one of them told the newspaper.
Male workers are not allowed on the university campus during the day time and this gave Saudi women an opportunity to do these jobs.
"The maintenance work cannot wait for the men to come in the evening so we will be doing their work during the day hours," said a Saudi female electrician.
She said they have become used to the strange look from some students and are taking this positively. "We are working in a good environment with good salaries and are providing a service to our society," she said.
Haifa Al-Fakeer, who studied sewing at the Vocational Institute, has swapped the threads and needles with screwdrivers and pliers to become a maintenance technician at the university.
"I did not heed society's disapproving look or the sarcastic words from some students. I do my job with passion and love," she said.
Al-Fakeer said her family supported her especially that her job is not against the norms or traditions and it provides her with a Halal source of income.
"We need to do this work because male technicians cannot enter the university when the classes are going on and that there are some emergency matters that can not wait for them until they come in the evening," she said.
She said when she started work as an electrician she used to be scared of the electricity but with time she got used to it and is now dealing with it with no fear at all.
Al-Fakeer recalled that the chief engineer who supervised their training told them that any mistake at the main power transformers would turn their bodies into fragments and pieces.
"It was obvious that he wanted us to be more careful and vigilant. However, with time we have become used to dealing with the transformers without any fear," she said.
She said her work was also reflected at home where she is now fixing any electric fault. "My husband was laughing at my job in the beginning but he is now looking at it with respect and is fully supporting me," she said.
Al-Fakeer said some of her women colleagues are not equally proud of their work and they are hiding the nature of their jobs even from those who are very close to them. "Some of my colleagues gave up their work at the university because of the disapproving comments from members of society," she said.
Ilham Al-Sofayan said her father, who is an electrical engineer, taught her everything about his trade and she is now working as an electrician at the university. "On many occasions, a girl or two would get stuck in the lift. I had to fix the elevators to pull them out," she said. "I cannot wait for the Civil Defense to come and do this work," she added.
Al-Sofayyan admitted that her work does involve some risks but they are not very fearful. "Regardless of any hazards, I am now very comfortable with my job," she said.
Hadeel Mohammed, a maintenance technician, is still worried about how society looks at her job. "Many people believe that maintenance work is only for men, not women," she said.
She said she feels very embarrassed, especially when she does maintenance work in the toilets.
http://www.saudigazette.com.sa/index.cfm?method=home.regcon&contentid=20140310198165
------------
A restaurant manned by Saudi women
10 March 2014
JEDDAH — A Saudi woman has established a restaurant in Jeddah in which all the workers, chefs, waitresses and administrators are female nationals.
The eatery only serves national dishes through delivery.
Maha Al-Shammari said: "I was amazed by the number of violations and dirtiness in a number of restaurants in Jeddah so I decided to establish my own restaurant in which all the workers were Saudi females.
"My first condition for employing any woman was her commitment to cleanliness and her ability to prepare food in a hygienic atmosphere."
She said the restaurant serves only national cuisine prepared by Saudi women who consider food an integral part of society's culture.
Al-Shammari said she wanted to prove to society that Saudi women were capable of preparing and serving the best food.
"Before I opened the restaurant, I subjected all Saudi women workers to rigorous tests which continued for about two months," she said.
Al-Shammari said a number of her female staff were students who are studying and working at the same time.
She said: "The restaurant is only for outside catering. "We have a big kitchen in which we prepare the food in a healthy and hygienic environment."
Al-Shammari said she herself is responsible for preparing Najdi food while a number of her colleagues prepared famous Hijazi dishes.
"We have a female cashier and a number of girls doing other jobs," she said.
She said such projects would provide job opportunities for unemployed women, especially those who were sustaining their families.
"Helping women open their own restaurants will solve the problem of unhygienic eateries that are replete with violations," she said.
Al-Shammari said her restaurant has attracted a large number of customers who come from different cultures to try Saudi food, which she believed should be served by Saudi hands.
She complained that she could not find a sufficient number of cleaners because many of her staff refused to take on this job despite the good salaries offered to them.
"The Ministry of Labor has refused to give us work visas to recruit women cleaners from outside," she said.
She hoped all concerned authorities would support her efforts to provide Saudi women with decent jobs.
http://www.saudigazette.com.sa/index.cfm?method=home.regcon&contentid=20140310198169
------------
Princess Latifa Bint honors disabled children's families
10 March 2014
JEDDAH — The chairwoman of the Saudi Association for Parents of People with Disabilities honored families of disabled children at the Resalat Amal (A Message of Hope) center for their hard work and willingness to tackle their various challenges head on.
Princess Latifa Bint Thinian Bin Muhammad praised the families of Raghad Al-Zahrani, Lian Al-Ewaidhi, Salem Jaber and Abdul Aziz Khalifa.
Resalat Amal holds the annual ceremony to raise families' awareness on the needs of their disabled children such as love, security and attention.
Princess Latifa also honored outstanding Saudi teachers who look after disabled children.
One of the teachers said: "This honor is an added incentive to do more for disabled children, who are an integral part of our society."
The center's Director General Mohammed Abul Hamd Qassim delivered a welcome speech where he expressed his appreciation to Princess Latifa for her continuous support for Saudi cadres working in this field, which he said needed more backing to ensure disabled children are provided with quality services.
Qassim also said this annual honoring ceremony should be expanded throughout the Makkah province.
He said: "Saudi cadres who have taken on the burden of working with children with disabilities excel in the sector and the least we can do for them is honor them."
http://www.saudigazette.com.sa/index.cfm?method=home.regcon&contentid=20140310198096
------------
India will take around 56 years to achieve female youth literacy: Report
Manash Pratim Gohain,TNN | Mar 10, 2014
NEW DELHI: Literacy is still a distant dream for vulnerable young women. Going at the present pace of development, India will take at least another 56 years to achieve female youth literacy.
A serious gender imbalance in global education has left over 100 million young women in low and lower middle income countries unable to read a single sentence, and will prevent half of the 31 million girls out of school from ever enrolling. These are among the main findings of the gender summary, which analyses data from the Unesco Education for All Global Monitoring Report.
As per the South-West Asia factsheet of the report, young people who have spent just a few years in school do not develop literacy skills and in some cases even completing primary school is not always a guarantee for literacy. The report cited the example of India where after completing up to four years of school, 90% emerge illiterate and after five to six years in school, around 30% still emerge illiterate.
Poor women are the most vulnerable, with two out of three of them in South and West Asia who cannot read are from this category. While poorest young females in Bhutan are not projected to achieve universal literacy until 2083, Pakistan will not reach the target until the 22nd Century. India is no better, projected to meet the target between 2070 and 2080.
The new summary, launched in partnership with the United Nations Girls Education Initiative, calls for equity to be at the forefront of new global development goals after 2015, so that every child has an equal chance of learning through quality education.
Despite some progress, in 2011, only 60% of countries had achieved parity in primary education and only 38% of countries had achieved parity in secondary education. Among low income countries, just 20% had achieved gender parity at the primary level, 10% at the lower secondary level and 8% at the upper secondary level.
It is projected that only 70% of countries will have achieved parity in primary education by 2015, and 56% will have achieved parity in lower secondary education. Unless improvements are made, the poorest girls will achieve universal primary completion 60 years later than the richest boys.
"It is simply intolerable that girls are being left behind. For poor girls, education is one of the most powerful routes to a better future, helping them escape from a vicious cycle of poverty," said Irina Bokova, director general, Unesco.
http://timesofindia.indiatimes.com/india/India-will-take-around-56-years-to-achieve-female-youth-literacy-Report/articleshow/31758534.cms
-----------
Symbolic initiative: Cyclists peddle on women's day
March 10, 2014
Women cyclists of the federal capital celebrated the International Women's Day by cycling around the town, said a press release.
The Do Good Mob, a group of local youth volunteers, Critical Mass, a cycling group, and the Islamabad Cycling Association marked the day with an all-girls cycling ride.
About 40 cyclists pedaled through the streets for an hour that ended at the Faisal Mosque.
The participants included housewives, professionals and students. "I was excited about the ride today but also a bit apprehensive, but it's so positive to see that people give way to the cyclists," said Mehar Alam, a student.
Haroon of Islamabad Cycling Association said "this is a symbolic initiative to mark the women's day. We are also happy to promote cycling as a healthy communal activity."
http://tribune.com.pk/story/680608/symbolic-initiative-cyclists-peddle-on-womens-day/
------------
Khalil: 2014 wake-up call year for women
March 10, 2014
BEIRUT: May El Khalil's positivity radiates across the room. The president of the Beirut Marathon Association, a proven success for 14 years, is a self-proclaimed dreamer, her story an inspiration to hundreds of sports enthusiasts and, of course, women. However, Khalil's optimism fades when she acknowledges the gaping gender gap in Lebanon.
"I say not only sadly that we are still way behind," she said, but adds that while women in Lebanon have had a tough year following a series of domestic abuse cases that surfaced in recent months and a draft law criminalizing family violence still waiting for adoption by Parliament, the year has served as a "wake-up call" for Lebanese.
"Honestly, and I started repeating this, I feel as though we are at a turning point in our lives, and it is definitely a road of no return," she said.
According to Khalil, this year marks perhaps the first time in Lebanese history where awareness about women's rights made gains across society. It is not only the nonprofit organizations voicing their concerns anymore, she said, but Lebanese society as a whole. And, true to her optimistic nature, she believes the Lebanese will no longer accept inaction and apathy.
It is hard to imagine how Khalil bounced back, and with so much vigor. In 2001, the runner was training for a marathon when she was hit by a minivan which sandwiched her against a wall. She spent two years in hospital, recovering from a coma and undergoing 36 surgeries. Her doctors were unsure if she would ever even walk again, she told The Daily Star.
"When I woke up I realized that I was no longer the same person or the same runner that I used to be," she said, maintaining an air of calm as she recalled her story.
"My reality [at the time] was being at that hospital, but it became more of a dream and the reality was more of me wanting to come back to life and wanting to contribute, pay back to my community and be a better person, support other runners, bring international runners to come to Lebanon, and put Lebanon on the international map," she said.
These objectives, she added, gave her a reason to stand on her feet, fight and become more proactive.
Launching and heading the Beirut Marathon was no easy task either, but Khalil claims that being a woman did not hinder her efforts. When asked whether it would have been easier had she been a man, she was dismissive.
"I don't think so, and I don't think being a woman facilitated the mission either," she said.
"When you are genuine, people stop looking at you as a figure, whether a male or a female. You allow them to dive more into the message ... I never faced any [challenges], though in the Middle East sports is more male dominant," she said.
The Beirut Marathon is launching its second women's race on May 4. This year, men will be allowed to take part in the 5-kilometer race, but only if they wear pink T-shirts, Khalil explained with a chuckle.
Growing up in Mount Lebanon town of Aley, Khalil, who comes from a conservative, middle-class family, said being close to nature and coming of age in a place devoid of hypocrisy and bureaucracy taught her quite a bit about being grounded and active.
"I learned from my mom and my dad about how to be tough, and at the same time, always invest in inner strength," she said.
"I was very spontaneous and very genuine and I always had this feeling that being positive gave me courage, even at a young age," she said.
A mother of four, Khalil said that family has a large influence on how children are raised, particularly young girls, and both parents should do their part. Her husband Faysal, a successful entrepreneur, is both supportive and grounded, traits that her two daughters learned growing up, she said.
Khalil maintains that while most Lebanese were aware of the problems surrounding violence against women and in spite of the communities' calls for change, there are no concrete solutions.
"We are all highlighting the problems, and we all know the different challenges that we're facing, but where are the solutions? What are the solutions?" she asked.
While she claims not to be a feminist or part of the women's activist movement, she said there is a need for more rallying to be done around the issue. Khalil also said more sit-ins needed to be organized in front of Parliament, and there needs to be a strategy to push people to the point of "annoyance."
"Unfortunately, you have to become a bit arrogant when asking for your rights otherwise these rights will never be given," she said, adding that boycotting voting during elections would be an effective strategy.
"If, let's say, there are elections, and women all over Lebanon agree not to vote, there will be no elections. I think this solidarity ... is what we need," she said.
In a final message to young Lebanese women, Khalil said it was important they realize that they have a role to play in society, and are, in fact, its "future leaders."
"They can be mothers, they can be sisters, they can be friends, but they have a role to play as well, and their role is to really change mentalities and share their talents to make their society better."
http://www.dailystar.com.lb/News/Lebanon-News/2014/Mar-10/249754-khalil-2014-wake-up-call-year-for-women.ashx#ixzz2vYWGkbvl
------------
URL: https://www.newageislam.com/islam,-women-and-feminism/new-age-islam-news-bureau/saudi-princesses-'imprisoned-by-king-for-13-years'-plead-for-help/d/56071