New Age Islam News Bureau
25 Jul 2018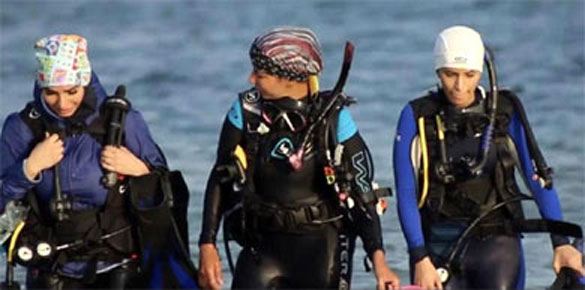 Although she studied and practiced the complex field of neurology, Aisha Al-Hajjaj says her passion always lied in diving.
------
• Pakistan Election 2018: Malala Yousafzai Urges Women to Vote In Large Numbers
• Women Candidates Determined To Change Political Scene In Pakistan
• Malaysia to Have Women-Friendly Sports Complex in Three Years, Minister Says
• Sudanese Court Annuls Marriage of 11-Year-Old Girl to Man Aged 40
• Perfect Recipe: Saudi Women Chefs Are Putting Change on the Menu at Riyadh's Ritz-Carlton
Compiled by New Age Islam News Bureau
URL: https://www.newageislam.com/islam-women-feminism/saudi-neurologist-forms-all-female/d/115935
--------
Saudi Neurologist Forms All-Female Diving Group to Protect Marine Life
By Noura Al-Naimi
Jul 25, 2018
DAMMAM — Saudi neurosurgeon Aisha Al-Hajjaj was able to gather and train dozens of female divers under her environmental initiative called "Aisha's Oceans" to pick up plastic and other rubbish from the bottom of the ocean as well as the beaches on the east coast of Saudi Arabia.
Although Hajjaj has studied and practiced the complex field of neurology, she says her passion always lied in diving and being near the sea.
Hajjaj turned her diving hobby into a lifestyle, and created a group of volunteer women whom she trained in diving, and sought out to better the marine environment in the Gulf.
On their last trip, the rubbish and plastic that the women collected were recycled.
"The Gulf countries that at the center of oil and gas industries now were once characterized by fishing, diving especially in search of pearls and the desert lifestyle. These characteristics attracted me to learn how to swim and dive," Hajjaj told Al-Arabiya.
"I started Aisha's Oceans, which is the first group of women divers in the eastern region of Saudi Arabia, and I was able to train 30 young women who went through intense diving and sailing trainings," Hajjaj added.
She said the women were also trained on how to use the various diving equipment.
Hajjaj says her team of volunteers aims to create a difference by removing garbage and saving marine life. This especially means removing fishing nets from the bottom of the ocean where they find several marine life that are stuck in them, she added.
Although measures to protect nature allow offenses to be met with confidence, concerns remain as the number of seabed wastes grows, said Hajjaj. — Al-Arabiya English
http://saudigazette.com.sa/article/539754/SAUDI-ARABIA/Saudi-neurologist-forms-all-female-diving-group-to-protect-marine-life
--------
Pakistan Election 2018: Malala Yousafzai Urges Women to Vote In Large Numbers
Jul 25, 2018
Nobel Laureate and education activist, Malala Yousafzai on Tuesday urged the people of Pakistan, specially the women to vote in general elections. (Live Updates)
In a tweet, Malala urged the Pakistanis to get up, and exercise their right to vote.
"The people of Pakistan - especially women - the power is in your hands," she said, adding that "Democracy shall win".
The 21-year-old Pakistani national, who lives in UK, did not say whether she voted.
In 2012, Malala was shot in the head, neck and shoulder by a Taliban militant while travelling home from school after writing an anonymous diary about life under the extremists.
After recovering from her near-fatal injuries, she and her family relocated to Birmingham, UK. She is studying politics, philosophy and economics at Lady Margaret Hall in Oxford.
Meanwhile, the Election Commission of Pakistan (ECP) has directed its polling staff to ensure proper guidance and assistance to voters, especially to elderly, transgenders and pregnant women on the polling day.
https://www.hindustantimes.com/world-news/pakistan-election-2018-malala-yousafzai-urges-women-voters-to-vote-in-large-numbers/story-7iJM1wosY1L9OE5ePx5M7K.html
--------
Women Candidates Determined To Change Political Scene In Pakistan
24th July 2018
ISLAMABAD: Krishna Kumari Kohli, a female senator from Pakistan's Sindh province, became a focus of local media and people a few months back for her being the first woman lawmaker from a low-cast non-Muslim tribe in the Upper House of the country.
Kohli told Xinhua news agency that her entry into the Senate will open new doors for women as they will see her as a role model and a beacon of hope to achieve their dreams.
"I am the daughter of a poor tenant and spent a part of my childhood as a bonded labourer, but my hard work and honesty to my cause of changing my life and life of people around me have landed me in the Senate. If I can do it, other women who are more educated and privileged than me can do it even better than me," she said.
A few months on, a woman from the same Thar district where Kohli belongs, is all set to contest elections on Wednesday for the provincial assembly of Sindh.
A tailor by profession, the provincial assembly candidate Sunita Parmar said in a viral video on social media that she was keen to protect the interests of women and work to release them from the shackles of poverty and ignorance.
I want to change the condition of women in my area. I want to work for girls' education and play my role in providing basic health facilities to them. Political parties should accept women's existence and capabilities, as it is the need of the hour," she said in the video.
The Election Commission said that this year, political parties have fielded women candidates in conservative areas.
Hameeda Shahid is one such candidate from Dir district of the country's northwestern Khyber Pakhtunkhwa province, Xinhua reported.
Women were previously not allowed to leave the house to vote, but Shahid is determined that she will change it by motivating women to stand up for their rights. She said that women should join politics so that their fellows could detail their problems to them, which they cannot tell male lawmakers.
The mother of six added that she doesn't have any experience in politics. However, if she wins the election, she will work for women's rights in her area.
According to the country's law, it is mandatory for all political parties to allocate at least 5 per cent of its seats to women candidates. The recently released figures of the poll body showed that 11,885 candidates will contest elections. Out of which, there are 305 women candidates which make about 5.2 per cent of the total ticket holders contesting from political parties.
Apart from this, there are 60 reserved seats for women in the National Assembly for which women from different political parties are selected according to the number of seats they win.
Tanzeela Mazhar, a journalist from Islamabad, said that despite the fact that women are contesting, the chances of victory for most of the candidates are slim.
"Political parties were sure about their defeat in certain constituencies and to fulfil the 5 per cent mandatory quota for women representatives, they fielded women from those constituencies while keeping the strong constituencies for the male candidates."
Despite that, the Election Commission said that the elections will see the highest number of women candidates contesting for the National Assembly seats in Pakistan's electoral history.
As many as 171 women candidates will be in the run against 272 seats of the National Assembly. In 2013, 135 women contested the poll.
http://www.newindianexpress.com/world/2018/jul/24/women-candidates-determined-to-change-political-scene-in-pakistan-1847886.html
--------
Malaysia to Have Women-Friendly Sports Complex in Three Years, Minister Says
25 July 2018
PUCHONG, July 25 — Malaysia is to have its first women-friendly sports complex that will have amenities such as a children's nursery, spa and beauty salon, Housing and Local Government Minister Zuraida Kamaruddin said today.
She said the complex was expected to be ready in three years, and it would also have a swimming pool only for women and an indoor court as well as amenities for disabled people and children accompanying the women.
"We think there is a need to provide such a facility because women require a recreation area where they can be free and are not confined by various constraints," she said during a visit to a 6.07-hectare site here, one of the four sites proposed for the complex.
Zuraida said the complex would be equipped to organise international women's sports meets and cater to the needs of women tourists who wanted to engage in recreation.
On another matter, she said the ministry was in the process of preparing its Public Housing Policy that would be ready in September that would also look into the need to build more affordable houses.
"We will also liaise with all the state governments on the need to provide more land served by a network of amenities so as to build more affordable houses at the lowest cost to enable the low-income people to own houses," she said.
Zuraida also said that the ministry would ensure that the prices of houses were maintained at a manageable level even after the re-introduction of the Sales and Service Tax (SST). — Bernama
https://www.malaymail.com/s/1655793/malaysia-to-have-women-friendly-sports-complex-in-three-years-minister-says
--------
Sudanese Court Annuls Marriage of 11-Year-Old Girl to Man Aged 40
24 July 2018
A Sudanese court has annulled the marriage of an 11-year-old girl to a 40-year-old man underlining that the marriage was illegal.
The court has ruled that the girl should go back to her parents and placed a restraining order against the husband.
According to a press statement released by the girl's lawyer, Abdel Fatah Hessen said he maintained that "the court annulled the marriage because the court did not previously allow it to happen".
The judge also ordered an investigation with the registered authority who officiated the marriage in addition to ordering the girl's father to protect her and placed a restraining order against the husband.
The girl in question is still in school and was married to the 40-year-old man with the consent of her father back in January.
The "bride" went to the police's Child Protection Unit, where she filed a complaint against her husband, who has physically abused her after tying her up.
The girl filed a complaint in the Personal Status Court in the Abu Adam district south of Khartoum, demanding that the marriage be annulled, especially after she was subjected to injuries and bleeding after providing proofs for her physical abuse.
https://english.alarabiya.net/en/News/north-africa/2018/07/24/Sudanese-court-annuls-marriage-of-11-year-old-girl-to-man-aged-40.html
--------
Perfect Recipe: Saudi Women Chefs Are Putting Change on the Menu at Riyadh's Ritz-Carlton
July 25, 2018
RIYADH: In Riyadh's Ritz-Carlton, one of the most renowned hotels in the world, Saudi female chefs have taken over the kitchen. Their mission? To show the world the true meaning of Arabian hospitality by delighting visitors' palates. Traditional Saudi dishes are their specialty, but the cuisine is international, ranging from Italian to Chinese.
The chefs work in the hotel's three restaurants: Hong, which features classic and modern Chinese cuisine; Azzurro, where fresh, seasonal ingredients are used to prepare classic Italian dishes with a modern twist; and Al Orjouan, an all-day dining buffet that serves a large brunch on Fridays.
In line with Vision 2030, the hotel opened its doors to female chefs two years ago, becoming one of the first hotels in the Kingdom to employ women in the kitchen. It now has 15 women chefs, with more on the way.
"The Ritz-Carlton, Riyadh is working in line with Saudi's Vision 2030 in employing females in all departments of the hotel, culinary included," said hotel manager Mohammed Marghalani. "However, we haven't recruited them simply because they are women but because they are competent and excel in what they do, and that has always been our vision: To have a dedicated team of professionals that work together."
Chef Al-Maha Al-Dossary, who grew up in Riyadh, was a corporate banker before deciding to pursue her dream of cooking. Her journey is one that will inspire others.
"Working at the bank was somewhat boring because it was routine. I would come back home, cook and bake. An epiphany hit me while cooking and doing what I love, and that was since I enjoy doing it so much, why don't I make it my career? It was an impulsive decision, but one I don't regret. If you do what you love, you will never work a day in your life."
After deciding to advance her career as a chef, Al-Dossary graduated from Le Cordon Bleu culinary school in London. "I studied there for three years. In the beginning, I was sure that I wanted to be a pastry chef, but then I studied cuisine and I found the hot kitchen engaging and active.
"Once I returned from my studies, I applied at the Ritz because it's an excellent hub to improve yourself, since we have exposure and engagement."
The vegan chef, who enjoys a meat-free diet, is part of the Ritz-Carlton's Voyager program, which prepares chefs to become managers. Al-Dossary said: "I began from the commissary, which receives food, and worked up to the Italian cuisine, going through all the stages of kitchen work and taking it step by step to learn the whole process."
Al-Dossary hopes to open a chain of vegan restaurants in the future.
Sushi chef Habeeba Abdullah began cooking at the age of 11. She cooked her first full lamb with her uncle. "He kissed my forehead after we had completed the feast, and I felt a sense of pride. His encouragement helped pave the path of my culinary love, and his support made me feel I will be something big some day."
Abdullah is a member of the Saudi Arabian Chefs Association, which offered her the chance to learn the art of making sushi, inviting her to a course in Jeddah. The week-long course gave trainees a sense that they were truly in Japan, she said, with Japanese chefs teaching her how to make sushi from scratch. "It was a new experience and I wanted to be a part of the new generation and prepare foods that they will enjoy."
Asked about her ambitions, she said: "I aspired from the beginning, from cooking at home to cooking worldwide. I now consider myself (as if I were) working in the royal palace, which is the start of my launch to worldwide."
Fadwa Al-Rumaih attributes her love of cooking to her upbringing. "My mother was my inspiration. Ever since I was young, we would cook together. The Ritz-Carlton gave me the chance to work in a world-renowned hotel and further my skills." Saudi food is Al-Rumaih's specialty, and she enjoys nothing more than seeing happy eaters who leave with a smile.
Chef Um Abdullah Al-Maliki said: "I cook with love. Cooking is my passion. I make breakfast in the morning for my kids. Then, after taking them to school, I cook at the hotel and come back once more to make a delicious meal for my family."
Asked if she ever tires of the kitchen, since she basically spends all day in it, her reply was "never."
"How can you get bored with your passion? I consider myself lucky that I get to do what I love, with love. No day goes without me being in the kitchen, whether at home or in the hotel. It's my element and one that I feel most happy in," she said.
One of the most challenging dining seasons is during Ramadan. Buffets are served after sundown until the sun comes up. It is the busiest time of year for these chefs — but also the most enjoyable.
"The happiness we feel when the serving dishes come back to kitchen empty is indescribable," Al-Maliki said.
The demand was high, with the chefs serving more than 25 roasted lambs each day in Ramadan, along with more than 180 kilograms of rice.
"Ramadan usually is a stressful time for us because of the workload, but I can honestly say that it is the most memorable," Al-Maliki said.
No food is wasted or thrown away, since the Ritz-Carlton has partnered with a charitable organization to distribute excess food to the needy throughout the year.
While interviewing the female chefs, I noticed a young male Saudi chef helping the women out. "We consider ourselves a family," said Salah Al-Dien bin Taleb, a junior sous chef.
He has been at the Ritz for two years, and was surprised when the women joined.
"I must say that I was surprised by their persistence in doing a good job and their high work ethic. Even in the simplest of things, they are extremely detailed. Also, they do not restrict themselves to a certain cuisine. The sky's the limit, and they are always determined to learn new things."
"All of us have the same dream, which is to have Saudi cuisine featured internationally in restaurants worldwide. That is what we are working hard for," said chef Reem Al-Saeed.
"Saudi Arabia is large, with many different regions that serve a vast variety of dishes. All tastes are satisfied, because of the large selection we have."
http://www.arabnews.com/node/1344976/food-health
--------
URL: https://www.newageislam.com/islam-women-feminism/saudi-neurologist-forms-all-female/d/115935
New Age Islam, Islam Online, Islamic Website, African Muslim News, Arab World News, South Asia News, Indian Muslim News, World Muslim News, Women in Islam, Islamic Feminism, Arab Women, Women In Arab, Islamophobia in America, Muslim Women in West, Islam Women and Feminism