New Age Islam News Bureau
6 May 2018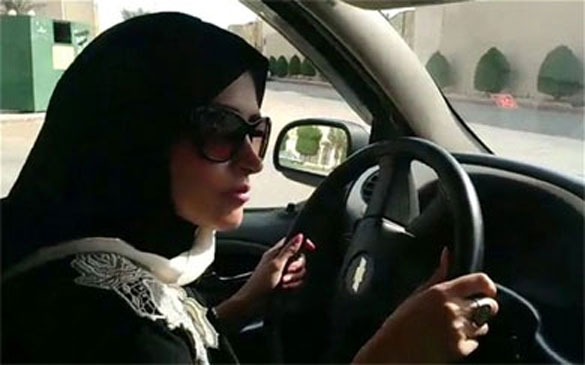 Saudi Arabia announced on Friday that it will allow women to drive taxis
----
• Madhya Pradesh: Tribal Woman, Muslim Man's Nikah Cancelled after VHP Protest
• Samar Saleh: First Saudi Woman to Be Appointed Commercial Attaché
• Human Rights Watch Urges UAE to Reveal Status of Dubai Ruler's Daughter
• First All-Female Claims Centre Opens in Saudi Arabia
• Pakistani Girl Shown As Brand Ambassador on Swachh Jamui Swasth Jamui' Booklet Triggers Controversy in India
• 1,545 Cases of Violence against Women Recorded In Multan
• Who Is the Woman Named Saudi Arabia's Executive Director of Cyber security?
• Sex, Intimacy, Sisterhood the Talk of Calgary Muslim Women's Conference
• Kuwait City: Squatting Women Dilemma – Minister Vows More Seats
• Iran: Official Admits Catastrophic Situation of Women Workers
• Trini Woman, Daughters Get 20 Years in Iraq For ISIS Ties
Compiled by New Age Islam News Bureau
URL: https://www.newageislam.com/islam-women-feminism/saudi-government-allow-women-drive/d/115158
--------
Saudi Government to Allow Women to Drive Taxis
May 5, 2018
Saudi Arabia announced on Friday that it will allow women to drive taxis, following the royal decree issued last year granting permission for women to have driving licences from June this year, Anadolu reported on Friday.
According to official media reports, the Director of the Saudi Traffic Department, Mohammed Al-Bassami, confirmed that all of the requirements needed for women to drive cars have been completed. He noted that the necessary operating licences for five driving schools for women have been issued and they are to open centres in six cities, including Riyadh. More applications are pending, he added.
The Saudi official pointed out that driving lessons for women have already started, and that a number of women are being trained to work in the Traffic Department, both in administrative posts and on the road.
In conclusion, Al-Bassami explained that women who hold foreign driving licences will be able to exchange them for Saudi licences.
https://www.middleeastmonitor.com/20180505-saudi-government-to-allow-women-to-drive-taxis/
--------
Madhya Pradesh: Tribal Woman, Muslim Man's Nikah Cancelled after VHP Protest
by Milind Ghatwai
May 6, 2018
The Mandla district administration has cancelled the nikah between a tribal woman and a Muslim man at a government mass marriage event after the VHP raised objection to it, alleging that it amounted to illegal conversion. Saraswati Shivram, 22, and Saddam Sikandar Hussain, 23, both from Mandla, were among 1,001 couples who got married on April 26 at Mandla. Under the Mukhyamantri Kanyadan Yojana and Mukhymantri Nikah Yojana, marriages and nikahs are performed at the same venue.
VHP leader Awadhesh Singh said the revocation was an admission that the administration had goofed up. He said the nikah was illegal because the bride had not converted to Islam. Singh said that the VHP did not highlight the case of a Hindu boy marrying a Muslim girl under the Kanyadan Yojana.
Chief Municipal Officer of Mandla Nagar Palika C K Meshram said the couple had registered under the Kanyadan Yojana but chose to go for a nikah ceremony at the last moment. He said he was not present during the ceremony and it would have been difficult for government employees to keep an eye on so many couples.
CEO of Mandla District panchayat S S Rawat said the administration did not deposit Rs 20,000 in Saraswati's bank account because an objection was raised on the very first day of the nikah.
http://indianexpress.com/article/india/madhya-pradesh-tribal-woman-muslim-mans-nikah-cancelled-after-vhp-protest-5165059/
--------
Samar Saleh: First Saudi Woman to Be Appointed Commercial Attaché
May 6, 2018
RIYADH – Minister of Commerce and Investment Dr. Majed Bin Abdullah Al-Qasabi has appointed Samar Bint Mazin Saleh as commercial attaché at the Saudi Commercial Attache's Office in Tokyo.
Samar Saleh is the first woman to be appointed as commercial attaché. This step comes within the ministry's policy to empower Saudi women.
Samar Saleh holds a master's degree in journalism and international media from City University in London. She obtained a bachelor's degree in journalism and mass media from the American University in Sharjah. She also completed the executive leadership program at Harvard University in the US.
She started work in the financial sector.
She speaks fluent English and Italian.
Before being appointed as commercial attaché, Samar Saleh worked as in-charge for developing trade exchange at the Commercial Attache's Office in the Kingdom's Embassy in Italy.
Her functions included developing nonoil exports, including commodities and services.
She was assigned many tasks including coordinating with the Saudi and Italian government authorities related with promoting nonoil exports, according to the executive plan of the Foreign Trade Agency of the commercial attaches offices, linked with Vision 2030.
http://www.saudigazette.com.sa/article/534276/SAUDI-ARABIA/Samar-Saleh-First-Saudi-woman-to-be-appointed-commercial-attach-eacute
--------
Human Rights Watch Urges UAE to Reveal Status of Dubai Ruler's Daughter
May 5, 2018
Human Rights Watch (HRW) has called on the United Arab Emirates (UAE) authorities to immediately disclose the whereabouts of Sheikha Latifa, the 32-year-old daughter of the ruler of Dubai Sheikh Mohammed bin Rashid Al Maktoum, saying her case could constitute "enforced disappearance."
"UAE authorities should immediately reveal the whereabouts of Sheikha Latifa, confirm her status and allow her contact with the outside world," said Sarah Leah Whitson, the HRW's Middle East director, in a statement on Saturday.
"If she is detained, she needs to be given the rights all detainees should have, including being taken before an independent judge," the statement said.
In a video published in March, the 32-year-old princess announced she was fleeing the emirate because of mistreatment and restrictions imposed by her family. However, on April 17, a source close to the Dubai government said the runaway princess "was brought back" to the emirate.
HRW cited a witness as saying that authorities in the UAE had "intercepted Sheikha Latifa on March 4, 2018, as she tried to flee by sea to a third country, and returned her to the UAE."
"Sheikha Latifa, who told friends that she wished to flee restrictions imposed by her family, has not been seen or heard from for two months," the rights organization said. That raised "serious concerns about her safety and well-being, two friends said."
"Failure to disclose the whereabouts and status of the princess could qualify as an enforced disappearance, given the evidence suggesting that she was last seen as UAE authorities were detaining her," HRW said.
Latifa's cause has been taken up by the Britain-based campaign group Detained in Dubai, which is working to help victims of injustice in the UAE.
The group said Latifa tried to flee Dubai by ship, but the vessel was intercepted on March 4 less than 80 kilometers (50 miles) off the coast of India.
It said a Finnish woman and friend of the princess was among the foreigners on board.
The source close to the Dubai government said last month that the Finnish woman and two French men, one with dual US citizenship, participated in the escape attempt and were wanted in Dubai on previous charges.
"It is a domestic issue that transformed into a soap opera that transformed into a rampaging scheme to tarnish the reputation of Dubai and Sheikh Mohammed," the source said.
The princess is one of 30 children the wealthy ruler of Dubai has with six wives. Latifa said she had not been allowed to leave the UAE since 2000. She was also not allowed to drive and had her movements monitored round the clock.
She said she did not have permission to keep her own passport, and could not even go to another emirate without royal authorization.
http://www.presstv.com/Detail/2018/05/05/560716/UAE-HRW-Latifa
--------
First All-Female Claims Centre Opens in Saudi Arabia
May 6, 2018
SALAMA Insurance announced the official opening of their first female claims center after the kingdom grants women the right to drive. The newest claims center aims to support female drivers and owners with the process of getting their claims.
The new facility was inaugurated at Salama headquarters here in Jeddah in attendance of Engineer Omar Al-Ajlani, CEO of Salama, chief's & senior Managers, claims department (all females) and representatives of local and regional media.
Speaking on the first of its kind claims center in Saudi Arabia, Omar Al-Ajlani, CEO of Salama said: "We are proud to announce the opening of this new claims facility, which demonstrates our continuing efforts to expand our customer communication services — strengthening our ties through better communication between our clients and our company."
He noted that having a female center would allow women freedom and comfort to deal with employees who understand that females are new to this process. Banks and telecom companies have had female branches for many years but this is the first time an insurance company opens a female branch to the public."
Sultan Al-Ghamdi, Claims Center manager said that this initiative will allow women to manage their car claims in a safe and facilitating environment.
Al- Ghamdi pointed out that Salama insurance female branch will provide females who are interested with awareness on the importance of car insurance and the types of insurance available.
The unique center, located on Madina Road, is served and supervised by 10 all-women staff and caters to only women customers in a first-of-its-kind exercise by any insurance company in Saudi Arabia.
Meanwhile, Mirfat Halawani, claims center female section manager also said: "It is a matter of immense pride for us to launch our first all women claim center in Saudi Arabia. This is a full-service center offering a range of products and services." — SG
http://saudigazette.com.sa/article/534246/BUSINESS/First-all-female-Claims-Center-opens-in-Saudi-Arabia
--------
Pakistani Girl Shown As Brand Ambassador on Swachh Jamui Swasth Jamui' Booklet Triggers Controversy in India
May 6, 2018
JAMUI: A Pakistani girl featured as the "brand ambassador" on the cover page of a booklet meant to promote 'Swachh Jamui Swasth Jamui' initiative in Bihar's Jamui district, has triggered a controversy in India.
District Coordinator of Sanitation and Water Sudhir Kumar called the distribution of notebooks "a mistake". The notebook has been distributed in all schools in the area, as reported by the Times of India.
The girl's photograph was also used for Indian government's "Beti Bachao, Beti Padhao" scheme.
An investigation revealed that the girl was also seen drawing Pakistan's flag in a picture, that "added fuel to the fire".
It was also revealed that the girl was being promoted as the face of UNICEF in Pakistan for education.
The booklet was printed by Suprabh Enterprises printing press in Patna.
https://www.pakistantoday.com.pk/2018/05/05/pakistani-girl-shown-as-brand-ambassador-on-booklet-triggers-controversy-in-india/
--------
1,545 Cases Of Violence Against Women Recorded In Multan
Xari Jalil
May 06, 2018
LAHORE: The government-run Violence against Women Centre (VAWC) Multan has recorded 1,545 cases of violence against women (VAW) from March 2017 to April 2018.
According to the data provided by the Social Welfare Department, the highest number of registered cases is of domestic abuse (918 cases), followed by 165 family cases, 99 harassment cases and 89 property disputes.
Salman Sufi, heading the CM's Strategic Reforms Unit (SRU) – the authority in charge of the project – says the centre has started functioning completely and that the locals have now begun taking it seriously.
The VAWC was set up following the Punjab Protection of Women against Violence Act 2016, the law that was heavily countered by hard liners. The figures point out that the pandemic of gender-based violence is highest in Punjab with most reported cases.
The first VAWC was established in south Punjab because of the high number of gender-based crimes there. It is meant to be a 24/7 facility run completely by women to streamline investigation-prosecution case flow process by bringing all disconnected justice delivery services under one roof. The services provided at the VAWC include those by police, prosecution, medical, rehabilitation and counseling. There is also a shelter for women survivors of violence who have no home to go to.
The Punjab Women Protection Authority Act (PWPA) was passed in 2017 to ensure that centres like the VAWC are established across Punjab; however, their headquarters will remain in Multan.
"The government has really given its all for setting up such a centre to prove that it gives a safe and easy access to women who want to report crimes against them," says Sufi. "We hope the success of this place will push the other provinces too."
The Punjab Women Protection Authority (PWPA) moved a request for appointment of judges to exclusively deal with the cases registered with the VAWC.
Pursuant to orders by the Lahore High Court (LHC), two judges have now been notified by the District and Sessions Judge, Multan. Justice Tasmia Akhtar will be the Trial Court judge and Justice Saeed Ahmed Mukhtar Khan will serve as the Appellate Court exclusively for the cases registered at VAWC.
Meanwhile, Aurat Foundation's regional director Mumtaz Mughal lauded the centre for being a useful initiative. However, she expressed reservations about the way the VAW was being dealt with by the government.
"The intentions are in the right place, but the problem lies in a follow-up system," she says. "There should be a system where monitoring is done of women who go back outside and live their lives. Are they potential victims of violence? Or are they safe now? And this cannot be ascertained until the local government system in that area is strengthened."
Ms Mumtaz explains the local government could serve as a way of raising awareness and having a complaint and monitoring mechanism, especially with lady councilors.
"Women face a lot of difficulties in reporting crimes and they need this kind of place where everything is under one roof – especially a sensitised staff," she says.
The problem of lack of follow up is also voiced by Shazia Sarwar, AIG of Punjab Gender Crimes wing. "As someone who works on women-related cases, I know that women need such places badly, especially women who come from rural areas who do not have safe access to a police station," she says.
"Women face the most violence from home, first from their husbands and then from their brothers, especially if the case is related to property." Sarwar adds that only a few cases under Section 509 have been reported because women do not feel safe going to a local police station.
"While the bigger cases are monitored, it is the smaller cases – like harassment – that may be a cause for concern where lack of monitoring is concerned."
Meanwhile, DSP Shahida Nasreen says the 1,545 cases filed were those directly filed with the VAWC. There may have been even more cases (300 more approximately) which the other offices such as the CPO or IG referred to the VAWC. "In a year, 1,800 cases have been accepted by the centre," she claims.
Will this kind of system have any solid effects in the long term?
Deputy Superintendent of Police Nasreen says it will, because when people see the police coming to nab a suspect or an accused, the others would think twice before committing any such crime.
https://www.dawn.com/news/1405848/1545-cases-of-violence-against-women-recorded-in-multan
--------
Who Is the Woman Named Saudi Arabia's Executive Director of Cyber security?
5 May 2018
Prince Saud Al-Qahtani, chairman of the Saudi Federation for Cybersecurity, Programming and Drones, announced on Friday the appointment of Nouf Abdullah Al-Rakan as executive director.
Rakan started her early career, completing her studies at George Washington University, and achieved a fellowship in Project Management. She is a graduate of Windsor's International Young Leadership Program in Britain.
She has over 15 years of experience in project and business management in Saudi Arabia, has worked in the Riyadh Chamber of Commerce and has supported of Saudi businesswomen and trained them in leadership and entrepreneurial skills.
She worked for a short time at the UN Office in Riyadh, particularly in the field of community development.
In 2004, she established MITSCo, an information technology company specializing in programming mobile-phone applications.
Rakan was a member of the Board of Directors and Secretary General of Community Development Committee in Riyadh. She participated in several official business delegations in East Asia and other countries.
She is also the CEO of Educational Initiatives, an educational-development center in Riyadh.
https://english.alarabiya.net/en/features/2018/05/05/Who-is-the-woman-named-Saudi-Arabia-s-executive-director-of-cybersecurity-.html
--------
Sex, Intimacy, Sisterhood the Talk of Calgary Muslim Women's Conference
May 05, 2018
Muslim women gathered in Calgary for a day-long conference Saturday to talk about what can sometimes be a taboo topic — intimacy.
The Being ME (Muslimah Empowered) conference was founded in Toronto seven years ago, and is in its fourth year in Calgary. Workshops included an introduction to breast health, career networking, and talks about sex and marriage, and healing after divorce. "There is this really safe space for women to come together and talk about issues that are important to them, whether it's mental health, sexual health, things that are often taboo," said Farah Islam, who travelled from Toronto to attend Saturday's event. "Love it, love the sisterhood, love the energy. I learn so much about our religion this way."
Shaheen Auckbaraullee, one of the conference's national organizers, said the event is intended to foster discussion and empower women to connect with each other and enact change in their communities.
"We wanted to find a platform where we could pull together Muslim women from our community so that they're able to interact, connect, network, discuss, share and then go back and apply that to themselves and the community at large," she said.
Auckbaraullee said with the #MeToo movement, discussions around intimacy have become more important than ever.
She said at a conference a few years ago, a workshop discussion ended up leading to the creation of a women-to-women counselling North American help line (1-866-315-6472).
"It's not just a conference where we come to have a spiritual high for one day and just go away," said Islam. "It's about creating solutions that are sustainable for the community, what else can we do, what are the next steps."
Another attendee, Zahra Admani, said she wanted to attend the conference because it makes her feel like part of a sisterhood, and she loves the energy of women pushing past barriers to talk about important topics.
"I don't think it's just Muslim women, people just tend to shy away from talking about intimacy," she said.
"When people come together it's a lot of energy, lot of excitement, lot of learning opportunities."
Souad Farag hosted a workshop to help women market themselves. She said the estimated Muslim population of Calgary is about 80,000 people, and that about 1,000 attendees were expected at Saturday's event.
"Being ME is where women come and be themselves," she said. "It's important to connect women globally wherever they may be."
http://www.cbc.ca/news/canada/calgary/calgary-muslim-womens-conference-1.4650345
--------
Kuwait City: Squatting Women Dilemma – Minister Vows More Seats
May 6, 2018
KUWAIT CITY, May 5: A high-level health source commenting on a video clip that has gone viral in social media showing women squatting on the floor in front of clinics at the Adan Hospital said these women prefer to sit on the floor in spite of a lot of seats available and digital screens fl ashing their turn to see the doctor, reports Al-Rai daily.
The source pointed out, some women prefer to wait in the corridors in the belief their turn will come first. Between 100 and 150 women check with these clinics on Wednesdays and Thursdays and sometimes this does not justify such behavior. In the meantime, Minister of Health, Dr. Bassel Al-Sabah, has set up an inquiry commission to investigate the incident, not only at the Adan Hospital, but also to follow up every similar incident at any of Kuwait's hospitals.
The source added women sitting on the floor are not necessarily sick but go to obtain various types of reports.
The source revealed the Minister of Health has taken two immediate steps, the first is to provide more seats in the waiting area and adjacent to corridor complete with digital screens, and the second to organize the mechanism according to specific times and groups, which means each group shall be given a specific time to prevent everyone attending at the same time. Acting manager of the Adan Hospital Dr Adel Abdul Razzaq said the women chose to sit on the fl oor of their own free will, because they believed that proximity to the door would facilitate early entry, although each one has a number to see the doctor and based on first come first served basis
http://www.arabtimesonline.com/news/squatting-women-dilemma-minister-vows-more-seats/
--------
Iran: Official Admits Catastrophic Situation of Women Workers
05 May 2018
A state official confessed to the catastrophic conditions of women workers in the Province of Qazvin, northwestern Iran.
Fatemeh Pourno, Secretary of the Union of Women Workers in Qazvin (a state institution), confessed to a small part of the catastrophic conditions of women workers in this province in an interview with the official IRNA news agency on May 3, 2018. These conditions are, of course, not limited to just one province. In this interview, Pourno said:
Women workers work in step with men in production units, but do not receive equal wages.
They are not aware of their legal rights. Therefore, they are not even aware if their insurance has been considered in their payrolls. But they do not file any complaints in this regard since they fear being fired by their employers.
Temporary three-month contracts have deprived women workers of job security.
Sometimes, employers mistreat women workers for the smallest flaw in their work.
Most of the women in the workers' community are heads of household. They face long working house but are deprived of many rights and benefits.
There are many young women who have to work in the production units to help decrease financial pressure on their family and assist their parents. They have to bear with the harsh work conditions in the workshops and factories. (The official IRNA news agency - May 3, 2018)
There are no genuine workers' unions in Iran to defend workers' rights. The institutions that exist under this name in fact defend the rights of employers and advance the Iranian regime's policies. This is why many workers' rights activists are in jail like students and human rights activists.
https://women.ncr-iran.org/iran-women-news/5042-iran-official-admits-catastrophic-situation-of-women-workers
--------
Trini Woman, Daughters Get 20 Years in Iraq For ISIS Ties
May 6, 2018
(Trinidad Guardian) It's official – Rio Claro imam Nazim Mohammed has confirmed that his daughter Anisa Waheed Mohammed and two granddaughters have each been sentenced to 20 years in jail by Iraq's courts for alleged association with the Islamic State (ISIS).
Mohammed told T&T Guardian that he officially confirmed the situation yesterday when he read a May 1 UK "Telegraph" report chronicling his daughter's trial in Baghdad's Central Criminal court last month.
The Telegraph's report, which described Anisa Mohammed, 53, as a grandmother, stated she'd been in a holding cell handcuffed to another woman. It was reported that she'd cried about her condition, saying she "wanted to go home to Trinidad and Tobago."
Also on trial were women from Eastern and European states. The Telegraph described them as "some of the hundreds of wives and widows of ISIS fighters" defeated by Iraqi troops" last year. The Telegraph stated that the trial judge felt they should serve their sentences in their home countries "to ease the pressure on Baghdad's overcrowded prison system."
Last year, United National Congress (UNC) MP Rodney Charles revealed that Human Rights Watch group had found a T&T family – woman, daughters and husband – in an Iraqi detention camp last August. It's turned out to be Mohammed, her adult girl children and husband. The Telegraph stated that Mohammed's husband Daoud was arrested by Kurdish soldiers near Mosul and now "faces his own trial in the coming weeks."
Contacted yesterday, National Security Minister Edmund Dillon told T&T Guardian he was examining the Telegraph report on Mohammed.
But Mohammed's father yesterday admitted the story was the first time he had valid information his relatives were alive in Iraq.
"This (Telegraph) story which I saw Thursday was the first official confirmation it was really her. We'd suspected since we heard about the T&T family in Iraq. Where she's now, is her trial and test to bear, as well as ours. It's up to Allah – everything's in his hands."
Mohammed said he has no money to get an attorney to assist her.
"And this Government won't take action. But I believe in the Lord, they got 20 years, they could have gotten life in jail. We tried communicating with her through the Red Cross – now we know for sure what happened to them."
The Telegraph's story stated the Anisa Mohammed was "dressed in pink and had greeted the judge in a lilting Caribbean English that took him by surprise." The story added that the judge asked her "brusquely in Arabic" if she entered Iraq illegally and believed in ISIS' ideology. The report said Mohammed "answered 'yes' to the first question and 'no' to the second."
She was quoted as saying she'd "watched ISIS videos with her husband and two daughters and we decided we wanted to go and be part of an Islamic society." Her reported seven-minute testimony – via translator – was that she didn't know it was a war zone and when they arrived they "saw Iraqis killing Iraqis," Russians and Turks also. The Telegraph stated that she said didn't "find Islam there." The report added that she said she was "just a housewife. I stayed at home with my daughters the whole time."
The Telegraph also quoted Anisa Mohammed as saying, "I'm old, I have diabetes, my health is deteriorating. I'm not a threat to anyone … I can't do 20 years in here.
"We are kept – 75 women to one room – and the women have 50 to 60 children between them. When we sleep there isn't even space to move around. We are given only bread and jam twice a day. A few women and babies have already died from malnutrition…We're all going to die here, and for what?"
https://www.stabroeknews.com/2018/news/regional/05/05/trini-woman-daughters-get-20-years-in-iraq-for-isis-ties/
--------
URL: https://www.newageislam.com/islam-women-feminism/saudi-government-allow-women-drive/d/115158
New Age Islam, Islam Online, Islamic Website, African Muslim News, Arab World News, South Asia News, Indian Muslim News, World Muslim News, Women in Islam, Islamic Feminism, Arab Women, Women In Arab, Islamophobia in America, Muslim Women in West, Islam Women and Feminism