New Age Islam News Bureau
3 Nov 2019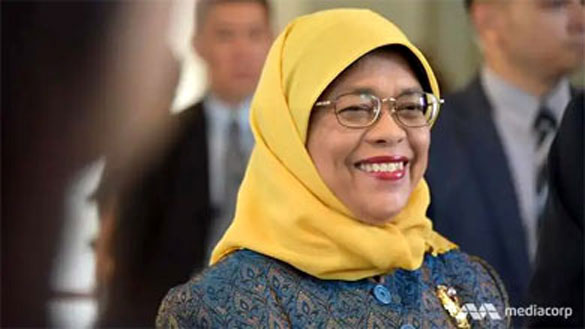 File photo of President Halimah Yacob. (Photo: Hanidah Amin)
-------
• President Halimah Yacob Is Set To Make Singapore's First State Visit to Saudi Arabia
• Muslim Outfits Join Hands to Educate Community on Triple Talaq
• Emirati Woman Finds Her Mother In India After 36 Years
• Report Raises Alarm over Rural Moroccan Women's Access to Education and Health Care
• In Egypt, Women Battle Breast Cancer And Social Stigma
Compiled by New Age Islam News Bureau
URL: https://www.newageislam.com/islam-women-feminism/saudi-girls-school-launches-pioneering/d/120163
--------
Saudi Girls' School Launches Pioneering Project to Produce Business Entrepreneurs Of Future
NADA HAMEED
November 02, 2019
JEDDAH: Students at a top Saudi school for girls are being given the chance to become the Kingdom's entrepreneurs of the future by running their own business venture.
Dar Al-Fikr School, in Jeddah, has launched an innovative educational and community initiative aimed at arming students with the vital skills required to succeed in the workplace environment.
The Dar Al-Fikr Intrapreneur Program (DIP) will see an area of the school set aside for the "20 Formation" event management company, which will be managed and staffed by students.
Majdah Afandi, director of Dar Al-Fikr Schools and DIP founder, told Arab News: "I believe that grade 12 students should be exposed to the practical part of the world before they reach college level, but it is often hard to take them outside of school to do that.
"Therefore, we decided to build our own space and cover all the knowledge and skills needed in any employee by offering students the full experience of soft skills in a three-courses program.
"No matter how much knowledge lectures are delivering to students, if soft skills are not practiced and experienced by them it will never occur through theoretical teaching. So, we will apply all the skills that the country is calling for during this era of growth," she added.
DIP project manager, Lujain Al-Sarahi, said the school had an annual graduation project for grade 12 students but wanted to make this year more challenging.
"DIP offers internal training that will enable students to open a company within the school, the core business of it being event management. It will include all the departments necessary to serve the company," added Al-Sarahi.
The initiative is believed to be the first pre-college graduation program of its kind to be set up in the Kingdom and will involve students in theoretical and practical course work along with action research, to give them the independent know-how and leadership skills to run a modern business.
The program will culminate with the young intrapreneurs making a presentation about their business project to a school conference attended by outside industry experts who will assess their work.
Scheme organizers have established a training company with its own capital funds and 44 students have been enrolled in the program as interns for two days a week, holding positions in the enterprise and planning actual events.
In order to join the company, students had to go through a professional recruitment process involving them attending workshops, an internal job fair, and creating CVs and portfolios to fit their roles.
Laila Shaaban, 17, a student and 20 Formation company employee, hoped the initiative would help define her future career path.
"In this company, I am employed as a graphic designer. I will be exposed to many different fields of experience so I can focus on what I want to be and do after graduation, either in college or in business.
"The company will help us anywhere we go whether its part of a workforce, at home or university," she added.
Highlights
Mission of DIP: To deliver extraordinary events from inside and outside the school and to make a difference in the event planning sector in Jeddah.
The company will include human resources, finance and accounting departments and will have social media, public relations, and graphic design committees.
44 students are already enrolled in the company and will be working on action research during the year.
The main focuses of the program are communication, negotiation skills, time management, and creative thinking.
https://www.arabnews.com/node/1577871/saudi-arabia
--------
President Halimah Yacob Is Set To Make Singapore's First State Visit to Saudi Arabia
Fabian Koh
November 03, 2019
President Halimah Yacob will make the first state visit by a Singapore leader to the Kingdom of Saudi Arabia from Tuesday to Friday, at the invitation of King Salman bin Abdulaziz Al Saud.
Before that, she will be visiting Kuwait from today to tomorrow, at the invitation of Amir Sheikh Sabah Al Ahmad Al Jaber Al Sabah. It is the second state visit by a Singapore leader to Kuwait, after the late President S R Nathan made a trip in 2008.
https://www.straitstimes.com/singapore/president-halimah-to-make-state-visits-to-kuwait-saudi-arabia
--------
Muslim Outfits Join Hands to Educate Community on Triple Talaq
Nov 3, 2019
Bareilly: Concerned with the number of triple talaq cases in Sambhal district, several Muslim outfits have joined hands to educate the community on Muslim Women (Protection of Rights on Marriage) Act, 2019.
Despite the government's efforts to spread awareness, there is little respite in Sambhal since as many as seven cases of instant talaq have been registered under the new Act within a month.
The minority outfits involved in the awareness effort are Muslim welfare society, Ulema Mashaikh Board, Muslim Ekta Sangh, Tafule Sunnat and Jamiatul Quresh. They held a panchayat meeting in Sambhal on Saturday, and chalked out a plan on how to refrain married couples, especially married women, from taking their family dispute to police station.
Expressing his concern, Shahar Qazi of Chandausi Mohammad Magrub said such incidents of booking Muslim men on charges of giving triple talaq were nothing less than a blot on the community. "It seems that highest number of triple talaq cases in UP has been registered in Sambhal so far and there is no pause on that," he said.
During the meeting, the heads of their respective outfits argued that over a dozen more women have approached the police to book their husband. However, police are investigating into the matter before lodging an FIR.
Of seven cases of triple talaq reported in Sambhal, five are registered at Baniyather police station within a month. In the latest incident, one Qamil, a resident of Asmauli, allegedly threw his wife with five daughters out of his home giving her instant talaq after she gave birth to a fifth girl. Earlier, Chandausi resident Tanveer gave triple talaq to his wife as she was not able to bring Rs 50,000 and a motorbike. The couple had got married two years ago.
While addressing the meeting, Magrub argued that due to lack of literacy among members of the minority community, they were not much aware of the latest development. "Uneducated men are giving triple talaq to their wives on petty issues. Today, we held a meeting and decided to make people more aware," he said.
All outfits were of the opinion that such cases should be sorted out within the community and if needed, qazi and maulvi should intervene to resolve the matter.
https://timesofindia.indiatimes.com/city/bareilly/muslim-outfits-join-hands-to-educate-community-on-triple-talaq/articleshow/71871646.cms
--------
Emirati Woman Finds Her Mother In India After 36 Years
November 03, 2019
Sara Al Shurafa
Dubai: After 36 years of separation, an Emirati woman finally found her mother.
The breakthrough came after a search of a lifetime done by Mariam Abdul Rahman Al Shehi, 36.
She described her experience as the "Journey of Hope", which started when Mariam's parents were separated after divorcing in the 80's following a short marriage.
Mariam's mother left her for India, never to seen by her again.
Mariam, from Ras Khaimah, was raised by her father. Day after day, hope and nostalgia gripped Mariam while growing up. When her father passed away, she was determined to find her long-lost mother.
Determined to find the woman who brought her to the world, an idea popped up in Mariam's mind: publish an advertisment in several Indian newspapers, with the hope of helping her case.
The public appeal went out, with the message to let her mother know she's looking for her mother in India. She posted: "Whoever knows my mother, please tell her to reach out to me".
Good leads
Then she got some good leads. Some women matched her mother's profile. Finally, Mariam find a perfect match, after comparing passport details of the women she thought is her mother.
Soon, she realised she had found the one who bore her for nine months in her belly.
Mariam didn't only find her mother. She also found her sister, who she never knew.
It turned out her mother was pregnant when she left the UAE.
https://gulfnews.com/uae/emirati-woman-finds-her-mother-in-india-after-36-years-1.1572759938817
--------
Report Raises Alarm over Rural Moroccan Women's Access to Education and Health Care
Saad Guerraoui
03/11/2019
CASABLANCA - Women in rural Morocco suffer disproportionately from lack of access to education and health care in spite of attempts to improve the situation, Morocco's High Planning Commission said in a report.
Rural girls' access to secondary education is limited despite the progress made at the primary schooling level, the High Planning Commission (HPC) report stated.
The preschool enrolment rate among rural girls for 2017-18 was 25.4% compared with 53.9% for girls in urban areas, 41.6% for girls at the national level and 40.5% for rural boys, HCP's statistics said.
In secondary school, the net enrolment rate of rural girls was 39.7% in 2019, compared with 80.2% for urban girls. In high school, the rate was 12.5% against 57.4% for girls in urban areas.
The HCP explained that the disparities were because of a very high dropout rate among rural girls, especially at the secondary level, which is nearly four times higher than that of urban girls (16.8% against 4.8%).
In 2014, approximately 60% of rural Moroccan women were illiterate, compared with 31% of urban women.
Saida Idrissi, former president of the Democratic Association of Women of Morocco, said HCP's statistics were not surprising.
"The illiteracy and poverty rates among rural women are still high. Their social and economic status hasn't changed that much," she said.
Idrissi mainly blamed the government for high dropout rates among rural girls.
"Boarding houses and transport are not available in all rural areas, which are major hindrances to girls' pursuit of their education," said Idrissi, adding that families often halt their daughters' education for fear for their safety.
"Some boarding houses are overcrowded while the quality of school food rations is very low," she said.
Idrissi called on the government to implement a broad policy to improve the infrastructure that would help rural girls further their education.
More than $350 million was allocated to strengthen social support for schooling for vulnerable groups, especially in rural areas, said Moroccan Minister of Economy, Finance and Administration Reform Mohamed Benchaaboun during the presentation of the 2020 draft budget bill before parliament.
Several NGOs are trying to raise awareness among women in remote areas about the importance of education.
Sonia Omar, from Education for All Morocco (EFA Morocco), said the Moroccan NGO was playing a key role in educating girls in the High Atlas region.
"This ensures girls from the remote rural areas can access the schools without the obstacles of poverty and distance," said Omar.
"It was not always easy to convince the parents to let their girls come to our boarding houses in the early days but now the trust and awareness has grown in the local communities and we are over-subscribed each year."
EFA's efforts paid off with a 100% pass rate for the baccalaureate this year and more than 130 girls have been enrolled at university since 2013.
"We also had three girls awarded full scholarships to study in Casablanca and have two in their final year at the Lycee Benguerir and two studying for their master's degrees," said Omar.
"This shows how the unique learning environment of the houses enables these girls to discover their full potential despite coming from largely illiterate families."
The HCP said the mortality rate remained high in rural areas, with 111.1 deaths per 100,000 births against 44.6 deaths in Moroccan urban areas.
Public health centres are understaffed in rural areas and lack medical equipment, which makes it difficult for doctors to deal with the most urgent cases. Geographic and socio-cultural factors are other obstacles to rural women's access to health care.
Morocco suffers from an acute shortage of health personnel. The North African country had 7.3 doctors per 10,000 inhabitants in 2017, the Moroccan Health Ministry said. The ratio is far from meeting the World Health Organisation standard of one doctor per 650 inhabitants.
Socio-cultural constraints of access to health care, particularly in rural areas, are related to illiteracy, traditional practices and the status of women. For example, men refuse to have their wives treated by a male doctor, said the Environmental, Social and Economic Council (CESE) in its "Basic Health Care" report.
CESE warned that the issue of geographical accessibility was a problem that mainly affects the rural world's accessibility to basic health care due to the lack of road infrastructure and dire weather conditions.
https://thearabweekly.com/report-raises-alarm-over-rural-moroccan-womens-access-education-and-health-care
--------
In Egypt, Women Battle Breast Cancer And Social Stigma
Hassan Abdel Zaher
03/11/2019
CAIRO - When Huda Ahmed was diagnosed with breast cancer a few years ago, she prepared for a long, painful journey to defeat the disease.
What she never imagined was that her physical ailment would come with social repercussions, leading to the breakdown of her marriage at the most vulnerable point in her life.
"I had to undergo a surgery to remove a breast because of the tumour," said Ahmed, who is in her mid-40s, "but this caused a total change in the way my husband viewed me."
Ahmed's story is far from unique. Women who are diagnosed with breast cancer, the most common form of the disease in Egypt, often face social stigma or lose their spouses during their physical battle.
The Egyptian Health Ministry said breast cancer is detected in approximately 28,000 women in the country every year. It is most common among older women but prevalent among middle-aged women as well, with 86 out of every 100,000 women between the ages of 40-45 receiving a diagnosis every year.
While the disease affects Egyptians of all socio-economic backgrounds, the poor have an especially rough road, finding it difficult to finance the costs of effective treatment.
Reem Emad, the deputy manager at Egypt's National Cancer Institute, the largest state-run cancer hospital in the country, said breast cancer is the most difficult form of the disease for women "because it attacks a pivotal part of the female body."
This is why it comes with social repercussions, often including strains within marriages, victims said.
Ahmed said she sensed a gradual change in her husband's attitude towards her once she was diagnosed with breast cancer but especially after she had breast removal surgery.
"I noticed the change in his attitude to me," Ahmed said. "This attitude morphed into total withdrawal from initial sympathy."
Ahmed's husband secretly married another woman, after which Ahmed demanded a divorce.
In Egypt, many breast cancer victims die of the disease, especially if it is not detected until its late stages, but the country is working to increase awareness about the importance of frequent exams to detect the disease early.
Health authorities began a nationwide campaign of free exams at hospitals and clinics for women of all ages.
Still, the social trauma that breast cancer victims endure remains.
While there are no statistics on how many divorces are linked to health-related reasons, experts said the numbers are high.
Mohamed Abdurrahman, an oncology professor at Ain Shams University who specialises in the treatment of breast cancer, said many of his patients were stigmatised or divorced after being diagnosed with the disease.
"Sometimes breast cancer patients face positive discrimination when those around them show sympathy," Abdurrahman said. "Other times, people are afraid to come close to the patient, especially when symptoms, such as hair loss, appear."
Abdurrahman recalled the story of a patient who died of the disease a few years ago. He said the woman, in her 30s, refused to undergo chemotherapy, lest she lose her hair and stop being attractive to her husband. She opted for breast-conserving surgery but her husband divorced her anyway.
When she remarried, she told her new husband that the scar in her breast was caused from the removal of a benign tumour.
"Unfortunately, the tumour metastasised and she had to get chemotherapy," Abdurrahman said. "She refused all treatment options for social and marriage-related reasons" and died shortly thereafter, he said.
Other women, such as Ahmed, who lives in her family home, survive the disease but find it difficult to move on after being neglected by their spouse.
"It is very difficult to be abandoned by those closest to you at the time you need them the most," said Ahmed.
https://thearabweekly.com/egypt-women-battle-breast-cancer-and-social-stigma
--------
URL: https://www.newageislam.com/islam-women-feminism/saudi-girls-school-launches-pioneering/d/120163
New Age Islam, Islam Online, Islamic Website, African Muslim News, Arab World News, South Asia News, Indian Muslim News, World Muslim News, Women in Islam, Islamic Feminism, Arab Women, Women In Arab, Islamophobia in America, Muslim Women in West, Islam Women and Feminism