New Age Islam News Bureau
18 Jul 2017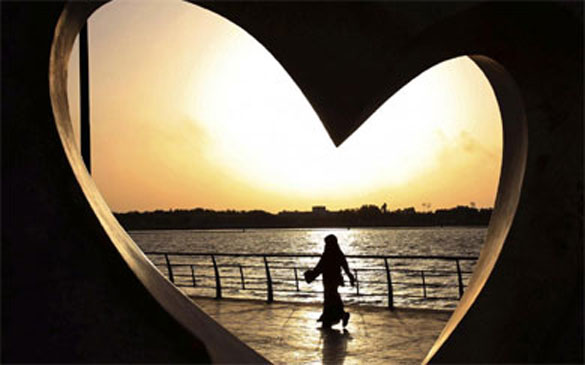 Women's rights remain a contentious area in rigidly conservative Saudi Arabia Hasan Jamali/AP
-----
• Female Suicide Bomber Kills 8 in Northeast Nigeria
• Five 'Islamic State' German Women Found In Tunnel in Mosul
• In Idlib, a US-Syrian Woman Sets Up A School And A Model
• Egypt's First Female Governor Is Optimistic about the Future of Egyptian Women under Al-Sisi
• Dubai-Based Woman Held in Augusta Westland Case
• DAP Wanita Condemns Sexual Attacks against Women amid Spotlight on Party Aide
Compiled by New Age Islam News Bureau
URL: https://www.newageislam.com/islam-women-feminism/saudi-girls-online-post-miniskirt/d/111870
--------
Saudi girl's online post in miniskirt draws conservative ire
July 17, 2017
Dubai: A young Saudi woman sparked a sensation online over the weekend by posting a video of herself in a miniskirt and crop top walking around in public, with some Saudis calling for her arrest and others rushing to her defence.
State-linked news websites reported on Monday that officials in the country are looking into taking possible action against the woman, who violated the kingdom's rules of dress. Women in Saudi Arabia must wear abayas in public. Most also cover their hair and face with a black veil, though exceptions are made for visiting dignitaries.
The video, first shared on Snapchat, shows her walking around an empty historic fort in Ushaiager, a village north of the capital, Riyadh, in the desert region of Najd, where many of Saudi Arabia's most conservative tribes and families are from.
Competing Twitter hashtags emerged, with one demanding the woman's arrest and another asserting that freedom of dress should not be a crime.
Ebrahim Al Munayif, a Saudi writer with more than 41,000 followers on Twitter, wrote on his official account that allowing people to disobey the law leads to chaos.
"Just like we call on people to respect the laws of countries they travel to, people must also respect the laws of this country," he wrote.
Others defended her by posting images from President Donald Trump's visit to Saudi Arabia in May, in which First Lady Melania Trump and his daughter Ivanka, though modestly dressed in higher necklines and longer sleeves, shunned wearing a head cover or the abaya.
Ivanka Trump's blonde tresses and attire sparked a Twitter hashtag during the president's visit, with Saudi males commenting on her looks and referring to the president as Abu Ivanka, meaning Ivanka's father.
One Twitter user, whose post was shared more than 1,700 times, superimposed an image of Ivanka's face on the young Saudi woman's body, writing: "Enough already, the situation has been solved."
Others wrote that had the woman been a foreigner, people would be talking about her beauty, but because she is Saudi, they are calling for arrest.
The Saudi Okaz news website reported that officials in Ushaiager called on the region's governor and police to take actions against the woman in response to the video, without elaborating further. Saudi news website Sabq reported that the kingdom's morality police had corresponded with other agencies to investigate further after the video was brought to their attention.
http://gulfnews.com/news/gulf/saudi-arabia/saudi-girl-s-online-post-in-miniskirt-draws-conservative-ire-1.2060338
--------
Female suicide bomber kills 8 in northeast Nigeria
17 July 2017
A female suicide bomber targeting a mosque killed at least eight people and injured 18 others in northeast Nigeria, police said Monday.
The incident took place when the bomber forced her way to a mosque in Maiduguri city early Monday, Police Commissioner, Damian Chukwu said while confirming the incident.
"A female suicide bomber in an attempt to enter a mosque at London Ciki area detonated IED strapped to her body, killing eight people," Chukwu said, adding that 18 others were also injured.
The dead bodies and injured persons have been shifted to a public hospital, he added.
Earlier, another suicide explosion took place in Molai, a volatile area on the outskirts of the city, a vigilante member and witness Mohammed Khalli said.
Only suicide bomber was killed in the incident, he said.
No group has yet claimed responsibility for the explosions, but similar attacks in the past were claimed by Boko Haram militants.
Boko Haram, a Nigerian militant group, has continued to attack soft targets in the country's northeast region despite claims by the military to have defeated the insurgents.
Multiple suicide attacks last Tuesday killed 17 people, mostly of them were local security personnel.
http://www.worldbulletin.net/africa/191941/uber-driver-dies-after-car-torched-in-safrica
--------
Five 'Islamic State' German women found in tunnel in Mosul
Jul 18, 2017
The five German women in remand are reportedly part of a group of 20 female fighters apprehended in Mosul's beleaguered ancient city last week, including other nationals from Russia, Turkey, Canada, Libya, and Chechnya.
An Iraqi military official told the newspaper that the group of women had been hiding in a system of tunnels built by IS, and that weapons and explosive belts were found at the site of their arrest - presumably to be used for assaults on Iraqi soldiers. Initial reports say that the arrested individuals were working for the police arm of IS.
Underage fighter from eastern Germany
Germany's daily "Die Welt" newspaper reported that a 16-year-old convert to Islam from Germany's federal state of Saxony was among those seized by local security forces. The girl had been missing for about a year after allegedly getting in touch with IS supporters online.
Authorities in Saxony's capital Dresden said that the underage girl had been under investigation for being involved in preparations for a violent act against the state, but that the probe had been suspended due to her absence.
Chief prosecutor Lorenz Haase told "Die Welt" that the investigation would be resumed when the girl was back in Germany.
More than 900 Islamists are believed to have travelled to Syria and Iraq from Germany to support IS, including several underage girls.
IS losing grip on power
Many locals fear that the recent liberation of Mosul could leave the city with a power vacuum, as the anti-IS alliance turns its attention to the liberation of Raqqa in neighboring Syria. With allegations of violations of international law mounting in the aftermath of the liberation of Mosul, it is unclear whether those captured during the operation will be facing a fair and impartial legal system.
There is no information at this point whether any of the detainees may be extradited for trial to their home countries.
http://www.dw.com/en/five-islamic-state-german-women-found-in-tunnel-in-mosul/a-39729581
--------
In Idlib, a US-Syrian woman sets up a school and a model
17 July 2017
Running a school in the enclave controlled by Syria's al-Qaeda affiliate, Syrian-American Rania Kisar has become skilled in getting her way, either by negotiating with the militants or by pushing back against them.
When she was preparing for the students' graduation, the militant group sent an inspector who told her not to play music at the ceremony. She argued back. Then on graduation day, she invited the group.
The ceremony started with a nod to tradition with a Quranic recital in line with the inspector's wishes. But then as the students filed out in front of an audience of relatives and local officials, as well as representatives from the militant group, Kisar played "Pomp and Circumstance" - the anthem used at American graduations.
It was a calculated gamble: she was betting the militants would not make a scene. "It was matter-of-fact. They did nothing," she said. But she knew why they had intervened in the first place. "If they don't interfere, they won't be considered powerful," she said.
Idlib province in northwestern Syria is the last major stronghold of the rebellion that erupted in 2011 against President Bashar Assad. Al-Qaeda's branch is the strongest force in the territory: it leads an alliance of factions known as Hayat Fatah al-Sham and dominates the administration set up by the opposition to run the province.
But the group has to tread carefully, balancing between its aim to control and its wariness of triggering a backlash from residents and other factions. So far, it has stayed relatively pragmatic: it takes every opportunity to show it is in charge but has shown no interest in a wide-scale imposition of an extremist vision of Islamic law.
Sharp difference
They halted public killings of criminals; there are no religious police patrolling streets, arresting or beating people - and they haven't forced women to wear the niqab face veil. That is a sharp contrast to the ISIS in the stretches of Syria and Iraq where the rival militant group has ruled the past three years.
Instead, al-Qaeda administrators and fighters try to enforce some rules on a smaller scale while avoiding heavy-handed confrontation and presenting themselves as the champions of Syria's "revolution" against Assad. Idlib now stands in a tenuous position among the international and regional powers that are effectively carving up Syria.
Assad's military had threatened an offensive on Idlib but is now focused elsewhere, against ISIS militants to the east. Turkish troops and their Syrian allies who control parts of neighboring Aleppo province were reportedly mobilizing to move into Idlib - prompting sharp warnings from Hayat Fatah al-Sham against any attempt to do so. The United States is also focused on its own campaign against ISIS with the assault on Raqqa, and it is unclear how it and Assad's ally Russia want to deal with Idlib in the future.
In the meantime, Idlib, swelling with more than 900,000 Syrians displaced from other parts of the country, is the refuge of an opposition movement that hoped to create a new Syria and only a few years earlier appeared to have the momentum in the conflict. Al-Qaeda influence
Now Kisar and others like her are trying to keep al-Qaeda's influence at bay. "Everyone sold us out," she said in a recent interview in her office in Istanbul, where she regularly travels.
Kisar said the international community's fear of radicals taking over Syria is exaggerated and reflects a lack of understanding of the Syrian opposition. She and others argue that the militants are needed, they provide services and infrastructure as well as skilled fighters for now, but will not have support later.
From the start, Kisar has been a true believer in the uprising. After the revolt began in 2011, she left her administrative job at a Dallas university and joined the opposition.
She traveled with fighters on the front lines, helping displaced people. She organized services in opposition territories. Along the way, she survived an airstrike and lost a colleague who was kidnapped by ISISI militants and was later believed killed.
Finally, she settled in Maaret al-Numan, Idlib's second largest city. It was one of the few strongholds of the moderate Free Syrian Army, the umbrella group for the internationally-backed opposition factions. In recent years, radical factions like al-Qaeda have grown in influence and gained a foothold.
But Maaret's residents largely continued to support the FSA. They held repeated protests whenever al-Qaeda fighters went too far, arresting journalists or cracking down on opponents.
SHINE foundation
In 2015, Kisar launched her foundation - SHINE, or the Syrian Humanitarian Institute for National Empowerment. It provides classes for adults in computers, programming and web design. Registered in Dallas and funded by donations from Turkey and private citizens in America and elsewhere, the foundation has so far graduated 237 students.
Kisar takes great pride in the result: a "geek squad" of tech-savvy men and women who can fix smart phones and computers. That is vital in opposition-held areas, where there are no telephone lines and the population relies on satellite internet for communication.
"There are no private institutes, no universities, there are no hospitals," she said. "It is us, a bunch of locals, volunteers, stepping forward and saying, OK, I am going to clean the street, I am going to go volunteer in a hospital and I am going to build a school. ... This is my part. This is my honor."
Her first brush with the militants came when she had to explain her work to gain accreditation from the bureaucracy they control. She bickered with one official, arguing that armed groups should not control civilian affairs. He wouldn't look her in the eye since she's a woman. But "when he heard I am from America, he said: 'We have every honor that an American Muslim is here and wants to be here'," she recalled.
Heated debates
Even in heated debates with the militants, she said, she has always kept a respectful tone, something that has helped keep her operating. It also helps that she is a woman. "I can get away with a lot of things," she said with her characteristic giggle. "There is a lot more leniency toward me because I am a woman."
The ultraconservative militants were concerned that SHINE provides classes for men and women. So she negotiated to keep it going by segregating the space - men on the bottom floor, women on the top. When airstrikes hit the top floor, she set up separate areas on the ground floor.
The militants sent inspectors to ensure classes observed their interpretation of religious laws. The strictly computer-focused program had nothing that would offend them, she said. "They want to interfere in everything," she added.
Hayat Fatah al-Sham is increasingly intervening in day-to-day affairs in Idlib and in civil society groups, confiscating goods and taking control of exchange bureaus, said Sam Heller, a Syria fellow at the Century Foundation. Its attempts to seize a role in provision of relief aid have alarmed the aid community, he said.
Identity and ambition
At the same time, it is struggling between its identity as a hard-line extremist movement and its ambition to lead the rebellion with its variety of factions, wrote another Syria watcher, Mona Alalami in a recent Atlantic Council article.
When that balancing act breaks down, violence can explode. In June, Maaret al-Numan was shaken when pitched street battles erupted between al-Qaida militants and the FSA, bringing gruesome revenge killings and leaving at least six civilians dead. HTS fighters opened fire on residents protesting against their presence in the streets.
For a moment, the chaos seemed to shatter Kisar's spirit. "It is going to break loose," she said over the phone at the time. "Everybody is fighting everybody." She left town for several days to "breathe."
Eventually, calm was restored with a shaky reconciliation, though one that increased the militants' influence: the FSA faction running the town had to leave their offices, replaced by an agency linked to al-Qaeda.
Kisar resumed her work - and her own balancing act. This time, she was preparing festivities for local children to celebrate a major Muslim holiday. "You must check out the videos," she said, giggling. "It is like Disneyland. It is SHINEland. It is majestic."
https://english.alarabiya.net/en/perspective/features/2017/07/17/In-Idlib-a-US-Syrian-woman-sets-up-a-school-and-a-model.html
--------
Egypt's first female governor is optimistic about the future of Egyptian women under Al-Sisi
Jul 18, 2017
Egypt's future first female governor, Nadia Abdo, wept when she heard Mohamed Mursi had been elected president in 2012; her tears provoked by fears that the Islamist politician would impose limitations on women professionals like herself.
But Mursi lasted barely a year in power before he was ousted by the military in July 2013, with former general Abdel Fattah Al-Sisi elected president a year later.
Abdo was sworn in as governor for the northern province of Beheira in February, the first Egyptian woman to hold such a post. She comes from a civil service background, having spent around 20 years working for state-run Alexandria Water Company, which she headed from 2002-2012. Abdo had been appointed deputy governor of Beheira in August 2013, a month after Mursi's fall.
"Tears streamed down my face when I heard the news about the win of Mursi," Abdo told Zawya in an interview. "Today and while we are celebrating the anniversary of (his ousting), we look back at a very decisive period in Egypt's history and we thank God that the rule of Mursi and his Muslim Brotherhood group has ended."
Mursi's rule, which emboldened Islamists and alienated liberals, made many female leaders such as Abdo fearful for women rights and personal freedoms.
"We had a very tough year," Abdo said speaking of Mursi's brief tenure. "I saw the Brotherhood's attempts to replace all the good hardworking managers with their supporters. I saw this happening in the water company and I also knew the same thing was happening in several ministries."
Abdo, once nominated by Egypt for the Arab Management Award run by Dubai ruler Sheikh Mohammed bin Rashid Al Maktoum, said she is now very optimistic about the future of Arab women leaders.
"I have advice for all the young women of the Arab world, especially those in the Gulf Arab states, who had over the past years been given access to high quality education, with many of them traveling abroad and achieving masters and PhD degrees, that the time has come for them to become leaders in their countries," said Abdo, who holds a master's degree in environmental health from Alexandria University.
Social and cultural barriers still pose challenges for many Arab females. Women in Saudi Arabia are banned from driving cars in the kingdom.
"No community can ever survive by the hands of only half of its people. Women are partners in all societies, they are an important, active component and should always have active roles and leadership roles," said Abdo.
She praised Al-Sisi for appointing four female ministers to important ministries such as investment and planning. She said Al-Sisi was a big supporter of women and his actions would inspire other Arab rulers to follow suit. The Egyptian leader has declared 2017 as "The year of Egyptian women".
Human rights activists and some Egyptians criticise Al-Sisi for launching a fierce crackdown against Islamists following the ouster of Mursi, imprisoning hundreds of them including the deposed president. Al-Sisi is also accused of muzzling freedom of expression and rolling back freedoms gained after Egypt's 2011 uprising. In June 2016, several independent news websites were shut down and one Egyptian journalist was arrested, according to Reuters.
But according to Abdo, Al-Sisi is "a great leader".
"He is exerting a lot of efforts to protect Egypt from becoming lawless or going through what other Arab countries are going through," said Abdo.
Many Egyptians see Al-Sisi's crackdown as necessary to protect the nation from descending into chaos. Egypt has gone through two waves of mass protests in the past six years, one that ousted Mursi and another one in early 2011 that ended the three-decade rule of former president Hosni Mubarak. The years of turmoil have ravaged the economy.
The Arab states of Syria, Libya, and Yemen have been mired in war for years following protest movements that started around the same time of the Egyptian uprising in 2011. The demonstrations began as peaceful pro-democracy movements and later took a bloody turn, leading to the rise of militant groups in the region such as the Islamic State.
"Al-Sisi prevented Egypt from turning to a warzone and protected Egyptians against becoming refugees," said Abdo.
Over 5 million Syrians have fled their country since the eruption of the Syrian civil war in March 2011, according to data released by the UN Refugee Agency in March.
Rule of law
Abdo is regarded as one of the most active state officials in Egypt, according to local media reports. In one year, she inaugurated several fodder factories and chicken farms, and created industrial zones along with other social projects.
Asked about her formula for success, the official said with an infectious smile, "It is very easy and hard at the same time. I simply apply the rule of law all the time."
"People who work hard get rewards. Others who don't, get notified, and if nothing changes, actions get taken," she added.
While Mursi's presidential victory triggered sadness, Abdo said the moment she knew about her selection to become a governor brought her tremendous joy.
"I usually have one cup of coffee per day," she added. "That day, I had ten cups as I was so excited and my heart was leaping with joy. It was a very happy moment."
https://dailynewsegypt.com/2017/07/18/egypts-first-female-governor-optimistic-future-egyptian-women-al-sisi/
--------
Dubai-Based Woman Held in Augusta Westland Case
Jul 18, 2017
NEW DELHI: The Enforcement Directorate has arrested Dubai resident Shivani Saxena in connection with the AgustaWestland helicopter scam, in what is being seen as a breakthrough in the efforts to identify the recipients of kickbacks. Shivani, wife of Rajeev Shamsher Bahadur Saxena and a resident of Palm Jumeira, Dubai, has been accused of laundering the proceeds of crime in connection with the bribes received in the VVIP helicopter deal. She had been called here for questioning.
Sources claimed Shivani and her husband used their companies to route the money which came as kickbacks from Augusta middlemen Carlo Gerosa and Guido Haschke, besides helping the suspects acquire properties and shares. "She can take us closer to the people who received money for facilitating the sale of AgustaWestland helicopters during the UPA regime", said a senior ED source.
Shivani Saxena is a "director of UHY Saxena, Dubai and Matrix Holdings, through which proceeds of crime have been routed and further layered and integrated in buying the immovable properties and shares, etc", a senior ED source said. The ED and CBI are hopeful of mapping the moneytrail shortly.
The ED probe has revealed that AgustaWestland, UK, paid 58 million euros as kickbacks through Gordian Services Sarl, Tunisia and IDS Sarl, Tunisia. "These companies further siphoned off the said money and proceeds of crime in the name of consultancy contracts to Interstellar Technologies Ltd, Mauritius and others, which were further transferred to UHY Saxena, Dubai, Matrix Holdings Ltd. Dubai and others," according to the ED.
Investigations show, ED sources claim, that Rajeev Saxena is the beneficial owner of Interstellar Technologies Ltd, Mauritius. Shivani and her husband are partners and directors in UHY Saxena, Dubai and Matrix Holdings Limited, Dubai. Both these companies received proceeds of crime in their respective Dubai bank accounts from Interstellar Technologies Ltd, Mauritius.
It was also revealed that Shivani and Rajeev Saxena have transferred huge amounts of money through their companies at Dubai to various other accounts. Shivani was produced in the court of special judge, PMLA, in Delhi, and remanded to four days of ED custody. The ED had approached the UAE, Mauritius, Singapore, Italy, Tunisia, UK, Switzerland, Denmark and Finland seeking details of the companies which were used to transfer the bribe money, which was ultimately meant for allegedly Indian politicians, bureaucrats, some private persons and former IAF chief S P Tyagi.
The CBI has already established that bribes worth Rs 452 crore, or 12% of the total value of the deal had been paid by AgustaWestland and Rs 414 crore were routed to Indian officials through a web of companies in several countries.
The probe conducted so far revealed that Gerosa and Haschke and Gautam Khaitan used a large number of companies for bringing 24.6 million euros (approximately Rs 160 crore) from IDS Tunisia. One of the companies — M/s Interstellar PTA, based in Singapore was part of the process of routing the bribe money.
It is suspected that Interstellar PTA could be linked to Interstellar Technologies, Mauritius, which received the maximum chunk of alleged bribe money — 12.40 million euros (Rs 75 crore).
http://timesofindia.indiatimes.com/india/dubai-based-woman-held-in-agusta-westland-case/articleshow/59640888.cms
--------
DAP Wanita condemns sexual attacks against women amid spotlight on party aide
July 18, 2017
KUALA LUMPUR, July 18 ― DAP Wanita today condemned all sexual attacks against women "irrespective of the suspect" as a male party aide is to face prosecution for allegedly molesting a college student.
The wing's international secretary Sangeet Kaur Deo commended the 21-year-old purported victim for speaking out, as well as the authorities for their handling of the case.
"DAP Wanita states unequivocally that it condemns any form of sexual attacks on women, irrespective of who the suspect may be," Sangeet said in a statement.
"We laud the authorities in having dealt with the matter professionally and expeditiously. We also commend the victim in this case for having reported the case and hope that this will be an example to others to speak up," she added.
Sangeet also hoped that the law "will take its course" and a just decision will be reached on the matter.
A college student who worked as a part-time waitress at a pub had claimed to have been sexually assaulted by an aide to a Penang assemblyman on July 6 while escorting him to his car in George Town.
The 50-year-old man is set to be charged at the Magistrate's Court today, under Section 354 of the Penal Code, for the use of criminal force to a person with the intent to outrage modesty.
http://www.themalaymailonline.com/malaysia/article/dap-wanita-condemns-sexual-attacks-against-women-amid-spotlight-on-party-ai
--------
URL: https://www.newageislam.com/islam-women-feminism/saudi-girls-online-post-miniskirt/d/111870
New Age Islam, Islam Online, Islamic Website, African Muslim News, Arab World News, South Asia News, Indian Muslim News, World Muslim News, Women in Islam, Islamic Feminism, Arab Women, Women In Arab, Islamophobia in America, Muslim Women in West, Islam Women and Feminism