New Age Islam News Bureau
16 Dec 2014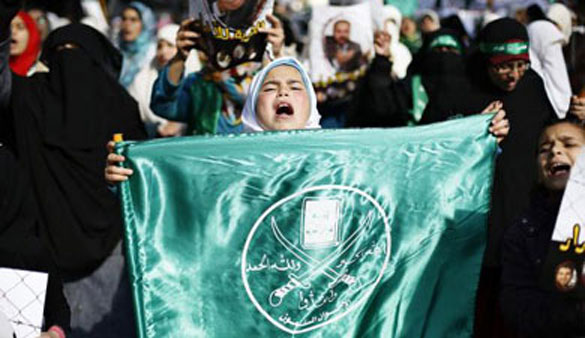 A girl carries a flag of the Muslim Brotherhood as she joins protesters from the Islamic Action Front during demonstration to show their solidarity with Palestinians in Amman November 28, 2014
----------
• Egyptian Women Feel Safe As Female Cops Roam Streets
• 16 Year-Old Indonesian Girls May not be Allowed to Marry?
• Nitaqat Status for Saudi Women Working From Home
• Entrepreneurial Landscape Changing For Women in Pakistan
• Girl from Dadu Meets Girl from Swat in Oslo
• A Girl Undergoes Rape Each Time She Narrates It: Ashiana Survivor
• 22 Filipino Women in Jeddah Complete Livelihood Training
• Marriage Preparation Program to Be Mandatory In Saudi Arabia
• Top 10 Muslim Women That Made Headlines In 2014
• An American Whom Afghans Regard As 'Grandmother of the Nation'
• Sisters in the Vanguard as Egypt's Muslim Brotherhood Battles to Survive
• Play Capturing War Rape Victims' Stories Premieres Today in Bangladesh
Compiled by New Age Islam News Bureau
URL: https://newageislam.com/islam-women-feminism/saudi-girl-detained-attending-soccer/d/100517
-------------
Saudi Girl Detained For Attending Soccer Match Disguised As Man
Saudi woman arrested after attending soccer game
16 December 2014
A Saudi newspaper says a woman arrested after attending a soccer game claims she did not know women were prohibited from going to the stadium.
The state-linked Okaz newspaper reported on Monday that police in the city of Jiddah have questioned the woman, who claims she bought a ticket online without any problems and went to the Friday night game between Jiddah's al-Ittihad and Riyadh's al-Shabab in the kingdom's new al-Jawhara stadium, where she was arrested.
Okaz did not identify the woman. The paper says she was questioned by police for "impersonating" a man by wearing pants, a long-sleeve top, a hat and sunglasses. No charges have been raised so far.
Saudi Arabia enforces a strict segregation of the sexes. There are no designated areas for women at soccer stadiums.
http://www.hindustantimes.com/world-news/saudi-woman-arrested-after-attending-soccer-game/article1-1296797.aspx#sthash.5Nrgtc35.dpuf
-----------
Egyptian women feel safe as female cops roam streets
16 December 2014
JEDDAH — The special female police unit that was formed last year to combat harassment and violence against women took to the streets recently. Many women and large segments of society welcomed their deployment on the street.
It was a sign of comfort for many Egyptian women to see female officers on the street and areas that are overcrowded with people. For many women, it is easier to communicate with a female police officer than to communicate with a male officer.
The role of female police officers was very much limited in the past to monitoring elections and were seen at the site of women demonstrations.
Lately, women are seen almost everywhere, especially in front of girls school, in underground metro stations, in front of cinema halls and also on public occasions and festivals in downtown.
Colonel Nashwa Mahmoud, officer in combat violence against woman unit, said in her interview with Egyptian CBC Channel that female police role is to combat violence against women and protect them from any violence or sexual harassment.
Nashwa added in her interview, "We are working now on ending harassment of women on the Egyptian streets."
She also shows in the program how she deals with anyone who harasses a woman.
Colonel Manar Mukhtar, the officer in combat violence against women unit in the Egyptian Ministry of Interior, said that one of the main problems they are facing is that women are not willing to come forward to report harassment cases. She said that part of their role is to increase awareness among women through media, workshops, forums. Even when we are on the streets, we tell women who face harassment that she is a victim.
"The problem with the family of a victim is that they blame their daughter.
The good thing is there is awareness in the youth and they are cooperating with us and accepting to combat harassment and report about any abuse without considering it a stigma," she said.
How do people accept the existence of the anti-harassment female police unit?
Huda Alwiy, a 34-year-old woman who works in the private sector in Egypt, told Saudi Gazette that her fear of harassment in the past led her to buy a car to avoid public transportation. She said that she feels more protected that way.
"I saw female police officers in the street and it made me feel proud. They look strong and serious and ready to take control of any action that might hurt women. Although I have not faced any situation that needs their help but knowing that they are around made me feel safety and protected," she said.
"Now that they are present in many areas frequented by women, I will go back to using public transportation because women cops are present in the underground metro," she said.
Fatema El-Zahraa also believes that female police gives her the sense of safety.
"We faced harassment so much that we feared going out. The establishment of this unit made us feel more comfortable. Female officers look tough and strong and ready to deal with any situation. I'm very proud and I wish when I finish my university to apply to the police academy to be one of those strong women," she said.
The unit officer received a training course in the US.
http://www.saudigazette.com.sa/index.cfm?method=home.regcon&contentid=20141216227623
-----------
16 Year-Old Indonesian Girls May not be Allowed to Marry?
16 Dec 2014
Jakarta, GIVnews.com – An Indonesian Protestant Church leader will this week present to the Constitutional Court (MK) their views of marriageable age in support to others who hold that 16 years old is too young for a female to get married.
Albertus Patty, general chairman of the Indonesian Council of Churches (PGI), said that in his presentation to MK officials he would tell them that the marriageable age for females and males in Indonesia should be 18 years and above, Tempo.co quoted him as saying in last weeks' discussion forum at the National Human Rights Commission in Jakarta.
He said that many spouses in Indonesia get married at 16 just to fulfill the wishes their parents.
Article 7 of Law No. 1 year 2007 on Marriage stipulates that the minimum marriageable age for females is 16 years while for males it is 19 years.
The law provision however obliges spouses of such ages to get parental consent before entering into matrimonial alliances.
Such parental consent is required because the Marriage Law honors the Civil Law which stipulates that one becomes a grown up, and accordingly can get married, if he or she is 21 years old minimum.
Beside Patty, other religious leaders and scholars have met with MK judges to air their views.
The Constitutional Court is now examining the marriageable age provision of the 1974 Marriage Law following formal complaints from Zumrotin, whom like many Indonesians does not have a surname, from the Foundation for Children Protection.
Zumrotin demands the Court to rise the marriageable age for girls from current 16 to 18, in accordance with existing Children Protection Law and other laws.
She argued that so many divorces have occurred in Indonesia because couples get married too young.
Within the Catholic church, the Indonesian Bishops' Conference (KWI) stipulates 19 years old as the marriageable age for males while for females it is 16. This actually differs from the universal Catholic Church's Canon Law which stipulates that a male can enter into a valid marriage if he has completed his 16th years of age while for a woman if she has completed her 14th years of age.
KWI's expert Purbo Tantomo last month told the Constitutional Court that a 16-year-old girl is not yet mature psychologically to get married and to be responsible for her family life.
Meanwhile, notable Islamic expert Quraish Shihab told the Constitional Court that Muslim leaders and scholars are divided over marriageable age.
While making no mention of marriageable age, The Koran says that a couple can enter into marriage if they are physically and economically capable, according to Shihab.
"I think the 16 years old mentioned in the Marriage Law no longer accords to the changes of our times," he said.
Data at the Ministry of Religious Affairs shows that there were 2.1 million newly married couples in 2009. In that year divorces in Indonesia reached 216,000 couples. In 2010, newly married couples totaled around 2.2 million, and divorces reached 285,100 couples. And the year 2013 saw 2.2 million newly married couples with 324,500 divorces.
http://www.globalindonesianvoices.com/17991/16-year-old-indonesian-girls-may-not-be-allowed-to-marry/
-----------
Nitaqat Status for Saudi Women Working From Home
16 December 2014
JEDDAH — The Ministry of Labour has issued three new decisions to create more job opportunities for women and the physically challenged.
Women working from home will be included in the Nitaqat system. For the platinum zone, those who work from home will be calculated as 30 percent of the total Saudi staff. For the green zone, they will be calculated as 20 percent of the total Saudi staff while for the red and yellow zones they will be considered as 10 percent of the total Saudi staff. The decision will come into force on Feb. 20 in 2015.
For nursing women, the decision tries to strike a balance between work and childcare. Women are allowed to take a rest for an hour or two everyday during work hours to nurse their children for 24 months after delivery. The rest hour(s) will be included in work hours. If the business where a woman works does not have a nursery, she can nurse her child either at the beginning or at the end of work hours.
The decision will also deal with the pressing challenges such as transportation, places of daycare for female workers' children and the creation of a work environment for women.
Meanwhile, the Shoura Council asked the Civil Service Ministry to increase the transportation allowance for female workers.
http://www.saudigazette.com.sa/index.cfm?method=home.regcon&contentid=20141216227636
-----------
Entrepreneurial landscape changing for women in Pakistan
16 December 2014
ISLAMABAD: Constraints faced by women in joining the workforce were multilayered and pervasive, yet there was increasing evidence that the entrepreneurial landscape for women in Pakistan was undergoing profound changes.
This was the crux of a seminar on women entrepreneurs held in the federal capital on Monday. The seminar, titled "Women and Pakistan's Economic Future", was organised by the Jinnah Institute and featured Selar Enterprises Chief Executive Officer (CEO) Sadia Khan, Sabeen Mahmud from T2F and Anusheh Ashraf from Invest2Innovate (i2i). The discussion was moderated by leading development consultant Ammara Durrani.
Recalling what she described as a 'non-linear' career path, Sadia Khan talked about her journey from the Wall Street to the corporate sector in Pakistan. She noted that women faced a greater set of challenges than men in the workforce and described these in three categories namely contextual constraints, economic constraints and soft constraints.
Expanding on the topic, she noted that constraints in context and economics made it harder for women to have access to meaningful jobs and directions on how to approach the corporate sector. She also stressed softer constraints in the form of lack of mentors, an absence of networks and a lack of training and access for working women and how these had an equally profound impact on limiting the success of women in the workplace. Noting that her family's contacts were integral in establishing her own networks, she also brought up the general reluctance towards working with women in non-traditional sectors.
Sabeen Mahmud, the founder of T2F, detailed her personal journey into entrepreneurship, which was driven by a fundamental dissatisfaction with the profit-driven endeavours. Sparked by a concern about the lack of community spaces in Karachi, she left a tech company she had co-founded to launch the T2F using money borrowed from her relatives. Stressing the need for entrepreneurs to retain a sense of naivety about their failures, she spoke on the need for efforts like the T2F to be mission driven, rather than being profit driven.
While describing money as a 'tyrannical force', she warned against non-profit efforts which failed to become sustainable. She also detailed the T2F's recent crowd funding exercise which allowed her organisation to both remain financially independent, but more crucially, entrench its support and relevance in the local community.
Anusheh Ashraf from i2i talked about how she turned her passion for business into a focus on service-delivery projects, which was how she became involved in impact-driven businesses. Describing these as projects aimed at realizing social change, she emphasized the importance of wealth-creation to ensure that good ideas are realized into sustainable businesses that can create social impact.
Describing i2i as a core training programme for capacity building, she described how its aim was to "help change-makers become the authors of their own stories." She mentioned how i2i was developed as a means to close the trust deficit between investors and entrepreneurs in Pakistan and noted that despite increasing the numbers of women applying for investment funds, the gender balance was still extremely skewed.
Ammara Durrani expanded upon the importance of failure in entrepreneurship as well as the expectations women face to curb their femininity in the workplace. Anusheh Ashraf added how the idea of an "ambitious" woman was deemed problematic in society, while Sabeen Mahmud suggested using empathy as a way of creating collaborative partnerships. Sadia Khan observed that there was a need to redefine what it meant to be successful to incorporate more diverse experiences and approaches.
The event was part of the Jinnah Institute's Open Democracy Initiative, which aims to bridge the gap between citizens and the state and to formulate and articulate policy responses based on inclusive research. The Jinnah Institute is a non-partisan public policy think tank committed to strengthen democracy, governance and an independent national security project in Pakistan.
http://www.dailytimes.com.pk/national/16-Dec-2014/entrepreneurial-landscape-changing-for-women-in-pakistan
-----------
Girl from Dadu meets girl from Swat in Oslo
16 December 2014
KARACHI: Last week, two women from Pakistan met in Oslo, Norway. They hugged each other so tight that it looked like they were best friends meeting each other after decades.
These women weren't just any women – they were Malala Yousufzai and Kainat Soomro.
The world's youngest Nobel Peace Prize recipient met Kainat, a rape survivor, on December 9, the day before the peace prize was given to Malala.
"It did not feel like I was meeting her for the first time. I felt like we had known each other for a while," she said. "We hugged each other like two friends meeting after a long break."
Their meeting which took place at a hotel in Norway was covered by the media. The two teenagers sat together and discussed serious issues.
Back in Karachi
Kainat returned to Karachi early morning on Monday. As she sat in her modest apartment on Garden Road, she said meeting Malala was like a dream come true. "Maybe next year, I can also win the award if I do good work," she said. "Malala is a sweet girl. If she likes someone she will consider them family."
The 19-year-old who was allegedly gang-raped in 2007 by four men in Dadu, wasn't allowed to spend too much time with Malala due to security issues. A day after the ceremony, the two girls and their families met officials for lunch. "Malala told me not to eat the strange white fish. We both had the chicken and French fries," she said. "She also tried to teach me some words in English and told me to keep repeating them so I would learn faster."
The day Malala received the award, Kainat sat in the crowd along with two of Malala's friends from Swat who had also been shot – Kainat Riaz and Shazia Ramzan.
Girl talk
The girls first spoke to each other on October 18, when Malala called her up to ask if she was studying. "I told her I wasn't going to school as I was afraid for my life," she said. "Malala told me to hire a tutor who could come and teach me at home. She said she would support me."
A week later, Malala called Kainat again. This time she asked her if Kainat had her passport handy.
"She invited me to attend the Nobel Peace Prize ceremony in Oslo and I said yes," she said. "The travelling expenses were paid by Malala and I left with my father for Norway on December 8."
Despite living in two different continents with different time zones, the girls stay in touch via email.
http://tribune.com.pk/story/807262/girl-from-dadu-meets-girl-from-swat-in-oslo/
-----------
A girl undergoes rape each time she narrates it: Ashiana survivor
16 December 2014
They say time flies. But for me it got stuck 10 years ago. I was a victim waiting for justice then and I am a victim waiting for justice now.
Recalling the day still sends shivers down my spine. It was May 2, 2005. I was 13 and was on my way home from the house at Lucknow's Ashiana complex where I worked as a domestic help. A car came and some men pulled me inside.
There were six of them. They took turns raping me, inserted a gun inside me, rubbed their shoes on my private parts and burned me with cigarette butts. I cried, yelled in pain and pleaded for mercy, but they did not listen.
They dropped me at a field, thinking I was dead. But I survived. Maybe God wanted me to see my rapists punished.
The leader of the group was a relative of a don-turned-politician. The court convicted five of them. Two died in accidents. But the prime accused is still roaming free and I am still the Ashiana gang-rape victim who has to hide her face in public.
He has used muscle and money power to delay the case. The Juvenile Justice Board took eight years to decide he was not a juvenile at the time of the incident and even then nothing has changed.
My father has been to court more than 50 times, but the case hasn't moved. Sometimes the judge is on leave, at other times the defence lawyer doesn't turn up for the hearing or the accused sends an application with some silly excuse.
My father goes for a hearing date, only to come back with yet another date. He is a ragpicker and on the day he goes to court, there is no income. But the trial of the prime accused is yet to begin.
People tell me he's married and has a child now. But I am still where I was 10 years ago.
I have relived that horrific moment 28 times in court. Can't they record it once and use it for their reference? A girl undergoes rape each time she narrates it.
My father whose shoulders are already burdened with my case couldn't bring himself to allow my younger sister out of the house, not even for school.
But I am pursuing my class 10 from open school because I want to realise my dreams. I want to become a judge to ensure that no girl is denied justice, the way I am being done.
I don't offer namaz or observe fast during Ramzan, but I will go to Ajmer Sharif when my rapist gets convicted.
I read about the case of the Delhi gang-rape victim. She seems to have got justice, but does a rape victim need to die to get justice?
My rapist moves around in an SUV. His gunmen surround him even when he comes to the court. Seeing this pains me even more.Delhi women still feel unsafe, blame Uber: HT survey
They tried to bribe me to take back my case. When that didn't work they threatened me, but I will not stop.
It is tough to fight the powerful for poor people like us. Sometimes, my family is fed up and they want to pack up and go back to our village in Assam. But, I have stopped them each time. Why should we run away like culprits? We haven't done any wrong.
I want to see how long justice can be delayed. My mother says there is a divine power above who watches everything. I want to see when that divine power gives me justice.
http://www.hindustantimes.com/news-feed/wakeupindia/a-girl-undergoes-rape-each-time-she-narrates-it-ashiana-survivor/article1-1296929.aspx#sthash.fR4Uugno.dpuf
-----------
22 Filipino women in Jeddah complete livelihood training
16 December 2014
JEDDAH — Twenty-two Filipino women in the Kingdom formed the latest batch to benefit from the livelihood training seminar that recently concluded here.
Organized and conducted by the Kapit-Bisig OFW Cooperative, one of the active Filipino organizations in Jeddah, the Overseas Filipino Workers (OFWs) took short courses in several fields such as hair and beauty, massage therapy, fashion designing and dressmaking.
The OFWs, most of who work as domestic helpers, received diplomas upon finishing their respective courses in a graduation ceremony held at the Seasons Restaurant at the weekend.
Sarah Paraluman Atienza, the group's chairwoman, said the courses were conducted over three months, and aimed at developing the talents of every participant in the field of their respective interest. Atienza said plenty of OFWs had benefited from the courses, which started in 2003.
"Livelihood training courses for our fellow OFWs is always our top priority to help them acquire skills that will be useful to them in earning extra income," she said.
Special guest from the Philippine Consulate General in Jeddah, Consul Germinia Aguilar Usudan, commended Kapit-Bisig OFW for a job well done.
"The consulate is very happy that a Filipino group like Kapit-Bisig OFW is providing a great service to OFWs. We thank you for this noble effort," Usudan said.
She urged the group to continue its service and said the consulate is always available to support such endeavors.
http://www.saudigazette.com.sa/index.cfm?method=home.regcon&contentid=20141216227598
-----------
Marriage Preparation Program to Be Mandatory In Saudi Arabia
16 December 2014
DAMMAM — The Ministry of Social Affairs is in the process of implementing a mandatory marriage preparation program for all engaged couples, Makkah daily reported. A source at the ministry said that the program was optional at first and was implemented in 459 centres and societies under the ministry.
"The ministry plans to make the program mandatory and people who complete the program will receive a certificate of completion. This certificate must be presented in order for a marriage contract to be issued. Our reason behind this decision is to decrease the the number of divorce cases in the Kingdom," said the source.
The program is a series of workshops available at 38 different centres, 390 social development committees, and 31 marriage and familial development societies and is provided free of charge all over the Kingdom. The workshops offered to cover various topics including social, religious, economic, psychological and cultural issues.
Ministry of Social Affairs official spokesman Khalid Al-Thubaiti said that the initiative was a result of the Council of Minister's decision to make the ministry responsible for creating preparatory programs for engaged couples.
http://www.saudigazette.com.sa/index.cfm?method=home.regcon&contentid=20141216227644
-----------
Top 10 Muslim women that made headlines in 2014
16 December 2014
As the final chapter of 2014 comes to a close, some Muslim women have risen to the forefront in their shredding of stereotypes by showing the world a courageous, unyielding side.
Below are Al Arabiya's top Muslim women of this year, in no particular order:
1- Maryam al-Mansouri
Mansouri, an Emirati female fighter pilot, became widely known for flying her F-16 to lead the UAE's air strikes against the Islamic State of Iraq and Syria (ISIS) radical group in Syria in September.
"For sure, she changed the stereotypical image of how Muslim women are seen on a big scale. Even though Muslim and Arab women have created many achievements, media play a big role in fermenting such stereotypes," Mohammed Ayesh, head of the communications department at Sharjah University, told Al Arabiya News.
He added: "She put forth a progressive sample of what Emirati women can do in different fields including defense and military. She is an honorable Arab women."
2- Female Peshmerga fighters
With ISIS continually dominating headlines this year, the international media zoomed its lens closer and closer to see feminine faces of Kurdish women who proudly used their weapons against the radical group. They are the fearless Peshmerga women fighters in Iraq and their counterparts who joined the Syrian Kurdish women's self-defense force, known by its Kurdish acronym (YPJ).
"In 2014, for the first time, Kurds were praised in the media for resisting ISIS's occupation of their land as well as their extremism," said Ava Homa, a Kurdish-Iranian Lecturer at Toronto's George Brown College.
Homa, who also authored "Echoes from the other Land" - a book on the daily struggles faced by Iranian women - said Kurds have long been neglected by the international media.
"Kurdish female fighters are not a new phenomenon in Kurdish history but media highlighted it for the time being to praise a moderate version of Islam that empowers women and rejects fundamentalism," she added.
3- Oumaya Naji al-Jabara
While the Peshmerga ladies took their share in leading the fight against ISIS, in Iraq, a woman and mother-of-four, was honored as "sheikha" - a title given to a tribal leader after she lost her life fighting the militants in the western province of Salah al-Din.
Jabara, who was an adviser to the governor of Salahuddin province, had pictures taken of her holding a Kalashnikov rifle that ended up circulating around the globe in September.
"What the Kobane and Peshmerga women were doing, Oumaya Jabara did on her own in Iraq. She was not accompanied with other hundreds of women. She was married with children, and from a prominent tribe. She was the one offering support to men and not the opposite. On top of that, she was an educated woman," Soha Oda, an Iraqi activist and journalist told Al Arabiya News.
4- Maryam Mirzakhani
In August, Mirzakhani, a Iranian-born Harvard-educated mathematician and professor at Stanford University in California, became the first woman to win a prestigious global prize known as the Fields Medal, also widely described as the "Nobel Prize for math."
While Mirzakhani breaks a sexist stereotype also found in the West that women are not good in math, Homa considers Mirzakhani as validating some perceptions of Iranian women.
"There are two contradictory images of Iranian women floating around in the international media: the common stereotype is that of the oppressed woman, stoned and silenced - like Sakineh Ashtiani - and at the other end of the spectrum is the less common image of the empowered women, educated and strong, like Shirin Ebadi, the Nobel Peace Prize winner or Maryam Mirzakhani, the Nobel Mathematics Prize winner."
She added: "Both these images are extreme and the majority of the women living in the country where I was born and raised live somewhere in between."
5- Sayeeda Warsi
Warsi, who was the first Muslim minister to sit in the British cabinet, made headlines when she resigned over London's unconvincing stance on the Gaza conflict in August.
But when she made headlines "it did not change anything," Mudassar Ahmed, a political media analyst and chief executive of London-based PR agency Unitas, told Al Arabiya news. "It is a sign that you have no chance in having any real influence on the situation," he added.
More than 2,200 people, the vast majority of them residents of the Gaza Strip, were killed when Israel launched a military operation which it called "Operation Protective Edge" in early July.
6- Somayya Jabarti
In Saudi Arabia, one women made international headlines when The Saudi Gazette newspaper appointed in February the country's first female editor-in-chief, Jabarti, in what has been called a "historic" move in the conservative kingdom.
"The appointment of Somaya Jabbarti as Saudi Arabia's first ever female newspaper editor in chief was positively received as a step in the right direction. However, before I talk about what it means in terms of women's rights, it is important to stress that Somaya is a very capable journalist and has years of hands-on experience," said Faisal J. Abbas, Editor-in-Chief of Al Arabiya News.
"She started off her career at a time far more challenging to women and with her at the helm of one of the kingdom's two main English-language dailies, I hope to see more capable, professional and hardworking women in more leadership positions across different industries in Saudi Arabia," said Abbas, adding that "as far as women influencers in 2014 go, I think Somaya rightly deserved a position on the list."
7- Hind al-Fayez
In early December, al-Fayez, a Jordanian lawmaker, erupted in anger as she defended herself against claims that her seat was allocated through non-democratic means. This prompted a fellow parliamentarian to yell "sit down Hind!" several times, leading the proliferation of sarcastic memes on social media.
"She is a woman acting with full liberalism in a country that is still conservative," Raed Omari, a Jordanian columnist, told Al Arabiya News. "The fact that she belongs to a major conservative and pro-regime tribe in Jordan [al-Fayez] yet adapting the left-wing ideology is something alluring in itself."
He added: "A great deal of Hind's popularity lies in her resilience as a female in face of male Chauvinism. Don't forget that women rights is a major issue in Jordan. It is an appealing issue too."
8- Samereh Alinejad
Alinejad made headlines around the world when she spared the life of her son's convicted murderer with an emotional slap in the face as he awaited execution with the noose around his neck.
While Iran has been criticized for its excessive use of the death penalty, Alinejad's pardon was hailed by many not only in the Islamic republic itself but by others in the international community.
"Many supported her in Iran. It inspired some Iranians, who forgave other killers," Masoud Alfak, a Swedish-Iranian journalist, told Al Arabiya News. "This has also reflected internationally because of [widespread] media coverage, especially that the execution was to be done publicly."
9- Malala Yousafzai
Yousafzai who is known the world over for her fight for girl's education in Pakistan, almost gave her life for her cause after the Taliban shot her in 2012 when she was only 14 years old.
In March, she published her book: "I am Malala" and in October was announced as the co-recipient of the 2014 Nobel Peace Prize, the award's youngest ever recipient.
"Malala has a huge symbolic value," Mudasar said. "She is a very inspiring figure for Muslims and others alike. She paints the narrative that there are Muslims that are working on the issue and taking huge risks on issues such as women's rights. So I think because of that, she is a very powerful figure."
10- Mona al-Beheiri
The last woman on this list does not necessarily measure up to the heavyweight achievements of the top nine. But with her rudimentary English, Beheiri, who is known for her "Shut up your mouse Obama" protest line that was filmed and went viral online, became a sensation in the Arab world for her apparent endorsement of a commonly-held view.
Her "Sisi yes. Sisi yes. Mursi no. Mursi no," chant also inspired others to have these words printed on t-shirts.
"The media used her because she was a simple woman muttering broken English words," Mahmoud Hasouna, managing editor of the English-language daily al-Khaleej Times, told Al Arabiya News.
"She became a joke," the Sharjah-based editor, who is also Egyptian, said, describing her as a "not so honorary example" of people in his country. But Beheiri nevertheless rose to fame.
http://english.alarabiya.net/en/variety/2014/12/15/Meet-the-top-Middle-Eastern-women-who-made-headlines-in-2014--1646.html
-----------
An American whom Afghans regard as 'grandmother of the nation'
16 December 2014
Nancy Hatch Dupree fell in love with Afghanistan on her first visit in 1962, and embarked on a lifelong mission to preserve the rich cultural heritage of an ancient land scarred by modern wars.
In happier times she traversed the country with the other love of her life - archaeologist Louis Dupree, a fellow American - studying its history, writing travelogues and collecting books, maps, photographs and even rare recordings of folk music. The couple continued their efforts, often from abroad, during the tumultuous decades that followed, and their vast collection, now housed at Kabul University's sunlit Afghanistan Center, provides a rare journey through the country's past.
Small and bird-like with grey curls wound into a bun, the 87-year-old Dupree cuts a colorful figure in a bright green salwar kameez, blue cardigan and scarf as she walks through the halls, stopping now and then to point out her favorites among 90 photographs by Steve McCurry, best known for his 1985 National Geographic cover picture of a green-eyed Afghan refugee girl.
The collection includes copies of a glossy monthly magazine, called "The Islamic Emirate," published in English by the Taliban during its 1996-2001 rule, as well as thousands of slides taken by Louis during his work on archaeological digs. There are newspapers dating back to the 1920s and books so rare that Dupree has the only known copies.
Afghans regard Dupree as one of their own, with some even calling her "grandmother of the nation." President Ashraf Ghani found room at the university when he was chancellor in 2005 to store the tens of thousands of documents in the Dupree collection, and former President Hamid Karzai found the funds to build the center. Both men are old friends of hers.
Dupree now heads one of the foremost research centers on Afghanistan's cultural heritage, which stretches back thousands of years - well before the Silk Road - when Alexander the Great and the religious prophet Zoroastra passed through.
She laments that Afghanistan is barely understood beyond the seventh-century arrival of Islam, and that little of its historical tapestry or influence on the surrounding region appears in the local school curriculum.
Nancy Hatch Dupree walks at the Afghanistan Center in Kabul University. Afghans regard Dupree as one of their own, with some even calling her "grandmother of the nation." AP
"History is my big love, and I find Afghans are not interested in history," Dupree said. "Many Afghans - especially among the young people who spent many years in refugee camps in Iran or Pakistan - don't have a sense of identity, they don't know what it means to be Afghan so they are always thinking about getting out of the country."
Afghans can perhaps be forgiven for neglecting their history. The decade-long Soviet intervention in the 1980s was followed by a brutal civil war that ended with the rise of the Taliban, Islamic extremists who sought to obliterate the country's pre-Islamic past. They dynamited the towering Buddhas of Bamiyan shortly before the Sept. 11 attacks and the U.S.-led invasion.
But Dupree sees cultural heritage not as a luxury of peaceful countries, but an essential element to knitting troubled ones back together.
"They don't realize that the integrity of the country depends on cultural value. It's a question of realizing the strength of the country culturally, and that comes from valuing the past while welcoming the new - the two have to be meshed together and that is what we are trying to do here," she said.
Dupree visited the 2,000-year-old Buddhas of Bamiyan in the country's central highlands shortly after arriving in Kabul as the wife of an American diplomat. From that trip, she wrote a guide book to Bamiyan which was to become the first in a series of travelogues that included her own black and white photography and captured an age long past.
She took the Bamiyan manuscript to her future husband Louis Dupree in the hope of some guidance, but he was dismissive, she said, writing "adequate but nothing original" on the cover. She was incensed, "but I never left," she said. They were married in 1966.
Their Kabul home became a salon of sorts, until Louis was accused of being an American spy and expelled from the country in 1978. The Soviets invaded the following year and the Duprees returned to the United States, where he taught at Duke University. Later they moved to Lahore, Pakistan, where they made contact with Afghan refugees and the charities helping them, and continued to amass a trove of information about the country.
Dupree eventually returned to Afghanistan in 1992, three years after her husband's death, and since then has divided her time between Kabul and North Carolina, where she and Louis made a home.
She has witnessed much of the sadness that has befallen Afghanistan in the modern era, and hopes the new president can sweep away the legacy of corruption and patronage that marked Karzai's 13 years in power.
The Afghanistan Center's motto, "Nation Building through Information Sharing" sums up Dupree's personal mission to spread literacy to the vast majority of the population who can neither read nor write. The center has produced around 300 easy-to-read books on subjects ranging from bee-keeping to seismology, which are packed into mobile libraries and sent to remote communities. It is, she said, an effort to bridge the development divide.
"We are trying to do a lot of things, but there are only 24 hours in a day," she said.
http://www.hindustantimes.com/world-news/an-american-whom-afghans-regard-as-grandmother-of-the-nation/article1-1296823.aspx#sthash.K7UMRshH.dpuf
-----------
Sisters in the vanguard as Egypt's Muslim Brotherhood battles to survive
December 16, 2014
CAIRO (Reuters) - In homes and streets around Egypt, women are keeping alive a group the authorities are determined to crush. They teach Muslim Brotherhood values to children, organize its protests, preserve its networks, and take an ever more prominent role in politics.
The Brotherhood has been in retreat since the army overthrew elected Islamist President Mohammed Mursi in July 2013, launching a crackdown that has seen it banned as a terrorist group and thousands of its members jailed.
With most Brotherhood leaders in jail or exile, women who have long lived in their shadow have been thrust into the vanguard of the organization's battle for survival.
Long accustomed to a supportive role focused on education and social work, the experience of the past 17 months, however bitter, has imbued the female members of the Muslim Brotherhood, known as Muslim Sisters, with new confidence.
In a patriarchal and conservative movement, it is unclear how far they can go, but for many, there is no turning back.
"Our experience has shown that we can lead. We might make mistakes but we fix them and move on and that's better than standing on the sidelines," said Heba, a Muslim Sister in Egypt's second city of Alexandria. "We won't go back."
Established by Hassan al-Banna in 1928, the Brotherhood created a women's division as early as the 1930s.
Eight decades on, it has fielded women in parliamentary elections and a woman, Pakinam Sharkawy, served as presidential adviser during Mursi's turbulent year in power.
But women are not permitted into its highest office, the Guidance Bureau. They take part in internal elections at local level, but can neither run nor vote in elections for the shura council, the group's policy-making body.
Influential Sisters say that could change as the leadership, cut off from its base, relies increasingly on women and youth as its links with society.
"They made a council composed of women... and when they want to do anything they consult," said Wafa Hefny, Banna's granddaughter and an influential voice in the movement.
"This group started sitting directly with the official in charge of women in the Guidance Bureau. This is present now as a link between base and summit... They are treating women now as the ones who can take the pulse of what can and cannot be done. This is an excellent step for women."
Though some women have been arrested, police appear more hesitant to act against them than male Muslim Brotherhood members, giving them freedom to join demonstrations and preserve group cohesion through regular meetings.
Protests have dwindled as arrests mounted, but women now take center stage. In three Cairo areas, Hefny said, an experiment is underway where women organize protests "A to Z".
The need to organize locally to avoid arrest has allowed an unprecedented level of decentralization in the hierarchical group, giving women and youth followers a new freedom to act.
"The men are mostly absent so without women there are no protests," said another Sister based in Alexandria. "This is the truth and they have admitted it several times. They say without you it won't work."
LASTING CHANGE?
Though women were instrumental in keeping the Brotherhood alive during a previous bout of repression in the 1950s and 1960s, they faded into the background as pressure eased.
Khalil al-Anani, an expert in Islamist groups at Johns Hopkins University in the United States, said the growing prominence of women was significant, but it was unclear if it could bring any evolution in the hierarchy.
"The role of women has been driven by crisis not ideological change but this could lead to revisions in future," he said. "The Muslim Brotherhood is in a transitional period."
Sisters say their role is already evolving. Women are now elected to lead all-women usras, local groups that are the building blocks of the group. Previously, wives of usra leaders acted as informal deputies for women.
In some areas, women are elected to lead women's shubas, which are each responsible for dozens of usras, although women continue to focus on teaching girls how to be good wives and mothers and ambassadors for the Muslim Brotherhood in society.
Some said moves were already afoot for women to join the shura council before the crackdown threw the group into survival mode and that they would continue to press for more power.
"There are two things we insist on... On the level of the organization, we want to be represented strongly in the shura and the Guidance Bureau," said Hefny, an English professor and shuba leader.
Divisions remain deep over whether a woman should lead men, or could occupy the role of General Guide itself. Even women who want reform say their role as wives and mothers is paramount.
But the crisis has thrust change upon Islamist women, wanted or not. For many, the fight is personal.
Sitting in her husband's office in Alexandria, Shaimaa describes how her life has changed since the arrest of her husband, rights lawyer Khalaf Bayoumy, in September 2013, and her 16-year-old-son and brother five months later.
Having trained as a lawyer and then put off practicing while she raised her family, Shaimaa has now taken on her husband's caseload and is the main breadwinner as well as carer for her two younger sons while attending to prison visits and legal aid.
"The woman has lost her role as a woman, particularly as a lot of women from Islamist currents didn't think about working before," she said. "I am one example of many."
(Additional reporting by Abdel Rahman Youssef in Alexandria; editing by Philippa Fletcher)
https://en-maktoob.news.yahoo.com/sisters-vanguard-egypts-muslim-brotherhood-battles-survive-155929915.html
-----------
Play Capturing War Rape Victims' Stories Premieres Today in Bangladesh
16 December 2014
The country's victims of wartime rape are one of the sections of society who are neglected in every sphere of life, including in family. Despite the government recognising their victimisation for the cause of independence, they are now silenced, ostracised, and forgotten, because of stigma.
The agonies of these women, during and after the Liberation War, are captured in "Birangona-Women of War", a play produced by London-based theatre and art company Komola Collective.
The play will be premiered at Gulshan Club at 7:30pm today, marking Victory Day, while a special show will be held at Central Shaheed Minar tomorrow at 6:00pm, the organisers told a press conference at the capital's Liberation War Museum yesterday.
"Birangona" was scripted based on the stories of the victims of Sirajganj. It will be staged at National Museum on December 18, at Shilpakala Academy on December 19, in Sirajganj on December 26, and in Chittagong on December 30.
Leesa Gazi, a British-Bangladeshi and co-founder of Komola Collective, said these women were fading into oblivion, so were their stories. "The urge to bring their stories to light drove to us to do the work."
Between 200,000 and 400,000 women were raped by the Pakistani army and their local collaborators during the nine-month war, according to documents.
Also a performer of the play, Leesa, said, "Together, we intend to tell the forgotten stories of the Birangona to the world."
Advertisement
Birangona's director Filiz Ozcan; Caitlin Abbot, responsible for stage, design and animation; Sohini Alam, who is on vocal; cultural personalities Nasiruddin Yousuff and Hasan Arif, and Sadaf Saaz Siddiqi, the Bangladesh tour producer of the programme, were present.
Meanwhile, Muktijuddho Academy accorded reception to 152 women freedom fighters at the capital's National Museum yesterday.
The academy has listed 254 women freedom fighters to honour them.
Muktijuddho Academy Chairman Abul Azad and poet Kazi Rozy were present.
http://www.thedailystar.net/play-capturing-war-rape-victims-stories-premieres-today-55604
-----------
URL: https://newageislam.com/islam-women-feminism/saudi-girl-detained-attending-soccer/d/100517