New Age Islam News Bureau
30 Oct 2012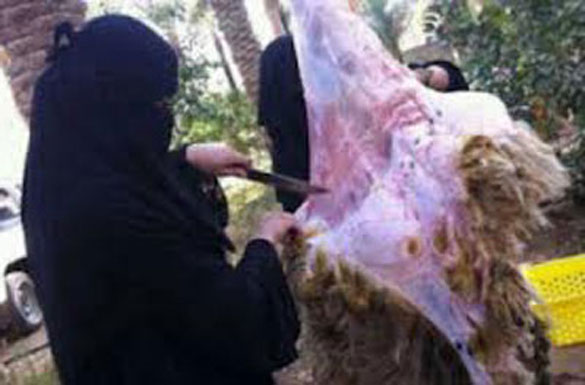 • Woman Assaulted, Disrobed To Pay for Brother's 'Sins 'In Pakistan
• Malala Inspires UAE to Reject Extremism
• Villagers in Morocco Drive Out Prostitutes
• Sex Trafficker Jailed For Smuggling Nigerian Orphans into Britain
• Syria: Terrorists Violated a Shia Muslim Girl, Left Her Bare in Street
• Aseefa Zardari Spends Eid with Malala's Family
• Britain Commits to Malala's Health, Female Education
• Afghan Students unite for a noble cause 'Right of Education for Women' in Chandigarh, India
• President Receives Women Ministers Attending International Conference on Women
• Nik Aziz: My Advice on Dress Code Was For Muslim Women
• A Young Achiever Walks the Road to Jakarta
Compiled by New Age Islam News Bureau
Photo: Saudi Girl Conquers Challenge to Slaughter and Skin Sheep
URL: https://newageislam.com/islam-women-feminism/saudi-girl-conquers-challenge-slaughter/d/9136
-----------
Saudi Girl Conquers Challenge to Slaughter and Skin Sheep
By Habib Toumi
October 29, 2012
Saudi women show off commendable skills in handing Eid sheep
Manama: For most people, it is a man's job. Especially in conservative countries.
But for one young Saudi, it can also be a woman's passion, regardless of the setting.
The 21-year-old woman said she slaughtered the family's sheep for the first time at last year's Eid.
"It was a challenge that I wanted to win," the young woman who was not named told local Arabic daily Al Riyadh.
"They have always claimed that young women were the fair sex and could not bear the sight of blood. I wanted to prove they were wrong and decided to slaughter and pull off the skin of two sheep. Of course I was given some instructions to help me," she said.
She recalled that her enthusiasm took over her initial fear.
"I wanted to succeed and I did it in a clean way," she said. "I was highly motivated and greatly encouraged."
The Saudi daily said that several women were engaged in slaughtering the sheep and that their skills were highly commendable.
Muslim families slaughter sheep on Eid Al Adha to commemorate Prophet Ebrahim's devotion to God and his readiness for sacrifice.
http://gulfnews.com/news/gulf/saudi-arabia/saudi-girl-conquers-challenge-to-slaughter-and-skin-sheep-1.1095358
-----------
Woman Assaulted, Disrobed To Pay for Brother's 'Sins 'In Pakistan
By Muhammad Sadaqat
October 30, 2012
MANSEHRA: A married woman was stripped and dragged in the street allegedly to pay for her brother's actions, the victim told media persons on Monday. She was hospitalised with bruises and other injuries, hospital sources said.
At King Abdullah Hospital, Shirin Bibi*, 39, a resident of Matiyal village of Ghazikot, told media persons that she was home on Friday afternoon when Akbar*, his brother Feroz* and cousins Shahnawaz* and Farooq* barged into her house and started thrashing her. She said they tore apart her clothes and dragged her onto a nearby street where several villagers witnessed her "bitter humiliation".
Some elderly villagers came to her rescue, urging the attackers from exposing her to public view. Paying no heed to their pleas, the accused punched and kicked her and hit her with rifle butts, leaving her unconscious, she narrated.
She said that the motive behind exposing her to public disgrace was the alleged elopement of her brother Samad* with the sister of one of the accused. She said the attackers wanted to avenge the disrespect that her brother had brought upon them.
Earlier, she lodged a First Information Report (FIR) with the Saddar Police Station. However, the police registered a case under section 354/34 of the Pakistan Penal Code (PPC) which states that whoever assaults a woman with intent to outrage her modesty, shall be punished with imprisonment of up to two years with or without fine. On the other hand, the contents of her complaint indicate that the FIR should have been registered under section of 354-A of the PPC, which states that whoever assaults a woman and strips her, shall be awarded a death penalty or imprisonment for life, and shall also be liable to fine.
District Police Officer Sher Akbar Khan said that the FIR was registered on the details of the complaint the victim lodged with the police. The police have registered a criminal case against five accused who are still at large.
*Names have been changed to protect identities
http://tribune.com.pk/story/457931/dishonourable-crime-woman-assaulted-disrobed-to-pay-for-brothers-sins/
-----------
Malala inspires UAE to reject extremism
Amanda Fisher
30 October 2012
UAE Foreign Minister Shaikh Abdullah bin Zayed Al Nahyan has called teenage schoolgirl Malala Yousafzai shot by the Taleban in Pakistan an inspiration for the UAE to reject extremism and intolerance.
Shaikh Abdullah visited Malala in Birmingham's Queen Elizabeth Hospital, where she is recuperating after the attack that shocked the world earlier this month.
UK Foreign Minister William Hague and Pakistani Interior Minister Rehman Malik accompanied Shaikh Abdullah to visit the schoolgirl who was shot on the bus home from school, as punishment for campaigning for girls' education.
Shaikh Abdullah said the people of the UAE were appalled by what had happened to Malala, which is why the country organised the air ambulance that transported her from Pakistan to the UK.
"Malala's courage inspires us to reinforce our commitment to rejecting ideologies rooted in intolerance and extremism. By helping Malala, whose courage we applaud, the UAE is also voicing its firm belief in the right of girls to education everywhere," he said.
Shaikh Abdullah also conveyed the best wishes of General Shaikh Mohammed bin Zayed Al Nahyan, Crown Prince of Abu Dhabi and Deputy Supreme Commander of the UAE Armed Forces, and said the 15-year-old was in the country's prayers.
The ministers also met with Malala's father.
Pakistan's Malik said the country was grateful to the 'excellent medical team' at the hospital for what they had done for Malala.
Meanwhile, Britain's Hague said the schoolgirl's swift and full recovery was an "absolute priority".
"The people of Pakistan have paid a high price from terrorism and extremism. We will stand by all those who, like Malala, are courageously defending the rights of women, in Pakistan and around the world."
http://www.khaleejtimes.com/kt-article-display-1.asp?xfile=data/nationgeneral/2012/October/nationgeneral_October536.xml&section=nationgeneral
-----------
Villagers in Morocco Drive Out Prostitutes
By SUZANNE DALEY
October 30, 2012
AIN LEUH, Morocco — For years, this mountain village with its crumbling whitewashed walls was known locally as the place to go for sex. Women — some dressed in tight jogging suits, some in dressing gowns — dallied in the tiled doorways off the main square, offering a Moroccan version of Amsterdam's red-light district.
But no more. A band of men here, known as the Islamists, took matters into their own hands last fall.
The men deny that they were on a religious campaign, or that they are fanatics. They were tired, they said, of living side by side with drunken, brawling clients, tired of having their daughters propositioned as they headed home from school, tired of being embarrassed about where they lived.
"It reached a point after Ramadan," said Mohammed Aberbach, 41, who helped organize the campaign to drive the prostitutes out of town, "that men were actually waiting in lines. It was crazy."
These days the side streets are quiet. The doors, painted green and yellow, are mostly shut, though a few prostitutes remain, now trying to sell candy instead of sex. In the square, the pace has slowed, fresh chickens and slabs of meat hang for sale on hooks, and villagers take their time over displays of vegetables. Nearby, women are bent over looms making traditional Berber rugs.
The changes in Ain Leuh are being held up by some in Morocco as another triumph of the Arab Spring — testament to what can happen when ordinary citizens stand up for change and make life better for themselves.
For others, however, the events of the past year show how the more fundamentalist Islamists, though continuing to be shut out of power in countries like Tunisia, Egypt and Morocco, nonetheless manage to promote their conservative agendas — often taking the law into their own hands, and in this case threatening the prostitutes and their customers and driving away the only industry in these parts.
"The economy is in free fall here," said Ali Adnane, who works for a rural development agency. "The girls rented. They had cash. They bought things. Some people here are really happy about the changes. But some people are not."
Morocco has avoided much of the violence that has gripped Arab countries in the last few years. In the face of mounting protests, Morocco's king, Mohammed VI, offered to curb his own powers and in 2011 pledged a variety of reforms. Since then, the country has adopted a new Constitution and elected a new government, led by a moderate Islamist party.
The new prime minister, Abdelilah Benkirane, who has refused many of the perks of his office, has a flair for mingling with the average man. But many remain frustrated over the pace of change in a country plagued by high unemployment and corruption. Ain Leuh is hardly the only village to have seen the emergence of a local committee, known as a comité, pushing for reforms of various sorts.
Exactly what happened in this village of 5,000 in the Middle Atlas Mountains, about a two-hour drive from Rabat, the capital, is in dispute. Mr. Aberbach says the Islamists never did anything illegal. The campaign, he said, largely involved demonstrations in the main square. No one threatened anybody or used violence or stood at the entrances to the village demanding identification from men who wanted to enter.
"That would be against the law," said Mr. Aberbach, a friendly man who owns several shops here and has big plans for the future of Ain Leuh.
But others, including Haddou Zaydi, a member of the town council, say all those things, and more, took place. Sometimes, he said, the Islamists used padlocks to imprison the prostitutes in their houses after a customer had gone in. Then, they called the police.
In the past, many here say, the prostitutes would pay off the police to look the other way. Now, though, the authorities, still getting the feel for a newly elected government led by a moderate Islamist party, the Justice and Development Party, let the Islamists have their way.
Mourad Boufala, 32, who runs a cigarette and candy shop in the main square, said he was not in favor of prostitution. But he was offended by the Islamists' methods. "The way they did it was really rough," he said. "They hit girls and scared them. And the problem is that they offered them no alternatives."
Mr. Boufala worries that the country is adrift, easily prey to self-appointed militias like the Islamists.
"No one is governing," Mr. Boufala said. "The militias exist like they are the authorities."
Repeated phone calls to local police officials were not returned.
Curiously, few people here see the campaign against the prostitutes as particularly religious. Mr. Aberbach and several other members of the Islamists frame the campaign in moral terms — and business ones. They say the name "Islamists" was attached to them because they are members of various Islamic parties, including the governing one.
They say that they consider the prostitutes victims of criminal gangs that brought drugs and human trafficking to their village. And they are determined to end the corruption that allowed such crimes to flourish in their streets.
"What we did is related to the Arab Spring because it brought the culture of speaking out," Mr. Aberbach said.
"We could have tourism," he added. "But we have no good roads or hotels or restaurants here. There are beautiful things around here. Waterfalls, a lot of things. But who is going to come to a village known for prostitution? It got to the point where if you were a woman you could not say you were from here."
For the prostitutes who remain, the last year has brought hard times.
"I won't even make 10 cents today," said Khadija, 34, who has tried to earn a living selling cigarettes, candy bars and small toys displayed on a round table outside her door. "My neighbors are feeding me."
"They are watching us all the time," she added, referring to the Islamists.
Up the street, Arbia Oulaaskri, 64, said her family has been living in terror since the Islamists' campaign began. Her house is luxurious compared with others in the village. Her living room easily seats 30, and more than 50 tea glasses are arranged on various coffee tables. She says she was never involved in prostitution and obtained her money from her family and from her daughters who live abroad and send her checks. But, she said, the Islamists carrying chains arrived at her doorstep night after night, telling her to leave.
Her son, wearing a gold lamé jacket, exhibits a room nearby that shows signs of a fire and says the Islamists did that, too. But, Mrs. Oulaaskri says, the authorities would not listen. She is facing charges related to running a house of prostitution.
"We filed a lot of complaints," Mrs. Oulaaskri said, "but no one followed up."
Aida Alami contributed reporting.
http://www.nytimes.com/2012/10/30/world/africa/moroccan-villages-war-on-prostitution-draws-critics.html?ref=world
----------
Sex Trafficker Jailed For Smuggling Nigerian Orphans into Britain
29 October 2012
A sex trafficker who used African witchcraft rituals to silence young girls smuggled into Britain to be sold as prostitutes has been jailed for 20 years.
Osezua Osolase, 42, preyed on poverty-stricken Nigerian orphans and tricked them into travelling to the UK with a promise of a better life. He treated the victims as commodities to be used in a form of modern-day slavery by attempting to send them to mainland Europe to be sexually assaulted by gangs, his trial heard.
West African juju rituals were used to instil terror in three victims, one of whom was aged 14. They felt helpless because they feared retribution and had no one to turn to, prosecutors said.
Full report at:
http://www.guardian.co.uk/uk/2012/oct/29/sex-trafficker-jailed-nigerian-orphans
--------------
Syria: Terrorists Violated a Shia Muslim Girl, Left Her Bare in Street
30 October 2012
Anti-Shia terrorist one again commits a crime in Syria.
(Ahlul Bayt News Agency) - Anti-Shia terrorist one again commit a crime in Syria. According to SRW reporter, daughter of one of the well-known Shia family was kidnapped couple days ago in the town of Maliha, around Damascus.
Anti-Shia terrorist raped her, cut all her hair and left her on the side of the street without any cloth.
We strongly condemn this inhumane action and urges the different groups in Syria to issue a statement and ask the entire members to respect the Shia Muslim and stop any violence toward them.
Noting that freedom never can be achieved if there are many cases of Human Rights violation toward any minority in the country.
http://abna.ir/data.asp?lang=3&Id=358264
-----------
Aseefa Zardari Spends Eid with Malala's Family
30 October 2012
BIRMINGHAM: Aseefa Bhutto Zardari spent Eid with Malala's family on Friday.
Accompanied by Pakistani High Commissioner for UK Wajid Shamsul Hasan, Aseefa travelled from Oxford Brooks University, where she is currently studying, to Birmingham to meet Malala's parents and inquire after their daughter's health. She spent about two hours with the family and hoped that Malala would soon recover. While strongly condemning the attack, she said that this kind of brutal act could not be done by Muslims and those who had done it were not Muslims.
Full report at:
http://www.dailytimes.com.pk/default.asp?page=2012\10\30\story_30-10-2012_pg7_13
-----------
Britain Commits to Malala's Health, Female Education
October 30, 2012
LONDON: Shot teenage activist Malala Yousufzai's full recovery is the absolute priority of the British government, which is determined to do all it can to champion education for women and girls in Pakistan, claimed British Foreign Minister William Hague.
Hague said this while visiting 15-year-old Malala along with Interior Minister Rehman Malik and the UAE foreign minister at the Birmingham hospital which was treating her. "The people of Pakistan have paid a high price in the form of terrorism and extremism. We will stand by all those who, like Malala, are courageously defending the rights of women in Pakistan and around the world," added Hague.
Full report at:
http://tribune.com.pk/story/458063/hope-recovers-britain-commits-to-malalas-health-female-education/
-----------
Afghan Students unite for a noble cause 'Right of Education For Women' in Chandigarh, India
30 Oct 2012
Chandigarh, Oct. 30 (ANI): Afghan students northern Chandigarh city held a peaceful candle march to raise their voices against the atrocities committed against women seeking education.
They condemned the Taliban for committing atrocities against girls and women in Afghanistan and Pakistan.
On October 9, the Taliban shot Malala Yousafzai, a student and activist from the town of Mingora in the Swat District of Pakistan's Khyber Pakhtunkhwa province.
She raised her voice against the Taliban diktat.
Full report at:
http://www.newstrackindia.com/newsdetails/2012/10/30/112-Afghan-Students-unite-for-a-
-----------
President Receives Women Ministers Attending International Conference on Women
30 OCTOBER 2012
Carthage — The meeting held Monday afternoon at Carthage palace between Caretaker President Moncef Marzouki and a Delegation of Women Ministers attending the International Conference on enhancing women's role in decision-making was an opportunity to exchange views on mechanisms encouraging the involvement of women in political life.
According to a Presidency press statement, Minister of Women and Family Affairs Sihem Badi emphasised the importance of this conference, especially as it will set out recommendations which will confirm the major role that can be played by women in public and political life.
The conference allowed participants to learn about several experiences of Arab and Islamic countries, she added.
Mrs. Badi also said the recommendations of this meeting will be submitted to the National Constituent Assembly and the higher independent authority for elections to ensure better presence of Tunisian women in decision-making positions.
http://allafrica.com/stories/201210300658.html
-----------
Nik Aziz: My Advice on Dress Code Was For Muslim Women
30 October 2012
Breaking his silence amid an intense campaign by BN's Chinese-only party MCA against him, PAS Murshidul Am Tuan Guru Nik Abdul Aziz Nik Mat said he had never made any statement urging non-Muslim women to cover up as required by Islam.
"I only told the Muslims to cover their awrah, not the non-Muslims," the Kelantan Menteri Besar said, following MCA's accusation that Nik Aziz had encouraged the rape of non-Muslim women who do not cover up.
The awrah according to Islam constitutes parts of the body which must be covered from the sight of others with clothing.
Full report at:
http://www.malaysia-chronicle.com/index.php?option=com_k2&view=item&id=43158:nik-
-----------
A Young Achiever Walks the Road to Jakarta
Daniel Chrisendo | October 28, 2012
Normally the only people from Sriyani's village who board planes headed to Jakarta are maids returning to work after coming home for Idul Fitri. But 11-year-old Ani, as she is known to her friends, is venturing outside her tiny village in Lampung to proudly serve as one of 36 elementary school-aged delegates participating in this year's Indonesian Children's Conference.
Ani, a sixth grader at SDN 04 Indraloka II, West Tulang Bawang, took the news as any other 11-year-old from a village of 1,500 would — she cried.
"Are you sure, sir? Are you sure?" she asked when her teacher told her that she would be representing children from around Indonesia at the conference, which runs Nov. 4-9.
When Ani's teacher, who will accompany her to Jakarta, went to tell the family about Ani's upcoming trip the young girl's father was hard at work in the fields, but Ani's mother rejoiced in the good news.
Full report at:
http://www.thejakartaglobe.com/education/a-young-achiever-walks-the-road-to-jakarta/552510
----------
URL: https://newageislam.com/islam-women-feminism/saudi-girl-conquers-challenge-slaughter/d/9136