New Age Islam News Bureau
24 May 2013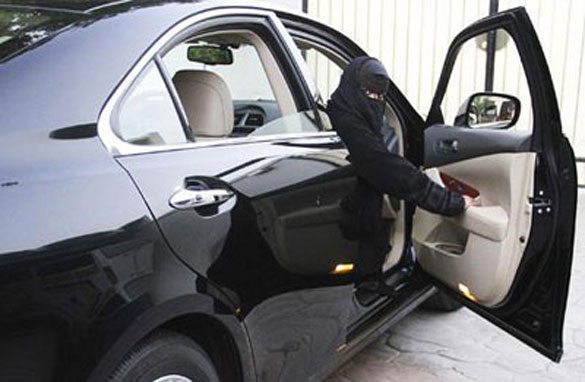 Photo: Women are allowed to drive in Kuwait guardian approval is still required for Saudi women
------------
• My Ex-Boyfriend the Woolwich Terror Suspect Was a 'Lovely, Polite Boy'
• Gaza Prisoner's Wife Impregnated Via Sperm Smuggled From Jail
• 5 Women Shot Dead In Pakistan
• Adila A. emerged third among 51,559 students on medical-stream entrance rank list
• Guardian Approval A Must For Saudi Women to Drive In Kuwait
• Tunisia's Topless Activist Gets Pepper-Spray Charge
• Lahore High Court Moved For Abolishing Women Reserved Seats
• Women's Commission Seeks Probe in Exploitation of Girls by a Self-Styled 'Faith Healer'
• Jobs Provided For Saudi Women in Bakeries
• Saudi Law Firms to Train Women
• Justice for Children of Saudi Women
• Mauritanian Women Denounce Violence, Rape
• CNN Celebrates the Power of Girls in 'Girl Rising' and 'A Girl's World'
• Bogaletch Gebre's War on Female Genital Mutilation
Compiled by New Age Islam News Bureau
URL: https://newageislam.com/islam,-women-and-feminism/new-age-islam-news-bureau/saudi-female-nurses-refuse-to-work-in-male-wards/d/11724
--------------
Saudi Female Nurses Refuse To Work In Male Wards
24 MAY 2013
HOFUF — The directorate of health affairs in Al-Ahsa region is investigating the case of 12 Saudi female nurses working in a government hospital who allegedly refused to work in the male wards out of fear that they may be obliged to look at the patients' private parts while bathing them or changing their clothes.
The nurses, working at Hassan Al-Afaliq rehabilitation hospital, defend their decision based on a fatwa issued about 19 years ago by the Council of Senior Scholars preventing female nurses from seeing men's genitals or touching their bodies while dressing their wounds.
The fatwa, however, said female nurses could do this only under extreme situations when there are no male nurses available in a hospital.
The fatwa, signed by five senior religious scholars, including the former grand mufti Sheikh Abdulaziz Bin Baz, said this matter should never be taken lightly.
The nurses, who stopped working, sent written complaints to the director of Health Affairs and the chairman of the Commission for the Promotion of Virtue and Prevention of Vice (Haia) in the region. They said they were forced to look at the genitals of male patients while bathing them or changing their clothes.
The female nurses said although this is the duty of male nurses, they are punished with salary cuts when they refuse to do it.
While stopping their duties in the male wards for more than a week now, the nurses still came to the hospital, stayed in a separate room during the entire working hours and signed the attendance sheet on arrival and departure.
The nurses appealed to Health Minister Dr. Abdullah Al-Rabeeah to consider their case in the light of the fatwa.
The investigation committee was focusing its efforts in determining which one of the nurses had written the complaint, they said.
http://www.saudigazette.com.sa/index.cfm?method=home.regcon&contentid=20130524167046
--------------
My Ex-Boyfriend the Woolwich Terror Suspect Was A 'Lovely, Polite Boy'
The former girlfriend of one of the Woolwich terror attack suspects is a hairdresser who claims to have been shortlisted as the "Face of Essex".
May 2013
Justine Rigden, 26, who works for a salon in Hornchurch, is understood to have dated Michael Adebolajo when he was in his teens.
A friend said she went out with him when he was known by friends as "Narn" and before he adopted radical Islamist views.
Miss Rigden, pictured left, told a newspaper: "He was really friendly and really polite, and there was never anything to suggest he would be caught up with anything like this. He was just a lovely, polite boy. He stayed at my family's house and I stayed with his. He was a very family-oriented person.
Michael Adebolajo was among a group of Islamist Extremists who clashed with police outside the Old Bailey in 2006
"He had a group of friends from Hackney. They weren't 'wrong uns', they were OK, and he used to do a bit of MC-ing, rapping. Nobody can believe it. He was just this normal, regular boy."
In a video posted on YouTube, the stylist says she admires Jennifer Lopez, because she is a "role model for real women with curves".
School friends of Adebolajo say he lived a Western lifestyle in his teens, growing up in Essex, but that his parents moved away to try to keep him out of trouble.
Pictures on Miss Rigden's Facebook social-networking site showed her modelling in photo shoots, before the page was taken down from the internet last night. She claimed on the page to have been shortlisted for the title Face of Essex.
Her profile on the website of the hair salon where she works describes her as an "enthusiastic member of the team who will make you feel valued the moment you walk in the door".
http://www.telegraph.co.uk/news/uknews/terrorism-in-the-uk/10077523/Woolwich-attack-My-ex-boyfriend-the-terror-suspect-was-a-lovely-polite-boy.html
--------------
Gaza Prisoner's Wife Impregnated Via Sperm Smuggled From Jail
By: Hazem Balousha
May 24, 2013
After six years of detention in Israeli prisons, Tamer succeeded in getting his wife, Hana, pregnant by smuggling his sperm out of prison. It was the first such scheme in the Gaza Strip, after five others involving the West Bank.
When Hana al-Za'anin, 26, found out that she was pregnant, she couldn't hold back her tears. She was happy for her pregnancy but sad that her husband, Tamer al-Za'anin, 28, has been behind bars in Israel for nearly six years.
Hana held up the results of her pregnancy test to the shouts of joy by the women around her as they hugged, kissed and congratulated her. She then offered everyone sweets.
The idea of getting pregnant in this way was proposed by Hana's neighbor. And when Hana found out that it had succeeded in the West Bank, she consulted her mother-in-law and, by phone, her incarcerated husband about the matter.
The couple agreed to try it. On visitation day, Tamer put his sperm sample in a transparent plastic bag and handed it to one of the visitors, who smuggled it out of prison and quickly headed toward Beit Hanoun, then to Gaza. Hana then took the sample to the fertilization clinic.
There, the doctor immediately froze the sample. The smuggling operation took six hours. Then Hana started preparing for the intra-cytoplasmic sperm injection (ICSI). Four months later, on May 16, Hana got confirmation that she was pregnant.
The couple married on July 18, 2006. Tamer was arrested by the Israeli army on Nov. 3, 2006, during the invasion of Beit Hanoun. He was charged with belonging to the Islamic Jihad movement and sentenced to 12 years in prison.
Hana told Al-Monitor, "It felt strange when the fertilized egg was injected into my uterus. I was sure that I would soon become pregnant. Indeed, the pregnancy was successful despite being away from my husband for six years, since he was arrested by the occupation forces. … Two days before the lab test, I felt changes in body; I knew I was pregnant. And on my relatives' insistence, I went to the clinic for examination, where the nurse told me the positive test result."
Hana and Tamer's case is the first one of its kind in the Gaza Strip. There have been five such cases in the West Bank, where the first child conceived by that method was born a year ago.
In an interview with Al-Monitor, Dr. Abdul-Karim al-Hindawi, who supervised Hana's in-vitro fertilization operation, said, "As soon as we got the sample, we preserved it under the proper conditions and temperature. … We supervised the smuggling operation from the start. We told Hana that the sample should not be exposed to direct sunlight and brought to the clinic as soon as possible."
For her part, Tamer's mother, who is always with Hana, said, "I hope that my grandson is born healthy and peaceful. I was ecstatic when I heard of the pregnancy, but I was also sad about Tamer's absence. He could not share in our joy. My only wish today is for him to be with us in these moments."
According to the latest statistics by the Palestinian Prisoners Club, about 4,900 Palestinian prisoners languish in Israeli prisons. The detainees from Gaza have been deprived from family visits for six years, from the moment when the Qassam Brigades kidnapped Israeli soldier Gilad Shalit in Gaza. But visitation rights were reinstated when Shalit was released in exchange for more than 1,000 Palestinian prisoners.
Raafat Hamdouna, director of the Prisoners Studies Center, told Al-Monitor: "There have been many attempts to smuggle sperm samples from Israeli jails. All but six fertilization attempts failed ... Palestinian prisoners, especially those with long sentences, are in a race against time as they try to have children while they are in prison."
The International Red Cross organizes family visits to the detainees from the West Bank and Gaza. Only immediate family members are allowed, and Israel refuses to grant permits even to those.
Hindawi said that Hana had undergone many medical tests before the artificial insemination. "During the ovulation period, which precedes the insemination and which lasts for about three months, Hana was injected with drugs that promote ovulation. Her hormone levels were analyzed. She was given an ultrasound, and provided with the necessary vitamins. … After this preparation, the chances of pregnancy become high, … about 40%, which is similar to rates reached by international clinics."
Hana wanted to get pregnant this way despite the high financial cost, which is as much as $4,000 and covers medical tests, drugs, vitamins and other requirements of the in-vitro fertilization process, as well as the cost of child delivery.
Hindawi said four eggs were injected in Hana and she may have twins. But that will take several weeks to confirm. Hana would be happy to have twins, perhaps as compensation for years of being deprived of having children.
Hazem Balousha is a Palestinian journalist based in Gaza City. He has worked as a news producer for BBC World Service, as well as contributed to Deutsche Welle, The Guardian, Al-Raya (Qatar) and other publications. He is also the founder of the Palestinian Institute for Communication and Development (PICD). On Twitter: @iHaZeMi
http://www.al-monitor.com/pulse/originals/2013/05/gaza-prisoner-wife-impregnated-ivf.html
--------------
5 Women Shot Dead In Pakistan
24 MAY 2013
QUETTA: At least six people, including five women, were killed and two others sustained injuries in a firing incident on Noorpur Road, an area of Bakra Mandi of Sibi district, on Thursday.
According to details, unidentified armed men opened indiscriminate firing at a house. As a result, six people, including five women, were killed and two others sustained injuries. The assailants fled following the attack. Police rushed to the crime scene and shifted the deceased and the injured to the Civil Hospital. Talking to the media, an injured woman, Saima, said that two armed men entered the house and opened fire on them while they were taking breakfast.
http://www.dailytimes.com.pk/default.asp?page=2013\05\24\story_24-5-2013_pg7_4
--------------
Adila A. emerged third among 51,559 students on medical-stream entrance rank list
24 MAY 2013
Boys cornered six of the top 10 ranks in the entrance examination held for courses, except MBBS and BDS, in the medical stream, the results of which were announced here on Thursday by Education Minister P.K. Abdu Rabb.
Of the 99,488 candidates who wrote the engineering entrance examinations, 74,226 have qualified.
The first rank in the medical stream went to Gokul G. Nair of Kasaragod, who secured a score of 938. Amar Babu of Kozhikode came second with 931 and Adila A. of Malappuram emerged third with 930.
In the Scheduled Caste category, the top rank went to Medha Murali from Thrissur, who secured a score of 855. Goutham Subash U. of Alappuzha got the second rank with a score of 836. Haritha A.N. of Wayanad got the first rank in the Scheduled Tribe category with a score of 657 and Sanches Thomas of Chennai second with 586.
Of the 51,559 candidates included on the medical rank list, 13,842 are boys and 37,717 girls.
As many as 59,225 candidates had appeared for the examination held in the 14 districts of the State, New Delhi and Dubai.
Among the first 100 in the medical rank list, 54 are boys and 46 girls.
Among the students who secured the first-1,000 ranks, the highest chunk of 512 was from the Kerala higher secondary stream, followed by 470 from the Central Board of Secondary Education stream and 16 from the Indian School Certificate stream.
Kozhikode district accounted for the highest tally of 151 students among the first-1,000 ranks followed by Malappuram with 150. The lowest of 19 is from Idukki.
The results of 59 candidates had been withheld for various reasons, the Minister said. As many as 7,666 were disqualified for want of minimum 10 marks in Paper I and II and excluded from the rank list.
Engineering scores
Of the 74,226 who qualified for engineering studies, 35,188 are girls and 39,038 boys.
At the press conference, the Minister released the individual scores of those who appeared for the engineering entrance examination. The marks of 81 candidates have been withheld for various reasons.
Normalisation
The engineering rank list — prepared after normalising the Plus Two scores of candidates across 30-odd examination boards and combining the normalised scores and the entrance examination scores on a 50:50 basis — will be published in the third week of June, he said.
http://www.thehindu.com/news/national/kerala/51559-students-on-medicalstream-entrance-rank-list/article4743178.ece
------------
Guardian approval a must for Saudi women to drive in Kuwait
23 May 2013
Brig. Saleh Al-Najim, the head of a Kuwaiti delegation, said here yesterday that the traffic system in Kuwait does not grant licenses to Saudi women without the consent of their guardians. The statement came at a meeting of traffic managers in the Gulf Cooperation Council (GCC) states, which concluded here. He said this law was drafted due to Saudi Arabia's reservations on the issue of women driving.
He said: "Saudi women wishing to obtain a driver's license in Kuwait must have the consent of their guardian. This goes for all Saudi women, young or old, single or married."
Al-Najim added: "We know of reservations on the issue of Saudi women driving in their own country and that their guardians sometimes do not agree to them driving. It is in light of this that we refuse to grant drivers' licenses without the knowledge of the family."
Full report at:
http://www.arabnews.com/news/452615
--------------
Tunisia's Topless Activist Gets Pepper-Spray Charge
23 May 2013
A young Tunisian women's rights activist, who was arrested at the weekend while protesting against hard-line Islamists, has been charged with possessing pepper spray, her lawyer said on Thursday.
The 18-year-old, known by the pseudonym Amina Tyler, who sparked controversy in March by posting topless pictures of herself online, has been summoned to appear in court next Thursday, lawyer Mokhtar Janene said.
The pepper spray charge carries a maximum sentence of six months in prison.
An investigating magistrate is also considering pressing a charge of desecrating a cemetery, which carries a sentence of up to two years in prison, Janene added.
Full report at:
http://english.alarabiya.net/en/News/middle-east/2013/05/23/Tunisia-s-topless-jihad-activist-charged-with-owning-pepper-spray.html
--------------
Lahore High Court Moved For Abolishing Women Reserved Seats
24 MAY 2013
LAHORE: The Lahore High Court on Thursday deferred till Friday (today) for further arguments hearing of petitions, challenging nomination of women and minority members on reserved seats in parliament and Punjab assembly.
Justice Ijazul Ahsan of LHC directed the counsel to advance further arguments to strengthen in favour of his stance.
Petitioner lawyer Tariq Aziz Malik submitted that there were 188 seats reserved for women in the parliament and provincial assemblies. He stated that it was an illegal and unconstitutional, as under article 226 of the Constitution all elections shall be held by secret ballot.
Full report at:
http://www.dailytimes.com.pk/default.asp?page=2013\05\24\story_24-5-2013_pg7_12
--------------
Women's Commission Seeks Probe in Exploitation of Girls by a Self-Styled 'Faith Healer'
May 24, 2013
Srinagar, May 23: J&K State Women's Commission Thursday said it has taken a note of the issue of exploitation of girls allegedly by a self-styled 'faith healer' in central Kashmir's Budgam district and asked the police to thoroughly probe the matter.
Chairperson of the State Women's Commission Shamim Firdous said the "disclosures by the victim girls point towards involvement of an organized gang."
"Police must thoroughly probe the matter and arrest other accused in the case. The matter is very serious as it involves a large number of girls. In the name of religion and faith, the self-styled 'faith healer' has reportedly exploited many girls. Police should also probe whether the accused is involved in women trafficking or has any links with other gangs outside the State," Shamim told Greater Kashmir.
Full report at:
http://www.greaterkashmir.com/news/2013/May/24/women-s-commission-steps-in-seeks-fair-probe-by-police-53.asp
--------------
Jobs Provided For Saudi Women in Bakeries
24 May 2013
The Ministry of Labour has undertaken several measures to encourage Saudi women to enter the workforce and has recently announced it will support women to take up jobs in local bakeries.
The ministry embarked upon this step after a local bakery highlighted its positive experience, whereby it hired six female workers and two year later the trend has caught on and there are currently 85 women hired in this sector.
Abdurrahman Al-Sayah, director of the Labour Office in Al-Ahsa, emphasized that the ministry is promoting the employment of women in various sectors, pointing out that the new labor laws contain a number of articles that empower and facilitate the entry of women into the workforce.
Full report at:
http://www.arabnews.com/news/452732
--------------
Saudi law firms to train women
24 May 2013
Saudi law firms are training 21 women to pursue careers in the legal profession, according to the Justice Ministry.
Enrollment and Acceptance Committee will issue licenses to the trainees at the end of their their training.
There are 2,120 attorneys on the Lawyers' Registrar. Applicants that are accepted for the profession must have a certificate from the Sharia College or a Bachelor of Arts in law and have a three years experience.
Lawyers accepted into practice must be of good conduct, living in the Kingdom and be working full-time in the legal profession.
http://www.arabnews.com/news/452729
--------------
Justice for Children of Saudi Women
24 MAY 2013
There have been a number of government decisions that have remained dormant for a long time without being implemented. These decisions have been in deep slumber in the drawers of the concerned government departments. They will not wake up no matter how much noise we make about them.
The most prominent of these is the decision concerning the children of Saudi women married to foreigners.
All the decisions in this regard have made it clear that these children should be treated as Saudi citizens. In reality they are not. The decisions remained just ink on paper. The situation continues as it is without any change.
Full report at:
http://www.saudigazette.com.sa/index.cfm?method=home.regcon&contentid=20130524167057
--------------
Mauritanian Women Denounce Violence, Rape
2013-05-23
NOUAKCHOTT - Hundreds of protesters gathered in Mauritania on Wednesday to denounce violence against women and demand tighter security amid a spike in assaults and rape cases in the capital Nouakchott.
The protesters rallied outside the home ministry, chanting "no to rape" and "we want more security".
"Our movement is not political, even if it is under the current government that the wave of violence against women, rape and murder has taken place," said organiser Mariem Mint Ahmed Miske.
Full report at:
http://www.middle-east-online.com/english/?id=58936
--------------
CNN Celebrates the Power of Girls in 'Girl Rising' and 'A Girl's World'
24 MAY 2013
New programming featuring inspiring stories of girls around the globe launches in June on CNN International
CNN International today announced a new slate of programming focused on the empowerment of young girls around the world with the premiere of critically-acclaimed film, 'Girl Rising' and launch of 'A Girl's World', a distinctive new series chronicling the lives of seven girls in seven countries.
'Girl Rising', filmed before the well-known girls' education campaigner Malala Yousafzai was shot by the Taliban on her way home from school in Pakistan's Swat Valley, follows several girls across the globe as they pursue an education.
Full report at:
http://cnnpressroom.blogs.cnn.com/2013/05/22/cnn-celebrates-the-power-of-girls-in-girl-rising-a-girls-world/
--------------
Bogaletch Gebre's War on Female Genital Mutilation
24 MAY 2013
DANIEL HOWDEN
Bogaletch Gebre was born in rural Ethiopia in the 1950s into circumstances "not much different than most of the girls of my time".
Bogaletch Gebre cannot be sure of her exact age. She was born in rural Ethiopia in the 1950s into circumstances "not much different than most of the girls of my time". The absence of a birth certificate was the most benign aspect of the time, place and ­gender she was born into.
Life for the women of Kembatta was "grindingly hard", she remembers, and the passage from girl to woman was painful and potentially deadly. She was circumcised when she was 12, and she nearly bled to death after the procedure.
Full report at:
http://mg.co.za/article/2013-05-24-00-heroines-war-on-mutilation
--------------
URL: https://newageislam.com/islam,-women-and-feminism/new-age-islam-news-bureau/saudi-female-nurses-refuse-to-work-in-male-wards/d/11724