New Age Islam News Bureau
2 March 2020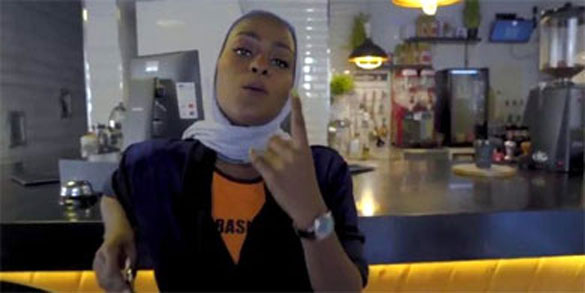 Saudi female 'Bint Mecca' rapper: I was not detained, planning new video
-----
• Parisian Restaurant Allegedly Refuses to Serve Veiled Muslim Women
• Halima Aden Stars in Charity Campaign for Women's Day
• Female Driving Instructor Demand on Rise in Saudi Arabia
• Beaten, Molested and Homeless: How Women Became Worst Victims of Delhi Riots
• Dubai Forum Highlights Gender Imbalances at Workplace
• Woman Forbidden From Seeing Daughter Sparks Debate over Religious Law in Lebanon
• New York confirms first coronavirus case, a woman who had travelled to Iran
• Voice of the unknown woman: Afghan filmmaker Roya Sadat
Compiled By New Age Islam News Bureau
URL: https://www.newageislam.com/islam-women-feminism/saudi-female-mecca-girl-rapper/d/121202
--------
Saudi female 'Mecca Girl' rapper: I was not detained, planning new video
1 March 2020
A Saudi Arabian female rapper who became known as "Bint Mecca" or "Girl from Mecca" has said that she was questioned by authorities for not having the right permits to shoot her recent viral music video.
The rapper, Asayel al-Bishi, released a song called "Bint Mecca" in which she rapped about the women of the city. The video clip was published on YouTube on February 13 and included shots of young girls dancing to the song.
The video has since been taken down off YouTube, and al-Bishi underwent questioning by the Saudi Arabian prosecutor general over filming without a permit.
"The problem was that I taped the music video of a song that I wrote without a permit to film the video. I didn't know I had to get the permit," said al-Bishi.
"In the public prosecution they informed me. The video was not a problem, it was an administrative issue of not obtaining the right permits," she added.
"I was called in for questioning and they investigated the issue," confirmed al-Bishi, and added that her only violation was failing to secure a permit before filming.
Social media was abuzz with speculation that the artist was detained and charged.
"There are people that are supportive and some who are against. I respect people's opinions," said al-Bishi.
When asked about her future plans, al-Bishi told Al Arabiya English that she was planning to shoot more videos, and said she will make sure to get the right permits next time.
https://english.alarabiya.net/en/News/gulf/2020/03/01/Saudi-female-Bint-Mecca-rapper-I-was-not-detained-planning-new-video-.html
--------
Parisian Restaurant Allegedly Refuses to Serve Veiled Muslim Women
By Morgan Hekking
Mar 1, 2020
Rabat – A restaurant in Paris called Matignon allegedly turned away a group of friends who had reserved a table for dinner because two of the women were wearing the hijab.
A woman from the group took to social media to report the Islamophobic experience.
j'refais ta TL
@deessegrr
Ils ont refusé un groupe de femmes qui avaient une réservation et la raison est inacceptable
Embedded video
68.5K
3:17 PM - Feb 27, 2020
Twitter Ads info and privacy
42.6K people are talking about this
In the video, she explained that she and a small group of friends went to dinner at Matignon, where they had reserved a table.
The restaurant's employees, however, allegedly urged the group out because two of the women were wearing the hijab.
"I never experienced something like that," the woman said.
"In 2020 it really shocks me that we still do racism, whether racial, religious, or whatever," she continued. "Matignon in Paris is a beautiful gang of racists."
Matignon has been accused of racism in the past.
A Muslim woman reported earlier this month that the restaurant denied her entry due to her hijab.
Livaï 🅙
@elk_alm
Replying to @deessegrr
Ptdrrrr wsh c bon, y en a vs êtes dans l'excès 😭😭
View image on Twitter
2,362
5:51 PM - Feb 27, 2020
Twitter Ads info and privacy
358 people are talking about this
"Very disappointed with this restaurant," she wrote. "I was refused entry under the pretext that I was wearing the Islamic veil."
Another visitor to the restaurant named Abdel Belala reported that Matignon discriminated against him in December 2019 due to his appearance.
Hatim Moustansir
@Hatimouvic
Replying to @deessegrr @kloudie_
Ce n'est malheureusement pas la première fois chez eux !
View image on Twitter
2,986
4:08 PM - Feb 27, 2020
Twitter Ads info and privacy
632 people are talking about this
"I had arrived dressed in a suit with some blond friends. An employee of this restaurant refused me entry and let us understand that everyone can enter except me," Abdel said.
"I was the only Frenchman of Arab origins between them," he explained. "Boycott this racist restaurant! They have a problem with Maghrebis."
https://www.moroccoworldnews.com/2020/03/294977/parisian-restaurant-allegedly-refuses-to-serve-veiled-muslim-women/
--------
Halima Aden Stars in Charity Campaign for Women's Day
March 02, 2020
DUBAI: In celebration of International Women's Day — celebrated worldwide on March 8— global e-tailer Net-a-Porter has unveiled a lineup of 20 exclusive t-shirts in partnership with non-profit group Women for Women International.
Although the luxury online retailer has been collaborating with the humanitarian organization for three years, this year's partnership is especially significant as it marks Net-a-Porter's 20th anniversary. In honor of the milestone, the platform commissioned 20 brands and female designers to submit designs, including part-Jordanian footwear designer Amina Muaddi, Stella McCartney, Charlotte Tilbury, Isabel Marant, Jimmy Choo and more. According to Net-a-Porter, 100 percent of the proceeds will be donated to the charity which helps women living in war-torn countries to rebuild their lives.
Fitting then that the brand handpicked Somali-American model Halima Aden to star in the campaign. The 22-year-old, who was born in a Kenyan refugee camp after her family fled their nation due to ongoing civil unrest before settling in the US, can be seen wearing a white, long-sleeve crewneck sweater embroidered with the text "I've got all my sisters with me" from The Range.
The aforementioned sisters with her? Other familiar faces, including singer Camila Cabello wearing Isabel Marant and actress Kerry Washington in Stella McCartney, star alongside Aden in the campaign images.
"Proud to support and celebrate #incrediblewomen across the world in this @therangenyc for @netaporter T-shirt in honor of #internationalwomensday," shared the hijab-wearing model on her Instagram account.
"Our International Women's Day campaign perfectly embodies the sentiment that so much can be achieved when women come together," said Brita Fernandez Schmidt, vice president of Women for Women International. "We are so grateful to everyone involved and this year hope to raise enough funds to transform the lives of hundreds more women survivors of war."
Women for Women International enrolls underprivileged women in a year-long training program where they learn about their rights, health, a vocational skill and form a support network of women with similar experiences.
Net-a-Porter's 2018 and 2019 campaigns raised enough to support more than 300 women through the charity's year-long training program.
https://www.arabnews.com/node/1635631/lifestyle
--------

Female Driving Instructor Demand on Rise in Saudi Arabia
February 29, 2020
JEDDAH: The Saysed Driving School in Taif has put out an advertisement for women who want to work as driving instructors, in order to meet the increasing demand on driving courses for women.
The announcement said over 10,000 women had filed driving license applications, and that this huge number would require the school to train and hire more female instructors to work with them. In order to be a driving instructor, the applicant must complete a 45-day course as well as have a valid driving license.
The announcement said that so far over 500 young women had been issued a driver's license having completed the school's driving course, passed the road test, and undergone eight hours of theoretical instruction. They also completed a two-hour simulation lesson and 20 hours of field training.
The school was opened in January 2020, and its driving course costs SR2,520 ($671) and involves different units which the applicant has to pass before being assessed and qualified to operate a vehicle on the road.
The school has advanced training facilities including classrooms, simulation machines, and training tracks.
https://www.arabnews.com/node/1635026/saudi-arabia
--------
Beaten, Molested and Homeless: How Women Became Worst Victims of Delhi Riots
March 1, 2020
New Delhi: It all started with women. While riots broke out in northeast Delhi on the night of February 23, women of the area and other areas of the national capital had emerged as the torchbearers of protests since December last year.
Critics and right-wingers called the women's protest "anti-national" for pushing back against India's recently passed and proposed citizenship laws, while others marvelled at the grit and bravery of these women, many of whom sat in locations like Shaheen Bagh and Jaffrabad-Seelampur for months in peaceful demonstration.
For a moment, it looked like women were finally breaking out of the shackles of patriarchy and taking control of the narrative of their own dissent.
And yet, in the aftermath of the three-day communal riots that rocked Delhi and led to the deaths of over 40, the women living in the crowded and unplanned tenements of northeast Delhi have been some of the worst and most undocumented victims of the riots, directly or indirectly. Incidentally, they are also being blamed for it.
What started as fear soon turned to pure horror, both Hindu and Muslim women recall, on February 25, as riotous mobs allegedly entered minority areas and torched homes, shops, vehicles and people.
News18 spoke to women living in three neighbourhoods that saw some of the worst violence - the Muslim dominated Mustafabad, the Hindu dominated Shiv Vihar and the Chand Bagh which has a relatively mixed population.
"When can I return home?"
The Muslim families of Shiv Vihar's Madina Gali started fleeing their homes from Sunday itself. By Thursday evening, the street had been reduced to ash.
Fatima, 45, has lived in Shiv Vihar for over 15 years. When she along with many other Muslim families escaped the riot-stricken street on Monday, she and her family left behind all their belongings, including their goats.
Worried that the goats would die at a time when her family's livelihood depended on them, Fatima braved it on Wednesday to go back but before she could find the goats, some men found her.
"They pulled my dupatta and tore my salwar's sleeve. I was saved by a family that was still living in the area," Fatima said. "The family said I was with them, the men abused them but left me alone," Fatima said, adding that the family hid her for some time till everything was clear. "If it weren't for them, I don't know if I would be here".
Shaheeda Bano has a similar story to tell. The 65-year-old was fleeing to Mustafabad on Tuesday evening when she was attacked by goons. "We did not leave like the others on Sunday or even Monday. But on Tuesday when fresh arson started and a mosque was burnt, we had to escape," she recalled.
"Two goons with covered faces blocked our road. One of them snatched my bag while the other beat me on my left knee with a stick". The men allegedly ran away after that, leaving the old woman wounded on the road.
Aamna, 50, who has a 23-year-old daughter, was saving up for her children's wedding. She had collected a lot of jewellery for both her daughter as well as her would-be daughter-in-law. When she left her home on the intervening night between Monday and Tuesday, she had no time to carry the valuables. With several reports of rampant looting in the deserted homes, Amna now fears all her and her family's belongings have been stolen.
Sabya, a student of IGNOU University, fears all her college and school documents have been burnt in the fire. She and all the other women had no idea when they could return home or even if they had a home to go back to anymore.
Meanwhile, the Hindu women who remained in Shiv Vihar recalled the three-nights of horror, claiming they had to take to the streets to patrol and hold vigil alongside men. "We don't know when the mobs are back, we are ready to protect our men and women," Asha Devi, 48, from Shiv Vihar said.
Roopa Arun, 22, blamed the anti-CAA protesters at Shaheen Bagh for the riots. "Had they not blocked the roads, none of this would have happened. Those women created problem and we suffered for it," she said. When reminded that many of the women protesting elsewhere such as Jaffrabad had themselves been hurt, the student shrugged.
"How do I feed my children?"
Located opposite the Hindu locality of Bhajanpura, Chand Bagh was one of the locations that saw heavy violence. Armed men roamed through the streets chanting communal slogans and torched homes in the many adjacent lanes that lined both sides of the Chand Bagh. A religious structure was torched, as were schools and shops.
"We were locked in for almost three days while aggressive mobs with all manners of weapons roamed the streets outside," Zubeda Bano, 40, told News18 from her doorstep. The lane she has lived in for 40 years has Hindu families too. "During the clashes, the men would sometimes go out to check the situation. In those times, we were constantly scared of hooligans entering the home," Zubeda said. The mother of four still continues to fear for her and her family's life.
"Even now when the riots are over, we cannot step out without fear," said 22-year-old Sambreen who lived across from Zubeda. And even if they did, there was no point. Till Thursday evening, all doors and windows were shuttered. It was only after Friday that shops started to open. And even then, most items were out of stock or being sold at sky-high prices.
"Everything is expensive after the riots," Neelam Divakar who lived in an opposite lane pointed out. "Since shops were gutted and stores of goods destroyed, everything is very expensive here. The shopkeepers and vegetable vendors are bleeding us out in this time of crisis," she said.
The women also complained of not having any milk. Najman, 30, told News18 that since the day the riots started, shops in the locality have run out of milk. "The men in the house worry about riots, we have to worry about what to feed the children," Najma said. She also reported that gas lines had been disrupted and that gas was unavailable for three days. "We have been using chulhas on the roof or cooking on neighbour's stoves. We cook one time a day and try to eat that meal twice," Sambreen who has a young son and daughter, said.
While the days pass in strife, the nights are spent in fear. "We hold vigil outside our doors while the men patrol the gates. The police have failed us, they never came here despite all the violence. We will not let anyone enter house now," Manorama, 38, said.
She alleged that when violence broke out, all the women constantly stayed locked inside and did not even come to the windows, lest rioters find out and target the house. "Rape is often used as a weapon of rioting. But nothing like that happened here," the mother of two said.
While most of the women bristled, a pregnant Rubina Khatoon who was beaten by unidentified men at an anti-CAA protest remained prostate in pain from bruises to her head, arms and legs. Rubina refused to go to the local hospital, which locals claimed rioters had used to attack the neighbourhood. She and her husband were unsure of the health and fate of their unborn child.
All the women in Chand Bagh said that had police arrived on time, a lot of the damage could have been prevented. Locals claimed that police forces did not come even till Friday afternoon.
"He will never return"
Mustafabad resident Anam Khan, 20, fell ill on Thursday after her family received the news of her brother's death. She was taken into the other room with women as was customary in a house of mourning where she bawled inconsolably. Her brother Shahzaan who had been missing since Monday had been found dead.
His body was discovered in Dilshad Garden's GTB hospital, the site where all severe casualties from the riots were being treated. "He was very close to me, what did he do to deserve this?" a tear-stricken aunt of Shahzaan wailed.
Shehzaan's Hindu landlady blamed politics for the violence. "He was like a son to me," she said. His mother was away at Wazirabad, where she had been stuck for some time due to unstable conditions. She was unable to grieve with her family even after her son's death.
A few houses away, another young girl was steeped in mourning. Tasleen Fatima had married Ashfaq Hussain on February 14, Valentine's Day. Twelve days later, she found herself widowed after her husband was killed by rioters. "What was our fault?" she asked.
The Al Hind hospital in Mustafabad received about 54 women patients with various injuries in the three days of riots. Several women came in with assault injuries, pregnant women came in with complaints from smoke and tear gas, one riot-stricken pregnant woman even delivered a baby.
Women who had fled Shiv Puri and were in Mustafabad confirmed that though there were several case of molestation while the women were fleeing, they did know of any rapes that took place on her street. "But if we had not fled the area, we would surely have been raped or killed. The men banging on doors were not just aggressive but also drunk," Shabana, a Shiv vihar escapee, said.
Ferzana Begum, 75, who strolled the streets outside the Farooqiya Jama Masjid in nearby Brijpuri, could not stop wailing. Members from her family were missing and the elderly lady wanted to know when the government would find them. Whether sane or insane it was hard to tell, she walked around the vandalised protest site that the women of Mustafabad had set up outside the mosque to protest against CAA. She picked up some of the broken shards of glass, cursed at the wind and threw it back into her crumbling surrounding.
https://www.news18.com/news/india/beaten-molested-and-homeless-hindu-or-muslim-women-became-the-undocumented-victims-of-delhi-riots-2520457.html
--------
Dubai Forum Highlights Gender Imbalances at Workplace
Caline Malek
01/03/2020
DUBAI- More than half of the countries in the Middle East and North Africa are among states with the highest gender gaps in the world. Experts and officials at the Global Women's Forum in Dubai, organised by the Dubai Women Establishment, discussed how such disparities harm countries' economic output and social progress.
Conference speakers included former UK Prime Minister Theresa May, US White House senior adviser Ivanka Trump, World Bank Group President David Malpass and International Monetary Fund Managing Director Kristalina Georgieva.
Strategies for global gender balance, the future of women at work in the Fourth Industrial Revolution, propelling female entrepreneurship in the region, women's role in government and the importance of female engagement in achieving the UN Sustainable Development Goals 2030 were among issues discussed.
Pedro Conceicao, director of the human development report office at the UN Development Programme, said technological advances could harm women's employment if not properly addressed. "We have evidence today that new technologies associated with artificial intelligence (AI) and automation are more likely to put some jobs performed by women at risk [more] than men because women are overrepresented in jobs classified as routine," Conceicao said.
"Second, we know that AI algorithms are trained given the information that's fed to them, so many of them that are now used reflect the world we live in and we have evidence that some of the AI algorithms related to helping people find jobs don't target women when it comes to high-paying jobs."
He noted the importance of women's participation in science and technology fields and pointed out that gender balance in the workplace often yields greater productivity.
"If women are part of the management of banks and supervisory authorities, banks tend to be more stable. So the benefits from including women in the economy would be much higher than just these mechanical estimates that have been traditionally done," Conceicao said.
He blamed legal barriers and social norms for the challenge of women transitioning to the economy. "It's fairness and living a life of dignity," he added. "In a human development report in 1995, we had a sentence that read 'human development that is not engendered is endangered' and it was valid in 1995 as much as it is today."
Further advancing gender equality, from a male's perspective, will have to do with power because women are extremely underrepresented in important positions in government.
"We cannot achieve it without the whole of society," said Caren Grown, senior director for gender at the World Bank Group. "It cannot happen until men step up as champions and change themselves, their institutions and the way they work. Even in the home, working alongside women to parent children is very important."
She noted that female labour force participation remained low in the region — around 21% in 2018 compared with 74% for men.
"Unfortunately, the MENA region still has one of the highest wage gaps at about 40%," Grown added, "and when we look at entrepreneurship, which is critical to the growth and development of an economy, only 28% of women own SMEs (small and medium-sized enterprises) and there's still [lack of] access to finance gap that's still very hard."
Two months ago, research by the International Finance Corporation on the venture capital and equity industry across emerging markets found that firms whose senior investment officers are gender-balanced have 10-20% higher returns on investment than firms that either have only males or only females.
"This argues for the balance itself," Grown noted. "It's because of the diversity of perspectives, of networks and experience and many companies almost ahead of the public sector are actually experiencing new approaches to create diversity on their corporate boards, in their senior management, in the pipeline and, most important, in the supply chain."
Retaining women at work is equally critical, said Chiara Marcati, a partner at McKinsey & Company. Pointing to the company's report, "Middle East Women at Work," she listed four reasons women frequently leave their workplaces: cultural and social pressure, unconscious bias, limited role models and an unsupportive work environment.
Marcati argued that women in senior positions have their judgment questioned five times more often than men, while only half of women in their early career claim to have a role model.
"Seven-of-ten women report that they are the only senior female in the workplace and only two-of-ten senior women report feeling included," Marcati said. "It's sad but, regardless of the figures, senior women were found to be much more satisfied than men and this is possible because women are resilient, self-confident and find a way to move forward."
https://thearabweekly.com/dubai-forum-highlights-gender-imbalances-workplace
--------
Woman Forbidden From Seeing Daughter Sparks Debate over Religious Law in Lebanon
1 March 2020
A video of a bereaved mother separated from her daughter's grave by a fence has reignited the debate over Lebanon's religion-based personal status law system.
In Lebanon, religious courts govern matters of marriage, divorce, and child custody. Each sect has its own set of rules, most of which give preference to men over women.
In the past week, a widely circulated video showed a woman named Lina Jaber from the Tyre area in southern Lebanon sobbing outside of the fenced private plot where her 14-year old daughter, Maya, is buried, wailing, "Sleep, my little one. You're a martyr to injustice and wrath … My soul is with you, my darling. I want to die."
Hayat Mirshad
@HayatMirshad
الأم بالفيديو انحرمت من بنتها لسنتين وحتى لما ماتت البنت منعوها انها تحضر الدفن ودفنوا البنت داخل حديقتهم المسيجة لما تقدر تزورها..هالفيديو لزيارة الأم الأولى لقبر بنتها بعد ٦٢ يوم!#حضانتي_ضد_المحكمة_الجعفرية #ثورتنا_نسوية ومستمرة لتسقط عروشكم ويسقط قهركم ويسقط ظلمكم.. #لبنان
Embedded video
2,376
3:23 AM - Feb 26, 2020
Twitter Ads info and privacy
1,053 people are talking about this
As Jaber previously told Al Arabiya she had been forbidden to see her daughter for more than two years after divorcing the girl's father and had not been allowed to visit her grave after Maya died two months ago – allegedly from an accidental gunshot wound.
The Jaafari court, which enforces civil status issues for the Shia community, to which Jaber belongs, automatically gives custody to fathers at the age of two for boys and at the age of seven for girls when their parents get a divorce.
Activists protest against Lebanon's personal status law
In the wake of the video's publication, activists staged protests Friday in front of the Jaafari court in Tyre and Saturday in front of the Supreme Islamic Shia Council in south Beirut, calling for Shia religious authorities to change the custody rules.
Meanwhile, advocates have renewed pressure for the introduction of legislation to create a unified, civil personal status law for all sects.
The protest in Tyre – where a tearful Jaber was present, holding her daughter's picture – was sparsely attended. But Riham Roumieh, an activist with the group Cry of the Women of the South, said the fact that it was held at all was significant.
"This is the first time there has been a protest in Tyre over this issue, the issue of custody," she told Al Arabiya. "It was a cry to ask for our right to custody -- specifically in front of the Jaafari court because the Jaafari Court is the one making the most unjust decisions regarding the rights of the woman and the child – and to encourage every mother who has a problem with the custody system to speak out and raise her voice because once they see we are not afraid and are speaking out, maybe something will change."
At the protest in Beirut, protesters chanted, "In the name of the Imam Hussein, where is your justice?" referencing the Prophet Mohammed's grandson, one of the holiest figures in the Shia sect.
Lina Zahr Eddine, who said she had been separated from her children for six years – eventually winning custody after "a very big fight," told Al Arabiya, "It's shameful that this thing is happening in Lebanon. At the least we should raise the age of custody for girl and the boy, and that there should be shared custody for the mother and the father."
At a time when the attention of political leaders has turned to Lebanon's economic crisis, activists are hoping that the attention Jaber's case has received can help to return the spotlight to women's rights issues.
Layal Awada, an attorney for the women's rights group KAFA, said the group had been set to launch a proposed draft personal status law on October 18, but the eruption of mass anti-government protests on October 17, 2019, had temporarily derailed the plans.
Making women's rights a priority in Lebanon
Claudine Aoun Roukoz, president of the National Commission for Lebanese Women, said she supports the draft legislation and is now searching for members of Parliament willing to put it forward.
Under the current system, she said, "Not only there is discrimination between women and men, there is discrimination between women and women" because women of different sects are treated differently. "The solution would be one law for everyone."
In the meantime, Aoun Roukoz said she is advocating for the religious authorities to amend their own laws.
As to whether lawmakers will be willing to make women's rights issues a priority at a time when most are focused on the country's economic crisis, she said, "Women's issues are never priorities in Lebanon, from 100 years to now. It's never a priority because there's always something on the political or economic level."
This is despite women's rights being important for economic growth, according to Aoun Roukoz.
"If you want to have economic growth in a country, you need to have equal rights," she said. "We have to make it a priority -- even if it's not a priority in the minds of the politicians."
https://english.alarabiya.net/en/features/2020/03/01/Woman-forbidden-from-seeing-daughter-sparks-debate-over-religious-law-in-Lebanon.html
--------
New York confirms first coronavirus case, a woman who had travelled to Iran
2 March 2020
New York state confirmed its first case of coronavirus on Monday, in a woman in her late 30s who had traveled to Iran, Governor Andrew Cuomo said on Twitter.
"The patient, a woman in her late thirties, contracted the virus while traveling abroad in Iran, and is currently isolated in her home. The patient has respiratory symptoms, but is not in serious condition and has been in a controlled situation since arriving to New York," Cuomo said.
Check out our dedicated coronavirus site here.
He urged citizens to remain calm: "There is no reason for undue anxiety – the general risk remains low in New York. We are diligently managing this situation and will continue to provide information as it becomes available."
Andrew Cuomo
✔
@NYGovCuomo
We have learned of the 1st positive case of COVID-19 in NY. The patient contracted the virus while in Iran & is isolated
There is no reason for undue anxiety—the general risk remains low in NY. We are diligently managing this situation &will provide info as it becomes available.
View image on Twitter
6,421
6:21 AM - Mar 2, 2020
Twitter Ads info and privacy
5,695 people are talking about this
Iran's Health Ministry raised on Sunday the nationwide death toll from the new coronavirus to 54 as the number of infected cases jumped to 978 people.
https://english.alarabiya.net/en/News/world/2020/03/02/New-York-confirms-first-coronavirus-case-a-woman-who-had-traveled-to-Iran.html
--------
Voice of the unknown woman: Afghan filmmaker Roya Sadat
March 02, 2020
KABUL - For a generation, Roya Sadat has been a voice for Afghan women in one of the world's worst places to be one.
One of the first female filmmakers to make her name after the fall of the Taliban in 2001, she has won plaudits at home and abroad for works such as "A Letter to the President", and "Three Dots", and "Playing the Taar".
She has lived through the Soviet occupation -- fleeing with her family for their lives at times -- endured the brutality of civil war, and then the violent oppression of Taliban rule, where women existed only in the shadows and basic freedoms were lost.
Her great fear is a return to that kind of fundamentalism: The February 29, US-Taliban deal may be a potential first step for peace in a nation that for decades has only known war, but it offers no guarantees the few women's rights set out in the current constitution will be upheld.
"I feel concerned when I remember how we had simply been forgotten during the five-year Taliban rule until 9/11 happened," says the 37-year-old, adding: "If the international community approaches [Afghanistan] as an open and shut scenario and abandons us again, there will undoubtedly be grave consequences."
Almost 39 percent of girls go to secondary school according to World Bank figures for 2017, while USAid says that of the 300,000 students in universities, around one third are female citing figures from the Afghan Ministry of Higher Education.
These figures are predominantly for urban areas but twenty years ago it would have been all but impossible everywhere.
"There are many good changes happening, coming from the heart of society," Sadat says, but concedes there is a huge amount to be done.
Afghanistan ranks last in the Georgetown Institute for Women, Peace and Security index which measures well-being and self-reliance. In rural areas, female literacy can be less than two percent and rights are often even more constrained by conservative tradition.
- 'Era of suffocation' -
She is not alone in fearing that the small inroads made in women's rights may disappear -- in urban centres young people have grown up listening to music, watching television, and more recently accessing the internet and social media. Many have only seen the Taliban on the news.
Sadat, who has been writing stories, poems and plays since she was a little girl, recalls how her life ground to a halt in 1996 as the Taliban rolled in.
Schools closed, women were confined to their homes, the televisions and radios stopped playing. A precocious teenager she continued to write indoors, and read books on directing from her father's collection.
She was allowed to work as a nurse as women could only get female medical help, and even set up clandestine cultural performances of her plays in the hospital, even though the head of it was linked to the Taliban.
"It was very dangerous. I still find it hard to believe that we were able to," she says.
Her first work, "Three Dots", which tells the tale of a single mother who is forced to marry a warlord and become a drug smuggler, was penned during this period, but only made -- using simple equipment -- once the regime changed and she could channel all the knowledge accrued from surreptitious reading, into real world creativity.
This determination and persistence has defined her career, and she feels strongly that film has a social purpose.
The mother-of-two explains: "I turned to cinema, when I had just come out of an era of suffocation, and had a world to express.
"I strongly believe in cinema and that this is the most important art that can influence a positive change in our society. But change cannot come overnight. The change has to come to the thoughts and minds of people."
- 'Refuse to be silenced' -
In her twenties she set up an independent film company -- Roya Film House with her sister Alka, and was awarded a scholarship to study film in South Korea. She has also written television dramas for prominent media firm Moby Group.
Her stories are the stories of Afghan women.
From the outset of her career she has faced questions from her family and criticisms from the community, but she argues that when locals come to see her work -- they understand.
Her 2017 film "A Letter to the President" shows a woman slapping back at her violent husband when he hits her, before accidentally killing him.
Sadat depicted an act of female rebellion in a country where women are often forced to stay in abusive marriages, but recalls how she expected a "bad reaction" because of the taboos surrounding female behaviour. Instead the audience applauded during the slap scene.
Her work is not without risks.
Cinema remains contentious in parts of the country, and her productions, which shine a light on female inequality and repression, controversial.
Hailed by the US for "refusing to be silenced" in the face of threats from conservatives, she was given the International Woman of Courage Award in 2017.
She's committed to supporting the next generation of female filmmakers: the latest edition of her International Women's Film Festival in Herat, which first launched in 2013, received more than 2,500 submissions.
She remains hopeful that she can continue to challenge and speak for Afghans, arguing that film is uniquely placed to change hearts and minds.
She explains: "Cinema can challenge inequality and injustice, it can turn social taboos into discourse, and it can invite people to dialogue.
She adds: "Our people need to criticize themselves, to talk about things that are forbidden. I believe that this society needs a revolution of thought and this cannot be done except with the help of cinema."
https://www.bangkokpost.com/world/1869844/voice-of-the-unknown-woman-afghan-filmmaker-roya-sadat
--------
URL: https://www.newageislam.com/islam-women-feminism/saudi-female-mecca-girl-rapper/d/121202
New Age Islam, Islam Online, Islamic Website, African Muslim News, Arab World News, South Asia News, Indian Muslim News, World Muslim News, Women in Islam, Islamic Feminism, Arab Women, Women In Arab, Islamophobia in America, Muslim Women in West, Islam Women and Feminism