New Age Islam News Bureau
13 Aug 2015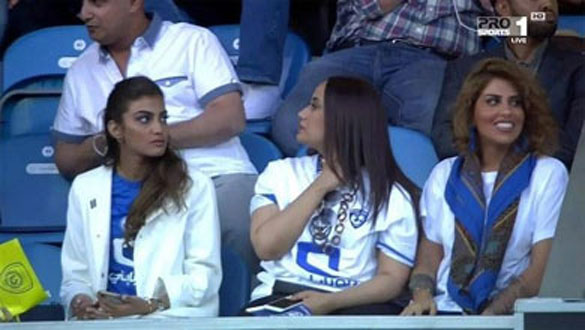 The Saudi derby brought a taste of Saudi Arabia to Shepherd's Bush(Photo courtesy: MBC Pro Sports)
--------
• Tribal Considerations Still Control Saudi Marriage Relations
• Nayab Bibi Dedicates Medal to APS Victims
• How a Mosque Can Welcome Women
• Three More Women Claim Cosby Abuse
• World War 2 'Comfort Women' Hope For Apology from Japan
• Thousands of Women March In Support Of Brazil's Rousseff
Compiled by New Age Islam News Bureau
URL: https://newageislam.com/islam-women-feminism/saudi-female-football-fans-uk/d/104263
-----------
Saudi Female Football Fans at UK Match Create Social Media Buzz
13 August 2015
The rare sight of Saudi women football fans at a London stadium match between the kingdom's super cup rivals al-Hilal and al-Nasr on Wednesday caused a buzz on social media.
The women were among thousands of fans who converged in West London to watch the rival clubs battle it out for the first time outside of the Gulf Arab Kingdom. Al-Hilal won against Al-Nasir by one goal.
While some hardliners and conservatives were critical of the sight of the women - who back home are not allowed to watch live games in stadiums - many others expressed support, saying that this was an example of a joyful, well-organized event which showed a positive face of Saudi Arabia.
http://english.alarabiya.net/en/variety/2015/08/13/Saudi-women-football-fans-at-UK-match-create-social-media-buzz.html
-----------
Tribal Considerations Still Control Saudi Marriage Relations
August 12, 2015
JEDDAH — The Kingdom's courts are full of cases of male guardians preventing their female relatives from getting married, with over 600 such cases currently awaiting trial, according to Al-Madinah daily.
The practice, known as adl, is proof to many that tribal considerations still largely define acceptability of marriages in the Kingdom.
In one recent incident, tribal elders in Hail objected to the engagement of a woman from their tribe to a man from another tribe, according to media reports.
The marriage, scheduled to take place on Thursday, was approved by the woman's father, but men from his tribe have been trying to convince him to call off the wedding. They were offering him a new car and money equal to his daughter's dowry.
The incident has outraged the online community in the Kingdom. One group posted tweets and messages, saying this was case of forced marriage.
A source told Al-Watan daily that the marriage was arranged by the fathers of the bride and the groom with the intention of uniting two tribes.
"The wedding is scheduled to be held on Thursday and protesters on social media are trying to stop the wedding. A group of the bride's tribe approached her father with double the amount of the dowry to stop the wedding but he refused," said the source.
Popular social figure Firas Bugna tweeted that tribal pride should not turn into tribal discrimination.
Others have protested that forced marriage and discrimination is against Islam. Many viewed that the old tradition of tribal compatibility should be put to rest in this age because tribes no longer determine people's social status, but education does.
In another case in June, authorities in Makkah region arrested a man later found guilty of shooting his sister at her workplace in Jeddah after she insisted on proceeding with what he believed to be a marriage incompatible on tribal grounds.
The woman was 33 years old and her brother killed her despite her father approving the marriage.
The man was easily identified using CCTV footage from the woman's workplace. Police questioned the man's family and apprehended him in Madinah.
Legal consultant and lawyer Ali Al-Ghamdi said if the marriage was consensual, then it is perfectly valid regardless of the reason behind the marriage.
"The Islamic conditions for marriage are clear. If the marriage complies with all the conditions, then no one has the right to cause any commotion," said the source.
In 2007, the controls tribal ties have over marital relationships in the Kingdom attracted international media attention with the story of Fatima and Mansour making headlines.
A judge forcibly divorced the couple, and Fatima was imprisoned and separated from her husband and two children after her half-brother filled a lawsuit accusing her husband of providing false information about his tribal background.
In Qatif, another judge divorced a couple in absentia, despite them having a child, also on the grounds of tribal incompatibility.
http://www.saudigazette.com.sa/index.cfm?method=home.regcon&contentid=20150813253229
-----------
Nayab Bibi Dedicates Medal to APS Victims
August 13th, 2015
PESHAWAR: Nayab Bibi, a young special athlete, who recently won a bronze medal in the 200-meter run in Special Olympics in Los Angeles, has dedicated her award to the victims of the Army Public School attack.
Talking to reporters at the press club here, Ms Bibi, who belongs to Manerai Payan village of Swabi, and whose right arm is paralysed by birth, said she was student of grade-III at a private school.
As the girl felt shyness to narrate her story, her father Sami-ul-Haq said her daughter was initially student of a religious seminary, but later she was admitted to a private school for special children where the students were encouraged to take part in sports activities.
Nayab Bibi, he said, had also taken part in competitions held in Islamabad and Karachi and won awards. He said she was the fourth athlete in Khyber Pakhtunkhwa to have won a medal in the Los Angeles Special Olympics. — Bureau Report
http://www.dawn.com/news/1200232/special-athlete-dedicates-medal-to-aps-victims
-----------
How a Mosque Can Welcome Women
August 7, 2015
By Dudu Kücükgöl
I have never felt so welcome in a mosque!
A few weeks before Ramadan we heard that a mosque nearby re-opened. My family and I wanted to see the new mosque, so we went there for Friday prayer. To say I was surprised would be an understatement: I was amazed! So amazed that this mosque is now my all-time favourite mosque. I have to say that I never had something like a "favourite mosque" until now. I always prayed in different mosques but never felt that the mosque is "my" mosque – until I visited Ebu Hanife, the Islamic Centre of Bosnians in Austria (all photos reposted from here). Although I did not understand the Imam's Friday sermon (it was in Bosnian), I felt very comfortable.
After thinking about why I loved this mosque so much, I found that I had never before felt in a mosque that women are welcome the same way men are welcome. It is clear that from the beginning this mosque must have been designed and planned for women as active participants too; I had never felt that in other mosques. The planners and architects of Ebu Hanife must have thought about the women's space as much as they thought about the men's space – the mosque as an equal place for men and women. The men's space is not the "main mosque." It's not like, "Women can be happy that they have a room to pray, too." No, the mosque is one big room with two open floors which are connected.
Starting from the entrance, women have equal space in the mosque. There is no "side entrance" – there are two equal entrances and the floors are connected with two stairs. However, I have to admit that I like separate praying areas for women and men. Exclusive spaces for women mean that men cannot claim our spaces and we have a safe space for us.
ebu hanife wood extOnce you enter from the street you dip into "Little Sarajevo" – the main entrance is given the atmosphere of Bosnian streets and wooden houses. A lot of wood and glass are used and everything is bright and wide. Then you have a women's entrance and a men's entrance. The sister's entrance is wide with a lot of design elements of wood and glass. You go upstairs and you have a wonderful women's space which is above the men's space and nearly the same size. From above you see down to the beautiful mimbar.
There is also a very big kitchen with tables and chairs to sit and eat. There are enough restrooms and separate rooms for wudu. In addition to the big and beautiful praying space, the kitchen with dining space, and seating accommodations, there are also two very nice classrooms. There are desks and chairs for children and Arabic letters on the walls, everything looks very aesthetic and considered.
You don't have the feeling that women can come "too" to the mosque; instead, women are thought as a vital part of the mosque with a right to bright, wide, beautifully designed and very cared-for spaces. So, if you want to pray in a beautiful mosque in Vienna, then the Ebu
http://ewn.co.za/2015/08/12/CT-woman-wants-govt-to-recognise-Muslim-marriages
-----------
Three More Women Claim Cosby Abuse
13 August 2015
Three more women alleged yesterday they were assaulted by Bill Cosby, including one who said the former US comedy icon forced her to perform oral sex.
The women – actresses Eden Tirl and Linda Ridgeway Whitedeer and ex-flight attendant Colleen Hughes – addressed the media in Los Angeles.
They join more than 40 others who claim abuse by the pioneering African-American comedian who played a beloved family doctor on the hit 1980s sitcom "The Cosby Show."
Whitedeer said she met Cosby in 1971 during a job interview.
"His attack was fast with surgical precision and surprise on his side," she said, adding that Cosby forced her to perform oral sex.
Tirl, meanwhile, said she suffered abuse during filming of "The Cosby Show."
Hughes said she met Cosby while on a flight to Los Angeles. He subsequently took her to lunch at a hotel in Beverly Hills, she said, and then invited her to have champagne in a room.
Waking up hours later, she said she realized that she had been sexually assaulted.
"I lived my whole life with a terrible secret about what Bill Cosby did to me," she said. "I never told anyone."
Attorney Gloria Allred, who represents the three women and other alleged victims, attended Wednesday's news conference.
In a small victory for the lawyer, a Los Angeles Supreme Court judge recently ordered the 78-year-old actor to testify under oath on October 9 in response to accusations from a woman who said he drugged and sexually abused her when she was a minor.
Cosby has been swept up in a flood of accusations of sexual abuse spanning four decades from dozens of women.
Last month, 35 of the women were united on the cover of New York magazine to tell startlingly similar stories of abuse.
They included models, waitresses, Playboy bunnies and women who used to work in show business. One said he raped her while she was grief stricken over the recent death of her six-year-old son. – AFP, August 13, 2015.
http://www.themalaysianinsider.com/world/article/three-more-women-claim-cosby-abuse
-----------
World War 2 'Comfort Women' Hope For Apology from Japan
12 August 2015
As many as 200,000 Korean women were forced to work in Japanese military brothels during World War Two, but Kim Bok-dong is not hopeful that Japanese Prime Minister Shinzo Abe is about to apologise.
Kim, 90, is one of South Korea's 47 surviving "comfort women", as those held at the brothels are euphemistically called, from among the 238 who came forward and shared their stories of abuse.
Many of them reject the term prostitution as inadequate, saying they were lied to and forced to leave their homes to endure horrific conditions as sex slaves.
Scholars continue to debate the number of women exploited, but activists say there may have been as many as 200,000 Korean victims, few of whom came forward. In China, estimates are sketchier, but also range as high as 200,000, with historians having identified 200 victims.
As the Asian neighbours await Abe's statement marking the end of the war 70 years ago, time is running out for the women.
In South Korea, eight have died this year, five since June, and South Korean President Park Geun-hye said last week the Aug. 15 anniversary may be the last chance for a Japanese leader to resolve the issue.
South Korea says Japan has not properly atoned for its wartime past.
"I didn't know it would take this long... if I had known, I wouldn't have come forward," Kim told Reuters.
"Until this is resolved, we will not be truly liberated."
Kim was 14 when a Japanese police officer and a soldier came to her rural home, demanding that she accompany them to work at a garment factory.
"My mother protested: 'She is so little, what can she do?' But they said I could learn, so it should be all right, which is how I ended up going, thinking it'd be just for a few days."
Instead, she was gone for seven years, held at military brothels in southern China, Indonesia and Singapore.
Japanese conservatives, including Abe, say there is no evidence of direct involvement of the country's military or government in kidnapping the girls.
Abe has said he stands by a 1993 apology by then-chief cabinet secretary Yohei Kono that acknowledged the role of Japanese authorities in coercing the women. In 1995, Japan set up a fund that offered letters of apology signed by prime ministers and financial aid to individual women.
In China, Ren Lane, who lives in the northern province of Shanxi, kept secret for much of her life the fact that she was taken from a village as a 15-year-old girl and repeatedly raped by Japanese soldiers during the war.
An apology from Japan would be small solace, though she does not expect to live to see it.
Her son, Liu Wanchang, said the government had never been in touch about her story, despite recent media attention. Family members say authorities ignored the plight of Ren and others when China sought to normalise ties with Japan in the 1980s.
China has periodically released documents detailing Japanese acts against "comfort women".
It has said it will publish further confessions by Japanese "war criminals" about women forced to serve in military brothels ahead of the anniversary of the end of its war with Japan, to be marked with a military parade in Beijing on September 3. Yesterday, a records office in Heilongjiang province in northeast China released seven files that supported allegations of Japan's use of "sex slaves" during the war, Xinhua news agency said.
Taken from her Pyongyang home at age 13, Gil Won-ok spent five years in Japanese military brothels in China. She did not want to recount the events of that day.
"To be able to receive an apology, that will allow us to close our eyes," she said from the home she shares with Kim in Seoul, the Korean capital. "But I doubt that will happen easily." – Reuters, August 12, 2015.
http://www.themalaysianinsider.com/world/article/world-war-2-comfort-women-hope-for-apology-from-japan
-----------
Thousands Of Women March In Support Of Brazil's Rousseff
13 August 2015
Thousands of women rallied yesterday in support of President Dilma Rousseff, whose poll numbers have plummeted amid a national scandal involving state oil company Petrobras.
The beleaguered Brazilian leader addressed the gathering, vowing not to let the country go backwards, even amid difficult economic times.
"We won't allow any reversal of the social and democratic progress in our country," Rousseff declared to enthusiastic applause as the event wound down.
The show of support comes just days after a recent opinion poll found that Rousseff is Brazil's most unpopular democratically elected president since the end of the military dictatorship more than 30 years ago.
Her approval ratings have been just 8%. Two-thirds of Brazilians say they want her impeached.
Nevertheless, female supporters turned out in force to back Rousseff, the first woman to govern Brazil.
"I will continue working to honor and fulfill your dreams," said Rousseff, who in January began her second term as the nation's president.
Rousseff is under siege because of a corruption scandal at the state-run oil giant Petrobras that has also implicated her ruling Workers' Party.
She chaired the board of the company from 2003 to 2010, a period during which the corruption allegedly flourished. She has not, however, been personally implicated in the scandal.
Another protest planned for Sunday has been called by Rousseff opponents who are calling for her resignation. – AFP, August 13, 2015.
http://www.themalaysianinsider.com/world/article/thousands-of-women-march-in-support-of-brazils-rousseff
-----------
URL: https://newageislam.com/islam-women-feminism/saudi-female-football-fans-uk/d/104263